Are you looking for a great place to escape the frigid winter weather and enjoy traveling during the off-season? If so, you definitely need to set your sights on Panama City Beach.
A year-round delight, this popular Florida destination offers endless opportunities for outdoor adventures and wintertime festivals galore. And when you visit in the winter, you can say goodbye to the big crowds, allowing you to enjoy each attraction to the fullest.
Ready to get going on your wintertime travels? Here's everything you need to know about traveling to PCB in the winter.
What's the Winter Weather Like in PCB?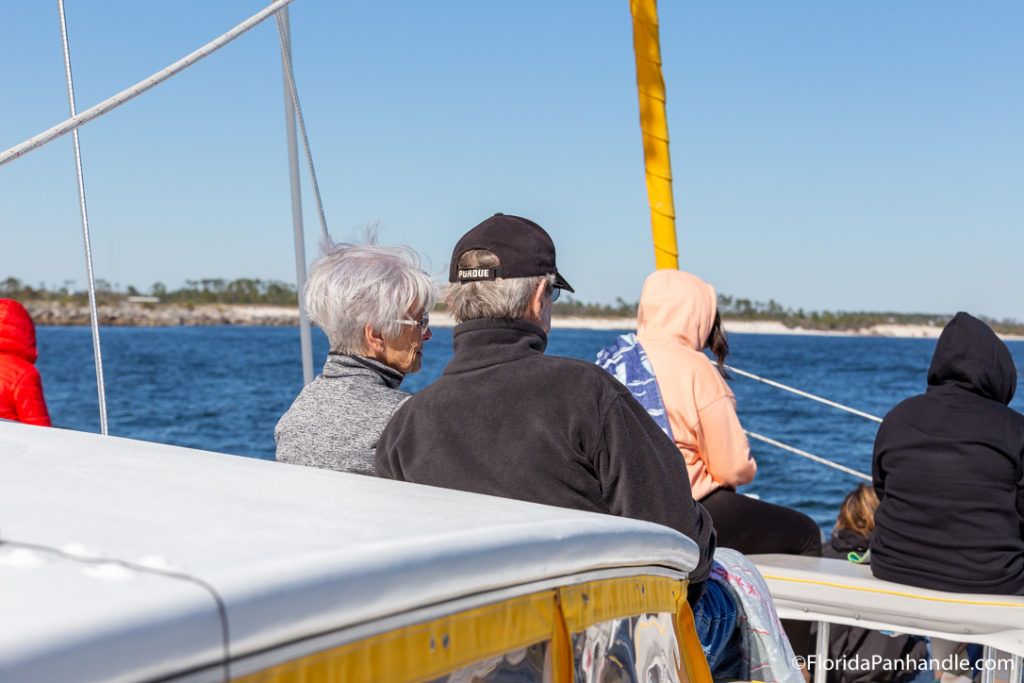 In Panama City Beach, the cold season is anything but frigid. In fact, daytime lows rarely dip below 65 degrees Fahrenheit. On sunny days, 70-degree weather is common, making it the perfect time to go to the beach. Rainy days are few and far between but always a possibility in the wintertime.
Even when it's sunny out, it's best to keep in mind that the water temperature dips quite a bit in the winter. So, sticking with heated hotel pools when you want to swim is a good idea.
In addition, it can get rather windy by the coast, making it feel colder than it really is. Stay on land and bring a light jacket just in case you get chilly, and you'll undoubtedly stay comfortable throughout your visit.
The wind makes it difficult to effectively use an umbrella without getting it turned inside out. You can bring a rain poncho instead or just enjoy indoor activities if it starts to rain during your visit.
Popular Outdoor Wintertime Adventures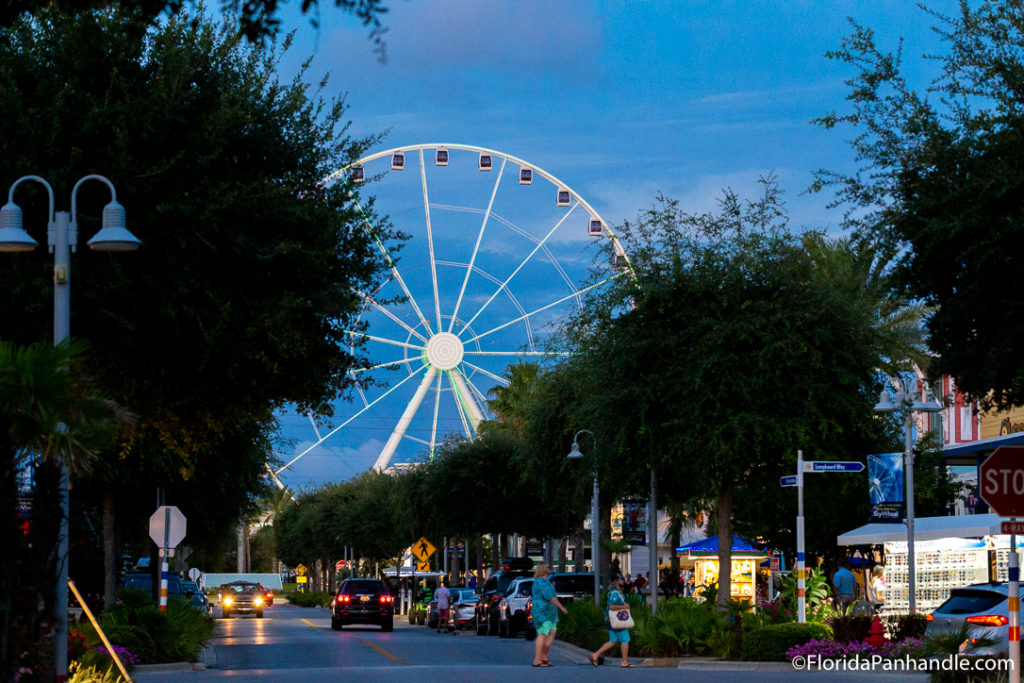 Since the weather stays so mild, outdoor wintertime adventures abound across PCB. Here are several things to put on your travel itinerary before heading out the door.
Go to the Beach
The beach is a popular attraction for snowbirds looking to enjoy fun in the sun on their travels. Beachcombing, sunbathing, and simply enjoying the view can keep you busy for hours upon hours.
As you travel along Front Beach Road, you can find many public beach access points, including near:
Oleander Drive
15th Street
Fernwood Street
Churchwell Drive
South Thomas Drive
When in doubt, stop by one of the many popular restaurants, like Sharky's Beachfront, to dine in style and then head out onto the brilliant white sands. St. Andrews State Park and Camp Helen State Park are also great places to go when you want to spend time on the oceanfront.
Visit Shell Island
Shell Island is a delightful place to visit when you want to spend time in a natural landscape far away from it all. This island lies far off the shores of St. Andrews State Park, serving as a barrier between the bay and Gulf waters.
You can only get there by boat, though, which adds to the magic of the visit. Once you arrive, you're welcome to go beachcombing for beautiful seashells of all kinds, including:
Sand dollars
Lion's Paw scallops
Fighting conchs
Bean clams
Sundials
The winter conditions bring the most seashells, plus there are relatively few people around to find them before you do. So, you're bound to find rare shells at every visit.
Other fun things to do on the island include hiking through the dunes, watching for dolphins passing by, and going kayaking. You can even go fishing if you bring your gear.
Fish Off the Pier
The wintertime offers many chances to add to your big fish tales in a meaningful way. The hungry fish stick around the piers in hopes of finding a tasty morsel bobbing along more often than not. To start this journey, sign up for a daily fishing license and then decide which pier to go to.
Your options are:
M.B. Miller County Pier
St. Andrews State Park Pier
Once you're ready to go, you must grab your fishing pole, tackle up, and bait your hook to prepare for the action. Then, drop your line in the water and let it sink down into the depths. Reel it back up and try again until you get a nibble, set your hook, and bring in the big one.
Want to go deep sea fishing instead? Sign up as a guest on a fishing charter to go on a guided fishing tour to remember.
Take a Fun Tour
If you want to enjoy time out on the water, it's best to sign up for a guided tour. With a tour guide on your side, you can go check out the dolphins, enjoy a dinner cruise at sunset, pretend you're a pirate, see the holiday lights, ride a jet ski, and so much more.
Panama City Beach tour companies that operate in the winter include:
Oftentimes, the tour companies also allow you to rent a pontoon boat, jet ski, kayak, and other exciting vessels. You can then go on your very own tour of the local waterways, allowing you to see all the sights at your leisure.
Play Golf
If you love to play golf, take the time to check out the local courses, like:
Want to let loose a little? Head on over to one of the many mini-golf courses in town. Coconut Creek Family Fun Park, Goofy Golf, and Pirate's Island Adventure Golf all offer a fun challenge for all ages.
Want the Full PCB Winter Experience? Check Out The Festivals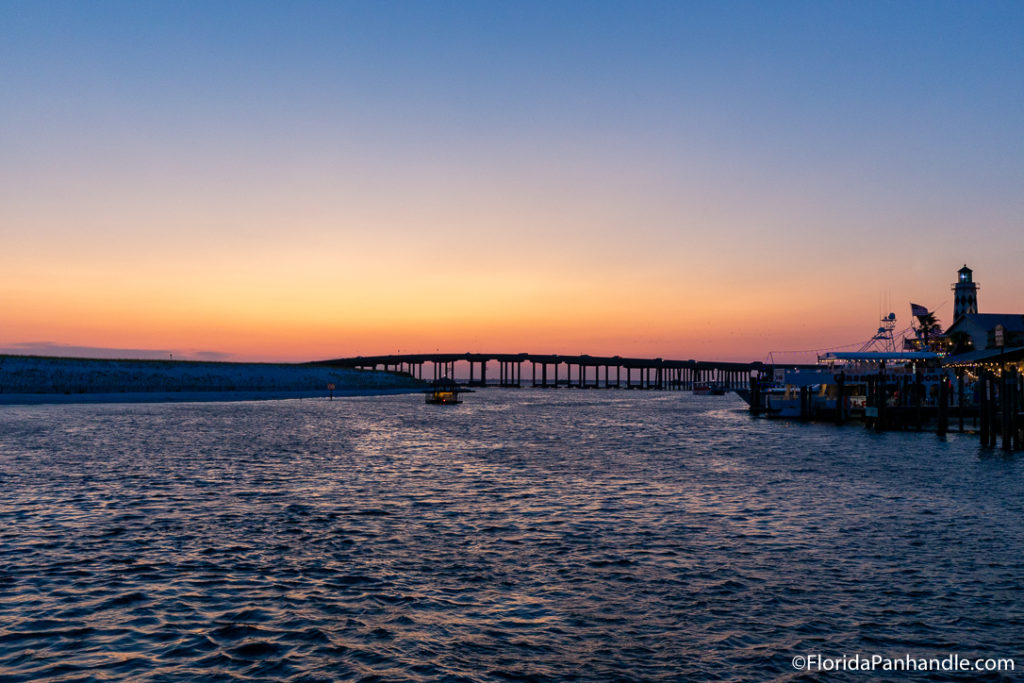 The wintertime brings many events to Panama City Beach, including:
Christmas Village at Capt. Anderson's Marina through December 2022
Christmas with Cops at Frank Brown Park on December 9th, 2022
Annual PCB Optimist Christmas Parade on December 10th, 2022
Santa's Ornament Workshop on December 10th, 2022
New Year's Eve Beach Ball Drop on December 31st, 2022
Mardi Gras and Music Festival on February 3rd and 4th, 2023
Food Truck & Craft Beer Festival on February 18th and 19th, 2023
With so much to see and do through the winter in Panama City Beach, you really cannot afford to miss the chance to visit during the off-season. So, book your trip and start planning your itinerary to get ready for all the fun ahead.