Destin is a lively beach town that is well known for its beautiful waters and all the activities those waters offer, like fishing and sunset sailing. These activities consistently bring people from around the region, country, and even the world. Of course, the more people that come to Destin to experience its beaches and warm Gulf coast waters, the more other businesses pop up to meet the growing wants and needs of so many travelers. The Destin Harbor Boardwalk is an excellent example of this as it offers an exciting array of bars, restaurants, boutiques, and more.
Located just off of US Highway 98 at the foot of William T. Marler Bridge in downtown Destin, the Destin Harbor Boardwalk is a bustling place any day of the week. In fact, there is so much to do and see here, that it can feel overwhelming for first-time visitors. This, of course, is why we wanted to provide you with this handy guide outlining many of the best spots this location has to offer.
Some Delicious Places to Dine and Drink
Coyote Ugly Saloon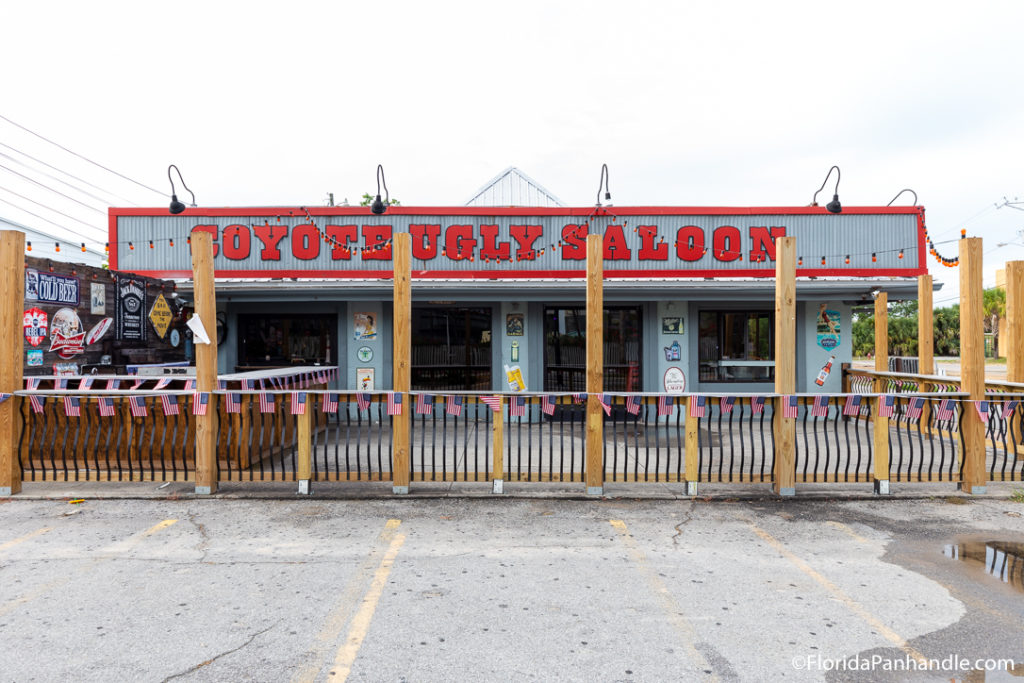 Maybe not one to take the kids to, this feisty bar takes its name and theme from the movie and features bartenders who frequently dance atop the bars. There's something happening every night at Coyote Ugly Saloon. Including live DJs and beer bucket discounts.
East Pass Seafood & Oyster House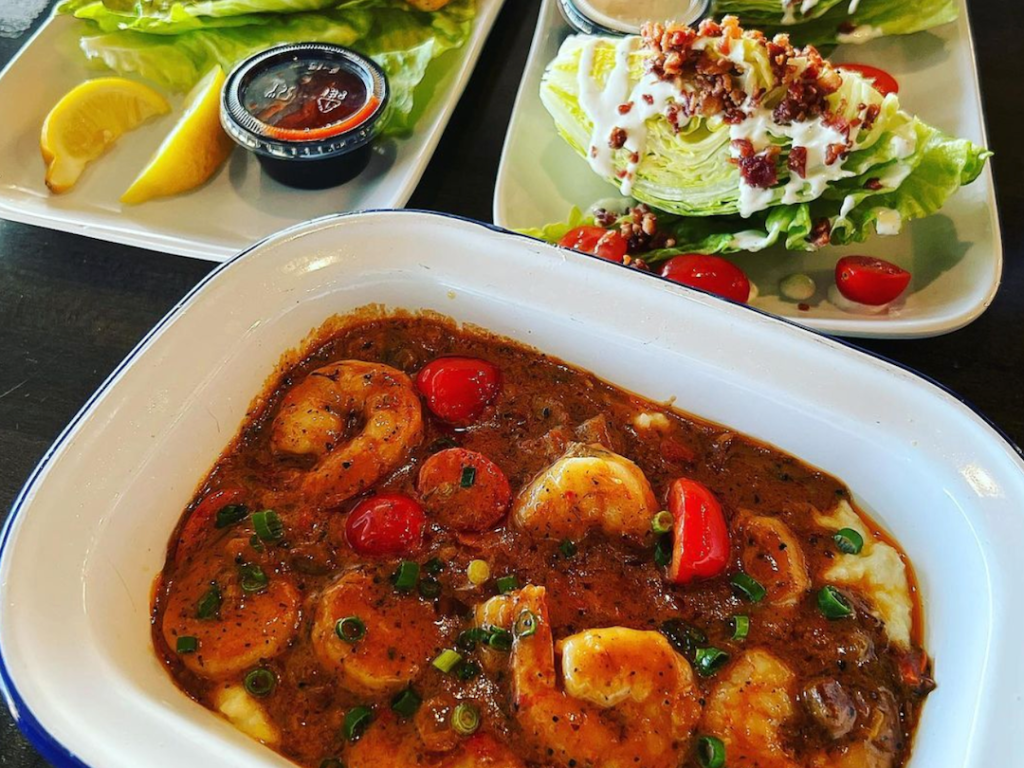 This lunch and dinner spot is more family-friendly, billing itself as an open-air harborfront seafood restaurant. Come to East Past Seafood & Oyster House for crispy fresh seafood, including locally shucked oysters.
Crafty Siren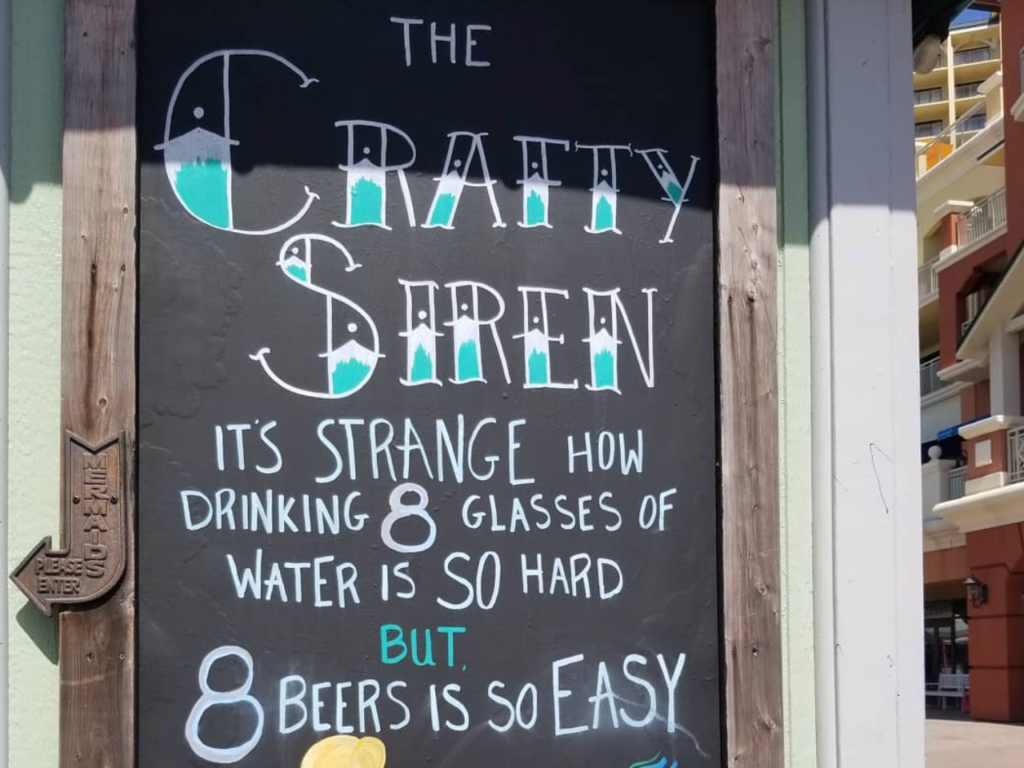 The Crafty Siren is a little mermaid-themed kiosk that sells beers and cigars along the boardwalk. Go here to grab a tasty craft brew before continuing to explore the other shops on the route. Yes, you can carry an open container within the Destin Harbor Boardwalk boundaries.
Fish Heads Bar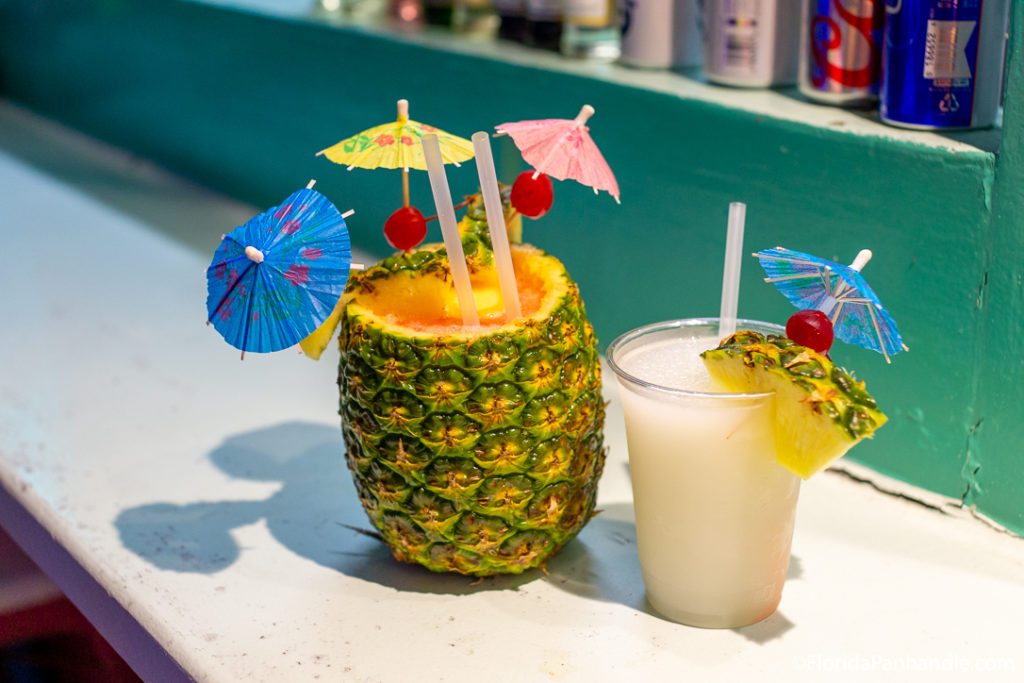 This open-air bar specializes in cocktails, very fruity cocktails. Come to Fish Heads Bar for a fresh pineapple drink served within the pineapple itself. 
Harbor Tacos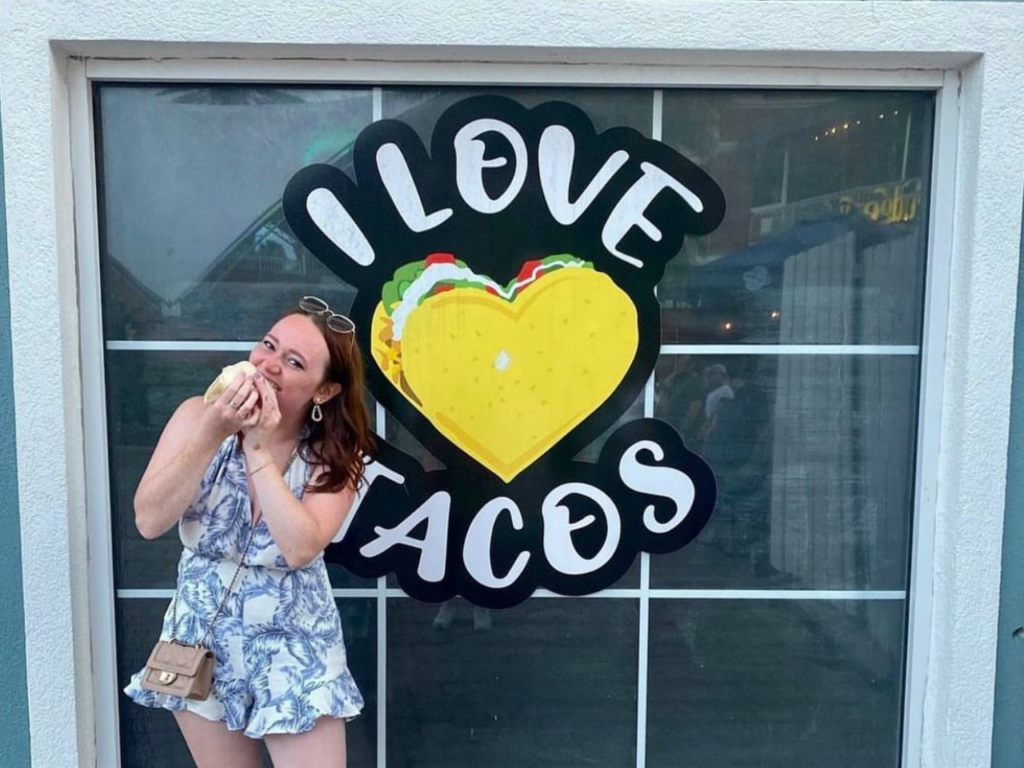 Harbor Tacos at Destin Harbor Boardwalk spot serves up everything crunchy, including tacos, nachos, burritos, and other taco-esque treats.
Harry T's Lighthouse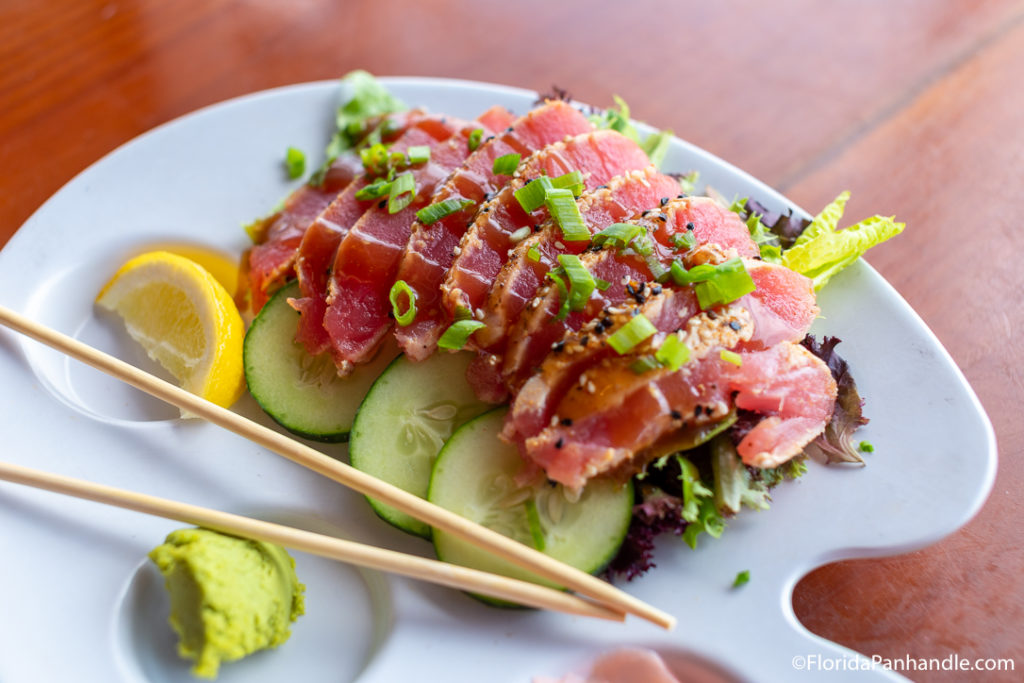 Harry T's was opened and named after famed trapeze artist Harrison Beben and so a lot of the decor within this roomy restaurant is circus-based. They have also brought in some really cool memorabilia from Thracia, a luxury cruise ship that sank nearby. Go here for the cool trinkets and stay for the outstanding water views and savory foods.
Jester Mardi Gras Daquiris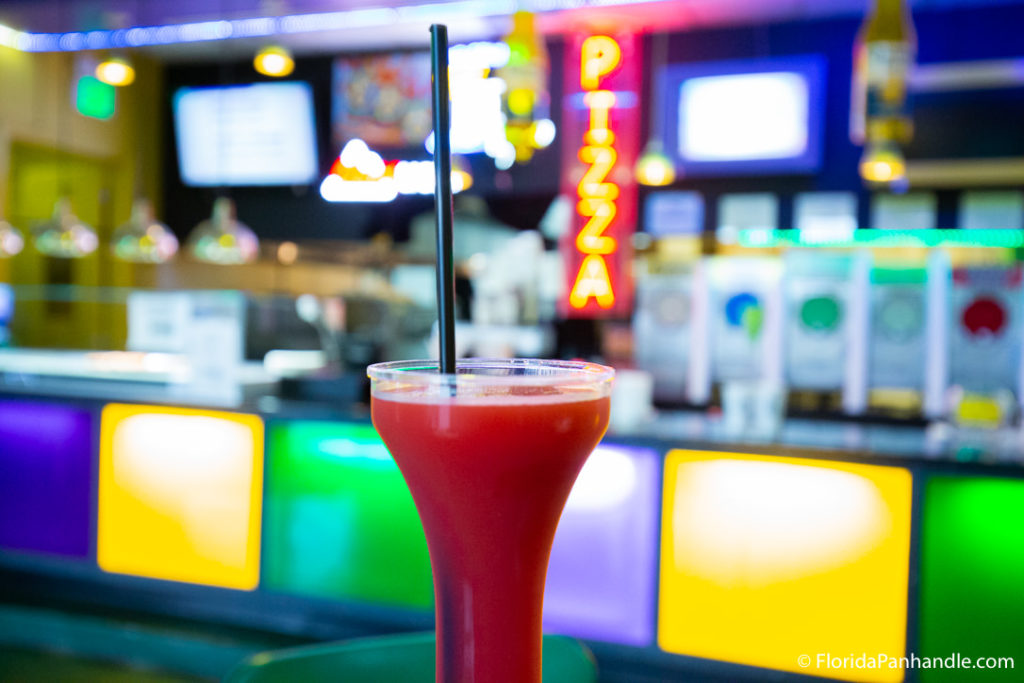 Jester Mardi Gras Daquiris is a New Orleans-inspired drink spot that serves up dozens of tall frozen daiquiri flavors, with a slice of pizza.
Margaritaville of Destin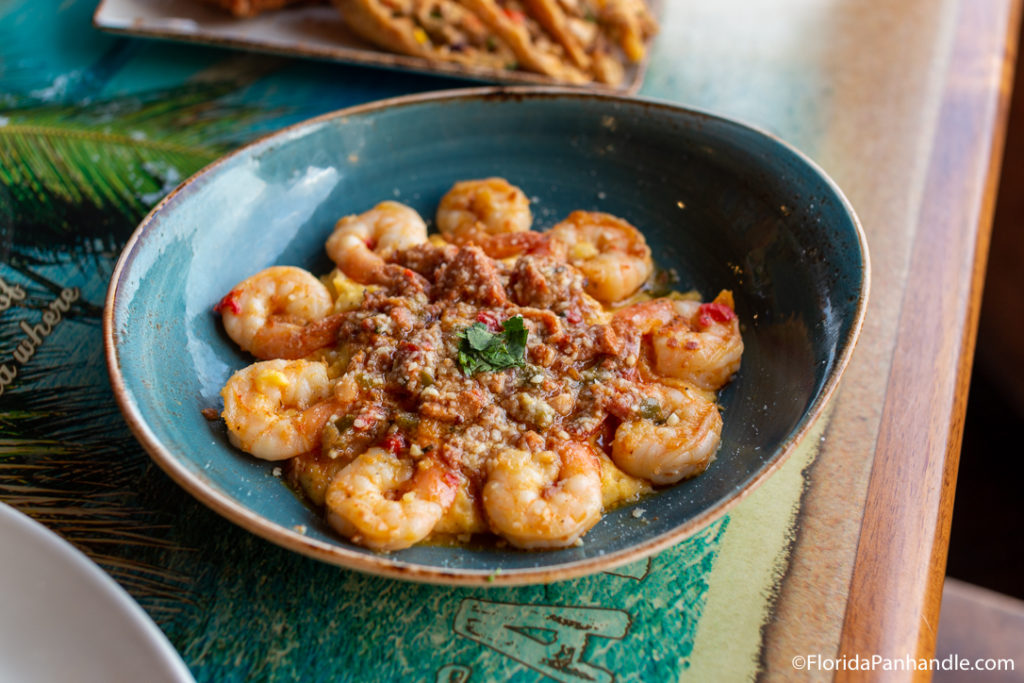 This chain restaurant is renowned for big portions and delicious cocktails. Margaritaville Destin offers lunch with a view or dinner with a live band playing in the background.
The Fudgery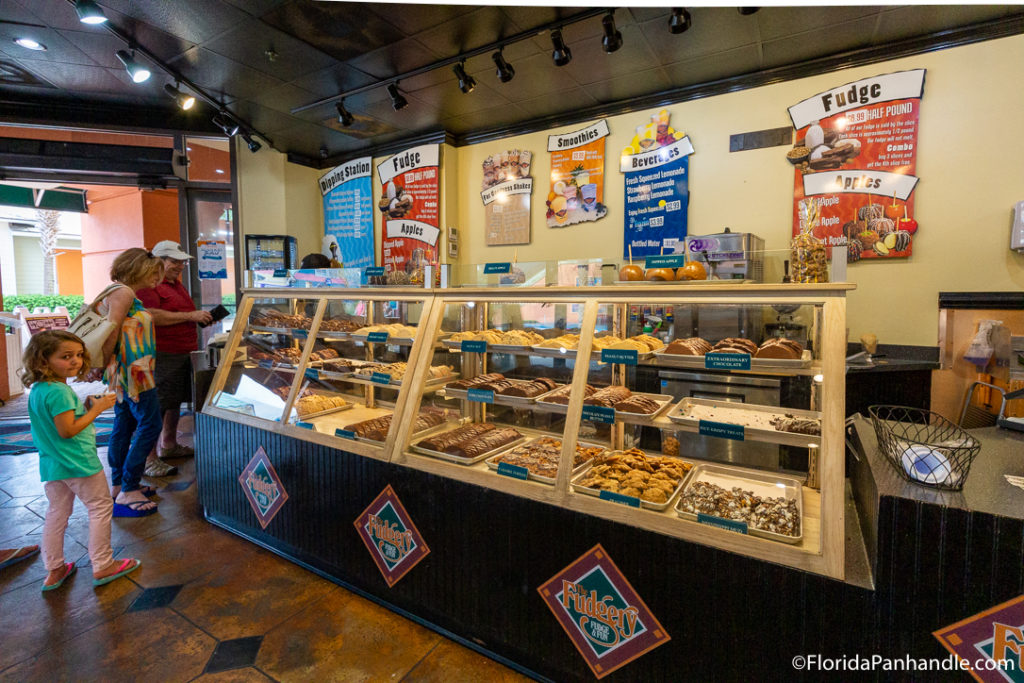 Sometimes you need something sweet to eat after a salty and savory meal of fish and French fries. If you are crushing the Destin Harbor Boardwalk, then what you want is to take a side trip to The Fudgery. This is a large dessert and sweet shop that serves up homemade fudge as well as other treats like caramel apples, chocolate-covered fruits, and pralines. 
Some Fun Things to Do
Gulf Coast Axe House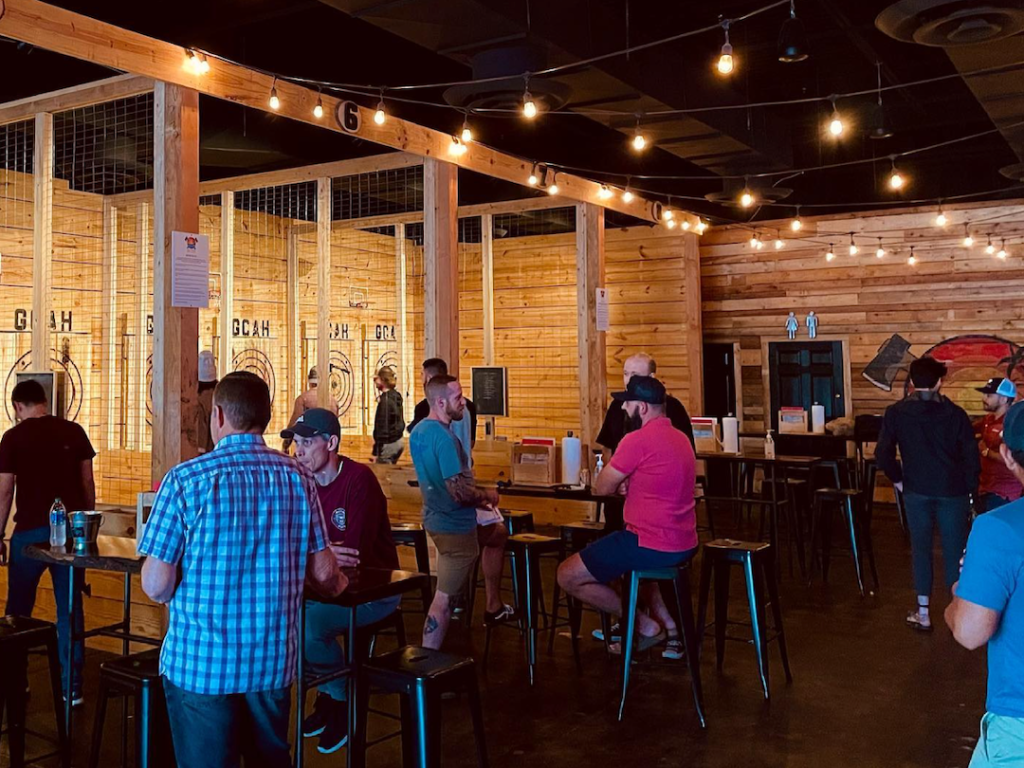 Axe throwing has become quite the craze around the country, and Destin, FL is not one to miss out. Join your friends and family at Gulf Coast Axe House to see just who can hit the bullseye at this fun entertainment spot.
Gulf Coast Escape Room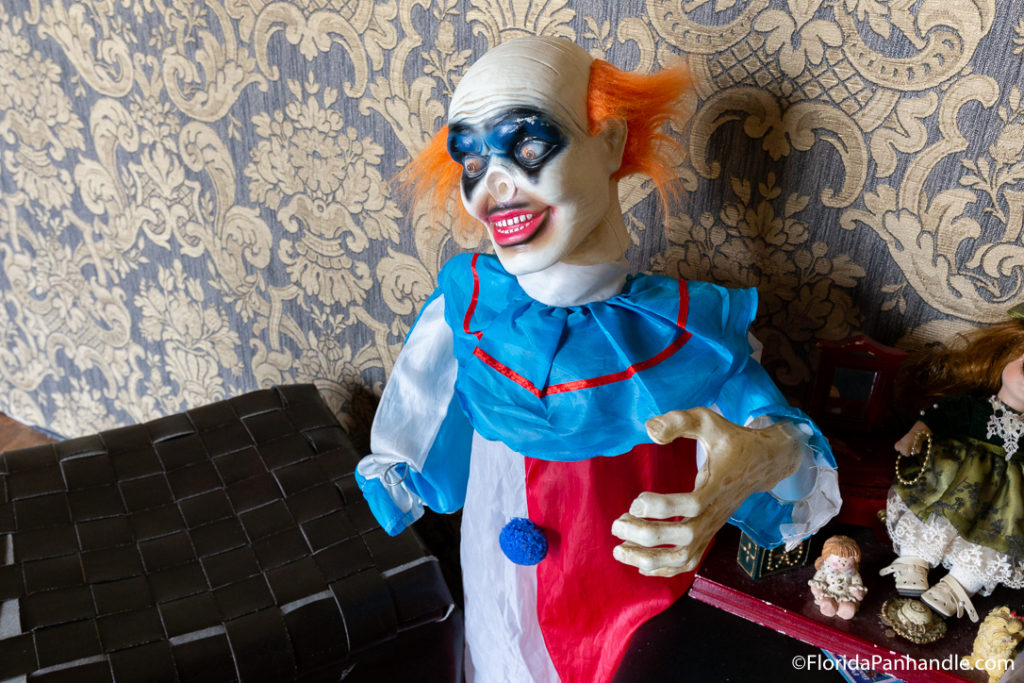 Escape rooms are fun and engaging family-friendly activities in which attendants are led to a room that is often connected to other rooms. At Gulf Coast Escape Room, you must escape each room and make your way back out. You must first solve a series of clues or riddles together. To make it even harder, there is often a time limit! Can your vacationing group make it out in time?
HarborWalk Adventures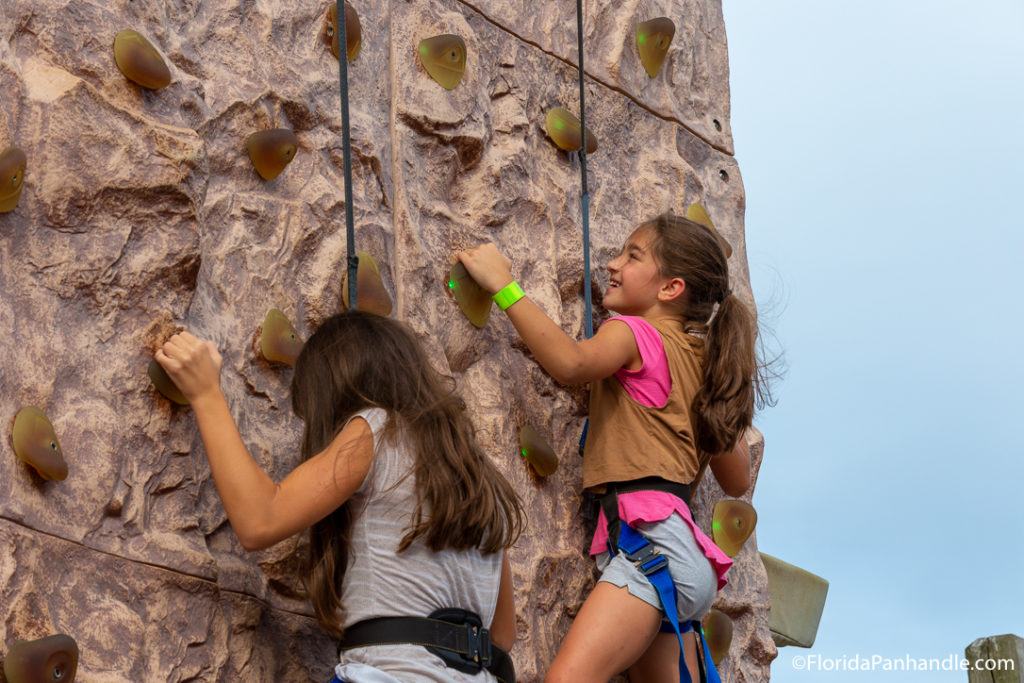 This unique Destin Harbor Boardwalk entertainment venue allows guests to hipline right across the boardwalk itself! Enjoy a cool birds-eye view (and experience) of the harbor and boardwalk. HarborWalk Adventures also features a free-wall activity and a 40-foot LED rockwall to climb. 
HarborWalk Theater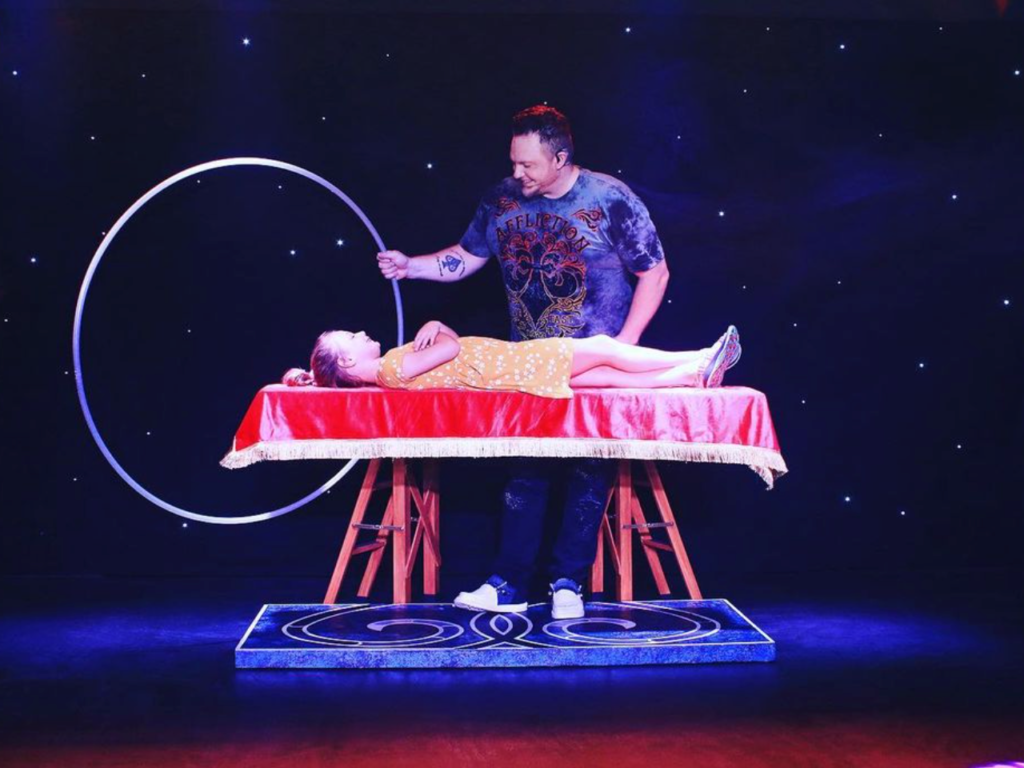 The HarborWalk Theater is small and cozy, holding about 100 people. Here they offer guests an intimate live show. Such live shows include magical acts, comedy hours, and more. 
Pirate Pearls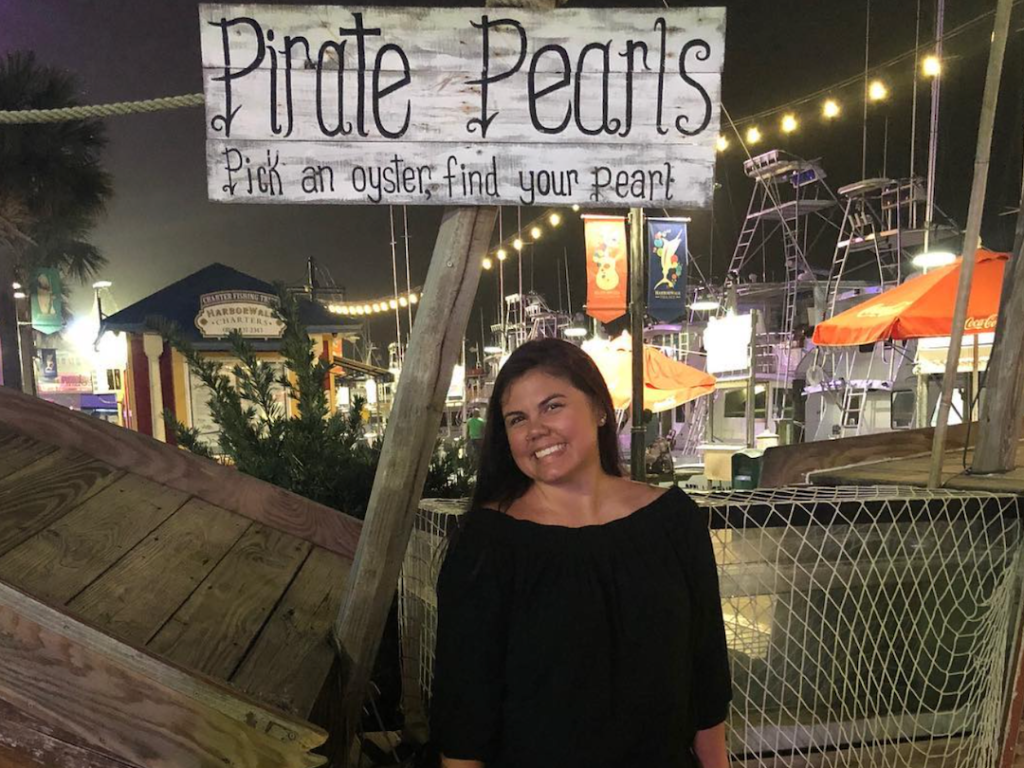 Pirate Pearls is a really cool kiosk located on the boardwalk. This kiosk has been built up to look like a mini sunken pirate ship. They have installed an aquarium at its heart from which guests can pick out an oyster. You'll then shuck that oyster to see if you can find a pretty pearl within. It's a fun activity that ends with a unique souvenir.
Timberview Helicopters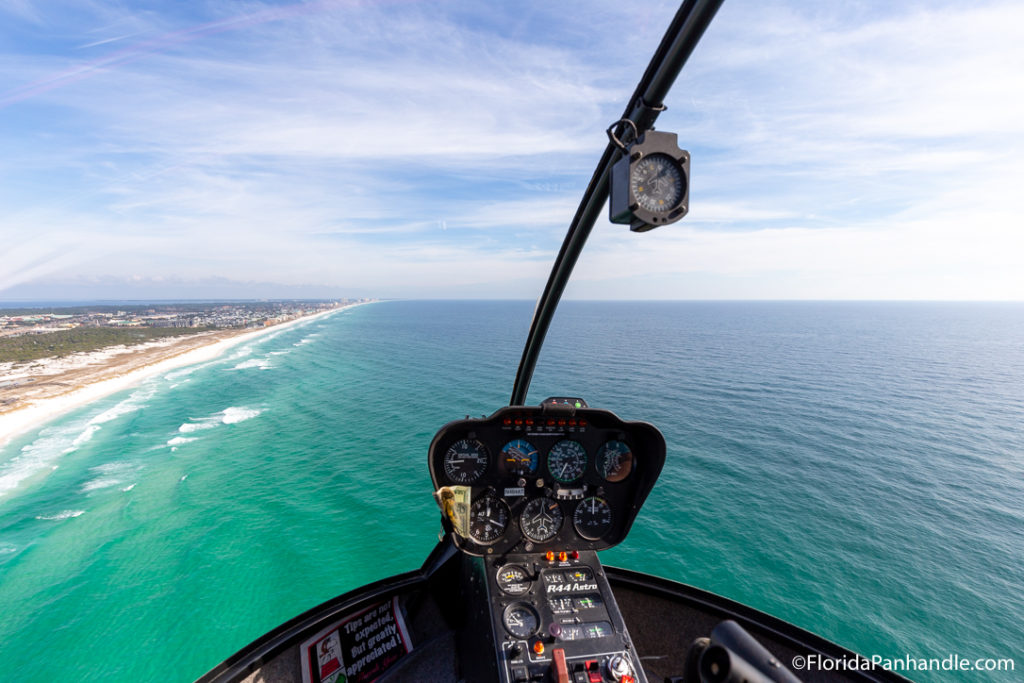 You will find a lot of adventure outfitters at the Destin Harbor Boardwalk; kiosks at which you can book things like fishing charters and snorkeling trips. Timberview Helicopters is also stationed here and with them, you can book a beautiful air tour. 
America's Fun Spots
This multi-faceted entertainment center is a great place to take the kids to cool down after a morning out on the water or to escape a rainy day. They have a lot of great kid-friendly activities including a mirror maze, video games, and arcade games.
Harbor Mini Golf
This cute nine-hole golf course offers a relaxing family-friendly activity with fun coastal-themed greens.
Learn More About Destin By Visiting Our Other Pages
We hope this guide to hip dining and entertainment spots at the Destin Harbor Boardwalk helps to give you an idea of where to go when on your upcoming vacation to Destin, FL. Of course, while these are some pretty amazing spots, they are by no means all that this Gulf Coast beachtown has to offer. We didn't even have room on this list for all of the places within Destin Harbor Boardwalk! Make sure to visit our other pages to learn more about Destin and the Florida Gulf Coast.