When only the freshest fish will do, a Destin pier fishing adventure is the way to go, for sure. With that move, you have a chance of reeling in the big one and then eating like a king. Even if you don't catch anything, the amazing views and fast friendships make it all worthwhile anyway. You have to know just where to go and how to approach the pier fishing experience to have the best time.
Thankfully, this guide is here to help. Here's all you need to know about this popular Gulf Coast activity.
Common Types of Fish You Might Catch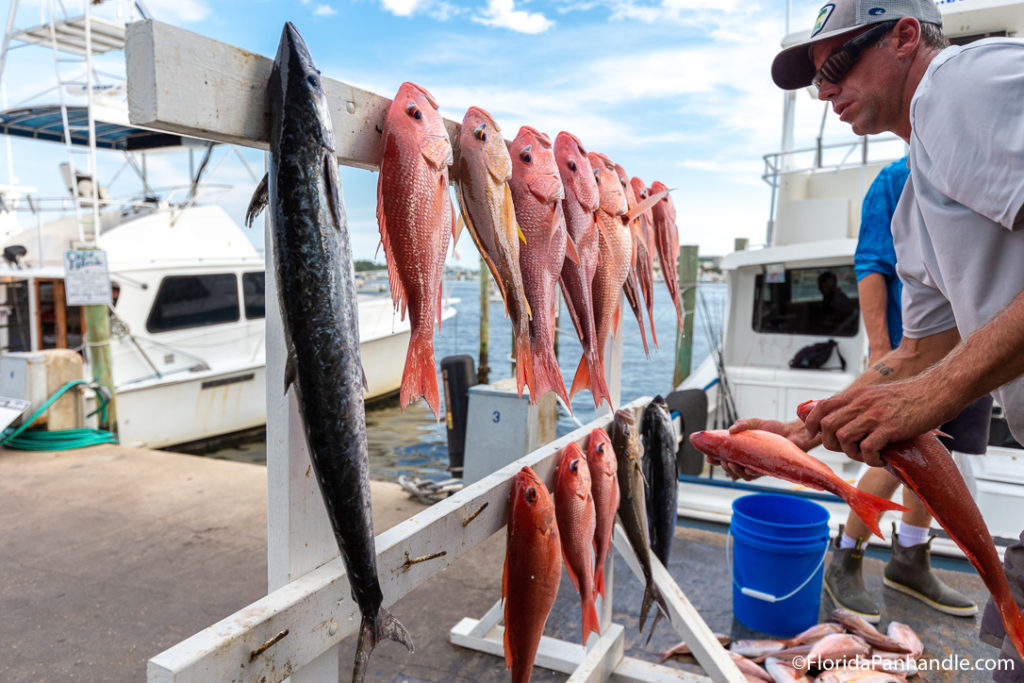 The fishing is good year-round in Destin. But you can expect to catch different types of fish each season, such as:
Popular Winter Fish
Popular Spring Fish
Cobia
Sheepshead
Mackerel
Pompano
Redfish
Popular Summer Fish
Bluefish
Ladyfish
Mackeral
Bonito
Popular Fall Fish
Redfish
Ladyfish
Bluefish
Mackerel
Bonito
If you use a Sabiki rig, you can even catch your own baitfish. You'll want to arrive pretty early in the day to start bringing in the cigar minnows and other live bait. Once you have enough, start putting them on the line to catch even bigger fish with each cast off the pier.
What You'll Need to Go Pier Fishing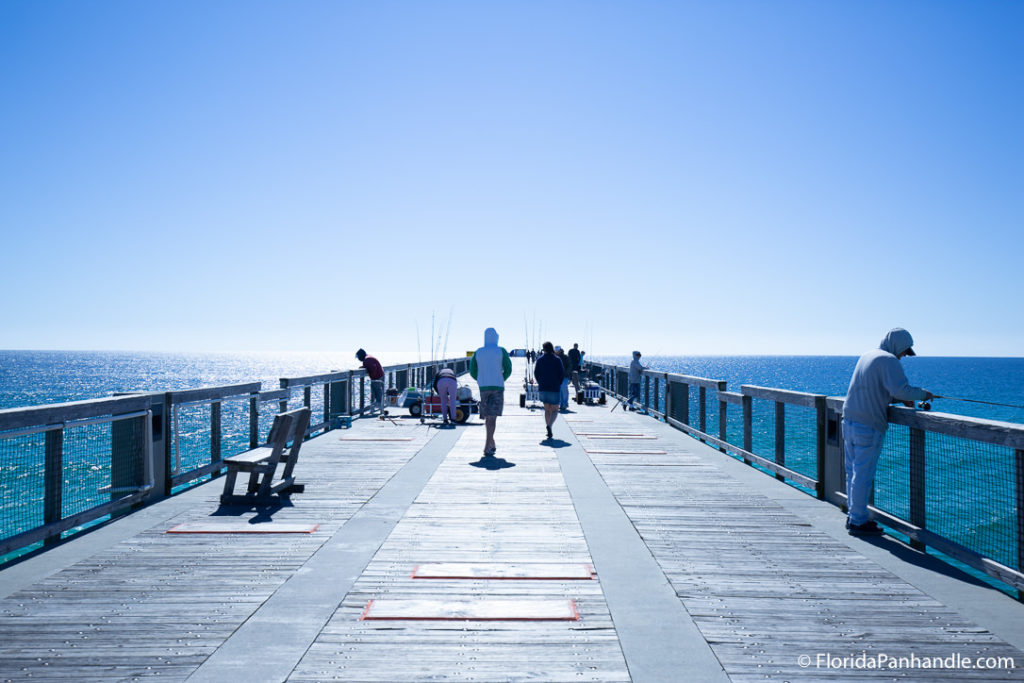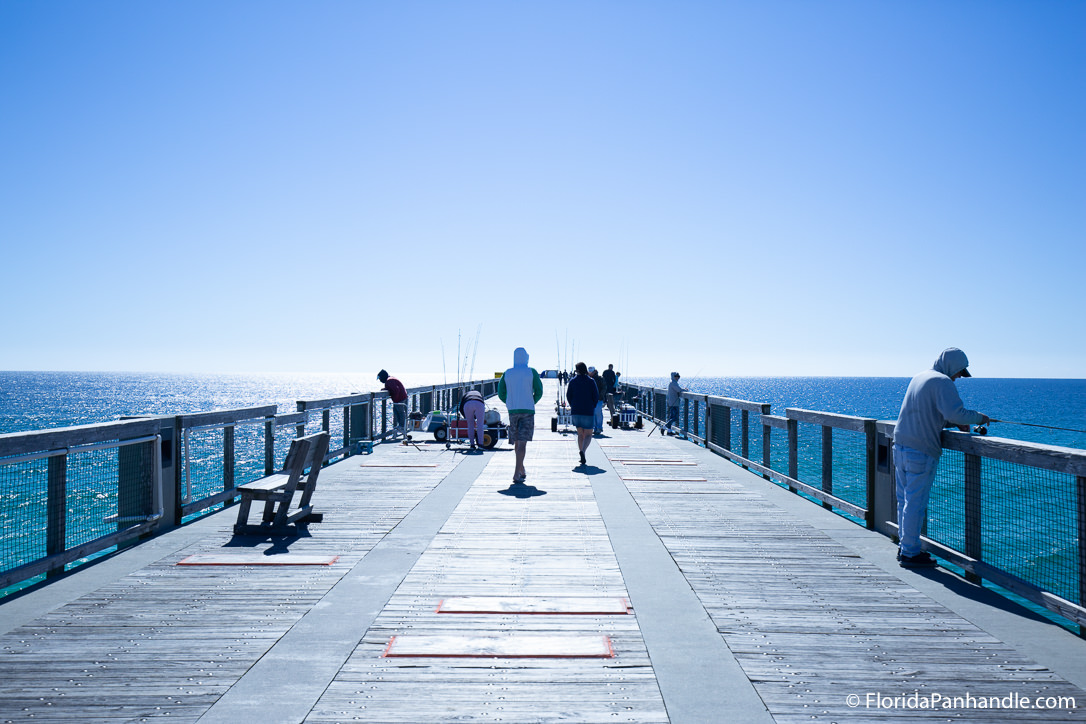 Overall, your gear will depend on your fishing goals. If you want to bring in king mackerel and other monster fish, for example, a nine-foot medium-weight rod, medium-action reel, and 20- to 30-pound test monofilament line is a must. Otherwise, you can get away with a seven-foot light-action rod, lightweight reel, and 8- to 12-pound test monofilament line.
Beyond that, you'll want to bring a fully outfitted tackle box with all your favorite lures, sinkers, and the like. As far as lures go, bring a couple each of chrome and red gotchas and pink pompano jigs. Don't forget the bubble rigs and wire treble hook rigs, plus plain circle hooks.
If you want to catch live bait, you'll need your Sabiki rigs, too, of course. Bring lots of shrimp, squid, and other bait as well, even if you plan to catch some small fish to use at the start of the day.
Other items to bring include:
Pier gaff
Cooler with ice
Snacks and drinks
Needle nose pliers
Sunhat
Sunglasses
High SPF sunblock
Towel
Measuring stick
Pick up a copy of the Florida fishing regulations guide as well, so you can compare each fish you catch to the minimum size limits. Remember to put all your items in a rolling cart to make it easy to move along the pier.
Unless you're going to only fish off licensed piers, you will need your saltwater fishing license. Licensed piers around Destin wrap the license fee into your price of admission. If you're going to fish off a private pier, vessel, or the shore, all non-residents over age 16 have to sign up for a license even if they're going to just catch and release. If you're a resident, both adults and children must have their own fishing license.
Do I Need A Fishing License?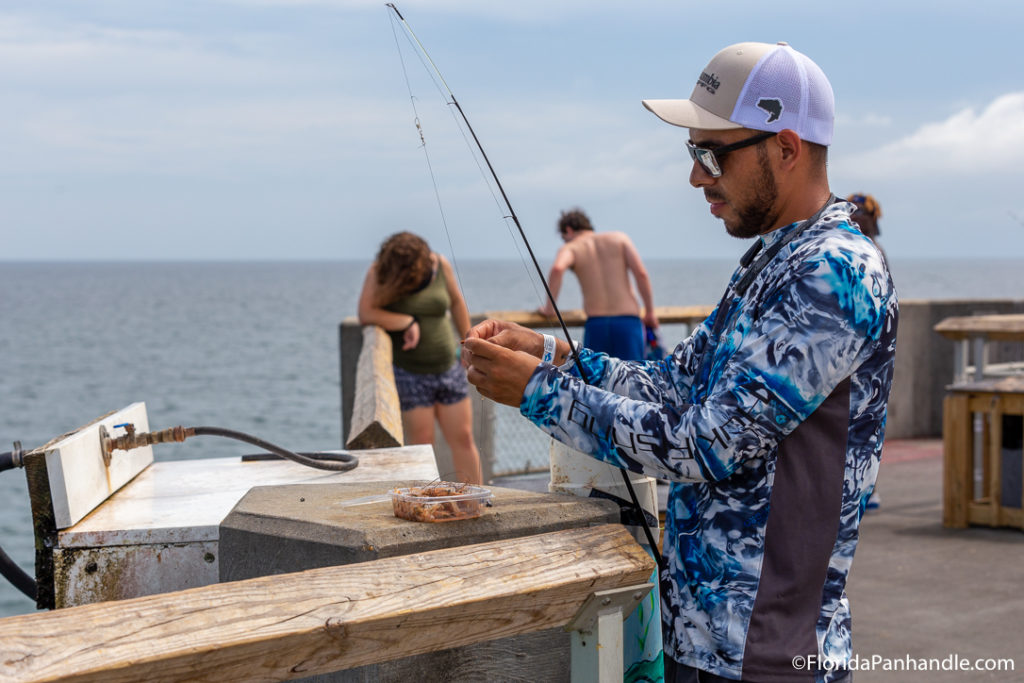 Florida fishing licenses are required for ages 16-64. What are some other important notes to keep in mind?
Out-of-state fishing licenses are not valid in Florida
Licenses are needed for any attempt to catch a fish (even catch and release)
A saltwater fishing license is required for any native/nonnative marine organisms.
What is the Price of Salwater Fishing Licenses?
Annual Residents: $17
Annual Non-Resident: $47
5-Year License for Residents: $79
3-Day Non-Resident: $17
7-Day Non-Resident: $30
What is the Cost of Freshwater Fishing Licenses?
Annual Residents: $17
Annual Non-Resident: $47
5-Year License for Residents: $79
3-Day Non-Resident: $17
7-Day Non-Resident: $30
When Are Licenses Not Required?
If you are under 16 years of age.
You are fishing on a free salwater fishing day or free freshwater fishing day.
You are fishing from a pier with a saltwater license.
You fish from a guide, charter, or party boat with charter license.
You fish from a vessel with a vessel license in name of operator.
You are fishing in a freshwater pond of 20 acres or more. Owner has purchased a fish pond license.
You are fishing in the St. Mary's River or Lake Seminole and have a Georgia fishing license.
Top Spots for Pier Fishing in Destin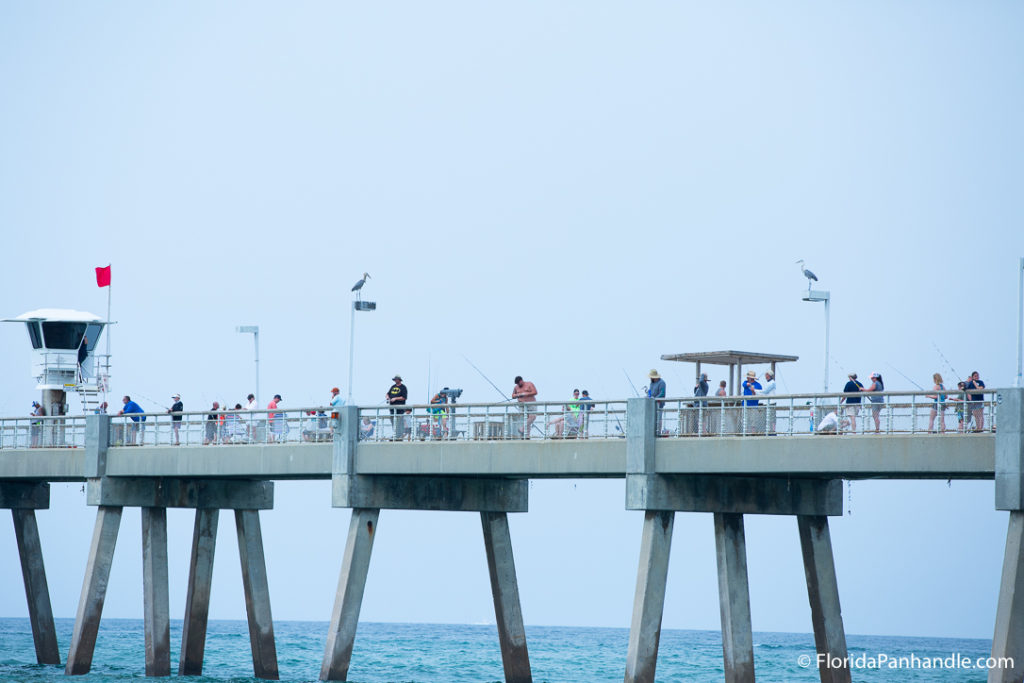 Whenever you want to go fishing, you have many excellent places to consider around Destin, Florida, such as:
Okaloosa Island County Fishing Pier
$8 adults
$7 for seniors over age 65
$5 6- to 12-year-old kids
Free for kids 5 and under
The Okaloosa Island Pier is one of the most popular spots in Destin to fish without a boat. Located right off Miracle Strip Parkway, this pier brings adults and kids from all over, ready to try their luck on the water. There's a bait and tackle shop right onsite, so you can easily get all your gear if you arrive empty-handed. They also have ice cream and other treats available to add to the magic of your fishing trip.
Navarre Beach Pier
$7 adults
$6 seniors over age 65
$4 6 to 15-year-old children
Free for kids age 5 and under
Discounts for active duty military and people with disabilities
Well-known as the longest pier on the Gulf Coast, Navarre Beach Pier gives everyone room to cast their line and reel in the big one. You'll find this popular spot to fish right on Gulf Boulevard and behind Windjammers On the Pier Restaurant. There's also a bait shop where you can buy or rent your gear plus load up on tasty snacks.
Dan Russell City Pier
$6 ages 7 and up
$3 seniors over age 65
$3 active military
Free for kids under age 6
Dan Russell City Pier takes you out beyond the sandy shores of Panama City Beach. The pier stretches out over 1,500 feet, so you really cannot miss it. As you walk out over the water, you'll find a bait shop filled with gear for sale and available to rent plus tons of goodies to enjoy while you fish.
Pensacola Beach Fishing Pier
$7.50 adults
$6.50 for seniors over age 65
$6.50 military members
$4.50 kids ages 7 to 17
Set right on Fort Pickens Road, the Pensacola Beach Fishing Pier aims to bring in the whole family to enjoy fishing fun. You can start your journey at the onsite bait shop, and then take your gear over to your preferred spot for the day. The best spots fill up fast, so you'll want to arrive as early as possible to avoid missing out.
Since all these popular locations are licensed piers, you don't need to get your own fishing license. You just have to pay admission to walk onto the pier and start fishing.
Whenever you end up going, pay close attention to the pier rules. There's usually signage letting you know what to avoid doing while fishing for the day. Some piers don't allow balloon fishing, for example, to keep things fair for all ages. As long as you abide by the rules, you're bound to have an excellent time, so it's well worth making sure you understand what's expected.