Fresh seafood makes sushi delicious. In the Destin area, the nearby fishing industry supplies plenty of fresh fish for the many area seafood and sushi restaurants. When you're in the area and have a hankering for sushi, check out one of the following top picks for excellent sushi dishes.
1. The Slippery Mermaid Sushi Bar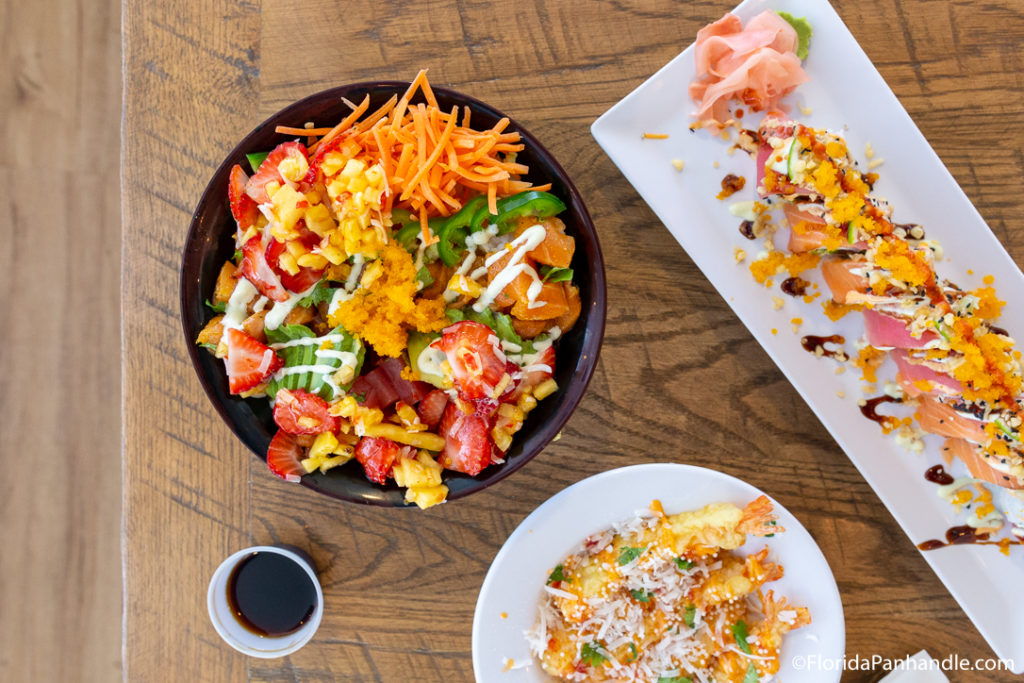 When unusual flavors of sushi rolls are your goal, stop by the Slippery Mermaid Sushi Bar in Navarre, FL. Here, you can enjoy a wide selection of signature rolls with interesting names such as the Psycho Mermaid, Triton's Tuna, and Whale of a Roll.
You don't even have to like raw seafood to enjoy a meal at the Slippery Mermaid. Look for symbols on the menu indicating dishes that do not contain raw fish. For instance, the Kickin' Chicken uses grilled chicken in the roll, and the Tropical Mermaid has fried tempura shrimp in it.
The restaurant also has several gluten-free options marked on its menu plus vegetarian rolls. Unlike other places that serve standard, plain veggie rolls, the Slippery Mermaid extends its flavorful options to the vegetarian roll menu. The Green Mermaid comes packed with roasted peppers, roasted garlic, avocado, carrots, cucumbers, eel sauce, and sesame seeds. You've likely never had a veggie roll with so much flavor. Visitors highly recommend this exceptionally delicious eel sauce.
Get flavorful, creative rolls in the Destin area by stopping at the Slippery Mermaid Sushi Bar in Navarre.
2. Wagyu McGuire's Japanese Sushi and Steak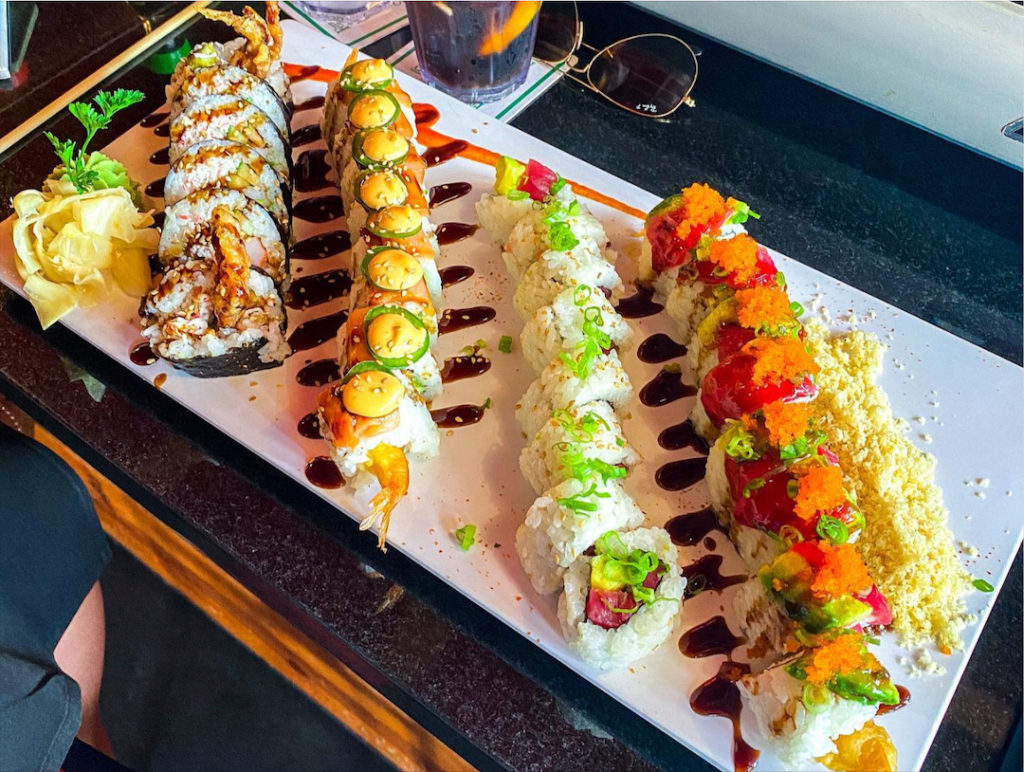 Where else can you visit a Japanese sushi bar and also get an Irish ale? Wagyu McGuire's Japanese Sushi and Steak has a full selection of sushi, sashimi, maki rolls, steaks, and sakes that you would expect at a high-quality Japanese restaurant. But unexpectedly, you'll also find craft-brewed McGuire's Irish Ale. This restaurant's unique ale offerings come from its location adjacent to McGuire's Irish Pub in Destin.
While many people come simply for the unique combination of ale and sushi, more visitors return for the great sushi, house-made sauces, and exceptional drinks. Don't miss the Dragon Punch for a fruity, thirst-quenching rum punch that will leave you craving for more.
3. Osaka Japanese Hibachi Steakhouse and Sushi Bar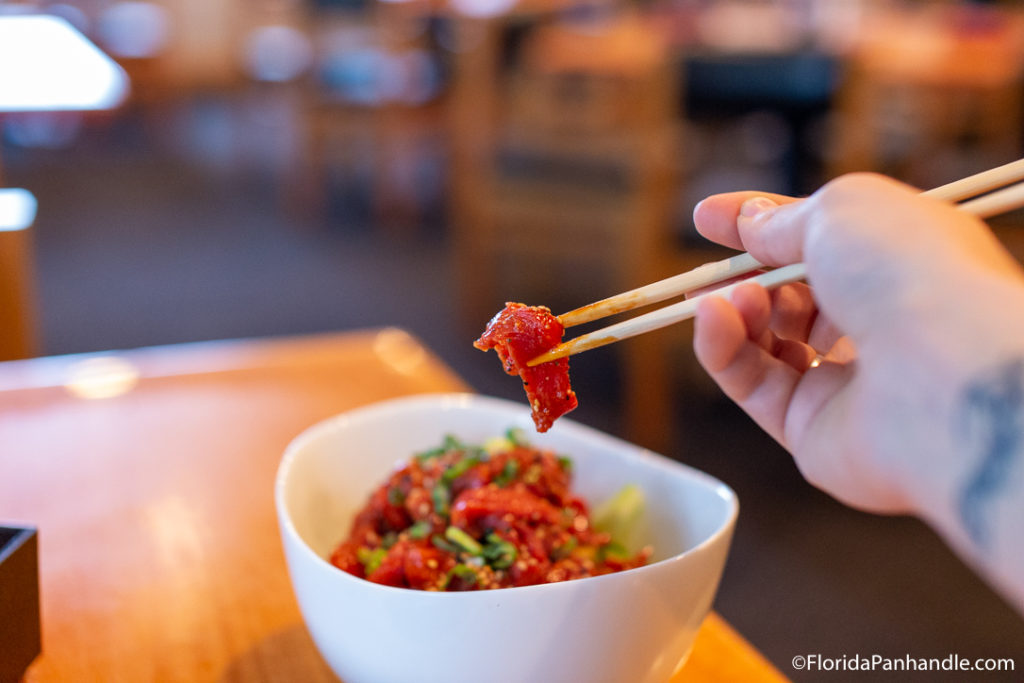 The Osaka Japanese Hibachi Steakhouse also serves a stunning selection of rolls. Plus, if you want alternative wraps to seaweed, Osaka has you covered. Soy wraps, cucumber wraps, and sashimi give you options for a flavorful dinner without nori (seaweed) wrappers.
Diners here praise the freshness and flavor of the sushi. In fact, most visitors recommend the sushi options over those cooked on the hibachi. Try the Cowboy Roll for a beefy roll with strip steak, avocado, and spicy mayonnaise if you don't want fish. Or sample a trio of yellow tail, salmon, and tuna with the Sushi Trio.
If you want a fast meal without waiting for the hibachi show, slip over to the sushi bar and order a roll or two.
4. Jackacuda's Seafood and Sushi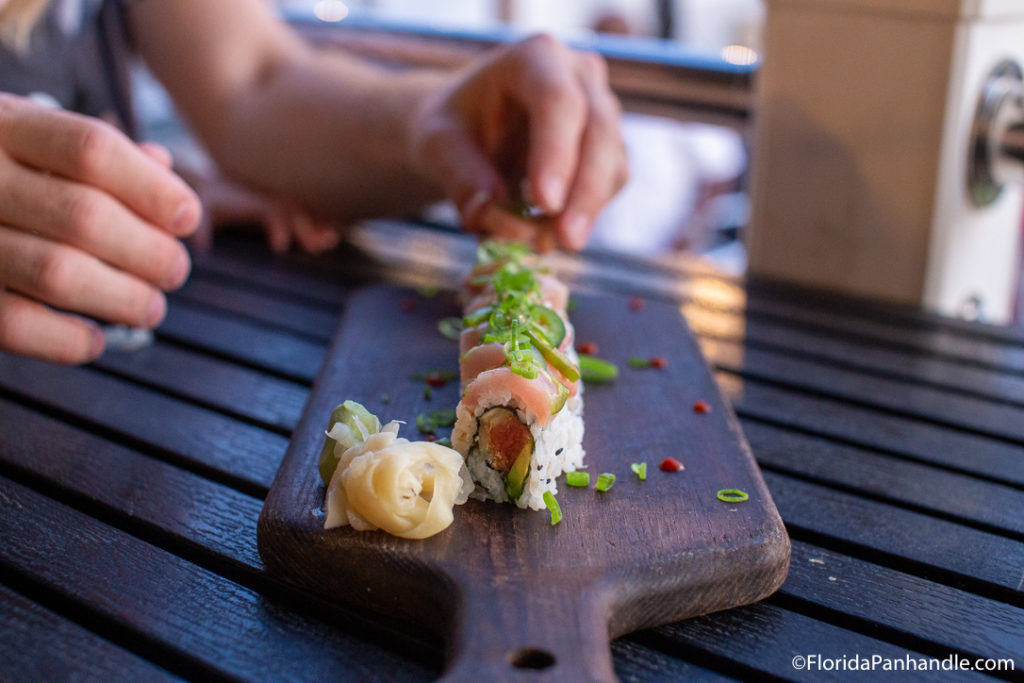 An all-you-can-eat sushi buffet at lunch? You'll find it at Jackacuda's Seafood and Sushi on weekdays. And that's not a fish tale.
This seafood restaurant has a fish tale in its origin story. The waters off Destin have a reputation for their richness in fish, giving the town its nickname of "The World's Luckiest Fishing Village." Supposedly, an artificial reef created off the coast of Destin in the 1980s was a favorite spot for catching amberjack fish. In the 1990s, a fishing captain went to the spot looking for amberjack fish but only caught barracuda. He relayed on the radio that he caught "Jackacudas," and the spot became renamed in honor of the message. The restaurant got its name from this story and how it, like the fishing spot, brings together people from all over.
Jackacuda's Seafood and Sushi have offerings that everyone in the family can love. So, if you have younger kids who may balk at going to a full sushi restaurant, they'll find tasty dishes they'll love here. Many of the rolls don't use raw seafood. The ones that do use only the freshest seafood available.
Visitors recommend that you try the Orange Torch roll with imitation crab and salmon. Another popular roll is the spicy lobster O.V.O. roll on soy paper. Non-sushi eaters can find poke bowls, ramen, and burgers on the menu.
Don't miss this eclectic seafood and sushi restaurant that will ensure everyone gets the meal they want.
5. Harbor Docks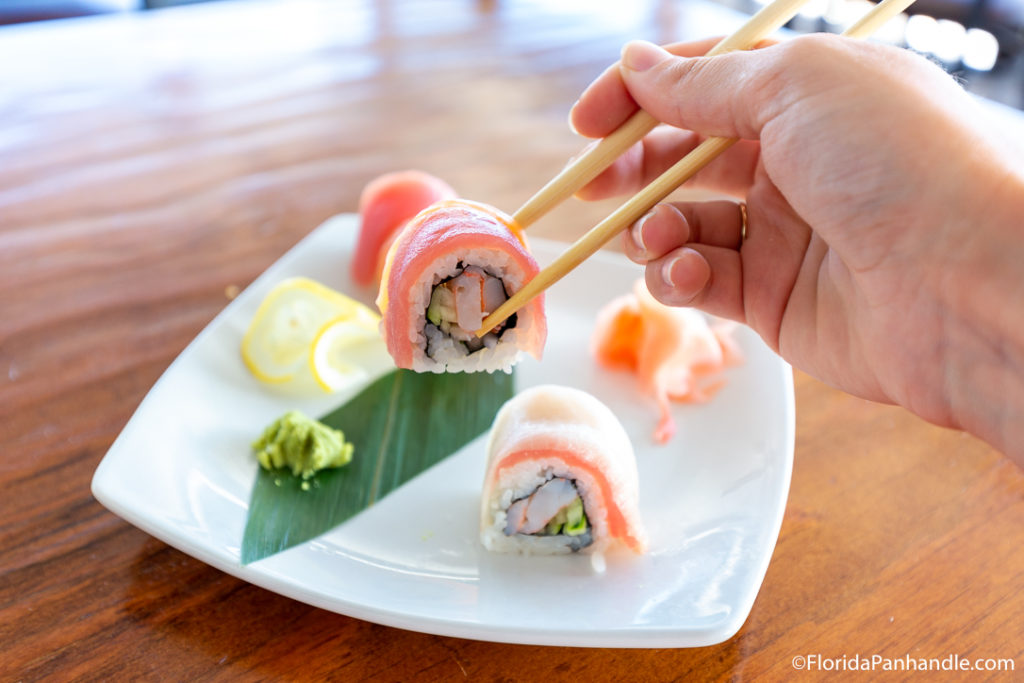 Located right on the docks, Harbor Docks has used only the freshest seafood in its restaurant since its opening in 1979. When it comes to sushi, using locally sourced seafood ensures that the dishes, especially those made with raw seafood, are flavorful and safe. Harbor Docks often exceeds visitor expectations with the exceptional taste and freshness of its sushi and other dishes.
A sushi restaurant that offers exceptionally fresh dishes should have simple offerings on the menu. Harbor Docks is so proud of the quality of its seafood that it offers a large selection of sashimi, which consists of bites of raw fish. Nigiri places these raw slices over pressed rice rolls. These simple dishes are ways to truly embrace the difference fresh, local seafood makes.
Of course, Harbor Docks also has a large variety of specialty rolls. If you want something with complex flavors, try one of these rolls. The Backdown roll comes with high praise from diners and includes cucumber, spicy sauce, shrimp, cream cheese, and toppings of imitation crab salad, tuna, and avocado. If you prefer a standard roll, you cannot go wrong with the Spicy Tuna roll. This classic roll comes with a spicy sauce, green onions, and tuna in a roll that lets the tuna flavor shine.
Whatever you order from the sushi menu at Harbor Docks, you can rest assured that you will have the freshest seafood in your meal.
If you want sushi, you'll find some of Destin's freshest, most delicious dishes at the above restaurants. Use these suggestions as a starting point to find the perfect sushi dishes you crave.