When you're in the mood for an afternoon of fun challenges, Destin mini golf is definitely the way to go. On the mini-golf course, you can fly solo, compete with friends and family, or even join a pickup game with other onsite competitors. If that sounds like just what you need in your life, turn your attention to these top spots for mini-golf in Destin, Florida.
The Track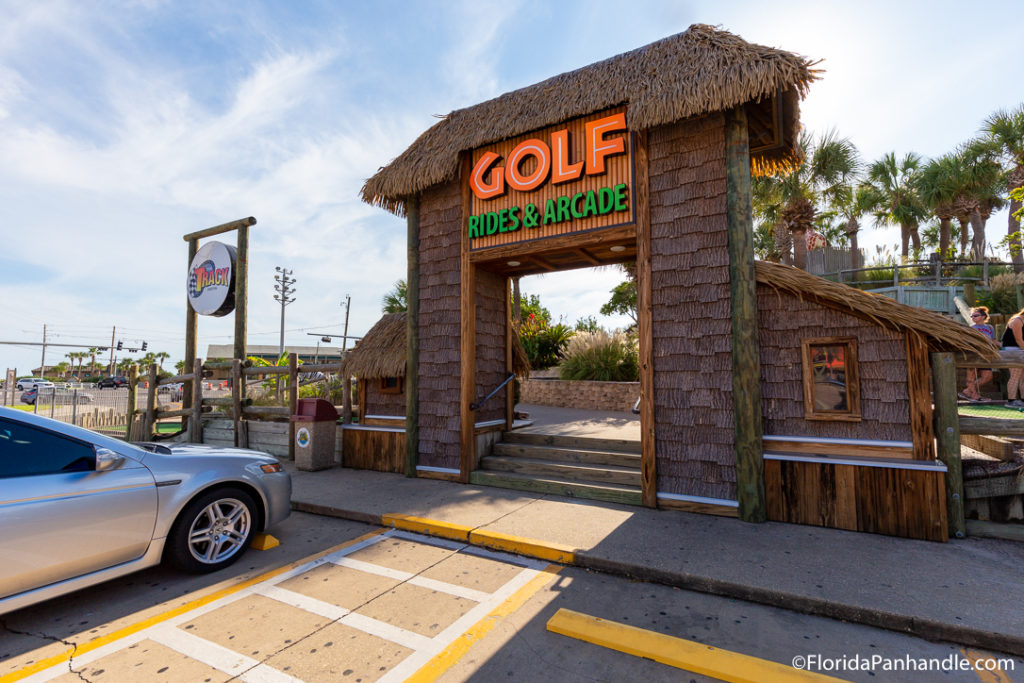 Although the five go-kart tracks steal the spotlight at The Track, their two mini-golf courses are well worth a visit all on their own. Themed as a zany Surfin' Safari, these courses take players of all ages on a wild tour of jungle animals and their habitats. All along the way, the tunnels and other obstacles attempt to stand in your way of coming in under par, while the waterfalls create a chill vibe. After mastering their courses, you can try out the go-karts or enjoy their many other attractions, including the bumper cars, Skycoaster, and Hurricane 360.
Goofy Golf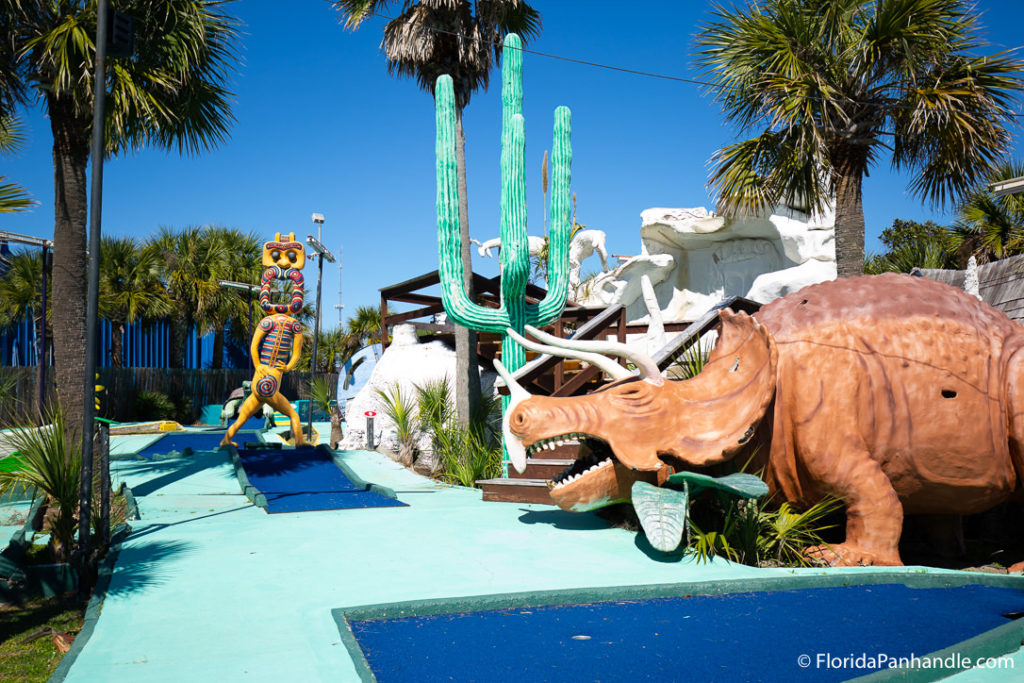 For an exhilarating mini-golfing experience on a budget, you cannot go wrong with a trip to Goofy Golf. Their two 18-hole courses are all designed with a challenge in mind while keeping things fun and low-key. Plus, their ultra-low price point lets you master the holes without going broke. All along the course, you'll find giant, interactive statues of mushrooms, monkeys, and dinosaurs. You can climb up some for a phenomenal view or go inside others for a memorable photo op.
Okaloosa National Mini Golf & Ice Cream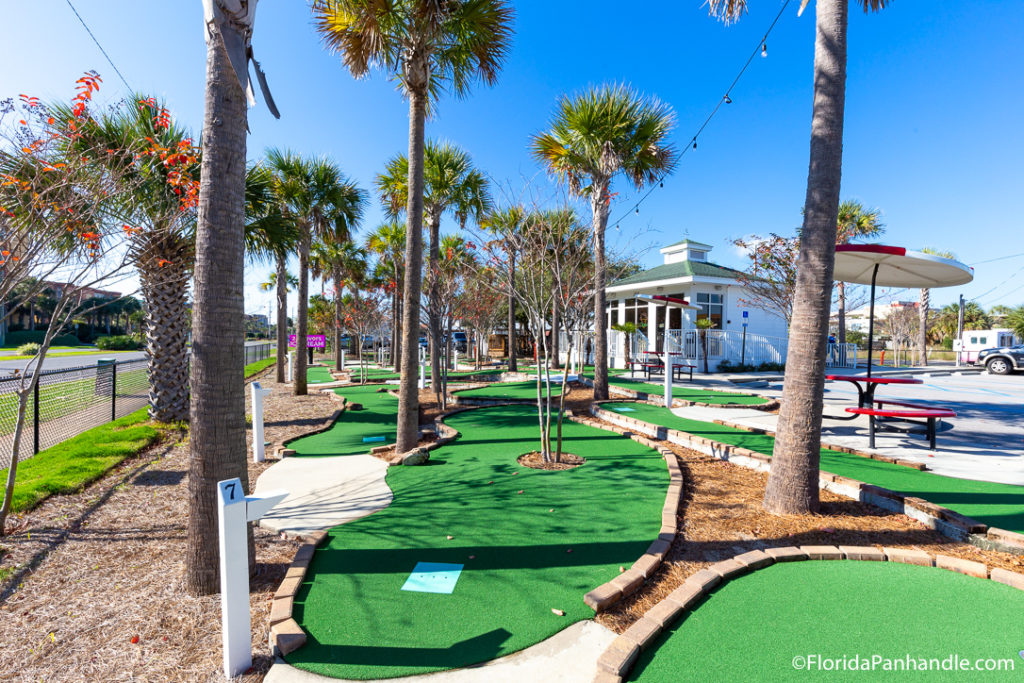 The Okaloosa National Mini Golf & Ice Cream course offers even more budget-friendly putt-putt fun in Destin. The 36-hole course meanders around the outside of their ice cream parlor, encouraging you to think each move through to the fullest to get the highest score. Once you finish the game, you can take a much-needed ice cream break before hitting the course for another round. With over 24 ice cream flavors on board, they always have a little something for everyone, especially the chocolate lovers in your crew.
Destin Laser Tag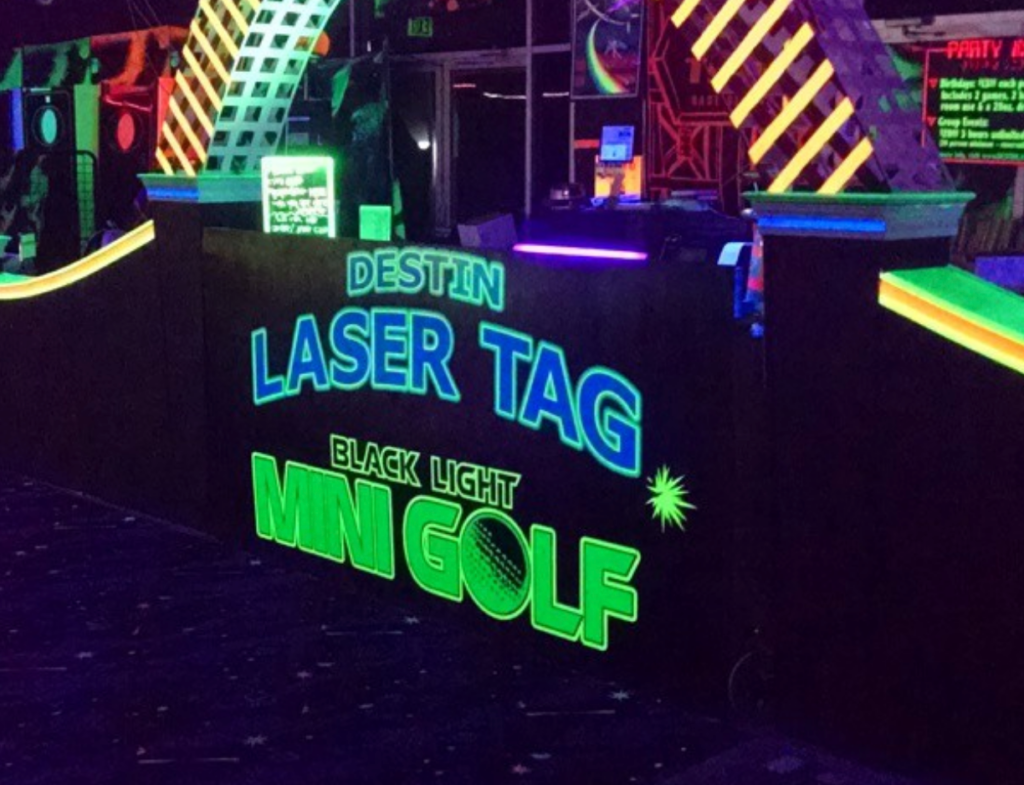 At Destin Laser Tag, their 4,000 square foot laser tag maze is the name of the game, but their blacklight mini-golf will definitely leave you feeling more than impressed. Designed with bright colors that pop under the black light, their 18-hole course takes you on an exciting journey through a futuristic world. Even better, since it's all indoors in an air-conditioned building, it's always a great time no matter what the weather's like outside.
Rainforest Black Light Golf & Arcade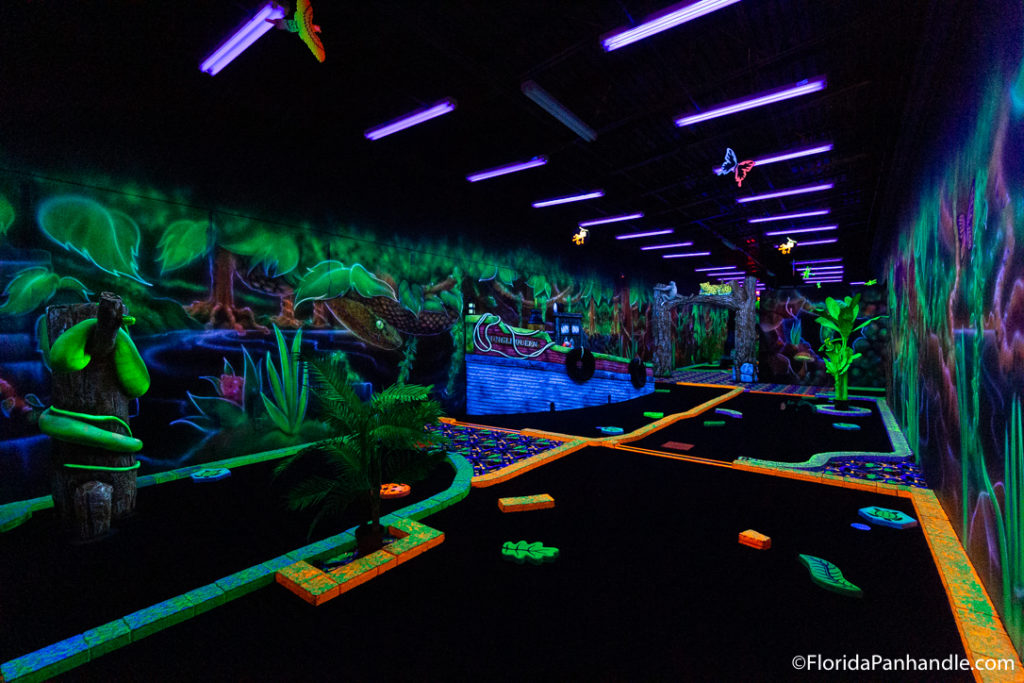 The Rainforest Black Light Golf & Arcade lets you explore the jungle in all its colorful glory while trying to come in under par. Their 18-hole course is set up completely indoors where they can light up the day and night with the brightest hues. The vivid murals on the walls pair beautifully with the impressive sculptures to keep you wowed through every game. After you're done golfing, don't forget to visit the arcade to play all the top video games and so much more.
The Golf Garden of Destin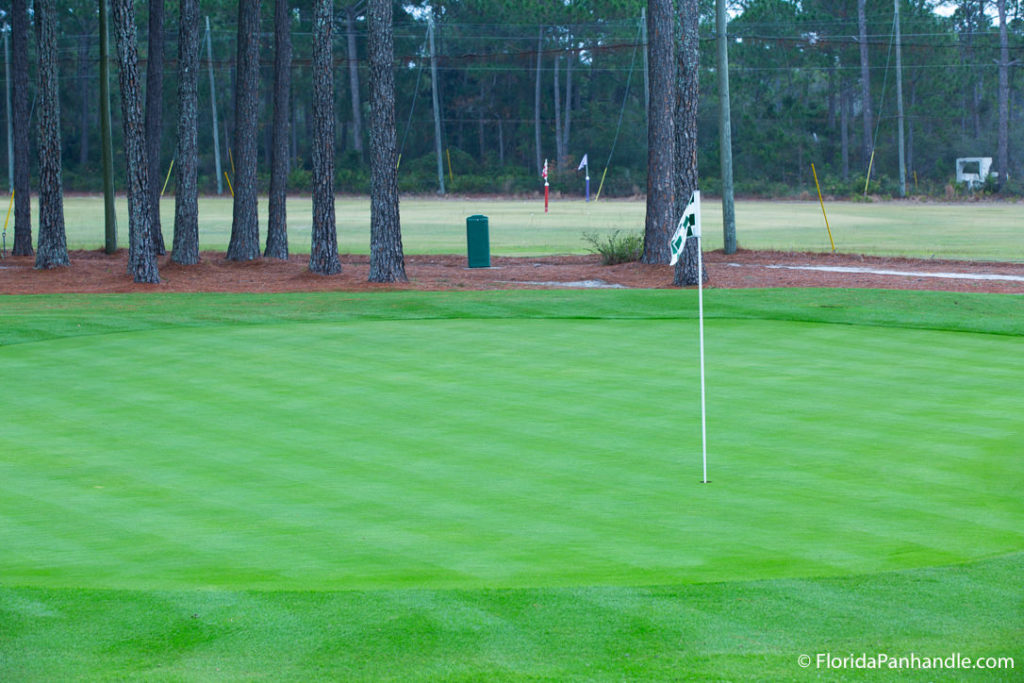 In addition to their full executive golf course, The Golf Garden of Destin keeps it low-key with their putt-putt course. Offering 18 well-designed holes to conquer, this mini-golf course keeps things suave and sophisticated every step of the way. From their palm trees to attractive rockery, the course décor will win you over at first glance. Once you get going, you'll quickly notice that the innovative course design proves challenging to seasoned players without leaving out the little ones.
Pirate's Island Adventure Golf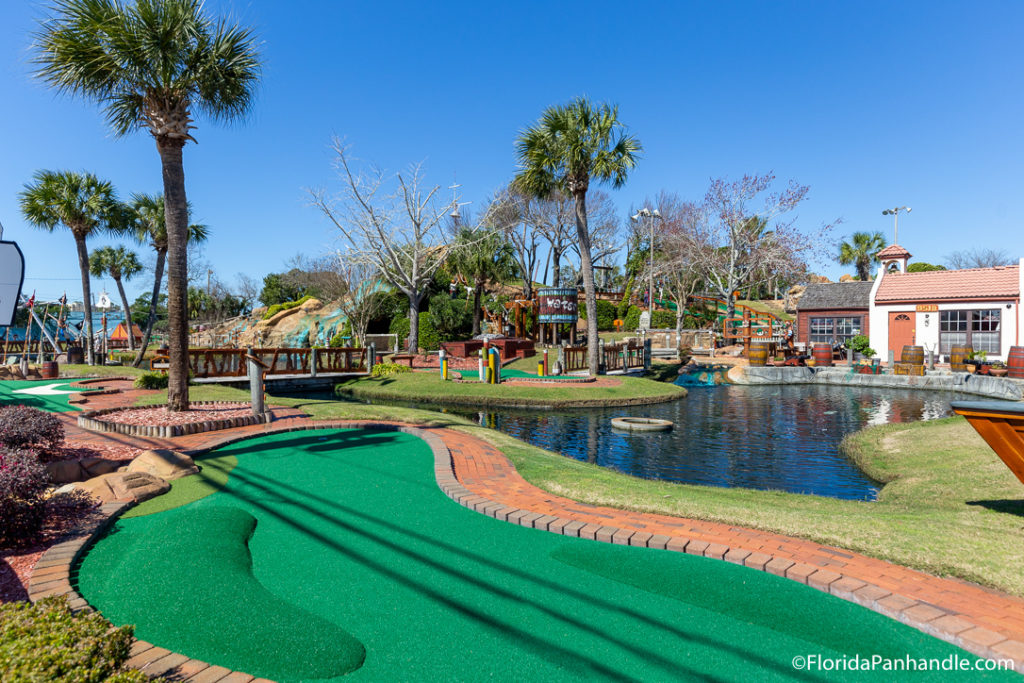 If you've always wanted to follow the map to buried treasure, you'll love to take a trip through the course at Pirate's Island Adventure Golf. For each game, you'll set out in hopes of discovering where Capital Kidd lost his treasure. The course will lead you past waterfalls, along streams, and into deep, dark caves as the pirate adventure plays out. The amazing sights promise to leave you in awe while the compelling story will bring you back again and again.
Wild Willy's Adventure Zone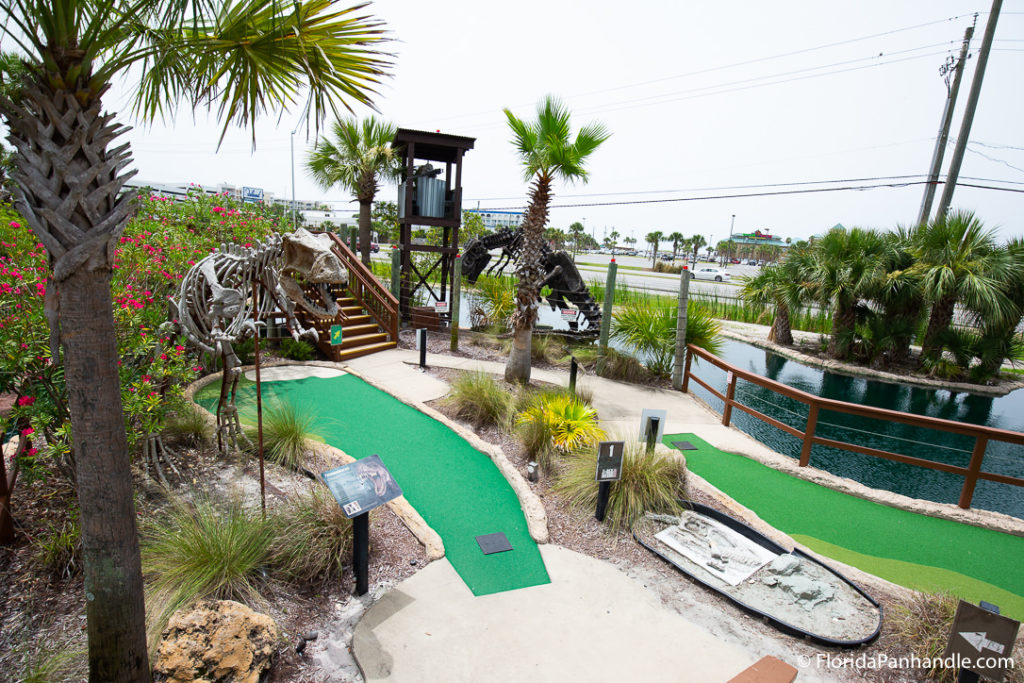 With three themed mini-golf courses available, Wild Willy's Adventure Zone is the place to go for a variety of putt-putt experiences. If you'd like to go on a pirate adventure to remember, start your journey on their Island of Tortuga Adventure Golf course – complete with animatronic skellies and more. If dinosaurs are more your jam, then T-Rex Island Adventure golf is where it's at, especially if you want to end up face to face with the mighty king of the dinosaurs. Got tiny golfers in your group? Then, head on over to the Hatching Haven Kiddie Golf for a chill golfing adventure.
In order to find your favorite places for Destin mini-golf, you simply need to try them all. Remember to keep score as you try out each place, so you can pick the clear winner once you're done. After that, you can return to your favorite spots whenever you need to blow off steam and have a great time.