Are you ready to kick off those shoes and enjoy a long day of sun, surf, and sand? Destin, Florida is renowned for its gorgeous beaches that are perfect for just that! However, while there are some who might do just fine with bringing only their swim trunks or suit for a day at the beach, they are quite the minority. For an extended day, you want things like shade to escape the sun when you're feeling a touch too hot and plenty of cool drinks to keep you hydrated. The following is a look at these and other beach day necessities that will ensure you and your family have the most comfortable and enjoyable day out on the beaches of Destin: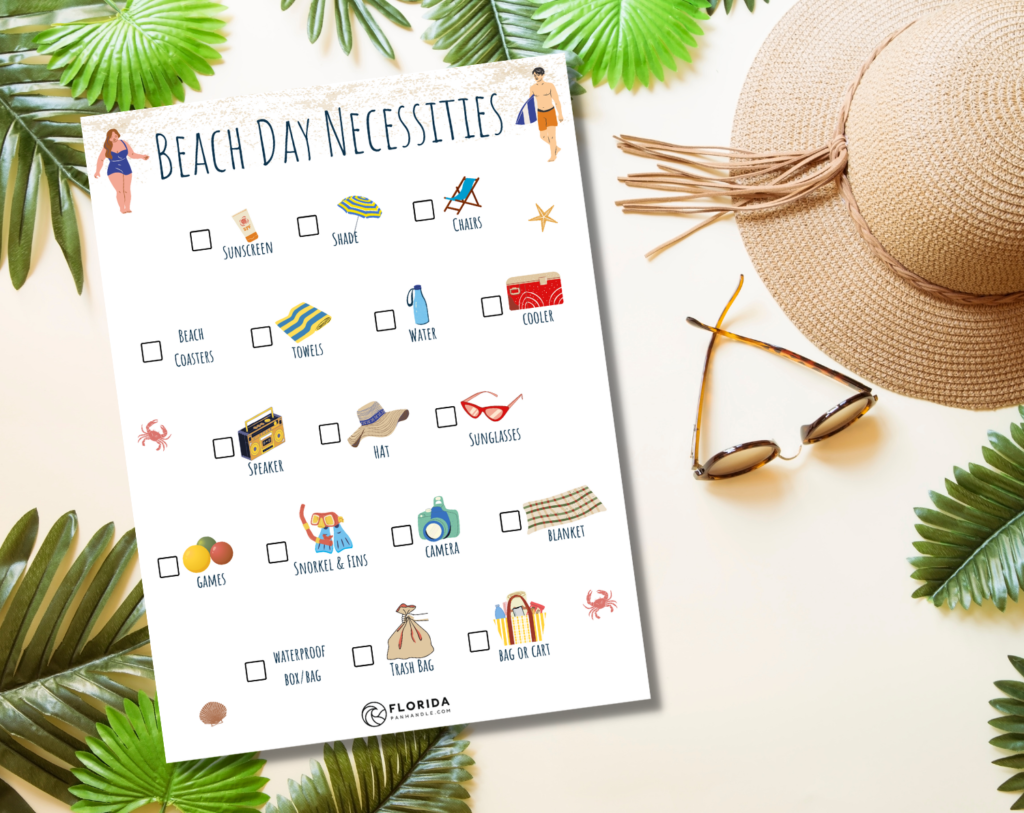 17 Destin, FL Beach Day Necessities
Sunscreen
Do not go to the beach without it! Spray sunscreen is fast and easy to apply while still offering exceptional protection against those UV rays that would otherwise leave you blistering.
Some type of shade
A large canopy is an ideal solution for giving the whole family plenty of space to escape the heat. However, it's not always feasible, especially if you're flying into the Panhandle, but you can rent beach umbrellas and chairs through a variety of outfitters like Lazy Days Beach Service. Having your own shade, whether by an umbrella, canopy, or potable pop-up tent, really helps with keeping everyone's temperature comfortable and should be a must on any beach trip that's going to be longer than an hour.
Beach chairs
You can also find these easily rentable in Destin, FL, or you can buy your own to reflect your own preferred beach style and chair comfort.
Beach coasters
Beach coasters are raised with a perforated bottom to drain out sand and water and feature colorful arched corners that keep the whole thing stable in the sand.
Cooler
Cool beverages are a nice contrast to a hot day by the water, but they aren't going to stay cool without a cooler. Whether you choose to invest in a high-grade hard cooler, a pop-up beach cooler that's easy to store, or a temporary Styrofoam one will depend upon your unique beach day setup and needs.
Water
How can we talk about beverages and not include the most important ones? A couple of bottled waters will keep your group hydrated and happy throughout the day. Even if you don't enjoy drinking water, having some on hand is smart for washing saltwater out of the eyes and for things like cleaning sunglasses and snorkel masks.
Towels
Beach towels are great for drying off after a quick dip and for laying out to develop that nice beach tan.
Waterproof speaker
A waterproof, Bluetooth speaker makes it easy to sync up your phone and turn up those favorite beach day playlists. Many Bluetooth speakers today also feature microphones, so that they double as a handy way to make phone calls while keeping your phone in a water and sand-safe place.
Hats
A wide-brimmed hat is both trendy and useful for protecting against the sun and keeping the wearer comfortable.
Polarized sunglasses
The sun over a Destin, FL beach can be quite bright, especially when there are no clouds in the sky. Polarized sunglasses go a long way in cutting down on the glare as the sun reflects off of the area's bright white sandy beaches. Plus, they help prevent UV rays from otherwise damaging your eyes.
Oversized and sand-proof beach blankets
Sand-proof beach blankets, also marketed as sand-free beach blankets, are comfortable, multi-layered blankets. All the layers are typically made with a polyester or similar material thin meshing that filters sand and dirt that falls from the top down, while simultaneously preventing it from coming back up to brush and otherwise irritating the user's skin.
Corn hole or bocce ball set
A beach game like corn hole or bocce ball is a great addition to any beach day. These games get the group together to have fun in an easy, competitive beach sport.
Snorkel and fin set
Not all beaches are good for snorkeling, but Destin, FL isn't just any beach. The beaches here are among the best for snorkeling in all of Florida thanks to the outstanding visibility. On good days, snorkelers can see as far as 80 feet underwater in the area's top snorkeling spots like Henderson Beach State Park. But to enjoy underwater sights that include seahorses, sea turtles, and massive fishes, you need the right gear!
Waterproof camera
Also, if you want to enjoy snorkeling in Destin, a waterproof camera should also be on your Florida beach day necessities list. A waterproof camera rated for underwater photography is great both for those special fish sightings and to capture fun times onshore.
Waterproof box for phone and keys
Saltwater is not kind to electronics and sand readily scratches phone screens even in the shortest of falls. Grab a waterproof box to keep keys, smartphones, and other sensitive items securely locked away and safe from the risks of water and sand damage.
Bag for your trash
A simple plastic grocery bag will work just fine here. Hang the bag in an accessible area to make it easy for your group to toss the trash as they make it. Then, when you're ready to go, simply tie and throw at the beach's larger receptacles, often found close to the parking lot or beach accessway.
Beach bag or cart
We know we've listed a lot of beach day essentials here, so many that it's going to be pretty arduous to carry them all in only by hand. As such, the last item on our list is a beach bag or collapsible outdoor utility cart (also often referred to as a beach wagon). Fill your choice up with your beach day essentials to enjoy an easier walk to and from Destin's beaches.
Now to Find That Ideal Beach!
As we said earlier, Destin, FL has some of the best beaches in the state of Florida, quite arguably the country. But there is more than one to choose from. Visit our other pages to learn more about the different beaches of Destin, FL, and the surrounding areas, as well as top places to go to enjoy a filling meal and an enjoyable evening after a long day playing in the sun.