One of the most popular tourist hubs along the Emerald Coast of the Florida Panhandle, Destin has majorly wide-ranging appeal: a place to relax and soak up beachfront sunsets, a place to get the heart rate up with thrill rides and watersports, and—perhaps most famously—a place to savor firsthand the world-class fishing available along this oceanfront.
In this article, we'll round up some of the main features and attractions for which Destin's so celebrated. Let's dive into those emerald-green depths!
White Sands & Emerald Waters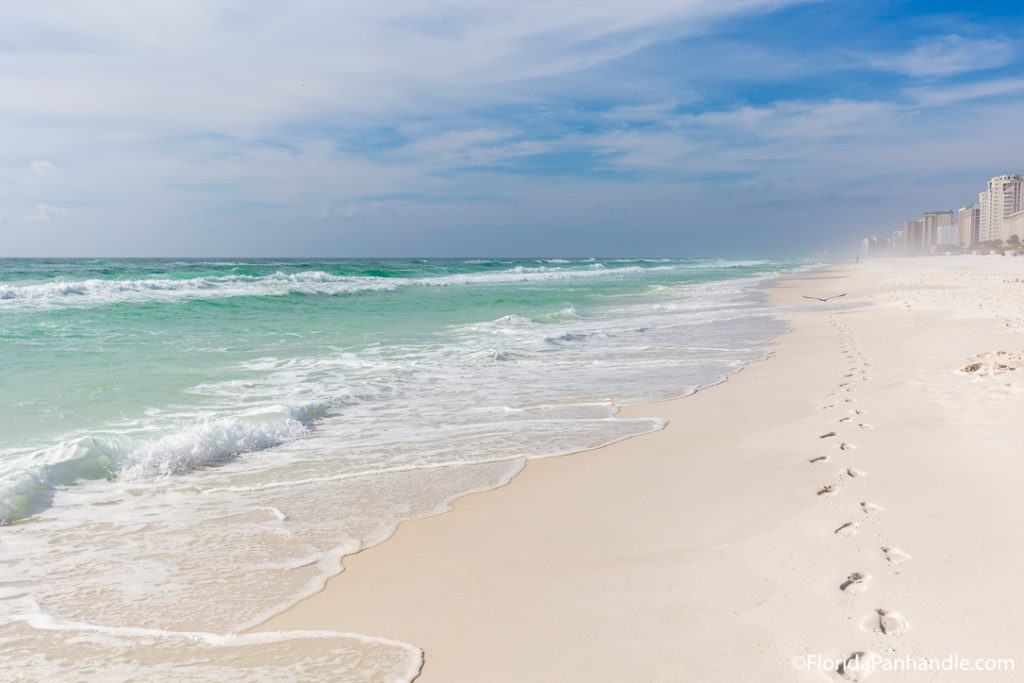 The Gulf of Mexico seaboard is, of course, the number-one draw in Destin, whether you're looking to sunbathe, swim, cast a line (see below), or have a blast in the watersports and boating department. This oceanfront gets its inherent mesmerizing quality from the combination of two natural features: blazing white "sugar sands" and the emerald green waters that give this coast its unofficial promotional label.
For the white sands, you can thank the Appalachian Mountains far to the north: Quartz grains weathered off those ancient highlands and transported to the Gulf by the Apalachicola River, then deposited along the strand by nearshore currents, are the prime ingredient for the glorious snowy-white sugar sands, famously squeaky underfoot.
That blazing sand contrasts beautifully with the green waters for which this stretch of the Florida Panhandle is so renowned. Algae (harmless and ecologically beneficial algae, mind you) create this special hue, which is intensified by the fact that Destin's waters lie far enough away from the sediment plume off the mouth of the Mississippi River that reduces clarity along much of the Gulf Coast. The white-sand bottom of the nearshore seafloor as well as that crystalline water quality amplify the emerald color, which varies in tone and intensity with algal concentrations and sunlight.
A junior-high student, by the way—Andrew Dier—coined the name "Emerald Coast" in 1983 as part of a contest for a fresh promotional slogan.
Destin-area Beaches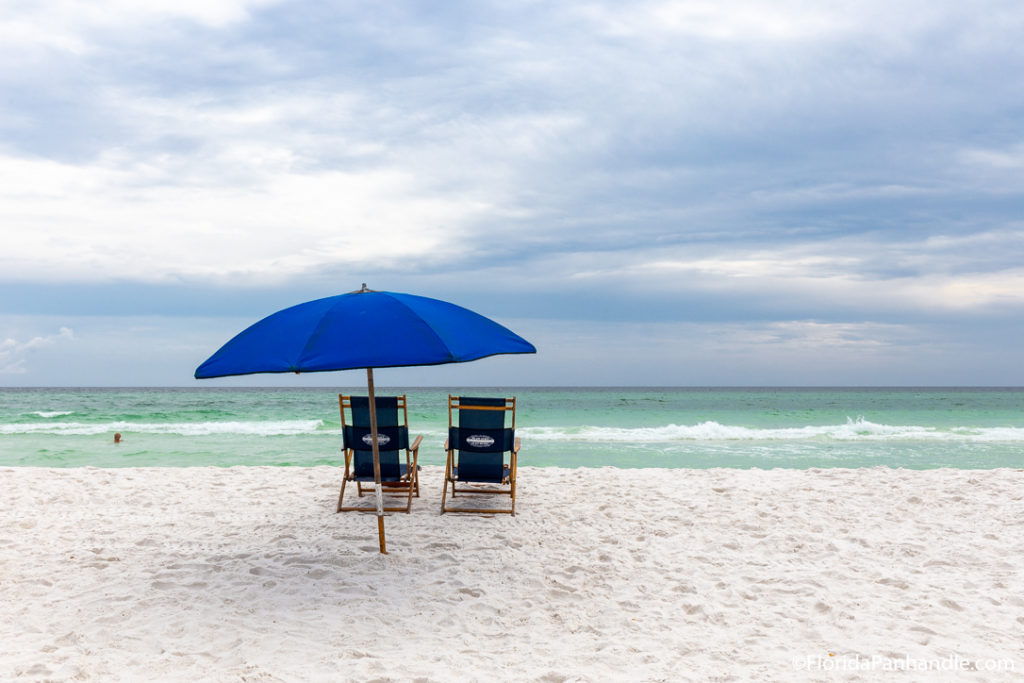 Where can you enjoy those sugar sands and emerald waters? Well, you're downright spoiled for choices. Get your barefoot game on at spots such as John Beasley Beach Park, the Okaloosa Island Pier, Jetty Beach, Eglin Beach Park, and Henderson Beach State Park (which we'll talk more about later). The submerged sandbar of Crab Island at the entrance to Choctawhatchee Bay is a popular swimming and watersports hangout, meanwhile.
Destin: "The World's Luckiest Fishing Village"
The white-sand beaches and emerald waters set the stage for the third reason Destin's Gulf shores are nationally famous: The fishing here is out-of-this-world good. Indeed, Destin boasts one of the biggest fleets of charter fishing boats in the country: better than 250 vessels strong. Captain Leonard Destin founded Destin on Moreno Point in 1852 as a fishing village, and hooks and lines have been the fundamental backbone of the place ever since.
Proximity to a wide range of waters—including such bountiful cuts as East Pass linking Choctawhatchee Bay and the Gulf—is part of the secret to Destin's angling awesomeness. The real sealing-of-the-deal comes from the fact that the legendary 100-fathom curve, where the gently sloping continental shelf abruptly plunges to offshore depths, is a mere 25 miles or so south of Destin, offering the quickest access to deepwater pelagic fishing on the Panhandle.
So in addition to casting for cobia, king mackerel, Spanish mackerel, redfish, flounder, amberjack, tarpon, pompano, sea-trout, and more closer to shore, anglers in Destin can quickly find themselves prowling bountiful bluewater deeps for such big offshore fish as sailfish, swordfish, blue marlin, wahoo, mahi-mahi, and mako sharks.
Having the 100-fathom curve a stone's throw away explains an early tagline for Destin: "the Billfish Capital of the Gulf." These days, it's better known by the more blanket slogan of "the World's Luckiest Fishing Village."
That phrase actually came from a Florida governor, Leroy Collins, who had a mere hour to spare for fishing on a visit to Destin in 1950. Despite his tight timetable, he managed to reel in a nearly 30-pound king mackerel and coined the "World's Luckiest Fishing Village" nickname when extolling Destin's waters to the press afterward.
Whether you're a beginner or an expert caster, Destin's abundance of charters and top-quality fishing guides give you a major chance of angling success at any time of year. There are numerous fishing contests on the Destin calendar, including the well-known Destin Fishing Rodeo that's been a yearly tradition since the late 1940s.
Signature Destin Attractions
Besides the beaches and the fishing grounds, Destin boasts a number of high-profile destinations well worth checking out on an Emerald Coast getaway. They include the Destin HarborWalk Village, where you can enjoy some of the best dining, shopping, watersports, and amusement rides in the area. Land among the finest views of the white sand/emerald waters combo here while parasailing: hard to beat!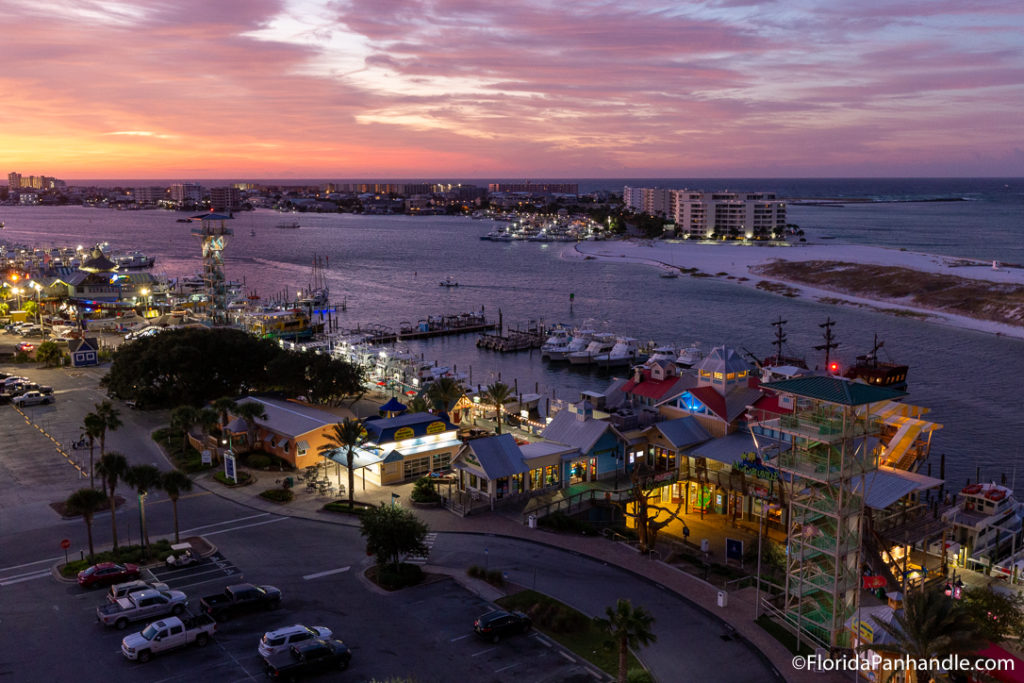 Besides HarborWalk Adventures there, you've got a variety of other amusement parks and fun zones to choose from, including Escape Room Destin, The Track, and Big Kahuna's Water and Adventure Park.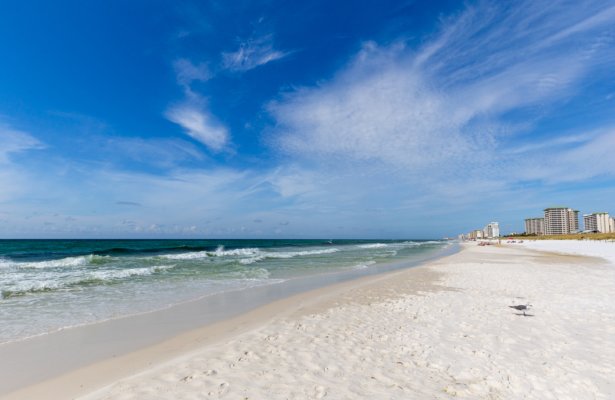 We already mentioned Henderson Beach State Park as a beachgoing spot, but this fantastic piece of public land is also very much worthy of appreciation for its ecological attractions. It protects rare examples of native Emerald Coast ecosystems, including coastal scrub and natural white dunes soaring to 30 feet. Wildlife abounds here, including a treasure trove of birdlife, migrating monarch butterflies, and sea turtles.
Back to the subject of fishing, we highly recommend a visit to the Destin History & Fishing Museum to learn how the commercial and recreational industry shaped the city—and to eyeball an impressive display of mounted game fish, including more than a few real whoppers.
Experience the World's Luckiest Fishing Village
Whether you're battling tarpon or marlin, speeding around on a jet ski or a go-kart, or simply dozing off with your feet buried in sun-warmed sand, Destin delivers a superb sampler pack of the Emerald Coast's enticements!