Whether it's a cheerful start to a beautiful day or a much-needed antidote to a wild night out, everyone loves brunch. And while you may have your go-to brunch joint in your hometown, finding the perfect spot while out of time or on vacation can be tricky. Not to fear! We've gone ahead and done the research (and what delicious research it was) to find our top five spots for brunch in Destin, and we're inclined to think you'll agree. From Southern-inspired cuisine to gourmet pancakes, to elevated Cajun fare, to Instagram-worthy brunch classics and homemade brunch favorites, there's something for everyone to love at these noteworthy brunch establishments.
Top spots for brunch in Destin:
Another Broken Egg Café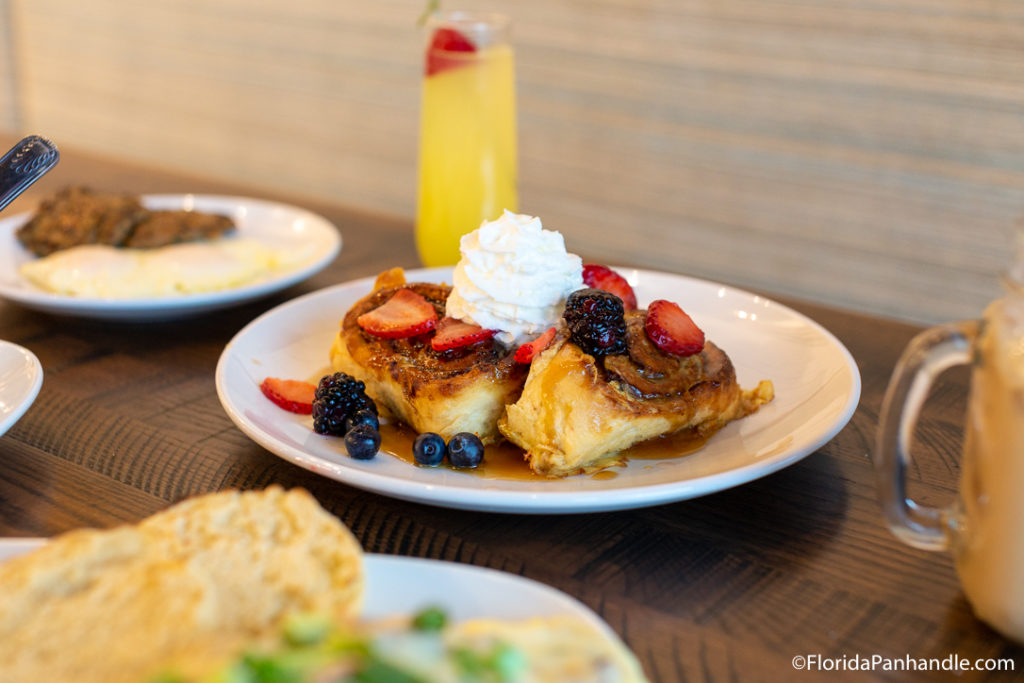 With several locations across the country, after sampling the menu, it's no surprise Another Broken Egg is such a hit, and the Destin location is no exception. Their southern-inspired brunch offerings are hearty, comforting, and full of flavor.
For those with a sweet tooth, we highly recommend the Apple Fritter French Toast. These French-toast style fritters are layered with bourbon cream sauce and fried apples, then topped off with fresh blueberries and a healthy dusting of powdered sugar. If you need a sweet morning wake-up, look no further!
For something savory and decidedly Southern, we encourage you to try their take on Shrimp 'n' Grits. Gulf shrimp, andouille sausage, red peppers, and onions are mixed with a spicy low country reduction and served over impossibly creamy cheese grits, and with a side of garlic bread. Absolutely down-home delicious.
Of course, no brunch is complete without a refreshing adult beverage (or two… or three). Because of the bold flavors of the food here, we chose to keep it simple, with the Traditional Day Starter – a simple blend of orange juice and Tito's vodka – and we were not disappointed.
The Pancakery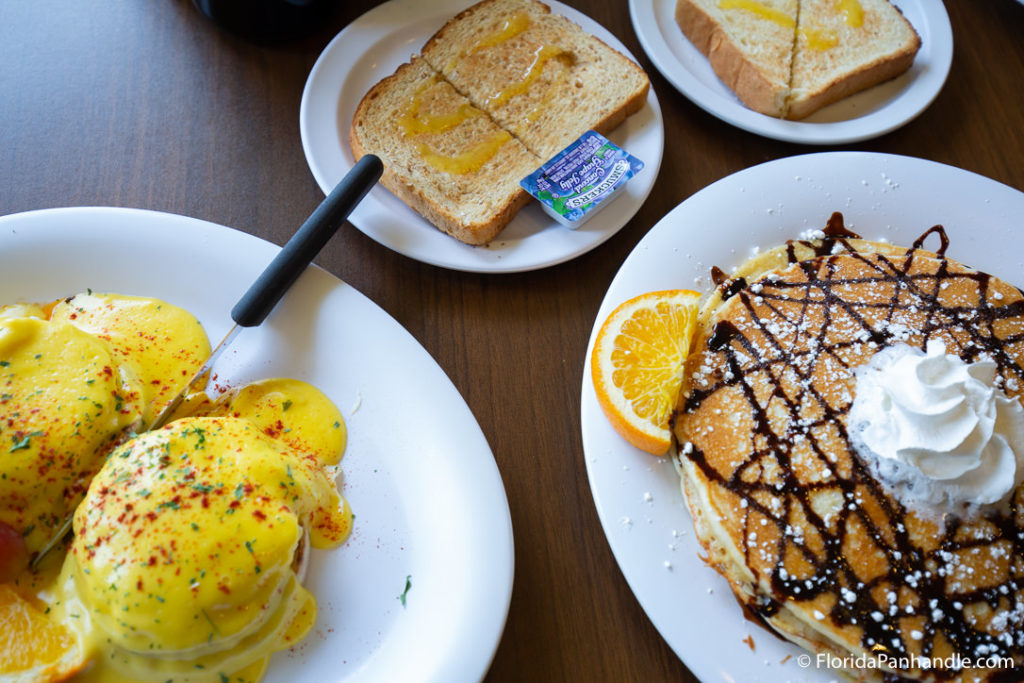 As you may have gathered from its name, The Pancakery specializes in – you guessed it – pancakes. But conveniently located on Highway 98, this whimsical, colorful restaurant offers a lot more than delicious pancakes. They also serve omelets, including a build-your-own option, a variety of eggs benedicts, and brunch classics like steak & eggs, avocado toast, and more.
We'll be honest though; we got a little bit hooked on the pancakes. They are perfectly cooked, perfectly fluffy, and perfectly elevated by a variety of available toppings and mix-ins. Did we become slightly addicted to The Destinite? We mean, maybe, but with this flavor combination, can you really blame us? Filled with strawberries, bananas, and chocolate chips, then topped with powdered sugar and whipped cream, it feels like we got away with eating dessert for breakfast, and we wouldn't change a thing.
For something more savory, we recommend the Crab Island Omelets. Fluffy scrambled eggs are wrapped around crumbled crab cake, red & green peppers, and your choice of cheese, and then topped with Hollandaise sauce and freshly cut green onions.
790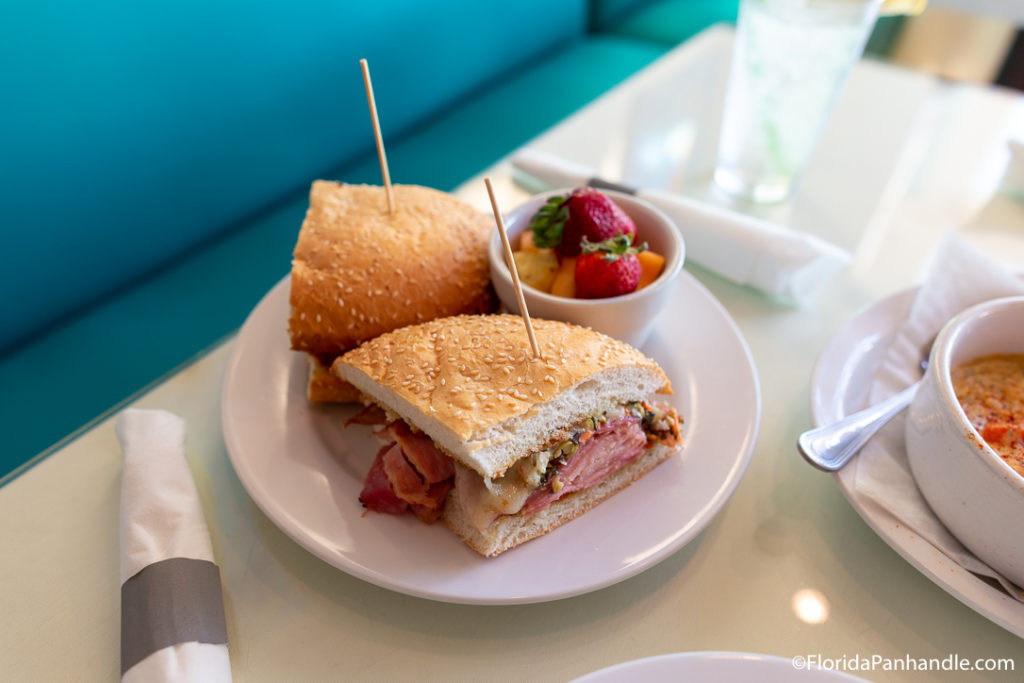 For a restaurant with such a small name, it sure packs a huge punch of flavor. Known for its Florida seafood and Louisiana flavors, this delicious, upscale restaurant on Emerald Coast Parkway offers brunch on Sundays only. If you happen to be in town on a Sunday, we highly encourage you to stop by.
A Cajun take on southern chicken and waffles, 790's Chicken & Beignets are a must-try. This dish pairs crispy fried chicken breast with warm, fluffy beignets, then tops the whole thing with maple syrup and powdered sugar. As if that weren't enough, it's served with a size of Andouille cheese grits.
Our personal favorite was the Salmon Cake Benedict. This delectable dish puts old-fashioned salmon cakes on a toasted English muffin, then tops them with poached eggs and Hollandaise sauce, and serves them alongside a house-made hashbrown casserole. Every bite was more delicious than the last.
Ruby Slipper Café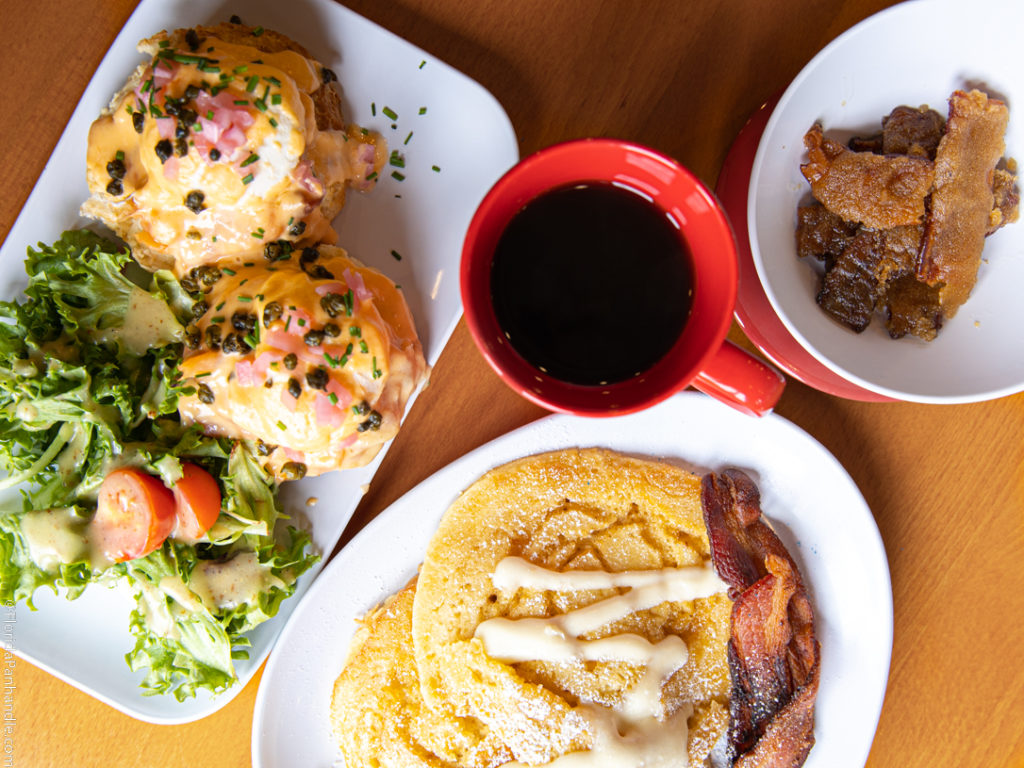 Located on Emerald Coast Highway in Destin, Ruby Slipper is such a favorite of locals and tourists alike, it's known to have a wait to get in. But don't let that deter you – they have an online waitlist system, the line usually moves quickly, and the wait is definitely worth it.
Once taking a look at the menu and seeing fresh plates of food whizzing by, it was easy to see how Ruby Slipper Café is so popular. Every dish looked incredible, and their menu is massive. Menu items include starters, various Bennies, southern-inspired house specialties, a variety of omelets, sandwiches, salads, and an impressive offering of both alcoholic and non-alcoholic morning beverages.
We loved the Classic French Toast. The brioche French toast was the perfect combination of soft and crispy, topped with fresh strawberries, syrup, and butter, and served with a side of applewood smoked bacon. Bread, fruit, sugar, and bacon? Honestly, what more could anyone want from a brunch?
We also fell in love with the Chicken St. Charles. A unique take on eggs benedict, fried chicken breast is placed atop a buttermilk biscuit, and then topped with two poached eggs and a pork Tasso cream sauce. This is a rich dish that warms you from the inside out.
For drinks, we had to try their Award-Winning Bloody Mary. You have the option to pair their spicy house-made mix with either Fris Vodka or Pueblo Viejo tequila, but we decided to keep it classic and go with the tequila. Let us tell you, we were not disappointed. The Bloody Mary mix is perfectly spiced and seasoned, and the vodka blended into it perfectly.
The Local Market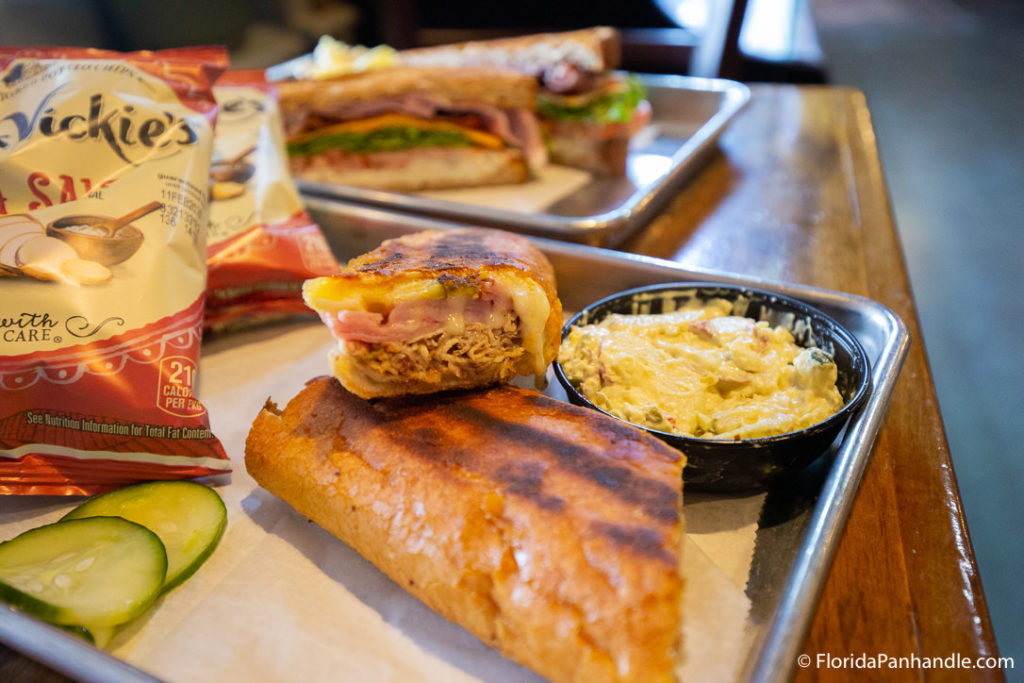 For a more traditional breakfast and brunch menu, we highly recommend The Local Market. Located on Gulf Shore Drive, this casual, comfortable eatery does breakfast classics with expertise.
In particular, we loved the Local Market Bowl, which consists of scrambled eggs, grits, hashbrowns, and bacon served in a sizeable bowl. The combination of fluffy eggs, creamy grits, crispy hashbrowns, and salty bacon was so good, it threw our tastebuds into a tailspin!
The Breakfast Sandwich is another solid choice. We loved that you can customize it to your taste by choosing bacon or sausage to go alongside scrambled eggs, American cheese, and your choice of wheat bread, white bread, or a biscuit. We chose bacon and a biscuit, and believe us when we say it. was. Delicious.
Whether looking for Cajun delicacies, the best pancakes this side of the Mississippi, or perfectly executed brunch classics in Destin, these restaurants have your every whim and desire covered. When you visit, be sure to let us know what your favorite restaurants and dishes were!