The vivid beauty of a Gulf sunset competes with few other spectacles. Complete the scene with a favorite drink in hand and a beautiful, quiet viewing spot, and you've got a slice of heaven. And you'll find a slew of fabulous places to watch the sunset in Pensacola, many of them beautifully-maintained beaches that aren't too crowded at dusk. Here are our top choices.
Gulf Islands National Seashore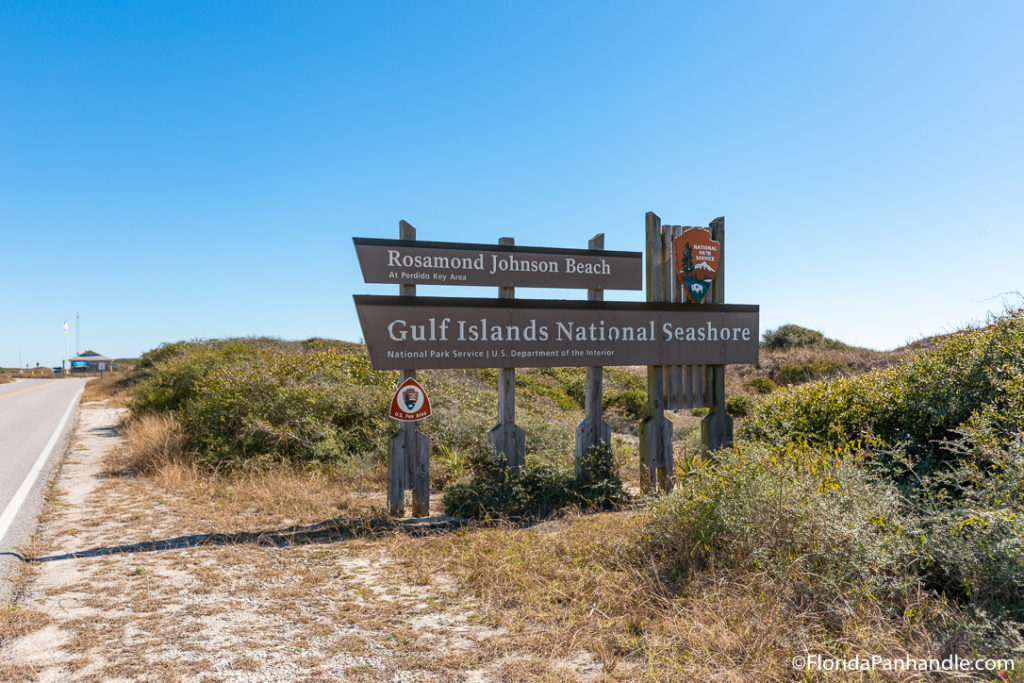 One of the area's all-time most well-visited tourist stops, Gulf Islands National Seashore has a lot to offer: clean, lovely beaches, stunning natural views, flourishing wildlife, and–more to the point–spectacular sunsets. Many of the framed sunset prints you'll find in local shops are taken here, thanks to the easily-accessible, well-maintained stretches of coast and unhurried, non-crowded atmosphere.
Some even argue that the sky looks more colorful from the Gulf Islands' remote shores. We can't vouch for that, but we will say this: if you're only planning to take in one sunset while you're in Pensacola, this is the place to go. 
Fort Pickens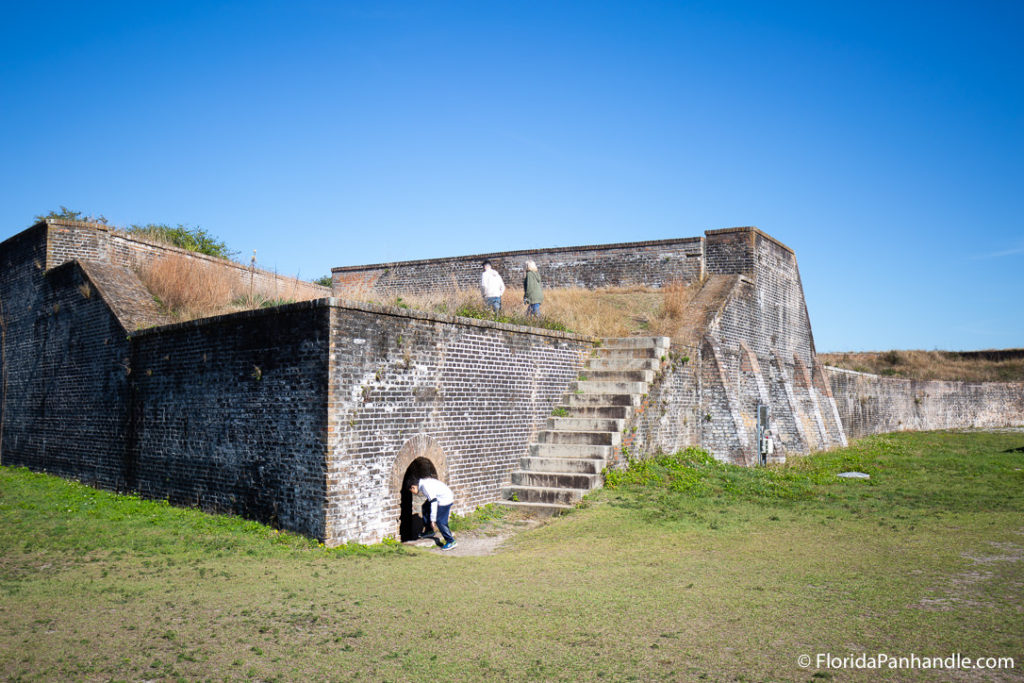 Fort Pickens occupies the stretch of land opposite the Gulf Islands National Seashore. Originally a military encampment built in the mid-1800s, the fort grounds are now one of the area's top attractions–for good reason. Here you can climb to the top of the fort ruins, enjoy a long stroll around the grounds, and relax on a quiet stretch of beach.
The beaches here are even less crowded than those at Gulf Islands National Seashore, and the views of the sunset are just as spellbinding. Keep in mind that admission costs a few dollars and the fort is only open until sunset, so don't plan on lingering after you enjoy the sights. 
Palafox Pier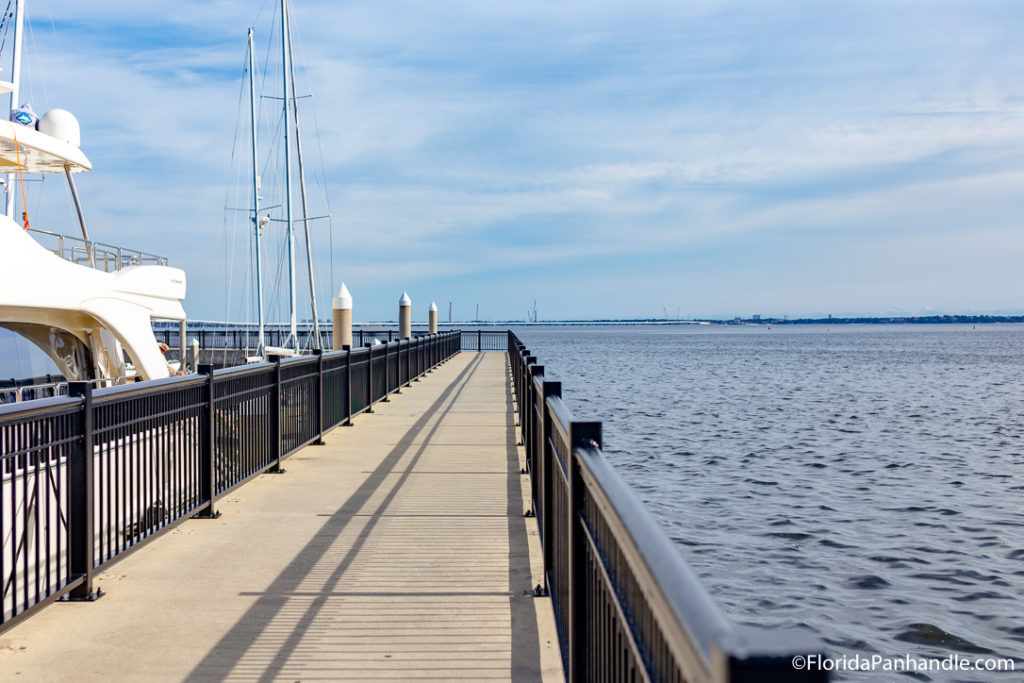 Located in downtown Pensacola, Palafox Pier is surrounded by lovely eateries. It's a popular place for a stroll to look out over the water, and it happens to offer wonderful sunset views, as well. As might be expected, Palafox Pier is a bit more crowded than some of the off-the-beaten-path beach options.
But if you're in town and looking for a spot to snag a beautiful view over the water before dinner, it's hard to beat. You'll find plenty of benches along the pier, as well as countless opportunities for people- and yacht- watching, as well. 
Pensacola Gulf Pier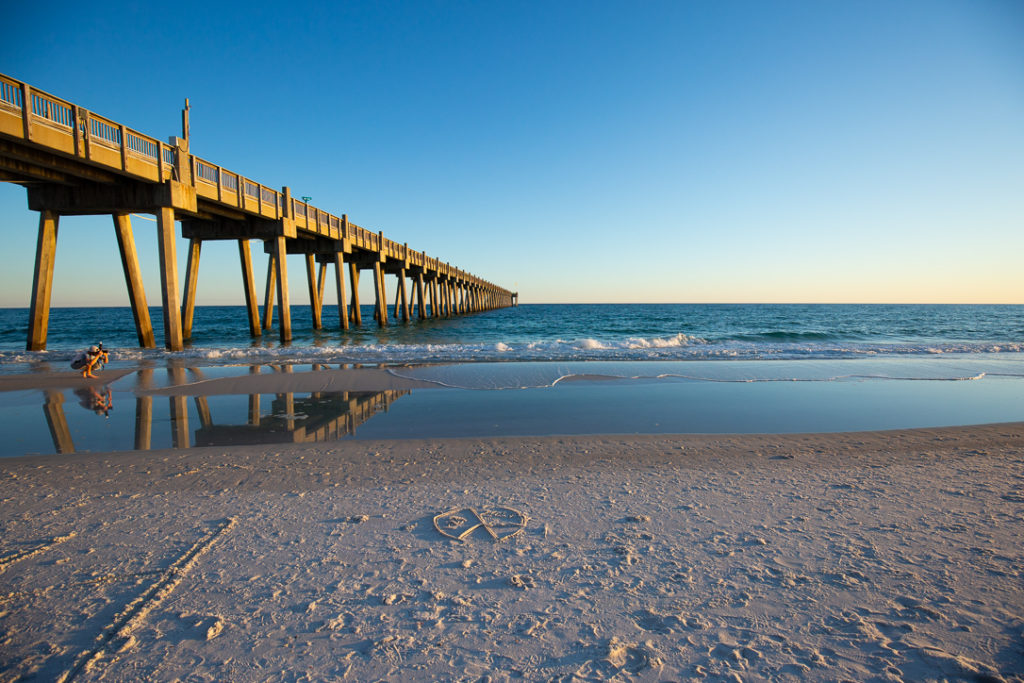 A longer pier extending well into the gulf waters, Pensacola Beach Gulf Pier makes a gorgeous stop at any time of day, but it's particularly enthralling at sunrise and sunset. Visitors come to the pier year-round to see what marine life they can spot in the waters along the edge; manta rays, sea turtles, sharks, and a slew of fish are regulars around the pier's supports.
You'll pay about a dollar to gain admission, but it's well worth the pocket change for a clean, well-maintained pier offering such attractive views of the Gulf–especially at sunset. 
Red Fish Blue Fish Restaurant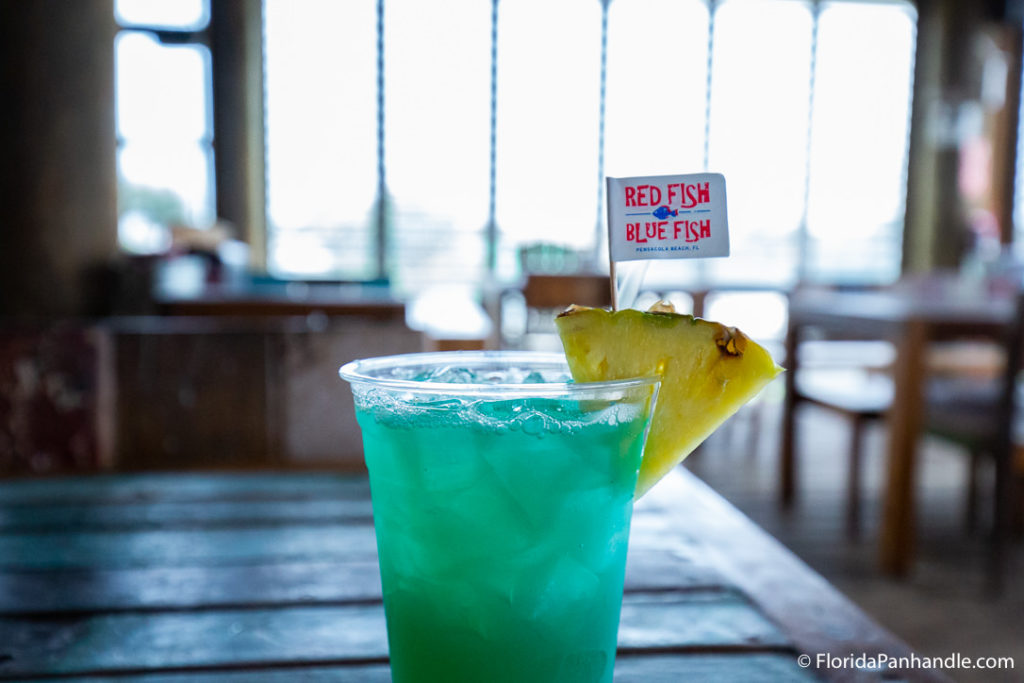 Hankering for a delicious Southern dinner paired with a Gulf sunset? This is your spot. Red Fish Blue Fish is as eclectic and fun as you might expect from the name. Featuring two decks of outdoor seating that offer gorgeous sunset views, the restaurant also offers a casual, well-curated Gulf beach vibe and delicious food and drinks.
Red Fish Blue Fish bartenders and servers go out of their way to cater to visitors, and fun menu items like alligator tacos serve up a side of fun for the gastronomically adventurous. 
Casino Beach Bar and Grille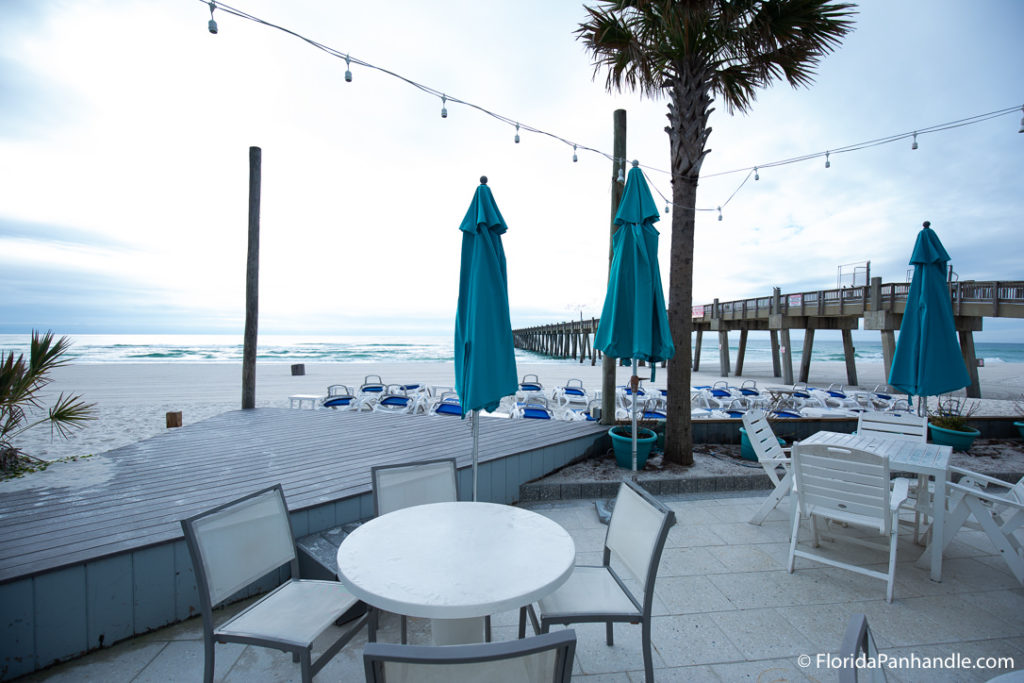 Everything about Casino Beach Bar and Grille's location is spectacular, from their situation on the water to the scenic drive on approach, no matter which direction you're coming from. Opt for outdoor seating to make the most of your sunset view, and enjoy a selection of fresh, inventive menu options including something for everyone in your party.
Casino Beach Bar and Grille is casual enough for families with kids but also makes a great date destination. Don't expect to get in and out quickly; instead, take your time to enjoy an appetizer and take in the views. 
Paradise Bar and Grille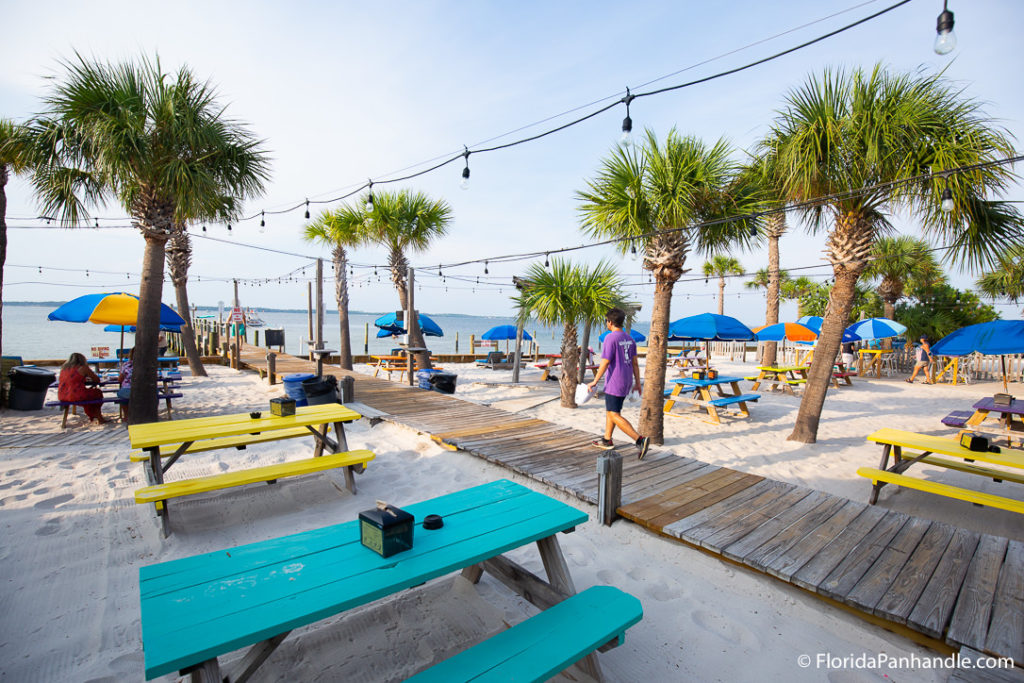 Paradise is a top spot for locals, thanks to its prime location right on the water. You could choose many places to watch the sunset, but the casual beachy walk-up bar, live music, and to-die-for key lime pie might just perfect your sunset experience if you choose to enjoy the view from here. Though Paradise is known as a local hangout and beach bar, it also serves mouthwatering grub, and it's a convenient place to stop when you're in the area. 
Big Lagoon State Park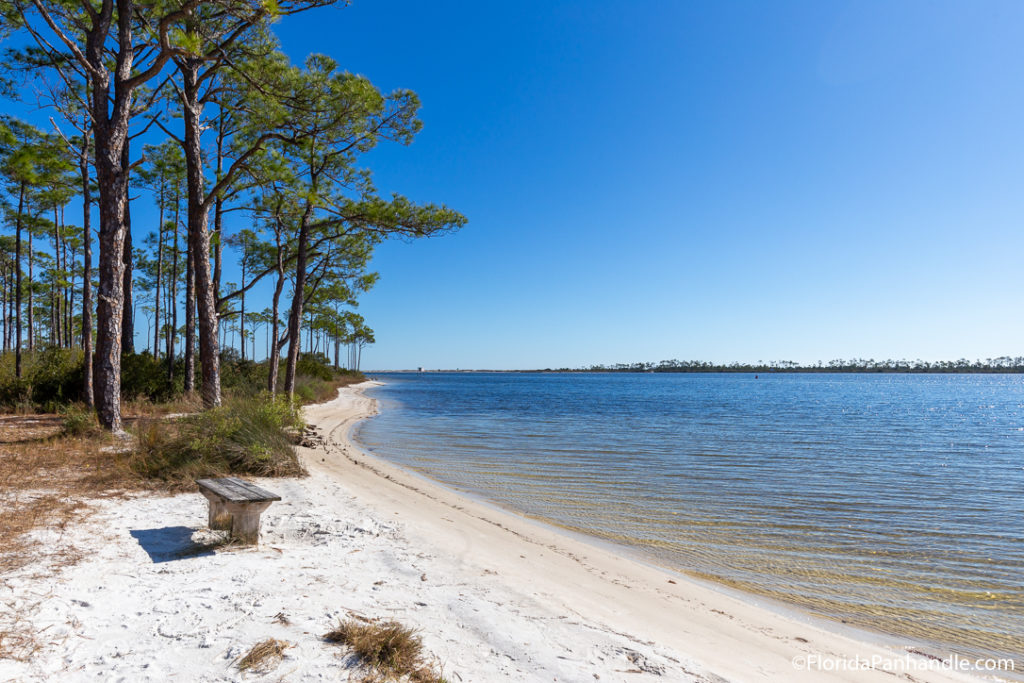 A popular camping destination, Big Lagoon State Park is home to some of the most quietly beautiful, untouched views–including sunsets that might just move you to tears. The park is teeming with wildlife, perfect for birdwatchers and those hoping to spot an alligator in the wild. An extensive boardwalk and trail system makes it a great destination for a nature walk and escape from Pensacola's bustle. Ask the park rangers for the best sunset spots, and they'll point you in the right direction.
For many vacationers, catching a sunset is the perfect way to wind down their day with a little awe and wonder. Whether you opt for a restaurant with a view, a sandy stretch of beach, or a carefree bench on a breezy pier, you're in for the view of a lifetime–and your very own slice of paradise.