Once a month, Palafox Street in downtown Pensacola is transformed into a cultural wonderland. No, it's not magic, although it might feel like it. Instead, it's Gallery Night, a Pensacola cultural institution that takes place on the third Friday of every month.
What is it?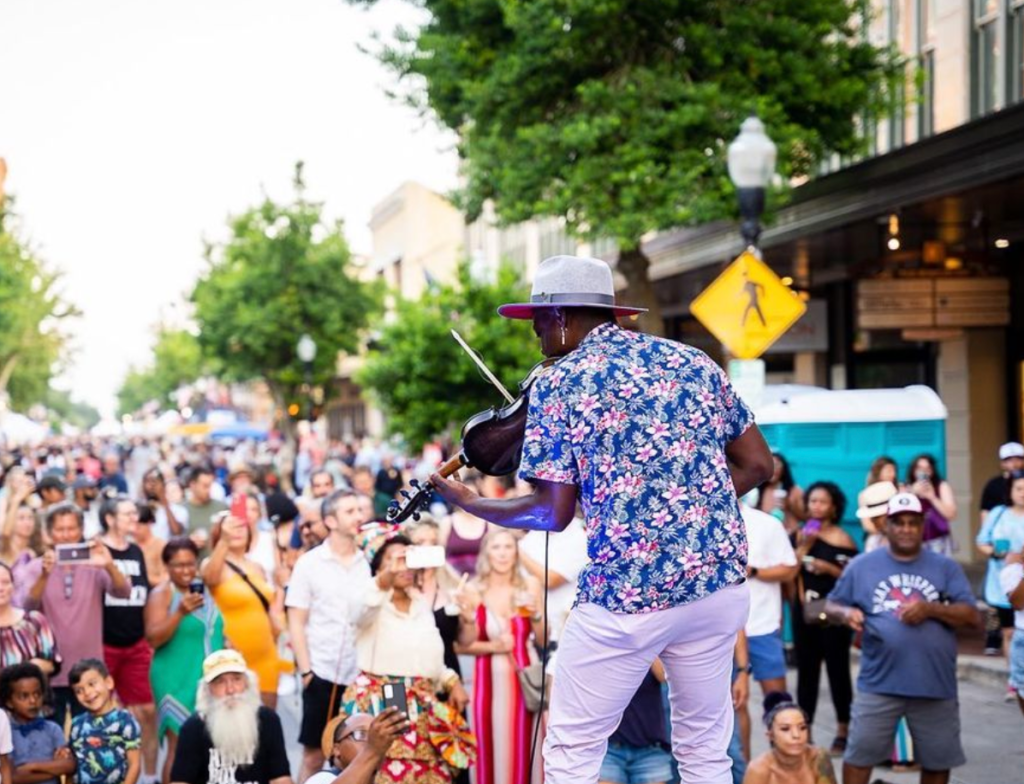 Run by the nonprofit organization Gallery Nights Pensacola, this free, all-ages event is designed to celebrate the unique culture of Pensacola, Florida's artist community. For five vibrant hours out of every month, this free, all-ages event recruits top-notch local creators, crafters, and makers.
At each event, arts organizations and individual artists who call the greater Pensacola area home have the opportunity to put on public performances, host demonstrations, and find unique and creative ways to showcase their talents. A collaborative effort between artists, merchants, and community nonprofits, Gallery Night welcomes locals and tourists alike to revel in the vivacious art scene that is so integral to Pensacola's identity.
What can I expect to see?
Each monthly event is organized around a theme. In the past, these have included traditional holidays like Lunar Near Year, Juneteenth, Earth Day, and a St. Patrick's Day "Shake Your Shamrock" event. However, there are also more nebulous themes, such as "Dancing in the Streets," "Under the Surface," and "Throwback/decades", which allow participating artists and establishments to interpret the theme in a number of ways and create something that speaks to them.
Regardless of the theme, the event is always packed with innovative art of all kinds from impressively out-of-the-box thinkers. On any given event night, you might see acts as diverse as fire dancers, rock bands, street buskers, or temporary art installations of all sizes and mediums. For those looking for a more interactive experience, there are often "crowd participation" opportunities, ranging from something as familiar as playing giant Jenga in the middle of the street, to something as exhilarating as creating your own graffiti.
Is there food?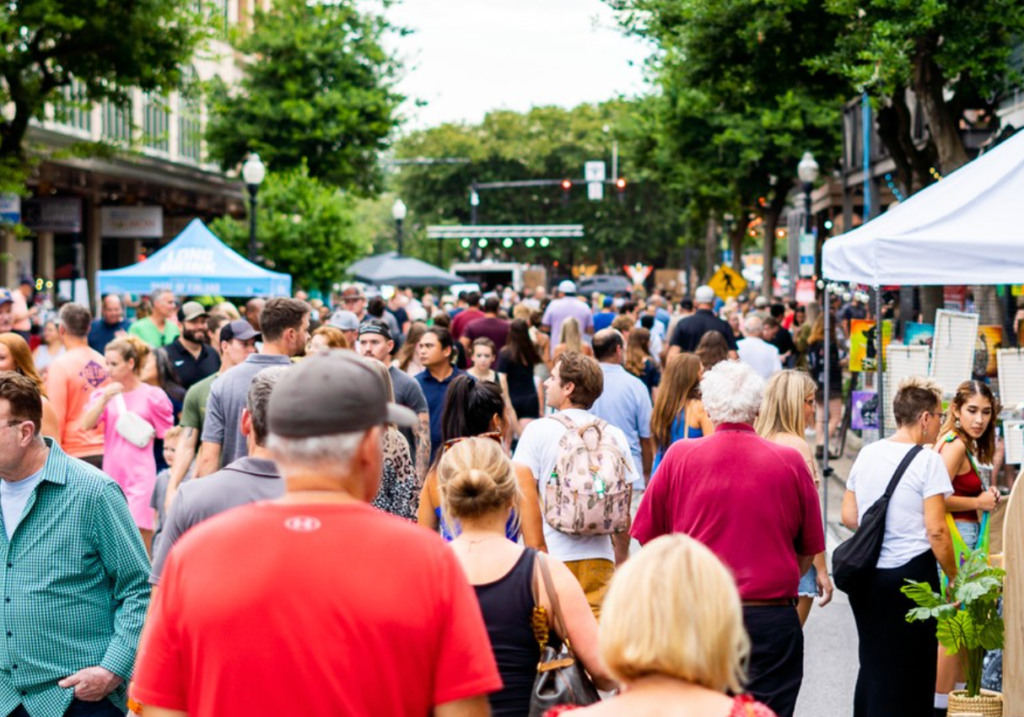 Taking in all of this inspiring art can also inspire quite an appetite. Thankfully, Gallery Night Pensacola seems to have thought of everything – hungry bellies included. During the event, local businesses and eateries are open, with some offering unique bites and deals themed around the evening. There's also always a great selection of food trucks serving up a diverse cornucopia of delicious street foods. It's a great way to sample the local flavors.
What's the best way to see everything?
This many merchants and creators in one spot could seem overwhelming to attendees, but Gallery Pensacola has organized these evenings in a way that makes them fun, manageable, and easy to peruse. Artists are divided into several "Artist Zones" along South Palafox Street, between East Garden Street and Main Street. In between each artist zone are cafes, food trucks, and more.
We recommend starting at one end of the district and slowly working your way to the other side. Stop to admire art, take in performances, and taste various treats along the way. Our one piece of advice: there's so much to see that you may be there for a while. Be sure to bring comfortable walking shoes, and consider a stroller for very small children.
Can I take any artwork home with me?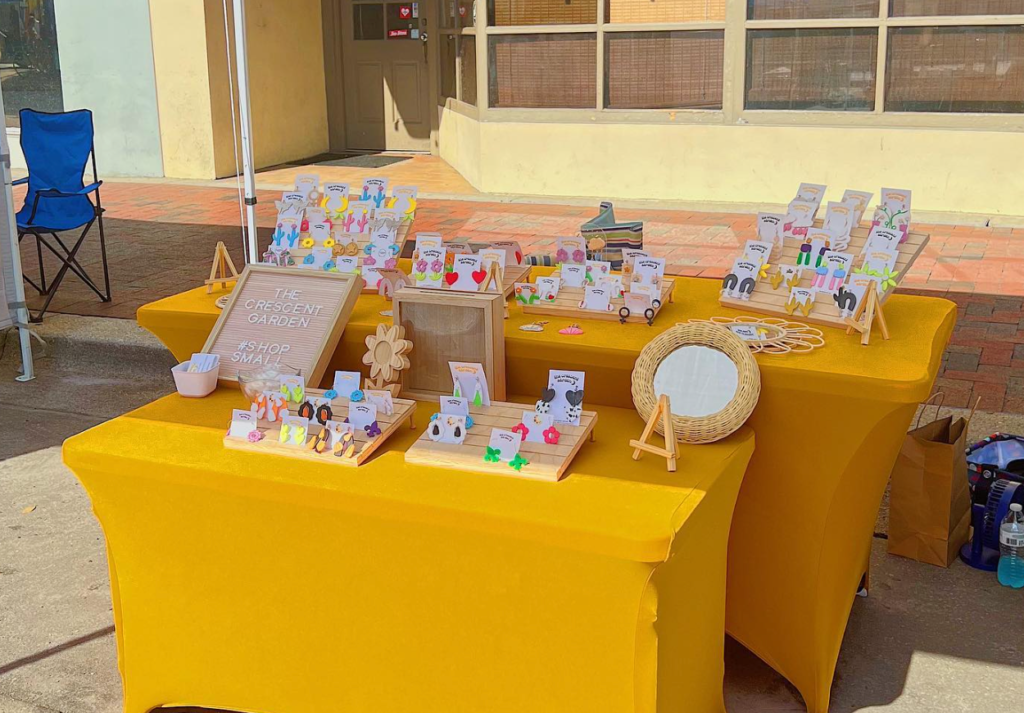 Yes! Many artists show up for Gallery Night each month with impressive collections ready for sale. These can include beautiful ceramics, realistic oil paintings, crochet dolls and plushies, unique jewelry, pop-culture-inspired creations, and so much more. Many artisans are hyper-specialized in their crafts. Making this is a great place to score truly one-of-a-kind pieces that are sure to draw attention and start conversations wherever you display them.
What about parking?
Gallery Night Pensacola offers parking in a number of nearby downtown lots. Depending on how close you'd like to park to the event, you can choose between regular and premium parking lot options. Check out the official Gallery Night Pensacola map to see specific lot locations.
Tips
While Gallery night is usually held on the third Friday of every month, there have been occasions when it has been held at an alternate time. Be sure to check dates and times before heading downtown.
Artists, performers, food trucks, and participating merchants are subject to change from month to month. We think that's what makes it so fun and keeps it so fresh. You never know what sort of new and wondrous art, music, wares, or food you might find on any given evening. It's like an adventure that never grows old! That said, if you have your heart set on seeing a specific performer or artist, or eating a specific food item, we recommend checking in to confirm they'll be there on the night you plan to visit.