Next time you need to cool off at Panama City Beach, try dropping into The Yard Milkshake Bar for a cup of something fabulous. This specialty milkshake bar is known for its adventurous flavors and over-the-top presentation. Additionally, specialty milkshake flavors like The Cereal Killer, The Mint Green Monster, and The Mermaid are made to impress. The Yard Milkshake makers blend each milkshake by hand and decorate the top with an eye for mouthwatering artistry.
Depending on your order, your shake might include a donut around the top, a brownie, Fruity Pebbles, or an entire slice of cheesecake; these milkshakes definitely aren't for the faint of heart. A custom shake menu allows you to design your own shake to your specifications; just take a crayon to your menu to create your order, hand it to the specialist at the counter, and they'll make a boutique shake just for you. Milkshakes come with a souvenir glass jar, which adds to the charm–but probably also contributes to the somewhat high price tags. The Yard Milkshake Bar also makes the milkshake standards and does them well: their vanilla, chocolate, and strawberry milkshakes are among the best you'll ever taste.
The Yard specializes in milkshakes, but it's not all they do. You can also grab a scoop or two of their 33 homemade ice cream flavors. Enjoy a sundae or an ice cream cone. Serving up a party? The Shake Boss is the $50 half-gallon milkshake designed to serve four ravenous beachcombers. In reality, more than four people could enjoy this massive confection.
If you're visiting anywhere near peak season, be prepared for a wait. It's not unusual for lines to stretch out the door. It takes a bit to prep The Yard's one-of-a-kind shakes without sacrificing quality. For a party of 4 or more, the wait could be 20-30 minutes. The Yard doesn't take call-in orders, so don't expect a super quick stop-in.
The shop itself is conveniently located in Panama City Beach and has an array of shopping and dining options at Pier Park North. Expect a cozy, well-decorated atmosphere in the shop, but at peak times it can feel a bit crowded and less-than-polished. Tables could be bussed more quickly, and trash cans fill up fast. If you're a huge ice cream fan, The Yard Milkshake Bar is more than worth the stop for a milkshake. It is unlike anything you'll find anywhere else; they even keep a sink in the shop so you can rinse out your souvenir jar to take home.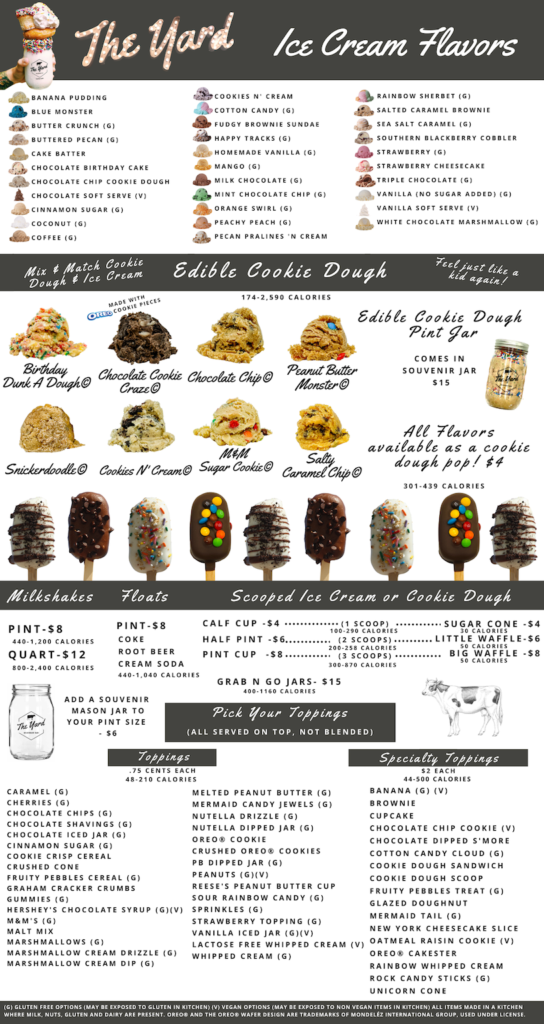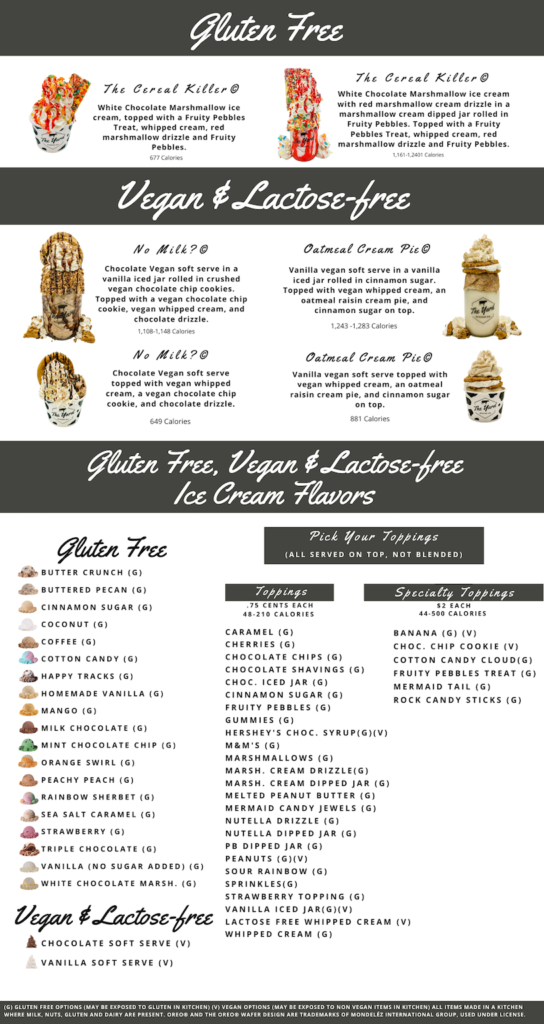 Insider Tips:
– When you visit, you'll find a menu and a selection of Crayons by the front door. Grab one of each and check the boxes to create your order. Choose from a specialty shake, a classic, or a shake of your own design. You'll be able to quickly hand your order in when you reach the counter.
– The secret menu contains a few extra specialty milkshake designs that remain fan favorites. Despite their unofficial place in The Yard's repertoire. Check out their Instagram highlights in order to see some secret-menu favorites!