Each year, more than a million people head down to Pier Park to shop, dine, and have a wonderful time with family and friends. Sitting adjacent to the Panama City Beach waterfront, this outdoor mall has quickly become a premier destination for tourists and locals alike. Although they have only been open a little over 10 years, this mall has inspired the community to open many other stores and shopping centers nearby, including Pier Park North.
In just Pier Park alone, you will find dozens of stores to browse, including JCPenney, Old Navy, Forever 21, and Bath & Body Works. Restaurants galore are situated between the stores along South Pier Park Drive. You have your choice between quality locations, such as Margaritaville, Five Guys, and the iconic Dick's Last Resort where your food is delivered with plenty of attitude. If you would like to catch a show with your meal, spend some time at Tootsie's Orchid Lounge instead.
In addition to all the great stores and restaurants, this outdoor mall boasts a wide array of fun attractions for all to enjoy. You can treat yourself to awe-inspiring amusement rides and exciting arcade challenges, depending on what strikes your fancy.
Their top attractions include:
Ferris Wheel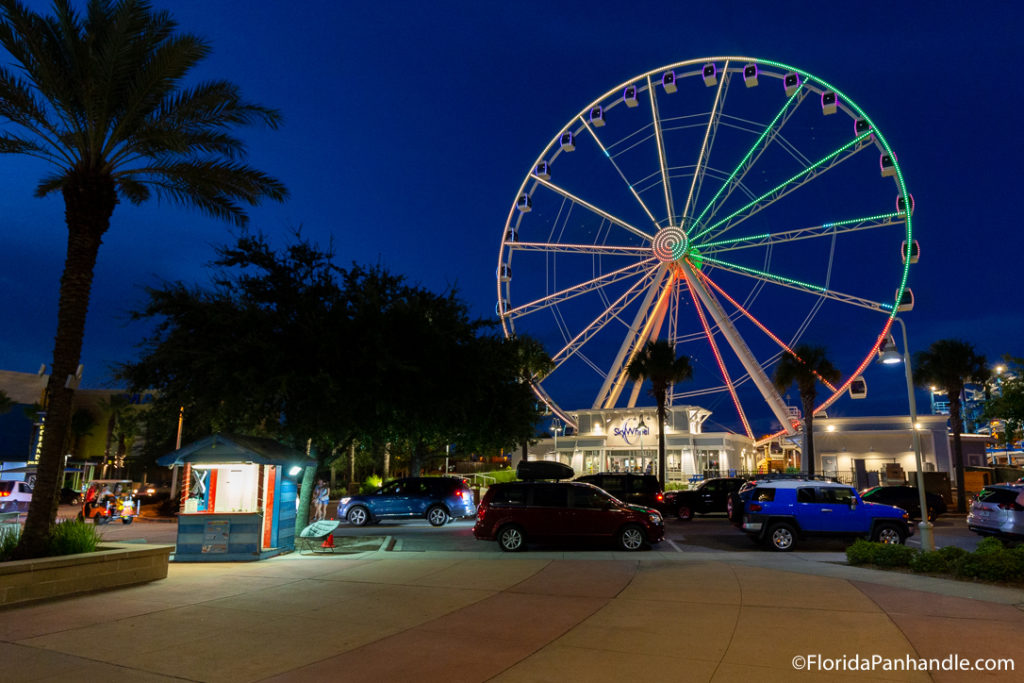 Take the Ferris wheel to the top to see the Panama City Beach area from a brand new perspective. Comfortably seating up to six, each car is fully enclosed and kept cool by an effective air conditioning system. Alongside the Ferris wheel, you will find several other amusement park rides to take on a spin, though most are best suited for young children.
Movie Theater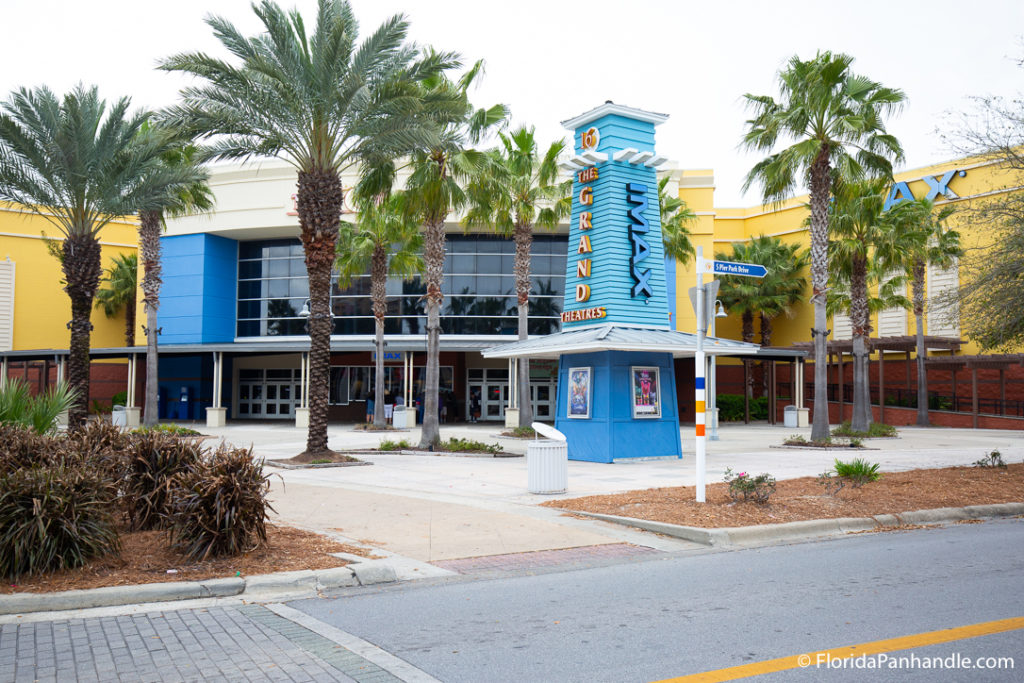 Also air-conditioned and highly entertaining, the Grand Pier Park movie theater is a great place to beat the heat and kick back your feet. They show dozens of movies throughout the day and late into the evening, giving you the chance to spend lots of time in their reclining leather theater seats. Be sure to hit the concession stand before heading in, as they have everything from popcorn to alcoholic beverages.
Arcade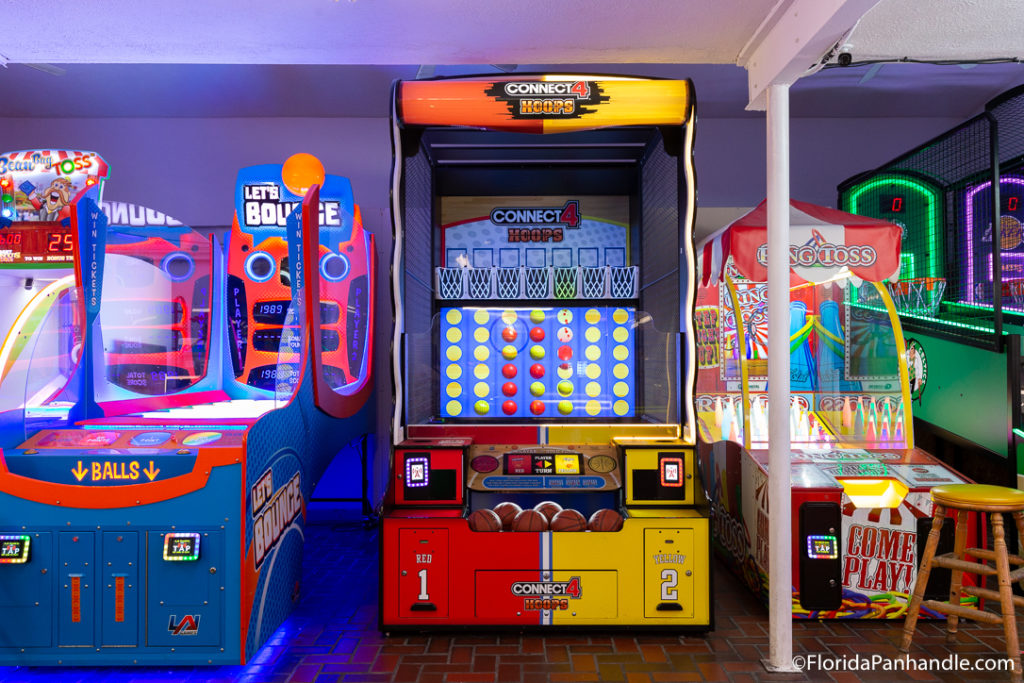 If you want to play all your favorite arcade games, and even win a few prizes, make Dave & Busters a part of your visit to Pier Park. As a full-service restaurant, they can also fulfill all your dining needs, keeping you having the time of your life throughout your visit. Work as a group to rack up points on your game card and pool together your tickets to walk away with a big prize.
XD Dark Ride Experience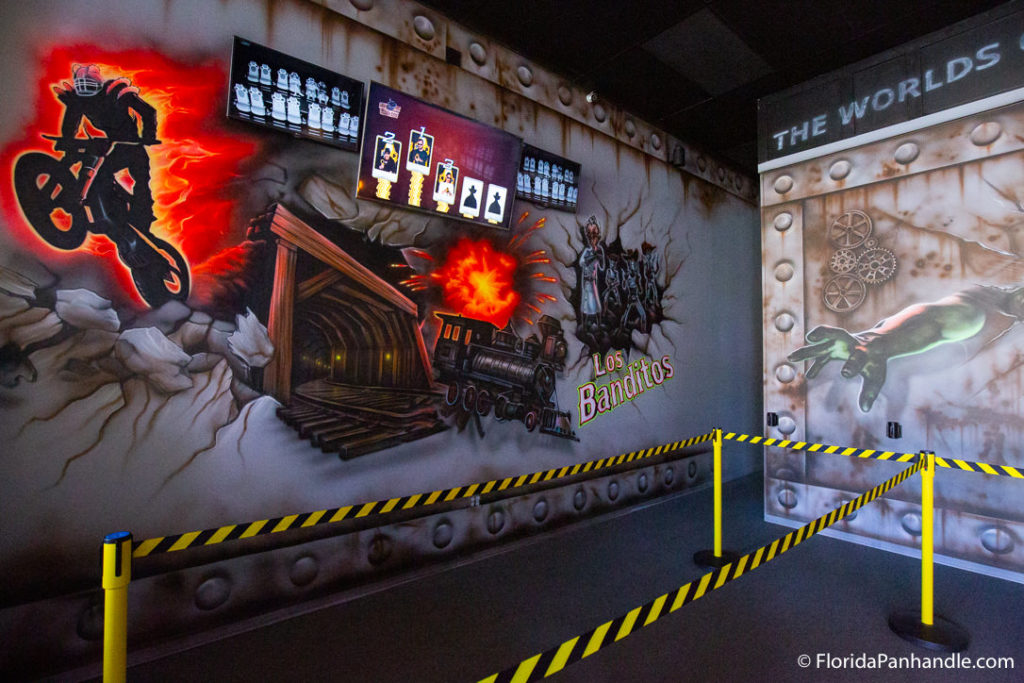 The XD Dark Ride Experience is a movie, game, and thrill ride all in one. Simply choose between the available themes to set up your game, then step inside and buckle up to get started. The ride will move your group through the scenario, giving you a chance to take down the bad guys and strut your stuff.
No matter where you go at this outdoor mall, you can stay well-entertained and filled up with excellent food. You can even find tasty treats for dessert at the many candy stores and ice cream shops at this mall. Interested in even more tidbits about Pier Park? Check out these fun activities to enjoy!
Insider Tips:
– They do not have a shuttle available to get you from place to place, so prepare to walk quite a bit to get to all your preferred stores, restaurants, and activities. Alternatively, you can park your car in different lots, though that can also take a while.
– For an awesome picture-taking opportunity, head over to the giant beach chair at The Back Porch Seafood & Oyster House.