Destin, Florida, of course, is "the World's Luckiest Fishing Village": a bold but honestly well-earned tag that reflects the sheer bounty of angling opportunities—both in terms of fish species and fishing environments.
Those environments certainly include plenty of inshore and nearshore fishing holes, from the bayou-ringed edges of Choctawhatchee Bay and Destin Harbor itself to the surf-casting riches found along the area's Gulf of Mexico beachfront. For the biggest fish, though—and the biggest thrills—you're going to want to head offshore: out to the blue-water vastness of the Gulf. Some of the country's richest big-game angling awaits you in those great, rolling expanses, and you won't be hurting in the slightest for world-class charters to get you there.
Here's a breakdown of what awaits you out there in the great blue, and who can boost your odds reeling in a trophy catch!
Destin's Blue-Water Doorstep
Destin's one of the best jumping-off points for getting to blue water fast along the Florida Panhandle. The near-mythic 100-fathom curve, where the continental shelf plunges to the productive deeps, is just 25 miles or so south of the city's waterfront.
There's easy access, furthermore, to the grand strike of DeSoto Canyon, a 3,000-foot-deep defile cutting into the shelf and channeling cold and nutrient-packed waters from the Gulf depths toward the Panhandle. This submarine gorge, plus other pelagic fish magnets such as the Spur and the Elbow, give deep-sea saltwater anglers an awful lot to play around with a Destin home base.
Prized Pelagic Catches in Destin's Deep-sea
From speckled trout and redfish to king mackerel and tarpon, Destin's inshore and nearshore waters serve up plenty of action in the finned department. Head farther out, and your options only expand.
For one thing, you can find out why another historical nickname for Destin was "the Billfish Capital of the Gulf." Sailfish flash through these depths. So do hulking swordfish, typically targeted with deep-drop fishing. And then there are the marlin: white marlin, plenty prized, and the absolutely legendary Atlantic blue marlin. Blues better than 1,000 pounds have been landed off the Panhandle. Striking suddenly, fighting hard, surging out of the swells in an unforgettable marriage of brawn and elegance—there's really nothing to compare with having a big marlin on the other end of your line!
You can chase blackfin and yellowfin tuna out here, and also the awesomely swift dolphinfish (mahi-mahi or dorado) and wahoo. And there's no shortage of sharks out here, from hammerheads and bull sharks to lightning-fast makos: the rare equal of marlin in terms of fighting verve and spectacle.
Around wrecks and reefs, meanwhile, you can bottom-fish for amberjack, grouper, snappers, and more.
Offshore Fishing Season in Destin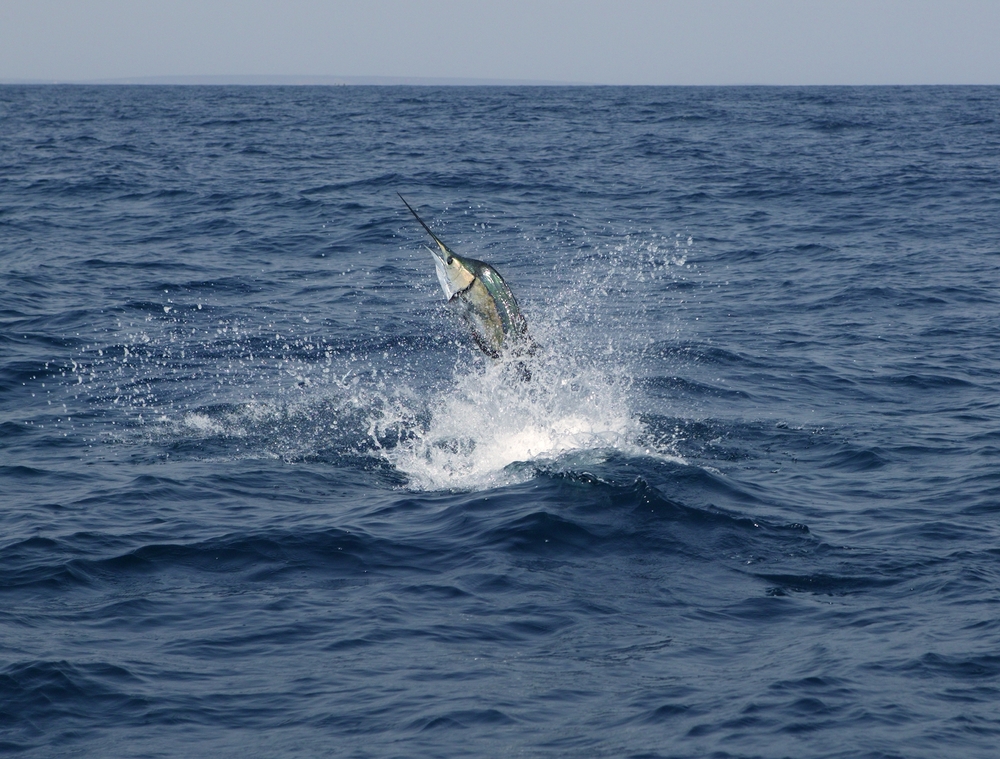 You'd be hard-pressed to find a month when there's not something to fish for, somewhere, out in the open Gulf. But the main timetable for recreational deep-sea fishing is spring through fall, with summer the height of marlin season.
Deep-sea Fishing Charters Out of the Destin Area
You've got a dizzying roster of fishing charters along the Emerald Coast to choose from, but here are some good bets right out of Destin!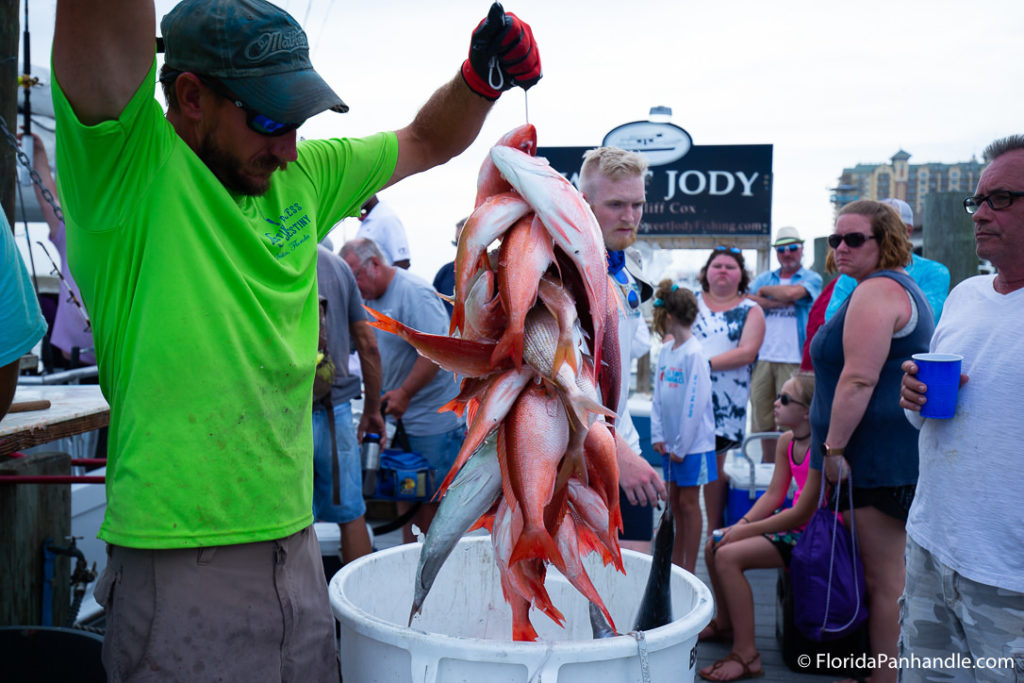 Don't let the "party" tag fool you: This charter takes finding fish very seriously! Leading offshore trips on the 65-foot Princess catamaran or the 72-foot sports fisherman Destiny, both of which can accommodate dozens of passengers and include air-conditioned indoor hangouts, Destin Party Boat Fishing offers a number of itineraries: Get a taste for deep-sea fishing with a half-day outing or go farther out with an eight- or 10-hour expedition.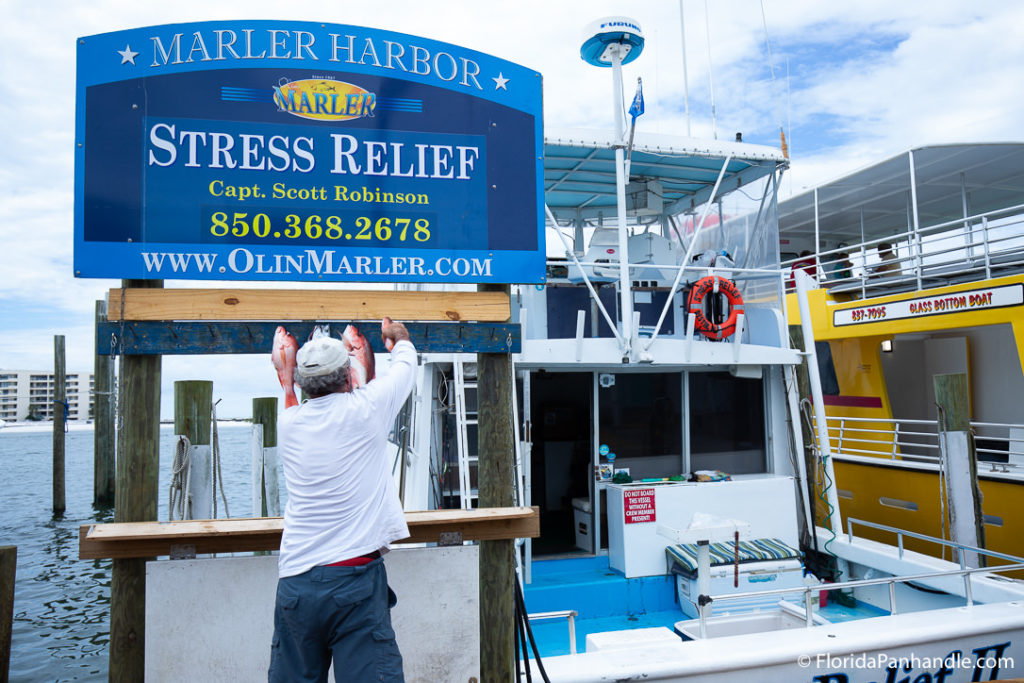 The longest-running recreational charter in Destin, Olin Marler's been introducing beginner and experienced anglers alike to the joys of the World's Luckiest Fishing Village for more than a half-century. Claiming to operate the biggest charter fishing fleet on the Emerald Coast, the company offers an assortment of public and private trolling and bottom-fishing outings, including 12-hour and overnight trips getting you deep into the Gulf.
A slew of highly experienced captains offer deep-sea adventures on vessels such as the 100 Proof, the Finest Kind, and the Miss Nautica through Harborwalk Charters. You can choose between shorter, "taster"-type outings or longer trips depending on your schedule and interests; along with generous 12-hour runs after pelagics, Harborwalk Charters offers overnight trips aimed at marlin and tuna.
Get the Offshore Fishing Bug on a Destin Vacation
It's hard to beat using Destin and its sugar-sand beaches as a launchpad for deep-sea fishing out on the wild blue of the Gulf of Mexico. Give it a try: You just might find yourself "hooked!"