Next time you are heading to Destin, Florida for some fun in the sun, visit Crab Island, which many call the hottest social scene on the Gulf Coast. This sandbar is located south of the Marler Bridge and has grown throughout the years into a place where both locals and tourists gather and have a great time! 
Crab Island Has Cool History: Learn Something New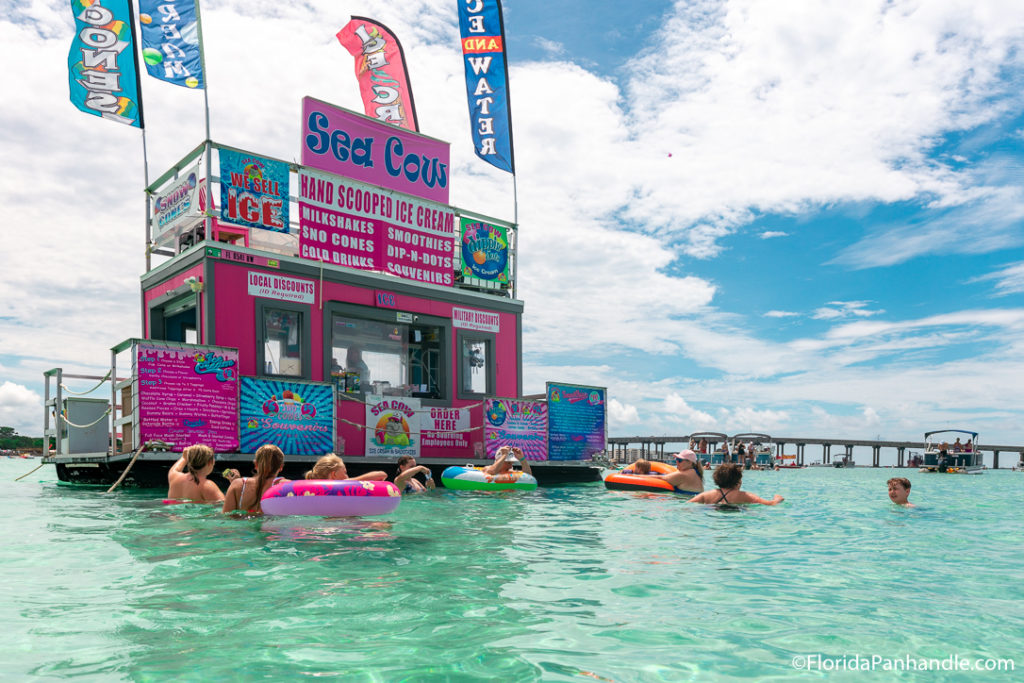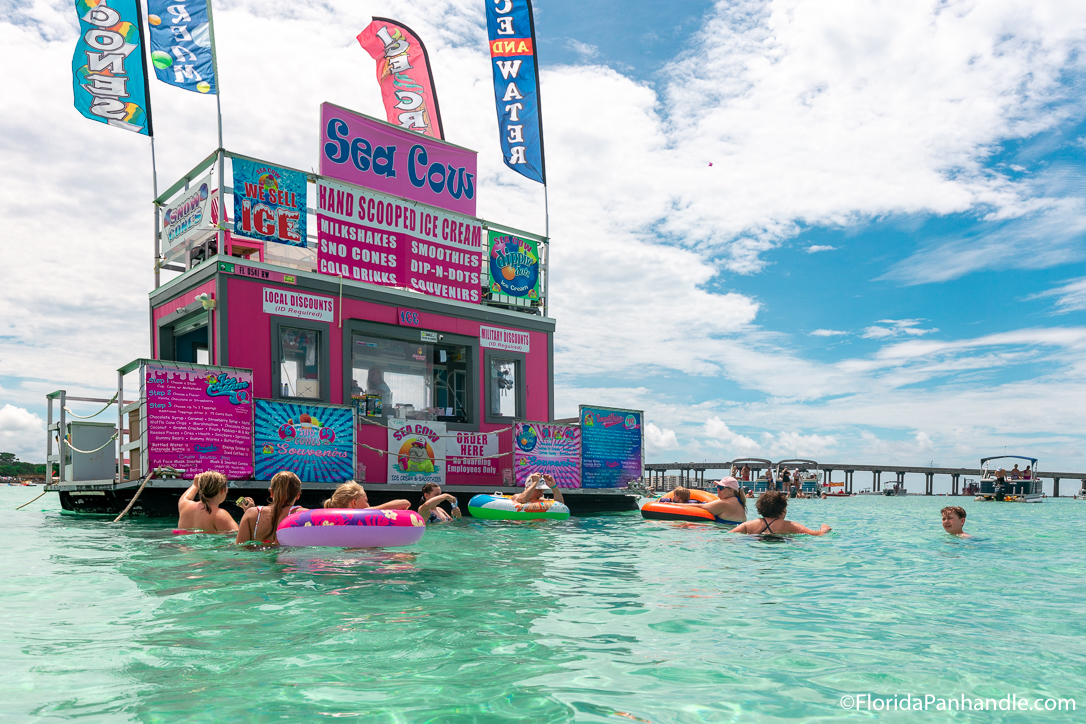 Crab Island is located on the north side of the Destin Bridge, sometimes referred to as Marler Bridge right at the southern entrance to Choctawhatchee Bay, and isn't really an actual island. The story goes like this. It's actually a Spoil Island that was created back in the 1960s by the Army Corps of Engineers to stabilize the entrance of the Gulf of Mexico. This dredging deposited sand into the Choctawhatchee Bay and created a very shallow spoil island. Eventually, it was named Crab Island and became the perfect place to anchor a boat and enjoy the sun and crystal blue water. As the old saying goes, "If you build it, they will come." And locals and tourists flocked to this amazing spot.
Crab Island Can Only Be Accessed by Water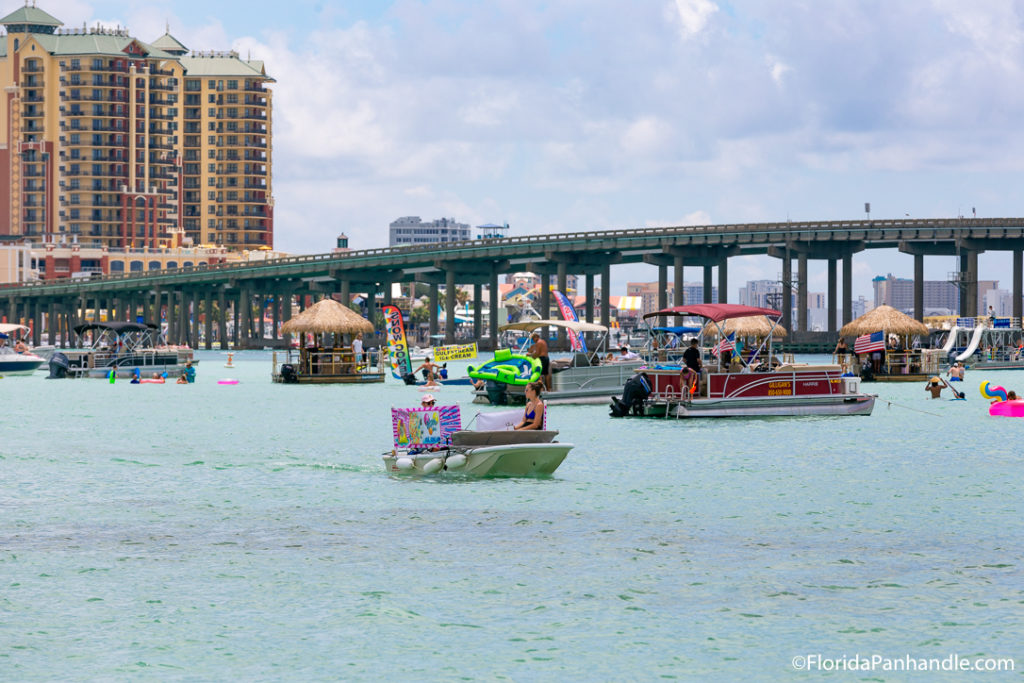 Get this, the entire experience from start to finish is an adventure. First, the only way to get to Crab Island is on a boat, kayak, pontoon, or other watercraft. Isn't that cool? It's right in the middle of the water! This makes Crab Island a very fun place to hang out. Swimming is not recommended even for the strongest swimmers, as this area can be dangerous because of strong currents and boat traffic. But as soon as you arrive, swim, wade, snorkel, paddleboard, join a game of water volleyball, or simply relax and soak in the beautiful sunny view. The gorgeous view and the crystal clear water will remind you of being in the Caribbean, but you're right in the Sunshine State!
Experience Floating Restaurants and Water Parks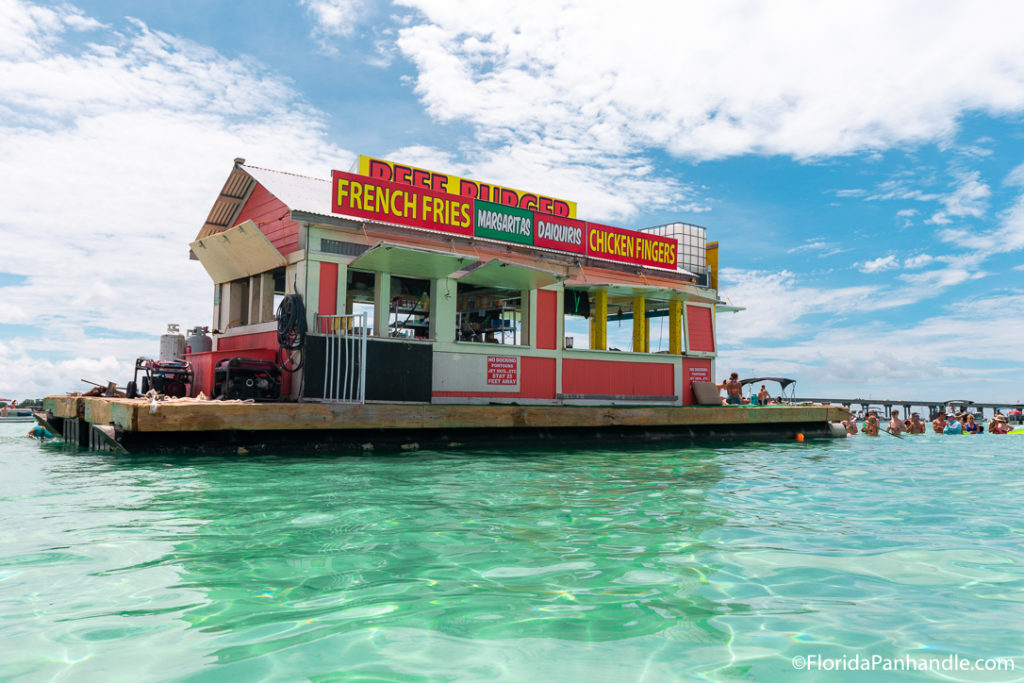 You'll see hundreds of boaters that convene each day during the warm weather. Grab a bite to eat on one of the mobile food boats and smaller floating restaurants that offer ice cream, BBQ, fresh coconuts and so much more. No alcohol is served or allowed here so bring plenty of nonalcoholic beverages and other snacks. Take some time to check out the floating inflatable water park, Crab Island Adventure Park. It's a really fun time for the entire family. Keep in mind new restrictions are in place, and you have to register for tickets in advance for the Crab Island Adventure Tour to access the water park. You'll receive an armband to show you paid the $79 registration fee for adults and $49 for children five years old and younger. This includes the boat ride, driver, crew, and all activities including sides, trampolines, gladiator catwalk, paddleboards, kayaks, floating lounge areas, and snorkel gear. If you simply want to spend time at the Water Park with no additional activities listed above, you can get an Express Pass for $69.
Tour The Crab Bay Area on A Wave Runner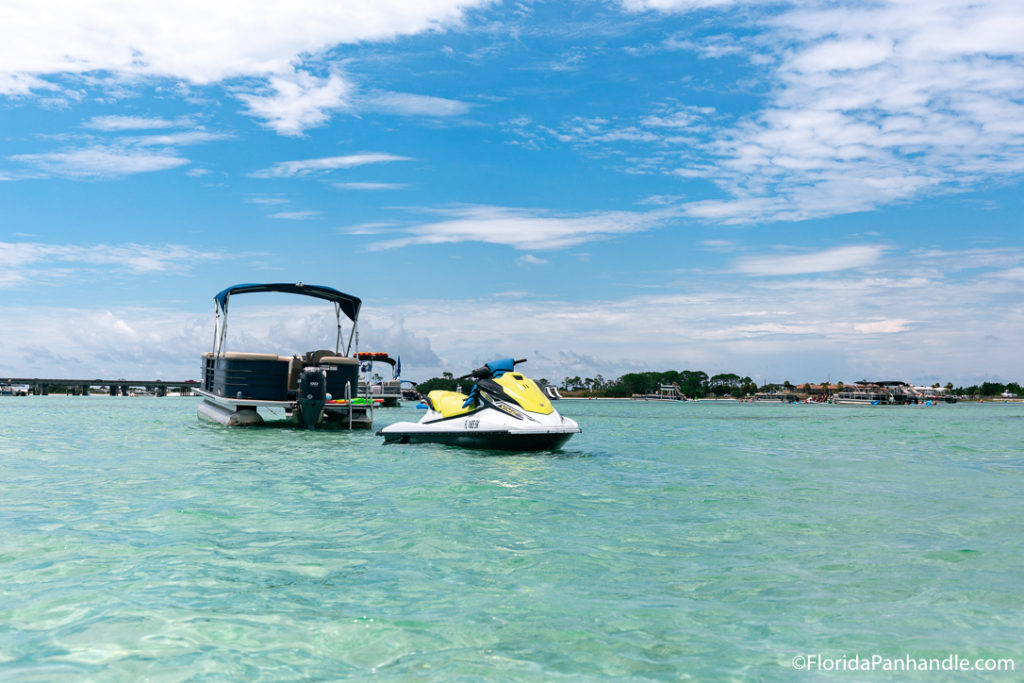 There are also guided tours like Wave Runner Tours where you ride through the Destin Harbor, Crab Island, and the entire Bay Area. Be on the lookout for the amazing marine life in the distance. If you are new to the area schedule a tour with an experienced captain. They know this bay like the back of their hand. Some of these guys are so welcoming and friendly that they will pack the pontoon with supplies, so you can sit back and take all the sights and sounds in. Remember to take your camera and charge up your mobile device. You'll want to be ready to snap a selfie of your group with a gorgeous dolphin swimming in the background. The rates vary but a four-hour guided tour will be approximately $600 from May 1 through September 15. The ticket rates are lower during other times of the year when tourism is slower.
Fun Things To Do Nearby Crab Bay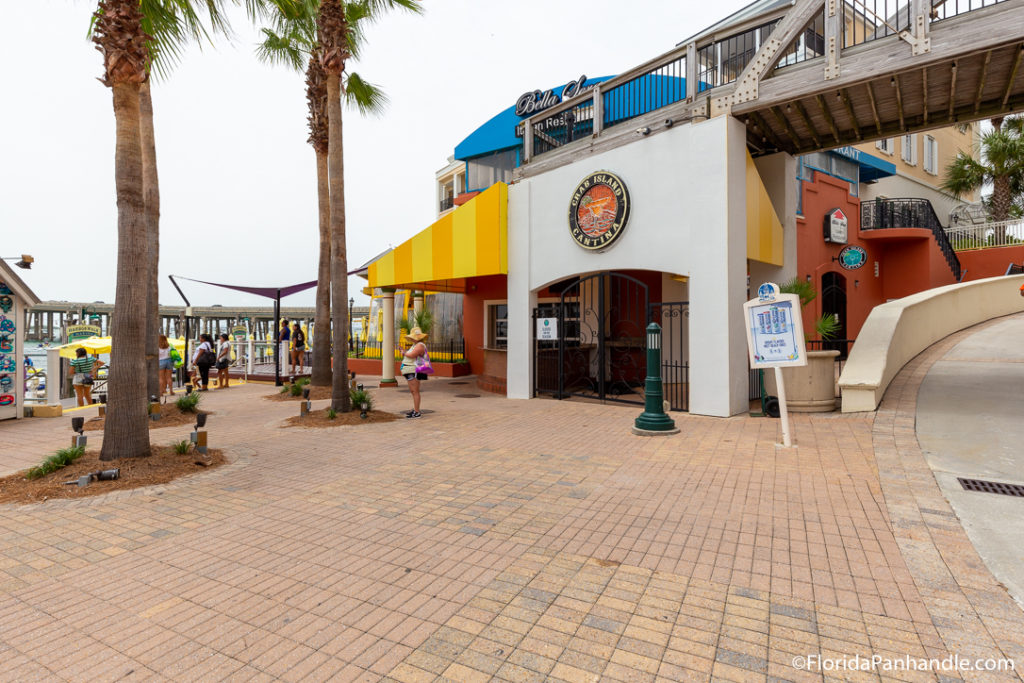 The fun doesn't stop after you leave Crab Bay Island. Nearby in Fort Walton Beach walk the Okaloosa Island Boardwalk. This popular spot features a beautiful beach, a pier where you can fish, and a retail area featuring specialty shops and delicious restaurants. If more action is your pleasure, head right across the street to the Wild Willy's Adventure Zone. This hub of activity features fun for the whole family including an arcade, racetrack, and mini-golf course. There's something for everyone to enjoy.
There is, even more, to do and see at HarborWalk Village which is located on the other side of the bridge. HarborWalk is a Mecca of activity with amazing shopping, live concerts, a zip line, and much more. Grab a bite to eat and a refreshing beverage at one of the waterfront restaurants like Margaritaville, AJ's, and Harry T's. 
The Best Time To Visit Crab Island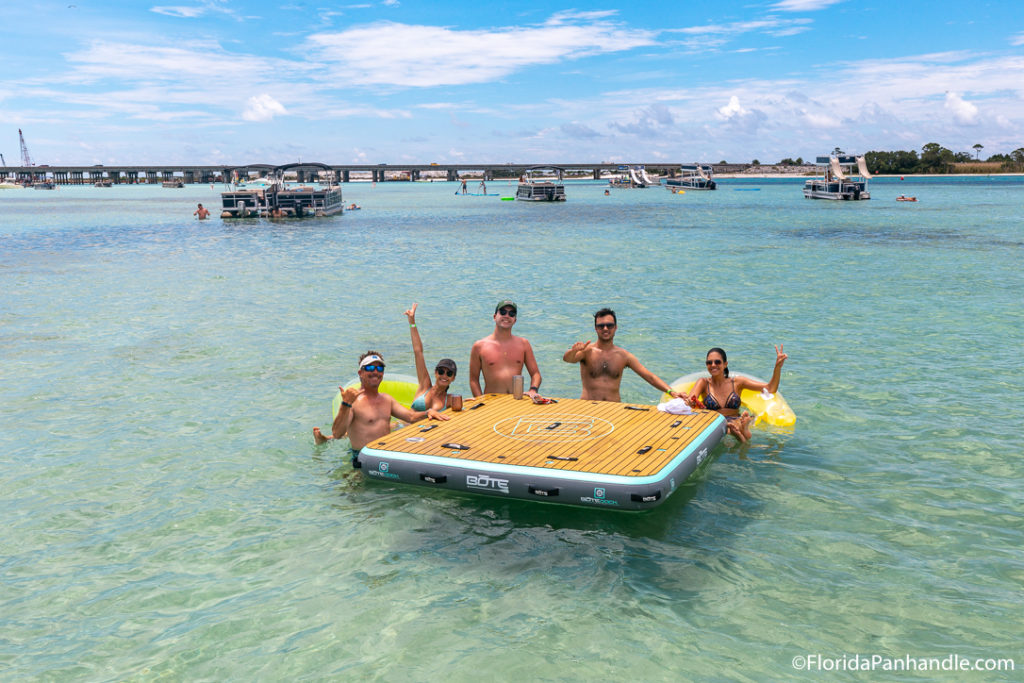 Anytime is a great time! Florida is the Sunshine State where the weather is mild throughout the entire year. The peak season is April to October. Some folks say the best time to visit Crab Island is during high tide when the gulf deposits water into the Choctawhatchee Bay creating gorgeous, fresh emerald green water. This creates the most breathtaking views! Consult the boat rental or tour guide company or check a tide chart to find out when high tide is. You will definitely want to experience this stunning water! That said, when you visit depends on your expectations. Those who enjoy the busy party style scene and large crowds visit during national holidays like Memorial Day or Labor Day or Independence Day. If you are bringing your family, the best time to visit is anytime during the week. It is highly recommended that you visit Crab Bay Island's website for updated information. This area has experienced new government restrictions throughout the last few years, and updates are posted regularly.