For many, sushi isn't just a now-and-then treat; it's a way of life! Whether you're a casual sushi indulger, or a self-proclaimed aficionado, Pensacola, Florida offers an excellent variety of sushi restaurants serving up incredibly fresh fish in a variety of styles ranging from traditional, to modern to fusion.
Here are just a few of our favorite spots to eat sushi in Pensacola:
1. Sushi Masa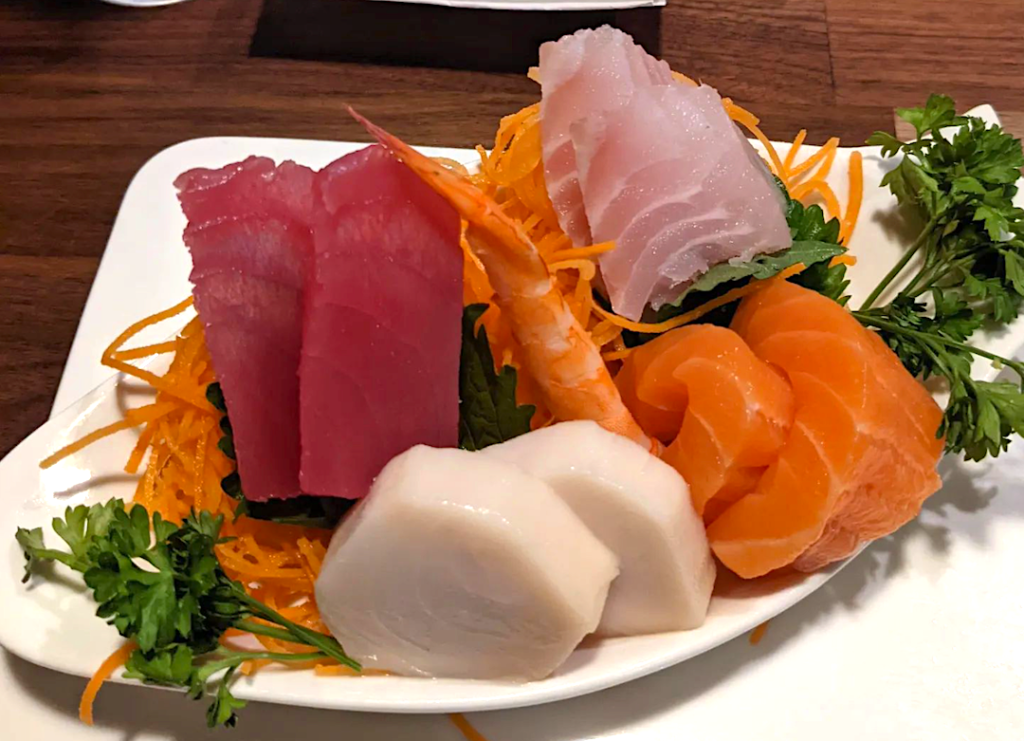 Located on Bayou Boulevard in central Pensacola, Sushi Masa offers two types of delicious food: sushi and hibachi. How can you go wrong with so many options?
Denoted outside by a large neon light over the front door, the inside of the restaurant is casual and traditionally decorated. There's a sushi bar where customers can see sushi, sashimi, and maki rolls being made, as well as a full liquor bar. The remainder of the restaurant consists of hibachi tables with seating and cozy booths.
Some of our favorite bites here included the Baby Tiger Roll, a maki roll with spicy tuna and cucumber on the inside, and salmon, avocado, crunch, eel sauce, and masago on the top, and the Snow White Roll, maki filled with shrimp tempura and topped with snow crab and eel sauce.
2. Sake Café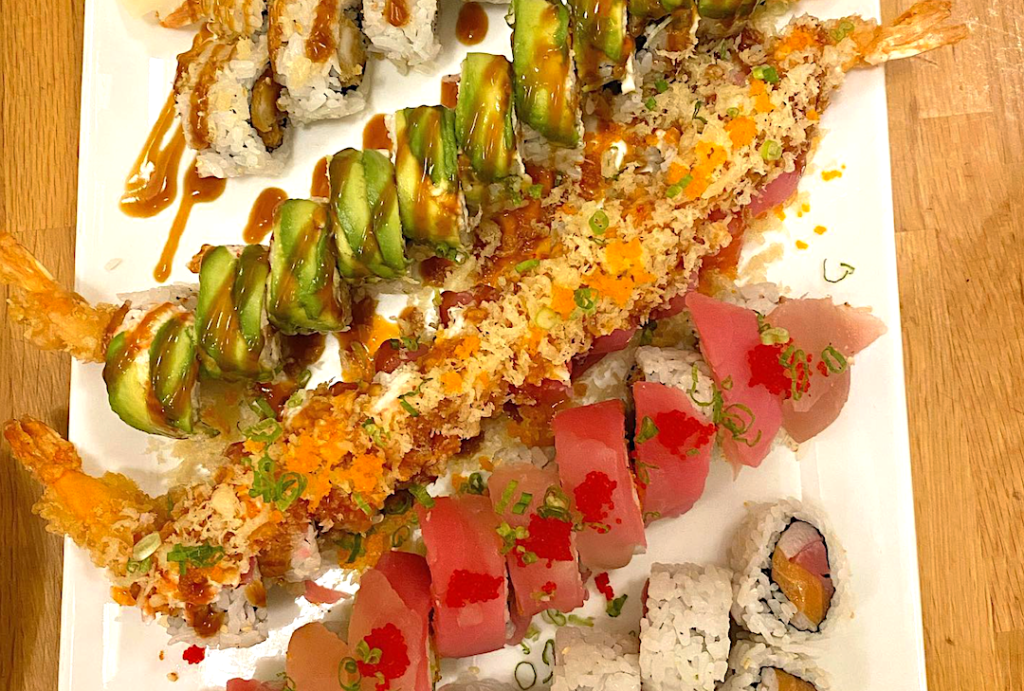 Sake Café is a sushi restaurant in Pensacola, conveniently located on North 9th Avenue. is set up in an older building that almost looks like a church. But don't let that deter you – the food here is excellent, and the huge menu offers a little something for everyone. Beginning with a large variety of soups, salads, and appetizers, the menu leads you through a wide range of entrée options, including over two dozen types of nigiri, several shareable platters, and close to two dozen sushi rolls. They also offer a full hibachi menu.
When you visit, we encourage you to try the Bayou Roll, a unique combination of ingredients we haven't seen anywhere else. It contains spicy crawfish, avocado, and cream cheese, and is topped with spicy tuna, snow crab, spicy mayo, and wasabi tobiko. For a couple or a group, we highly recommend the Sushi & Sashimi Combo, consisting of 7 pieces of nigiri, 12 pieces of sashimi, and a sushi roll. Paired with a house salad or miso soup, this is an ideal meal.
3. Khon's on Palafox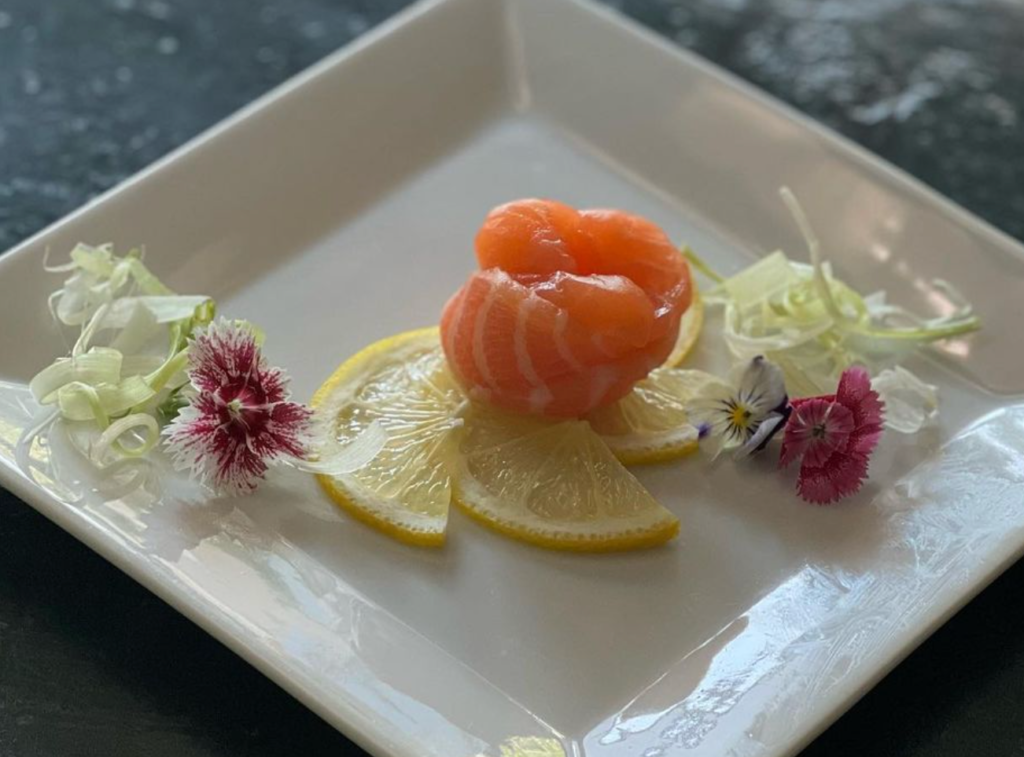 Asian fusion lovers, this one is for you. Located on Palafox Place in Pensacola, Khon's on Palafox serves Thai, Vietnamese, and Pan-Asian specialties alongside their full sushi menu. Because this is a review on sushi restaurants, we won't go much into the other foods, but we must say, the House Ramen is to die for.
On the sushi side of things, we loved just about everything we tried. The Mt. Fuji Roll, consisting of tempura shrimp, cucumber, avocado, baked crab meat, and spicy mayo was the perfect combination of crispy, smooth, and a little bit spicy. The Rainbow Roll, a delicious combination of lump crab meat, cucumber, tuna, fresh salmon, yellowtail, and avocado was impossibly fresh and tasted light, delicious, and oh-so-flavorful.
4. Nippon Sushi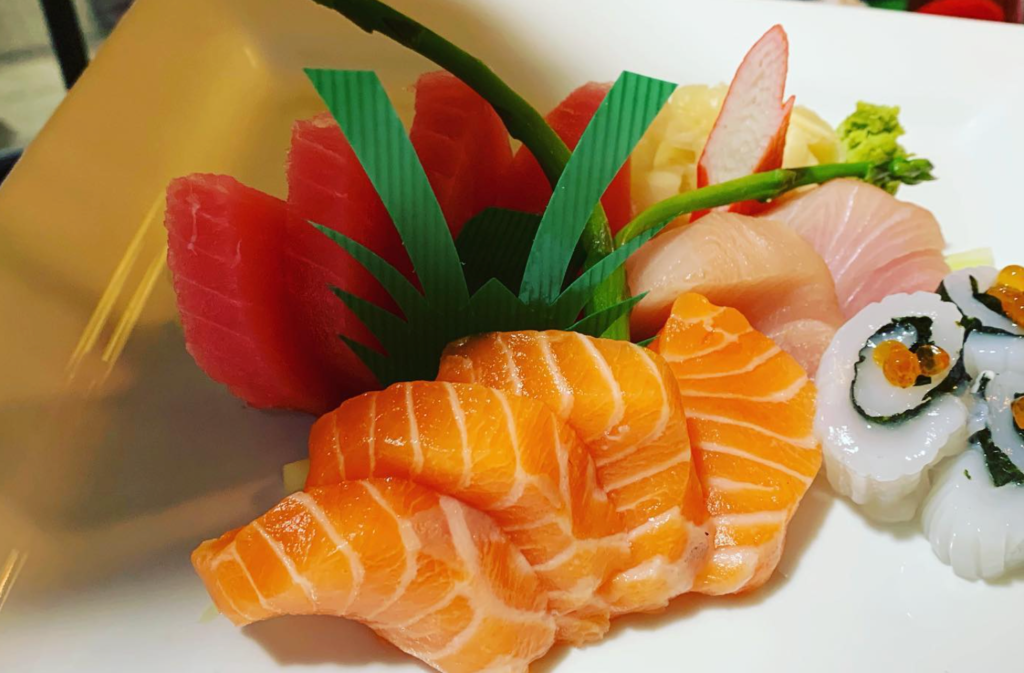 Tired and hungry after a long day of shopping? Not to worry! Located in the Cordova Mall on N 9th Avenue in Pensacola, Nippon Sushi serves some of the tastiest sushi in the city. In addition to sushi, they also offer a variety of hot and cold appetizers, soups and salads, bento boxes, ramen, hot entrees, and poke bowls. For sushi, they boast a huge variety of rolls, hand rolls, and sashimi. Everything is expertly prepared and artfully presented.
We loved the Tuna Tataki. Rested on a bed of thinly cut cucumber, and drizzled with spicy mayo and teriyaki sauce, the freshness and flavor of the tuna itself are allowed to shine as the star of this dish. Our favorite roll was the Special King Nippon Roll, which consisted of spicy tuna, smoked salmon, barbecued eel, yellowtail, shrimp tempura, and escolar. It was topped with tuna, salmon, tilapia, avocado, eel sauce, mayo, and a sweet chili sauce. Wow – what a combo!
5. Ichiban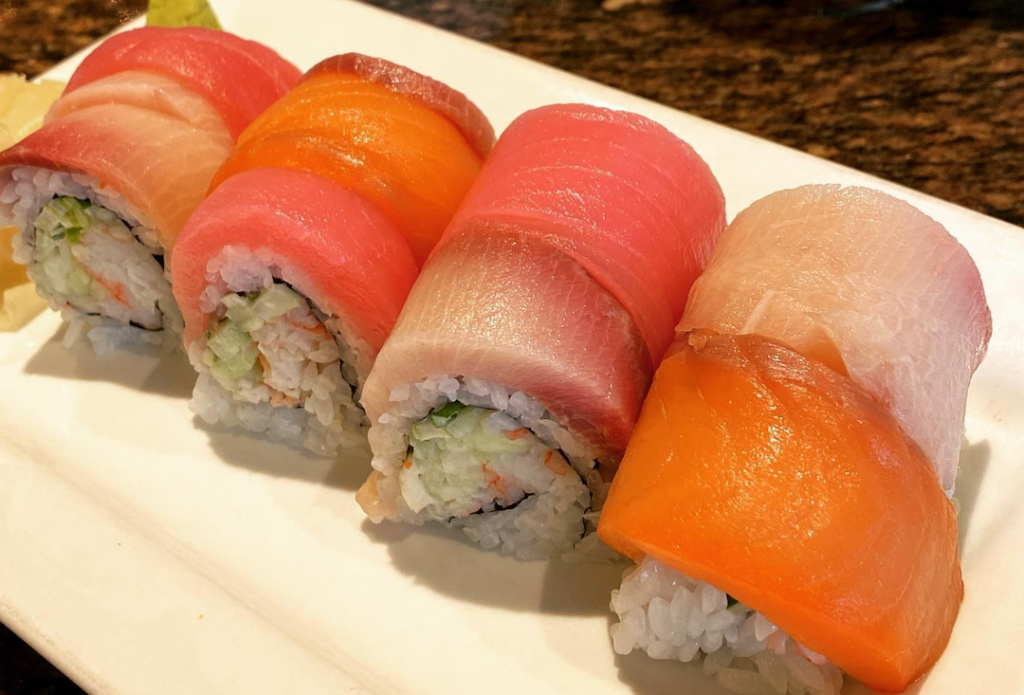 Located on N Davis Highway, Ichiban strives to provide its customers with a traditional Japanese dining experience, through authentic seating, refined cuisine, and fresh handmade sushi. The interior is simple but calming, allowing diners to focus on the flavors and textures of the food.
There were so many delicious dishes available here that we had trouble choosing our favorites. We can only hope that you'll have the same delightful problem. We must mention the Sashimidon plate, not only for its delicious combination of incredibly fresh sashimi but also for its gorgeous presentation. Assorted sashimi (chef's choice) comes beautifully displayed atop a pile of perfectly cooked sushi rice alongside a soup.
We'd be remiss not to mention the Sunset Roll, which we also loved. On the inside, the roll consists of a krab stick, avocado, green onions, masago, and spicy sauce. Atop the role rested deliciously fresh seared salmon drizzled with a house-made sweet chili sauce. We loved it because of how unique it is!
There are a plethora of sushi restaurants to choose from in Pensacola, and with these five, you truly can't go wrong. Next time you're in the Pensacola area visiting or on vacation, check out these excellent eateries, and let us know which dishes you most enjoyed!