Seafood may be a big deal in Panama City Beach, but other culinary niches are also worth exploring. The region's desserts, in particular, are impressive. Ice cream dominates on hot days, of course, but you'll also find donuts, fudge, pie, and even crème Brulee.
Not sure where to start? Don't hesitate to add the following to your PCB dessert itinerary:
Thomas Donut & Snack Shop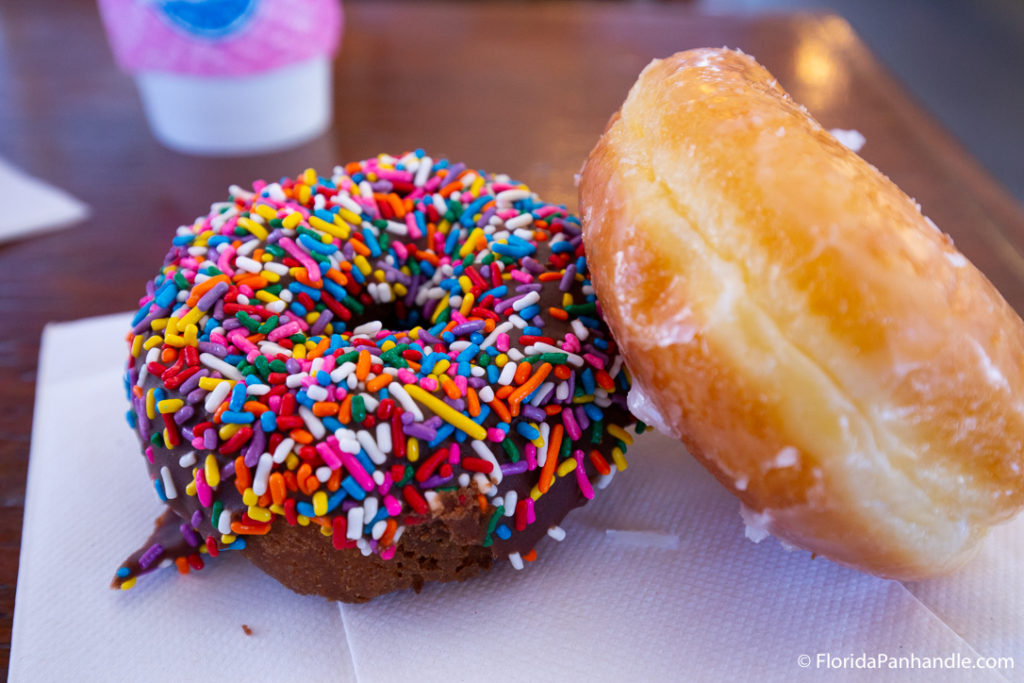 Begin your day with a sugar rush at Thomas Donut & Snack Shop. This treasured shack serves a variety of fresh and tasty donuts at decidedly affordable prices. Hence, its long line, which, although intimidating at first glance, moves quickly. Once you've made it to the front of the line and managed to select a few favorites from the long list of offerings, you'll be rewarded with an iconic pink box full of PCB's most delicious donuts.
Pink Pelican Ice Cream Bar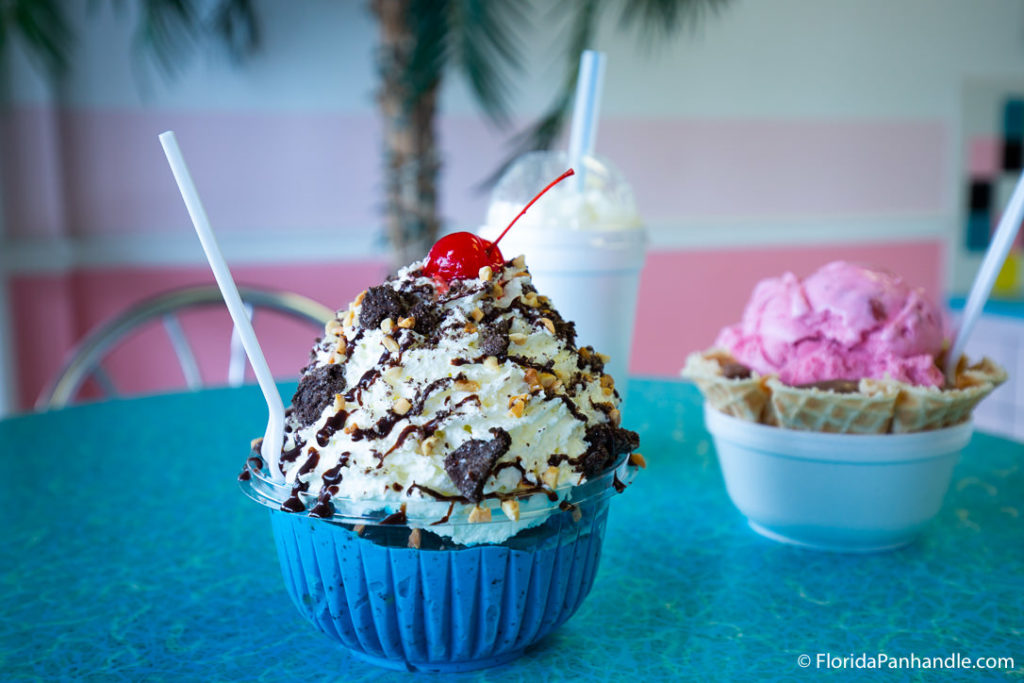 It's impossible to feel down when immersed in the cheery atmosphere of PCB's Pink Pelican Ice Cream Bar. This adorable ice cream parlor offers a variety of flavors you won't find anywhere else. Arguably the most popular? The Cookie Monster, which is just as blue and as cookie-oriented as its Sesame Street namesake. Several additional flavors are also worth ordering, however. Don't panic if you struggle to decide — sampling is allowed and even encouraged at this shop.
Firefly's Flaming Crème Brûlée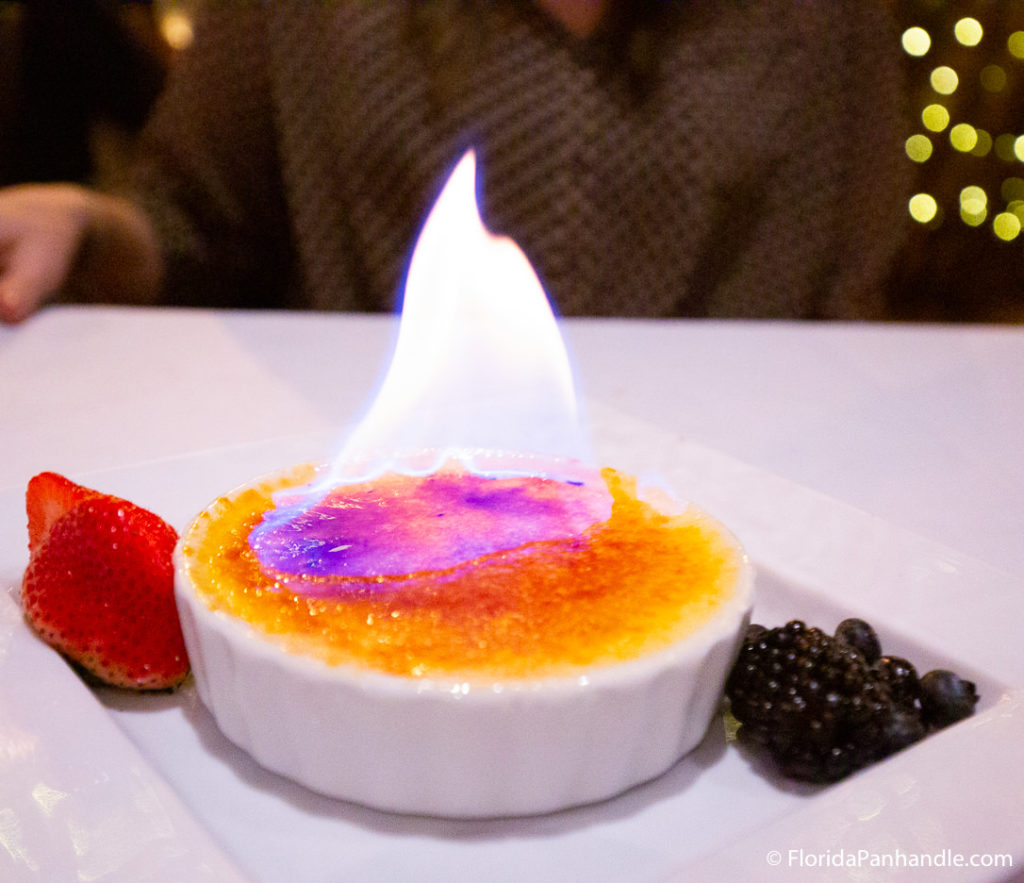 There's a lot to love about upscale restaurant Firefly, including its iconic oak tree and its delicious seafood entrees. If you're a fan of inventive desserts, however, you'll quickly fall in love with Firefly's most beloved treat: the crème brûlée. This isn't just any dessert; like many top menu items at Firefly, it's served with flair. This remarkable treat will make a big entrance, with a flame lighting the way as it arrives at your table. What better way to make memories during a romantic date night?
While the crème brûlée may be the most visually impressive of Firefly's featured desserts, it's by no means the only option available. Other favorites include dark chocolate cake, mini key lime pie, and cheesecake with a wonderful berry sauce. If you attempt to leave room for dessert at any restaurant in Panama City Beach, make it Firefly, where it's far from an afterthought.
David's Sno-Balls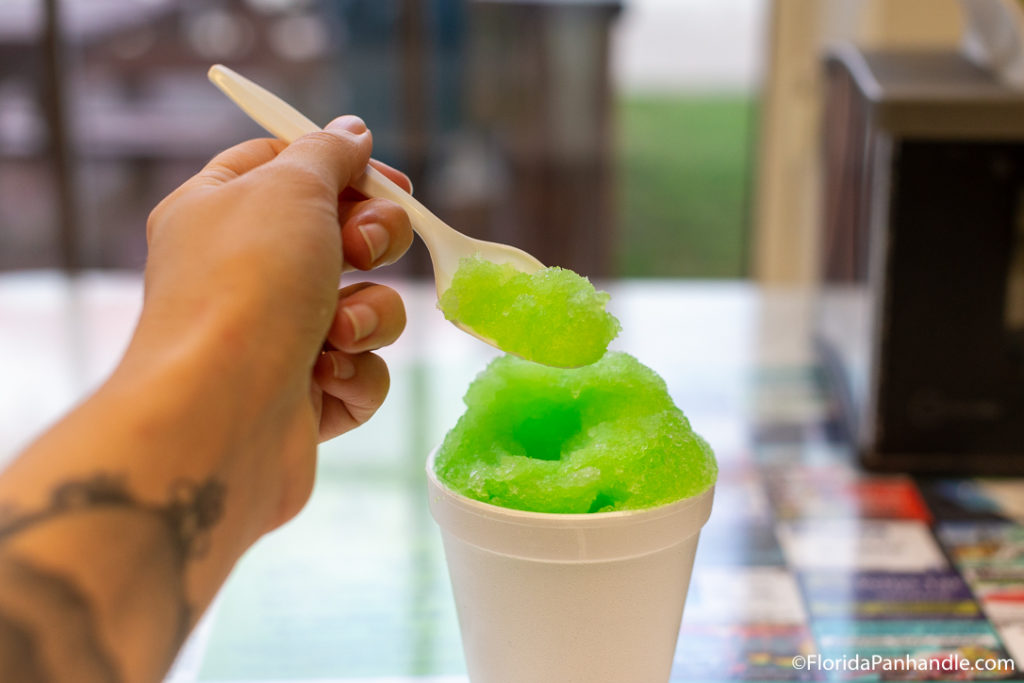 Bringing the best of New Orleans to Panama City Beach, David's Sno-Balls offers the perfect combination of savory PO' boys and sweet sno-balls. To the uninitiated, these look a bit like a standard snow cone. In reality, however, they are far more flavorful than your typical shaved ice. While any of David's frozen desserts are sure to impress, you'll be most intrigued by the stuffed sno-balls, which include soft-serve ice cream.
If, for some reason, you're not in the mood for a cold treat, do yourself a favor and order the beignets. These deep-fried pastries are especially enjoyable when paired with the shop's coffee — the perfect combination to get you going in the morning.
Riviera Creamery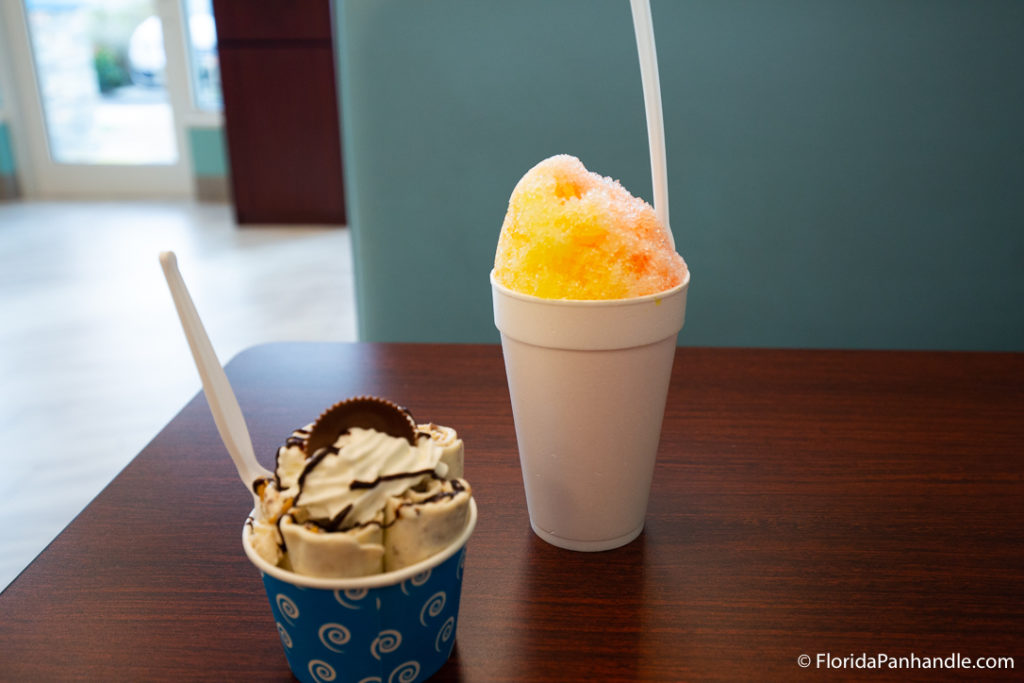 The staff members at Riviera Creamery are just as sweet as the shop's beloved desserts. If you're like most visitors, you will be impressed by the welcoming environment long before you taste the wonderful ice cream. But while you'll appreciate the friendly surroundings, the flavor will ultimately hook you. Offering premium Bassetts ice cream, this shop makes an impression with everything from mango to pralines & cream.
Ice cream may be the featured dessert at Riviera Creamery, but you'll also encounter plenty of other options worth trying, including toffee, truffles, and chocolate-covered pretzels. Grab at least one treat to enjoy onsite, plus something else to take home. Gift boxes allow you to treat loved ones to the creamery's best desserts so they don't feel left out.
Marble Slab Creamery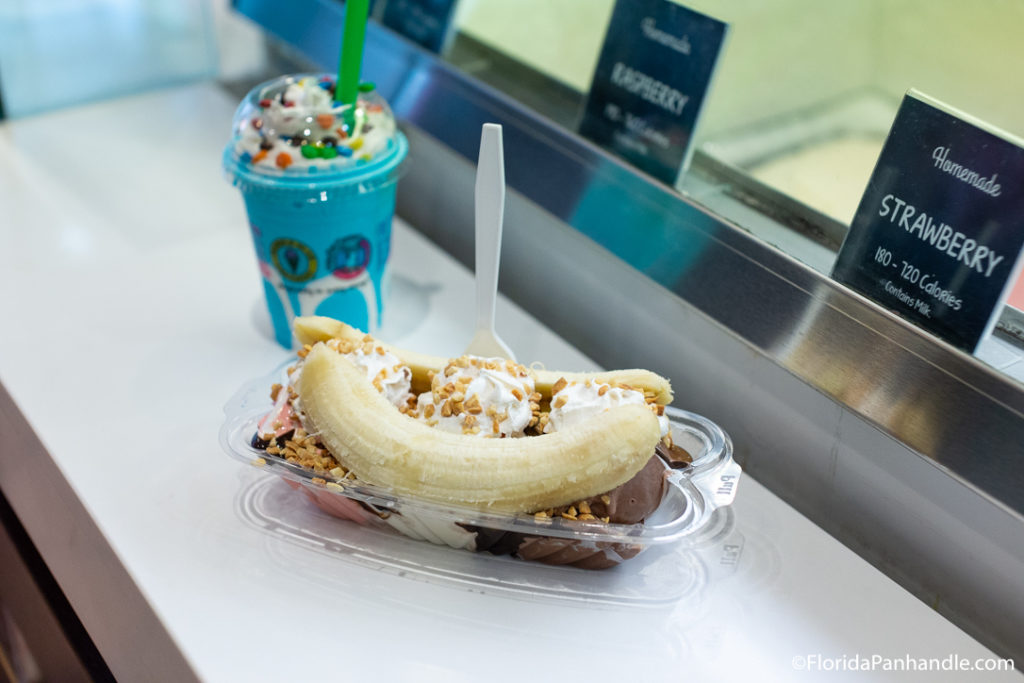 Take your usual ice cream experience to the next level at Marble Slab Creamery, where you'll encounter small-batch flavors with plenty of options for mix-ins. Fresh ingredients ensure that every cup, cone, sundae or shake tastes delicious, regardless of your preferred flavor. Even seemingly simple options such as vanilla taste wonderful due to the care that goes into selecting and preparing the shop's high-quality ingredients.
Marble Slab Creamery's lines can be long, but regulars insist that the ice cream is worth the wait. The shop's unique ordering system begins with receiving a menu as soon as you get in line, granting you plenty of time to choose your favorite. Indoor seating can feel limited on busy days, but you'll find plenty of space outside for enjoying a refreshing ice cream treat.
Kilwins Ice Cream & Fudge
Kilwins may be a nationwide chain, but the locations are limited enough to make the store truly special among its many fans. The Pier Park location transforms sweet treats from culinary delights into entertainment spectacles. The skill of the shop's staff members is constantly on display, with friendly faces making fudge and other confections before your very eyes.
Sampling is actively encouraged, so don't hesitate to ask to try anything that looks appetizing. On a hot day, however, you'll find the ice cream most enticing. Several dozen delicious flavors are offered, including sugar-free options that are just as tasty as the standard recipes. While you'll want to eat your ice cream on the spot, any other treats can be brought home to enjoy later — if they make it that far.
Buttermilk Sky Pie Shop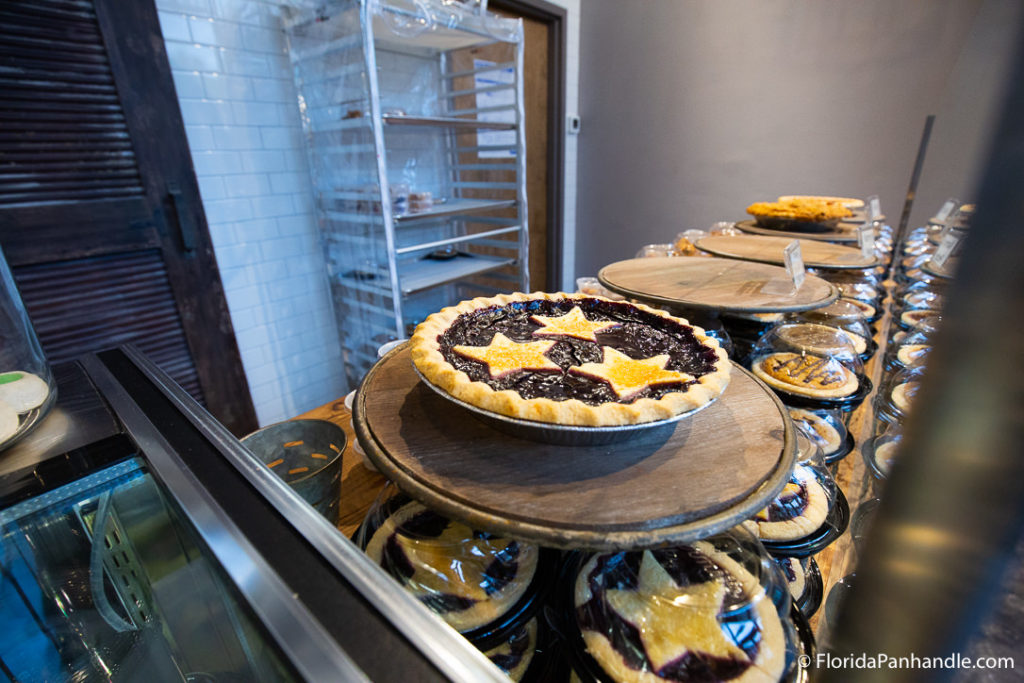 In a region in which frozen treats dominate the dessert selection, it's refreshing to enjoy a down-home slice of pie. That's exactly what you'll find at the Panama City Beach edition of the beloved Buttermilk Sky Pie Shop chain, which, despite its numerous locations, manages to retain the feel of a small-town bakery.
Conveniently located at Pier Park, this cute shop boasts a vast selection, including both the usual favorites and a few unique recipes. The fillings are delicious, but the delectable crust sets the shop's pies apart. Whether you're in the mood for key lime or peanut buttercream, you'll quickly find a slice that hits the spot.
Ice cream, chocolate, donuts, and pie abound throughout Panama City Beach, where you can find the perfect dessert in no time at all. Don't hesitate to treat yourself before you hit the beach.