After a long day out on the water or just living out the tourist life, you are ready to fill up at some of the hottest eateries in town. Through the hustle and bustle of this eye-catching beach town, it can be somewhat tricky to make a decision.
No worries, we've got you covered. Panama City Beach is full of fresh seafood, savory grub, and entertainment. No matter the occasion there is a restaurant for you and your family to make unforgettable memories.
Check out these 8 best restaurants for dinner in PCB:
Patches Pub & Grill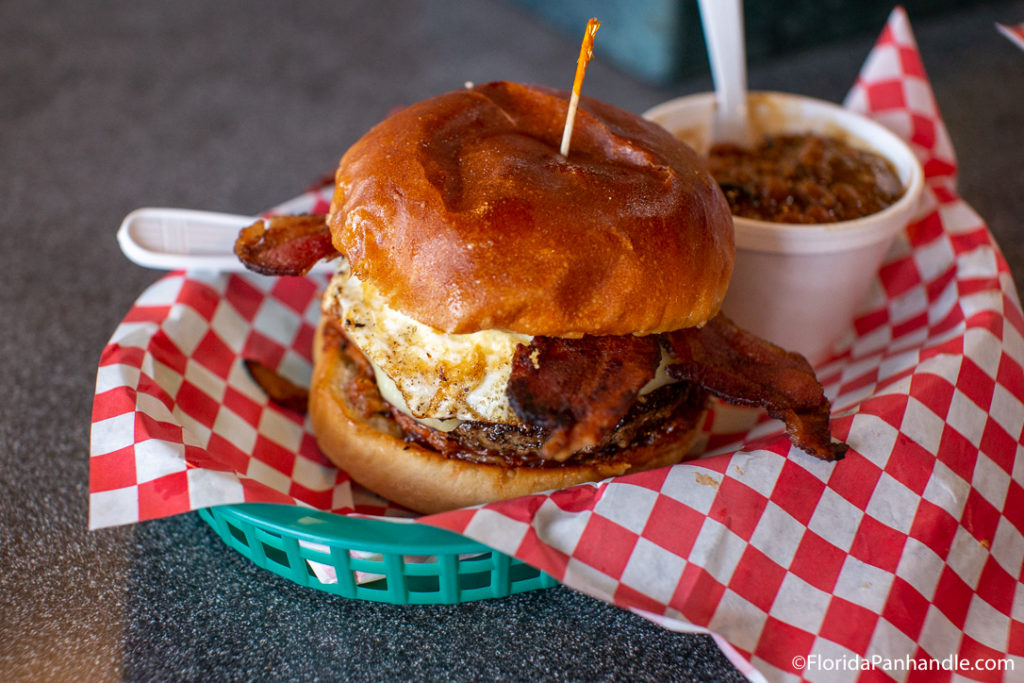 The right kind of local grub you would expect to find in a beach community. Patches Pub & Grill offers the best of all worlds: part sports bar, entertainment venue, hamburger joint, and gastropub. At first glance, you may find it overwhelming. There is so much to look at between an extensive list of food options to choose from and so many ways to enjoy yourself during your visit.
So, if you are looking for some mouthwatering pub food and some thrilling sports bar entertainment, head on over to this local favorite! Patches was voted the best sports bar, best chicken wings, and best burgers in 2016, 2017, 2018, 2019, 2020, and 2021 by PC Living Magazine.
Triple J Steaks & Seafood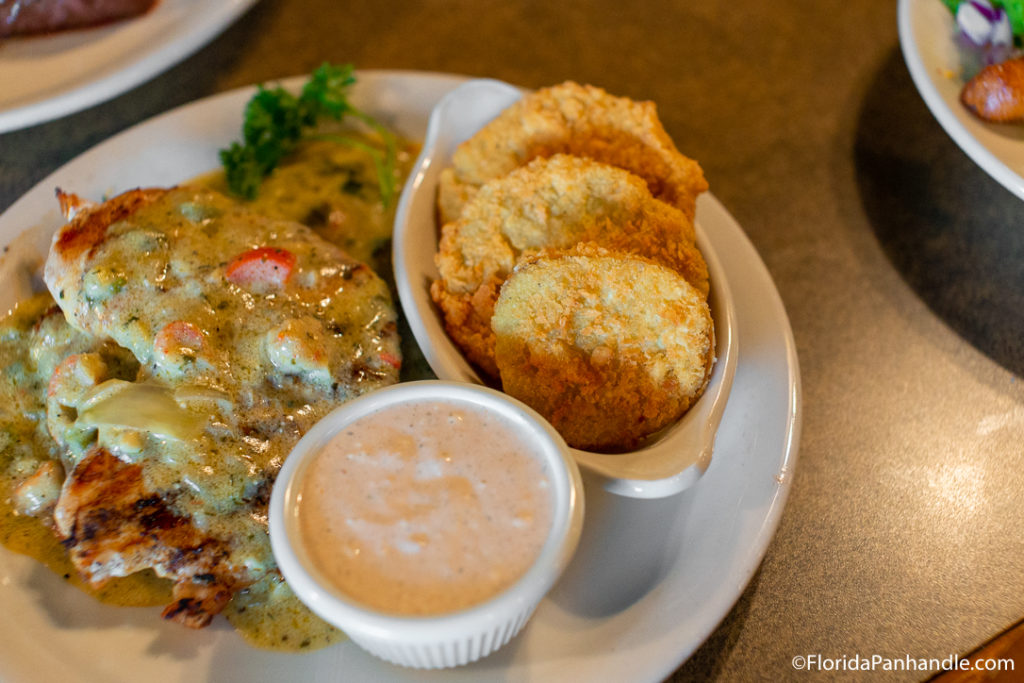 Making it their priority to deliver delicious food and awesome live entertainment almost every day, Triple J Steak & Seafood is a relaxing atmosphere that many know and love. Located near Saint Andrews Bay, this steakhouse specializes in surf 'n' turf, proudly serving up perfectly cooked-to-order steaks and fresh local seafood infused with southern flavor.
From their parmesan cheese and artichoke hearts Durango Dip to their Blueberry Bread Pudding – which is highly raved about by loyal fans, Triple J will be sure to leave you stuffed and satisfied.
Finns Island Style Grub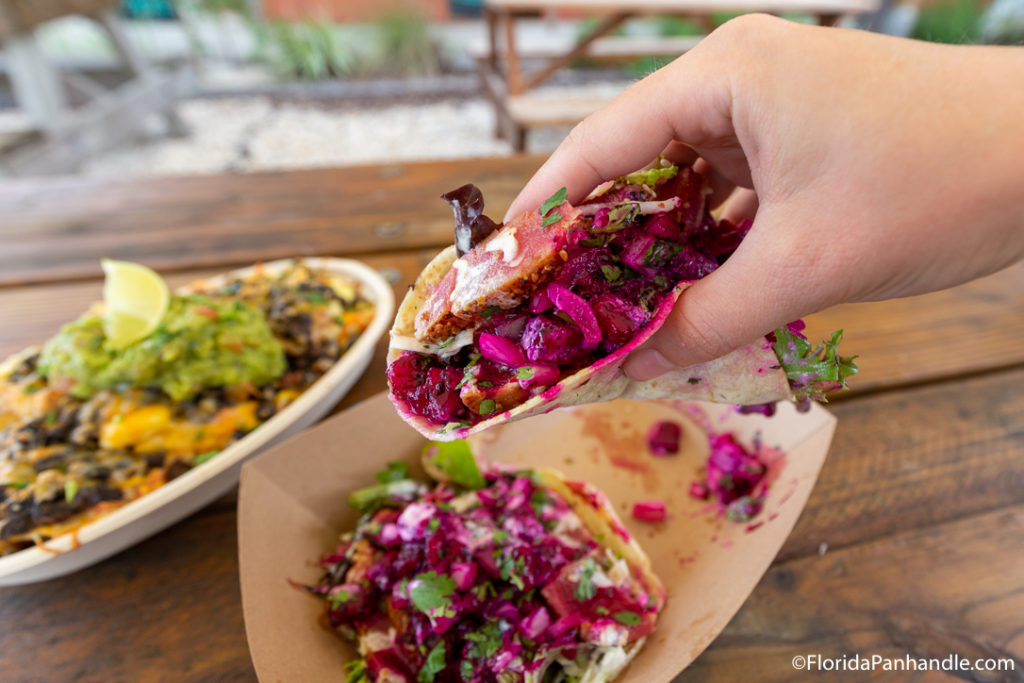 While casual and quirky, Finns Island Style Grub serves up an Instagram-worthy menu. At this laid-back venue, you will enjoy one of the most fulfilling meals in Panama City Beach. Offering fresh tacos, nachos, tuna dip, and much more, this hidden gem catches fresh fish and serves them the same day.
Check out their Facebook page for regular updates regarding local music. If you don't mind eating outside at a picnic table and enjoying amazing views of PCB, Finns is the perfect place.
Firefly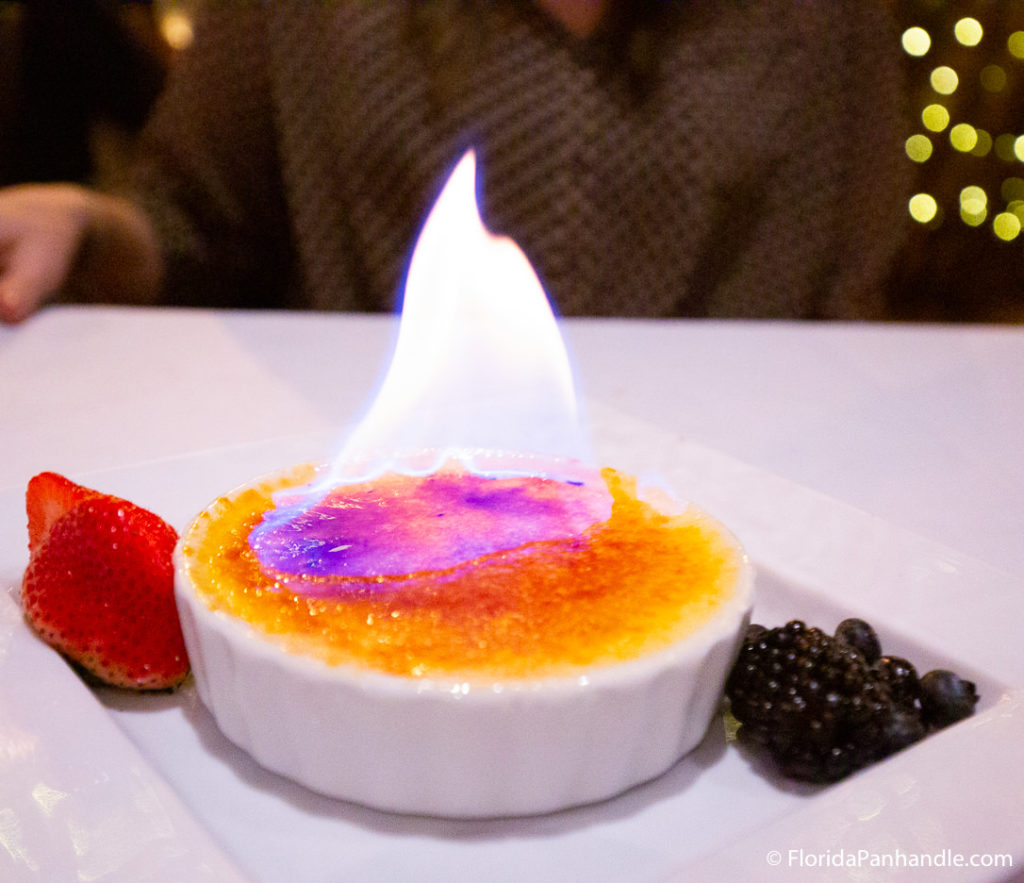 In Panama City Beach, you will find every build of seafood restaurant imaginable. While Firefly tends to be a date night favorite, it is also popular among groups of friends and family looking to scale up for the evening. Delivering a refined menu and a sophisticated environment, in 2018 Firefly is the recipient of an acclaimed Florida Trend Golden Spoon Award. Firefly is pescatarian-friendly, vegan-friendly, vegetarian-friendly, and gluten-free. Locals, tourists, and food critics rave about this place and we are right there with them.
Moe's Original Bar B Que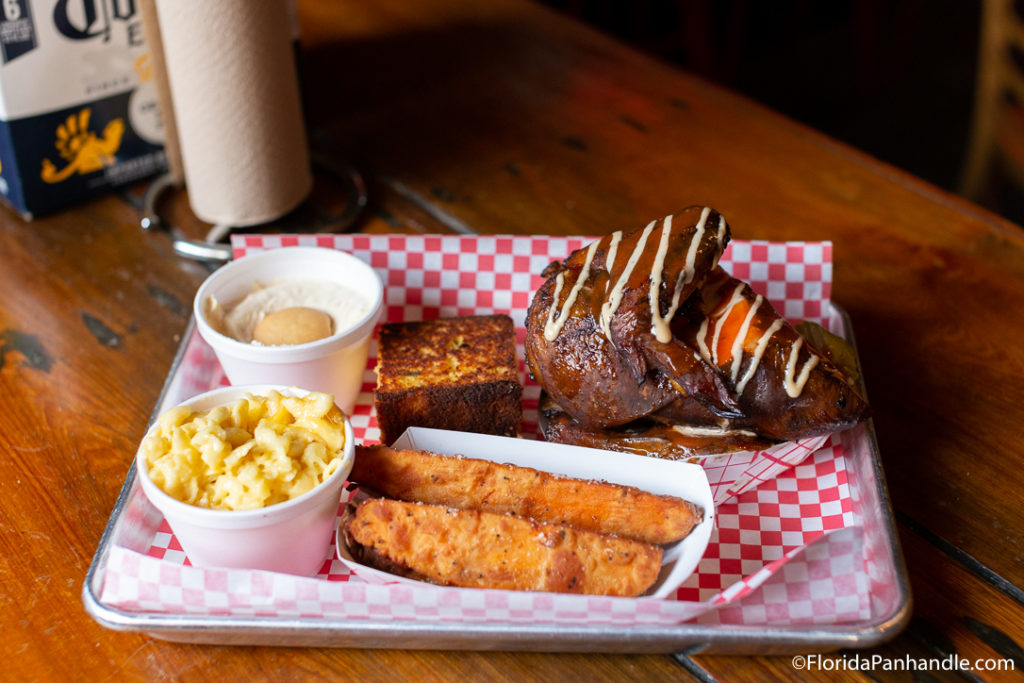 Serving up savory Southern-style platters and sides, Moe's Original Bar B Que will satisfy your appetite and put a smile on your face. With locations in Alabama, Colorado, Tennessee, Ohio, and Florida, it is heavily hunted for by fans from other regions. Like any Southern-style joint, at Moe's Original Bar B Que you will find everything you could dream of if you are a self-avowed carnivore.
The Grand Marlin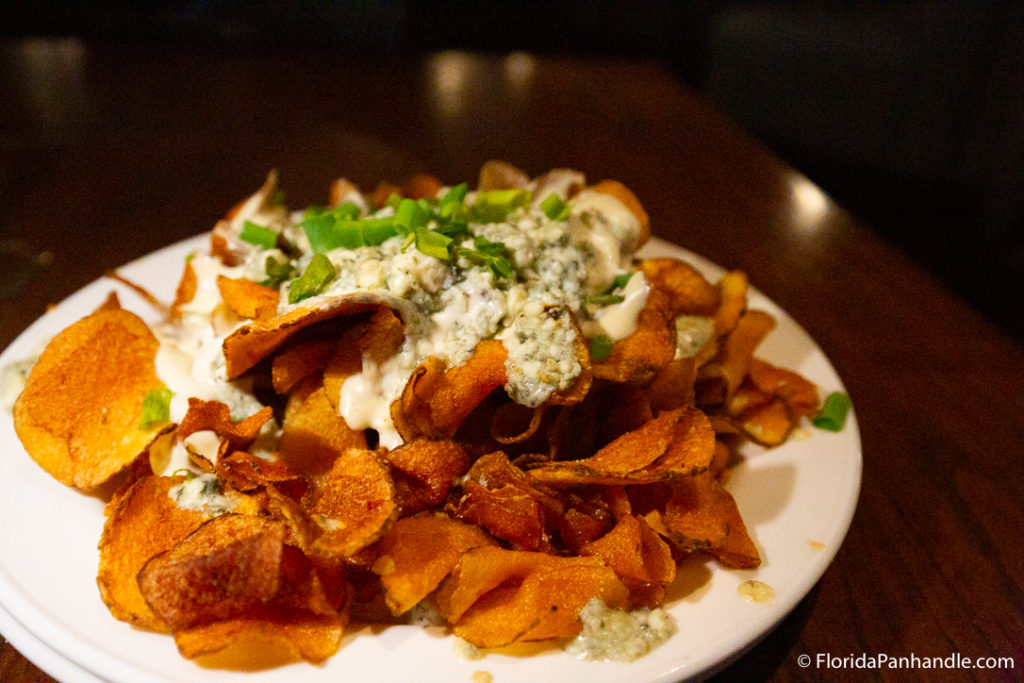 Named after one of the most infamous sport fishes of the sea, The Grand Marlin lives up to its name. Here, they serve up the finest seafood, drinks, and desserts – all prepared fresh. Not only is the food top-notch, the relaxed atmosphere always creates an enjoyable time. At The Grand Marlin, the flavors are bold, merging flavors from South Florida and New Orleans. Have you ever had a Key Lime Grilled Lobster Tail? It is a local favorite at The Grand Marlin. No matter what you want from the Gulf, the staff will most likely have it and will know exactly how to prepare it.
The Wicked Wheel Bar & Grill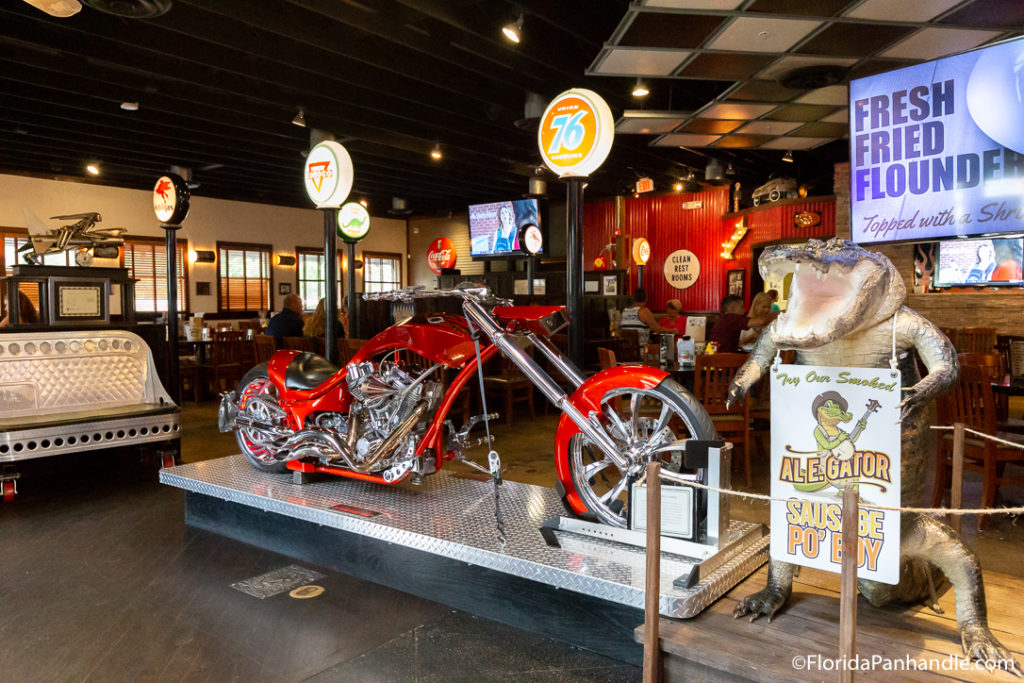 If you want a perfect place to cool down and relax after a long day out and about on the water, The Wicked Wheel Bar & Grill is the place. If you have never been, it might to a second to take in all the electric décor. There is a real hot rod leaning against the wall, old fuel pumps around the restaurant, a stunning red custom chopper on a low base, and cut-down motorcycles as bar stools. Everything about The Wicked Wheel – from the vintage decor to the fact that children's meals are served in a replica of a '57 Chevy – makes it a must-stop shop.
g. Foley's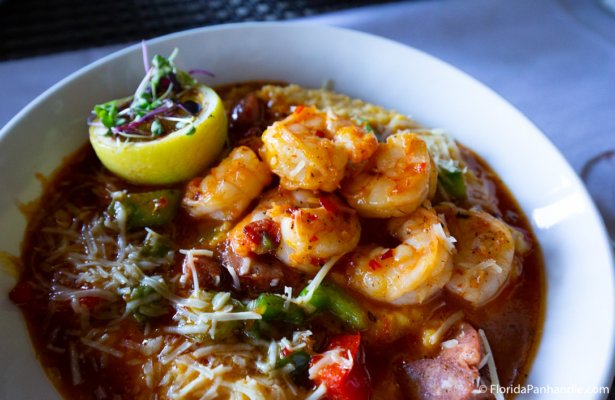 With their pristine table settings, soft lighting, comfortable seating options, and their mouth-watering flavorful dishes, g. Foley's sets the stage for a memorable dining experience. The quality of service is second to none with servers knowing just when to check-in and when to let you enjoy your time in peace. Their lunch and dinner menus are loaded with appealing appetizers, main courses, and desserts. One of our many favorites, the Sweet Heat Shrimp brings a warm smile to our faces. A balance of spicy and sugary flavors that promise to satisfy your taste buds time and time again.
Panama City Beach is full of tasty eats, whether you are looking for something upscale or casual. Don't miss out on these most loved favorites, and a chance to eat the best seafood around town. If you are looking to skip right on over to happy hour, make sure to check out the Top 5 Bars to Enjoy While You Are in PCB!