Sure, Panama City Beach and the greater Gulf Coast region are synonymous with premium seafood — as they should be! But however delicious as shrimp po'boys and flaky blackened grouper are, sometimes a person is in the mood for a thick filet mignon or a juicy prime rib. For those times, we present our list of the very best steakhouses in Panama City Beach.
1. Angelo's Steak Pit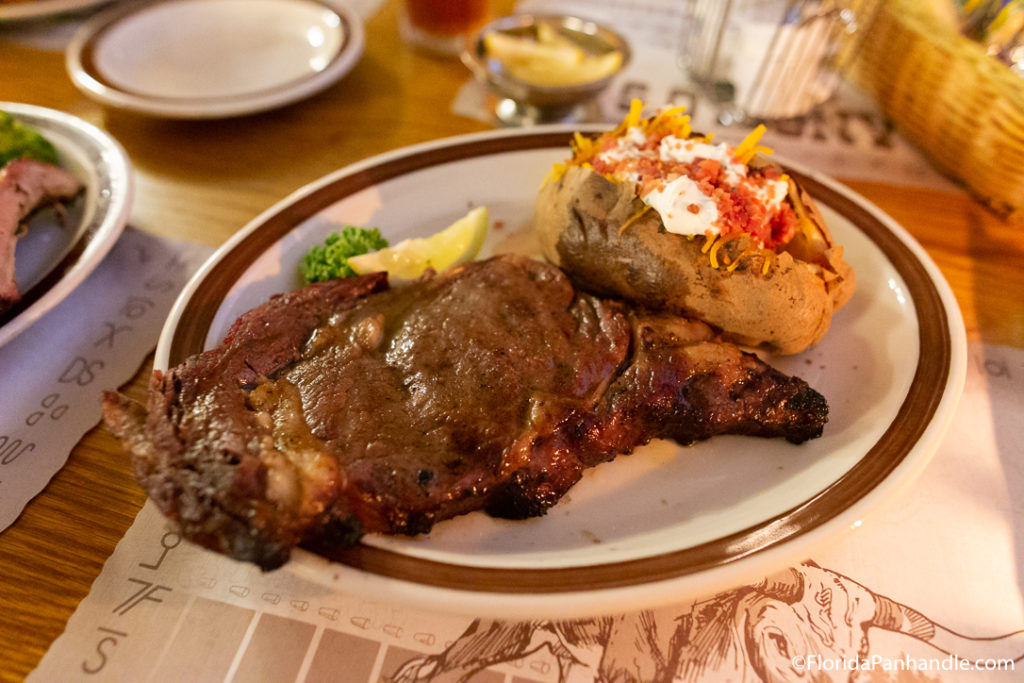 Angelo's Steak Pit is a true American steakhouse in every sense of the idea, from architecture to decor to service and, of course, to menu offerings. Drive down Front Breach Road and you will easily spot this sprawling one-story restaurant built much in the style of a Texan ranch house with wraparound porches. Guarding the restaurant's front is a 20,000-pound statue of a bull squaring up — a bit of a reminder of just what type of tasty red meat lies within.
This American steakhouse does prioritize steaks, with a large menu section entitled USDA Choice Corn Fed Steer Steaks that lists different entrees featuring different cuts of steak, but you'll also find a nice selection of local seafood and barbecue. All dinner entrees come with your choice of soup or salad and one side from a selection that includes baked potato, green beans, and steamed vegetables.
2. Saltwater Grill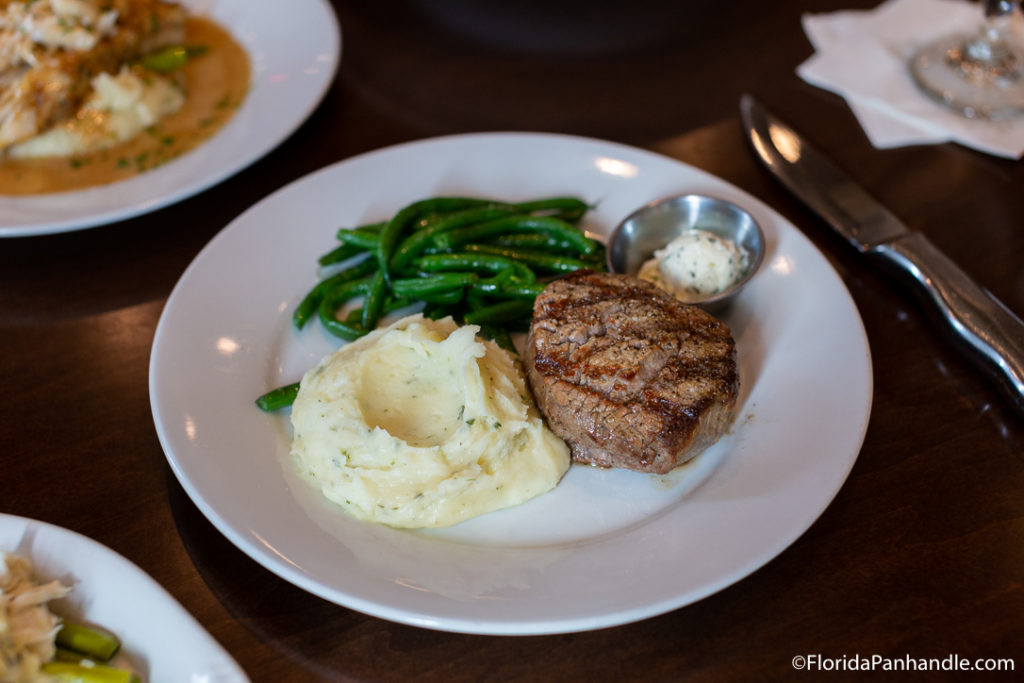 Panama City Beach's Saltwater Grill is about evenly half-steakhouse and half-seafood restaurant as its very name suggests, but its reputation for presentation certainly makes it deserving of a place on this list and a potential on your dining itinerary. Saltwater Grill sits in a large Mediterranean-styled building with a white facade and large pillars before the doorway. It's a pretty exterior but the real wow factor happens when you step inside and find yourself surrounded by an incredible 25,000-gallon tropical saltwater aquarium filled with large colorful fish.
Yet, as fantastic as that view is, you are pretty likely to find the food even better. The list of entrees on their menu isn't extensive, but great detail is made to each choice. Popular entree options include a Slow-Roasted Prime Rib that's served with whipped potatoes, green beans, and a beef au jus, and the Steak Diane that features a hand-cut ribeye served with mashed potatoes and mushroom cream.
3. Firefly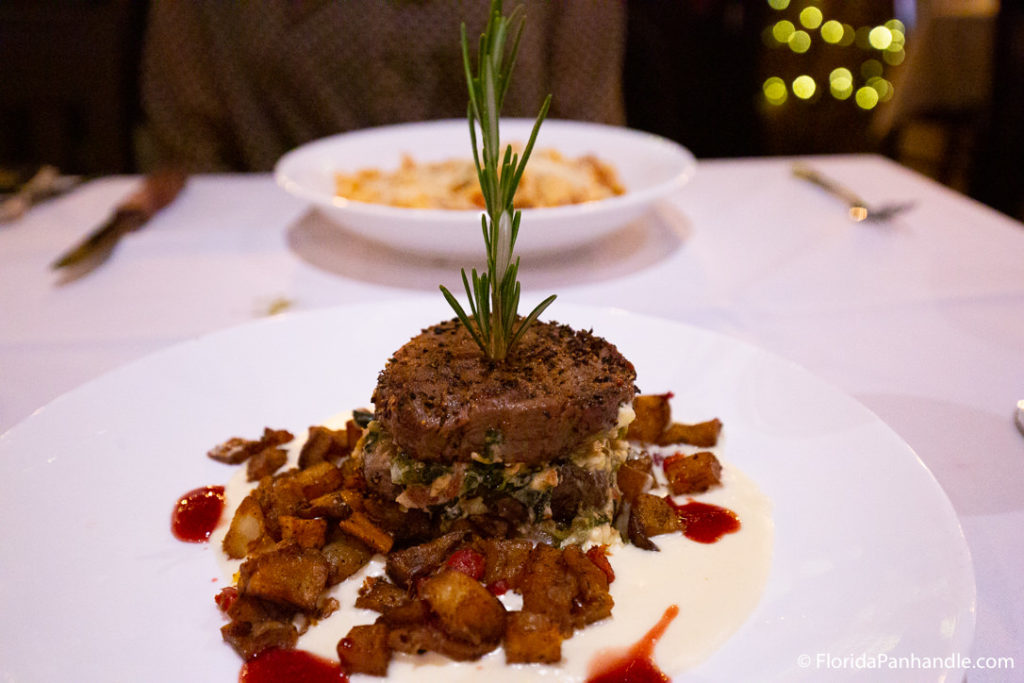 Firefly is a gorgeous restaurant that is ideal for those looking for a place for a romantic dinner with its picturesque patio seating. This steakhouse and seafood restaurant bills itself as casual elegance, which by their standards means jeans are acceptable, but expect to pay those higher prices for a more precision-built plate common at upscale restaurants.
The main dining room at Firefly was based on a Mediterranean Bistro with an open central area surrounding a massive oak tree. Inside, you'll find a cozy library lounge complete with a fireplace, television, books, and comfortable seating. This space was designed as a nice place to enjoy a glass of wine or signature cocktail following a heavy steak meal. If you are traveling with a group that wants a more intimate experience, consider booking one of their eight private rooms, including ones complete with their own private bar.
But let's get back to the food and the reason why Firefly deserves a spot on this list of the best steakhouses in Panama City Beach. This is one of the only places in the area where you can get expertly cooked lamb, elk, and bison. Consider the savory menu item of Grilled New Zealand Rack of Elk that comes with Maritake mushroom risotto, tomato, roasted broccolini, and pepper relish.
4. Triple J Steakhouse & Seafood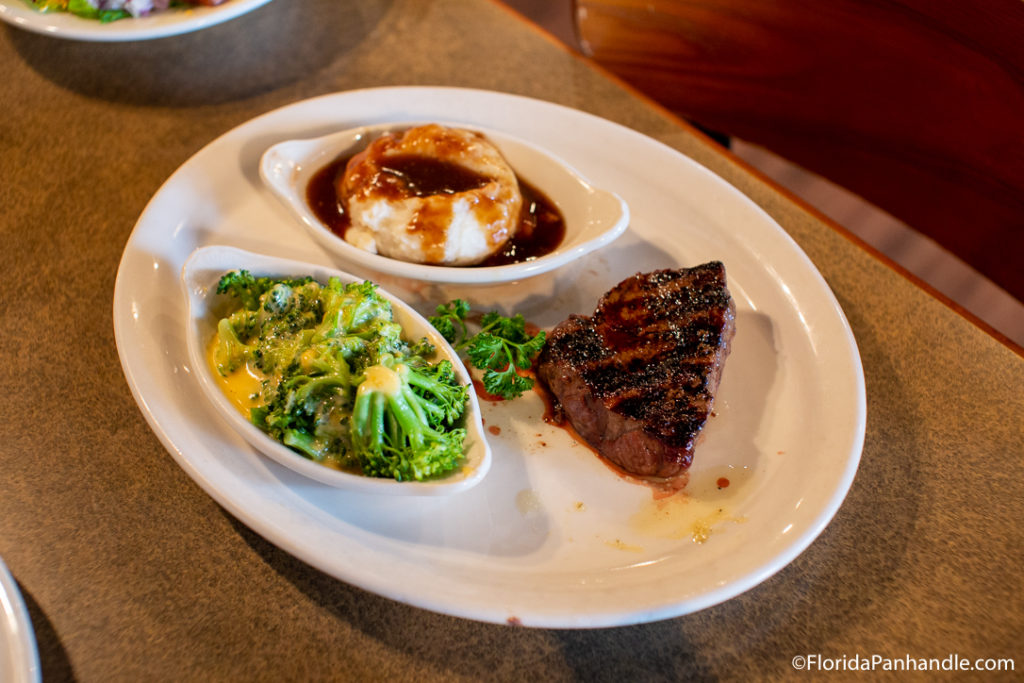 Triple J Steakhouse & Seafood is an excellent restaurant for families and large parties. In fact, a family focus is in its very name as the restaurant was named after the owners' three sons — Jake, Josh, and Joey. The menu here is built on the principles of savory Southern favorites as well as the delicious steak and seafood-based entrees. The interior of this one-story restaurant is open with a cool decor containing a lot of blues, grays, and browns.
Prices at Triple J Steakhouse & Seafood are reasonable and the portions fairly large, making this a good Panama City Beach restaurant for when you're hankering for a big meal after a busy day. Popular steakhouse entrees here include their Filet Mignon and slow-roasted Prime Rib of Beef. All entrees, including steak entrees, come with your choice of two sides with your side selection including red skin mashed potatoes, whipped sweet potato, and Caesar salad.
5. C Level – Seafood and Steakhouse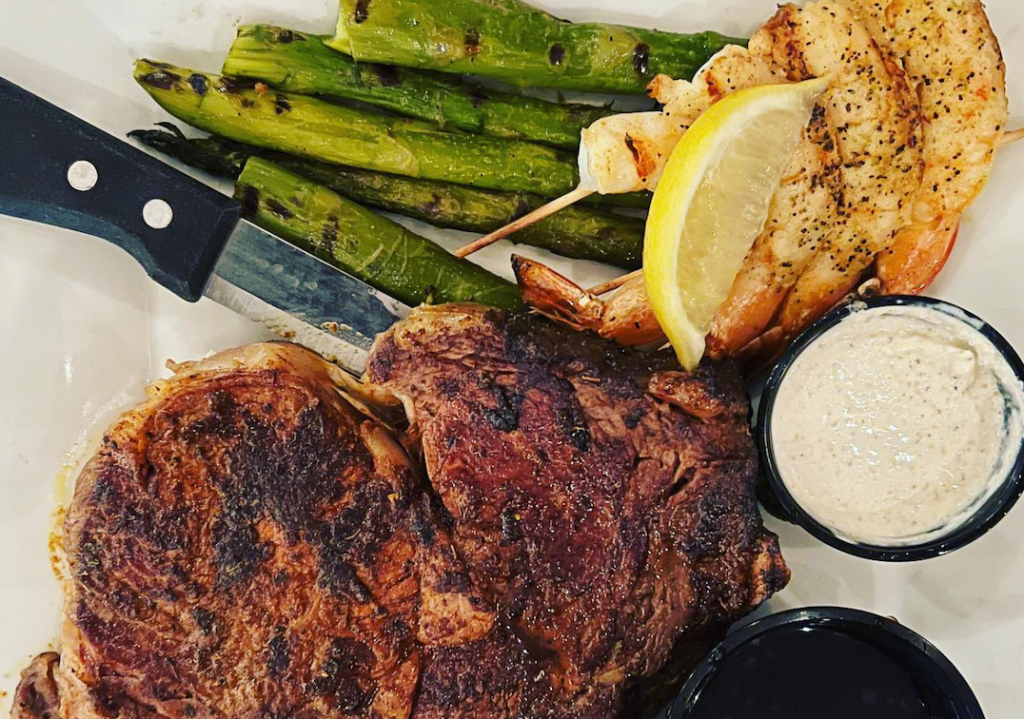 Interestingly, where Triple J Steakhouse was named after three sons, C Level – Seafood and Steakhouse is owned by three sons. Chaz, Rich, and Sean started this restaurant with the financial support of their mother and stepfather and the goal of bringing fresh produce and meats to the local masses — but in a purposeful manner that emphasizes local culture. The interior of this steakhouse boasts a beachy vibe with friendly staff members that certainly make diners feel at home.
The menu here includes premium cuts of beef, including a 1/2 Pound of Brisket that features slow-cooked beef brisket topped with a homemade red wine barbecue gravy and a popular Chop House Filet which features an 8 oz cut steak made to order. However, more than probably any other steakhouse on this list, C Level boasts a nice array of alternatives if you're traveling with someone not wild about beef. They have seafood entrees, thick cheeseburgers, fish sandwiches, and even several vegan options, including a savory Portobello "Burger".
What to Do Before That Filling Steakhouse Dinner
All the above steakhouses are going to serve up a pretty delicious and filling dinner that is apt to have you feeling full and ready for a siesta. So why not go hungry after a long day of adventures in and around Panama City Beach? Be sure to check out our other pages to learn more about what this dynamic beach town has to offer.