Zipping around on a jet ski in Panama City Beach (PCB) is more than just an adventure for the riders and drivers. It's a chance to see the coastline from a very different perspective, one that might give you a deeper appreciation for the intense natural beauty of the area. If you're looking for a company that provides safe, reliable vehicles that can hold up to the waves, here are our top picks for the best places to jet ski in PCB.
1. Adventures at Sea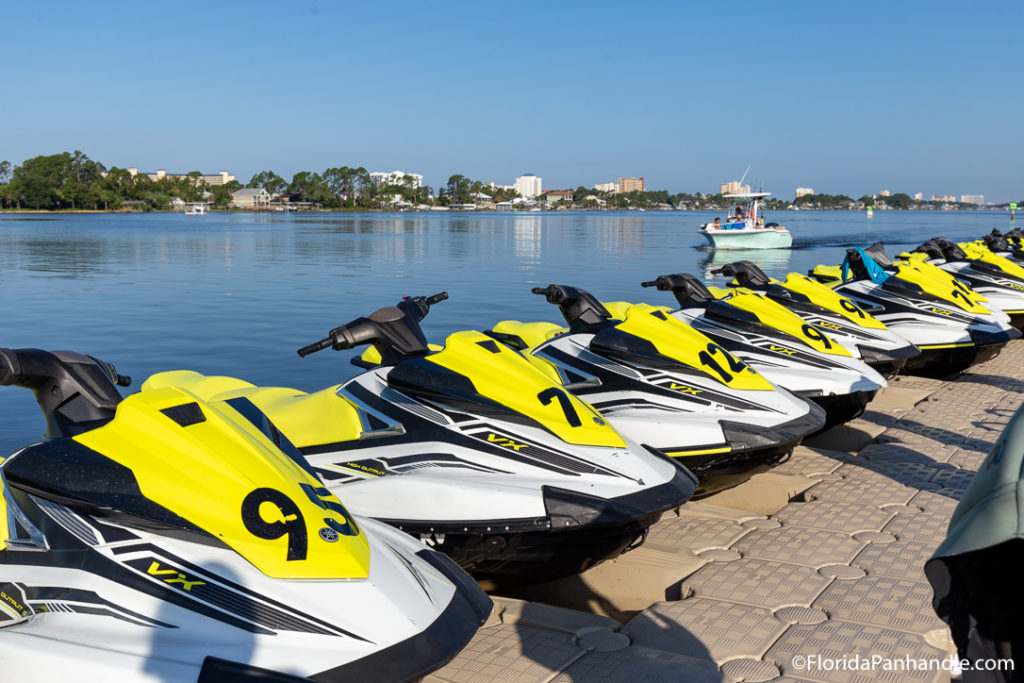 Adventures at Sea offers jet ski rentals for the half and full hour. The company positions its vehicles near key locations, including major resorts, along the beach, so they're easy to use. These are Yamaha VX-Sport models that can go around 53 miles per hour with 125 horsepower. These are non-supercharged engines, though, so you don't necessarily need to be a daredevil to have a great time. These units can safely hold up to 400 pounds and feature plenty of safety mechanisms to ensure carefree trips out and back.
2. AAA Jet Ski Rentals and Tours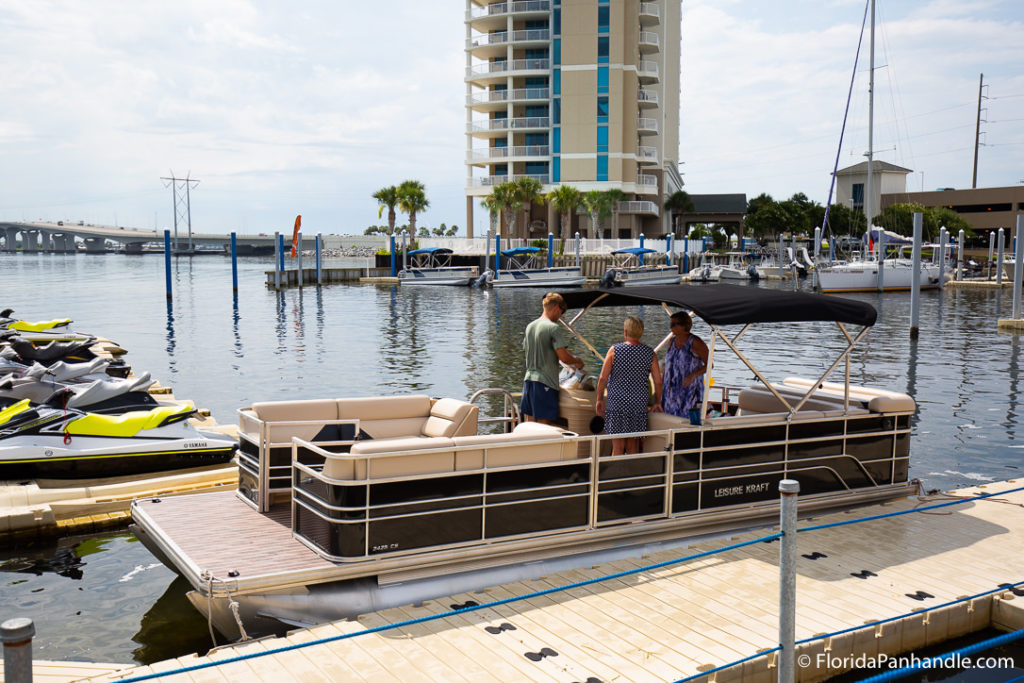 AAA Jet Ski Rentals and Tours offers partially guided dolphin tours with their jet ski rentals. On a two-hour trip, you'll follow your guide out into St. Andrews Bay. From there, the guide will navigate you to where the bottle-nose dolphins swim in the open waters of the Gulf. This excursion takes about an hour, and then the guide will take you back to the Gulf. For the last hour of the tour, you can explore the area at your own pace. Walk on the sugar beaches of Shell Island, snorkel in the jetties, or just take yourself for one wild ride.
3. Sunshine Water Sports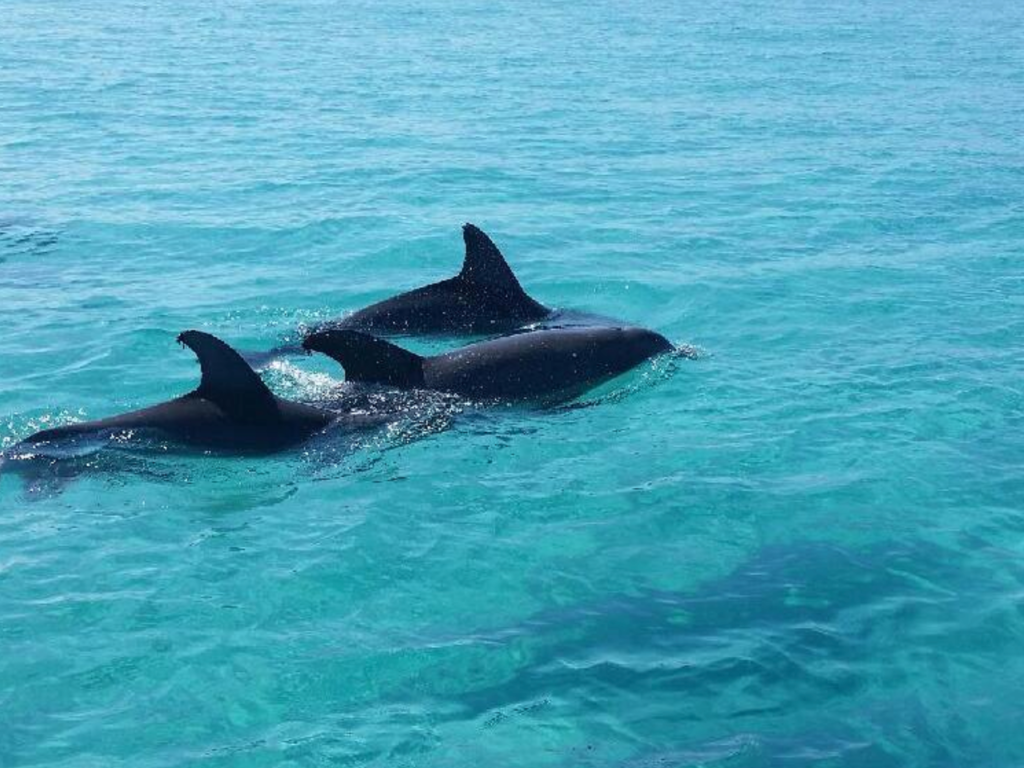 Sunshine Water Sports offers both standard rentals and tours for jet skiers. The business uses Yamaha Waverunners, which are plenty peppy enough to get around the waters. Whether you ride single or double, you'll learn everything you need to know to stay safe from the staff here. Should you opt for a guided tour, you'll ride on your own jet ski behind a tour guide. The path covers about 20 miles of water in the Grand Lagoon, Gulf of Mexico, and St. Andrew's Bay. There is time carved out for hanging out with the dolphins in the Gulf and searching for tropical fish while you snorkel.
4. Freedom Water Sports Jet Ski Rentals and Tours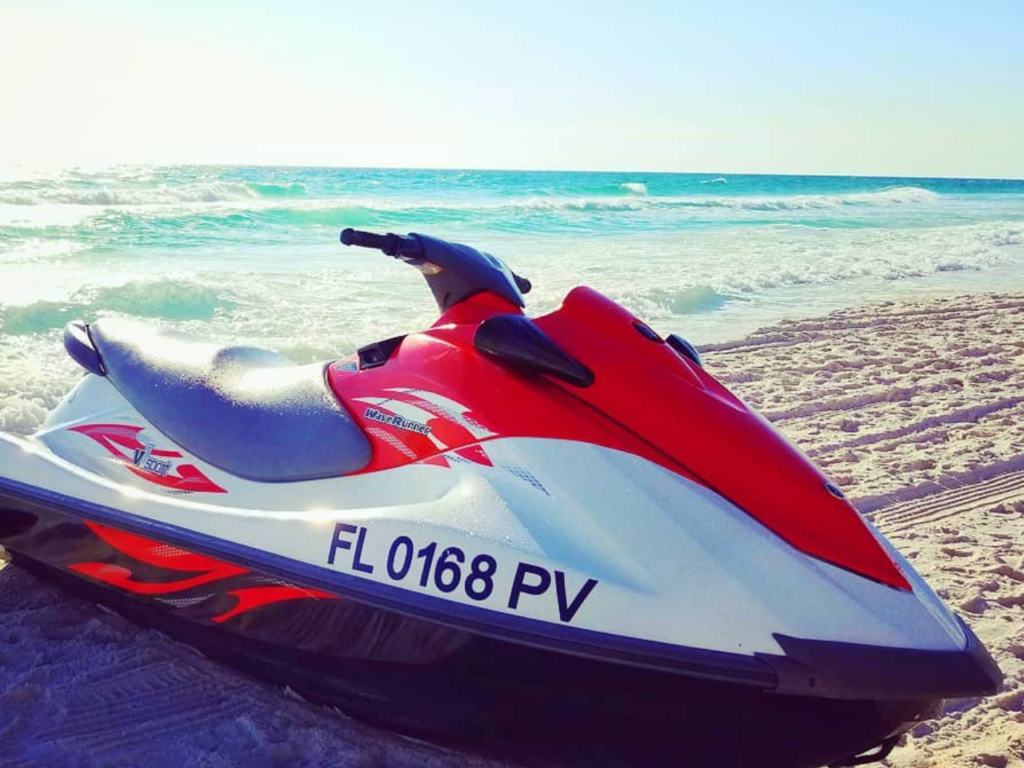 Freedom Water Sports Jet Ski Rentals and Tours offer guided tours to see dolphins, sea turtles, and all the ecological diversity of the area. The guides are all born and raised in the area, making them more than just experts in the deep. These are hands-on tours that seek out the best of the marine life, and you're encouraged to get up close and personal with our bottle-nose friends.
5. Lagoon Pontoon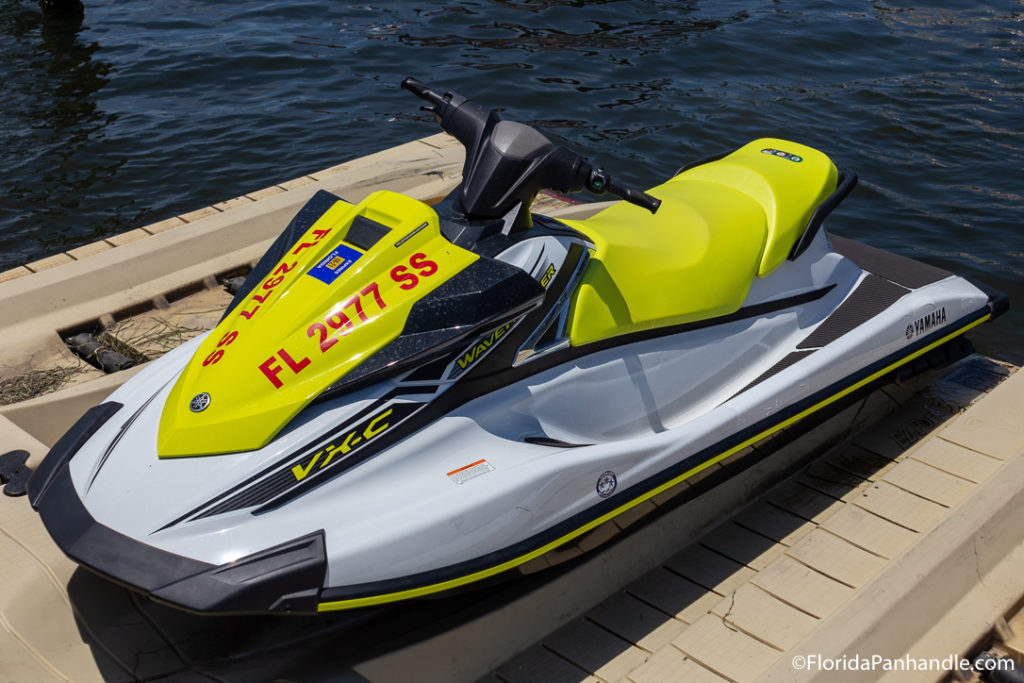 Lagoon Pontoon offers two-hour eco-tours as well as self-guided tours from 2 – 8 hours. Rent a Yamaha VX110 by the full day or half day and receive free instruction from the staff before you head off on your adventure. The VX110 can hold up to three people (400-pound weight maximum), making it perfect for families that want to get the most out of their vacation. The tours start off from the Grand Lagoon near Shell Island and are small enough that you won't get swallowed up or crowded on the journey.
6. Panhandle Water Sports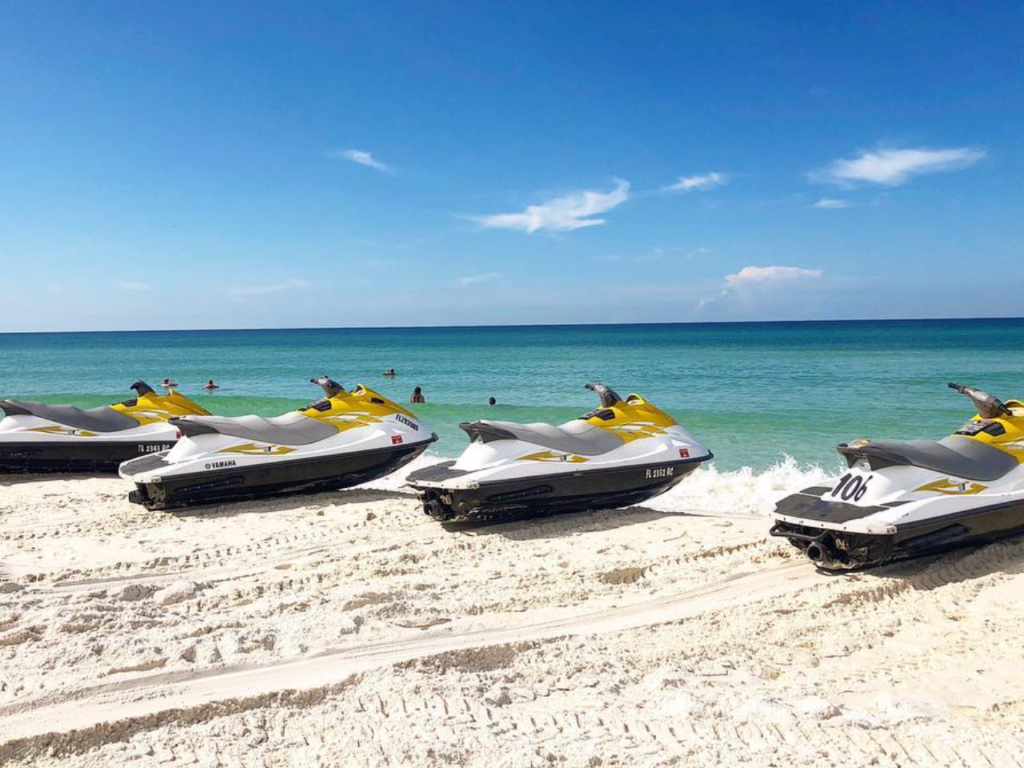 Panhandle Water Sports has a variety of jet skis conveniently located near the piers and hotels of the Panama City Beach area. This company markets itself to the many thrill seekers in the area, and the company does its best to help the spontaneous. If you're struck with inspiration and have some free time to ride, you might have the chance to dominate the waves in ways they've never even imagined before. Of course, there's still plenty of room for families who are looking for a more mild time on the waters.
7. Easy E's Water Sports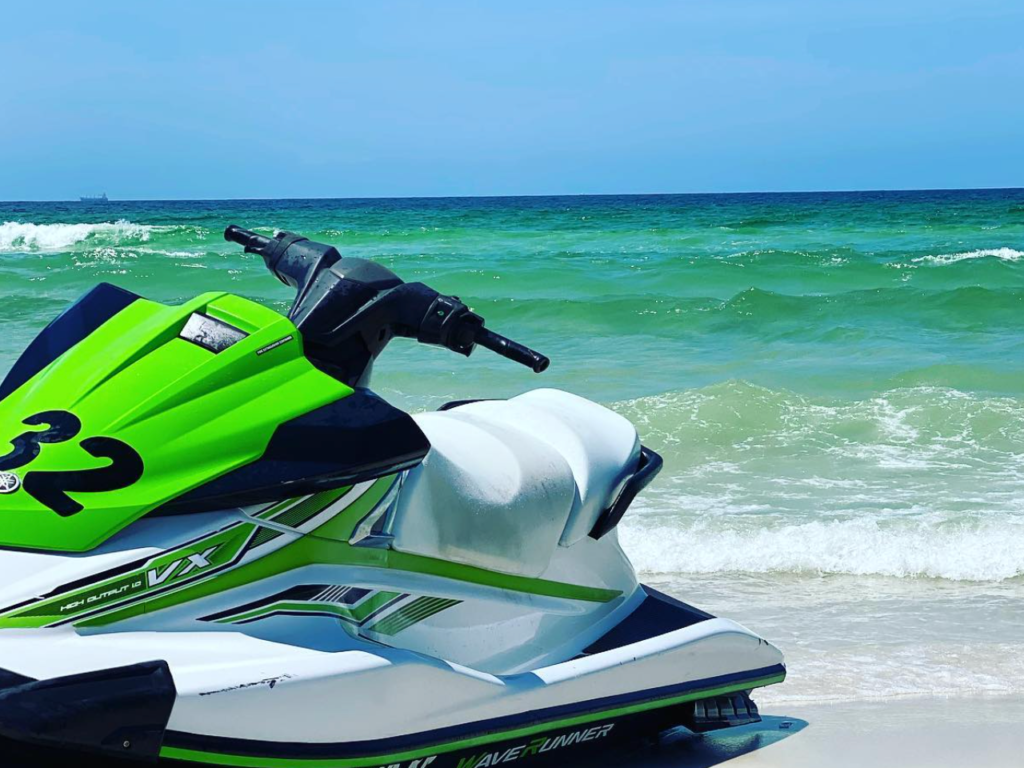 Easy E's Water Sports offers Yamaha VX100 jet skis, and it's made for the serious jet skiers in the area. At 110 horsepower, these jet skis can reach more than 55 miles per hour. This is the only tour company that requests some previous experience to take out its equipment, though there are no official parameters on the type of experience you need to have. These jet skis can accommodate up to 360 pounds and are offered daily.
Rules for Jet Skiers in Panama City Beach
There are a few things to know about these rentals before you take one out in Florida:
If you were born in 1988 or after, you'll need to have a boater safety license in order to operate the jet ski.
Boating safety licenses can be obtained by passing a boating safety test.
You may be able to take the test at your jet ski rental location for a nominal cost.
If you do not have a boating safety license, you will need to either ride with someone born before 1988 or someone with a boating safety license.
As you might expect, you'll need to show an ID to prove your age before you're able to take out a rental in PCB.
There is no one best place to jet ski in Panama City Beach. It all depends on how fast you want to go, who you're traveling with, and what kinds of marine life you're looking to see. Plenty of people want to explore at their own pace, going from one snorkeling site to the next or spending hours on Shell Island searching for the best additions to their collection. Others will be delighted to learn the secrets of the area through the eyes of an experienced guide. Whether you want to swim with dolphins or just hear the squeals of delight from your kids in the back, you should be able to find a rental that works for you.