We all know breakfast's the most important meal of the day, and that certainly holds true on a visit to the Florida Panhandle's Emerald Coast. After all, you're going to need plenty of energy for all of that beachgoing, swimming, boating, sportfishing, amusement-riding, historical sightseeing—well, you get the picture. There's a lot to see and do here, and you'll want to be adequately fueled right at the day's kickoff—fueled enough to see you through to a delicious lunch, anyway.
Here are our picks for the 10 best all-around breakfast joints in Panama City Beach, along with some tips on just what to order when you swing by with an appetite. (Oh, and speaking of order: These aren't presented in any particular one—all are equally great!)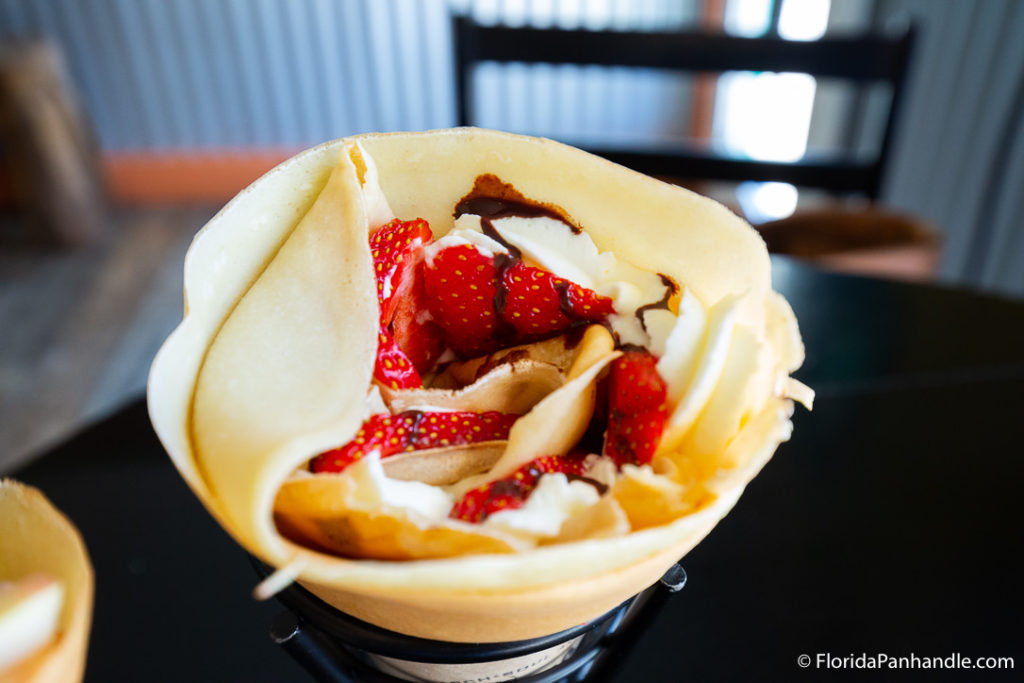 This small, brightly colored café offers Japanese-inspired crepes: not your average PCB breakfast joint, in other words! (And, really, not just a breakfast joint.) These aren't your average pancakes: They're sculpted into lovely, folded bouquets of goodness.
There's plenty to recommend here, but for the perfect breakfast item, we'd go for the Sunny Bacon crepe, chockfull of bacon, eggs, and cheese, plus spinach, tomato, onion, and more.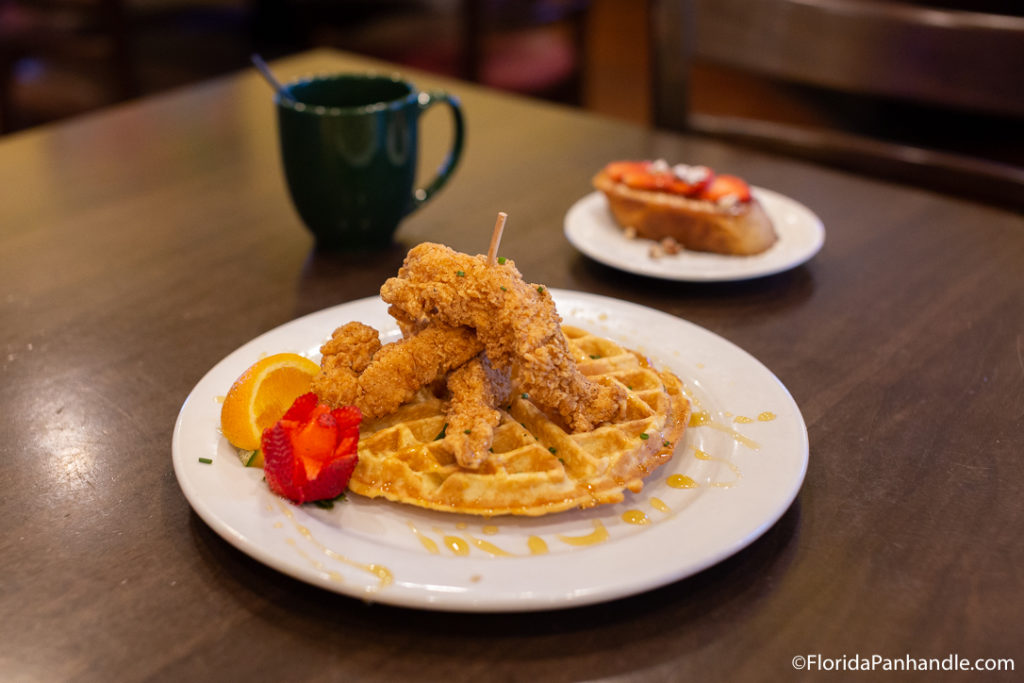 This snazzy-looking cafe, filled with plenty of natural light, offers delish breakfast dishes for a highly affordable price tag. This is a fine place to keep the coffee cup filled and steaming, and to tuck into some pitch-perfect grub.
Among the standout menu items are the Shrimp & Grits—a dose of Cajun wonderfulness with creamy grits and shrimp étouffée; the Flour Power French Toast, with a sumptuous topping of fresh strawberries, powdered sugar, and nuts, with the option (go for it) of maple syrup; and the Vegetable Frittata, which proves that an herbivorous smorgasbord of red peppers, asparagus, zucchini, and more, especially with a cheesy dressing, can more than fit the bill for breakfast.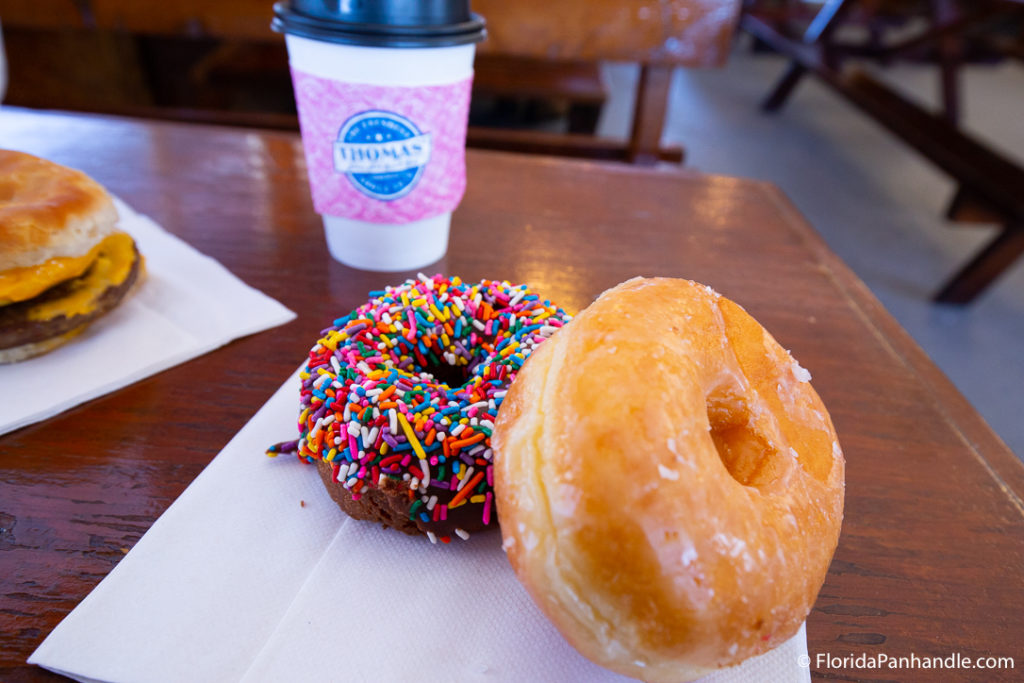 This place isn't just donuts, and it isn't just a breakfast stop, but it's certainly a great H.Q. to find yourself at in the morning. We definitely suggest making some full-hearted forays into the donut selection: from glazed and chocolate glazed to cinnamon twist and that irresistible Custard Long John. If you don't want to go so sweet, you've got some tasty breakfast sandwiches, cheese grits, biscuits and gravy, and other more savory dishes to choose from.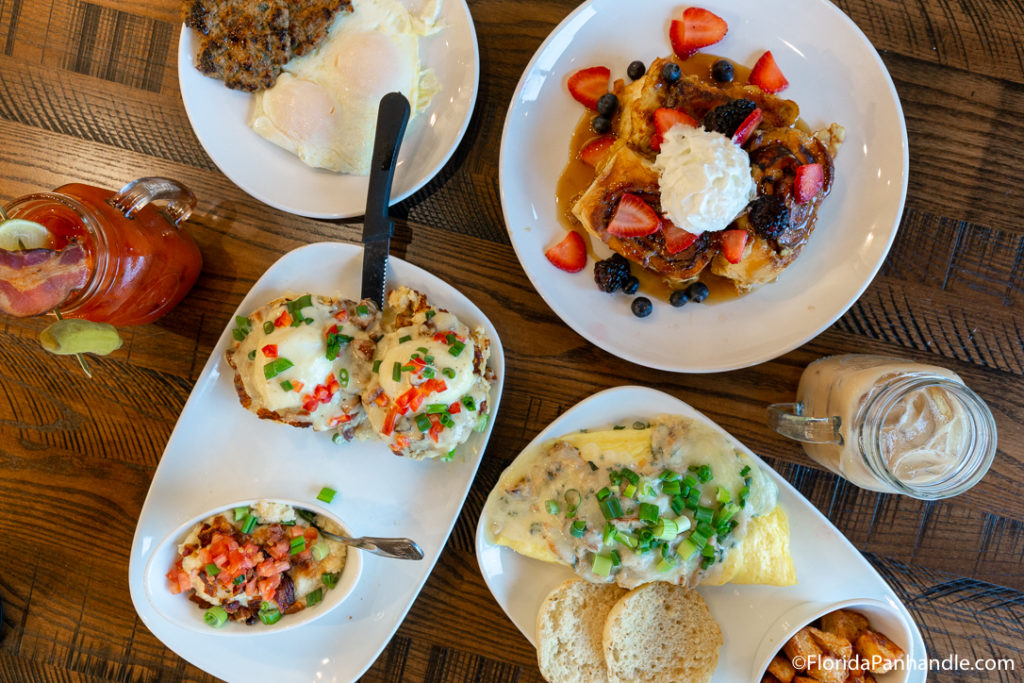 You may well have to wait in line here, but listen: It's worth it. This Louisiana-founded chain describes its cuisine as "craveably delicious," and it's hard to argue.
Consider the Banana Foster Pancakes, loaded up with a swimmable Foster sauce, bananas, pecans, and whipped cream. Or the Lobster & Brie Omelette, which involves not only that sweet, soft lobster meat and plenty of cheese but also champagne butter sauce, plus an English muffin and your choice of grits or country potatoes.
Then again, perhaps you'll want to embrace Another Broken Egg Cafe's Cajun- and Creole-influenced roots and go for something like the Louisiana Crawfish Skillet, a laden scramble that includes crawfish tails and andouille, or the delish Biscuit Beignets…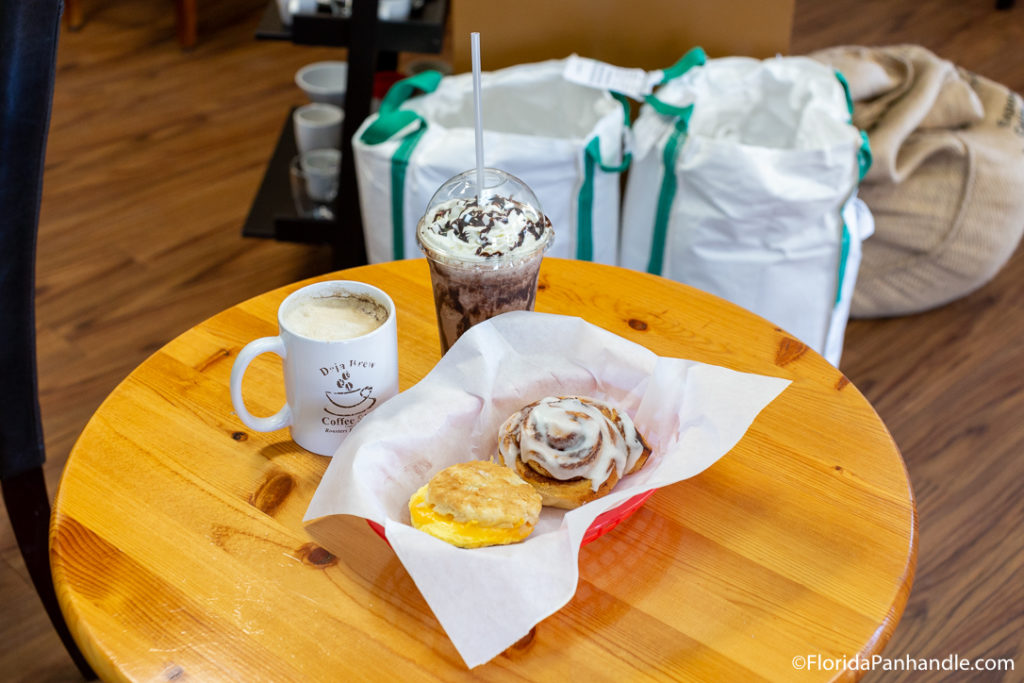 If you're a java connoisseur, the Deja Brew Coffee Shop run by the Roasters Edge Coffee Roastery has your name on it: Here's the place to go for fresh-roasted "paradise in a cup," as the café describes its coffee. Your piping-hot mug will be the main attraction, but you can accompany it with any of several breakfast goodies: Try the Danish rolls, the "oatmeal to die for," or go the sandwich route with a egg and cheese biscuit with either bacon or sausage. What a way to start the day!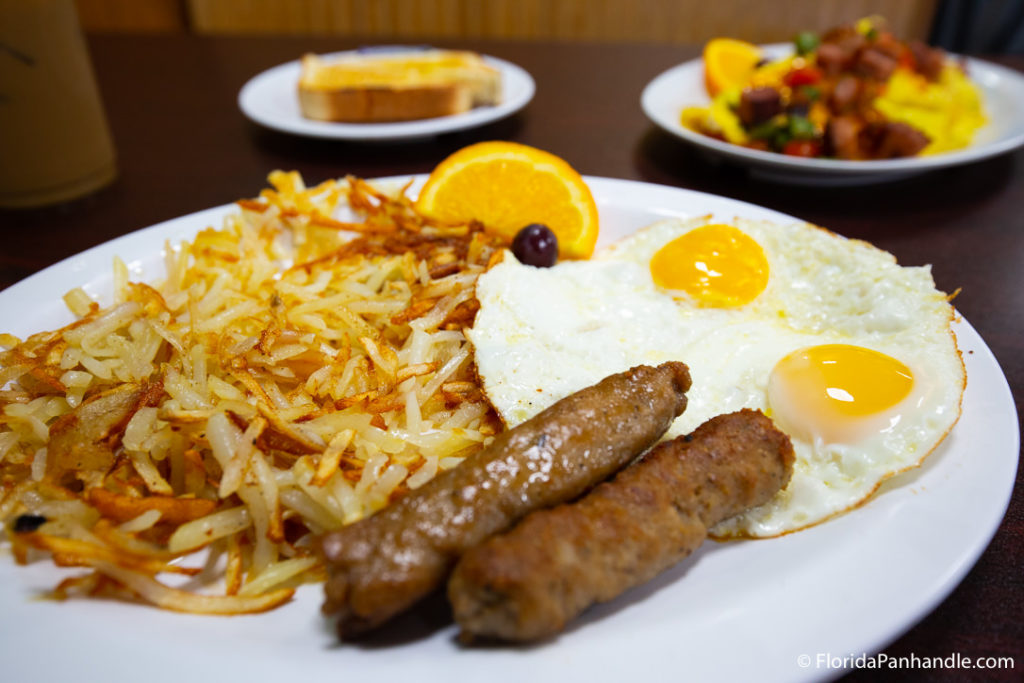 Have a hankering for flapjacks? Well, it'd make sense in that case to hustle your way to a place called the Pancakery, now wouldn't it? There are pancakes and toppings galore here, with some standout preparations including the Big Apple with its apple compote (and the option of adding vanilla ice cream) and the strawberry-, blueberry-, and whipped-cream-swirled Red, White, and Blue.
But you'll also be rewarded, actually, for straying beyond the flapjack frontier: There are other tasty breakfast entrées on offer here, including the spicy Atomic Bomblette omelet with its hot sausage and jalapeños.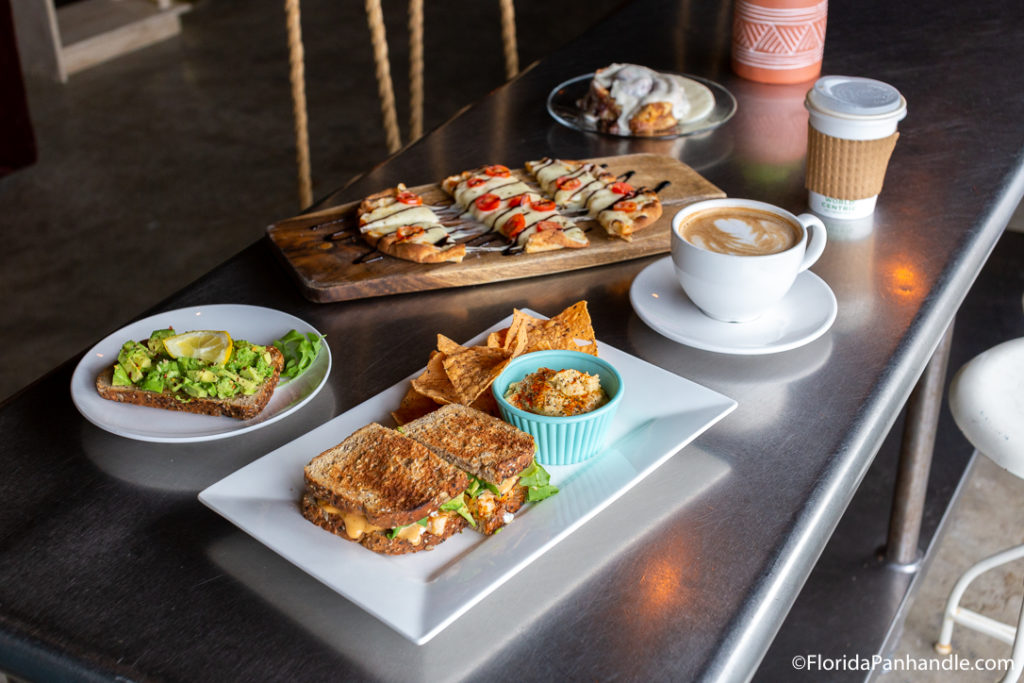 This super-inviting non-profit coffee shop, admirably committed to supporting the Panama City Beach community, whips up some fine drip coffee and other get-up-and-go beverages. There's also quite the wide-ranging menu, including such worthy breakfast platters as the Pier Park casserole with its sausage, eggs, hashbrowns, peppers, onions, and cheddar cheese.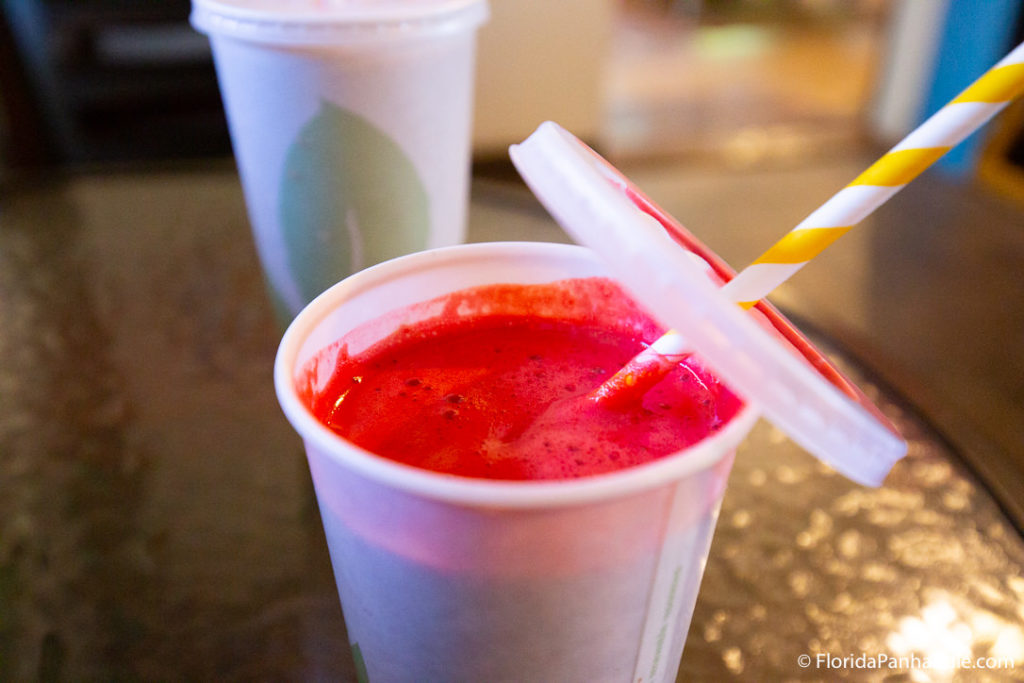 Not every breakfast has to be of the fried and greasy variety, of course. If you'd like a more health-conscious menu—and an utterly serene environment—for beginning your day on the Emerald Coast, consider the Lotus Health Food Cafe & Juice Bar. It's worth experiencing for its lovely "Zen garden" alone, a yardscape of lush plantings, artfully arranged rocks, and water features. Power up with, say, the juice bar's Beach Juice—a mix of apples, carrots, and beets touched off by lemon and ginger—or the Morning Meditation, a sumptuous smoothie made with almond milk, banana, cacao, and agave.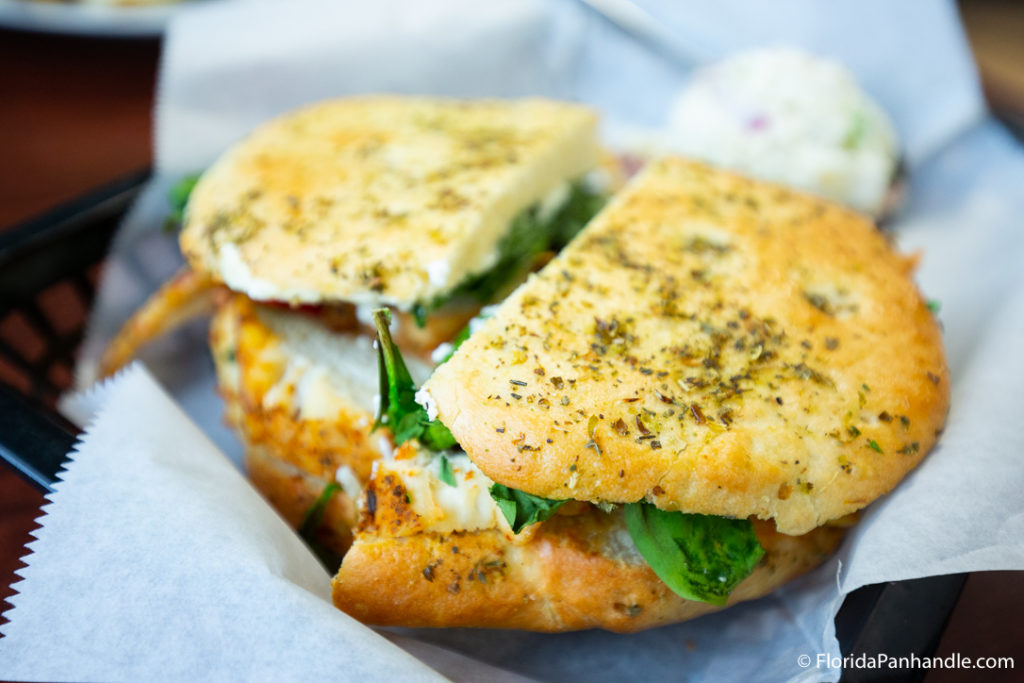 Sometimes there's nothing better than homemade goodness in the heart of Panama City Beach. If you want the kind of breakfast that'll satisfy your appetite for some time, consider the Backpacker Sandwich, which doesn't play around!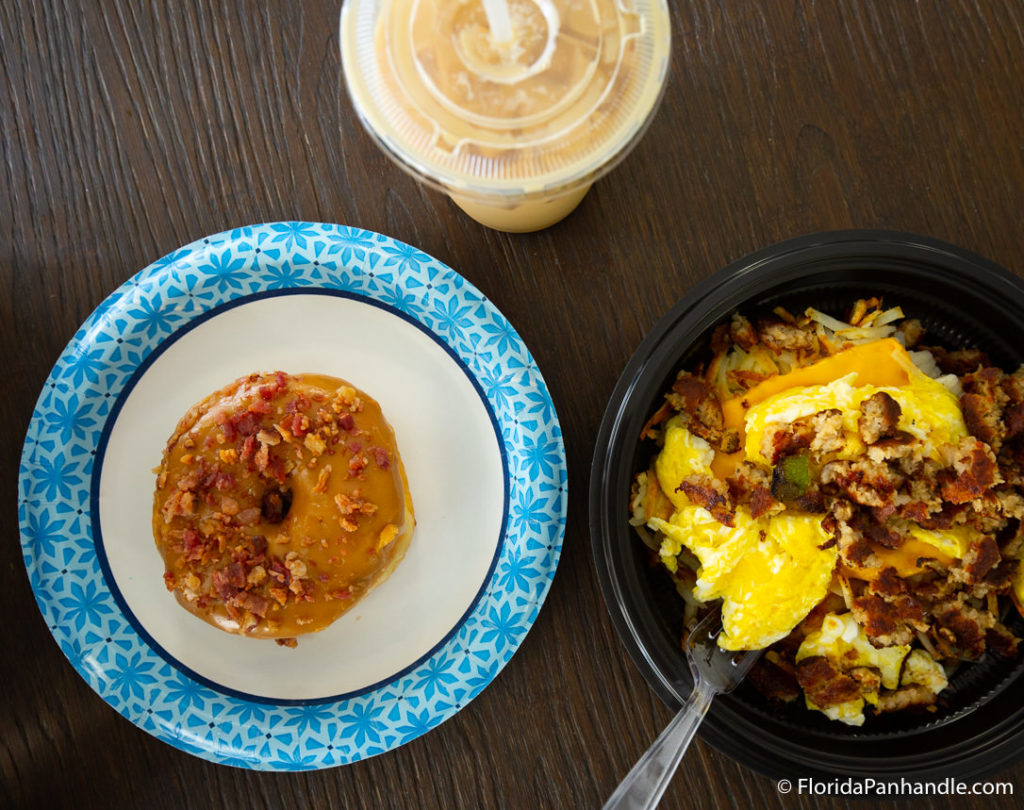 This welcoming café offers a creative menu that blends classic American plates with such international fare as Russian borshch, Uzbek kabobs, and pierogis. The breakfast menu doesn't cover as much global ground, but it's got some mighty tasty options, from the fried chicken biscuit and croissant sandwich to the crowd-pleasing Traditional Plate with its eggs-to-order, bacon or sausage, toast, and grits or hashbrowns.
Breakfast in Style in Panama City Beach
You can't go wrong with any of the above breakfast joints in the Panama City Beach area: Each of them has what you need to begin your day along the Panhandle's Gulf shores on exactly the right note!