Among the many magical things about the Emerald Coast's famous seaboard is the fact that those extraordinary sugar-sand beaches backdrop some of the best and most reliable dolphin-watching in the country. We don't reckon there are too many people out there who wouldn't count a sighting of these sleek, speedy, ever-playful marine mammals as one of the top highlights of their visit to the Panhandle shores.
Spend enough time on the beaches around Destin, or boating or paddleboarding the inner waterways, and you've got a decent chance of spotting the dolphins that regularly patrol close to shore. That said, you're best all-around opportunities will come on one of the many dolphin-watching cruises offered in the area: You'll foray through some of the main stomping grounds of the local pods, steered by knowledgable captains with plenty of experience tracking down Flipper and his compadres.
In this roundup, we'll spotlight some of the top dolphin cruises available on this stretch of Gulf coast. Before we do, though, let's take a brief walk (or should we say dip?) through some Emerald Coast dolphin 101!
The Dolphins of the Emerald Coast
The Gulf of Mexico is a hotspot for whales and dolphins (cetaceans), with nearly 30 species found in these seas. That lineup includes nine species of dolphin—not counting the Gulf's large pilot whales and orcas, or killer whales, which technically belong to the dolphin family (and thus may be considered giant dolphins).
By the way, in everyday speech you'll often hear dolphins—the familiar bottlenose dolphin especially—referred to as "porpoises," but actually porpoises are their own, distinct cetacean family. Porpoises tend to be quite a bit smaller than dolphins, and they've got blunt snouts. No worries learning to distinguish between these cousins on your Emerald Coast visit, though: The Gulf of Mexico doesn't have any porpoises.
The dolphins of the Gulf include the aforementioned bottlenose as well as Atlantic and pantropical spotted dolphins, rough-toothed dolphins, striped dolphins, Risso's dolphins, Fraser's dolphins, spinners, and Clymene dolphins. Most of these species frequent deeper waters somewhat offshore, but the Atlantic bottlenose dolphin is commonly seen in shallow inshore waters: It's the most familiar kind for Emerald Coast beachgoers.
Actually, the bottlenose dolphins of these waters, like other populations around the world, appear to come in two "ecotypes": a coastal form and an offshore form. Coastal bottlenose dolphins—the ones we're usually seeing—tend to range about in smaller groups than their offshore counterparts, which may occasionally hang out in pods of 100 or more.
Light gray and unmarked, bottlenose dolphins typically run between six and 12 feet long. Acrobatic and high-spirited (oh, and mighty brainy, too), they feed on a variety of fish—mullet, flounder, sheepshead, and others—as well as marine invertebrates. Their intelligence and cooperative lifestyle give them quite the arsenal of effective hunting techniques; in some parts of the world, bottlenose dolphins even join forces with humans to herd fish close to shore.
To spot bottlenose dolphins (and, if you're lucky, maybe some of the other Gulf kinds, too) on your Destin-area getaway, here are four fine options for boat tours!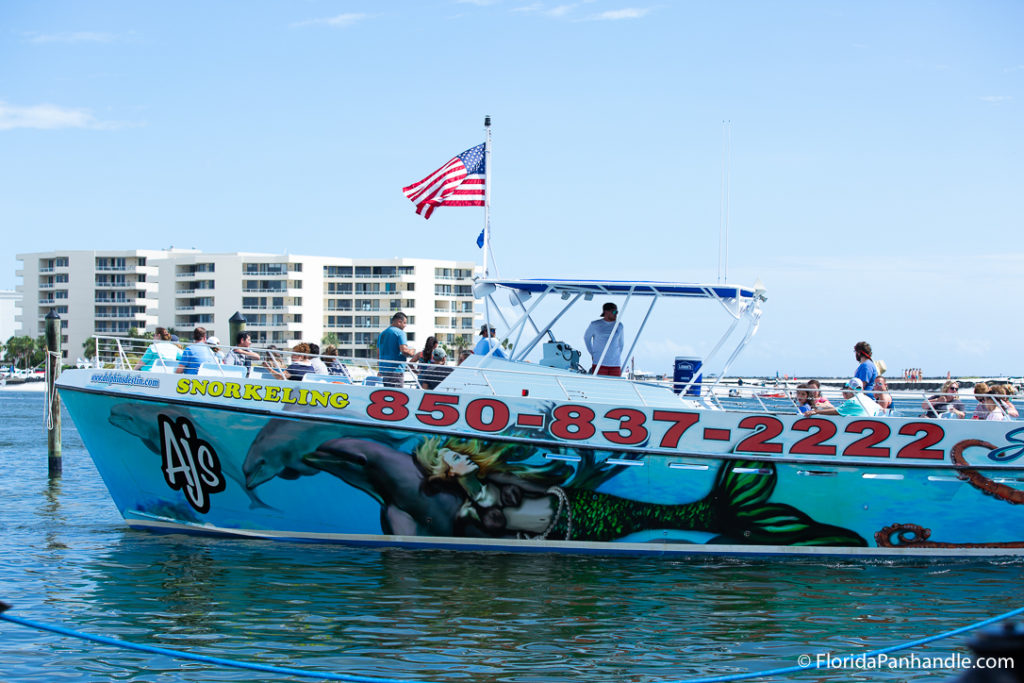 With AJ's Water Adventures, you'll enjoy hour-and-a-half dolphin cruises on the 85-passenger Sea Quest, which provides a lively onboard soundtrack for its outings. Seeking out those carousing cetaceans from Destin Harbor into Choctawhatchee Bay—perhaps on the magic-hour-timed sunset cruise—you'll also get to enjoy a complimentary beer or wine (as well as soda and water), just the ticket for toasting those bow-riding dolphins.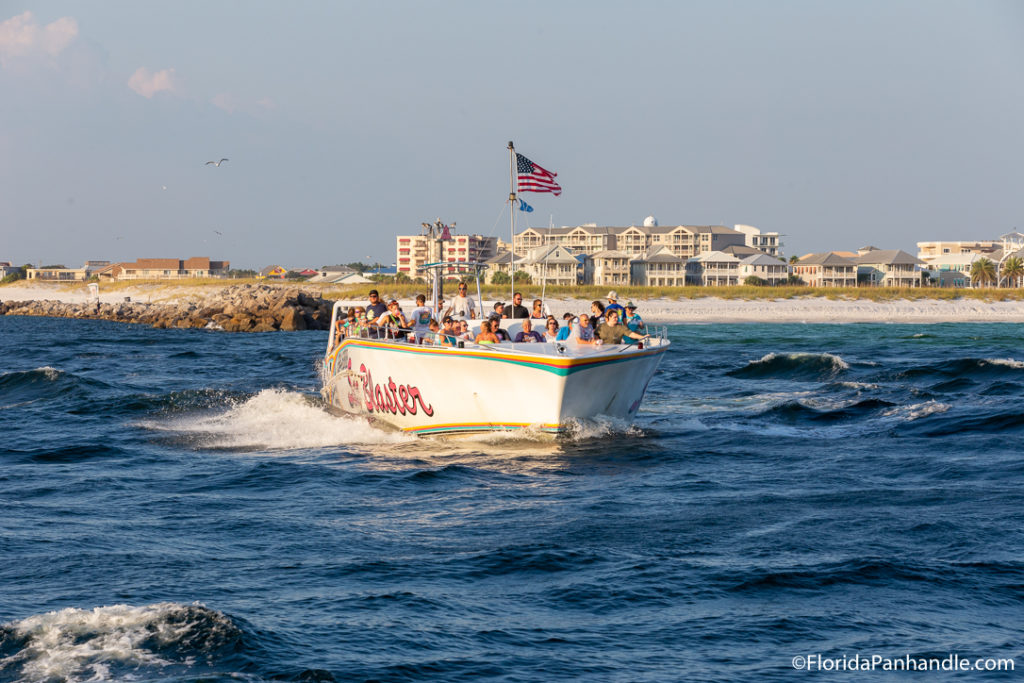 Destin's Original Sea Blaster Dolphin Tours operate some of the largest-capacity tour vessels in the area: Their speedboats can accommodate as many as 132 passengers. Nearly all of the itineraries offered by the company include looking for dolphins, including out in the Gulf when the weather cooperates. Free beer, wine, soda, and water is also part of the Sea Blaster deal.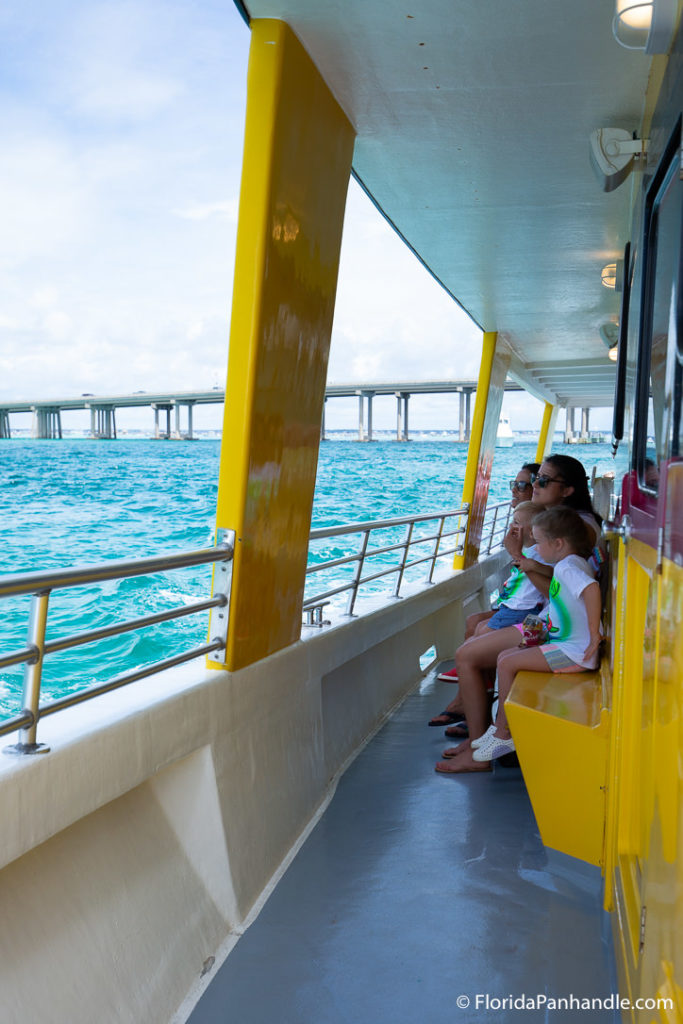 On an hourlong cruise aboard the Hannah Marie, roaming from Destin Harbor through East Pass into Choctawhatchee Bay and sometimes beyond into the Gulf, you've got pretty darn decent odds of seeing dolphins do their thing. The Hannah Marie includes a section of glass-bottom deck for ogling sealife below (though you're not likely to see dolphins from that perspective).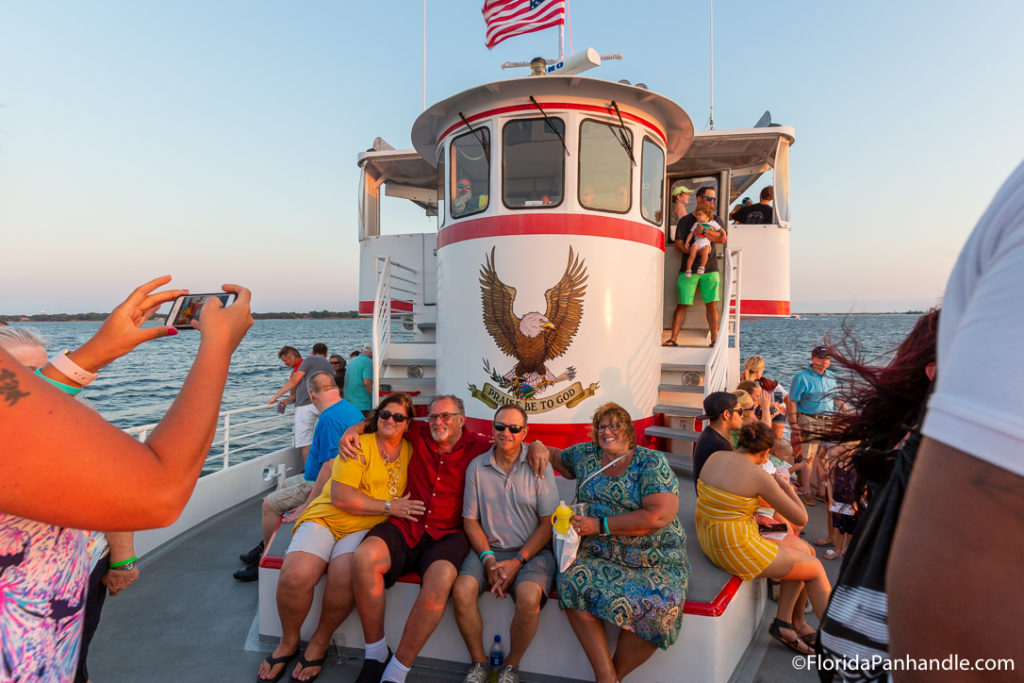 The 80-foot, double-decker Southern Star, which also has a glass-panel viewing port, can take as many as 149 Flipper enthusiasts on its dolphin cruises, which (depending on conditions) thread from Destin Harbor and the bay out to the Gulf. Featured on CNN, National Geographic, and other national media outlets, Southern Star Dolphin Cruise advertises a 98% success rate when it comes to finding dolphins—and even offers rain-checks on your ticket on those relatively rare occasions the marine mammals don't show themselves.
The Emerald Coast's Wild Side at its Best
No matter how many times you see them in the flesh, the sight of a wild dolphin slicing through its liquid digs never gets old. The Emerald Coast and its long-running tour operators provide some of the best opportunities anywhere to enjoy that thrilling spectacle!