Traveling is fun with humans, but it's that much better when you're accompanied by your best friend in the world: your loyal canine companion. Unfortunately, dogs can add as much complexity to a vacation as they can joy.
In addition to dealing with size restrictions at hotels and resorts, you may struggle to find restaurants or activities that allow you to spend quality time with your four-legged friend. This is true even in Destin, where dogs are not allowed on some of the most gorgeous beaches. They are similarly restricted in many shops and restaurants.
Don't let restrictions on dogs keep you from visiting the Emerald Coast. While canines are barred from a few of the city's establishments, several others make a point of welcoming them. You'll simply need to plan ahead to avoid unfortunate surprises. Be sure to include the following in your dog-friendly itinerary:
Let Your Pooch Run Free at Destin Dog Park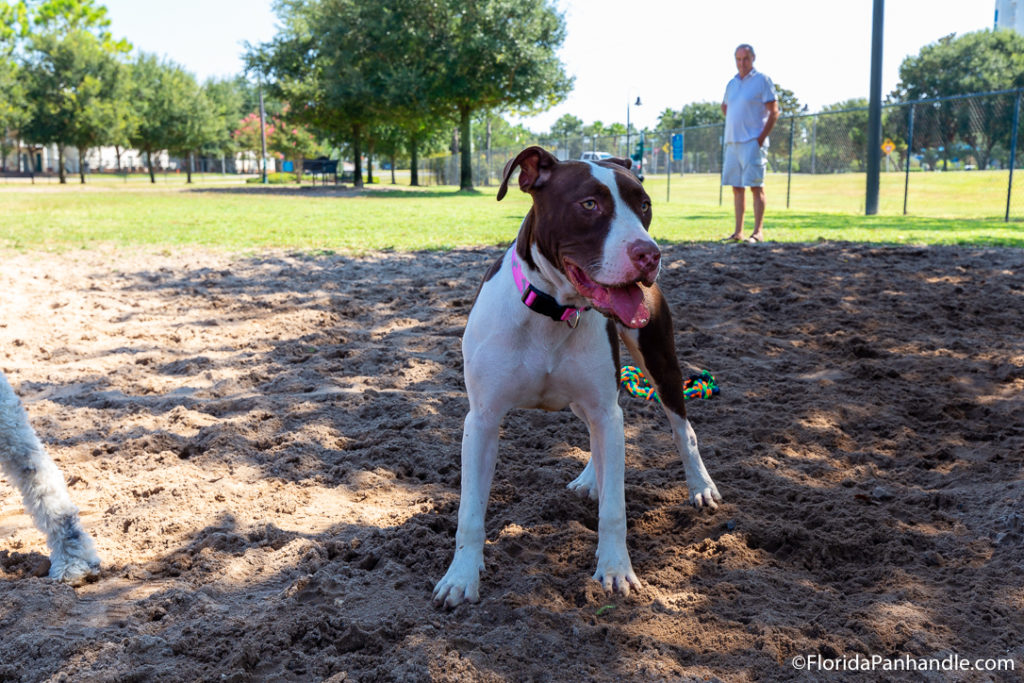 The ultimate setting for dogs and dog lovers, this park was made possible by a hardworking group of volunteers, who felt that the city of Destin desperately needed a spot for pooches to run free. Since opening in 2012, the Destin Dog Park has attracted a great deal of attention from both local and visiting dogs — and their humans. Spanning three acres, the meticulously maintained park provides separate spaces for small and large dogs, who enjoy running around in lush grass and relaxing in the ample shade provided by pine and oak trees. Watering stations are provided to keep both canines and humans hydrated, while a cleanup station makes it easy to rinse off sand and other debris.
Hike on the Nature Trails at Henderson Beach State Park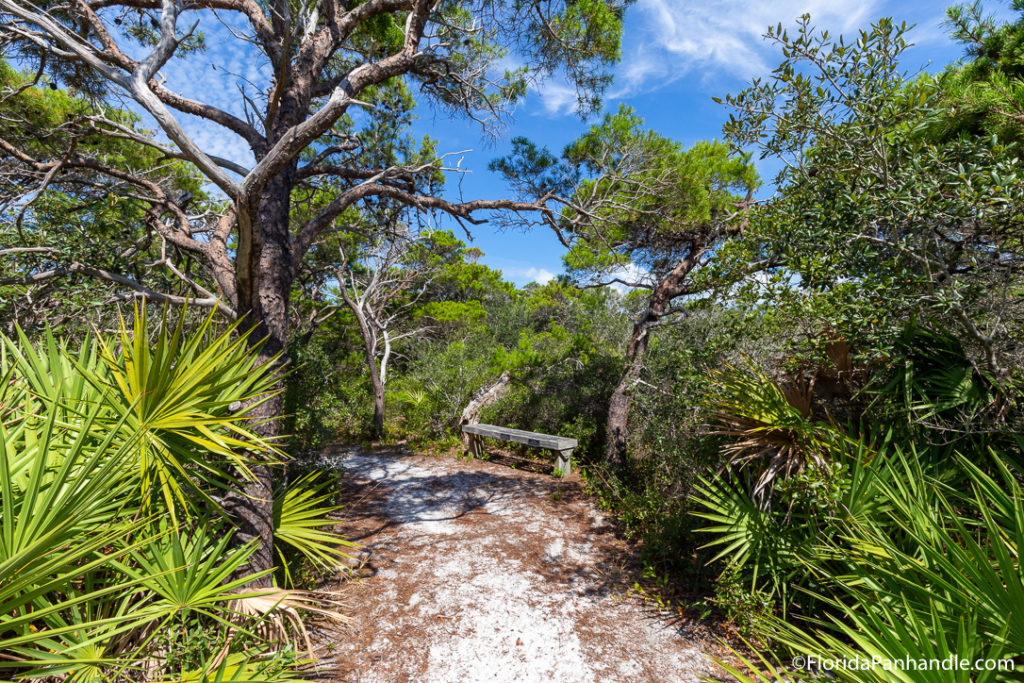 Henderson Beach State Park is one of the Destin area's most gorgeous spots for outdoorsy types. Unfortunately, it represents a bit of a mixed bag for dog lovers. Technically, your canine friend is allowed at the park, but only if leashed — and only if restricted to the park's nature trails. Your dog is definitely not allowed to run free on the beach. Additionally, you should be prepared to go through the hassle of getting a permit for your dog. Although this requires additional effort, it will ultimately prove worthwhile, as you and your dog will love exploring the park's gorgeous trails together.
Take a Casual Stroll Along the Destin Harbor Boardwalk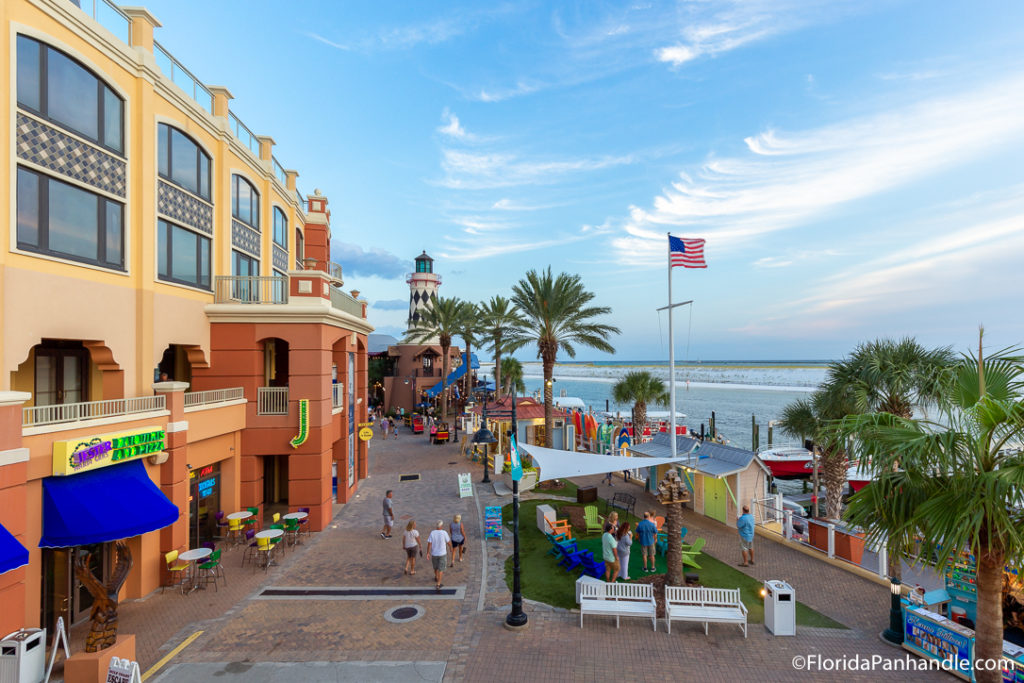 Take a casual stroll with your dog along the Destin Harbor Boardwalk, where you'll encounter many of the unique sights and sounds that epitomize the Emerald Coast. Your dog will need to be leashed throughout your walk, but this won't stop you from enjoying your time together.
Don't be surprised if a canine presence results in lots of new friends; boardwalk visitors love seeing dogs and often request to pet or otherwise interact with the attraction's four-legged visitors. If your dog struggles around crowds, this may not be an ideal spot, as the boardwalk can be busy during the weekend or at peak lunch and dinner hours. People-loving dogs, however, are bound to have a blast.
Shop For Pet-Oriented Goodies at The Doggie Bag
Your pooch deserves to be spoiled. Where better to find adorable gifts and supplies than at The Doggie Bag? This wonderful shop boasts a wide assortment of pet products, including premium dog food, pup apparel, collars, toys, and even homemade goodies from the bakery. Not only are dogs allowed inside, they are actively encouraged to visit this amazing store.
Hit Up Destin's Dog-Friendly Dining Destinations
Many of Destin's top restaurants encourage four-legged visitors. Pet-friendly policies are especially common at dining establishments with patios, where well-behaved canine customers are encouraged to hang out with their humans. Some restaurants even offer water dishes or doggie treats. Top locations worth checking out include:
Hammerhead's Bar and Grill
Boshamp Seafood and Oyster House
Harry T Restaurant
Captain Dave's on the Gulf
The Crab Trap
Jackakudas Seafood and Sushi
Bruster's Real Ice Cream
Hang Out With Your Pooch on a Pontoon
If your dog loves water, you could enjoy a relaxing day together on one of the pet-friendly pontoon boats available for rental through Dockside Watersports & Parasailing. A variety of pontoon sizes and lengths are available, but when you're accompanied by a pet, bigger is usually better.
The company's staff members clearly love dogs and are thrilled to accommodate both you and your canine companion. Feel free to ask for location suggestions; the experts at Dockside will be happy to help you plan a pontoon adventure that will appeal to all humans and dogs taking part in your memorable water-based expedition.
Buster's Old Time Photos
You're obsessed with taking pictures of your dog on your smartphone and posting them on social media, but have you ever considered letting a professional take over? Invest in the ultimate keepsake at Buster's Old Time Photos, where you're encouraged to get goofy as you dress up in old-fashioned outfits and pose to your heart's delight.
Best of all: the friendly staff members at Buster's absolutely adore pets and understand that they are beloved family members who deserve a special place in your photos. Somehow, these talented photographers are able to capture impressive images of dogs with decidedly short attention spans. It should come as no great surprise that this top photography destination was featured in the Dog Lover's Guide to Travel from National Geographic.
From hiking adventures to shopping expeditions and even photoshoots, options abound for making memories with your dog as you explore the best of Destin. Don't let a few restrictions stop you from vacationing with pets. With a little extra planning, you can easily keep entertained alongside your four-legged best friend.