Fort Walton Beach gives you a vacation destination with fun for the entire family. Located on Florida's Emerald Coast, Fort Walton Beach gives visitors a rare chance to enjoy the pristine waters of the Gulf of Mexico, fantastic attractions, and excellent dining opportunities. If you want a Florida vacation that gives you a more laid-back experience, you can't miss Fort Walton Beach or the many attractions and restaurants nearby.
Top Things to Do in Fort Walton Beach
Air Force Armament Museum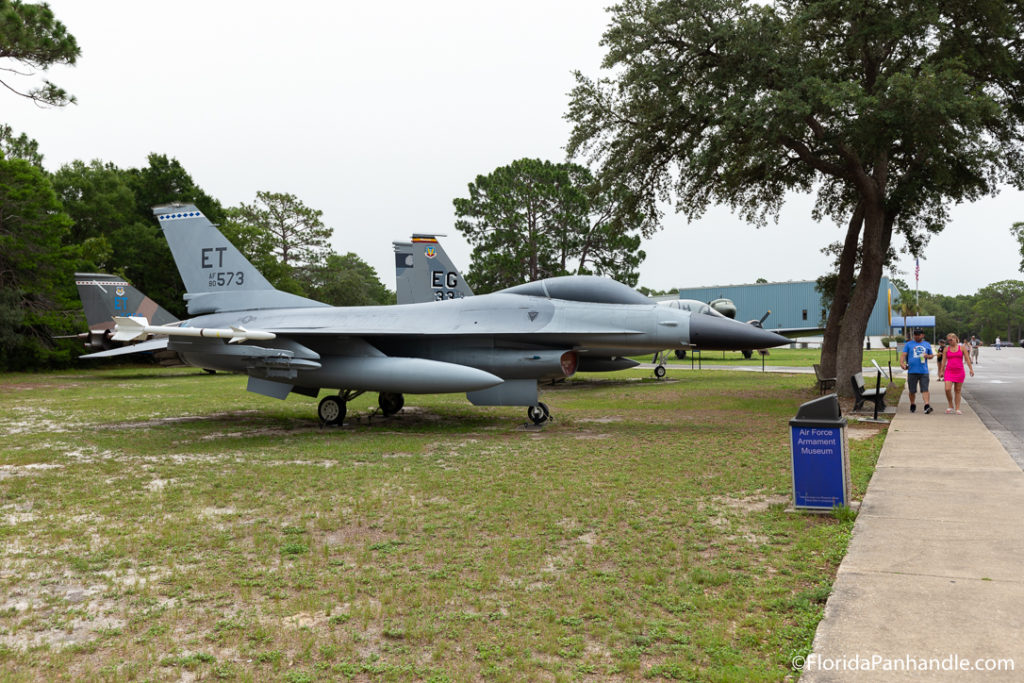 Nowhere else in the world can you see such an enormous collection of Air Force weapons and delivery methods and aircraft in one place. The Air Force Armament Museum gives you a chance to see some of the fastest military aircraft created and used from World War II to today. With 29 planes on site, aircraft buffs will want to spend all day here. While the planes take center stage, don't miss the numerous exhibits that display weapons and more from the 19th and 20th centuries.
Gulfarium Marine Adventure Park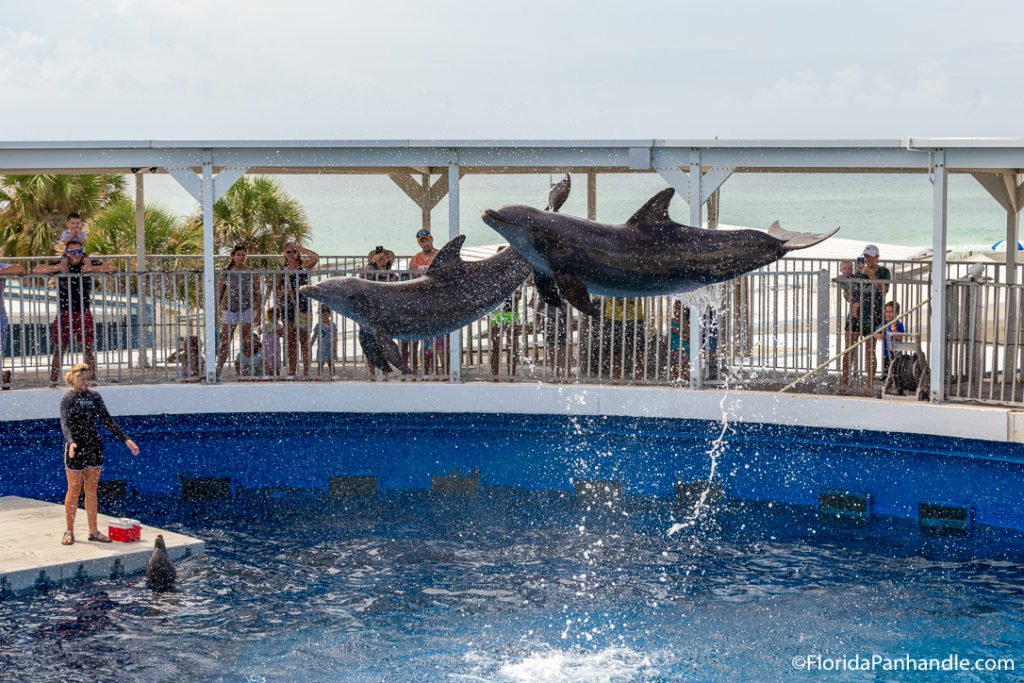 Learn more about marine life with a trip to the Gulfarium Marine Adventure Park. Experts give talks about the animals while allowing visitors to see them up close. Dolphins, seals, sea lions, penguins, turtles, and reptiles, are some of the animals brought out during the animal encounters. Bring your swimsuit, too, for a chance to snorkel with stingrays and tropical fish. Other activities to enjoy at Gulfarium include exhibits, shows, and training demonstrations. If you or anyone in your family wants to learn more about marine life, you must visit this park during your trip to Fort Walton Beach.
Okaloosa Island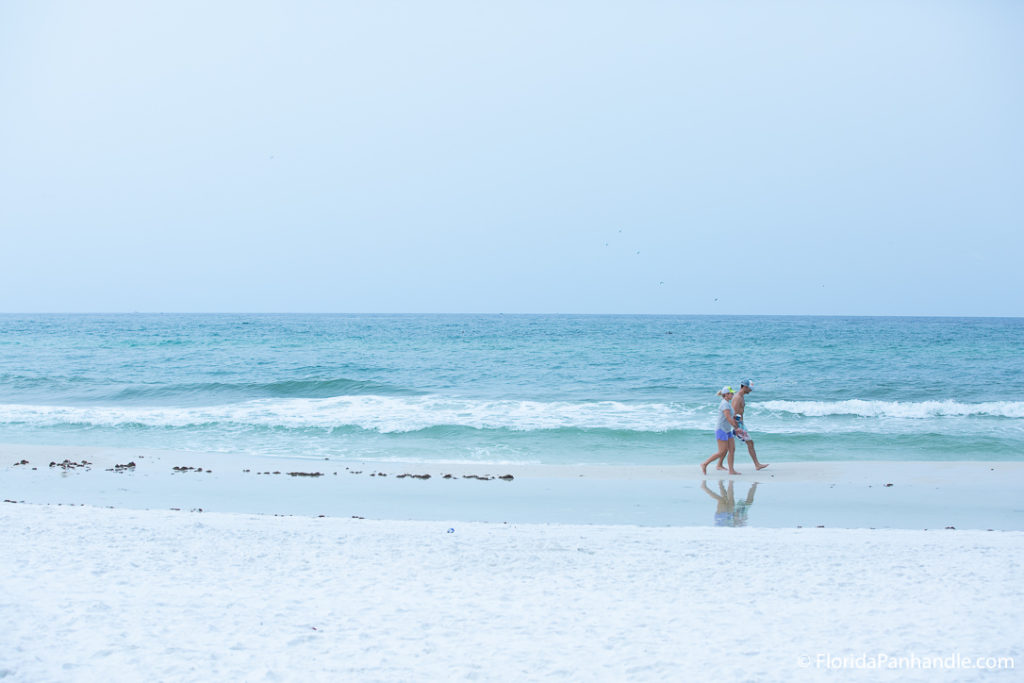 Okaloosa Island sometimes referred to as Santa Rosa Island, is a natural getaway with white, sandy beaches open to the public. Though small, this three-mile island contains a lot of things to do in its space. The Boardwalk features restaurants and shopping, The Okaloosa Island Pier offers an exceptional fishing spot, and the beaches have white sands and green waters. You will discover why this section of Florida goes by the name The Emerald Coast when you visit the beaches on Okaloosa Island.
Okaloosa Island Pier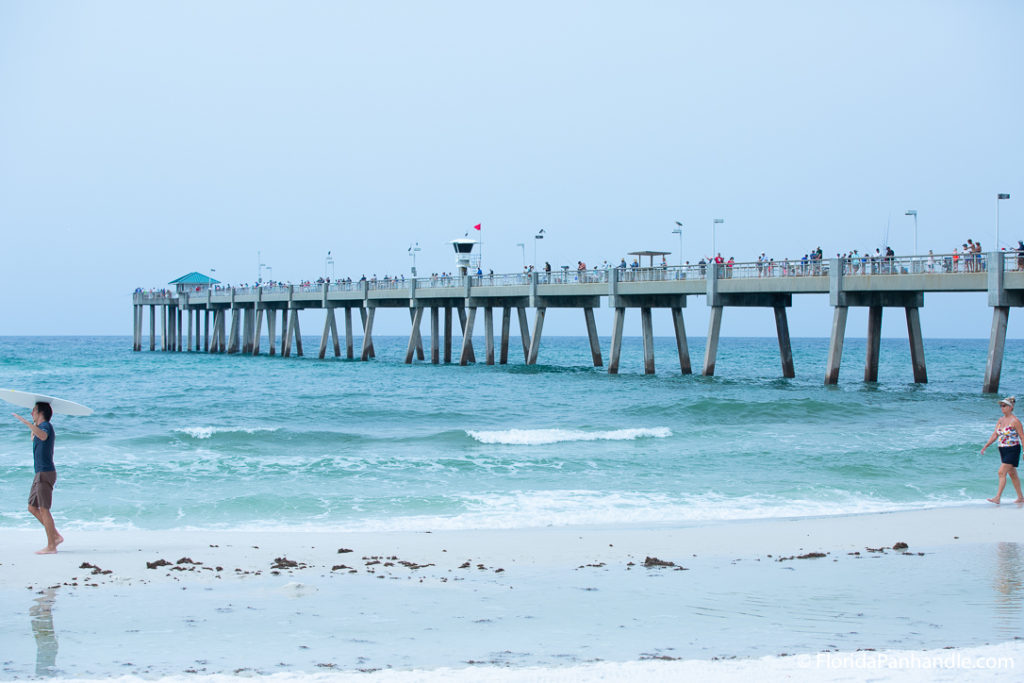 Okaloosa Island Pier now goes by The Island Pier. Whatever name you use, this location is the best location on Fort Walton Beach to enjoy pier fishing, events, or sunset watching.
The pier stretches out 1,262 feet from the shore into the beautiful Gulf of Mexico waters. Numerous people use the pier for fishing with catches that include blackfin tuna, sailfish, and king mackerel. Take a trip out to the end of the pier before dawn or sunset to view a spectacular shift between night and day.
Events are another popular draw to the pier, which hosts fishing tournaments in the spring and fall and fireworks during the summer. These events make going to The Island Pier an even more enjoyable fishing experience. If you have fishing in your plans during your Fort Walton Beach trip, visit The Island Pier.
Wild Willy's Adventure Zone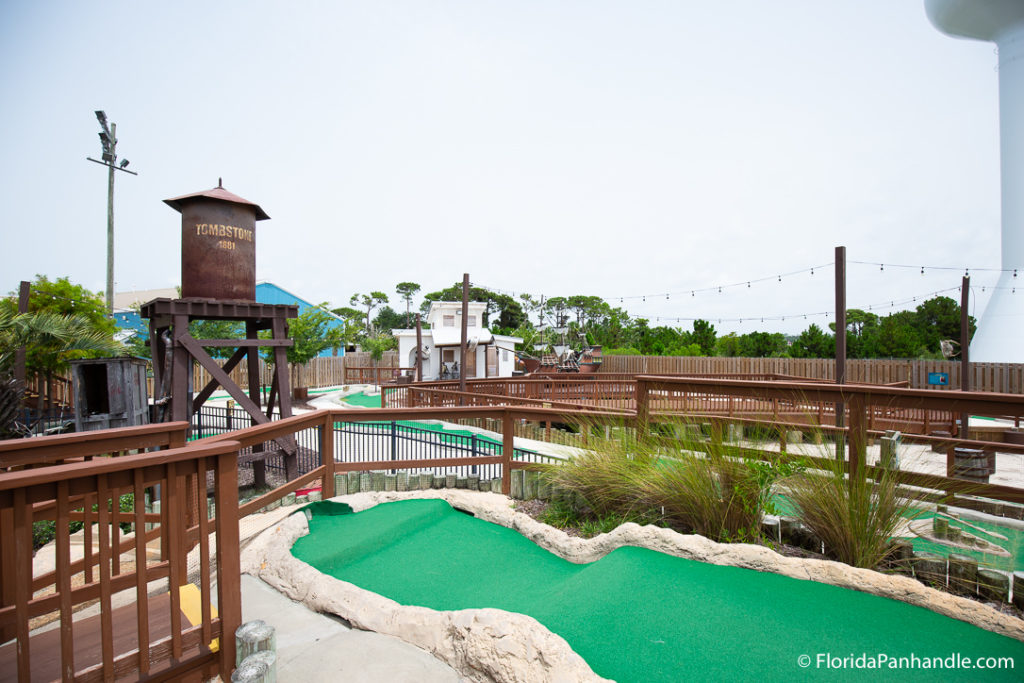 With summer heat and rain, you need to have a plan for activities that allow indoor fun. Wild Willy's Adventure Zone includes both. The 17,000 square feet of indoor activities include an arcade, a 4D theater, a pizza restaurant, and a yogurt shop. Outside, you will find even more activities that include two themed 18-hole miniature golf courses, a ropes course, a bungee trampoline, and a bumper boat pool. This entertainment center even has miniature golf and go-karts for kids under seven.
Have fun throughout the year at indoor and outdoor activities when you visit Wild Willy's Adventure Zone.
Top Restaurants in Fort Walton Beach, Florida
Al's Beach Club
As the name suggests, Al's Beach Club is a beachfront dining experience. You'll find fast-casual fare for kids and adults, including burgers, sandwiches, salads, milkshakes, and sides. What makes Al's a visitor destination is not the menu but its events. This restaurant serves as the entertainment heart of the Fort Walton Beach Boardwalk.
Al's Beach Club has entirely outdoor dining and activities. While waiting for your food or after your meal, you and your family can play games such as corn hole or giant board games. The restaurant even has a splash pad to cool off.
Events bring the Boardwalk to life and include fireworks, live music, DJs, luau parties, movies on the beach, and light shows. If you want great entertainment and food the whole family can enjoy, stop by Al's Beach Club.
Asiago's Skillet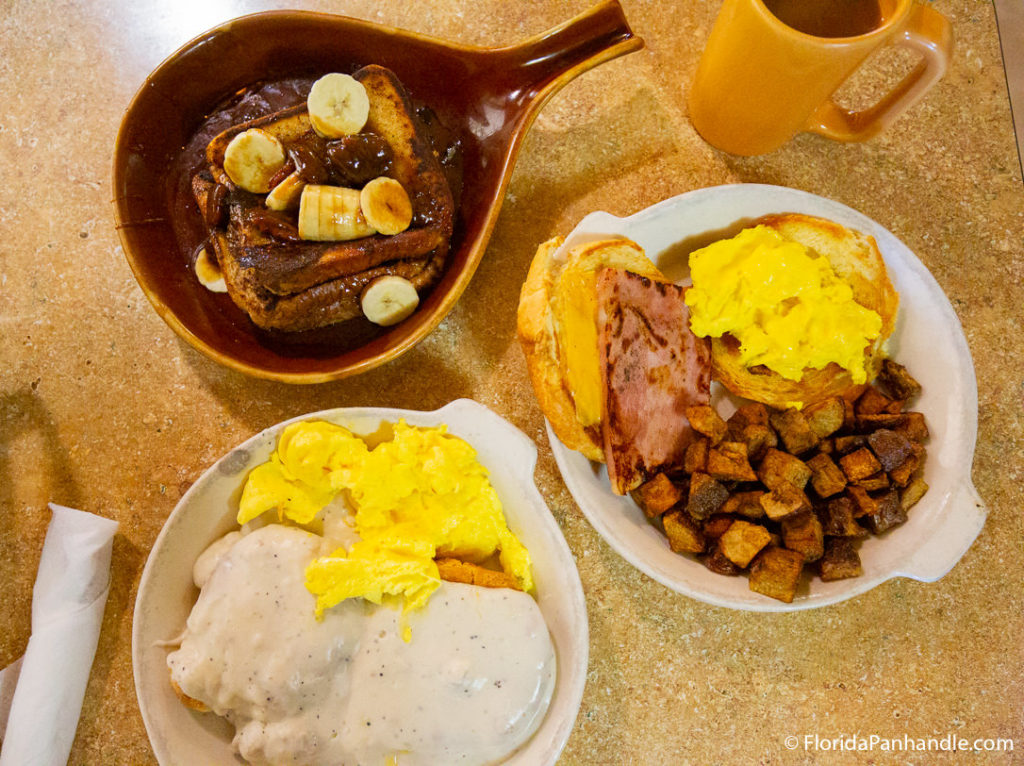 Hungry for a late-night breakfast? Visit Asiago's Skillet to enjoy hearty breakfast dishes, such as french toast, breakfast burritos, and omelets. This restaurant excels at the breakfast fare it serves.
The menu includes a variety of classic breakfast dishes. When ordering, most meals come with a side of potatoes. Ask the server for "shipwreck" potatoes. When you do, your potatoes come smothered in gravy, onions, bacon, and cheese, for a tasty, decadent side that elevates the entire meal and is a staple of the restaurant.
If you like french toast, eggs, pancakes, grits, bloody marys, or any other breakfast dish you'll find something to enjoy at Asiago's Skillet.
The Shack
Since 1999, The Shack, or as some also call it "The Original Crab Shack," has served locals and visitors award-winning seafood. Family and veteran-owned and operated, this restaurant will make you feel like dining with your loved ones. They treat guests well and start by offering incredible sunset views from the back deck. Service and food consistently receive compliments from former visitors to the area.
When you dine, don't miss the fried green tomatoes or crab dip.
Stewby's Seafood Shanty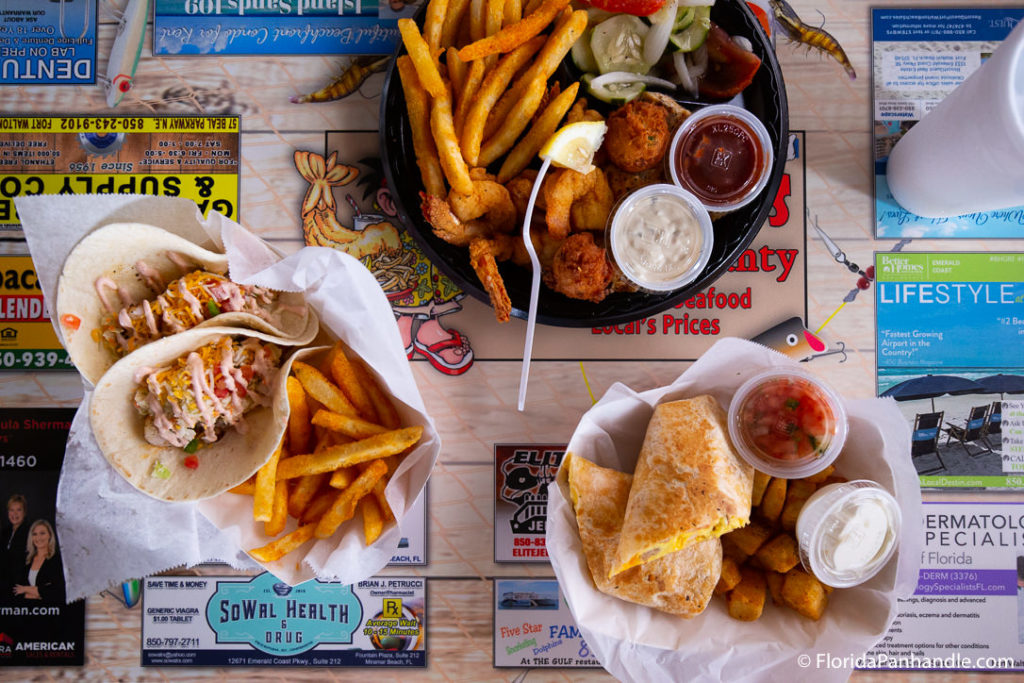 Stewby's Seafood Shanty has hearty seafood dishes made with catches fresh from the Gulf of Mexico. This restaurant has several locations around Fort Walton Beach. Stewby's offers great-tasting seafood at budget-friendly prices.
The menu here features simple dishes with your choice of fried or grilled seafood as a sandwich meal or part of a dinner platter. Whatever you order, don't forget to add a cup or bowl of Stewby's famous seafood gumbo when the restaurant offers it in the fall. Originally a family recipe, this dish remains a favorite of diners at Stewby's Seafood Shanty. Bring home a bulk order to enjoy a tasty memory of your trip to Fort Walton Beach.
Fort Walton Beach is a family-friendly place to go for fun attractions, a beautiful beach, and tasty restaurants. Don't miss this gem along The Emerald Coast of Florida.