Do you want to see all the best sights in Destin, Florida, while enjoying a luxurious meal and more? If so, a dinner cruise is right up your alley, for sure. You have many excellent cruise providers to consider, too, making it easy to have a phenomenal time on each trip. Ready to delight your senses on the best dinner cruises in Destin?
Here are four top-notch cruises to try out for yourself:
SunQuest Cruises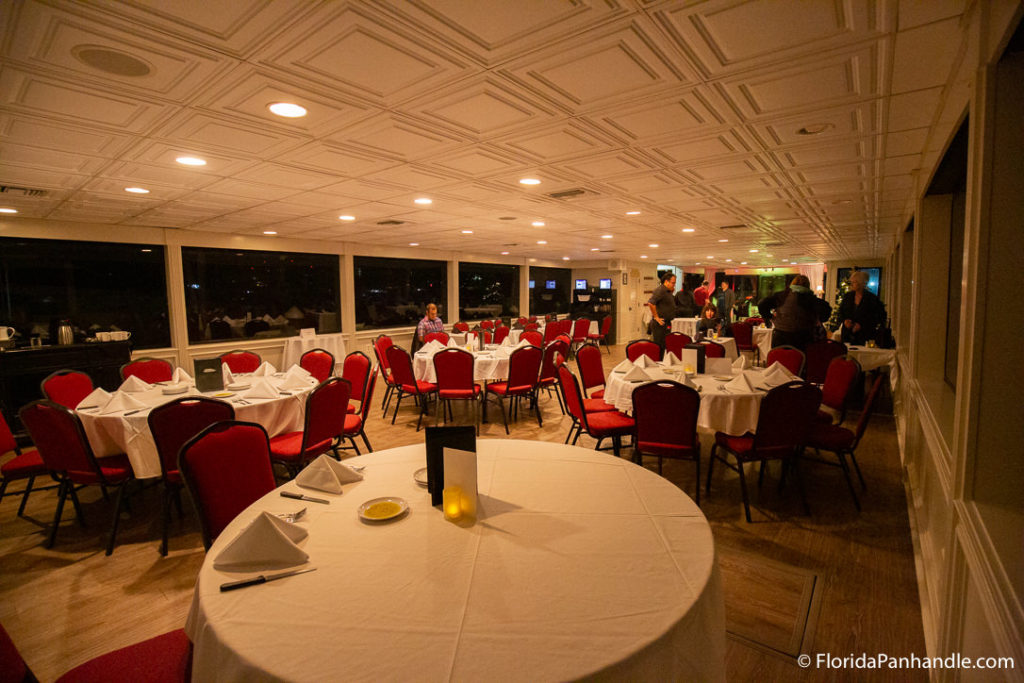 Food, fun, and views to last a lifetime are the name of the game at SunQuest Cruises. Year-round, this popular cruise company hosts memorable public adventures plus holiday trips and wedding extravaganzas. On all their cruises, you get to ride in style aboard a 125-foot Solaris yacht. Boasting three spacious levels, this yacht gives you plenty of space to dance, dine, and gaze at the beauty all around.
During your dinner cruise experience, you'll start with a multi-course coastal-inspired meal. You get to pick your entrée from all their spectacular options, like:
Braised Boneless Short Rib
Gulf Shrimp and Grits
Bronzed Gulf Fish and Lump Crab
Pecan Crusted Chicken Breast
Vegetable Ragu
Before your entrée of choice hits the table, your server will bring out a crisp house salad and freshly-baked bread. After your meal, the dessert of the day will beautifully complete your meal with its scrumptiously sweet flavors. Coffee, iced tea, and water are complimentary, but you can order beer, wine, and cocktails for an extra charge.
Upon finishing your meal, you're invited to dance under the stars on the open decks. Simply D'Vyne plays their unique reggae fusion tunes to maintain a delightful vibe throughout the entire cruise. Although you're bound to have a great time from beginning to end, don't forget to take a moment to admire the views of the Destin oceanside.
Private Dinner Cruise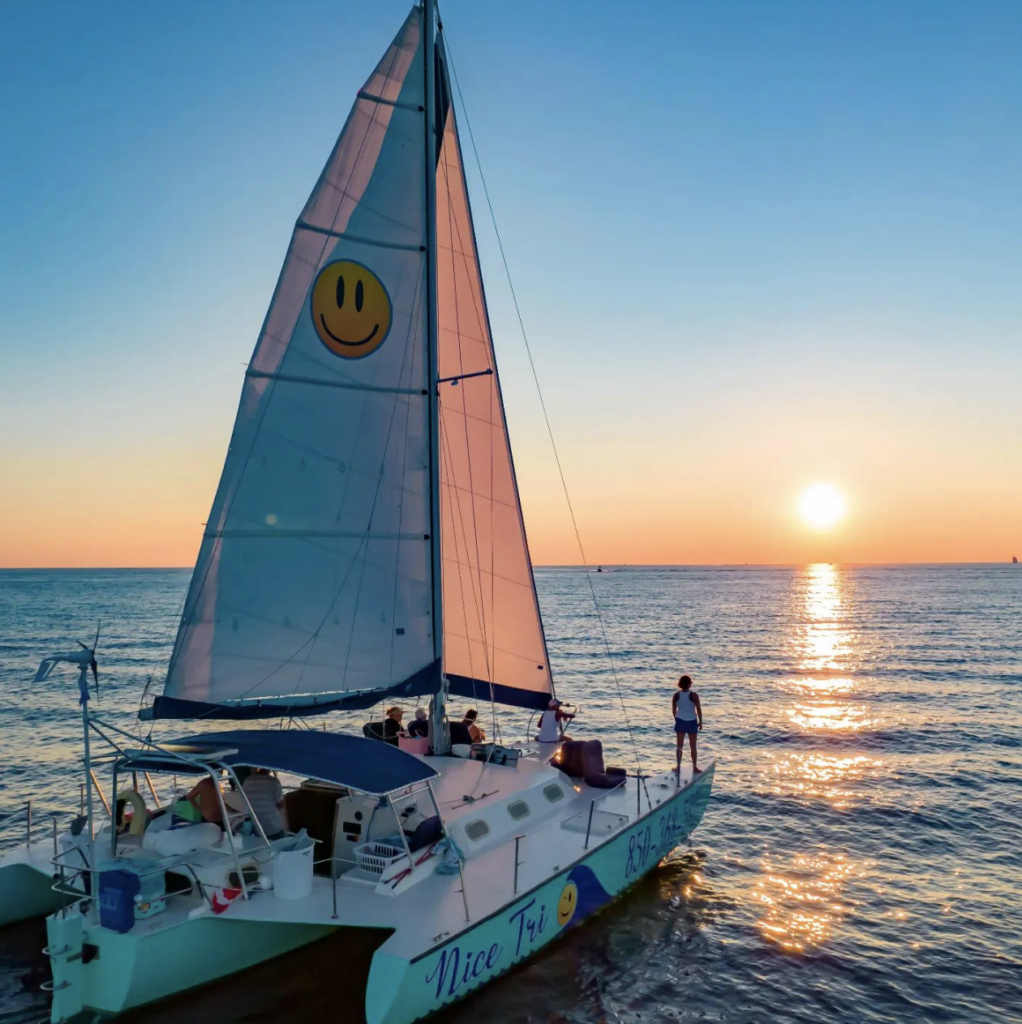 Are you looking for a great way to treat your partner to a romantic dinner? Or do you want to pair snorkeling fun with a picnic on the water? No matter what kind of cruise you desire, you can count on the team at Smile N' Wave to make the magic happen. Led by the ever-skilled Captain Pam, this experience takes you out on the water on a powerful trimaran sailboat, Nice Tri. The cruises go out year-round and are always crafted to meet the expectations of all the guests.
Before you get a chance to hop aboard the trimaran, you'll need to work with the captain to plan your adventures. The planning process starts with selecting your ideal date and departure time. Then, you'll get to order your meal of choice from their partner company, Artistic Catering. If you prefer to bring your own dinner, you're welcome to grab a meal from your preferred restaurant and bring it along for the ride.
Once you have your food all set, you'll get to get cozy on the sailboat and head out onto the water. The captain will play all your favorite songs on the Bluetooth stereo while pointing out all the greatest sights along the way.
Pole Position Cruises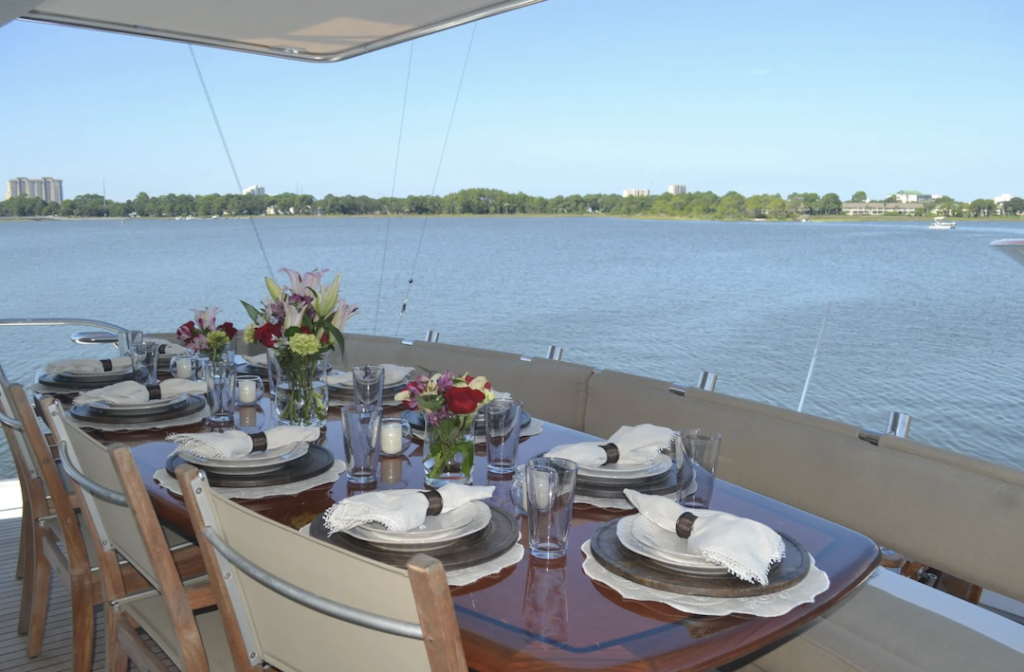 At Pole Position Cruises, they strive to make all their dinner cruise attendees feel like guests of honor. They do that by only hosting truly intimate affairs aboard their 90-foot Hatteras. Made for just 12 guests each trip, this upscale watercraft sets the stage for a delightful dining experience.
To kickstart your adventures, you just have to call and book your spot. Since it's such a small boat, however, plan to call well in advance to avoid missing out. When you call, you'll get to either choose from the dinner cruise packages or create a custom trip. As the sports seasons change, this cruise company often offers themed trips as well, like their ever-popular College Football Cruise.
For all their cruises, you'll get to decide just what to eat and drink on your trip. You just have to let them know if you prefer seafood, steaks, surf, and turf, or something altogether different – and they'll make it happen. The same goes for the drinks, so don't hesitate to speak up about your preferences.
As for your itinerary, you can trust the crew to know just where to take you for the best views. So, once you're onboard, simply kick back and relax, ready to enjoy a memorable meal out on the water.
Sunset Island Dinner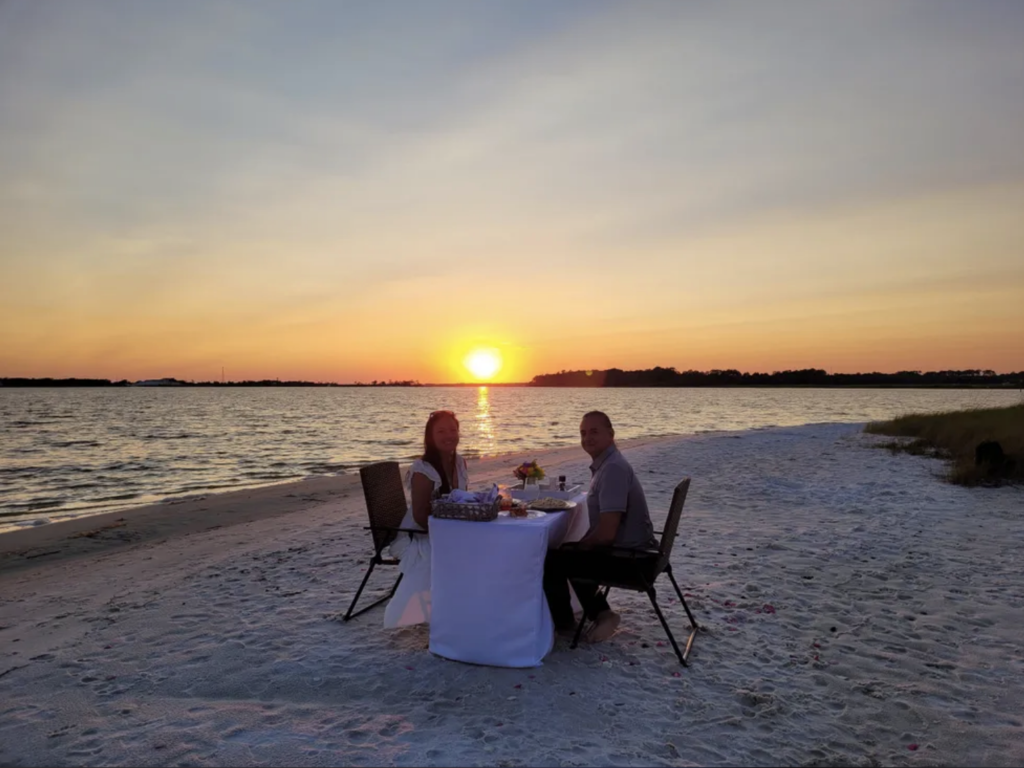 If you've always wanted to enjoy a decadent meal while chilling on a private island, you're in luck because that's exactly what Sunset Island Dinner does. Day in and day out, they bring their guests to a completed secluded beach to dine on great food while soaking up each other's company.
You have many dining options to consider, too, including gluten-free and vegan fare. If you're down with their regular menu, you can count on the seafood and more coming your way. Your meal will start with your appetizer of choice, such as Fried Ravioli served with a marinara sauce for dipping.
After that, your entrees will come to the table piping hot and ready to enjoy to the fullest. Their most popular entrees include:
Chicken Parmesan
Veal Piccata
Shrimp Scampi
Fried Gulf Shrimp
Pan Seared Salmon
If you want to keep it light, don't hesitate to get the Sunset Island Dinner Salad. Made using grilled chicken breast, this savory salad goes big on the flavor without weighing you down. All throughout your meal, you get your choice of drinks, like Pepsi, Sweet Tea, and Purified Water.
Then, once you're done with your meal, dessert will come your way right in time for the sunset. Each person gets their sweet treat of choice, although it's difficult to order anything other than their Limoncello Mascarpone Cake.
Before you can pick your favorite Destin dinner cruise company, you simply have to experience them all. So, start at the top and go through them one by one to see just which cruises leave you feeling wholly delighted. You never know, you might just fall in love with them all.