If you take your dog on all your travels, Cape San Blas, Florida, is calling your name. With dog-friendly beaches all over Gulf County, you have no shortage of places to bring your pup for wild adventures. You'll delight in their joy as they play in the pristine waters and run across the gorgeous white sands. If you're ready to make that dream a reality, create your itinerary using this list of all the top dog-friendly beaches in Cape San Blas.
Cape San Blas Beaches
From St. Joseph Point to down past the Old Cape San Blas Lighthouse site, dogs are welcome to gallivant down the beaches by your side. As you explore, just make sure to keep your pups well away from marked turtle nests. Their curiosity will have them digging in no time flat, so just give the nests wide berth as you walk by.
You are welcome to go scalloping if the season calls for it or just swim and play to your hearts' content. You can even set up a campfire and stay well into the evening if you wish. When you're done, go on over to the faucets to wash off before heading back to your beach house rental or other accommodations.
Salinas Park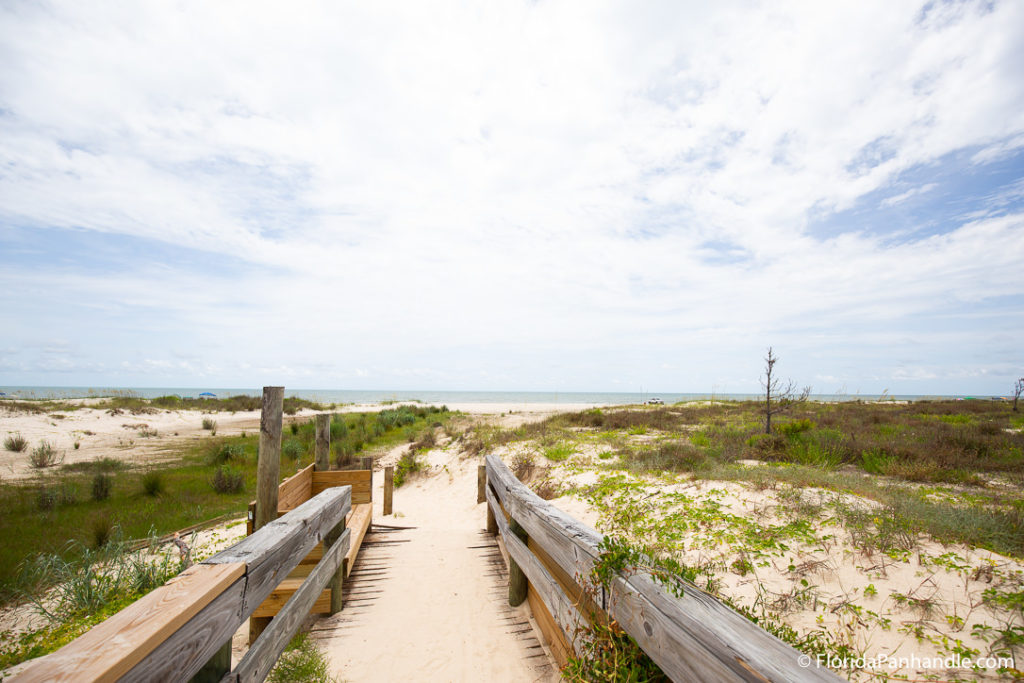 Located along the southern edge of the St. Joseph Bay State Buffer Preserve, Salinas Park lets you enjoy a little piece of paradise with your pup in tow. You'll get to enjoy picturesque views from the Serenity Trail Boardwalk as you explore the edge of the waterway together. After that, you can go down to the water's edge for a dip or just play a game of fetch along the shores.
After working up an appetite, you can head over to one of the barbecue grills to make a quick lunch before going back to the beach to play. If you'd like to just lounge around, build a fire in the firepit and kick back to enjoy the view.
St. Joe Beach
Accessible through the many boardwalks and paths coming off Highway 98, St. Joe Beach gives you miles of white sandy shores to explore with your furry friend. The chill waters of Saint Joseph Bay allow your dog to swim comfortably without worry about big waves coming through.
In between swims, park yourselves on the soft sands and even challenge your dog to a sandcastle competition. Although they may only excel in digging out moats, you'll undoubtedly have a blast collaborating on a beautiful castle.
If you want to explore the beautiful islands in the distance, you'll need to go by boat. You can rent one nearby, but just be sure to get a life jacket for your dog and wear one yourself as well.
Indian Pass
Indian Pass beach lies at the western mouth of the Saint Vincent Sound, giving you a variety of waterways to explore. In comparison to all the other beaches nearby, this one is the most secluded. So, it's a great place to go when you want to get away from it all and simply enjoy your dog's company. You can even rent a beach house right along these shores and stay for the entire weekend or longer.
You can explore the beaches on foot, by car, or even on horseback. All along the way, you may try your hand at crabbing and fishing to see if you might be able to catch your next meal. If you get lucky, you can grill up your catches at the onsite BBQ grills or over a campfire. As you sit and relax by the water, your dog will enjoy watching the shore birds wade around and even nosh on shellfish. Just make sure to watch from afar to avoid disturbing the wildlife.
Tips for Enjoying a Fun Trip to the Beach with Your Pet
No matter which beach you decide to visit, be sure to follow all these tips:
Put a well-fitting collar and ID tags on your dog
Always keep your dog on a long leash even while playing
Bring a six-foot leash to use while walking around town
Keep your dog well away from all birds and wildlife
Give nearby people and other dogs their space
Pick up all waste and throw the bags in the receptacles
Leave the beaches better than how you found them
Just follow these tips, and you're sure to have a blast while visiting all the local beaches with your dog.
Recharge Your Energy After Beachside Fun with Your Dog
As you go on Cape San Blas, Florida, beach adventures with your pup, you're sure to work up an appetite. Fortunately, many nearby restaurants warmly welcome you to bring your dogs along for your meal, like:
Krazyfish Grille
Haughty Heron
Provisions
Caribbean Coffee
Joe Mama's Wood Fired Pizza
You'll have to park yourselves on the patio, but that just means you get to enjoy gorgeous views while having a meal with your four-legged best friend.
As your meal leaves you feeling reenergized, take your dog for a long walk around town or simply head back out to your favorite beach for even more fun. The dog-friendly atmosphere makes it easy to jet from place to place while enjoying your pup to the fullest.