Some of the most all-out gorgeous stretches of waterfront on the Florida Panhandle await you on the St. Joseph Peninsula, that mostly undeveloped sand spit extending some 20 miles north of Cape San Blas between the Gulf of Mexico and St. Joe Bay. Much of this skinny finger of land falls within the outstanding T.H. Stone Memorial St. Joseph Peninsula State Park. This is one of the stunners of the Forgotten Coast, without question, and well worth a visit—heck, repeated visits!
The appeal of this park has many aspects, and just about anybody—from a dedicated beach worshipper to super-active types—will find something to enjoy within its long, slender, but varied bounds. Here are 10 reasons why a visit to T.H. Stone Memorial St. Joseph Peninsula State Park should very much be on your Forgotten Coast to-do list!
It Offers Stunning Beaches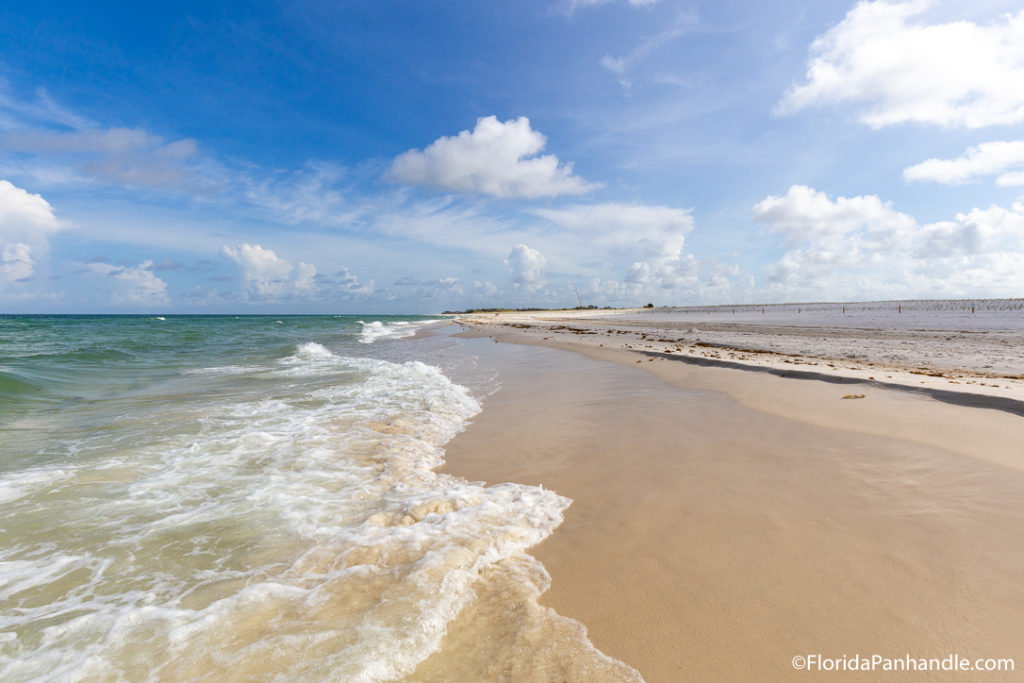 Some of the loveliest beaches on the Panhandle lie within T.H. Stone Memorial St. Joseph Peninsula State Park. Nestle in with a summer read and some suntan lotion, go shelling along the surf, or take a cool-off dip: This is top-grade Sunshine State beachgoing territory, no question!
There's Excellent Fishing (and Scalloping)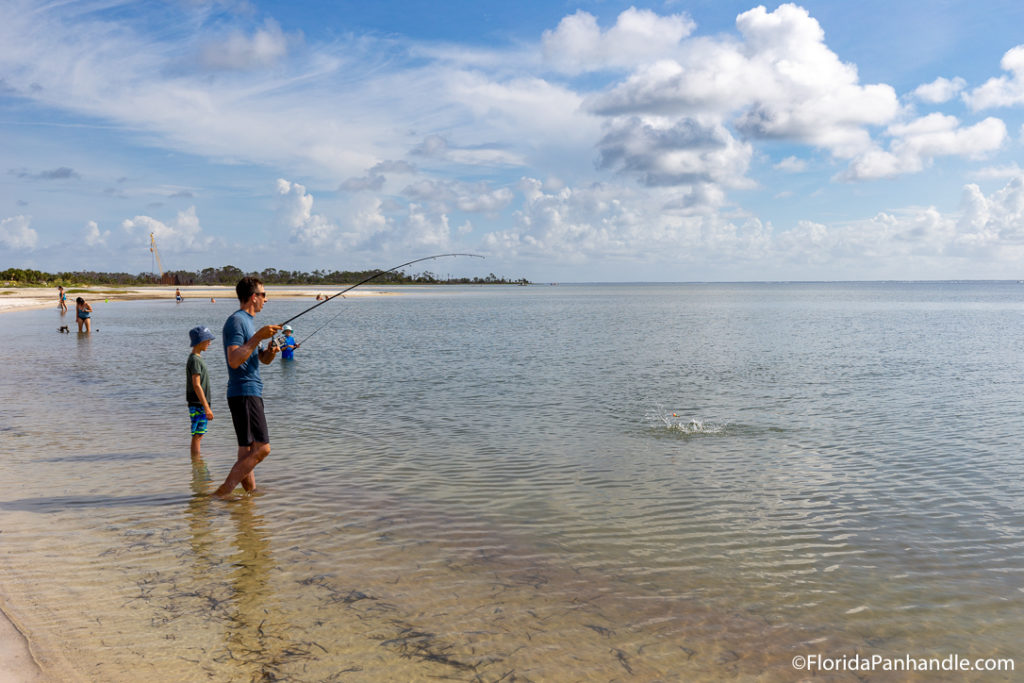 That inviting, sun-splashed water off the park's shores isn't just for looking at or splashing in: You can also haul in some beauties! Take advantage of the sole public boat launch on the peninsula here in the park to seek redfish, spotted sea-trout, flounder, and other catches in the bay, or go surf-casting on the Gulf side for pompano, kingfish, shark, and other nearshore prizes. Come late summer, meanwhile, scalloping season kicks off in St. Joe Bay.
You Can Appreciate the Wild Forgotten Coast Firsthand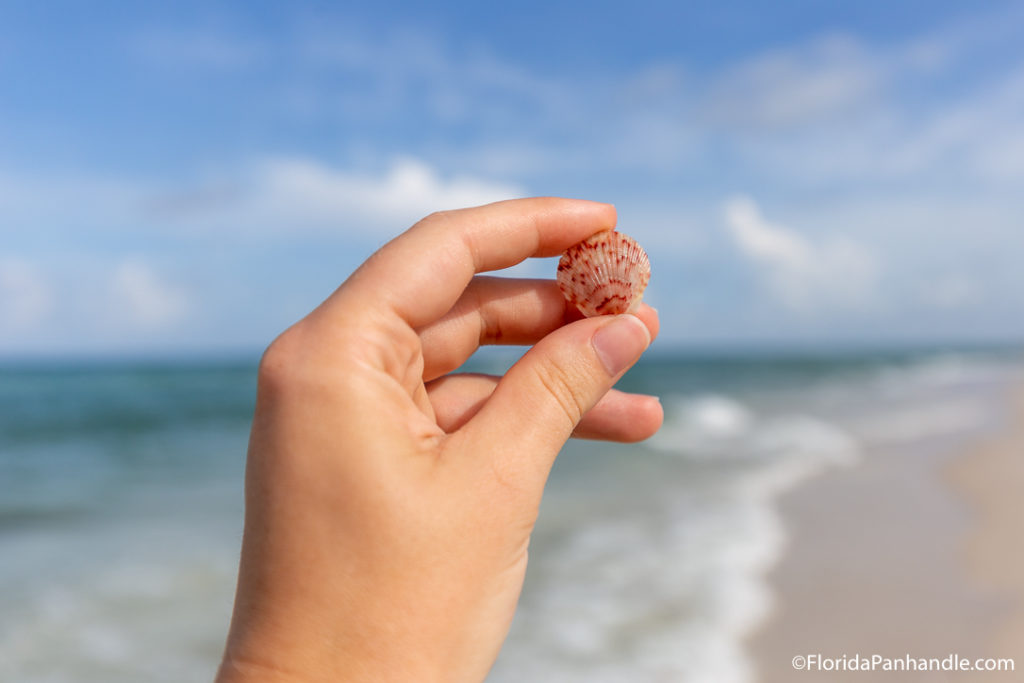 T.H. Stone Memorial St. Joseph Peninsula State Park protects a truly precious collage of native Forgotten Coast ecosystems: an eye-opening taste of the Panhandle's natural beauty, which in some other places is a bit obscured by heavy development. The park's ecological spectrum runs from the estuarine and marine habitats just offshore and the shining beaches and sand dunes—including some of the tallest (more than 30 feet high) and most pristine on the Florida Panhandle—to coastal grassland, oak, and sand-pine scrub, mesic and wet flatwoods dominated by slash pine, maritime hammock, wet prairie, marshes, basin swamps, and more. The northern part of the park (and the peninsula itself) is a Wilderness Preserve of nearly 2,000 acres in extent: a really special slice of the backcountry!
You've Got Wildlife Galore to Enjoy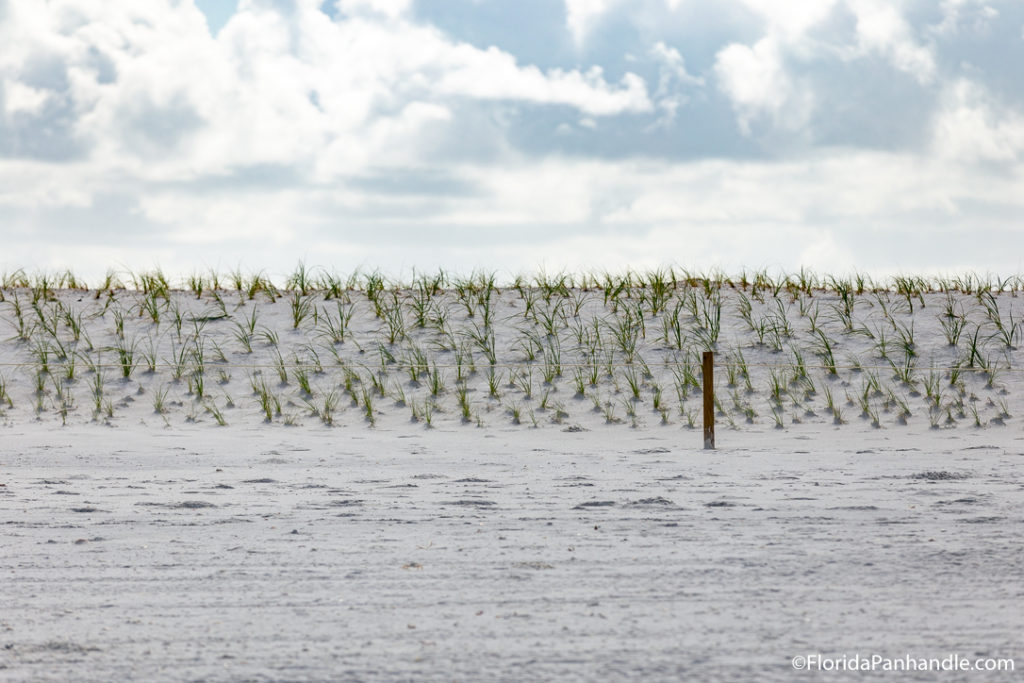 All of that natural, intact habitat makes T.H. Stone Memorial St. Joseph Peninsula State Park a rich stomping ground for Forgotten Coast critters, needless to say. A highlight of the Great Florida Birding & Wildlife Trail, the park harbors some 17 percent of the entire nesting population of snowy plovers in Florida, and there's a crowded roster of other shorebirds, waders, seabirds, songbirds, and raptors here as well, both migrants and residents. Three species of sea turtles nest on the state park's beaches: mainly loggerheads, but also green turtles and the occasional (massive) leatherback.
The park also makes some of the only habitats for the endemic St. Andrews beach mouse. Larger mammals than that cute rodent abound, too, including white-tailed deer, bobcats, and armadillos; even the odd Florida black bear wanders the quieter backwoods. You've got a good chance of spotting an American alligator—along with the manatee, the Sunshine State's unquestionable animalian mascot—in the park's wetlands. In the scrub and the flatwoods, keep an eye peeled for the gentle, plodding, ecologically important gopher tortoise.
You Can Camp Out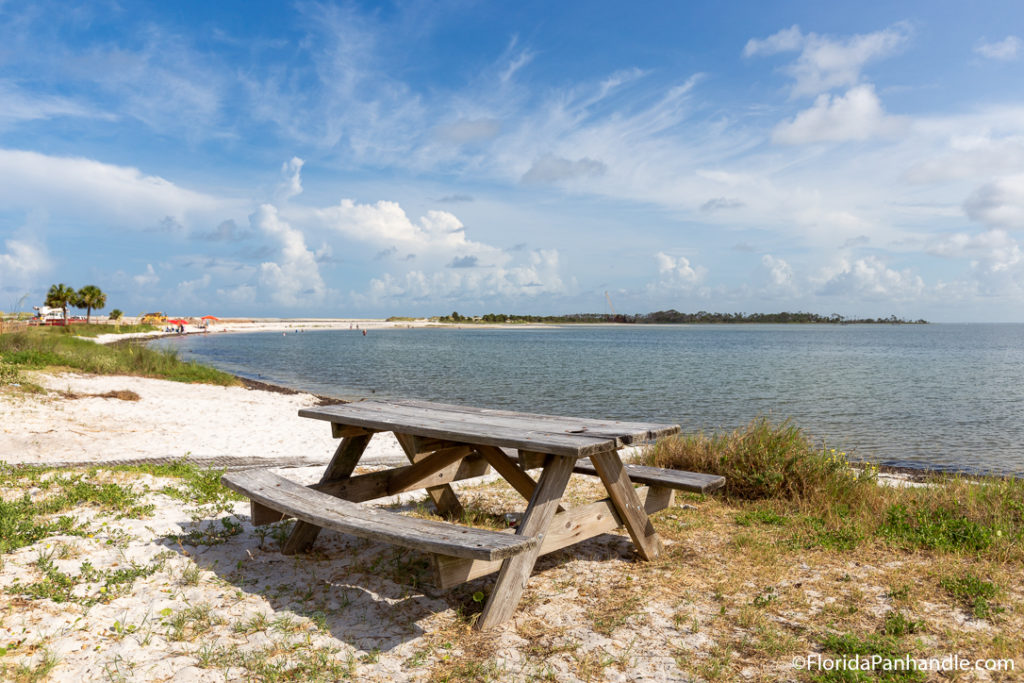 Extend your stay and immerse yourself deeper in the park by camping out overnight. T.H. Stone Memorial St. Joseph Peninsula State Park includes both developed campgrounds—Shady Pines and Gulf Breeze—as well as primitive, hike-in campsites scattered in the northern backcountry. Whether you want a developed campsite with plenty of amenities near at hand or a secluded spot to tent out well away from any hubbub, the park's got you covered!
It's a Fine Place to Don a Mask & Flippers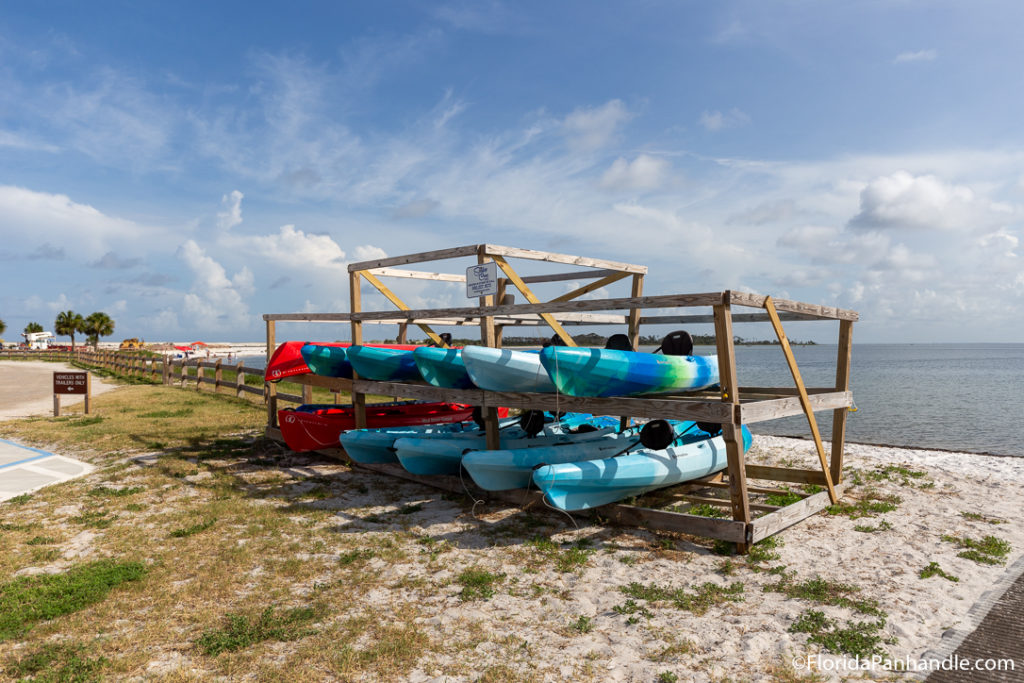 The park's eastern waterfront offers a ready jumping-off point for excellent snorkeling in the clear, calm waters of St. Joseph Bay. Just offshore the park to the north, meanwhile, scuba divers can access several artificial reefs and wrecks installed by the Mexico Beach Artificial Reef Association.
The Biking's First-Rate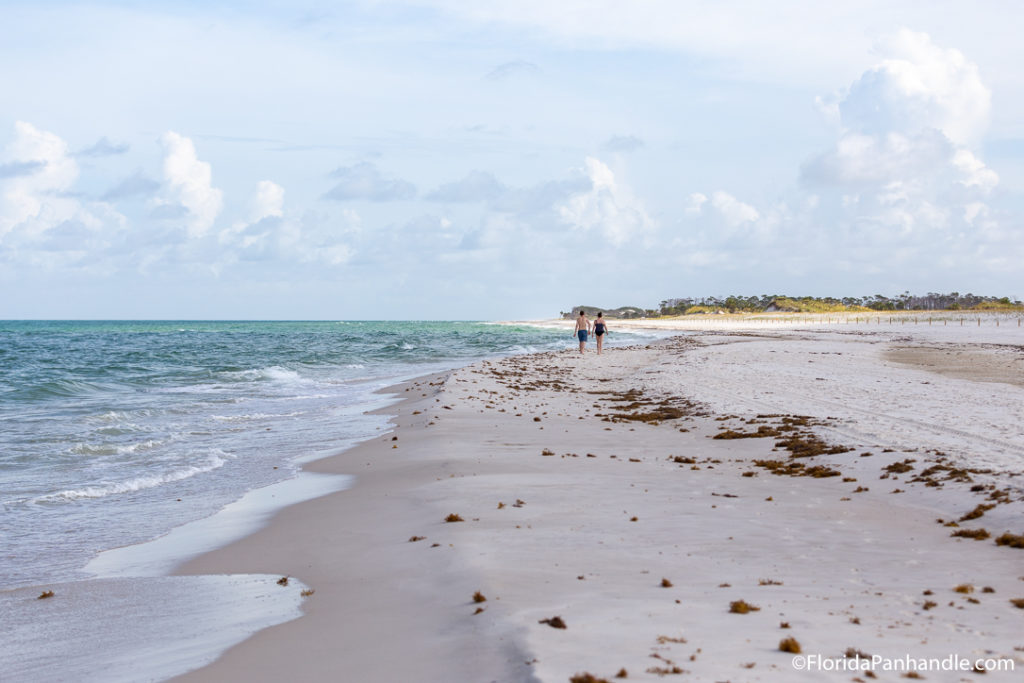 We'd venture to say that the Forgotten Coast offers some of the most pleasant and soothing bike routes in the country, with the fabulous white-sand beachfront and turquoise waters serving as a backdrop and the mighty pleasant weather. T.H. Stone Memorial St. Joseph Peninsula State Park is a fine place for cycling: You can pedal along the two or so miles of the paved park road, or strike southward on the eight-mile-long Loggerhead Run Bike Path that runs down to Salinas Park.
So is the Hiking…
When you're not strolling the shell-scattered beaches of T.H. Stone Memorial St. Joseph Peninsula State Park, you've got some nice and quiet hiking paths to enjoy, including the Maritime Hammock Trail and the Bay View Trail. You can also head into the Wilderness Preserve—perhaps for one of those aforementioned backcountry-camping overnighters—on the extended Camp-to-Camp Trail.
You Can Use it as a Springboard for a Postcard-Perfect Paddle
The park's boat launch provides an awesome point of departure for laidback jaunts in a canoe, kayak, or stand-up paddleboard on the agreeable flats of St. Joe Bay. More experienced paddlers might also shove off from the beachfront to explore the coastal Gulf waters.
You Can Savor a Good Old-Fashioned Picnic in the Florida Panhandle Sunshine
Kick back for some al fresco feasting at the Eagle Harbor Picnic Area in the park, which comes complete with shelters, restrooms, and other family-friendly facilities.
Make Some Time for the Natural & Recreational Pleasures of T.H. Stone Memorial St. Joseph Peninsula State Park
From the soothing surf of the beach to the birdsong-filled piney woods and scrub, T.H. Stone Memorial St. Joseph Peninsula State Park has a habit of absolutely entrancing its visitors. Fall under its spell on your next visit to the Forgotten Coast of Florida!