Along the southwestern edge of the peninsula between the Gulf and Saint Joseph Bay lies a little piece of paradise called Cape San Blas. This 20-mile stretch features crisp white sandy beaches with barrier dunes and spectacular views in every direction. The pristine beaches serve as an excellent place to spend the day whether you plan to hit the waves or lounge on the warm sand.
You can take your experience to the next level, however, by hitting the beach on horseback at sunrise, sunset, or any time in between. And with so many stables nearby, you don't even need your own horse. Just sign up for one of their rides, then get ready to hit the sand in style. Still on the fence? Here are five awesome reasons why you should go horseback riding on the beach in Cape San Blas.
It's the Best Way to Experience the Beach in the Morning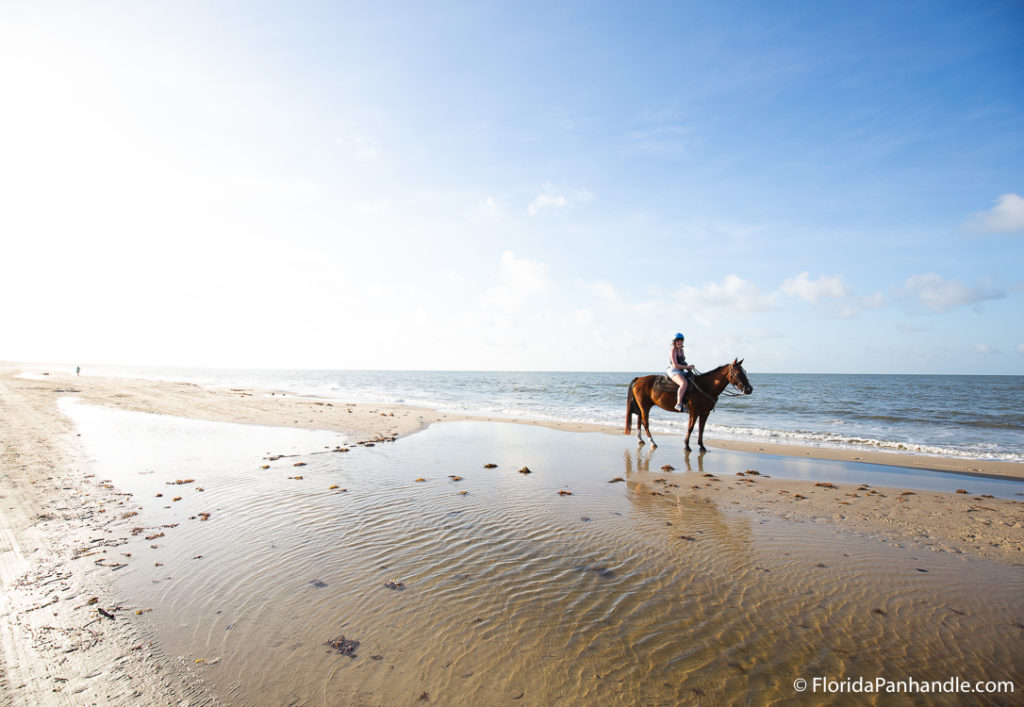 When you want to start your day off right, there's no better way than taking a horseback ride along the beach in the morning. As you trod along at the waterline, the sights, sounds, and smells promise to invigorate your senses and prepare you for the day ahead. While gazing upon the beauty all around, you can wake up slowly and approach the new day alongside all the amazing wildlife nearby.
From your elevated vantage point, you might catch sight of the shorebirds gobbling up their beachside breakfast or see sharks, dolphins, and stingrays swimming through the clear waters. The sound of the waves hitting the shore and the smell of salty sea air complete the experience and get you in the right mood to tackle the rest of your tasks for the day.
The Calm Rhythm and Superb Sights Promise to Soothe Your Soul
While riding on horseback across the sand, your horse will maintain a steady gait in a rather soothing rhythm. With each step, you will feel your stress melt away as you get in tune with nature. Also helping lift your mood are all the spectacular sights all around, helping take you out of your mind and away from the stress. When enjoyed together, the calm rhythm and superb sights are sure to soothe your soul and leave you feeling much more relaxed than ever before.
Delightful Photo Opportunities Abound, Especially at Sunrise and Sunset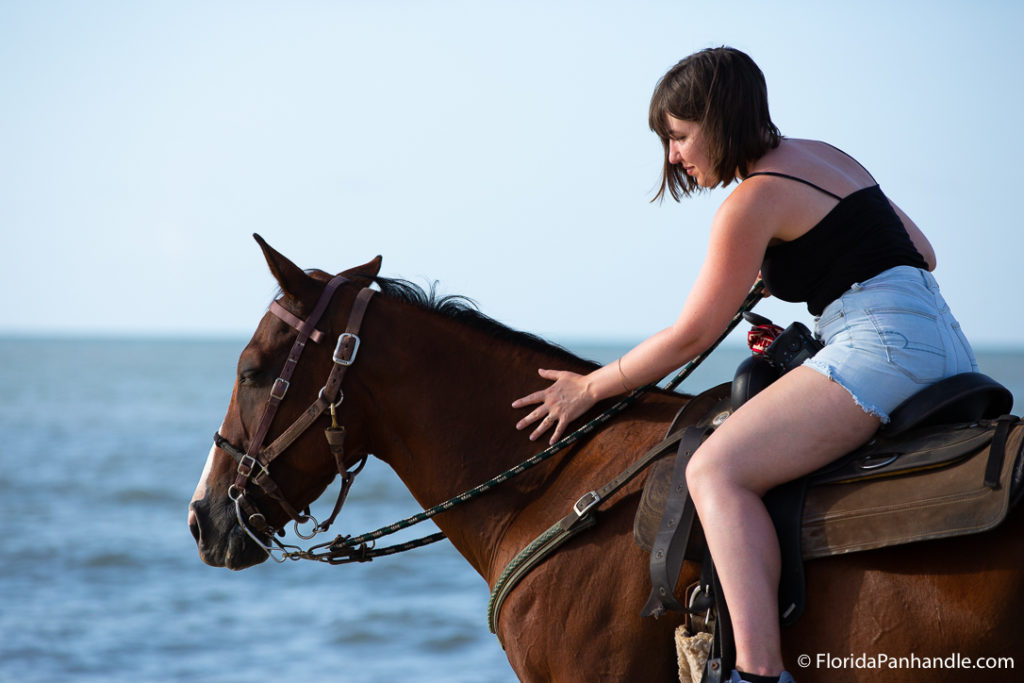 Sunrise and sunset are a true sight to behold at Cape San Blas — and it's made even more magical on horseback. As you watch the dazzling colors light up the sky, you can capture the selfies of a lifetime along with a ton of fun group shots. With the hues changing minute by minute, you can keep clicking the shutter, getting a new backdrop all the time. Even more photo opportunities abound as you see dolphins leaping into the air and birds flying through the sky with the rich rainbow of hues sparkling behind.
You'll Enjoy Ample Chances to Bond with the Group and the Horses
The horseback riding companies only take out small groups to keep the adventures low-key and as relaxing as possible. If you bring your loved ones along for the ride, you will have plenty of time to strengthen your bond and create new memories together. While flying solo, you might be surprised to discover how much you can bond with your group members, despite never having met them before that ride.
And don't forget the horses, too. As you travel across the beach, you will learn how to communicate with your horse, allowing you both to develop a deep sense of trust. Each horse has its own personality as well. Some are sassy and bright, while others are quite mellow and affectionate. By the end of your ride, you will know your horse well. If you come back often, the horses you ride will remember you as well, often perking up their ears and snorting in delight in response to your presence.
Riding Helps Improve Core Strength, Coordination, and Posture
When you go horseback riding, the horse is not the only one putting in the work. You have to hold your body upright and stable while on their back, even while sitting comfortably in a saddle. For that reason, each step will help you build core strength, improve your coordination, and develop better posture. You will likely really feel it on the first couple rides, too, especially since the sand increases the effect. As you get stronger, you will feel less sore after each ride even though your muscles are still getting quite the workout.
Where to Find Beachside Horseback Rides on Cape San Blas
If you are ready to take your beachside horseback ride along Cape San Blas, you have many stables to consider, including:
Each one offers a different experience, so try them all to see what they have to offer. Then, as you find the ones that match your needs best, you can schedule rides at your leisure. Depending on your budget, you can save the experience for special occasions or head out whenever you need to lift your spirits.
Just make sure to schedule your rides early in the month to avoid missing out if the groups fill up too fast. For most stables, you can call to make your reservation or use their online system to book your spot. Either way, make sure to jot it down on your calendar, and then get ready for the beachside adventure of a lifetime.