Nothing is better than going to the beach with your dog! Your pooch gets some fresh air, sunshine, and chances to meet other pups.
However, all dogs at the beach need special care from their parents to stay safe. Anything that can harm you can also harm your dog. Sunburns, cuts from shells, and big waves can spell danger for your furry friend. Swallowing ocean water or eating foreign beach objects are doggie-specific hazards you also need to keep an eye on.
Although safety is a priority, it shouldn't stop you from having a great day with your pup! Below, we've rounded up our top tips you should know before taking your dog to the beach.
Dog Beach Checklist
You'll need to bring a few extra things so your pooch is safe and comfortable on your beach date. Below are a few items you shouldn't forget when prepping for your trip. We'll go more in-depth on some of these items in our tips.
Beach umbrella, shade, or tents: Give your dog a big, shady spot to rest.
Doggie first-aid kit: Keep things like adhesive bandages and tweezers on hand in case of emergencies. We talk about specific items to include later in our guide.
Doggie bags: Bring doggie bags to clean up after your dog. Some beaches provide these, but it's better to bring your own so you're prepared.
Dog booties: These boots can protect your dog's paws from burning on the hot sand.
Dog goggles: Goggles can protect your dog's eyes from the bright sun.
Dog life vest: Life vests are useful for all dogs, regardless of their ability to swim. They can help your dog stay afloat if they get tired or caught in a wave.
Dog sunscreen: Dogs can and should wear sunscreen! Certain breeds, like those who have short hair or light skin, are more susceptible to sunburns.
Dog treats and food: Keep treats on hand to reward your dog when they behave well.
Outdoor dog bed or blanket: Bring something comfy for your dog to lay on while they take breaks from playing on the sand.
Towels: Lay down towels in your car and keep a few extras with you. You can use them to wipe down your dog after they get out of the water and when you rinse them off afterward.
Waterproof and floating dog toys: Don't risk losing their favorite toy in the ocean! Bring some beach-friendly toys for your pup.
Water: Keep your pooch hydrated by bringing lots of fresh, cool water for them.
Water bowl: Don't forget a water bowl! Or else, you'll need to quickly teach your dog how to drink from a water bottle.
Waterproof GPS: This isn't necessary, but it can be helpful to keep track of your dog in the water.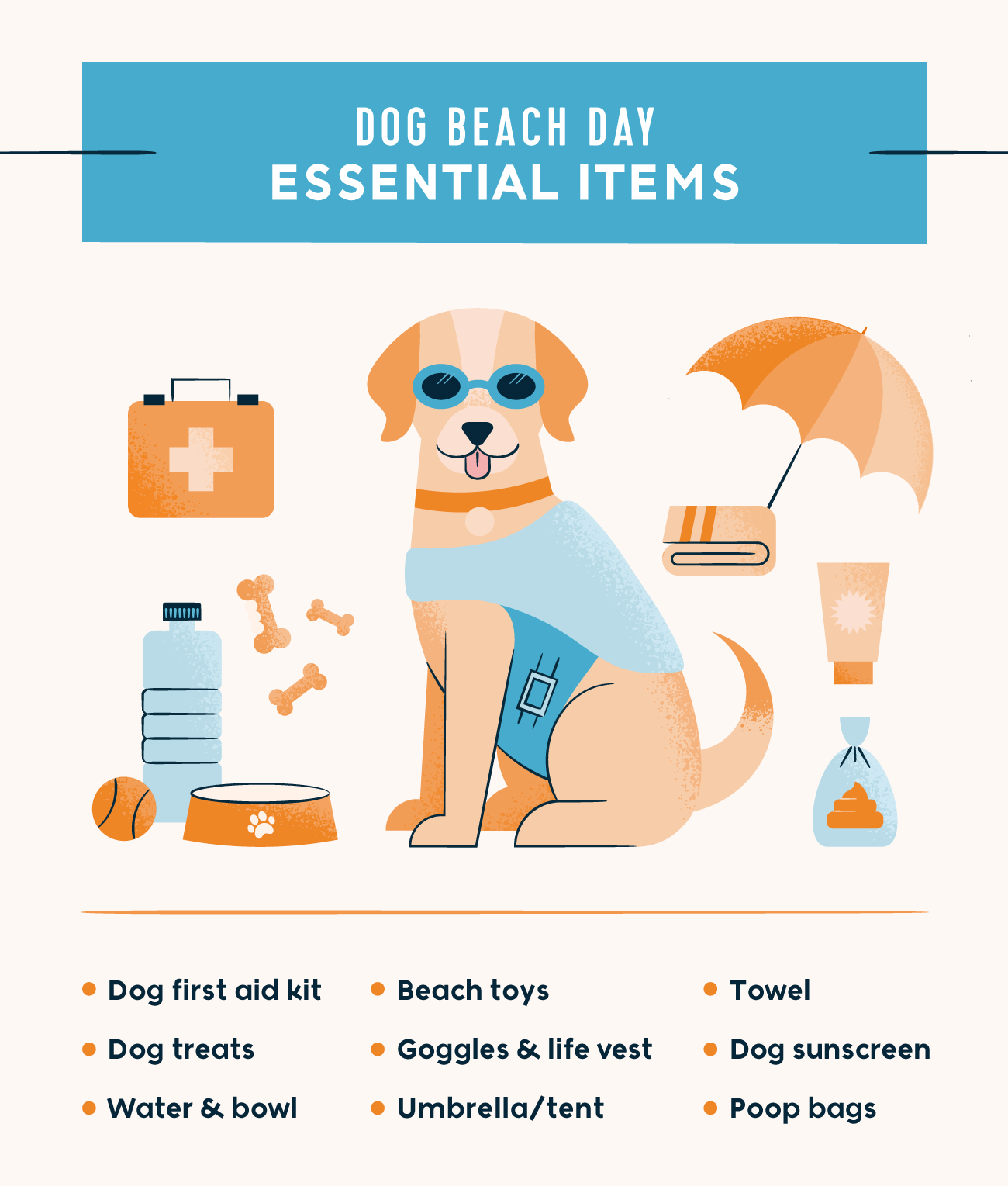 1. Research Local Dog Beaches
Beaches have different rules for dogs. Some have dedicated hours when dogs can be off-leash. Other beaches require leashes at all times. You can find info on dog-specific rules on the beach's websites or by calling them.
Depending on your preferences, you may need to take a longer trip outside of your area to get to a beach that works for you and your pup. If you're bringing your furry friend with you on an extended beach vacation, research your accommodations ahead of time to make sure you're staying near a dog-friendly beach.
Research nearby emergency vets around your beach in case of an accident. When taking longer trips, plan for bathroom and walking breaks for your dog while you're on your way to your destination.
---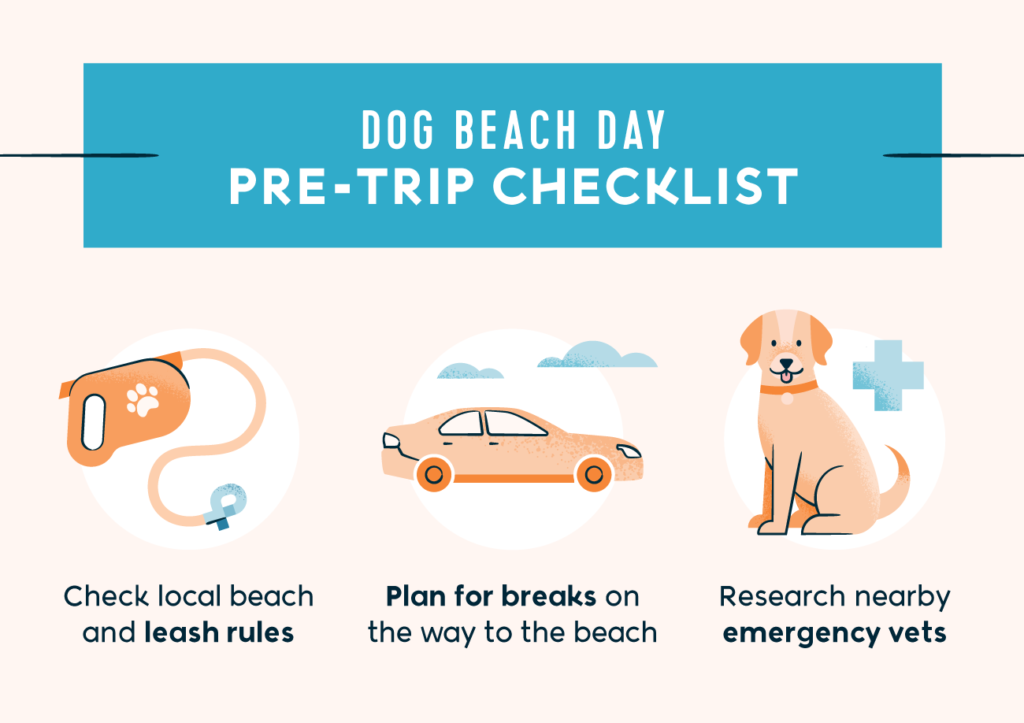 2. Prepare for Hazards
Broken shells and bottle caps can hurt your dog's paws. Your dog might also feel tempted to chew or eat small things they find in the sand. Comb the beach beforehand to keep potential hazards away from your pup's paws and mouth.
You should also bring a dog first-aid kit in case they step on something you missed or get hurt in the water. These are a few things you should include in your kit. You can also ask your vet for tips on what to keep in your first-aid kit and how to use these supplies. Check your kit every few months to replenish anything that's expired.
Antibiotic ointment or spray: You can use this spray to clean cuts or wounds before you bandage it.
Cotton balls: Use these to clean up wounds or to apply medication.
Digital thermometer: Pet thermometers are especially helpful when you're unsure if the hot sun is affecting your pet. Practice taking your pet's temperature so you can get an accurate reading each time.
Disposable gloves: Gloves prevent you from coming into contact with blood and other hazardous things. They also help your dog by keeping your bacteria away from their wounds.
Extra collar and leash: Bringing backups are useful for when your dog accidentally breaks their leash or collar.
Flashlights: A small flashlight comes in handy if an emergency happens at night or in a dark spot.
Gauze and self-adhering bandages: Keep sterilized gauzes and bandages on hand to cover a dog's wound.
Hydrogen peroxide: Hydrogen peroxide is also helpful to prevent infections. However, you should consult your vet to learn how to safely use it on your pup. They may also suggest alternatives depending on your dog.
Ice pack: A cold ice pack is helpful to soothe your dog's pain.
Pocket pet first aid manual: This is handy if you need to quickly look up something. It's especially useful if you don't have a cell signal to call or look up something on the internet.
Magnifying glass: Magnifying glasses are helpful when you're having trouble finding a splinter or other small object that's irritating your dog.
Saline eye solution: This is handy to clean out sand or other things in their eyes.
Scissors: Blunt scissors are helpful for cutting bandages and medical tape.
Soft muzzle: Your pup might feel overwhelmed and start to act out when they're in pain. A muzzle can help calm down your dog and protect you or the person treating your dog.
Styptic powder: This powder helps stop the bleeding for minor cuts and scratches. Styptic powder is typically used to stop bleeding when you're clipping nails, but can also be used for minor scratches or cuts. Get advice from your vet before using it on your dog.
Syringes: Use these to give your pup oral medicine or to clean out wounds.
Towels: Although you'll probably have lots of towels, an extra can't hurt. You can use it to wrap an ice pack before applying it to your dog's skin.
Tweezers: Use tweezers to remove small thorns, ticks, and anything else lodged into your pup's skin. You may need to take your dog to the vet if they're difficult to pull out.
---
3. Help Your Pup Stay Cool
Too much sun and heat can be harmful to your dog. When possible, plan your beach day in the early morning or late afternoon to avoid the times when the sun is highest in the sky. To protect their paws from the hot sand, put on some dog booties.
Bring umbrellas, tents, and a big beach blanket or towel to give your dog a comfy spot in the shade to rest. Encourage them to take a breather after they've spent some time under the sun. Bring along some cool, fresh water for your dog so they can stay hydrated.
Overheating
Get familiar with the signs of overheating for dogs so you can quickly take action. These signs include the following.
Fast panting
Disorientation
Bright blue or red gums
Rapid breathing
Collapsing
Convulsing
Vomiting
Diarrhea
Put your dog under the shade immediately if you notice that they're breathing heavier than normal or having trouble staying coordinated. Offer them cool water and try to bring their body temperature down with cool water. If your dog doesn't seem to improve or you aren't sure what to do, take them to a nearby vet.
You can lessen the chances of overheating by taking lots of water and shade breaks. Keep a close eye on them so that you can act right away if something seems off.
4. Protect Them From the Sun
Not only can dogs overheat, but they can also get sunburns. This is why keeping them out of direct sunlight as much as possible is important for their safety.
Dogs Most Susceptible to the Sun
Some dogs are more prone to sunburns than others because of the color of their skin and coats, the length of their fur, and their breed. The following types of dogs are especially sensitive to the sun.
Short-coated or hairless dogs
Dogs with light hair and/or skin
Dogs with pink noses
Brachycephalic (flat-faced) breeds
Dogs with thick coats can get sunburns as well on their nose, ears, and other areas. In extreme cases, some dogs can also get skin cancer. Pay extra attention to your pup if they fall under one of these categories.
Dog Sunscreen and Clothes
Apply dog-safe sunscreen on your dog before you hit the sand. You can find these in pet stores or online. If you have trouble finding it, you can get broad-spectrum sunscreen for babies and kids. Pick fragrance-free varieties and steer clear of zinc oxide. That ingredient is toxic for dogs if ingested.
Start by applying sunscreen on a small part of your dog's body to make sure they don't have a reaction. If all is well, apply liberally to their nose, ears, and areas with thinning or no fur. Avoid getting it in their eyes and watch your dog afterward to make sure they don't lick it off.
You can also get dog shirts with some ultraviolet protection factor (UPF) to add an additional layer of protection. Doggie goggles can protect their eyes like how sunglasses protect yours.
5. Teach Your Dogs How to Swim
Water safety is crucial for everyone, including your pup. Teaching your dog how to swim before a beach trip can make your outing much safer for them. You can rest a little easier knowing they can keep themselves afloat for a while. You'll have an idea of how much they can handle before they need a break. If you don't have a pool at home, you can also look online for local doggie swim classes.
Dog life jackets are great for all dogs regardless of their ability to swim. Vests can help your pooch if they get tired or caught in a wave. Some vests have handles so you can easily pull them out of the water if needed.
6. Keep a Close Eye on Your Pup in the Water
Stay close and watch your dog at all times when they're near the water. Big waves, rip tides, and rough water can scare your dog and put them in a dangerous situation. Keep an eye on jellyfish and other animals that can harm your pooch.
Make sure they don't drink seawater! Seawater can irritate your pup's tummy and can be fatal if they consume a lot. Bring plenty of fresh water and encourage them to drink that so they're not tempted to drink ocean water.
After you're done for the day, rinse them off with fresh water to get the saltwater off. Too much saltwater can irritate and dry out your dog's skin. Rinsing off at the beach can help keep your car clean. You can also wait until you get home if your dog is itching to leave.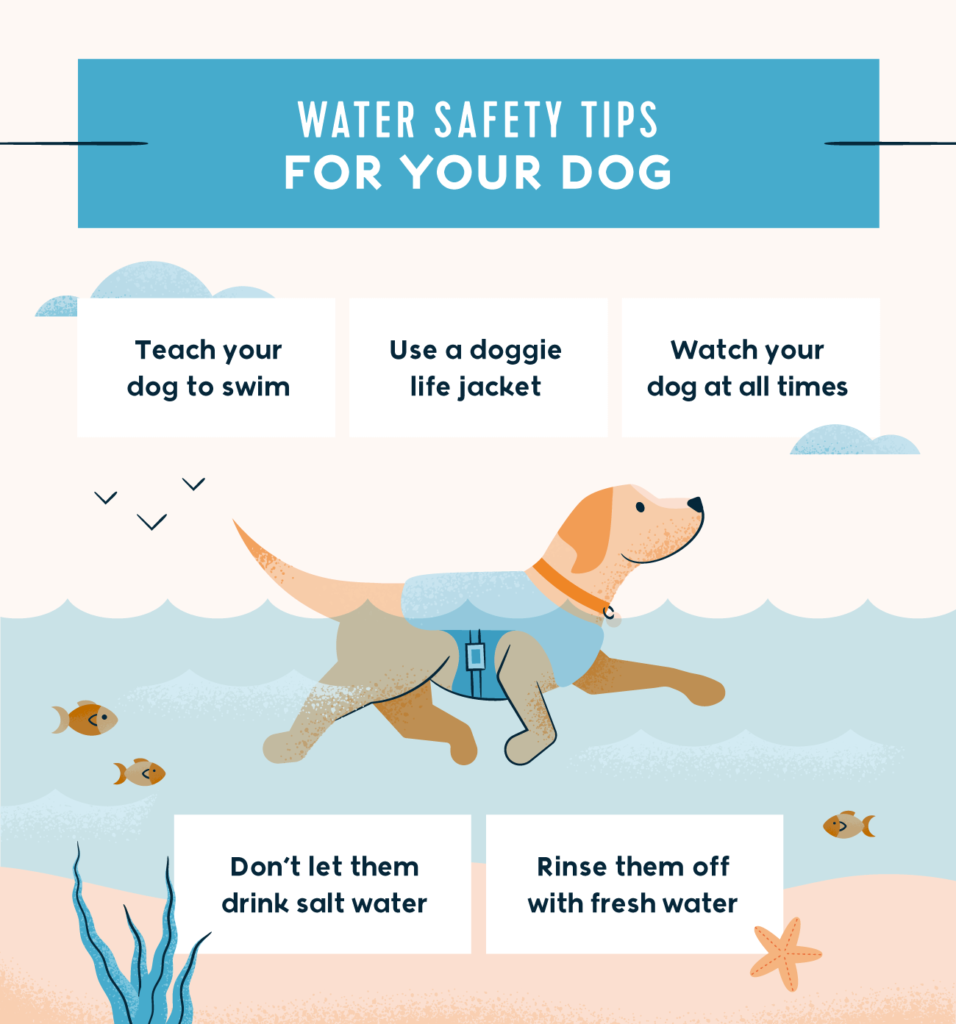 7. Familiarize Yourself with Local Laws and Beach Faux Pas
It's your responsibility to make sure you and your dog follow local rules and follow dog beach etiquette. Here are a few common laws you should get to know.
Leash laws: Leash laws differ between cities and beaches. A city may require you to put your dog on its leash the second you walk off the beach.
Pooper scooper laws: Most states will fine you if you don't pick up after your dog. Dog poop can also cause harm to the local environment and animals, as well as others trying to enjoy the beach!
Vaccination laws: Some states and cities have vaccine requirements for dogs. Double-check with your vet to confirm your pup is up to date. Check your beach's city or state requirements online if you're heading out of town.
Identification laws: You probably already have a collar and tags for your dog. Don't forget to put it back on if you like to take their collar off from time to time.
Sand dune laws: Although this isn't directly related to dogs, some beaches forbid walking on sand dunes. Keep an eye on your pup so they don't run off the path and accidentally ruin the dunes!
In addition to laws, there are a lot of unspoken dog beach rules you should follow.
Fill in holes your dog dug: Holes can be dangerous for people and other pups on the beach who can fall in. Holes are also dangerous for local wildlife like baby sea turtles.
Remove your dog if they're excessively barking or harassing others: Go to them right away and bring them home if needed.
Don't bring aggressive dogs to the beach: Aggressive pups, unfortunately, pose a risk to those around them. Work with your vet and a professional behavior expert to help your dog before bringing them to the beach.
Keep a close eye on your dog: Supervise them at all times to ensure they don't get themselves into trouble!
Be confident with your recall command: Your dog should be trained well on the recall command before you go to the beach. Bring treats and keep them on hand during your trip.
Don't bring your dog if she's in heat: Your pooch will attract male dogs when she's in heat. This could result in an unwanted pregnancy if the other dog isn't neutered or cause other male dogs to fight.
Leave your puppy at home: Having a new, young pup is exciting! Unfortunately, they're more likely to get sick or hurt at the beach since they don't have all their vaccinations. Wait until they're a little older and trained so that you both can enjoy a doggie beach day to the fullest!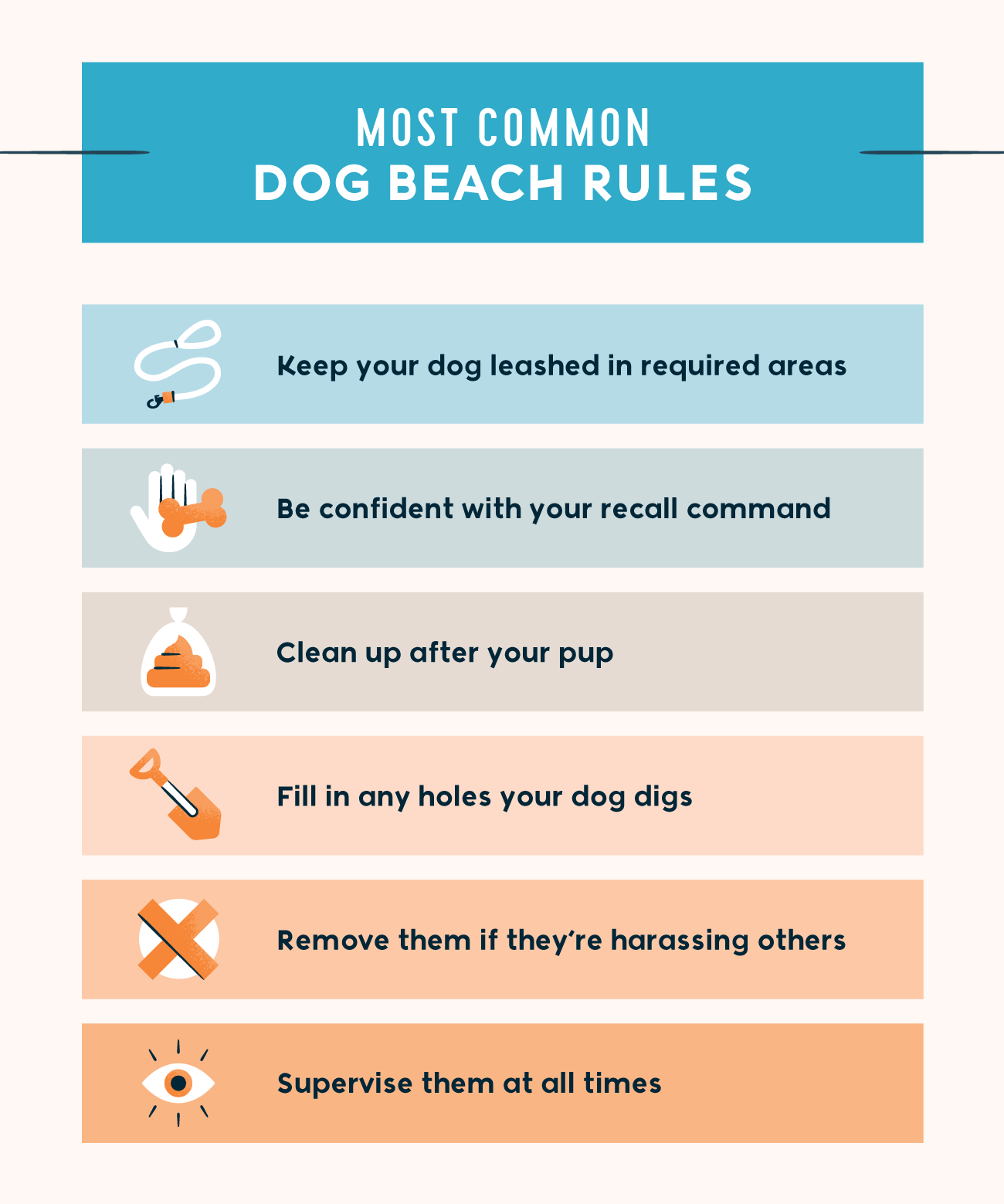 Florida Panhandle Dog-Friendly Beaches
There are lots of dog-friendly beaches in the Florida Panhandle! Cape San Blas/Port St. Joe and Pensacola Beach are a couple of places that are dog friendly. Below, we listed a few popular beaches and beach parks that you can check out on your next trip.
Beach Name
Beach Location
Leashes?
Things to Know
Carrabelle Beach
1859 Hwy 98 W, Carrabelle, FL, 32322
Required at all times
Litter bags provided
Cape Palms Park
6081 Cape San Blas Rd., Port St Joe, FL 32456
Required at all times
Dogs are only allowed on the coastline outside of the state park
Bayview Dog Beach
2001 E Lloyd St., Pensacola, FL 32503
Required in specific areas
Fully-fenced
Water bowls for freshwater
Showers for dogs and people
Clean-up stations available
Dog Beach
16230 Front Beach Rd., Panama City Beach, FL 32413
Required at all times
Three dogs per visitor
Pensacola Beach Dog Park
Fort Pickens Rd., Gulf Breeze, FL 32561
Required at all times
On-site plastic bags and receptacles
Come early in the day to avoid crowds
Perdido Key River Road Park
14484 River Road, Perdido Key, FL 32507
Not required
Fenced in areas for small and large dogs
Salinas Park Gulfside
280 Cape San Blas Rd., Port Saint Joe, FL 32456
Required at all times
Dogs are only allowed on the coastline outside of the state park