Instead of watching our loved ones say, "I do," last year, we saw the pandemic say, "I object" to many spouses-to-be.
The Center for Disease Control (CDC) advises against large events as risk increases depending on the size of the gathering, where people are coming from, and how easy it is for people to social distance. Unfortunately, most traditional weddings carry a high risk.
Although many couples have tried to minimize safety risks by having smaller gatherings, intimate events still carry some risk. A Healthline report explains how a small 62-person wedding in Maine was linked to at least 170 COVID-19 cases at the time of writing.
Deciding to attend any wedding during the pandemic comes down to your personal risk level and comfort. This risk increases if you have to travel long distances to get there. Since many couples have postponed their weddings to next year, we surveyed 3,000 total Americans to see if people were still planning to make the trip and what precautions would make them feel safest.
Key Takeaways:
57 percent wouldn't fly for a wedding under any circumstances
21 percent would fly for a wedding if a family member was getting married
22 percent said their fear would be eased if there were mask requirements for guests
15 percent feel safest with a small guest list at weddings
More Than Half Wouldn't Fly For a Wedding Under Any Circumstances
We wanted to see how different roles affected a person's decision to fly for a wedding. We learned that more than half wouldn't fly under any circumstances. Friendship, family ties, and even a role in the wedding aren't enough to convince most people to fly.
A study by wedding technology company Joy found that 65 percent of couples plan to incorporate a live stream for their weddings. This is a solution for guests who don't feel comfortable traveling during the pandemic. The company also found that 73 percent plan to hold their weddings locally instead rather than travel.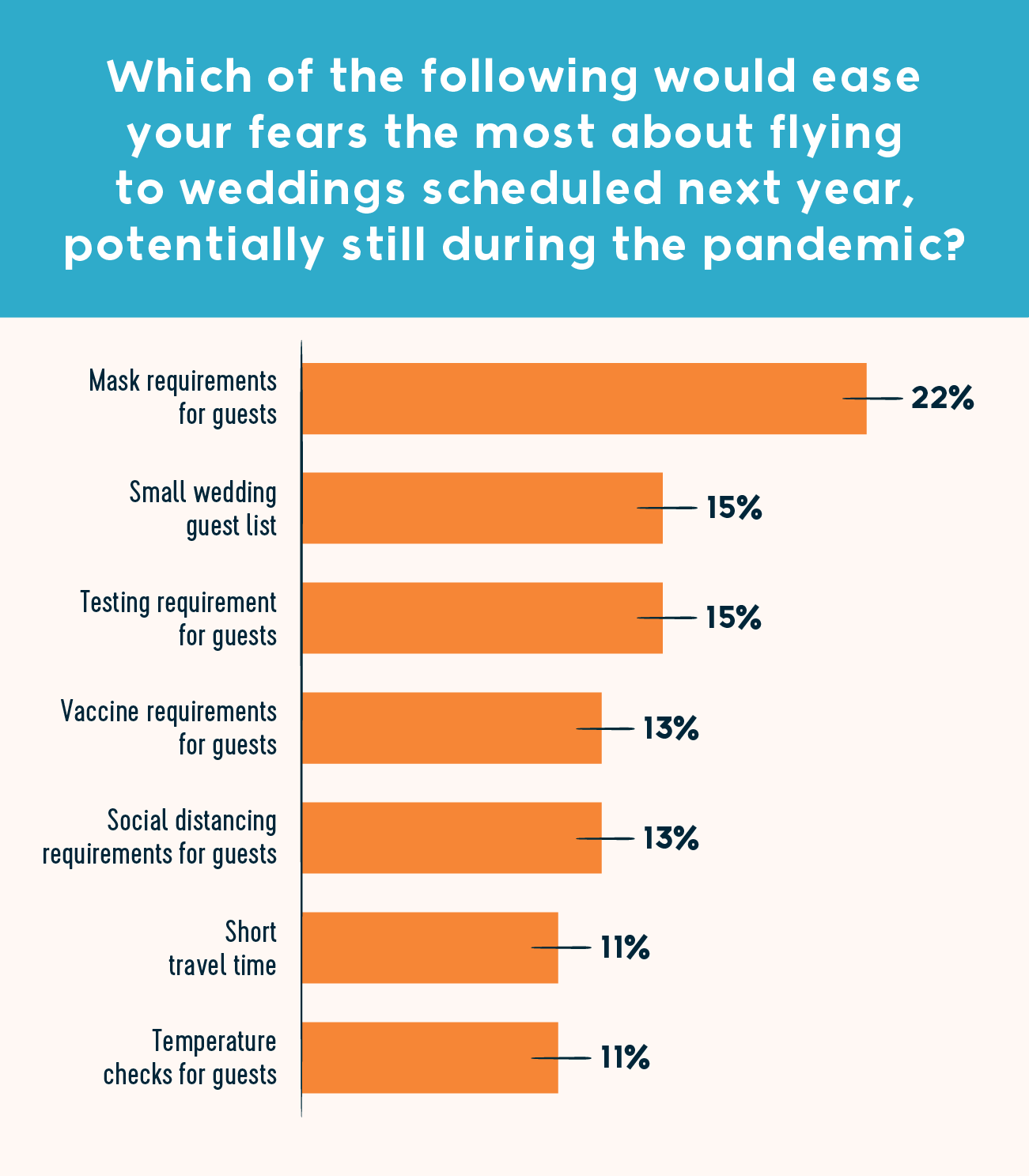 When Given a Choice, Family Comes First
Although the majority wouldn't fly, there were still a few who would make an exception. We found that more than one in five would make the trip for a family member's wedding.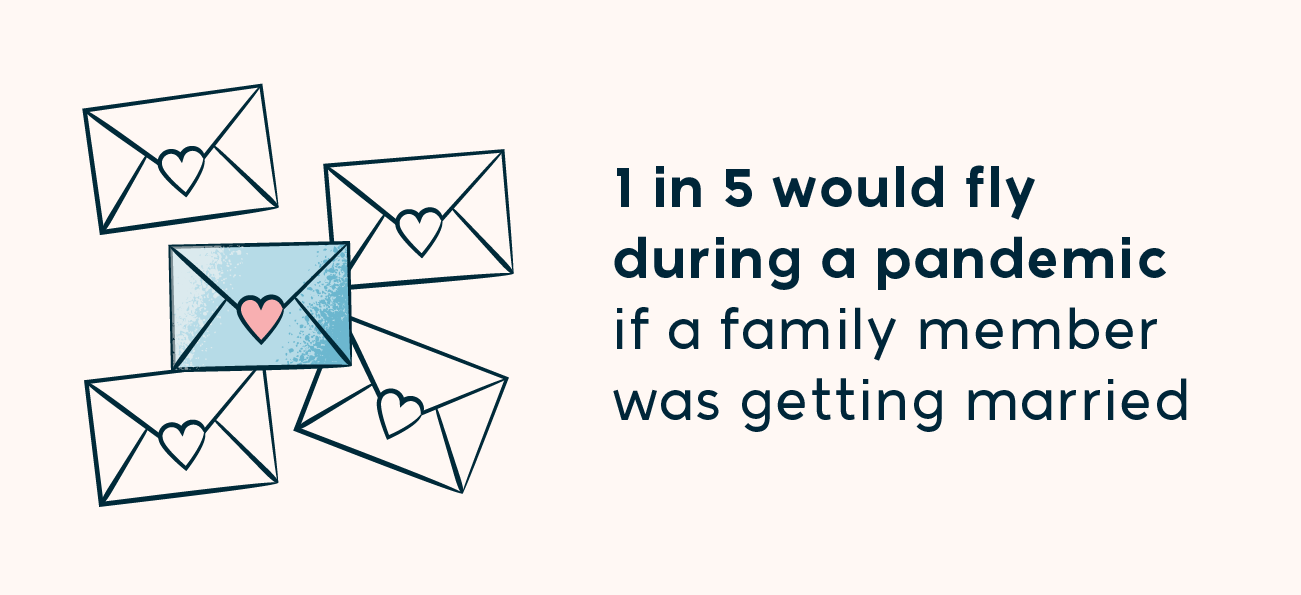 Mask Requirements Would Ease Fear the Most for Wedding Guests
It's clear that many still would not fly at this time. We wanted to see what safety precautions could convince people to fly for weddings next year since the pandemic's end still isn't clear.
We found that more than one in five feel safest with mask requirements for guests at the wedding. This is in line with our recent transportation survey where mask requirements were also a top safety precaution compared to others. Despite this common preference for masks, couples are considering many types of safety precautions for their big day.
A joint study by The Knot, WeddingWire, Bodas.net, and Hitched revealed that 94 percent of couples were taking safety precautions for their wedding like providing hand sanitizer and masks for guests and adjusting seating arrangements to comply with social distancing.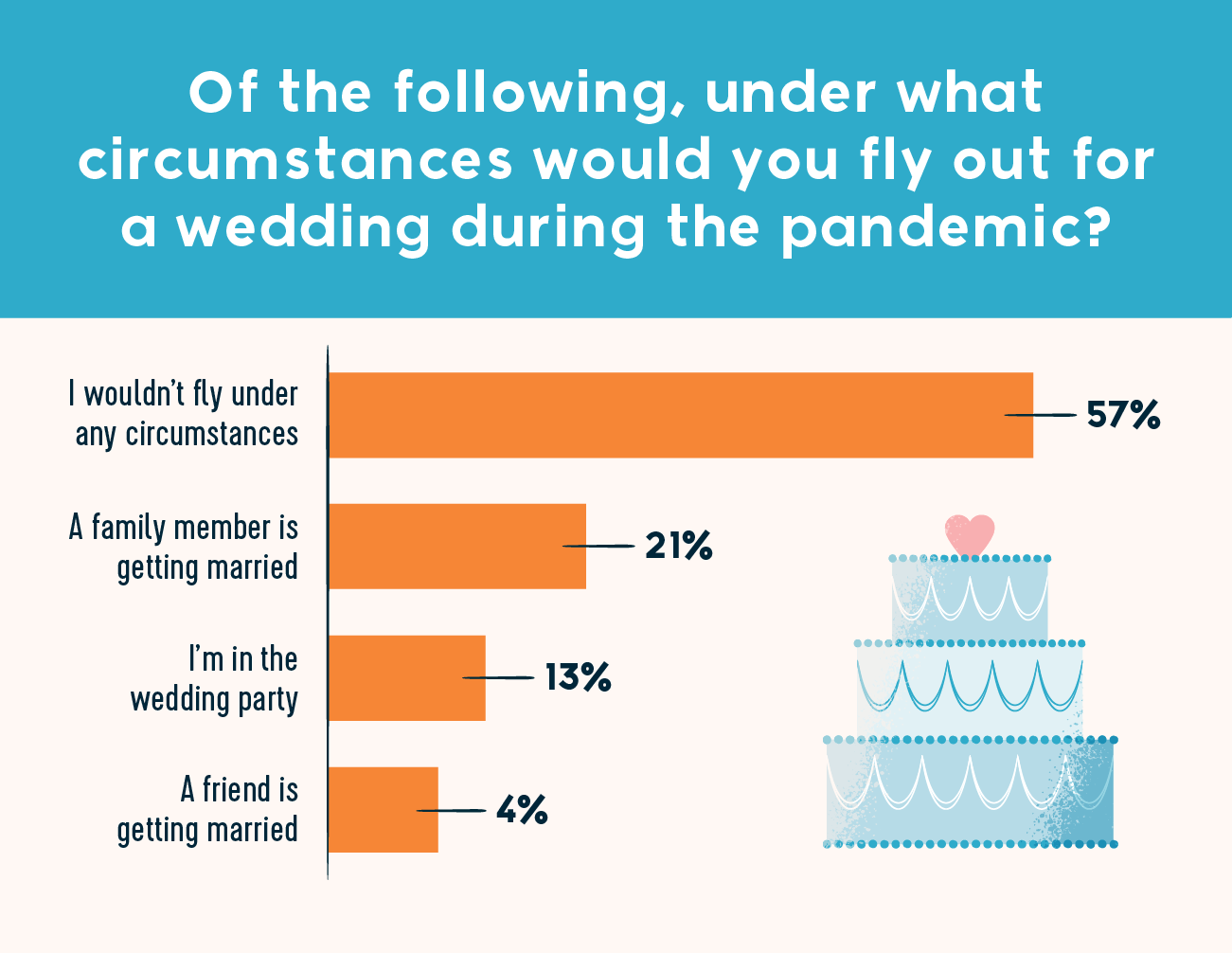 Small Ceremonies are The Next Most Popular Safety Precaution
Small guest lists were the next popular safety precaution choice. This could be related to the rising popularity of elopements and other small wedding ceremonies. NBC, The Financial Times, and The Atlantic all explain that small gatherings are appealing since they're generally safer and cost less than large weddings.
Saving money from a big ceremony could make a difference for many who've been financially impacted by the pandemic, especially since weddings are notoriously expensive. A Credit Karma survey found that one in five Americans have gone into debt to plan or attend a wedding.
If you're looking for a place to hold a beach elopement or honeymoon when you feel safe, consider a trip to a quiet beach town like Cape San Blas. Smaller towns can be a better choice if you want something intimate and beautiful for your special day.
Methodology
This study was conducted for FloridaPanhandle.com using Google Surveys. The sample consisted of no fewer than 3,000 completed responses (1,500 per question). Post-stratification weighting has been applied to ensure an accurate and reliable representation of the total population. Responses were collected in November 2020.
Disclaimer: FloridaPanhandle.com does not provide legal or medical advice. This post has been prepared for informational purposes only. All users are advised to check all applicable local, state, and federal laws and consult legal and medical counsel should questions arise.