COVID-19 ravaged the travel industry in 2020 resulting in a sharp decline in travel and an unfortunate loss in jobs.
An early survey from the International Air Transport Association (IATA) found that 58 percent of travelers have avoided air travel with 33 percent saying they will avoid travel in the future to reduce the risk of catching COVID-19.
As a result, mass transit operators have adopted new safety measures to keep travelers safe and alleviate infection fears. However, a recent Travelocity survey found that 60 percent of Americans won't be traveling to see friends and family this year for the holiday season. This means many may also opt to miss out on other big events like weddings and birthdays.
Since many Americans are still not traveling, we surveyed 3,000 Americans about travel safety precautions and what mode of transportation they considered the most safe.
Here are our key takeaways:
79 percent feel safest taking their car for a cross-country trip in the U.S.
Only 10 percent feel safe riding a plane for a cross-country trip in the U.S.
34 percent say masks, testing and other precautions wouldn't ease their fears about traveling long distances by plane, train or bus.
Only 7 percent say increased cleaning would ease their fears about traveling long distances by plane, train or bus.
Nearly 4 in 5 Feel Safest Taking Their Car for a Cross-Country Trip
We wanted to know how Americans preferred to travel a long distance since planes, trains, and buses would be more easily considered under normal circumstances. The majority of respondents preferred to travel by car. A total of 84 percent of our respondents felt safest taking either their car or a rental car. 79 percent felt safest taking their car for a cross-country trip.
Using your car may be more enticing since you know who's been in it and you can control cleanliness at all times. This level of control may be enough to convince most people to take their car despite the length of the trip. A trip from Los Angeles to New York City without stops and traffic is about 41 hours.
This clear preference for personal cars may also be why lots of people went on road trips this year. In a recent survey, Cooper Tires found that 44 percent of Americans drivers took more road trips this past summer due to COVID-19. They also found that 46 percent are relying on their cars and driving more than usual because of the pandemic.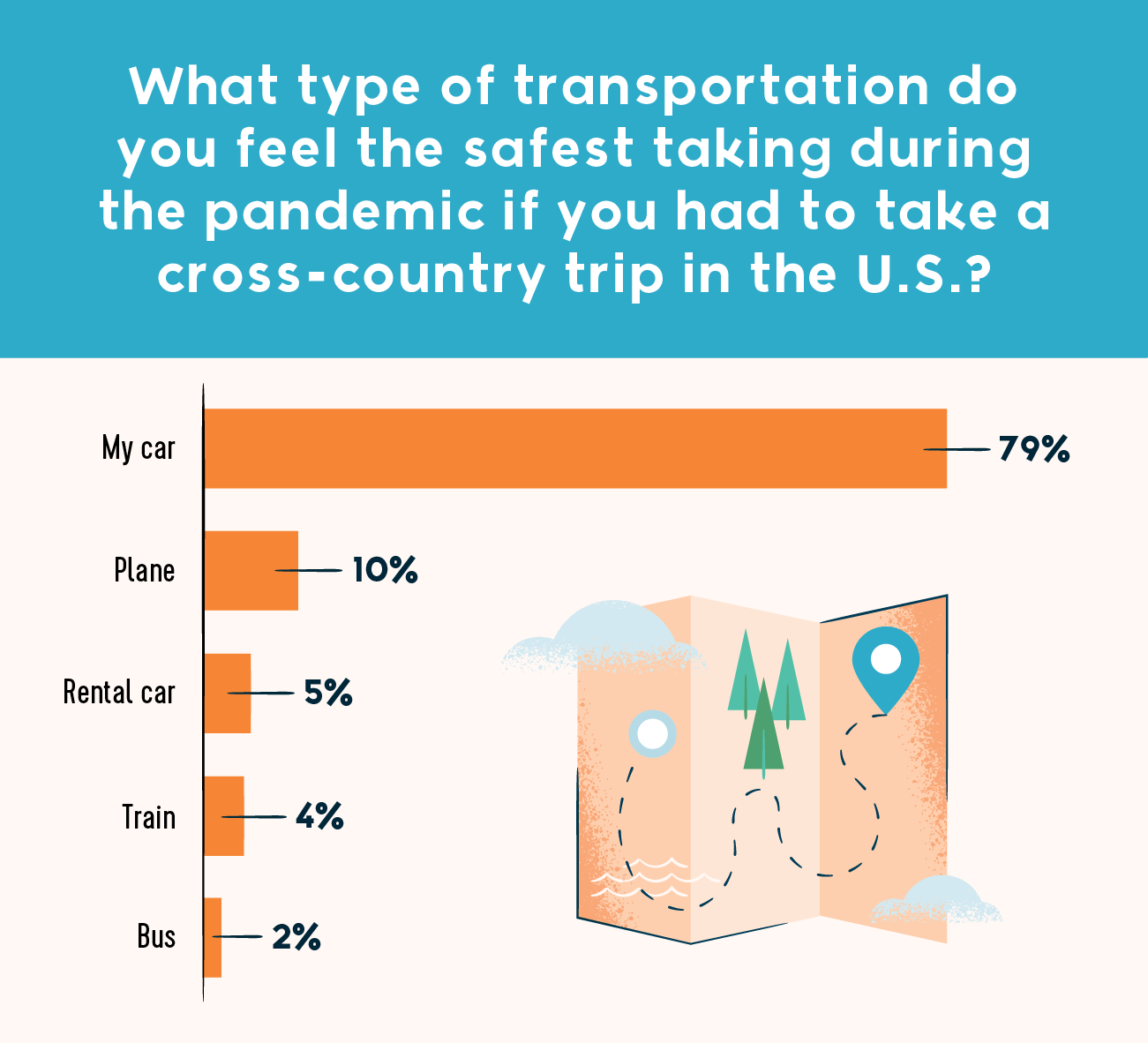 Only 1 in 10 Feel Safe Riding in a Plane for A Long Trip
After personal cars, planes were the next most popular mode of transportation for a cross-country trip. A nonstop flight is typically faster than taking a long train or bus ride. Shorter trips also mean less time in an enclosed space with others.
Plane trips may also be safer compared to multiple day road trips. On a flight, you do all your sleeping and eating on the plane. If you're on the road for more than one day, you have to spend at least one night sleeping in a car, tent, or at a hotel.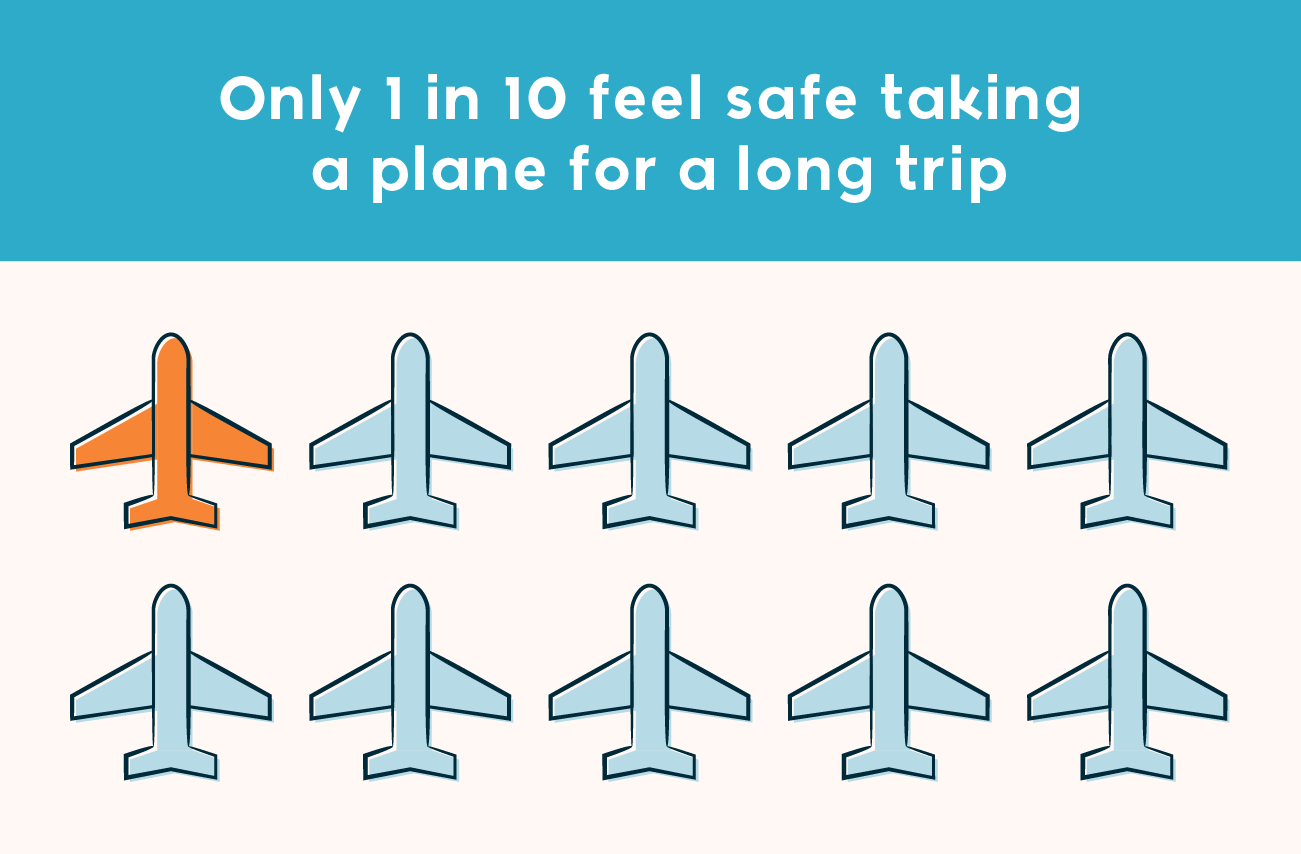 An airplane's design also has a few natural safety features that combat COVID-19. A recent study by the Department of Defense found that an airplane's high air exchange rates, downward ventilation design, and the use of HEPA filters greatly reduced contaminants in the air. The CDC also says that most viruses and germs don't easily spread on flights because of air circulation and filtration used on planes.
The International Air Transport Association (IATA) reported only 44 cases of COVID-19 since the start of 2020. However, there are much less people traveling due to the pandemic. Since March 1, the Transportation Security Administration (TSA) has kept a running list of travelers each day compared to the number of travelers from the previous year. Flight numbers are significantly down.
A look at Google Trends also shows us that interest in flights peaked on March 12 and had a smaller peak between June 5 and June 20. Other than that, not many have been interested in flights this year.
Masks, Tests, and Cleaning Wouldn't Lessen Mass Transit Fears
There are many safety precautions airlines, trains, and buses are taking to make travel safe like increased cleaning and reduced occupancy. We wanted to see what requirements would make Americans less afraid of taking these modes of transportation.
We included common precautions like mask and testing requirements. However, more than one in three said that none of these precautions would ease their fears. This could mean that other precautions not listed would make them feel safe or no precautions could make them feel safe.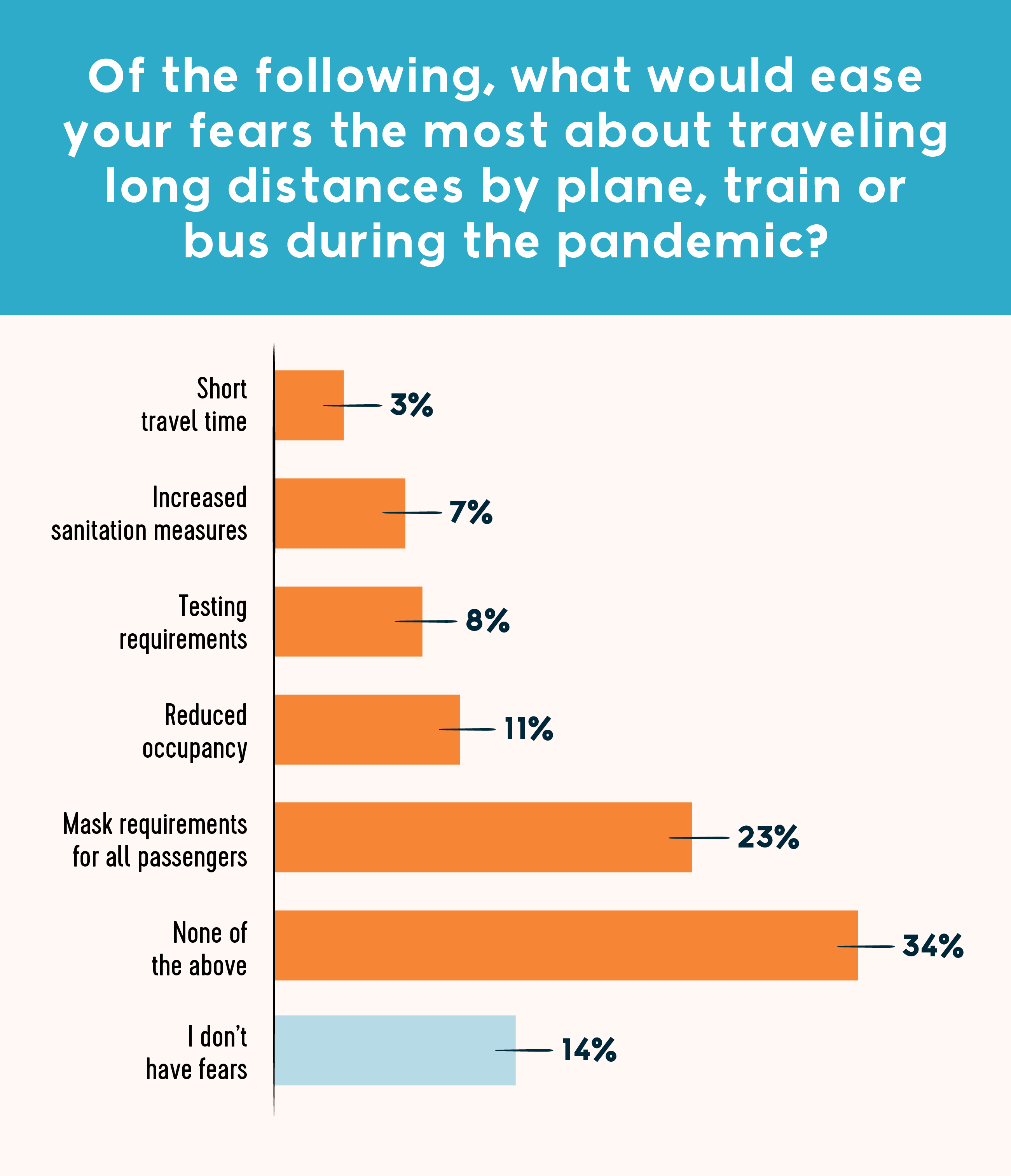 On the opposite end, about 14 percent said they had no fears about traveling via plane, train, or bus. Drilling down into gender, about 18 percent of men said they had no fears compared to 12 percent of women.
Mask Requirements is Highest on Traveler's Minds
Travelers favored face mask requirements the most compared to other precautions like testing and sanitation. About 23 percent said that mask requirements for all passengers would make them less fearful when traveling on mass transit. Face masks may help prevent COVID-19 carriers from spreading the virus to others and are believed to help slow the spread if it's widely used in public settings.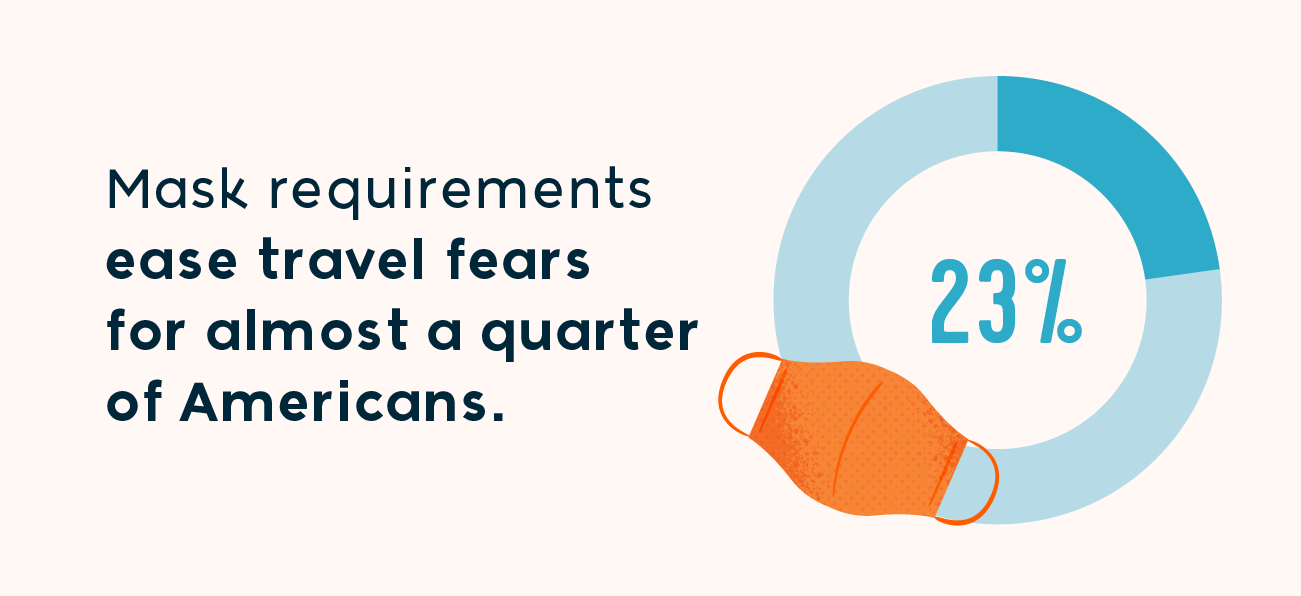 Increased Sanitation Doesn't Lessen Many Travelers' Concerns
Only 7 percent said increased sanitation would ease their fears about traveling on public transportation. Many businesses and households clean more often and have raised cleanliness standards since the beginning of the pandemic. Other precautions like mask and testing requirements were adopted later on in the U.S. and other countries.
Although sanitation and personal hygiene is important, contaminated surfaces are not the main way the virus spreads according to the CDC. Most people get COVID-19 during close contact with another person.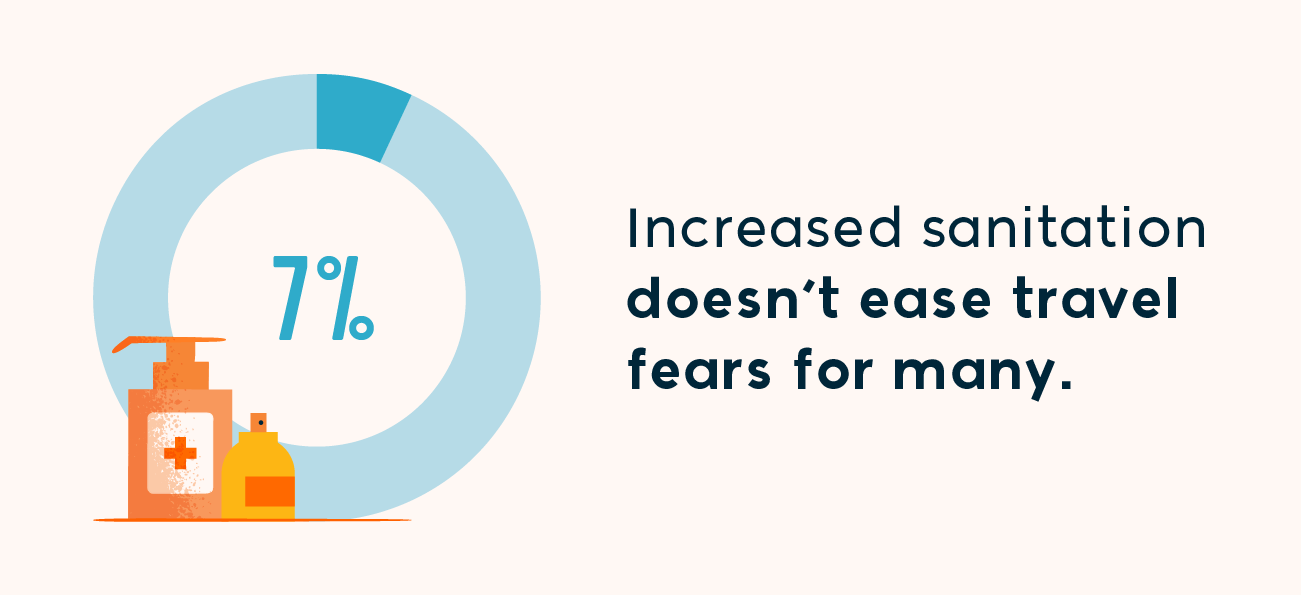 It's important to follow guidelines from the CDC to protect ourselves, our loved ones and our community during this global pandemic. Taking a long overdue vacation like a beach trip can be fun and safe at the same time as long as we practice social distancing, personal hygiene and sanitation, and regularly wear a mask while we're out. It's especially important to take necessary precautions while traveling, especially if you or someone you're traveling with has a medical condition that puts them at a higher risk level. Vaccines are another consideration for travel as they become more available. However, vaccine tourism and other methods of getting a vaccine may not be allowed. Check your local and destination requirements to learn more.
Methodology
This study was conducted for FloridaPanhandle.com using Google Surveys. The sample consisted of no fewer than 3,000 completed responses. Post-stratification weighting has been applied to ensure an accurate and reliable representation of the total population. Responses were collected in October 2020.
Disclaimer: FloridaPanhandle.com does not provide legal or medical advice. This post has been prepared for informational purposes only. All users are advised to check all applicable local, state, and federal laws and consult legal and medical counsel should questions arise.