If you want to try a unique vacation adventure this year, then learning how to catch shrimp in Florida might be the excursion for you!
This fun outing is perfect for all activity levels and is a great way to spend a day on the water. Whether it's summer or winter, Florida has some of the best beaches and springs in the world for recreational shrimping. With these tips and a bit of practice, even a beginner can bring home a massive haul in the right conditions!
Shrimping Regulations and Licenses
While planning your shrimping excursion, everyone on the trip needs to familiarize themselves with the rules and regulations set in place on shrimping in Florida.
Do You Need a License to Catch Shrimp in Florida?
Yes, for your big shrimping adventure you need a recreational fishing license. These licenses are given sparingly now due to overfishing concerns, so it is best to apply for one before the season begins.
To obtain a recreational fishing license to catch shrimp in Florida, you'll need to purchase a hard credit card style license for $5 to show that you are certified to be on shrimping if you are pulled over for any reason.
The card must be purchased in addition to your license and permits and will be shipped separately to you from the other documents. Make sure to give plenty of time so you can receive your license before your trip!
What are Shrimp Regulations in Florida?
Another important consideration is that each participant must follow the guidelines and regulations for each shrimping style. There are restrictions fishers need to obey whether they are catching shrimp with a trap, net, or bait. If these rules are not followed, then there is a risk of having property confiscated or losing your license in the future.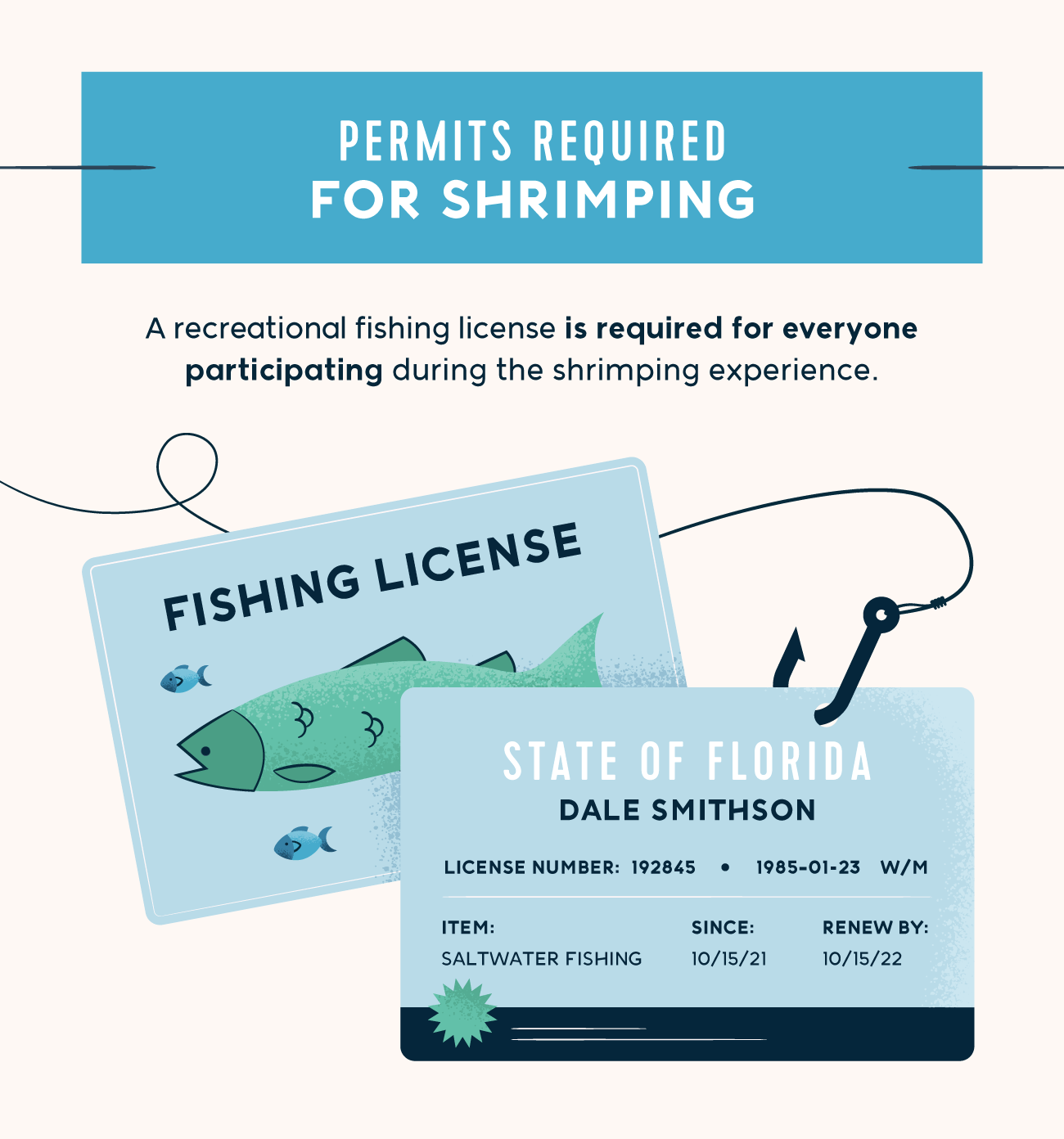 Best Shrimping Locations and Conditions
When planning to catch shrimp in Florida, it's essential to consider the location, conditions, and type of shrimp you want to catch.
What is Shrimp Season in Florida?
Shrimping season timelines vary depending on your location in Florida. On the east coast side of the state, the winter Florida shrimp season runs from October through June. On the west coast, shrimp run in July and August.
When Can You Catch Shrimp in Florida?
It is also important to consider whether you would like to go shrimping during the day or night. Many shrimpers choose to go at night when shrimp are more active. You can use a light to attract the shrimp to your net, bait, or trap in the evenings.
If you choose to go during the daytime, it can be slightly more difficult because shrimp tend to concentrate in deeper waters.
Tides are an essential factor when harvesting prawns. The best setting for a successful shrimping experience is low tide when the outgoing water pulls shrimp to marshy areas.
Tides change depending on the time of day, so it is important to check your local weather report to find the best time to catch shrimp in Florida.
Where to Catch Shrimp in Florida for the Best Results?
Another vital factor to consider is the type of shrimp you are looking to catch. You can harvest pink shrimp in clear waters in west-central and southeast Florida. Brown shrimp are found in murky waters in the northeast and northwest of Florida's white-sand beaches. White shrimp are also found around those same areas but in shallower and less salty waters than brown and pink shrimp.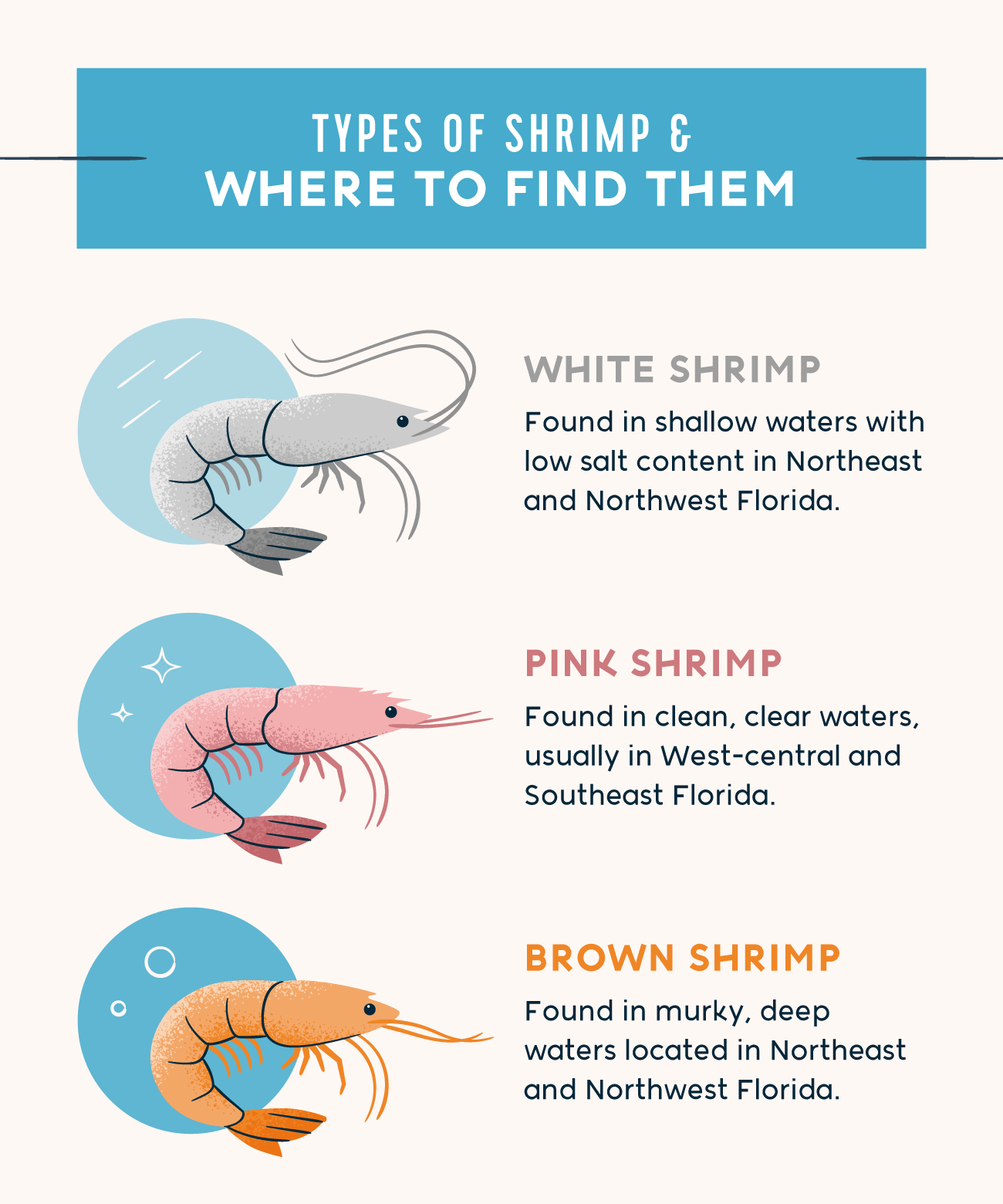 How to Catch Shrimp with a Trap
One of the most common ways to harvest shrimp is with a trap. A shrimp trap is a square wire cage with multiple entrances that point inward. The harvester leaves bait in the middle of the cage to attract the crustaceans. This design allows for shrimp to enter the trap but makes it impossible for them to navigate their way out. Afterward, the fisherman can retrieve the cage and recover the prawns inside.
Shrimp Trap Guidelines
It is important to always stay with your traps and marking them correctly to avoid loss or damage. Florida laws have strict rules about the size of traps to avoid over-shrimping.
Harvesters can use up to four shrimp traps. Each shrimp trap cannot exceed 3 feet long by 2 feet wide by 1 foot high.
It is prohibited to use external wings or other devices to funnel shrimp into the trap.
Harvesters must securely attach their name and address to each trap.
Buoys are not required but are recommended for preventing the loss of traps.
Shrimp traps on public property without the person whose name is secured on the trap are subject to confiscation by the commission.
Every state has different rules and regulations for capturing shrimp with a trap, and Florida is no exception. It is essential to follow these guidelines when using a trap to harvest shrimp in the Sunshine State.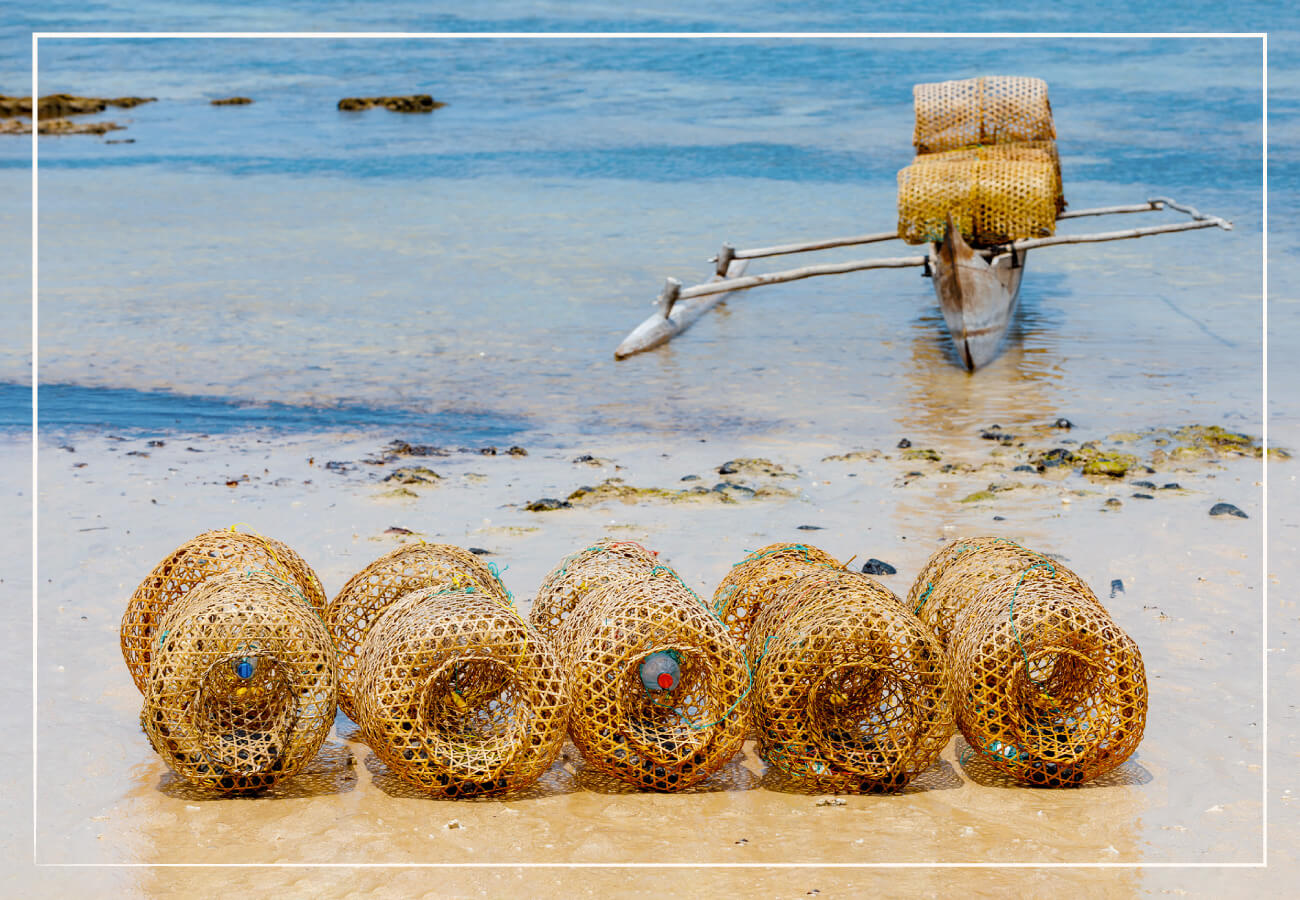 How to Catch Shrimp with a Net
Harvesters can use many different methods and types of nets when shrimping with a net. Push nets are drug along low tide creeks or close to shore with someone on each post. On the other hand, you can use a dip or landing net on boats or other structures to net shrimp visible in the upper water columns. Each net comes with its strengths and weaknesses as well as its own set of Florida shrimping protocols.
Shrimp Net Guidelines
Different types of nets can be used to catch shrimp, and each type comes with its own set of rules.
Landing or dip nets must have an opening less than 96 inches around the perimeter, and a cast net stretch length cannot exceed 14 feet in length.
Push nets, which fish by being pushed across the bottom by a person wading, are permitted during shrimping in Florida.
A beach and haul seine cannot have a mesh area that is larger than 500 square feet, have more than two inches of stretched mesh, or be made of monofilament.
One frame net with an opening smaller than sixteen feet is allowed as long as it's deployed from a vessel or structure other than an operational bridge, causeway, or catwalk attached to one of these overpasses.
When considering which net is best for you, it is crucial to consider the person's strength, location, the depth of the water, and the overall skills of the thrower.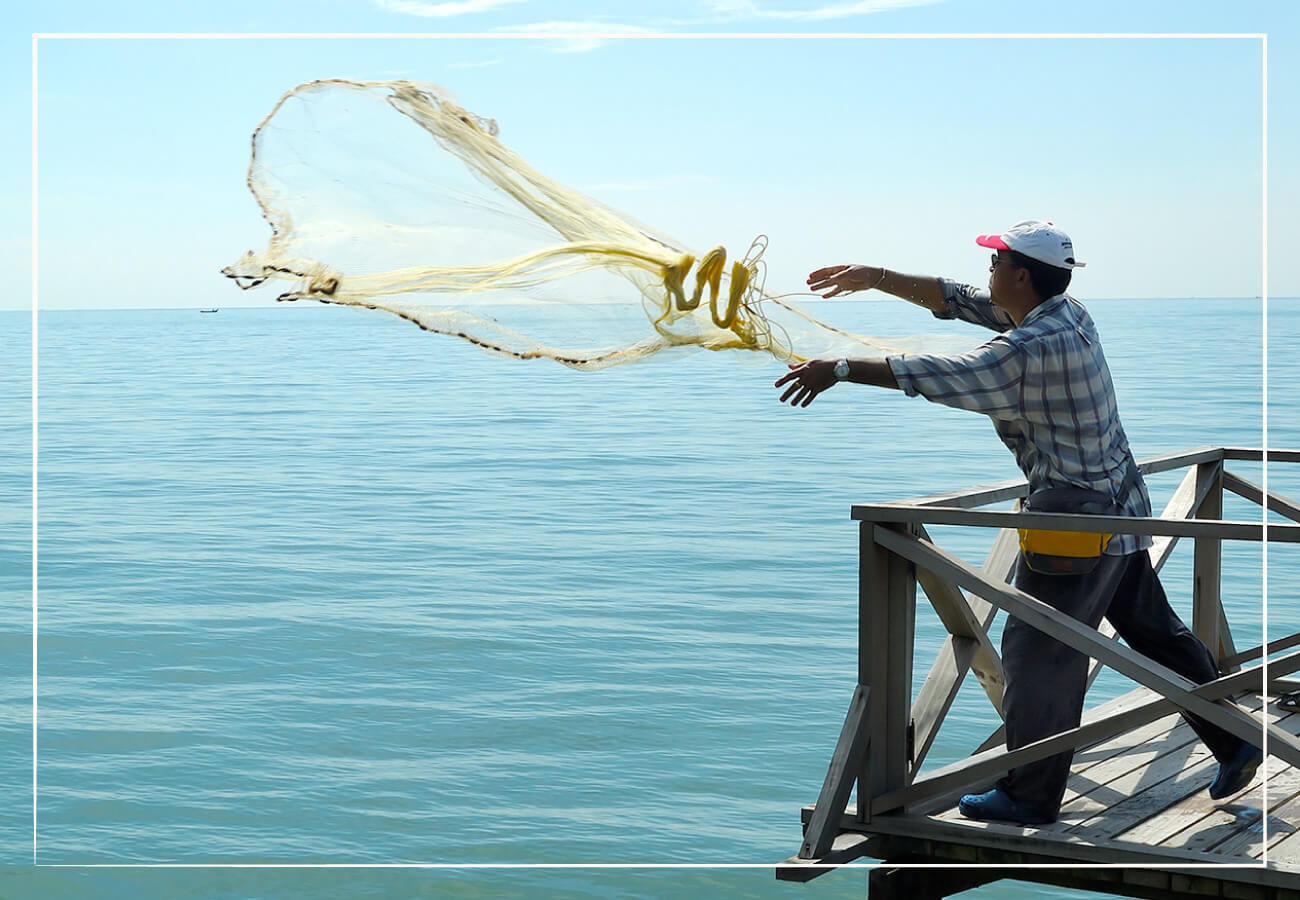 How to Catch Shrimp with Bait
Shrimp baiting gained immense popularity in the Southeast several decades ago and has continued to be one of the favorite ways to harvest prawns.
In this method, you'll first connect hockey puck-sized bait balls made of a binding agent and fish bait to sturdy poles secured in the water. Next, you'll cast your net in the area of the bate poles and pull the rope back in to close the net around your catch. Finally, you'll place any shrimp you catch in a cooler while you continue catching more.
Shrimp Bait Guidelines
Catching shrimp with bait is a favorite shrimping method for many Floridians but comes with its own set of guidelines.
Each pole may not exceed 5 inches in diameter, and no more than five poles can be set at the same time.
Poles cannot be set closer than 10 yards apart; the distance between the first and last pole needs to be less than 50 yards apart, and each bar needs to be secured into the bottom.
Poles can only be set, fished, and retrieved during daylight hours. This is the time beginning 30 minutes before sunrise and ending 30 minutes after sunset.
All poles must be set more than 50 yards away from any dock, pier, seawall, public boat landing or ramp, jetty, or bridge.
Each pole must be marked with white reflective tape.
Shrimp harvesters must be within 100 yards of the nearest pole at all times.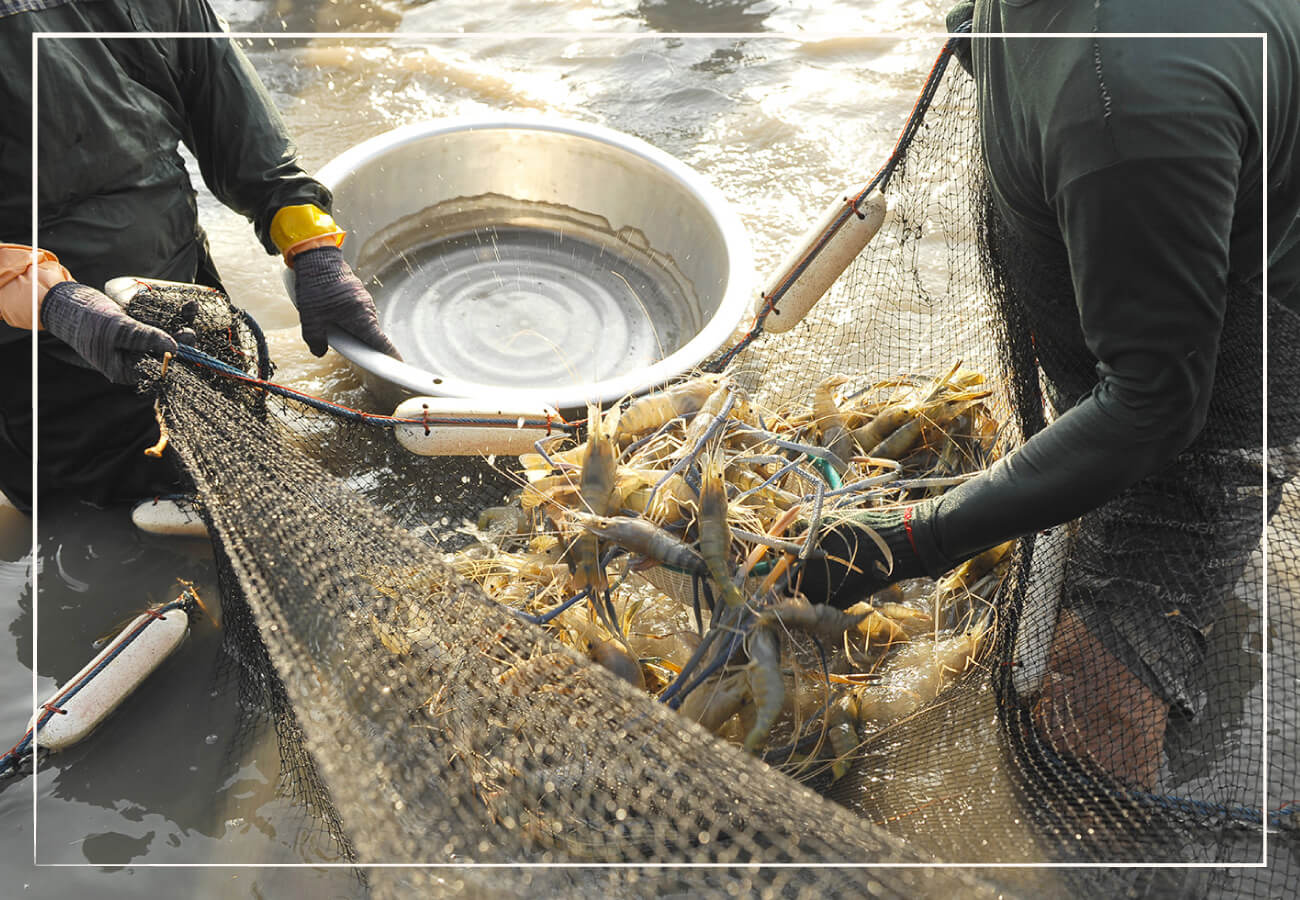 Like many hook and bait situations, using bait alone can lead to some disappointing fishing days, but using this method in conjunction with a cast net can lead to a surprisingly high shrimp yield.
If you visit the Florida Panhandle this summer, going shrimping could be a fun activity for the whole family! Whether you use bait, net, or trap, we hope our guide helps give you the tips and tricks you need to have a successful shrimp harvest.