Theme parks are in the business of delivering big fun across sprawling entertainment complexes around the globe. But such grandeur can be off-putting when the prices and crowds are similarly super-sized. If you're booking for the family, finding the right balance of price point and pure joy is crucial.
The global market for theme parks hit $54.9 billion last year, and the industry is worth $15 billion in the U.S. alone. And sure, it can be discouraging when a bucket-list venue like Disney World raises their entrance price twice in a year precisely because the crowds coming were so massive (or, as they put it, due to "incredible demand"). But on the other hand, the high entrance fees and revenues of theme parks reflect the massive investment and vision of the parks' owners — and the unparalleled experiences that can be found there.
To help you find the perfect blend of size, price and breathing space, FloridaPanhandle ranked hundreds of theme parks from around the world by size, crowdedness and admissions price.
What We Did
FloridaPanhandle analyzed and ranked 847 theme and amusement parks according to size, attendance and the average cost of an adult admission, using data from TheParkDatabase. We categorized theme parks within a resort complex as individual parks (e.g., Magic Kingdom and Animal Kingdom within Walt Disney World).
Key Findings
Adventuredome At Circus Circus in Las Vegas, Nevada, is the world's most crowded theme park, with 207.57 visitors per m2 per year.
Disneyland Park and Disney California Adventure Park, both in Anaheim, California, are the most expensive in the world, at $149 for an adult ticket.
The UK's Alton Towers in Staffordshire is the world's biggest theme park, at 2,226,000 m2.
Six Flags St. Louis in Eureka, Missouri, is the biggest in the U.S., at 2,011,288 m2.
U.S. Theme Parks Among World's Expensive — and Biggest
The amusement park as we know it today emerged from the pleasure gardens of Europe in the 17th and 18th centuries: landscaped grounds and flower gardens nested in big cities, serving music and art in a tone of genteel sophistication. In 18th century London, steep prices upwards of a shilling per person were designed to discourage "pickpockets and prostitutes" from the parks and ensure a respectable clientele. However, this presupposed the idea that London's wealthier adults would behave virtuously, which was hardly the case, and the London pleasure gardens soon became known in the public imagination as a place of "danger, debauchery and drunkenness."
Thankfully for the modern family, the debauchery and drunkenness were phased out as games and rides were drafted in — perhaps inspired by the first thrilling ice slides of 17th-century Russian pleasure gardens. However, as theme parks have evolved, so have the costs, making the modern amusement park a special treat that requires careful budgeting from the average family.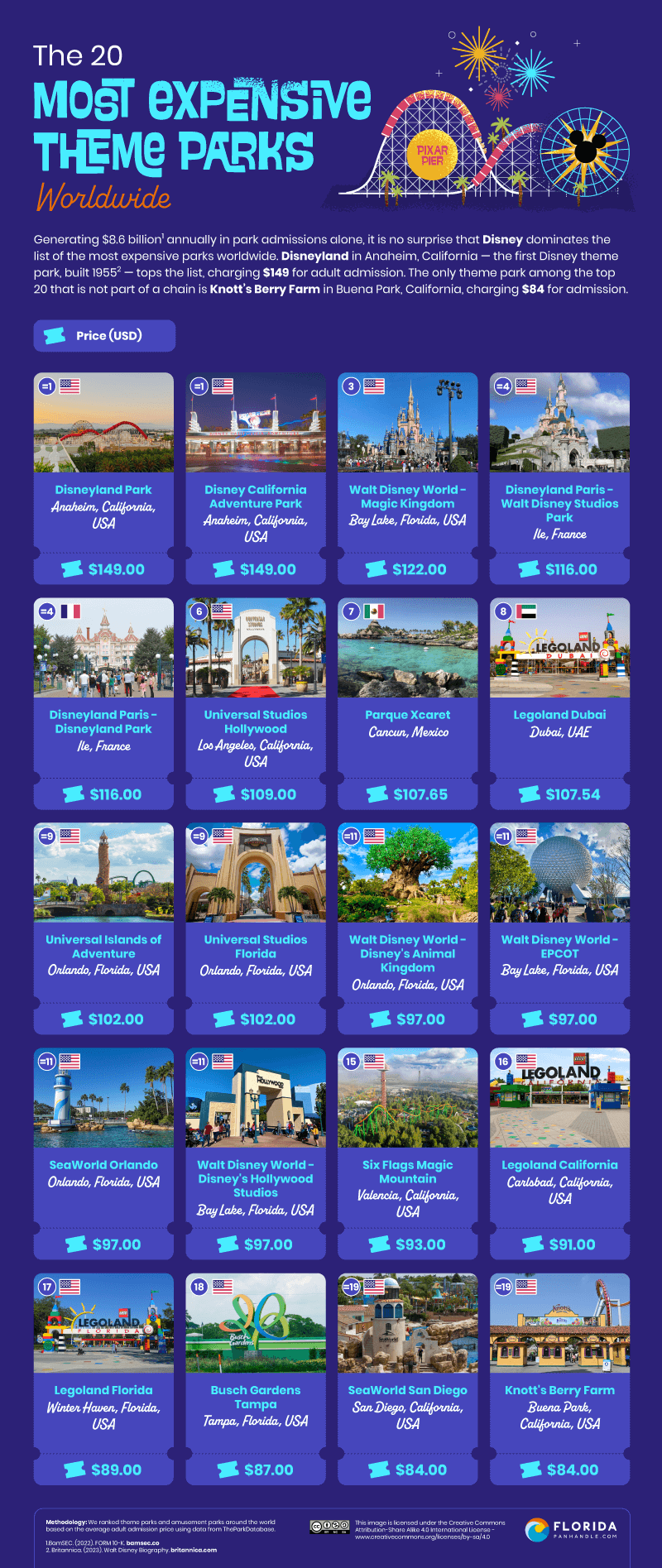 Click here to see the image in full size
Today, it is in the U.S. where you may be most likely to think twice about the price. Despite accounting for just 118 of the 847 parks in our study, the U.S. is home to 16 of the 20 most expensive. Disneyland Park and Disney California Adventure Park, both found in California's Disneyland, charge $149 per adult.
"Disneyland Resort is always planning the next new idea, attraction, and story," explained a Disneyland official following last year's price hike. "Our tiered ticketing structure offers guests different options to experience that magic throughout the year, including our lowest price point — which hasn't changed since 2019."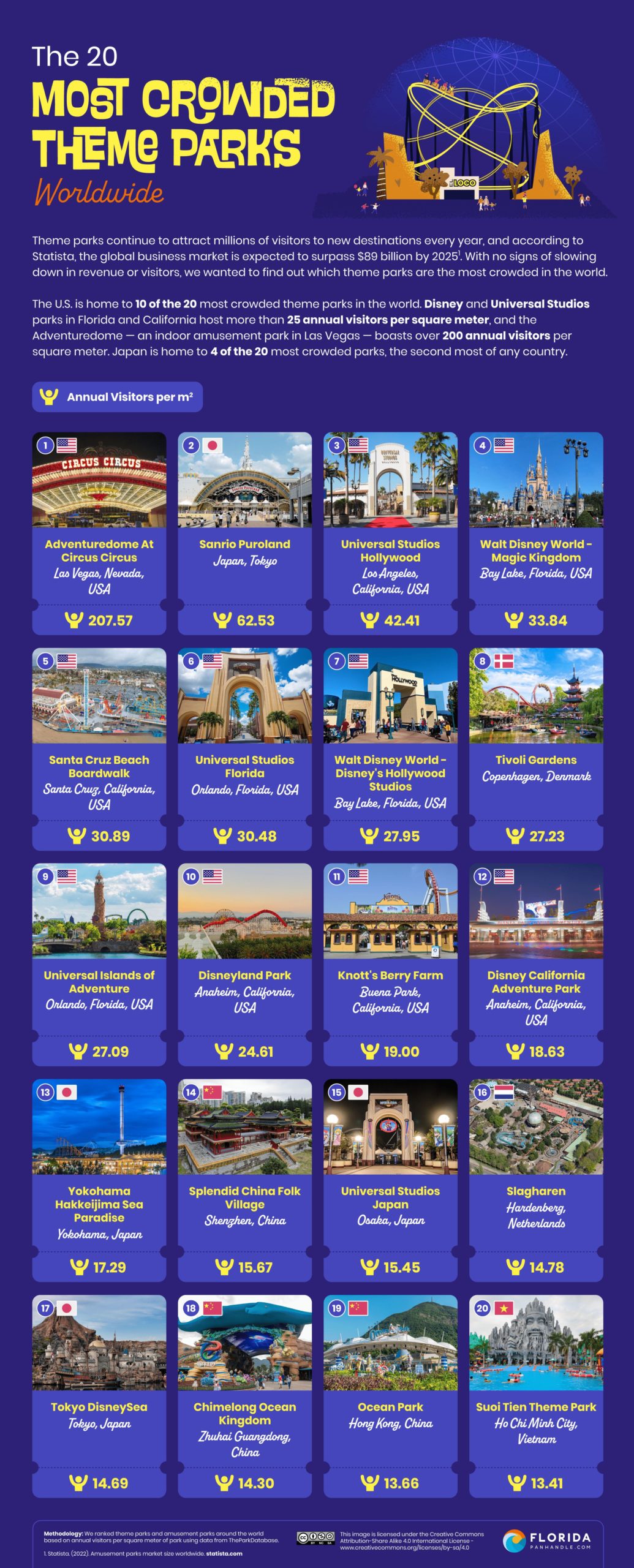 Click here to see the image in full size
Paying for entrance to one of Disneyland's parks in Anaheim will also ensure you have one of the world's top 20 most crowded theme park experiences. But there are nine places that welcome more visitors per square meter per year, led by the Adventuredome, a five-acre indoor amusement park in Las Vegas — which fits in more than three times the number of people per meter as second-placed Sanrio Puroland in Tokyo, Japan. Sanrio Puroland is the home of Hello Kitty and other cute characters — and if you want to maintain your personal space among these anthropomorphic legends, it is better to visit on a weekday.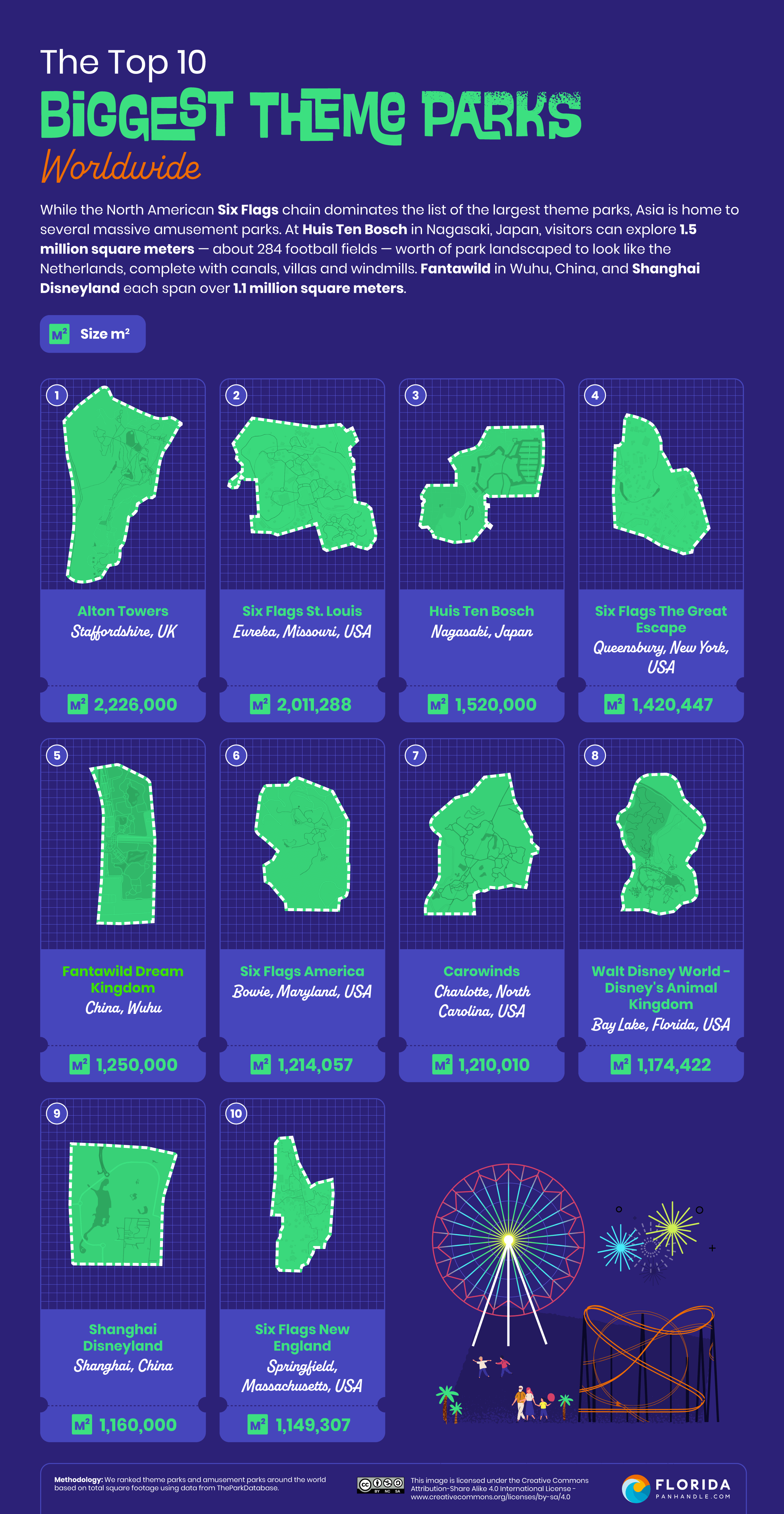 Click here to see the image in full size
For more room to stretch out, consider the legendary Alton Towers in Staffordshire, UK. At 2.23 km2, the theme park and resort — which was first opened to the public in 1860 and became a theme park in 1980 — is over 200,000 m2 bigger than the second-largest Six Flags St. Louis in the U.S. Plus, Alton Towers was identified as the UK's best value theme park in 2022, despite not being the cheapest. With so much to do, it can work out as little as 90 pence ($1.15) per ride, with advanced booking offering greater discounts.
Six Flags is Giant Among U.S. Theme Park Franchises
The pleasure garden flourished in the U.S. in the century or so leading up to the Civil War, and in many ways, it pre-empted the lively relationship between contemporary American identity and the modern theme park. The rise of the U.S. as a modernist powerhouse from the industrial era onwards coincides with the development of the theme park as a place where traditional pleasures and a quest for novelty live in constant tension — and a destination where American kids expect to be taken as a rite of passage. (And then, if they're lucky, a return trip.) By 2019, some 160 million people were attending the top 20 North American theme parks annually, over half of them visiting the Disney parks in Florida and California.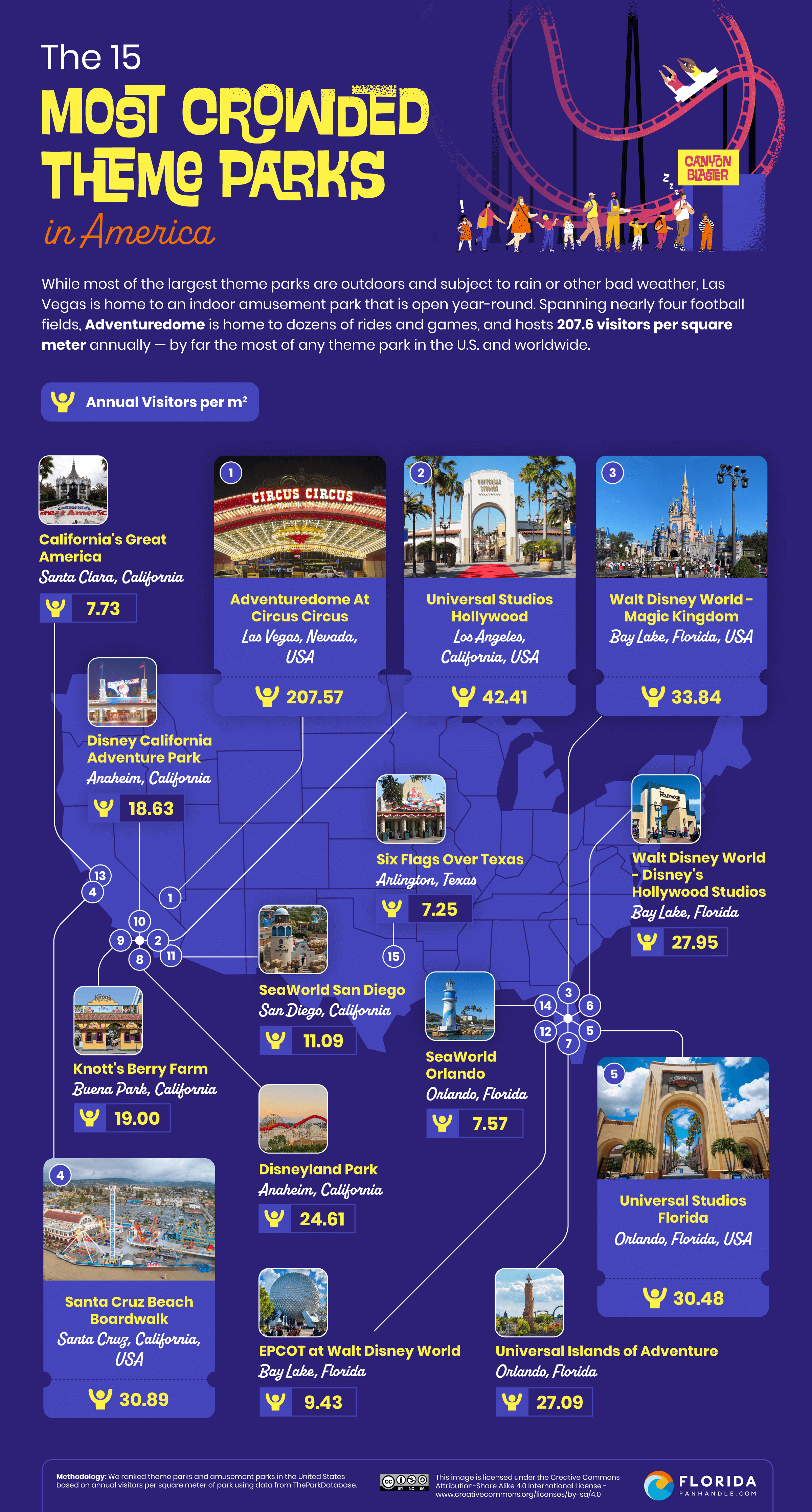 Click here to see the image in full size
Despite the masses of visitors making their way to Disney's parks, thanks to their scale, only one of the five most crowded theme parks in the U.S. is mouse-affiliated. Adventuredome At Circus Circus in Las Vegas and Universal Studios Hollywood both welcome more customers per square meter each year than Florida's Magic Kingdom.
Adventuredome is significantly more crowded than any other theme or amusement park in the world. However, the crowds fluctuate, and with the right timing, it needn't be a squash. "[L]ines can be long. If you want to avoid crowds go on a Monday or Sunday," reports one Tripadvisor reviewer, while others suggest the venue can be almost empty during Vegas's quieter months.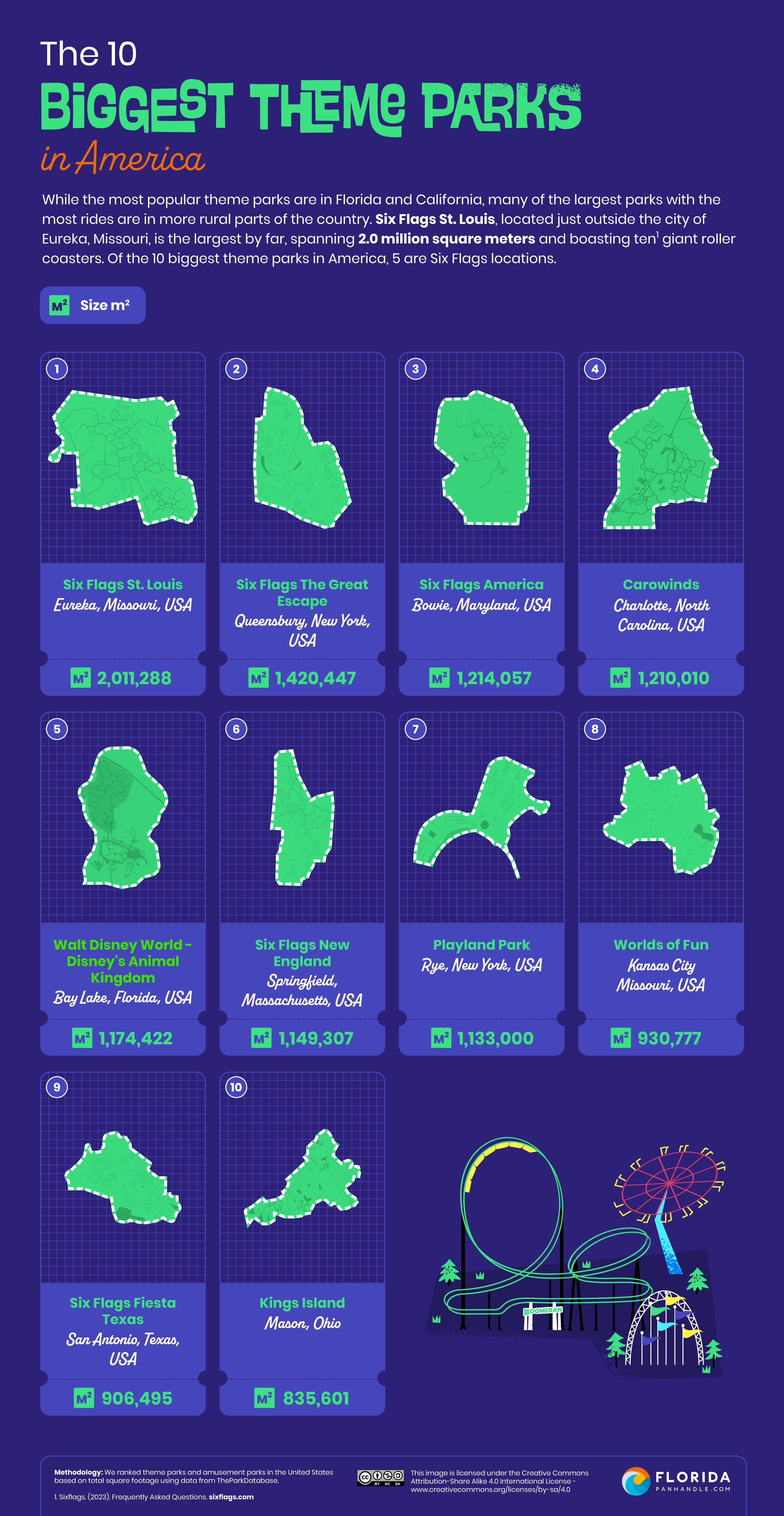 Click here to see the image in full size
Six Flags St. Louis in Eureka, Missouri, offers a sheer scale that is second only to Alton Towers in the world. The park features rides themed with Warner Bros. properties, including Looney Tunes and DC Comics.It is divided Westworld-style across themed zones, including the Old West, Arthurian-period Britain and the Bugs Bunny National Park. While Six Flags does not have the glamor or all-encompassing experience of the Disney parks, the franchise wins for size: Six Flags destinations make up the three biggest theme parks in the U.S., and the brand operates a stunning 27 theme and water parks across North America.
Theme Park + Sun = Smiles for Everyone
The modern theme park scratches many itches: offering thrills and laughs for young and old alike, connecting children (and grown-ups!) with their favorite screen icons and wrapping it all up within a single, manageable perimeter. Balance the competing tastes of your family members with the price and scale of the park, and you can keep everyone happy without overdoing the traveling. Pick the right part of the country to enjoy your theme park experience, and you'll enjoy perfect weather, too ☀️ 😉.
METHODOLOGY & SOURCES
To determine the biggest, most crowded and most expensive theme parks around the world, we reviewed data on size, attendance and admissions price from TheParkDatabase, a global registry of theme parks and amusement parks.
First we retrieved data for all 4,767 parks available on the website. Then, we filtered the universe only to include the 847 parks categorized as theme parks and amusement parks. We gathered data on park size, annual attendance, attendance per square meter and the average cost of an adult admission in USD.
We considered theme parks within a resort complex as individual parks (e.g., Magic Kingdom and Animal Kingdom within Walt Disney World).
The data is current as of August 2023.