Life's just beachy, don't you think? There are few better ways to spend a summer than camping on the seaside.
Think ocean breeze and salty sea mist, all from the comfort of a beachfront campsite with million-dollar views. Beach camping is likely to be a hit with any family since beaches are a popular vacation spot.
Whether it's your first or fifth time pitching a tent as a family, prepare your dream trip with the beach camping tips below. Then, use the collection of educational printables to keep the little ones entertained while mom and dad have a relaxing coastal vacation.
How to Plan a Family Beach Camping Trip
Camping may seem intimidating at first, but with a little bit of prep work and some practice, you'll be a seasoned vet in no time. These beach camping tips will help you feel ready to go when the ocean is calling your name.
As you plan for your vacation, ensure you're following local and state regulations. Choose a campsite in designated areas, such as a National Park Service camping location. You should also pick a family-friendly area so you 're in an area that's safe and fun for everyone in the family.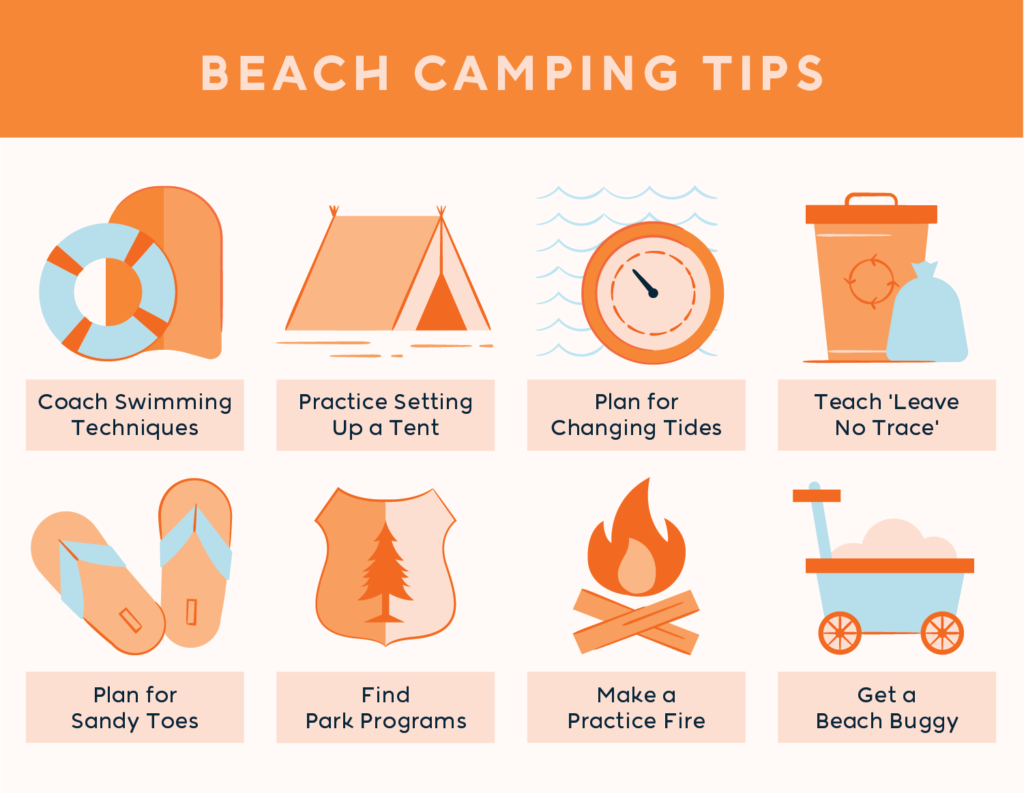 Coach ocean swimming techniques: Swimming in the ocean versus swimming in the pool is like graduating from high school and heading into college. The subtle differences between these waters are of the utmost importance, and children should be aware of the dangers that the ocean can pose. Teach your kids ocean-specific swimming safety and explain things like changing tides, rip currents, and safe swimming zones.
Practice tent setup: You may have more than one tent to set up when the whole family is tagging along. Practice pitching your tent in the backyard before your trip to avoid any snags in setting up your humble abode when you get to the beach.
Plan for changing tides: Finding the perfect campsite takes time. Make sure when doing your research you take into account the seasons and tides. Don't make the mistake of camping too close to tide lines that you get water in your tent the first night.
Teach 'leave no trace' and camp cleanup: Camp cleanup is just as important as the setup. Explain the 'leave no trace' mantra to promote conserving ocean wildlife. Make sure they understand that anything you bring in to camp, you also bring out.
Plan for sandy toes: Getting dirty is a part of camping. Set up a hand and feet-washing station with a small bucket of soapy water. If you want to leave the outdoors outside as much as possible, bring a camp rug to set outside of the tent for a quick wipe down before entering.
Find junior ranger park programs: National and state parks are a huge perk of camping trips. You can't beat the educational aspect of learning about a specific region and geography, plants, and animals unique to the area. Find junior ranger programs and other park activities for your littles to take part in while on your trip. You should also double-check pet rules if you plan to bring your dog on this beach trip.
Make a practice fire: Campfires are a crowd favorite. Practice creating a roaring fire in the comfort of your backyard before lighting a match at the campsite. Talk to your kids about the fire danger levels, and when you can and cannot build a fire while camping. Always be sure to check local regulations for required permits needed for a beach campfire.
Get a beach buggy: A good beach camping trip is equipped with a tent that opens up to the coastline. The unfortunate part of that million-dollar view is the proximity to your vehicle. Consider bringing a beach buggy to easily carry supplies (and kids) to the camping spot of your choice.
Beach Camping Bingo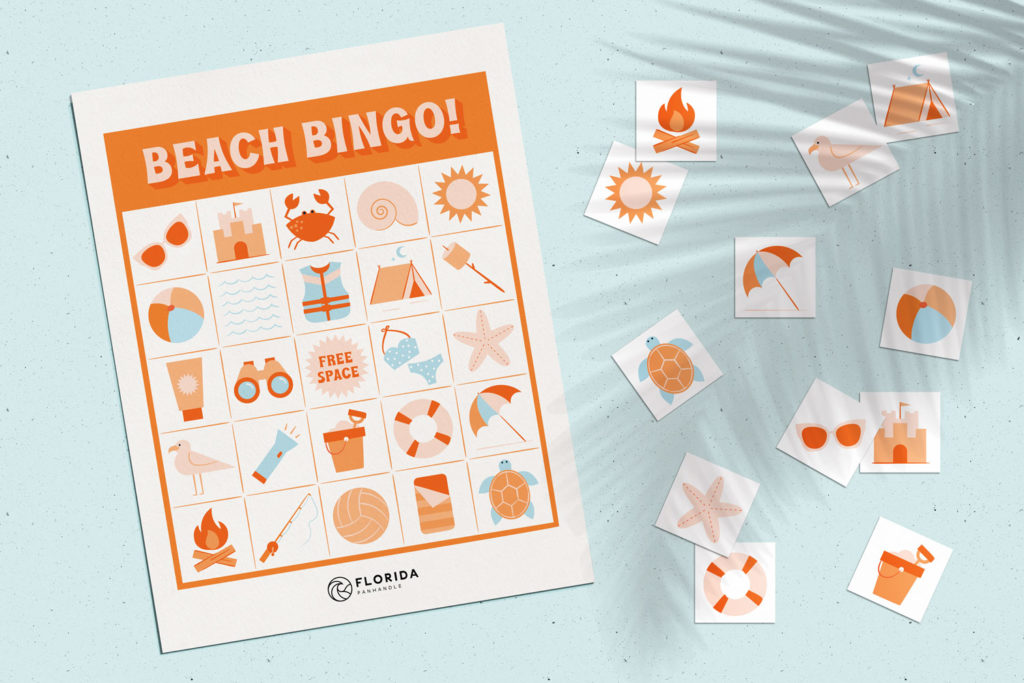 Grab your beach chair and pull up around the fire for a fun game of bingo the whole family can enjoy. This camping-themed beach bingo is the perfect mix of smoky and sandy to get everyone in the mood for nights gazing up at the stars and listening to the cool ocean waves.

Animal Texture Matching Game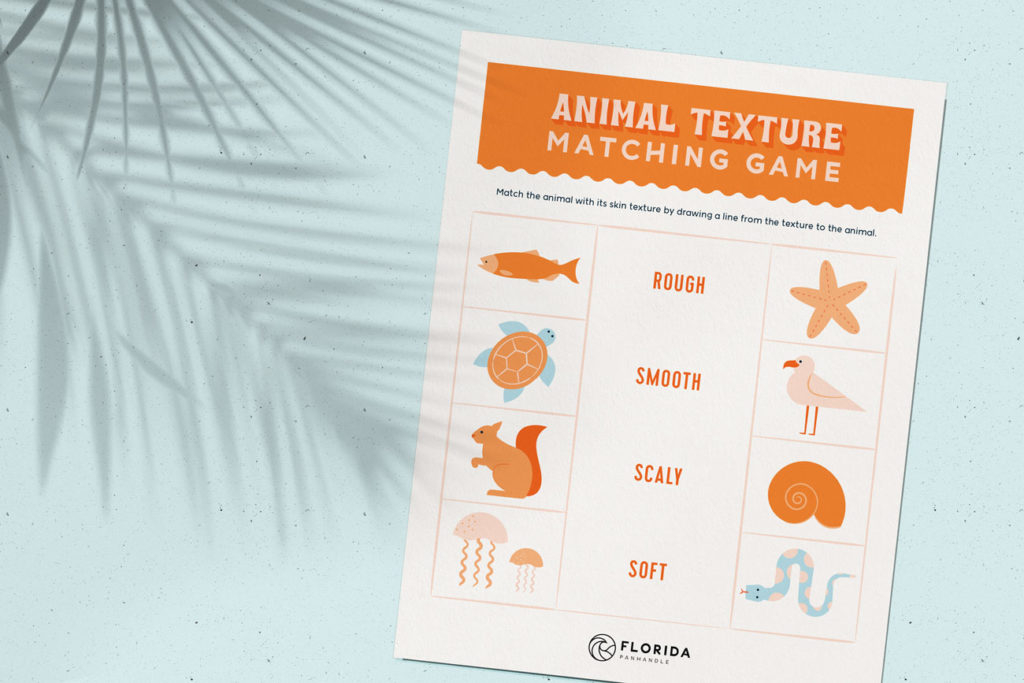 For your littlest ones, this animal texture matching game is the perfect way to educate them on different types of skin, scales, and fur. Try and point out any creatures you see while you're camping so your kids have a visual of the animal in question.

Common Beach Critters Word Search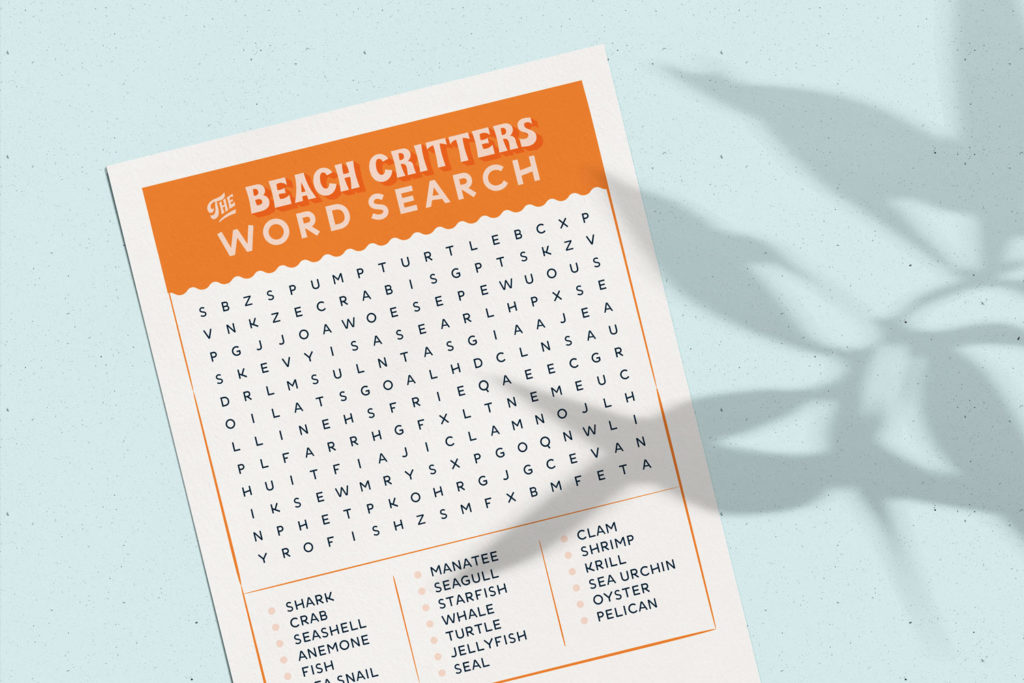 There's no shortage of little critters hiding on the beach. From sand to sea, your kids will have a blast finding these twenty hidden words. Help teach them about how these different specimens eat. From vegetarians to photosynthesis, each one sustains itself in a unique way that your kids will love learning about.

I Spy in the Florida Panhandle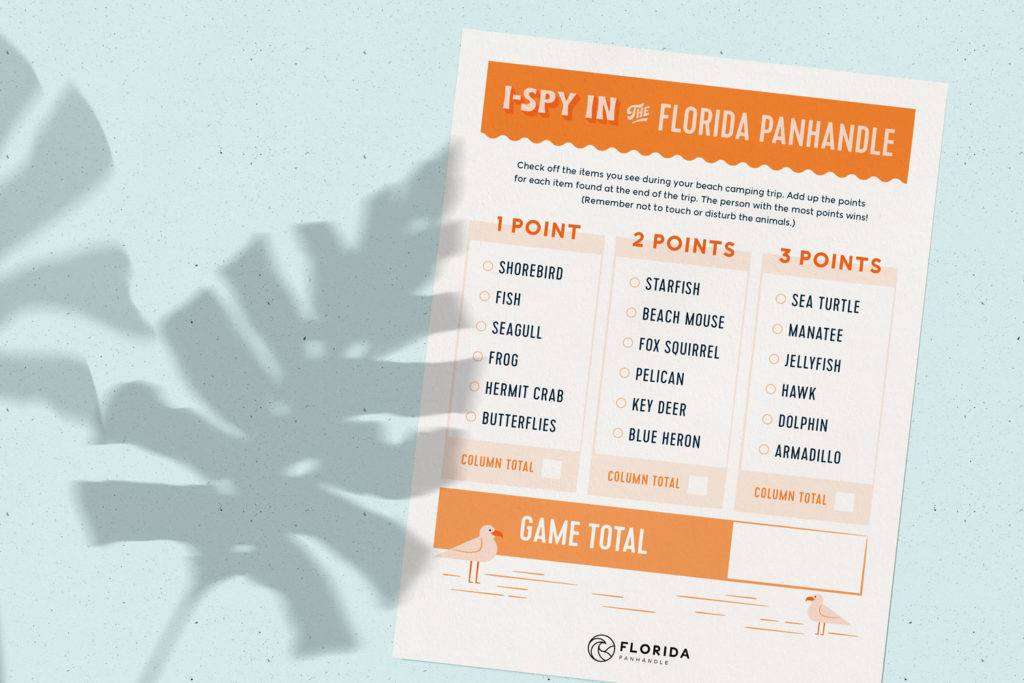 I spy with my little eye, creatures you'll only find in the Florida Panhandle. Print this fun I spy game for everyone in the family to play throughout the trip. Don't worry, there are no alligators your little ones will be hunting for. May the most observant, win!

Ocean Coloring Page
Help your little ones visualize their favorite ocean critters and with these creative coloring pages. While they enjoy shading their own vision of the ocean, talk to them about the three layers of the ocean. The top layer, euphotic zone, is where most of the creatures they know live.
The mid-layer or disphotic zone gets some sun, but not enough for plants to grow. Lastly is the third layer or aphotic zone which is pitch black and too cold for most marine animals.

Imagine falling asleep to the twinkling stars and waking up to the waves crashing just a few feet in front of you. When the little ones are all tied up with sandcastles and ocean creatures, there's nothing left to do except relax.

Use these beach camping tips along with the printed kid-friendly activities, and you'll be daydreaming while staring out at the coastline in no time. You may even learn a few new fun facts about the beach during your stay. Now the only thing you need to decide is—where will your beach adventure be?