There's no way around it, you're either a mountain person or a beach person. It's science (kind of).
Some studies found that your personality can dictate the destinations you like. For example, the Journal of Research and Personality published a study that found mountain-lovers were more introverted than ocean-lovers.
A quick search will also show you that many travel blogs and wanderlust chasers have strong opinions over the top outdoor destinations. Since we can't seem to agree on the best vacation destinations, we wanted to see once for all what place is on top!
We surveyed 1,000 Americans and asked six questions to see how the following vacation spots fared against one another in various categories: beaches, mountains, pools, and lakes.
Key Takeaways
Beaches are the top vacation destination overall
Beaches are the top destination for relaxation
Beaches are the top destination for partying
Mountains are the best place to vacation alone
Mountains are the best for stargazing
Mountains are the best for enjoying nature
Beaches Are The Ultimate Vacation Destination
Beaches are our winner! 48 percent said that the beach was their favorite vacation destination, compared to 27 percent who picked mountains, 15 percent who picked lakes, and 10 percent who picked pools. No surprises here since there are so many beautiful beaches in the Panhandle alone.
This was also no surprise to Dr. Shige Oishi, one of the original researchers for the Journal of Research and Personality mentioned earlier, said that our findings make sense based on their findings. He said that they found oceans on average to be more popular than mountains in their study.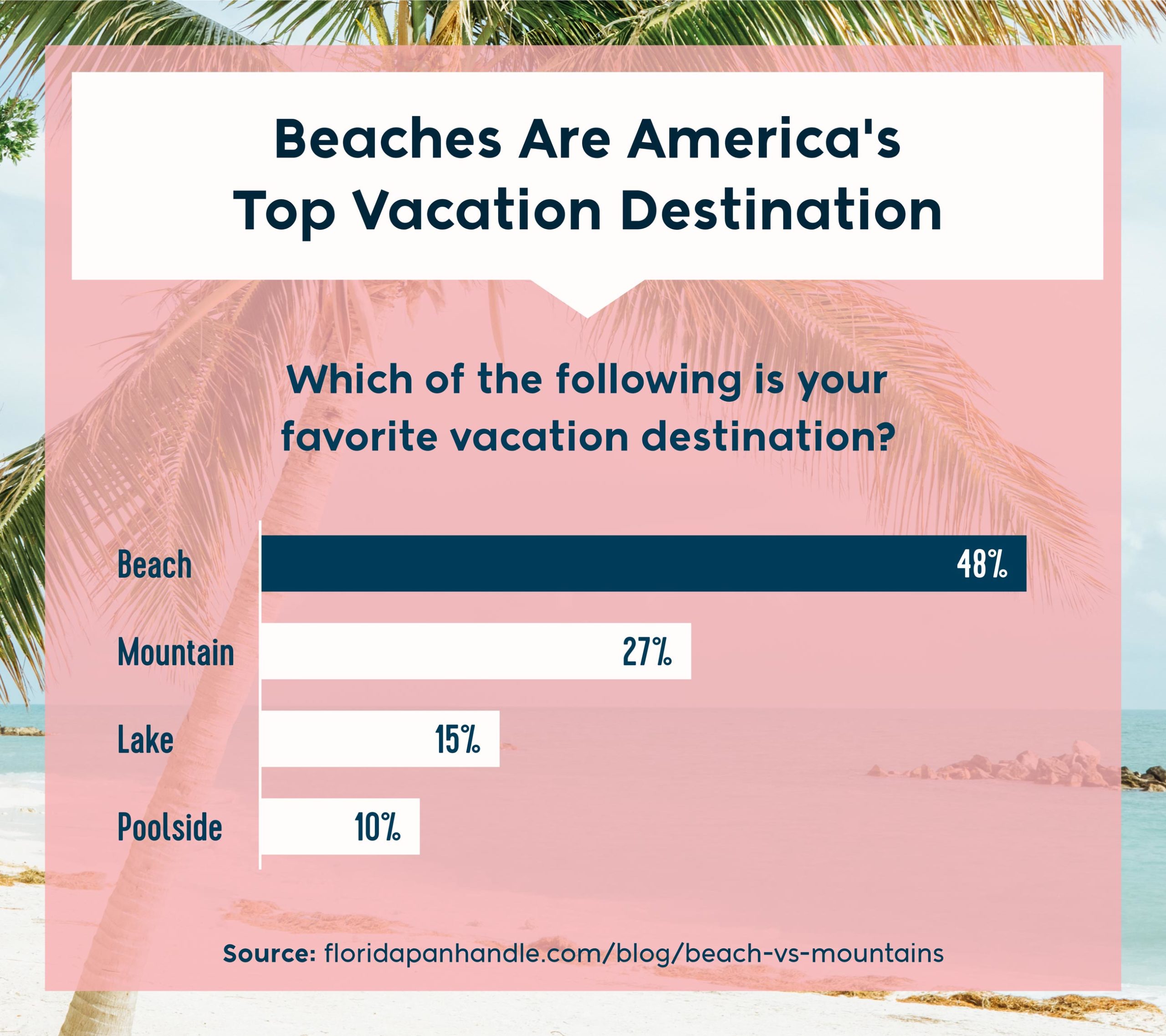 Much more people are searching for beach vacation rentals than mountain vacation rentals. According to Ahrefs, the phrase "beach vacation rentals" gets 2,100 searches a month while "mountain vacation rentals" only get 500 searches per month.
Beaches Came Out on Top for Partying
A beach getaway is best for a bachelor party, birthday trip, or even a spontaneous girl's weekend! 44 percent of respondents said that beaches were the top party destination. This is followed by 33 percent of respondents who picked mountains, 15 percent whole picked lakes and 8 percent who picked pools.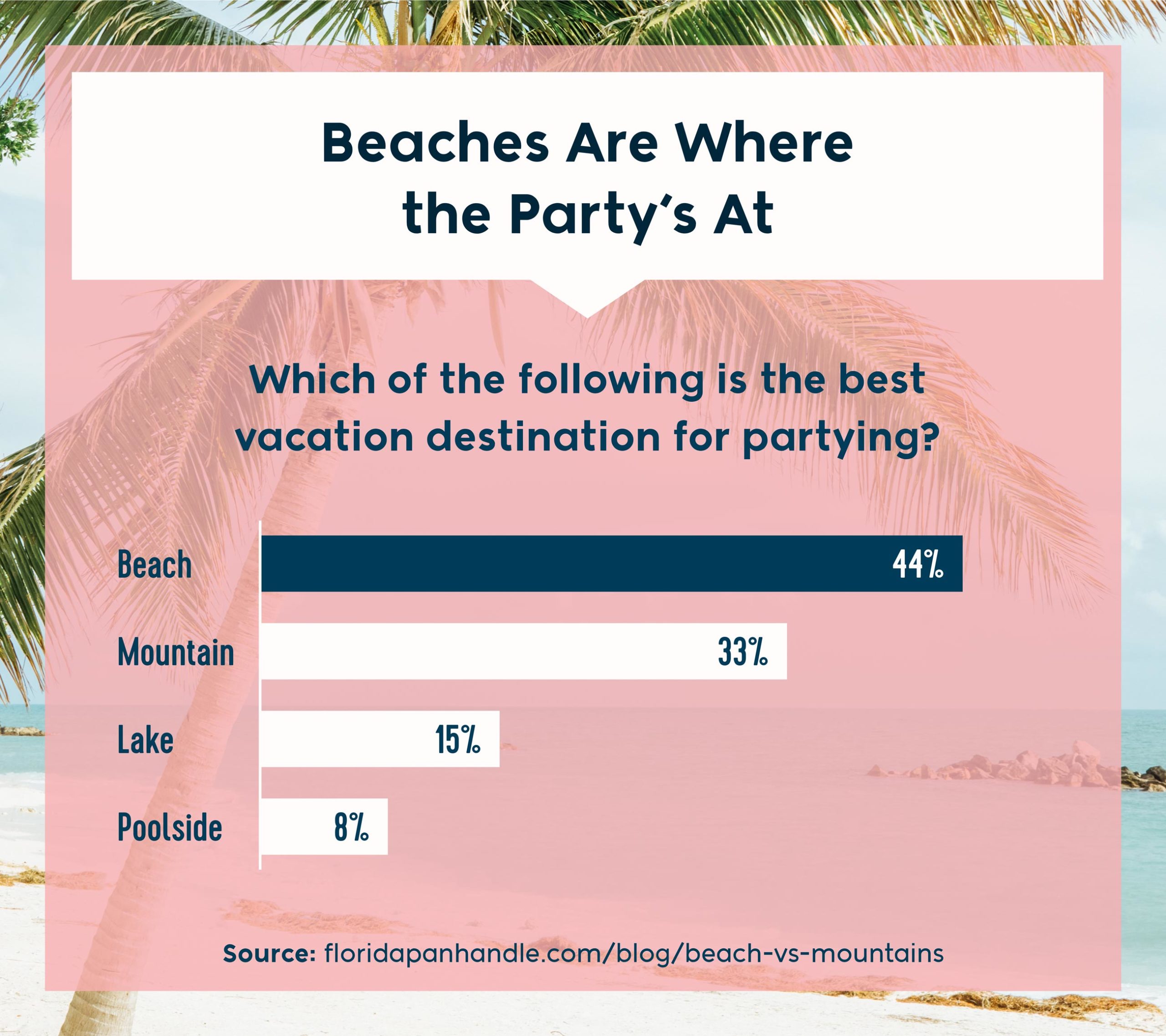 As mentioned earlier, the Journal of Research and Personality study found that people preferred the ocean when they wanted to socialize. It also found that those who picked the ocean believe that it's more difficult to have fun in the mountains than in the ocean.
Another researcher from the study, Dr. Thomas Talhelm, gave us his take on how our new survey lined up with his study. "The fact that beaches scored highest for partying is also consistent with our data," he said.
"We can't really party alone, so if beaches are party places, that means they're social places."

Dr. Thomas Talhelm
Beaches Are The Best for Relaxation
A relaxing vacation is best served with toes in the sand and the sound of the waves crashing on the shore. 40 percent of respondents agree that beaches were the best spots for relaxation. 26 percent believed mountains were the best, 25 percent felt lakes were the best, and only 9 percent felt pools were the best.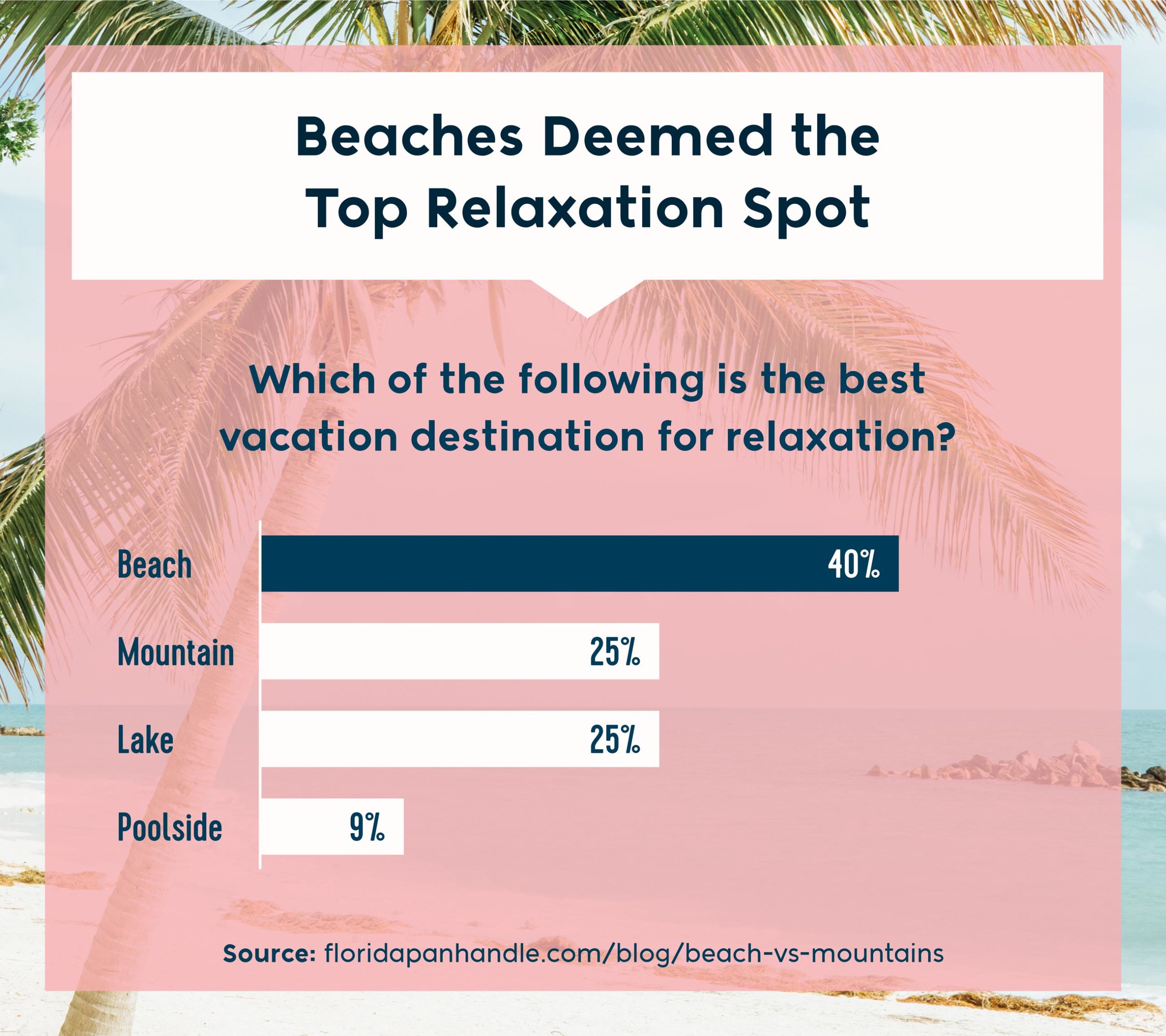 The ocean is a great place to relax. Outside of just enjoying the calming sound of the water, there is also some science behind it all. The ocean shore in particular has been found to create lots of negative ions, which have been found to help lower symptoms of depression according to a study in BMC Psychiatry.
Mountains Are for Traveling Alone
Although mountains didn't win big as the overall favorite, they did come out on top for other categories. When asked about the best spot for vacationing alone, 44 percent picked mountains. 20 percent felt lakes were the best to be alone, 18 percent picked beaches, and another 18 percent picked pools.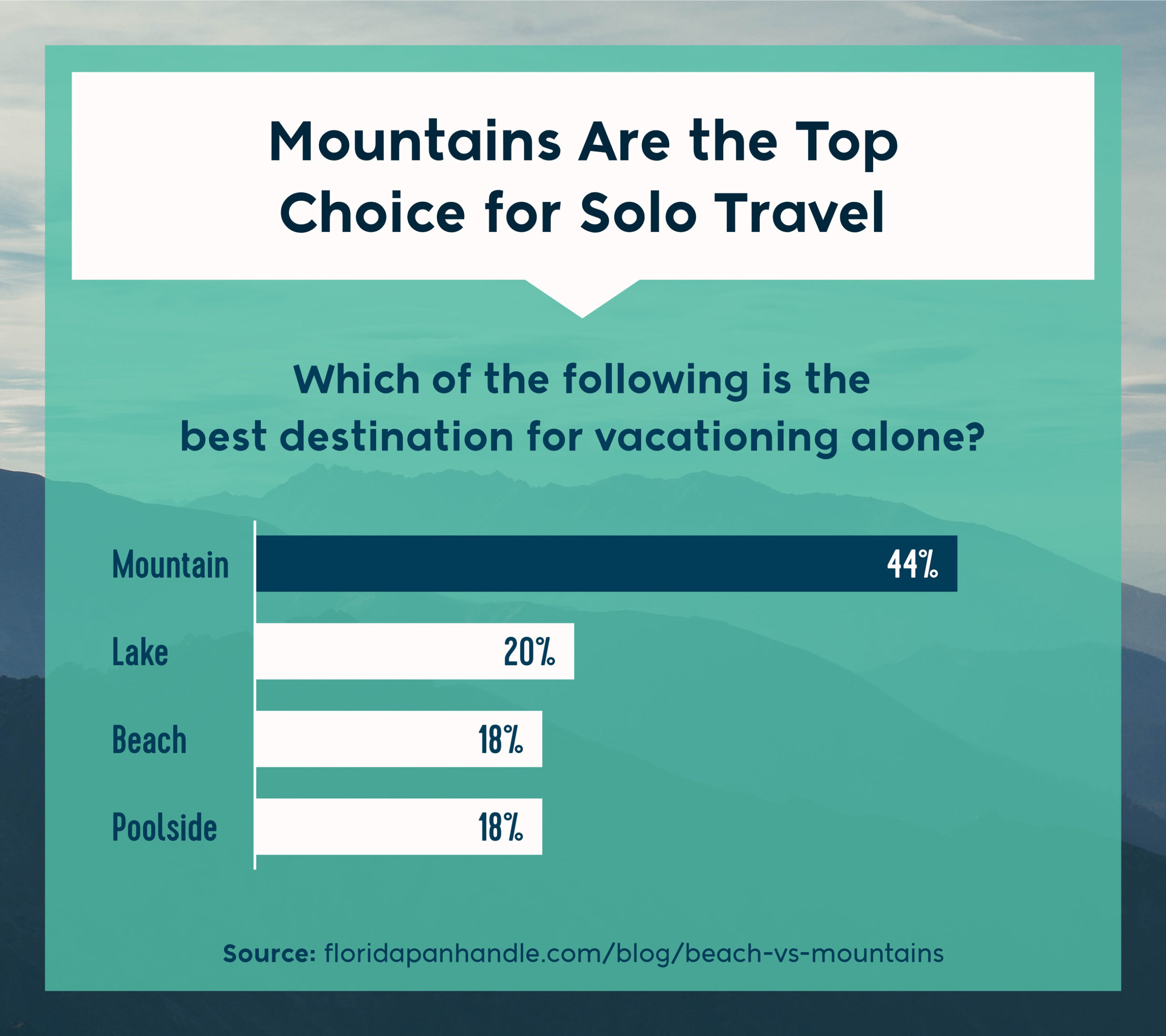 Dr. Talhelm also lent his insight for these results. "It's interesting to see that mountains scored the highest for places to vacation alone," he said. "What your findings suggest (above our findings) is that people seem to be consciously aware of this association—mountains and alone time. We found that people who are introverted gravitate toward mountains, but our inclinations aren't always conscious. [These] results suggest they are conscious associations."
Another study published in Nature Human Behavior found that people living in mountainous terrain tend to be more open to experience, less agreeable, and less conscientious than people who live in non-mountainous areas. They're also more open-minded than their flat-land dwelling counterparts.
That study also found that some of these individualistic traits probably stems from those who originally settled in the mountains. The first mountain dwellers likely moved in since mountains offer natural protection from outsiders. These people likely needed to be open-minded since they had to adapt to their environment to survive.
Mountains Are For Enjoying Nature
Mountains are the clear winner for enjoying nature with 73 percent of respondents picking this as their top pick. This is followed by 19 percent picking lakes, 7 percent picking beaches, and only 1 percent picking pools.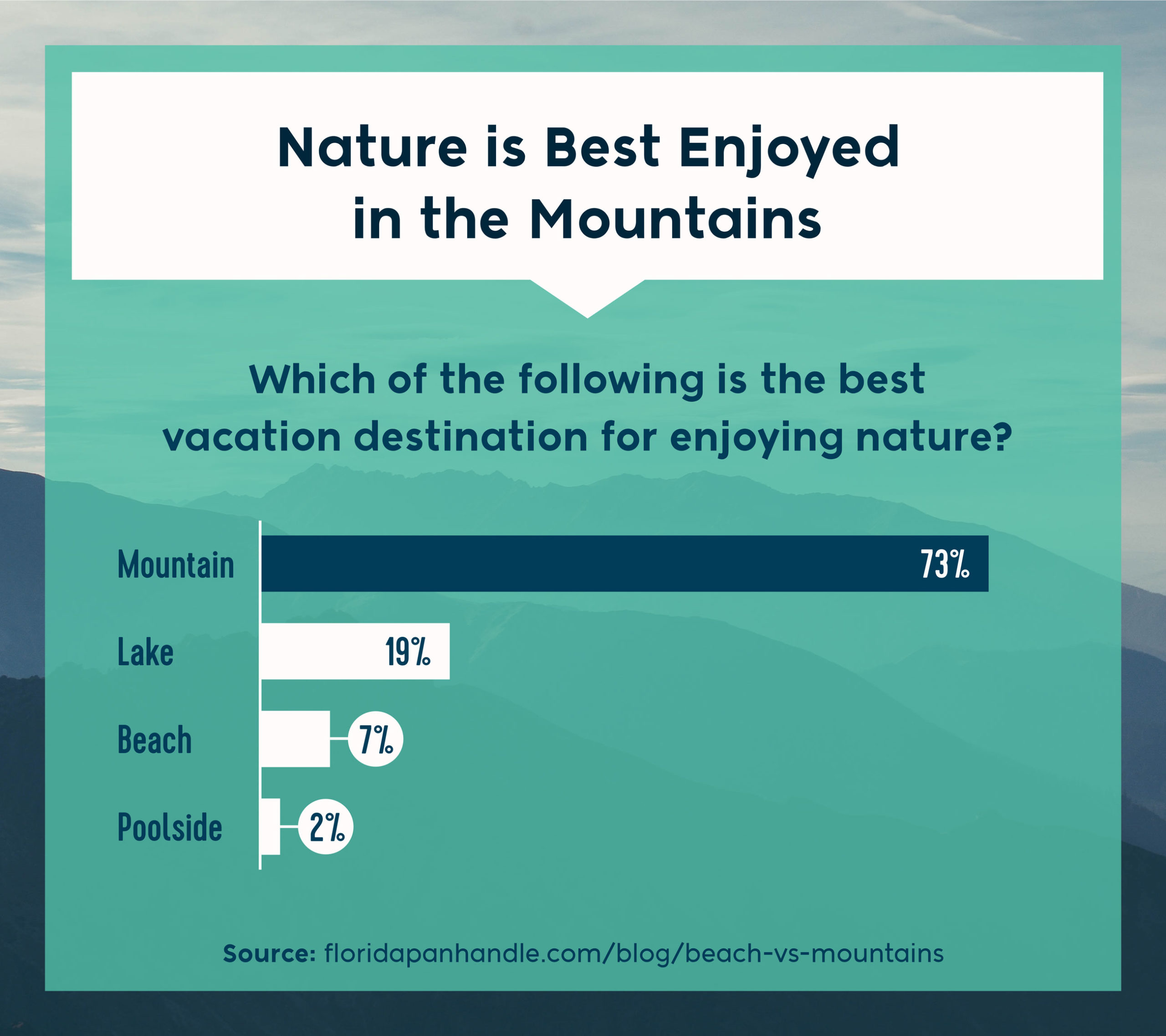 Once again, these results align with the Journal of Research and Personality study. Researchers found that people who prefer mountains more than oceans were more introverted than those who preferred the opposite. The study also found that those who live in mountainous states are more introverted than those who live in flat states
A study published in Frontiers in Psychology also found that spending time in nature helped reduce stress for participants. Although not all mountains are found in forests, practicing forest bathing while you're out in any natural space can help you stay grounded while taking in the sights around you.
An empirical study published in Environmental Health and Preventative Medicine found that forest bathing could improve people's psychological and physical health.
Mountains Are For Stargazers
In another landslide, 68 percent of respondents picked mountains as their top choice for stargazing. This was followed far behind by lakes at 16 percent, beaches at 13 percent, and pools at 3 percent.
Mountains are the best spots for stargazing since you're away from light pollution from most cities so you can clearly see the stars. National Geographic explorer Dr. Munazza Alam says that stargazing is best at mid-altitude with the naked eye. She also said that high, dry, and dark areas are ideal for stargazing.
"Mountainous areas are great because they are located at higher altitudes where the Earth's atmosphere is thinner, are usually remote, and thus far away from light pollution of cities nearby," she said. "An added bonus would be a dry location where the humidity and cloud cover is typically low—to make for an unhindered view of the sky!"
Beach vs Lake: Coastlines are the Clear Winner
Overall, lakes also weren't as popular as beaches and mountains. But, in one instance, lakes slightly beat out beaches when looking at the best spots for stargazing and nature.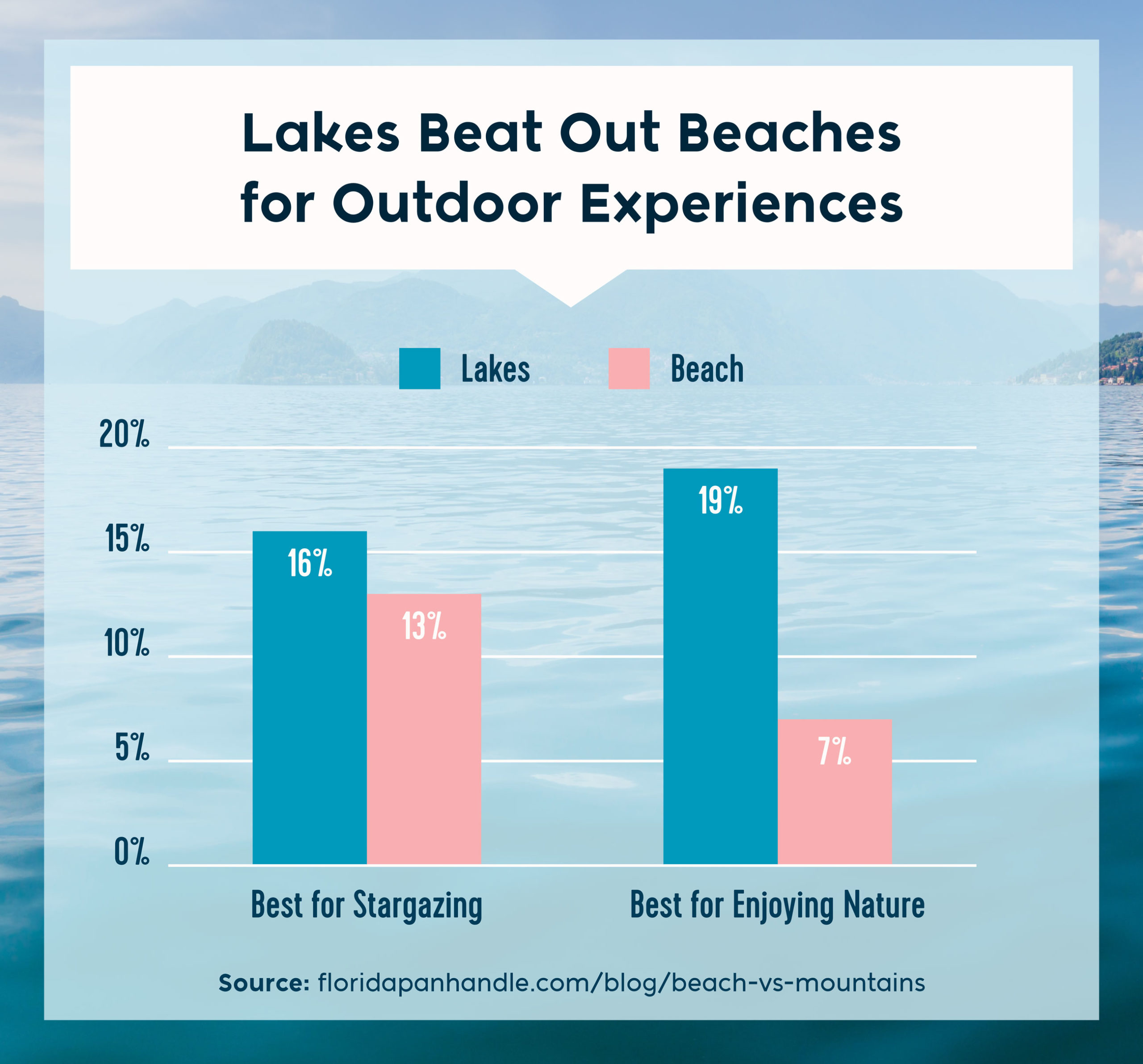 Nearly a quarter felt that lakes were the perfect place to relax. A study published in Medicine found that listening to water can help reduce stress for those who have somatic complaints. This is someone who focuses a lot on physical symptoms, like fatigue. This is something beaches and lakes have in common.
How Your Location and Personality Influences Your Destination Choices
Many other studies have found links from your location and personality to your destination preferences and vice versa. A study in Ecological Economics found that international tourists tend to pick coastal destinations since they strongly preferred the natural and cultural environments. The same study found that domestic tourists prefer beach characteristics.
The Journal of Research and Personality study sheds the most light on the links between location, personality, and destination preferences. We've mentioned a few earlier, but here are all of the highlights of what researchers found.
People who prefer mountains are more introverted than those who prefer oceans.
People prefer oceans over mountains for having fun with others.
People may like oceans more since they think it takes a lot less work to have fun in the ocean than mountains.
People prefer mountains as much as oceans for decompressing.
People who live in mountainous states are more introverted than those who live in flat states.
In this study, researchers took participants to either an open, flat area or a wooded, secluded area to see if the locations would make them show more introverted or extroverted traits. They found that location didn't impact your behavior, however, they did find these results.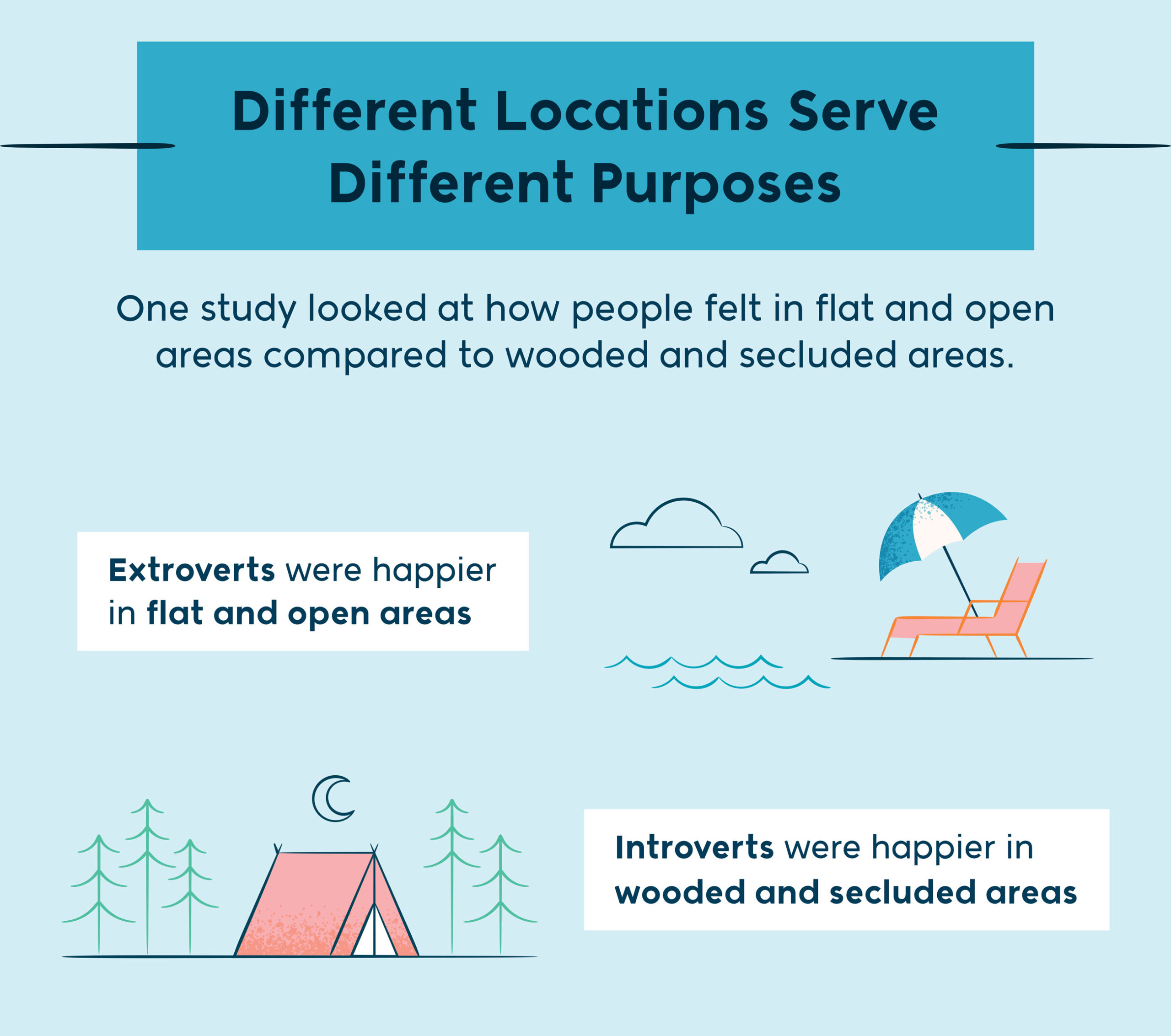 People felt open and flat areas were more sociable than wooded and secluded areas.
People felt wooded areas were more calming, peaceful, and quiet than open areas.
Introverts were happier in wooded and secluded areas than in flat and open areas
Extroverts were happier in flat and open areas than in wooded and secluded areas
No Matter Which You Choose, Vacations Are Good for Your Health, According to Science
The vacation destination you choose comes down to personal preference. This past year in the pandemic is probably a big deciding factor of our next getaway. Some of us may feel the desire to get together while others may feel compelled to disconnect completely.
Dr. Talhelm says, "On the one hand, the shutdowns starved us of social connection. So that could push people to beaches. But, many of us still recognize that being social in the pandemic carries risks," he said. "Perhaps the pandemic pushed people more toward mountains, which naturally allow for a more limited form of being social—it's rewarding to hike with just a friend or two."
Regardless of your tastes, taking vacations every once in a while is important. A study published in the Journal of Hospitality & Tourism Research found that hospitality and tourism providers play a key role in protecting our health and wellbeing.
The Wisconsin Medical Journal also found that women who take frequent vacations are less likely to be tired, tense, or depressed. These benefits can also lead to improved work performance and quality of life. The American Psychological Association's 2018 Work and Well-Being Survey also found that 68 percent of Americans were in better moods after vacation while 66 percent felt like they had more energy.
Another study published in Psychology & Health found that vacation frequency may protect people against metabolic syndrome and symptoms. Metabolic syndrome refers to things that can raise your risk for heart disease, diabetes, and other health conditions. 
Whether you're a beach bum or a mountaineer, don't forget the main goal of your vacation—to enjoy!
Methodology
The survey was conducted on YouGov Direct. 1,000 US adults 18+ were surveyed on March 25, 2021 between 7:15 p.m. and 10:00 p.m. Eastern time. Data is weighted on age, gender, education level, political affiliation and ethnicity to be nationally representative of adults 18+ in the United States. The margin of error is approximately 3.3% for the overall sample.

Disclaimer: FloridaPanhandle.com does not provide legal or medical advice. This post has been prepared for informational purposes only. All users are advised to check all applicable local, state, and federal laws and consult legal and medical counsel should questions arise.