Clean up after ourselves, put the furniture back, and don't steal extra toilet paper. Sounds simple enough, right?
Apparently, some of these things are not common habits for vacation rental guests. In fact, some believe that you shouldn't be responsible for cleaning up before leaving!
2020 was a tough year for many, including vacation rental hosts and others in the hospitality industry like vacation rental hosts. Changing travel restrictions, safety requirements, and sanitation standards are just a few strains hosts met with this past year. On top of a global pandemic, many hosts still ran into the occasional rude or dirty guest in the past year. We wanted to shed some light on what the everyday American thought about guest etiquette and the difficulties hosts encounter with some visitors.
To do this, we surveyed 3,000 total Americans to learn what they thought was proper vacation rental etiquette along with the ways they think guests annoy hosts. We also reached out to a few vacation rental hosts to get their take on annoying and gross guest habits.
Key Takeaways
More than one in three believe you don't need to clean up after you leave a vacation rental.
More than half think you should take out the trash after you leave a vacation rental.
More than a third believe that hosts are most annoyed when guests don't follow the house rules.
A Third Believe That Guests Don't Need to Clean Before Departing
We gave respondents a list of common tasks and asked them to choose all of the ones guests should do when leaving their vacation rental. The top three chores were taking out the trash, putting furniture back, and cleaning and putting away the dishes.
Surprisingly, about one in three didn't think you should do any of these.
Vacation rental host and wedding photographer Shalese Kocher Higginbotham says that it's most frustrating when guests leave her rental a mess. "It feels a bit violating to walk into a space you own and find it trashed! I once spent a full 30 minutes cleaning the stovetop, and I've also pulled what appeared to be an entire pot of cooked pasta out of our dishwasher. When you're renting an Airbnb, you should treat it like a friend's home!"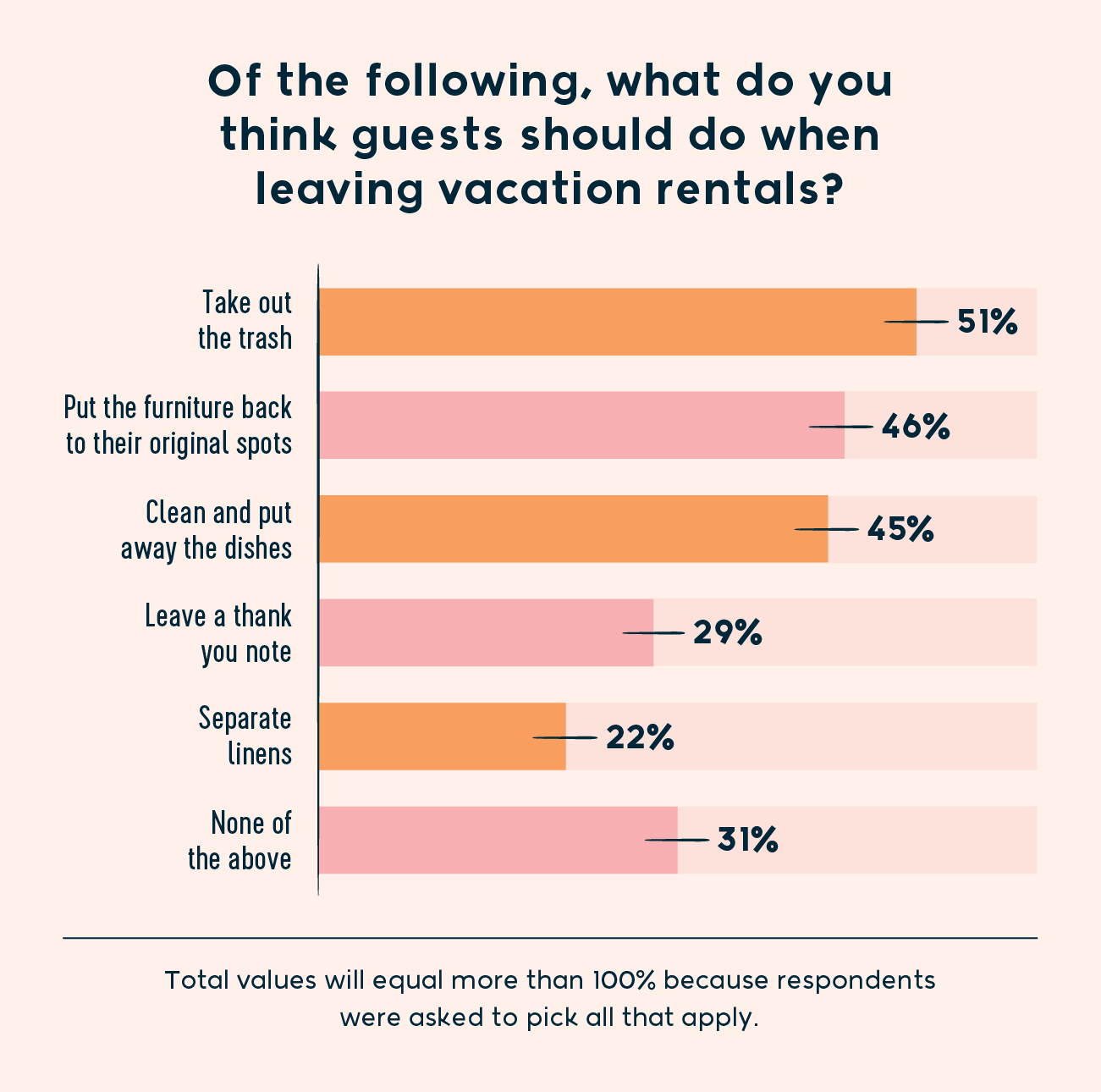 One in Three Believe Failing to Follow House Rules is the Most Annoying Thing a Guest Could Do
We also wanted to know what habits Americans thought were the top pet peeves for hosts. More than a third believed the top annoyance was failing to follow the house rules. The next highest perceived annoyance was bringing extra people or pets without consent followed by throwing a house party.
Etiquette expert Arden Clise of Clise Etiquette says that the most annoying habit is assuming you can bring over anyone you want whenever you want. "…Remember it takes a lot of energy to host people. Therefore, don't be that guest who expects others to drop everything to accommodate your wishes," she says.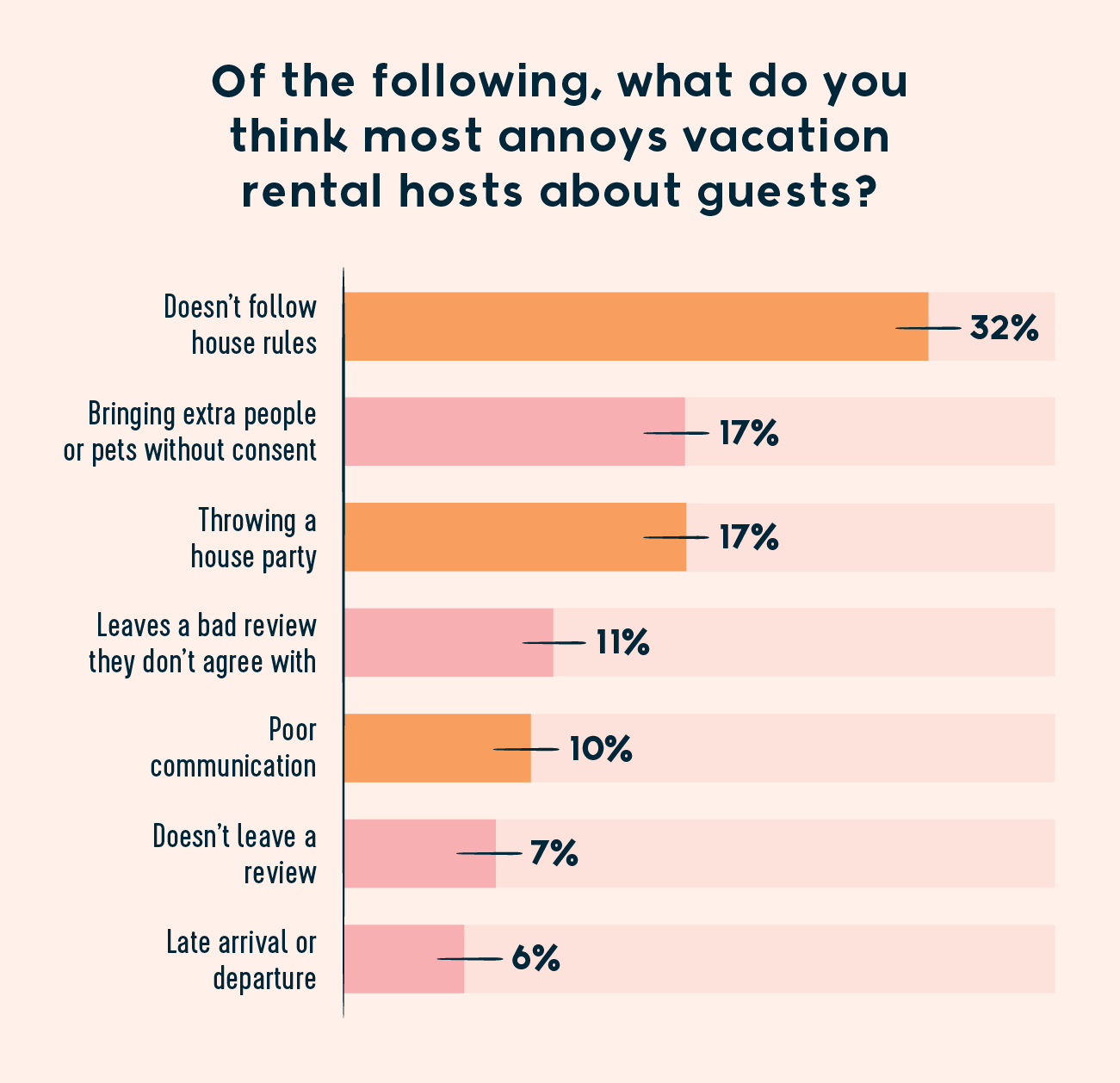 Our respondents felt that leaving or arriving late wasn't as annoying as other habits. However, Greg and Silvia from Stingray Villa say their top annoyance is when guests don't tell them their arrival time, even after asking several times. They say that they ask because they always meet guests to hand off the keys and show them around the property.
Kyle Morgan, Esq. from Brinkley Morgan says that failing to leave on time is a way you can also land into legal trouble. Unless an extension is previously agreed upon, checking out late gives the host legal authority to remove the guest with the assistance of law enforcement. He says this can happen quickly and guests may not be prepared for this.
Hosts Have Their Share of Guest Horror Stories
We reached out to a few vacation rental hosts to hear the grossest and most annoying things they've seen. Hosts told us many stories ranging from used condoms left lying around, vomit in the linens, and feces smeared on the toilet.
Emmy of The Valiant Life says that it's annoying when guests blame hosts for circumstances out of their control. She says that there were several wildfires in Colorado that affected the air quality in the state as well as neighboring ones, but they did not have a fire near their town. "After a guest stayed in one of our condos, they demanded a full refund AFTER they checked out because they didn't get the 'full Colorado experience' they expected," she said.
She also says guests have blamed her for the weather and, more recently, have gotten upset with them for the COVID-19 related rules in their area.

Etiquette at vacation rentals can get tricky since expectations and rules vary greatly between hosts. Clise says, "Being a good vacation rental guest is not difficult. Many of the rules that apply to being a guest of a family or friend apply to being a rental visitor." A few tips she gave include reading and following house rules, staying home if you're sick, and communicating problems so the host has an opportunity to fix it.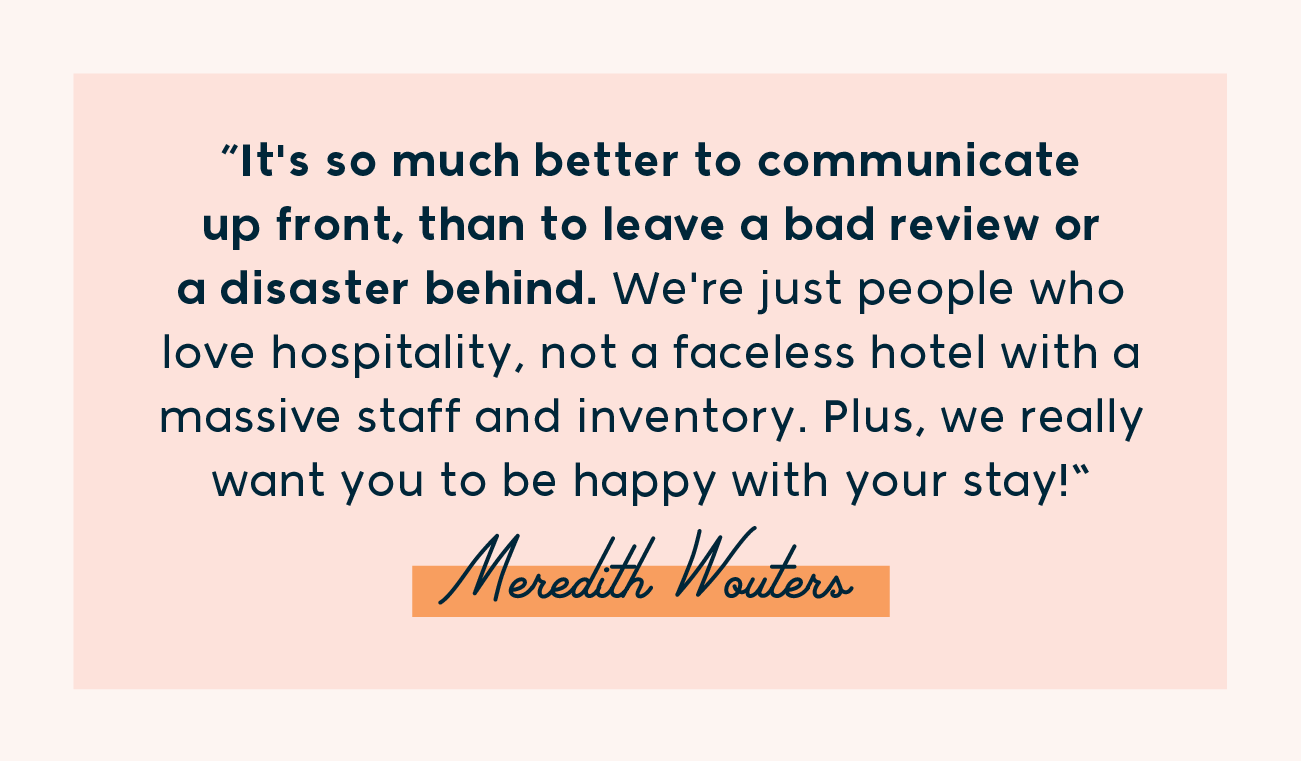 Emmy also says that it's annoying when guests aren't communicative when they have issues. "I've had instances where I call or text a guest to make sure they checked-in and that the unit is meeting their expectations. They won't respond during their stay then leave us a bad review for minor issues they encountered that could have been resolved during their stay."
Meredith Wouters from The Palette Muse says that she's also most frustrated when guests don't communicate with her. She says that guests should know they're dealing with an actual human who owns the house they're staying in.

"If something happens, like a spill or a broken dish, we're the person fixing that when you leave. Likewise, if you need something we haven't provided, we'll usually be happy to help you out if you let us know what you need. All you have to do is ask" she said. "It's so much better to communicate upfront, than to leave a bad review or a disaster behind. We're just people who love hospitality, not a faceless hotel with a massive staff and inventory. Plus, we really want you to be happy with your stay!"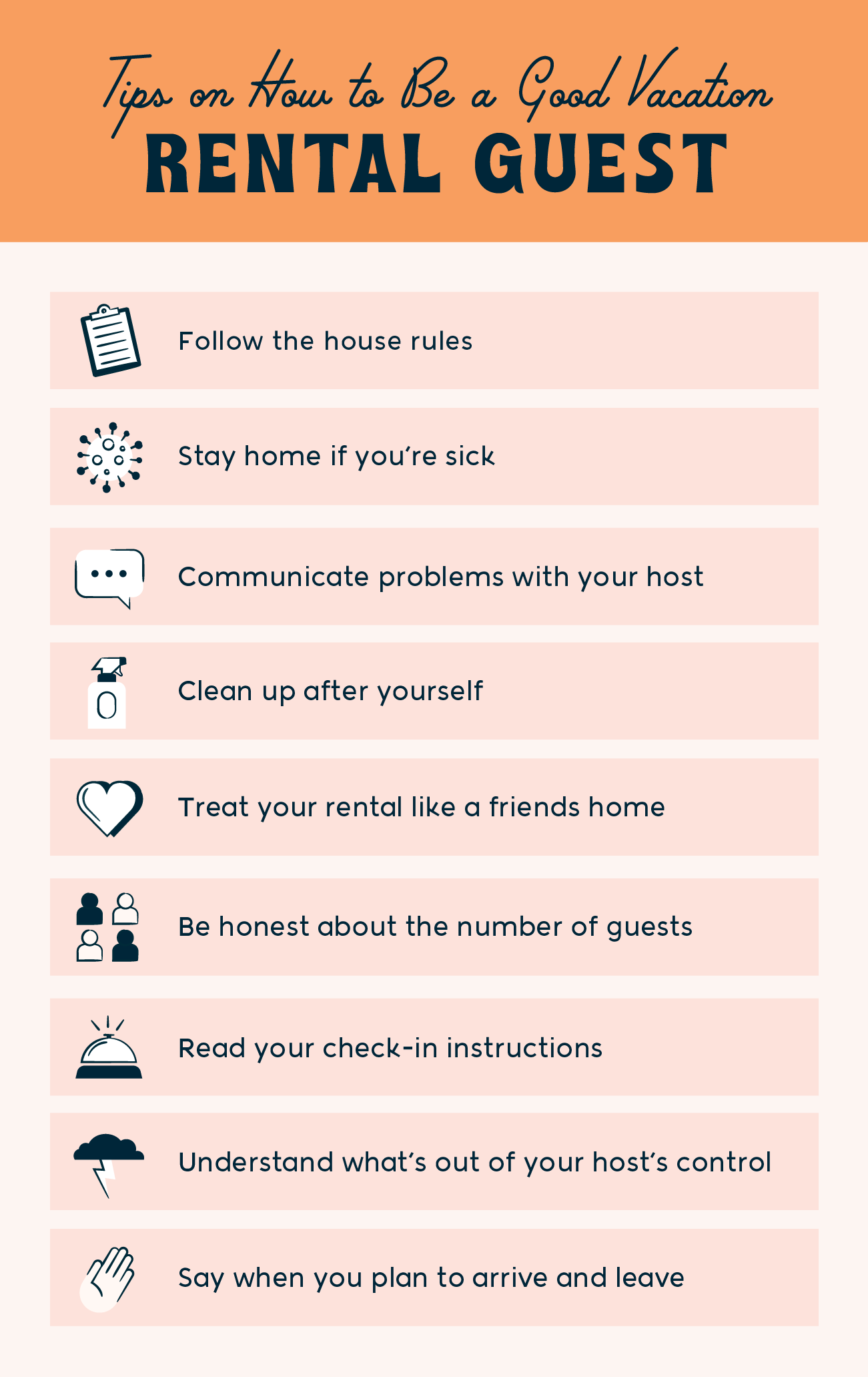 Vacation rentals aren't like full service-hotels. Hosts are people just like you! Some people do the cleaning themselves after you leave and extra costs as a result of your stay may come directly out of their pocket. If there's anything to take away from this, please know that most hosts want to provide the best and safest experience as they can and ask for courtesy and respect in return. The next time you travel to a spot like Destin, remember to be kind and considerate to your host!
Methodology
This study was conducted for FloridaPanhandle.com using Google Surveys. The sample consisted of no fewer than 3,000 total completed responses (1,500 per question). Post-stratification weighting has been applied to ensure an accurate and reliable representation of the total population. Responses were collected in December 2020.