The Scenic 30A is a nickname given to the collection of South Walton County towns that are connected by coastal Highway 30A. This collection of towns that start at Destin and end at Panama City Beach are renowned for their gorgeous beaches and array of beach town activities like fishing, biking, live events, and much more. If you are looking for a beautiful and activity-filled place to ask your significant other to take your hand, then 30A offers plenty of fantastic backdrops.
In fact, the 30A offers so much to see, do, and otherwise experience, that it might be overwhelming trying to plan that perfect, ultimate proposal. The following is a look at some creative and popular ways to help inspire and get your mind start turning and determining that ultimate proposal for your future husband or wife:
Ways to Plan Your Ultimate Marriage Proposal
Personalized Sand Sculpture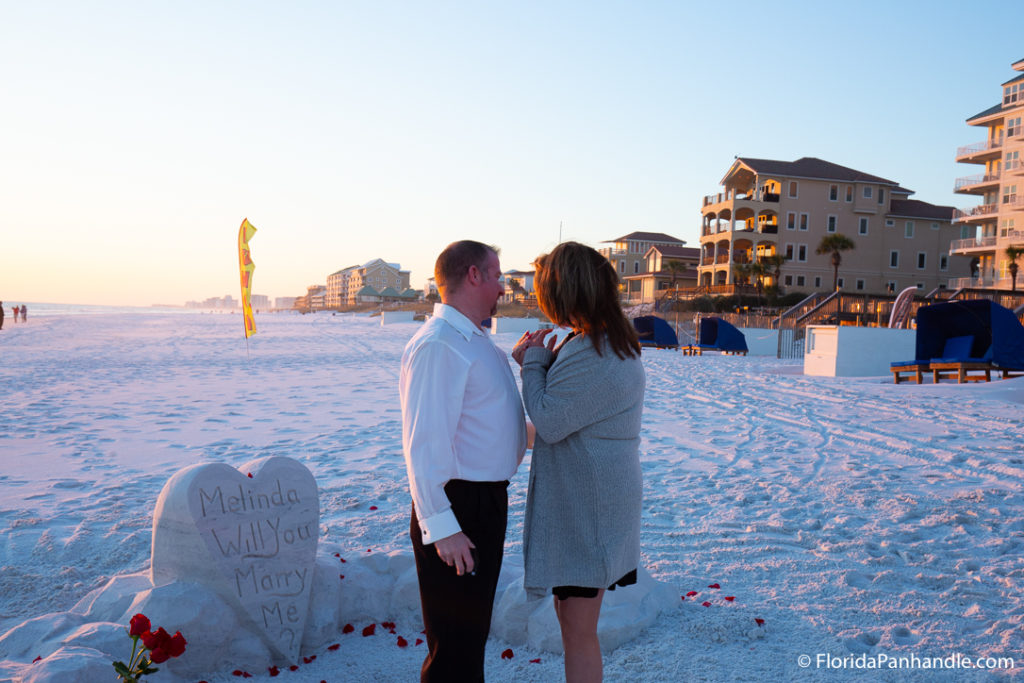 There are a couple of companies that have specialized in the creation of engagement and wedding sand sculptures, including Beach Sand Sculptures headquartered in Destin. For this proposal idea, you'll speak with one of the owners at length about sand sculpture designs reflective of your relationship and beach locations or set-ups. Creating a professional and personalized sand sculpture takes half a day — these are gorgeous and elaborate sand art. When you're ready, you will walk your significant other down to an art as discussed with the owner and make that special proposal in the backdrop of the personalized sand sculpture. 
If you don't want to go the way of a professional, you can always handcraft your own sand art or make it a sort of game. For instance, build a sandcastle or similar sculpture together and hide a ring box within part of the structure that is revealed during the construction. You can also take a sandcastle lesson together and work with the company to incorporate a unique sand sculpture wedding proposal.
Private Sunset Sailing Cruise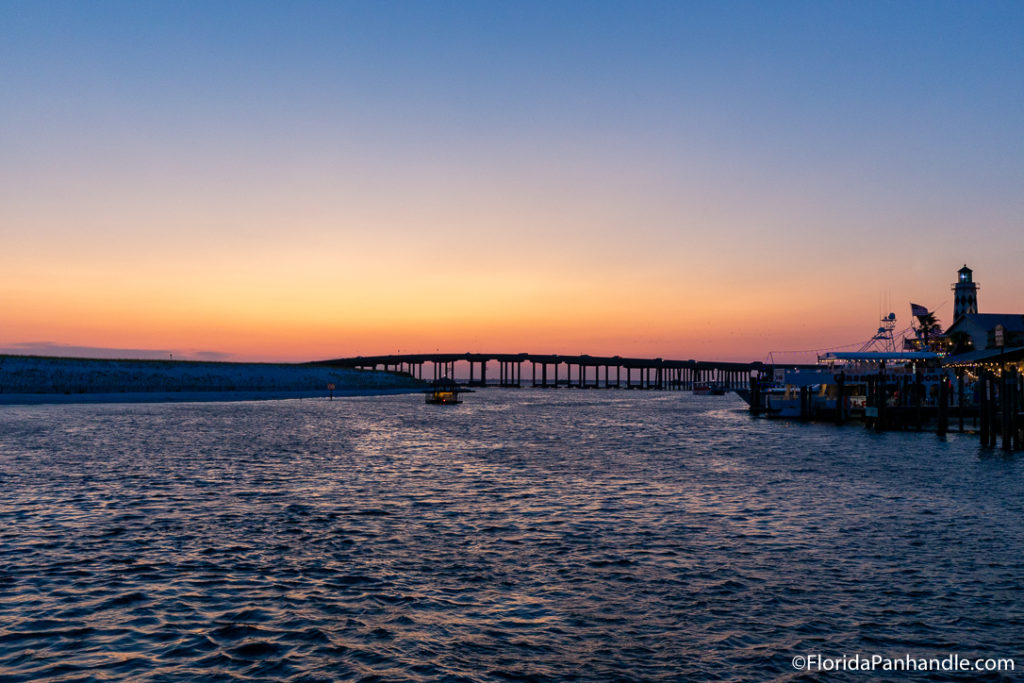 The calmer waves of the Gulf in comparison to the Atlantic or the Pacific Ocean make it a great place to go sailing, especially for those who might otherwise be sensitive to seasickness. Plus, here, the often clear waters and backdrop of dazzling white sands make for an excellent color contrast to the oranges, reds, and yellows of the setting sun. You might even experience dolphins joining the sail as they jump and play about the bow when the sailboat glides across the water.
The 30A community has a lot of different sailing charters that you can partner with for this ultimate proposal, and it's hard to choose wrong. Most captains and sailing companies will work with you to set up the perfect engagement experience. This includes incorporating custom music and having celebratory champagne and chocolates on hand.
Aboard the Solaris With Loved Ones
While the private sailing charter is a great choice if you are wanting to make an intimate proposal with just you and your significant other, or maybe one or two others, you won't want to plan this one with a larger group as it can feel crowded. Instead, if you are traveling to the Scenic 30A area with a larger group of family and friends and want to make that ultimate proposal surrounded by loved ones, consider booking a special proposal party aboard the SunQuest's Solaris, operating out of Destin, FL.
SunQuest Solaris is a special fine dining and entertainment yacht that boasts three floors, including an expansive top deck with a dance floor. This cruise group offers special party and romance packages that include roses, champagne, and souvenir photos. Make your proposal atop the deck with loved ones and in the light of the setting sun before going back down for a three-course meal followed by dancing beneath the stars.
Amidst a Beach Bon Fire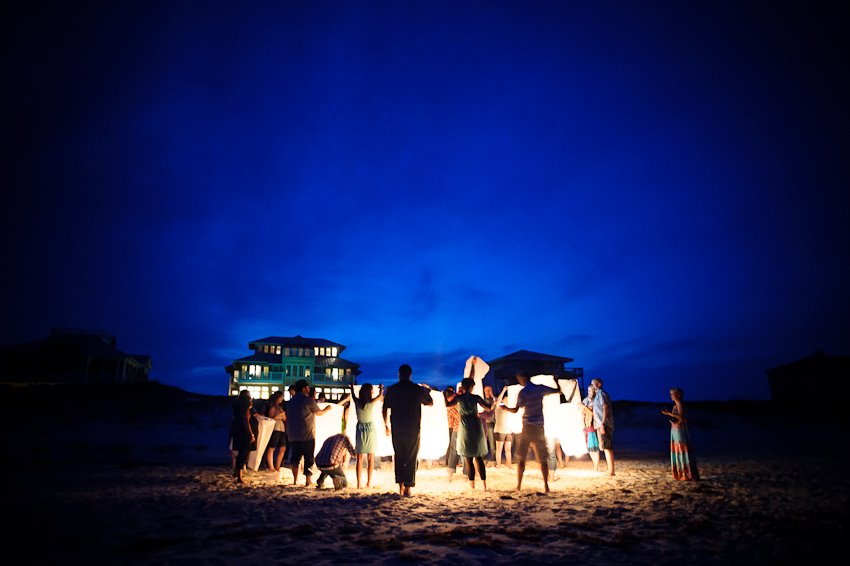 Beach bonfires are a very popular activity throughout the Scenic 30A area — it also happens to be a perfect setting for an ultimate beach marriage proposal. After all, while you might come to this stretch of Florida sand for the warm weather, sometimes you want to cuddle up with your loved one. In the evening, when cool breezes bring that feel's like temperature down, the perfect place for coziness is just on the outskirts of that blazing beach bonfire.
Bonfires are allowed on just bout any beach in South Walton County so long as you first obtain a permit from the South Walton Fire District. You can obtain that permit online or at the department's Santa Rosa Beach location at the cost of $100. If you don't want to do this solo, there are a number of local bonfire activity groups that will take care of the permit as well as everything else.
These types of professional bonfires also include chairs and amenities like tiki torches and side tables. You can also usually upgrade the experience for extras like s'mores materials, Charcuterie boards, ice coolers, and even live musicians. Most companies endeavor to deliver that perfect on-the-beach experience and will work with you to create the ideal ambiance in which to make your ultimate proposal. Once made, snuggle up with your loved one and enjoy good times with any friends or family members you've invited to share the occasion with under the stars.
Don't Forget to Plan the Rest of Your Vacation in 30A!
We hope the above has provided you with some exciting inspiration for your own upcoming proposal! But while this moment is going to undoubtedly be a highlight of your vacation, don't let it be the only highlight. The Scenic 30A is full of exciting opportunities and locations, including premier seafood restaurants, unique snorkeling adventures, and so much more. Be sure to visit our other 30A and Florida Panhandle pages to learn more about this location and what it has to offer you and your traveling group, whether it will be just you and your significant other or if you are the whole extended family.