As you travel along the Gulf Coast of Florida, you are going to see a good array of seafood restaurants and roadside shellfish-by-the-pound stands, and food trucks serving up fresh fish tacos, and more. You will see such a variety of seafood restaurants on coastal throughways like 30A not just because it's next to the water, there are a lot of beach communities next to the water all over the world, but what makes this stretch special is the rich variety of tasty, popular fish and shellfish species that are caught every day from the Gulf of Mexico. Snapper, tuna, grouper, crawfish, scallops, and so many other premier types of fish thrive in these waters. The Gulf seafood industry is likewise one of the most organized groups in the world, following strict fishing regulations that ensure quality fish are harvested while conserving the population for future harvests and environmental sustainability.
So, rest assured that wherever you go for seafood along 30A, you're going to be eating quality, sustainably-caught Gulf Coast fish. You'll also have lots of options. We can't get to all of the great seafood restaurants in this part of Florida, but the following is a hot list of some of the best-regarded establishments in the area.
Best seafood restaurants in 30A:
Grayton Seafood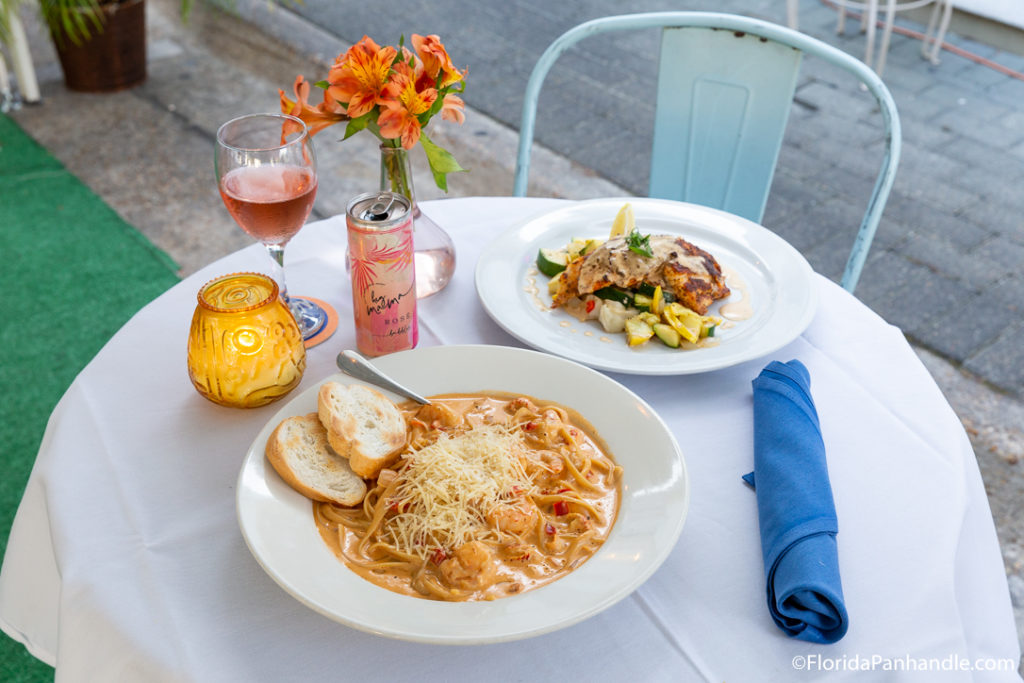 Grayton Seafood is an eclectic seafood restaurant that's located within a village-styled shopping center in Grayton Beach. The front exterior of the building matches the white of the other commercial buildings in this center, but walk inside and you are transported into an upscale fishing shack with the dining room's wooden plank walls, stuffed and mounted fish, and pictures of seabirds. Their menu features an array of appetizers and entrees featuring locally-sourced seafood, including their very popular Crab Cakes featuring pan-seared blue crab cakes served over a garlic vegetable mash. They also have a unique Sunday brunch menu, but you'll need to reserve your table early to hope for a seat during this, their busiest hours.
Down Island Gulf Seafood Restaurant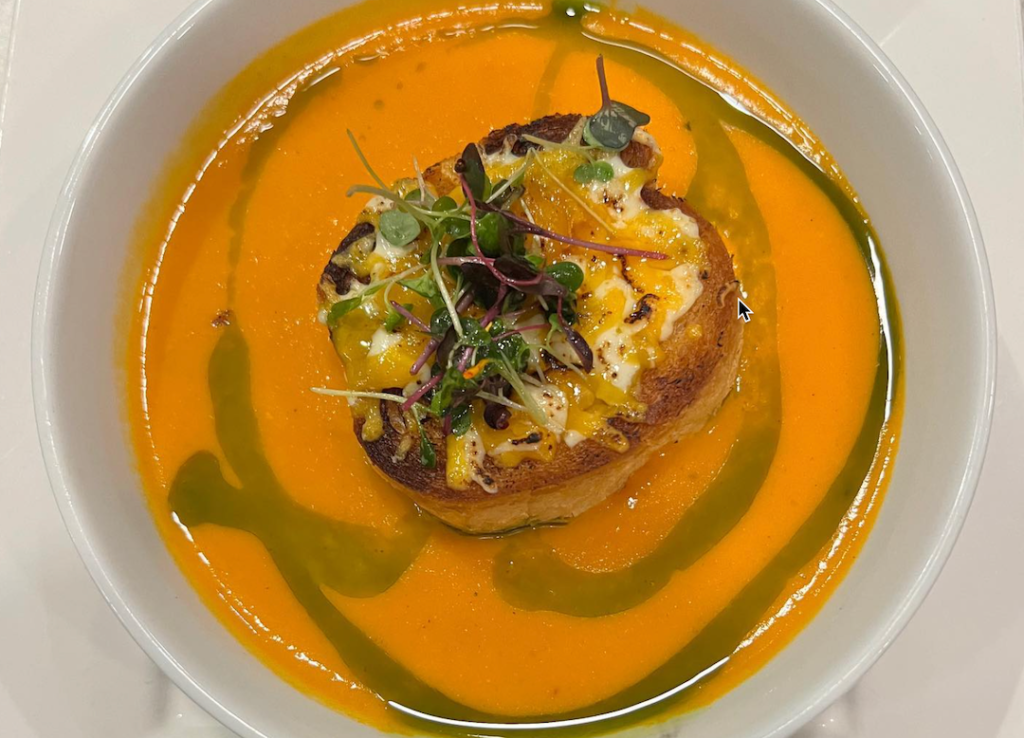 Down Island Gulf Seafood Restaurant is a new addition to Santa Rosa Beach that combines modern-casual dining with Gulf Coast southern cuisine. They also have a surprising amount of dishes crafted to meet the needs of common dietary and allergy restrictions. This seafood restaurant in 30A boasts a popular Happy Hour menu from 3 to 5 pm, followed by a premier dinner menu that continues on until 10 pm. Down Island Gulf Seafood is a first-come, first-serve restaurant and, if you love sweet things, we absolutely recommend finishing up your seafood dish with a slice of their home-baked blueberry pie.
Bayou Bill's Crab House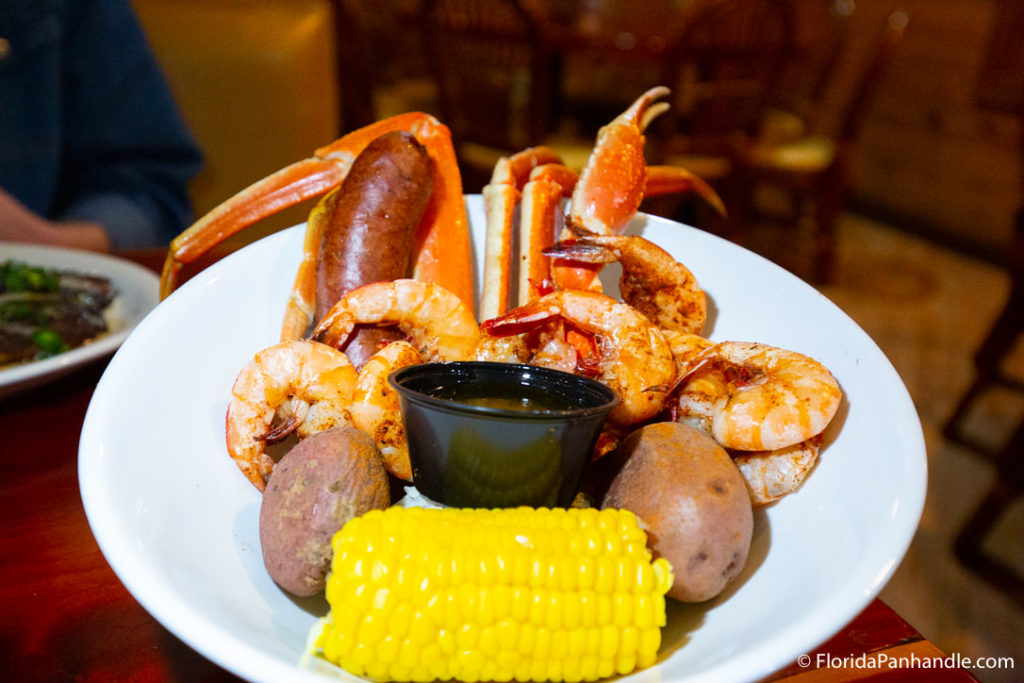 Bayou Bill's Crab House is a Panama City Beach institution that prides itself on offering a long list of seafood and shellfish that comes straight from the local fishermen to diners' plates. While its location within a popular beachfront area means higher prices as a rule, overall, this feels like a more casual, family-friendly restaurant with an open interior featuring wood paneling and cozy booths, and large tables perfect for big group dining. Bayou Bill's Crab House has a large menu with a selection entitled Bayou Favorites that features local favorites like Janie's Pontchartrain, a blackened market fish or grouper paired with a fried soft shell crab fish, both glazed with Lousizana-styled spicy cream sauce and served with a baked potato, seasonal vegetables, and hushpuppies. They also have selections of fried, broiled, and grilled entrees as well as po'boys and a special raw bar menu.
Stinky Fish Camp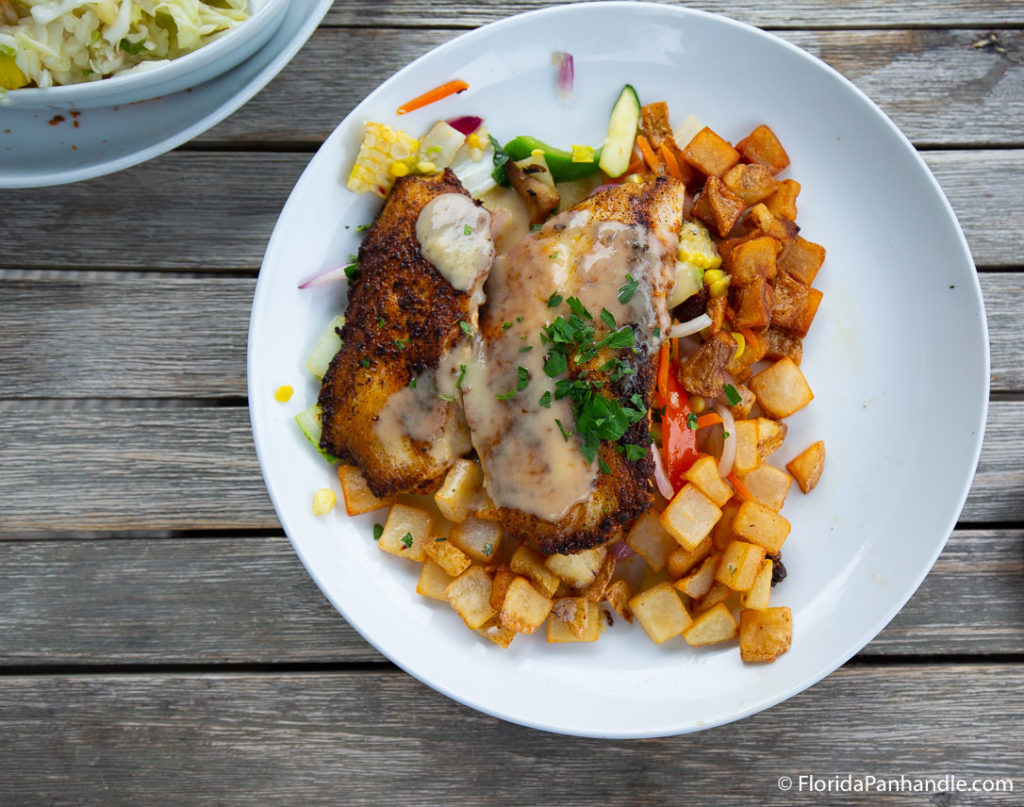 The Stinky Fish Camp is located just across the street from the beach in Santa Rosa Beach. This popular seafood restaurant in 30A is well known for its friendly staff and delicious menu items. By far and away, the most popular item on their menu is their appetizer entitled Crawfish Pie. This savory item features a creamy crawfish etouffee baked in a small handmade pie. You'll also find a long list of specialty po'boys and fish tacos at this bustling location.
Shunk Gully Oyster Bar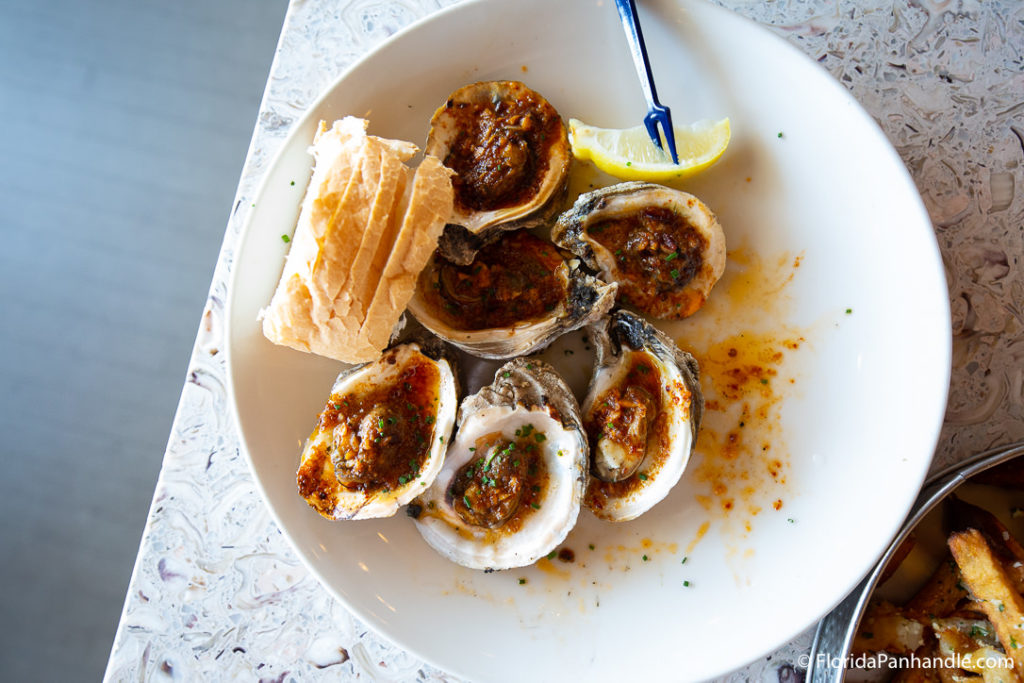 Shunk Gully Oyster Bar is probably the best place to go on this list if you want outdoor seating with a coastal view. That's because this seafood restaurant in 30A features outdoor patios on both its ground floor and its top floor. The top-floor patio is especially ideal as you can sit and enjoy your fresh seafood entree as you feel those coastal breezes and enjoy watching the surf crash onto the beach.
Louis Louis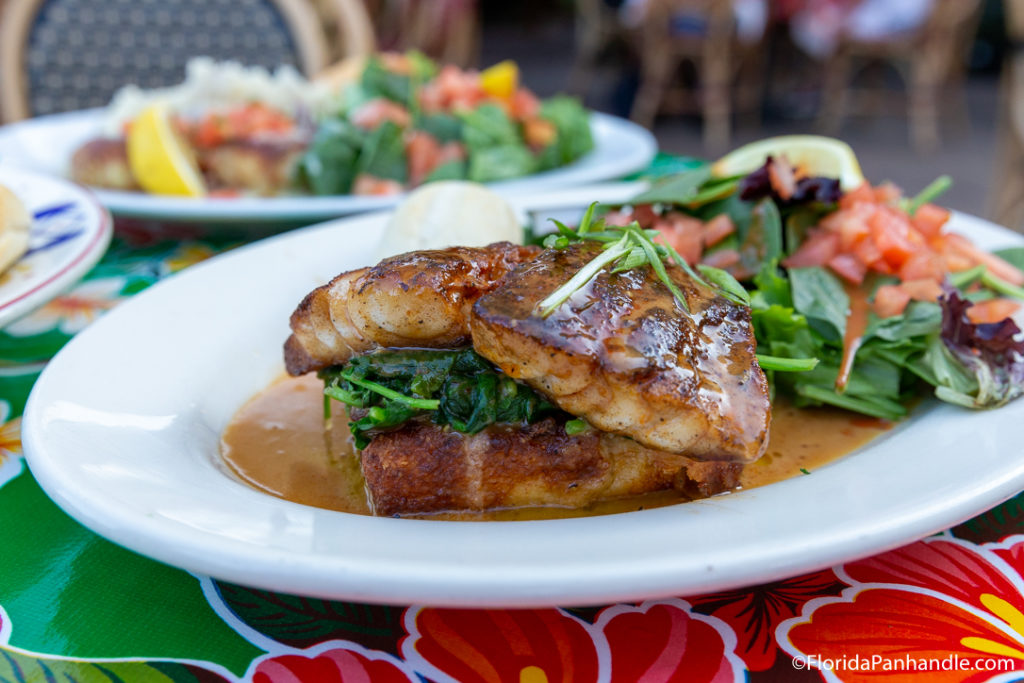 Louis Louis also features excellent outdoor seating but without an ocean view. Here, their bricked back patio features bright tablecloths and cute stringed lights. Inside, posters line the walls with small chandeliers hanging over cozy wall booths. The menu at Louis Louis regularly changes, but you can always expect to see fresh seasonal fish prominently on the menu. Non-seafood menu items are also available, like a juicy Pork Tenderloin and a long list of homemade desserts.
The Bay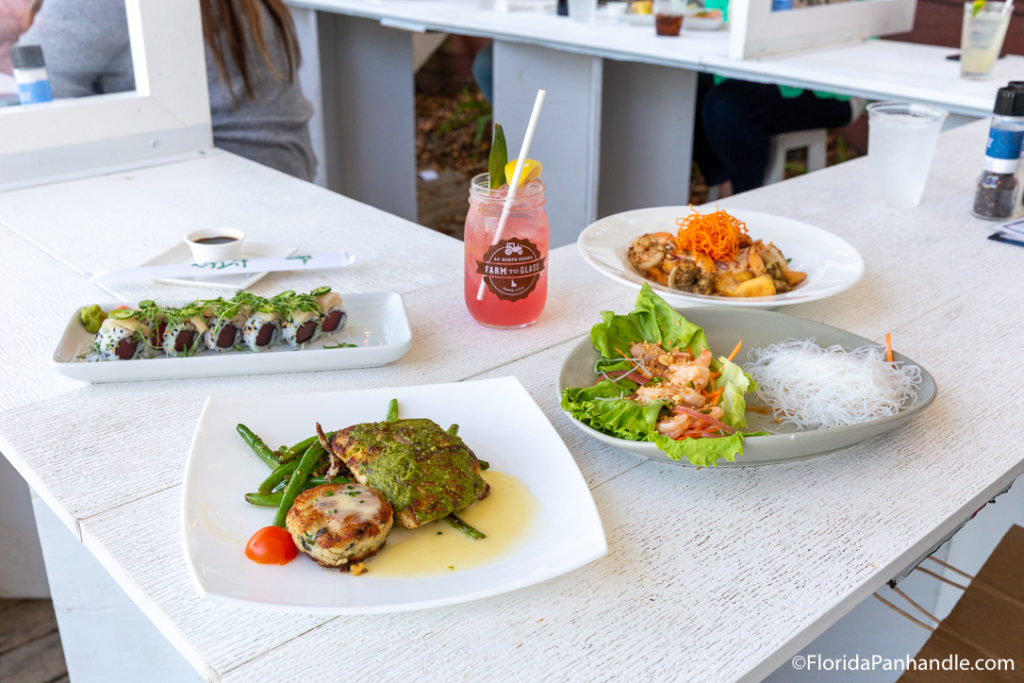 The Bay is an award-winning seafood restaurant in 30A located just at the base of the Coctawhatchee Bay Causeway that serves as a popular local hangout. Every Wednesday night, the team behind The Bay hosts a beach bonfire on their own private beach at Choctawhatchee Bay complete with live music by local acts. They have a nice mix of seafood entrees, as well as a complete sushi menu, with the crowd favorite being their Sandor's Ravioli. These handmade bits of pasta are stuffed with goat cheese, tossed in a tomato and pesto cream sauce, and come served with blackened fish.
Not in the Mood for Seafood? No Problem
Naturally, seafood is what the Gulf Coast does best. However, there are other options if you aren't in the mood for a grilled fish dinner or shrimp and eggs breakfast. This is still the South and there are a lot of great Southern country diners, BBQ grills, pizza hangouts, and a good influence of international cuisine restaurants in 30A. Learn more about these non-seafood dining options by visiting our other pages, as well as other attractions found along 30A.