Booking a trip to Pensacola? The hardest part of planning a vacation is often finding the perfect place to stay–especially with as many options on the table as you'll find in Pensacola. Should you book on the Gulf or the Sound? In town or on a more out-of-the-way stretch beach? And what's most important–the in-room amenities, the location, or the value for the price?! We've listed ten of the top hotels in Pensacola Beach here, along with a breakdown of each hotel or resort's amenities, atmosphere, and locations. Enjoy the search for your perfect home away from home!
Here are 10 incredible hotels in Pensacola Beach, FL:
Margaritaville Beach Hotel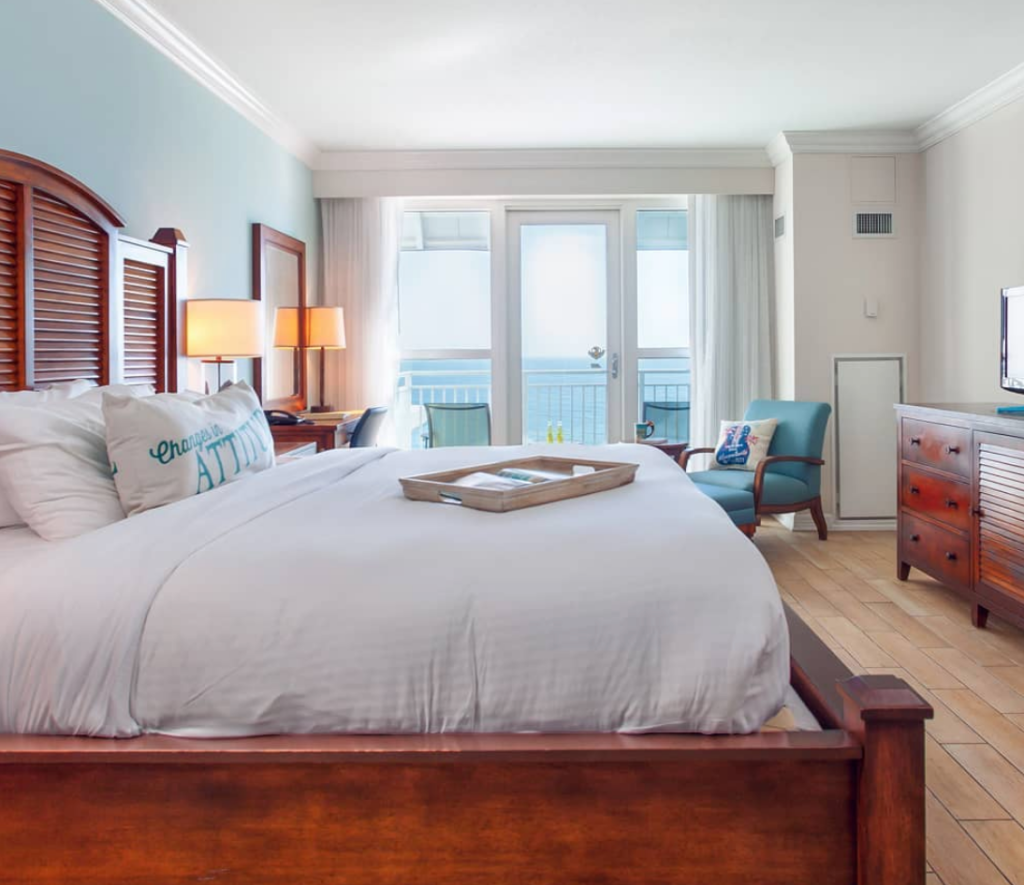 Location: 165 Fort Pickens Rd, Pensacola Beach, FL 32561
Dreaming of wasting away in Margaritaville? Jimmy Buffet's signature hotel was inspired by his lyrics and ethos–and as you might expect, it offers plenty of bayfront views, poolside bars, and laid-back happenings. Margaritaville has a little something for everyone, from those wanting to live it up in elegance to those just looking for their lost shakers of salt. Daily island music performed live keeps things festive.
Landshark Landing, a highly-rated favorite among locals and visitors, serves up gulf-inspired seafood and American fare on-site. The family-friendly hotel is located in Pensacola's Villa Sabine neighborhood. It offers kids' activities, a full spa, a gift shop and retail store, and easy access to one of Pensacola's most beautiful beaches. Prepare to enjoy entertainment suited to practically everyone, and the ability to seamlessly book fishing charters, bicycle rentals, dolphin cruises, and other activities with ease.
Hilton Pensacola Beach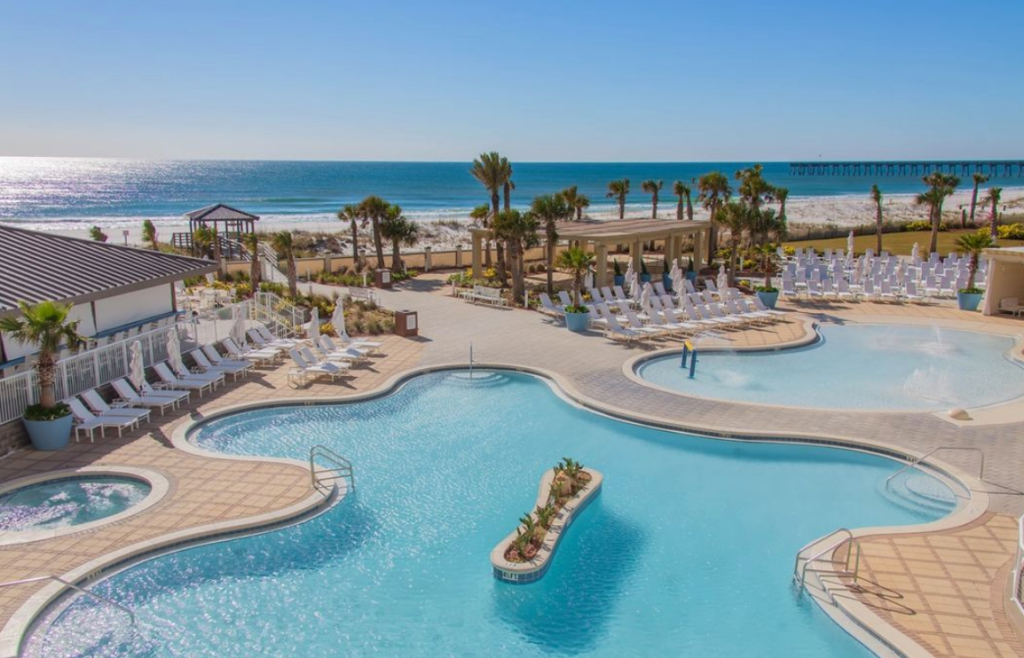 Location: 12 Via De Luna Dr, Pensacola Beach, FL 32561
You'll find Hilton's trademark elegance and easy style along with service that routinely surpasses expectations at this Gulf-facing Santa Rosa Island resort. Expect expansive, well-maintained pools, pristine rooms with spellbinding views, and the ultimate location: a gorgeous stretch of white sand beach on Santa Rosa Island. Fine dining on the property attracts visitors from throughout the Pensacola area; choose from Bonsai (for fresh sushi), H20 (for cajun and Asian-style fare and seafood), and Latitudes Beach Bar.
Of course, you'll also be located within easy walking or driving distance of a variety of other top-rated restaurants on Santa Rosa Island. Indoor and outdoor pools ensure you'll have something to do no matter the weather, and a fully-equipped fitness center is available. The proximity to gorgeous white sand beaches is just the icing on the cake. Here you'll find the same level of Hilton quality you expect at all their locations, but over-the-top customer service is a trademark that sets them apart from the crowd.
Springhill Suites by Marriott Pensacola Beach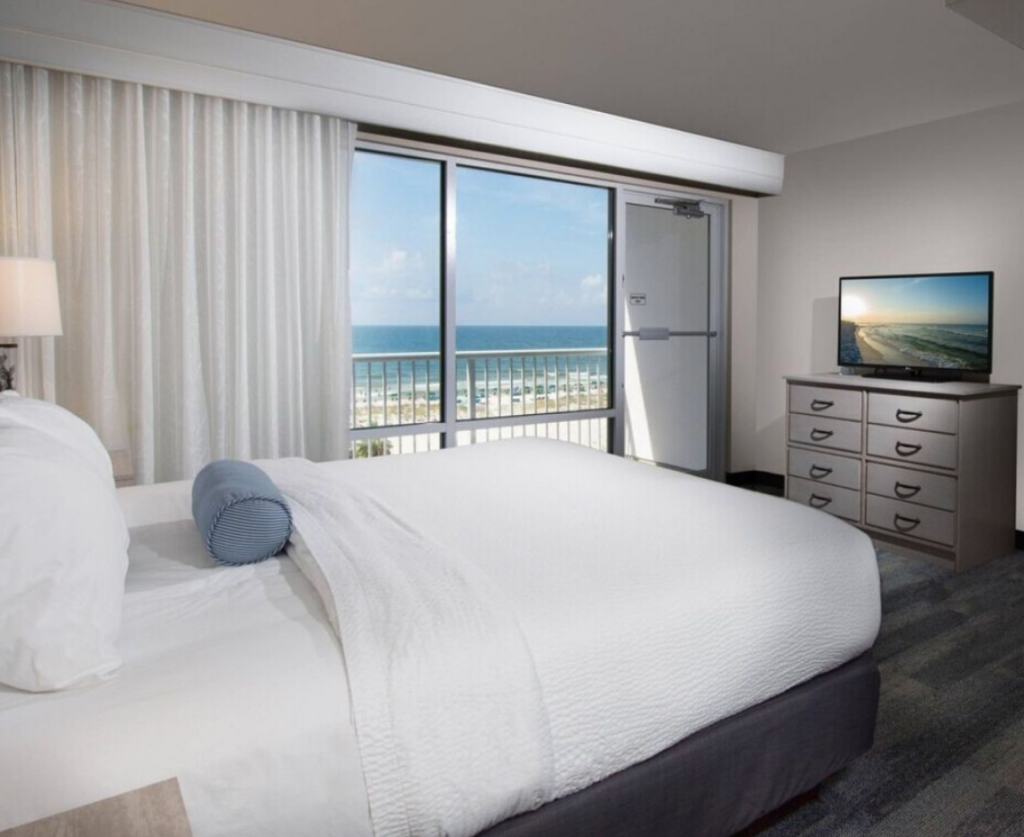 Location: Santa Rosa Island, just off the Bay Bridge
This informal all-suite hotel is just off I-10 in Pensacola, a short 3 miles from the Pensacola airport and just 4 miles from the University of West Florida. When it comes to the best hotels in Pensacola Beach Florida, a friendly staff, fitness center, outdoor pool complex, gift shop, and reasonably-priced rooms make this location a solid choice. With the beach just a few blocks away and countless dining options within easy walking or driving distance, this location is hard to beat in terms of convenience and value. Expect surprisingly spacious rooms and friendly service, all in one convenient, easily-accessible location. You won't be swept away by all the frills of a luxury hotel, but you will appreciate the friendly, accommodating service and all the well-done basics you'd expect from a Marriott hotel.
Holiday Inn Resort Pensacola Beach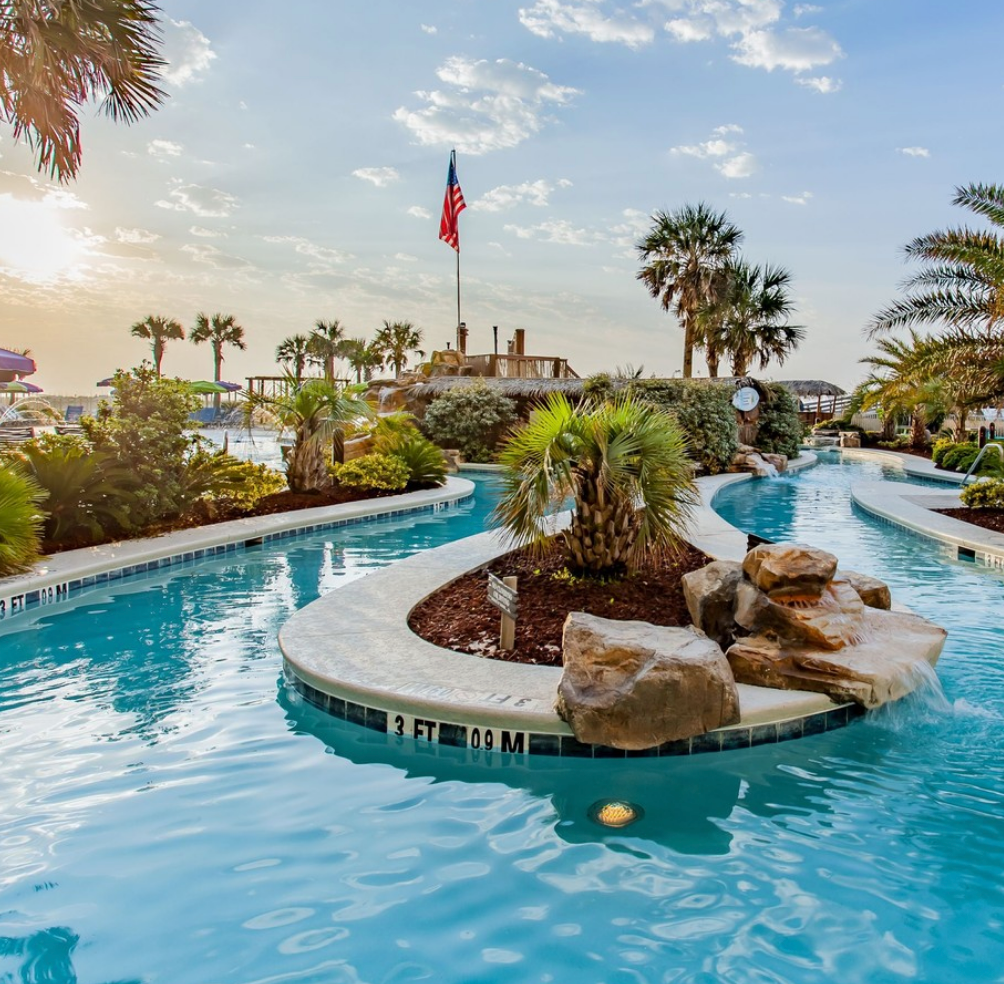 Location: 24 Via De Luna Dr, Pensacola Beach, FL 32561
If you're on the search for resort-style amenities without a spectacular price tag, you might just find your perfect match at the Holiday Inn Resort on the Pensacola Gulf front. Generous, beautiful pools, a lazy river on the property, an in-house restaurant, and the Tiki Bar out back all conspire to make you want to relax and stay awhile, as do the multiple hot tubs and fire pits in the expansive outdoor area. On-site, enjoy dining at Riptides Sports Bar and Restaurant or grab a drink at the Beachfront Tiki Bar.
The beach adjacent to the property offers clean, smooth sand and gorgeous crystal-clear water. And the location–right beside the Pensacola Gulf Pier–leaves little to be desired. Explore the entire surrounding neighborhood on bike or foot, visit the highly-rated nearby shops, and enjoy the best that Pensacola has to offer. Although this hotel in Pensacola Beac FL could use a few cosmetic upgrades to bring its decor up to contemporary standards, it's still overflowing with charm.
Best Western Beachside Resort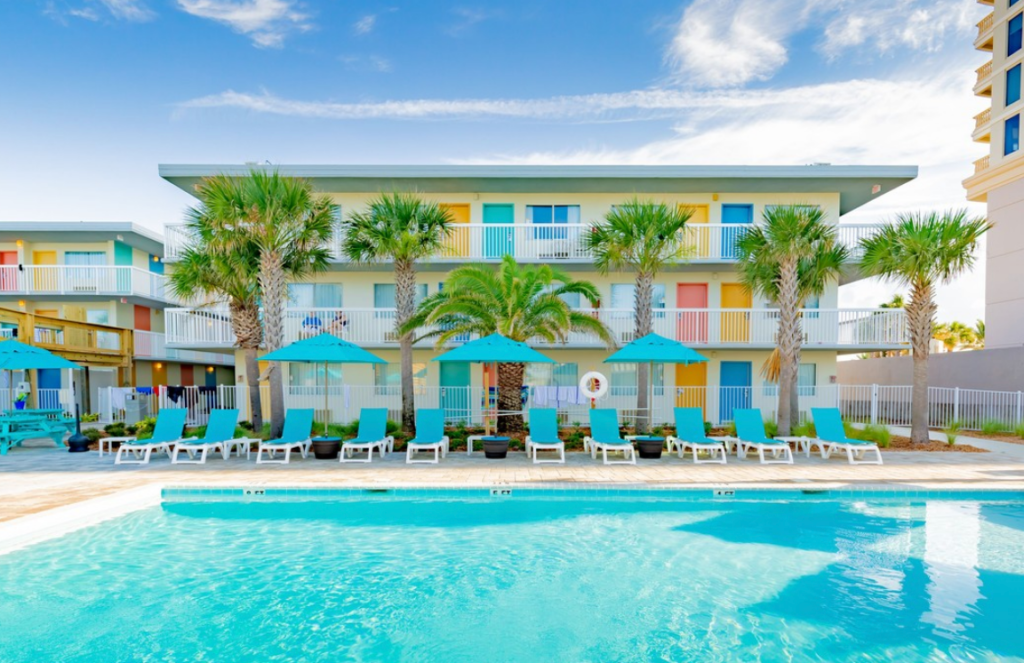 Location: 16 Via De Luna Dr, Pensacola Beach, FL 32561
The Best Western Beachside Resort is a family-friendly resort in an excellent location. Expect two lovely pools and a large splash pad for the kids. Although there are a huge variety of dining options in the immediate area, you might want to stay in and enjoy a meal at Fish Heads Restaurant & Bar on-site. A slew of outdoor amenities appeals to the whole family–including hammocks in the patio areas, and chairs and umbrellas for guest use on the beach.
This location is smaller than many of the larger Gulfside resorts, and many guests report that it feels a little more welcoming and intimate than other large resort hotels on the beach. The Best Western Beachside could use some updates in terms of room amenities and decor, but for a reasonably-priced resort right on the beach, it's hard to complain about a few (mostly) aesthetic shortcomings.
SpringHill Suites by Marriott Navarre Beach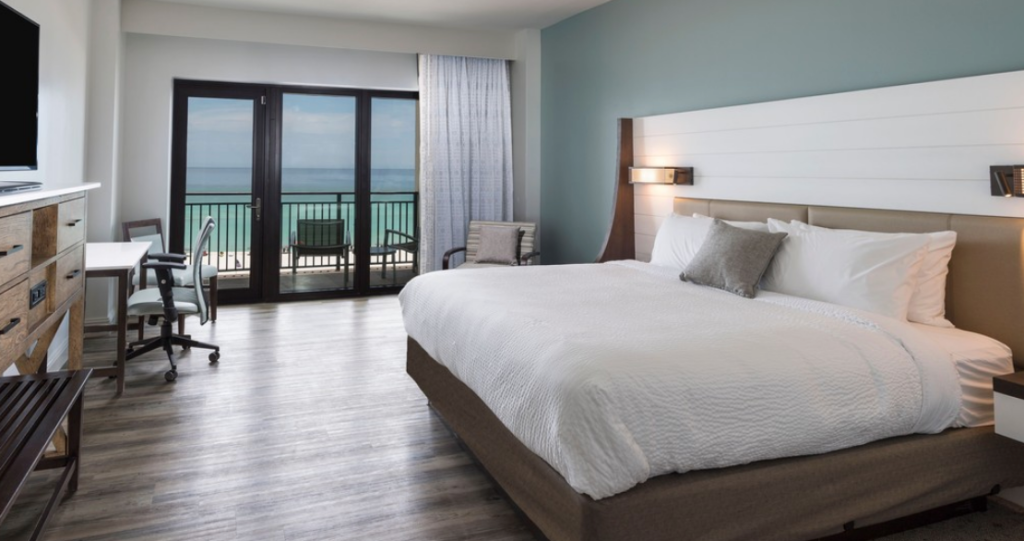 Location: 8375 Gulf Blvd, Navarre, FL 32566
An upmarket, all-suite hotel on a stretch of pristine, white-sand beach, SpringHill Suites seems to have it all. Although not necessarily in town, this is one of the top hotels near Pensacola Beach Florida. Expect an elegant but relaxed atmosphere, a large, beautifully-maintained pool and outdoor grounds area, and direct access to one of the most gorgeous stretches of sand Pensacola has to offer. On the property, you'll find the highly-rated Beach Bar & Grille, plenty of common areas to enjoy, both indoor and outdoor pools and a hot tub, and a lazy river that both kids and adults will appreciate.
A gift shop and newsstand on-site also make it easy to grab necessities. Easy access to prize-winning restaurants makes this location a natural choice for a vacation. It's no wonder why this is one of the most incredible hotels in Pensacola Florida on the beach. Suites with ocean views, private balconies, and over-the-top in-room service set this resort a step above the rest in terms of in-room comforts.
Hampton Inn Pensacola Beach
Location: 2 Via De Luna Dr, Pensacola Beach, FL 32561
Visitors come back to the Hampton Inn Pensacola Beach, again and again, thanks to the gorgeous views and the top-notch service. Whether you opt for a room facing the Gulf or the Sound, you'll love the location–just off the Pensacola Bay Bridge, with easy access to the entire Pensacola area. Guests here rave about the cleanliness of the rooms and grounds, the friendly, accommodating customer service, and the lovely pools–two of them on the premises.
Although there isn't a restaurant on-site, you'll find a host of highly-rated restaurants to visit or order delivery, and complimentary breakfasts are provided. The Hampton Inn offers an outdoor pool, a fitness center, and immediate access to Navarre Beach–which might be all you need to stay busy for your entire vacation!
Holiday Inn Express Pensacola Downtown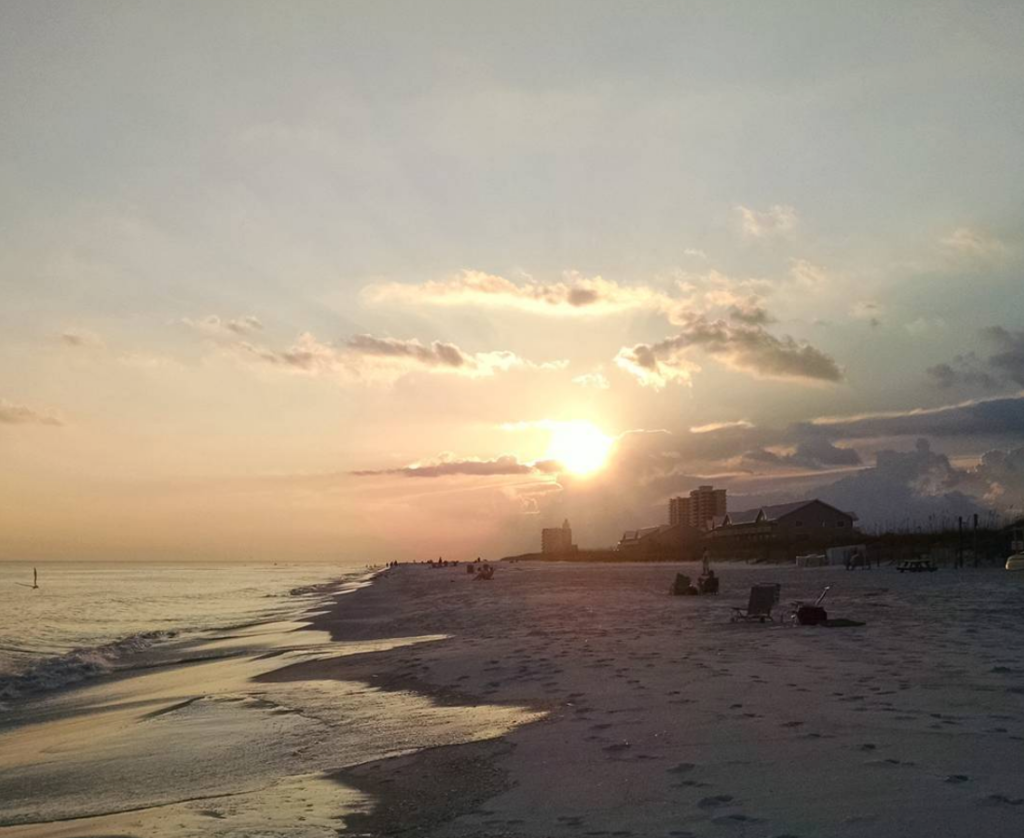 Location: 101 E Main St, Pensacola, FL 32502
Located in a flourishing, upscale neighborhood in Pensacola's downtown, the Holiday Inn Express in downtown Pensacola offers easy access to the highway, the airport, and the city center. Expect clean, contemporary rooms, and all the amenities you'd expect from an upmarket city hotel: a fully-functioning business center, fully-equipped gym, outdoor pool, and fire pit, and friendly, accommodating customer service.
While there is no restaurant on-site, a full breakfast is provided, and there are ample restaurants within walking distance of the hotel. A quiet, relaxing atmosphere makes this an enjoyable place to stay whether you're traveling for work or pleasure. You'll love the location, just a block from Seville Square and minutes from some of Pensacola's best restaurants and museums; it's also within easy driving distance of Fort Pickens and many of Pensacola's top beaches.
Portofino Island Resort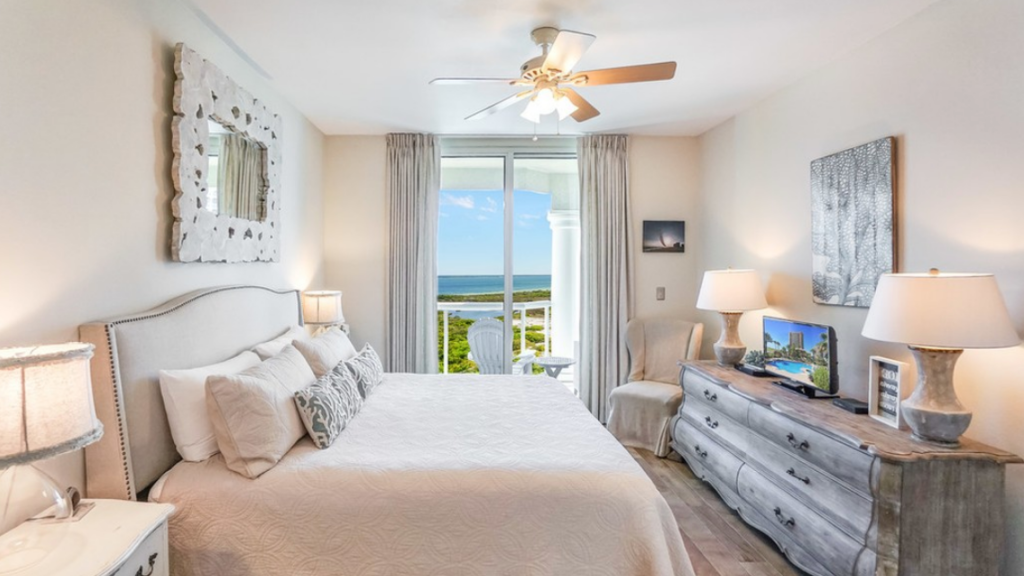 Location: 10 Portofino Dr, Pensacola Beach, FL 32561
Technically not a hotel, this truly expansive resort located right on the Pensacola Beach Trail system, Portofino Island is home to five high-rise condo towers and multiple pools, restaurants, and bars on site. If you're looking for a full resort atmosphere overflowing with amenities and optional add-on packages to keep the entire family busy, this might be it! The grounds are well-maintained and gardenlike, featuring a huge array of tropical foliage. The pristine white sand beach is everything you'd expect from a gorgeous Florida destination.
The on-site spas and coffee shops make it easy to relax and enjoy the beachy atmosphere without leaving the property, while easy access to some of Pensacola's top attractions and restaurants offer an easy diversion whenever you're up for an adventure. Dining options include Coastal, a go-to stop for upscale sea and shore cuisine, Portofino Al Fresco, which offers open-air casual dining, and Lucas's, an intimate eatery with an expansive wine list. Throughout the complex, 7 outdoor pools, multiple tennis courts, a full-service spa, a full gym, and multiple gift shops and retail stores ensure you'll have everything you need during your vacation.
Tru by Hilton Fort Walton Beach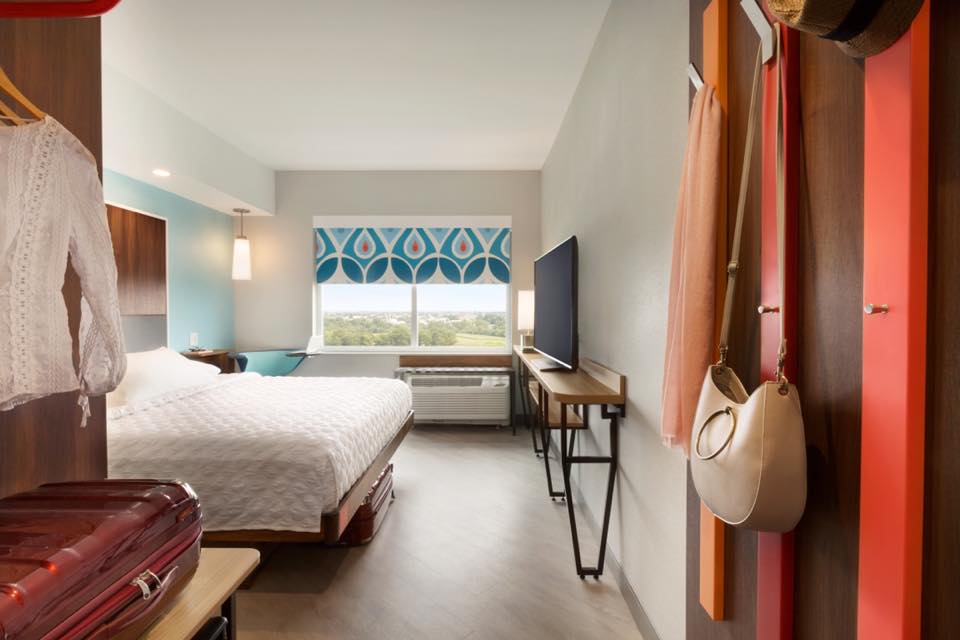 Location: 207 Miracle Strip Pkwy SW, Fort Walton Beach, FL 32548
Tru is a brand-new hotel in Pensacola Beach, with the contemporary touches and amenities you'd expect from an up-to-date Hilton property. The chic, airy rooms all feature wi-fi, flat-screen TVs, and refrigerators; on the grounds, you'll find a gorgeous outdoor pool, a fully-equipped gym, and well-designed communal areas with panoramic Gulf views. The location is perfect, too–just a few minutes down the road from Gulfarium Marine Adventure Park and all of Oskaloosa Island's gorgeous beaches.
Although there isn't a restaurant on-site, free breakfast is provided, and you'll find a 24-hour convenience shop in the lobby, as well as countless area restaurants within easy walking or driving distance of the hotel's front door which puts it on the list of one of the top hotels near Pensacola Beach.
Honorary Mentions:
If you're looking for some of the best hotels near Pensacola Beach, but not necessarily in Pensacola Beach, here are some other honorable mentions to check out:
Pelican Isle Condos
Cottages on the Green
The Island Resort at Fort Walton
Looking for other resources to plan your visit to the Pensacola area? It never hurts to line up your must-stop destinations before you even arrive. Then? Enjoy your stay at one of these top 10 hotels in Pensacola Florida on the beach! No matter where you end up laying your head at night, your Pensacola trip is sure to be unforgettable.