Pensacola didn't earn its reputation as a spring break destination by being a quiet coastal town. No, this is a beach town in which you can play out in the sun all day long and when that sun goes down, that play keeps going. Pensacola boasts a rich and varied nightlife with plenty of things to see, do, and enjoy.
Just check out the following list of a few of our top favorite spots for when the stars come out:
Best Pensacola Nightlife Locations
Old Hickory Whiskey Bar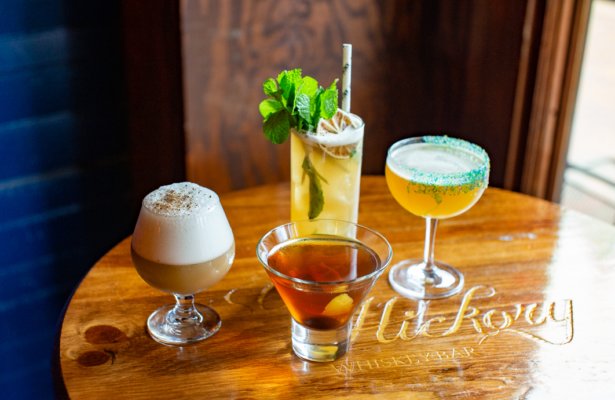 If you love whiskey, then there is quite possibly no better place to go in the south than Pensacola's Old Hickory Whiskey Bar. Conveniently located in the city's downtown historic district. Going into this cozy little bar feels like going into somebody's private whiskey collection. Old Hickory Whiskey Bar feels like a local bar, but its friendly staff is always welcoming and eager to pour newcomers a drink — and there are plenty of drinks to choose from. This is the place to go when you want a relaxing atmosphere that serves up a good stiff drink. Just note that they don't serve food, so plan on snacks before or after if you're feeling peckish. 
Flora-Bama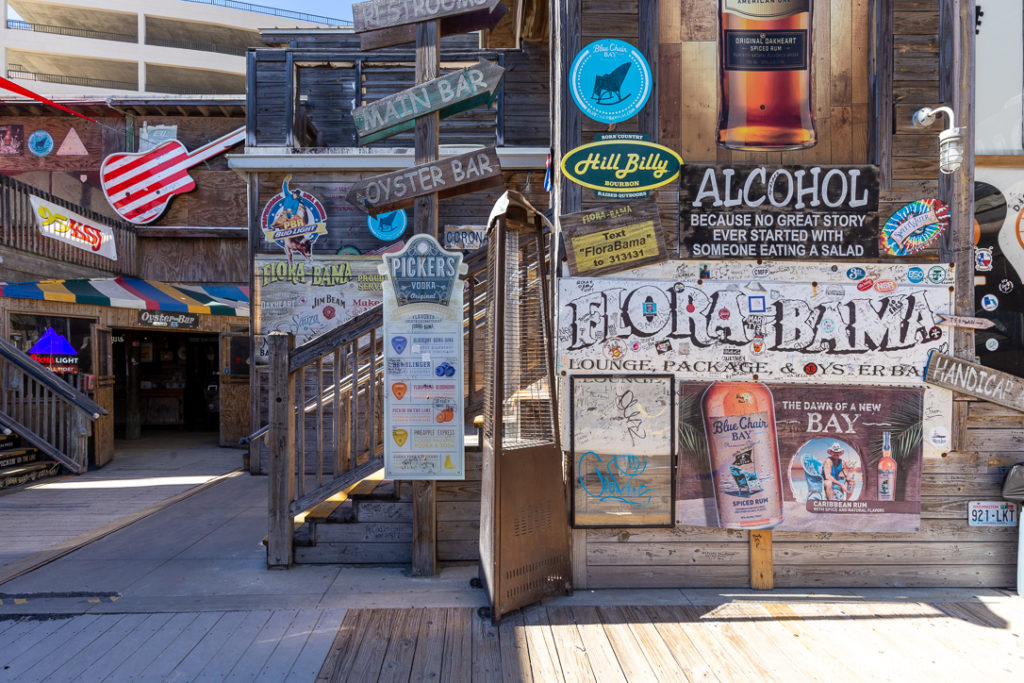 Now, if you want a place you can get a good drink and some delicious seafood, opt for the Flora-Bama Bar. This is a fantastic beachfront restaurant and bar. It serves up some of the best oysters right alongside beer, wine, and cocktails. And if that wasn't enough, Flora-Bama also boasts an incredible nightlife calendar of events. Live music on weekend nights is a given here, and that music sometimes includes some pretty big names. Country music star Kenny Chesney didn't just play here. He felt so inspired by the bar and its name that he wrote up an entire song for it on his The Big Revival album. 
Vinyl Music Hall
If you are in the mood for a very music-focused evening, then head down to the Vinyl Music Hall. The Vinyl Music Hall is a nightclub located in the heart of Pensacola's downtown, just at the intersection of Garden St. and N. Palafox St. The building the nightclub is in was first built in 1897. It has retained much of its original historic architecture. Despite several renovations made to safely expand the Vinyl Music Hall's occupancy. Walking into this venue feels like walking into a one-of-a-kind ballroom that offers an up-close and personal live music experience. Both local favorites and world-renown artists. Check their calendar for upcoming shows to learn more!
Seville Quarter
The Seville Quarter is also located in downtown Pensacola. Are you seeing a trend of where the best nightlife venues are in this city? Pensacola offers quite possibly the most dynamic evening experience in the area. A dance club, pool hall, several bars, and restaurants are all under one roof. The Seville Quarter has been around since 1967 and has quite an extraordinary reputation. Slowly growing as more and more people entered the once-dilapidated warehouse to enjoy music, drinks, and general good times. Today, the Seville Quarter includes seven unique and fantastic rooms. The saloon that started it all, Rose O'Grady's as well as Phineas Phogg's, Apple Annie's, Lili Marlene's, Fast Eddie's, Palace Cafe, and End o' the Alley. You will find each of these "rooms" boasting its own theme, its own atmosphere, and its own attitude. So if you're looking for a one-stop fun evening, look no further. Go eat, drink, and be merry at the Seville Quarter!
Bamboo Willies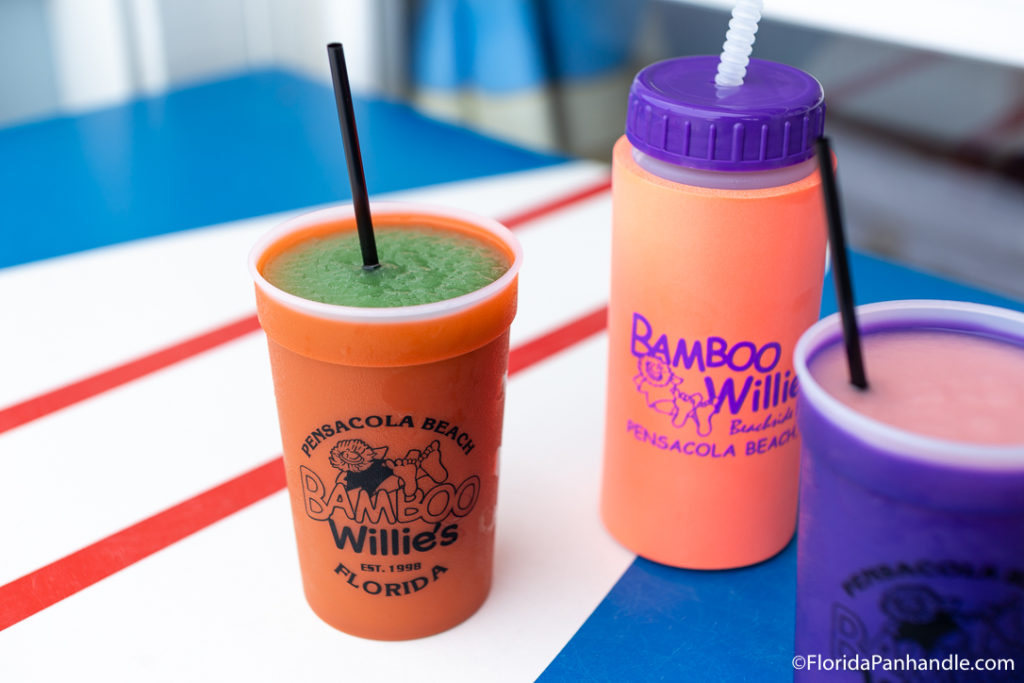 Bamboo Willies is the oceanfront bar you go to when you want a true, blue spring break experience. Remember, you're never too old to enjoy that hot weather fun. You will find this restaurant and bar located on Quietwater Beach (not very aptly named). Often with a nice crowd on the back porch. The back porch is, after all, the place to be during the day. It overlooks the water and offers a perfect place to relax in the sun with a cold beer or a colder frozen slushie. You can get it either with or without alcohol. During the big holiday weekends and weeks, this back porch often also becomes the site of group activities like bikini contests and cornhole competitions. At night, no matter the weekend or the season, Bamboo Willies comes alive with music and general goodwill. The staff here is friendly and the general atmosphere fun and lively. 
Wisteria Tavern
A lot of the bars on our list of the best of Pensacola's nightlife are going to be pretty busy and pretty loud. Pensacola, after all, is a big vacation destination and a lot of people come here to enjoy both day and night activities. But what if you want quieter nightlife? A place to meet people but not feel the need to shout over loud music? For those nights, consider Wisteria Tavern. Wisteria Tavern is tucked away in Pensacola's East Hill neighborhood and has been quietly serving drinks to residents and visitors since 1935. Don't let its nondescript outside appearance fool you, this is a dive bar with charm and with plenty of offerings. You'll find more than 20 beers on tap and over 100 bottled beers to choose from — sorry, no liquor but yes to wine offerings. Wisteria Tavern boasts outdoor and indoor seating, is pet-friendly, and a food truck is often parked out front on the weekends. Just note that this is more of a mellow local pub and not a tourist-centric beach bar. You will rub elbows with locals here, but chances are high you will love it.
Go Out & Make Those Pensacola Vacation Memories
We hope this list of Pensacola's fantastic nightlife helps as you plot your next vacation to the Panhandle. To learn more about some of the above bars and restaurants, you can see more in-depth unbiased reviews on our linked pages. Also, don't forget to check our other Pensacola guides that will help you make the most out of your upcoming trip.