When you absolutely need a sweet treat, you can always count on donuts to hit the spot. With all the amazing flavor combinations out there, it doesn't matter if you're looking for a chocolate kick, fruity delights, or maple syrup goodness – Donuts are the answer. But where can you find the very best donuts in Panama City Beach? Just take a look at this guide for seven top spots to get your fill of sugary goodness on demand.
Thomas Donut & Snack Shop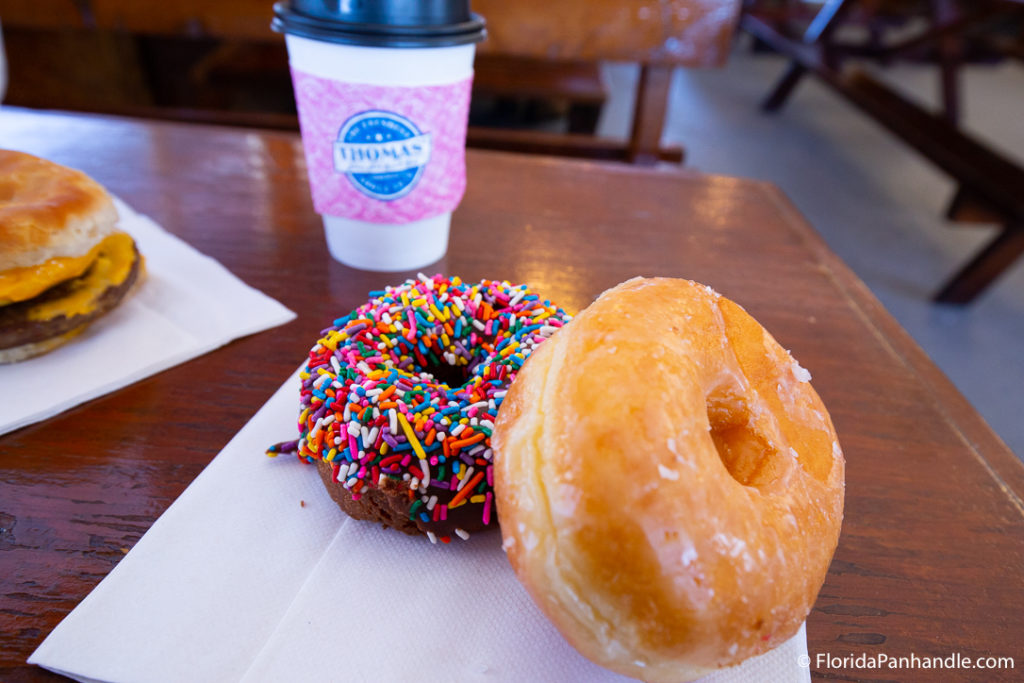 For over 50 years, Thomas Donut & Snack Shop has served as the go-to spot for donuts and more. Their donuts range from Chocolate Iced Glazed and Old Fashion Sour Cream Cake to Custard Long John and Apple Fritters. They regularly have seasonal cake donuts available as well, like Banana Cream Filled donuts for the summer.
Since they're a local favorite, their line wraps around the building long before they open, so be sure to get here as early as possible. Otherwise, you could miss out on your favorite varieties because once they sell out, they're done with donuts for the day. You can always come back the next morning for another try or satisfy your cravings for sweets with one of their tasty muffins instead.
The Donut Hole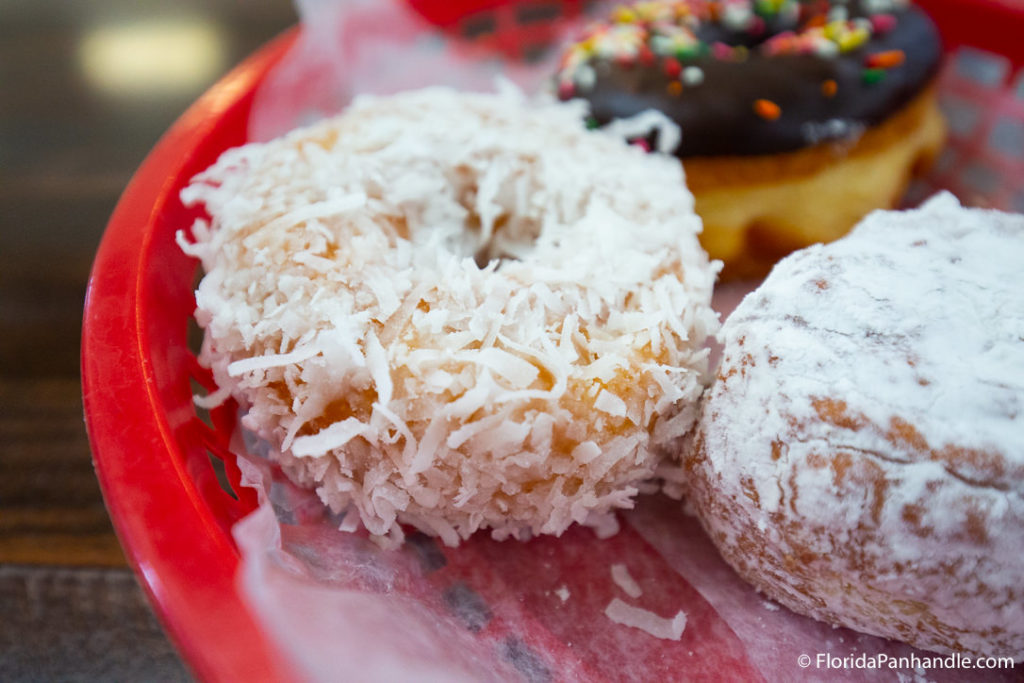 The Donut Hole serves as an excellent hideout in Rosemary Beach when you need to chow down on sweets in peace. Since they bake all their donuts fresh each morning before kicking open the doors at 6 AM sharp, you'll want to wake up before sunrise and get in line for a chance at your favorite flavors.
Although their huge donut case looks chockful of delicious options at first glance, they go wicked fast as loyal patrons pour through the doors. When your turn arrives, you'll have to decide between all their top donuts, including Maple Glazed, Devil's Food Cake, and Bavarian Filled delights. If you cannot choose, just go with their Basic Glazed, Powdered Sugar, and Crumb varieties for a classic journey that you're sure to love.
A'More Donuts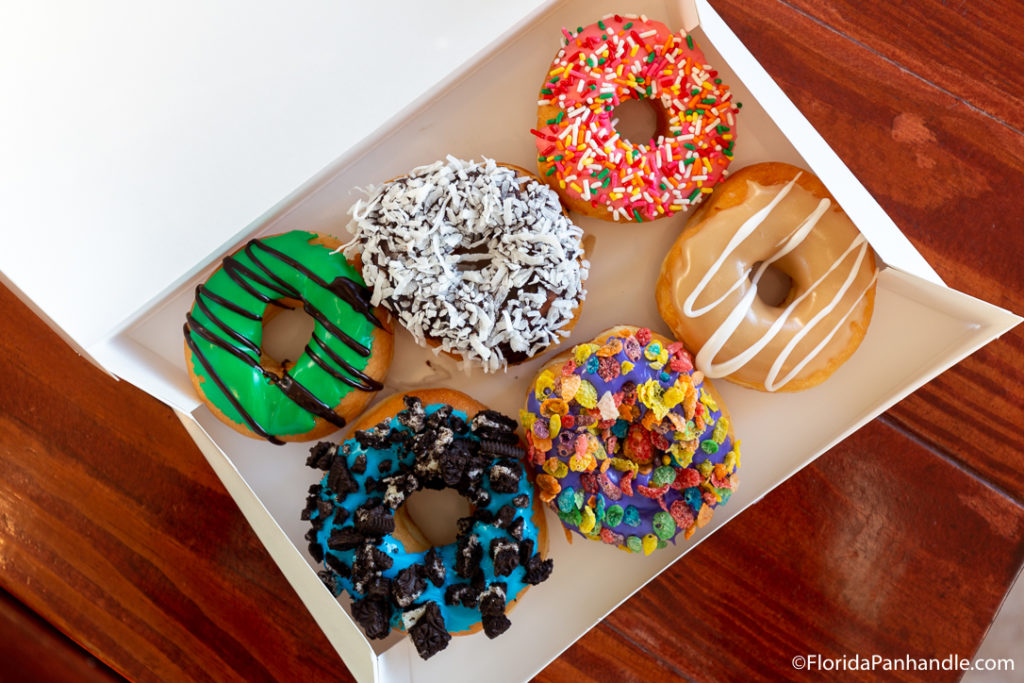 In making all their amazing treats, A'More Donuts lets their creativity soar, so they can always come through in a big way for their loyal patrons. Although pizza and subs are the bread and butter of their operations, you really cannot get the full experience without trying their donuts.
Made fresh each day, their donuts come in all the best flavors, including Cinnamon Buns, Apple Fritters, and Maple Bacon. Available in blueberry, cherry, key lime pie, chocolate, custard, and peach, their many filled powdered sugar donuts never fail to impress either.
The real magic is in their cereal and cookie crumb topped donuts, which always seem to sell out fast. Fruity Pebbles, Oreos, and everything in-between land on top of their glazed donut rings, giving you the best flavors in every bite.
Sunrise Cafe & Bakery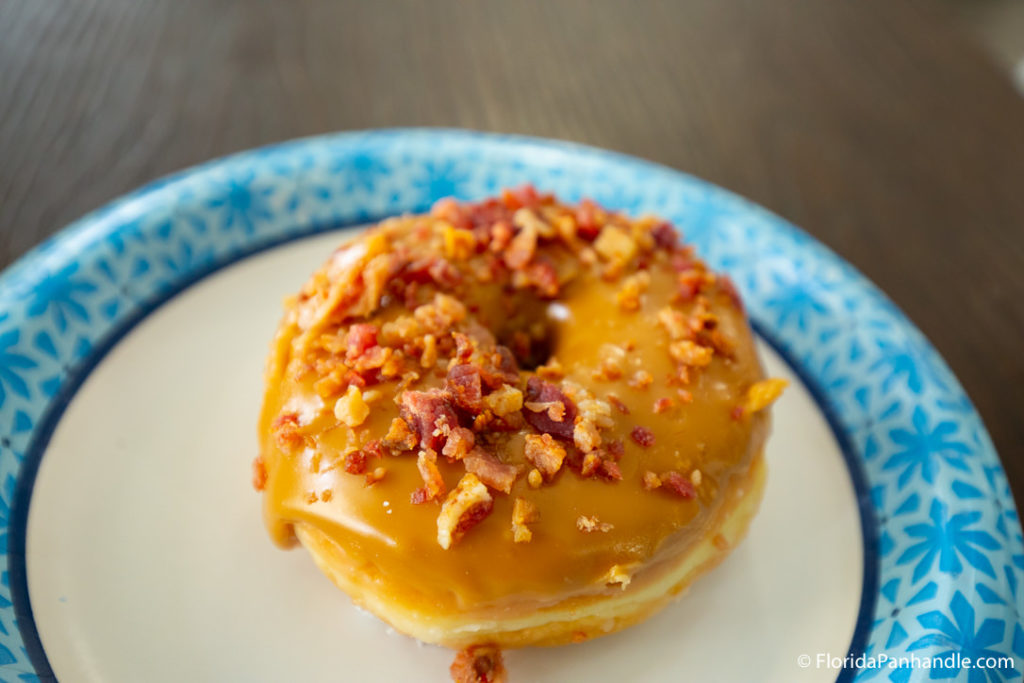 Sunrise Café & Bakery starts early in the morning to fill their donut cases with fresh baked deliciousness in all the best flavors. Their top offerings include Chocolate Glazed Long Johns, Maple Rings, and Cake donuts galore. They always go big on the sprinkles, too, so every donut kicks off the sugar party in style.
Want something a little different? Be sure to try their fried, glazed Croissants for a light, buttery, and sugary blast of flavor. Whether you get the Plain Glazed, Chocolate Almond, or Pecan-topped varieties, you're sure to end up wholly pleased from the first bite to the last.
You can get your donuts at a discount if you look along the top shelf for yesterday's goods. Although they're not as light and airy as the fresh-baked donuts, all their flavors are still amazing and well worth grabbing if you're on a budget.
Charlie's Donut & Yogurt Truck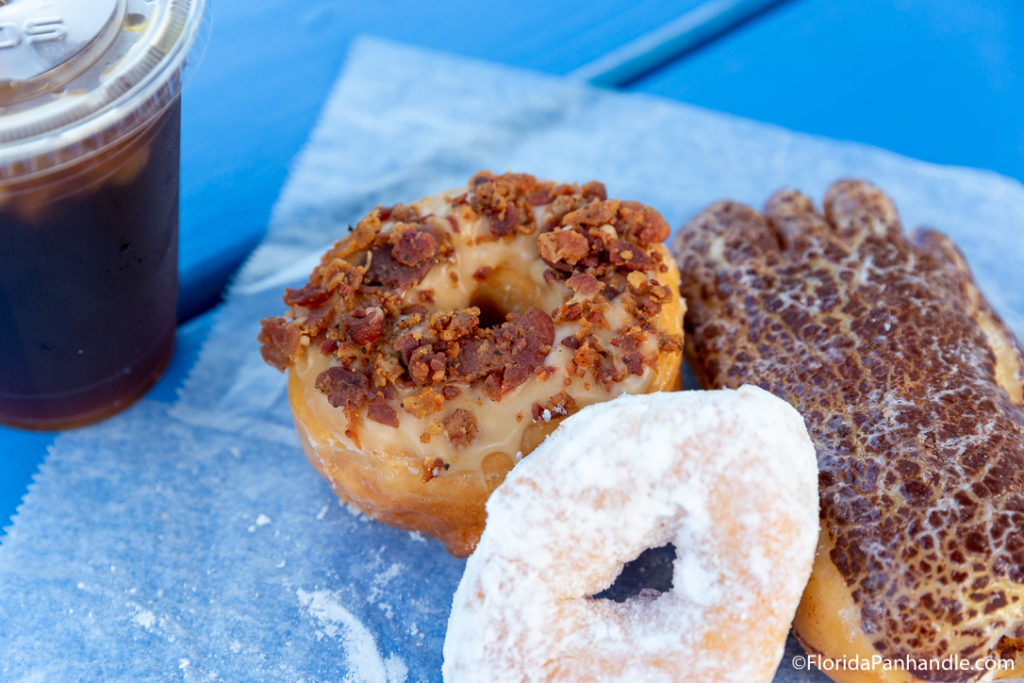 Mouthwateringly delicious donuts are definitely the name of the game at Charlie's Donut & Yogurt Truck. Operating out of their food truck along Alys Beach, they spend each morning whipping up all the best donuts around, including Key Lime, Maple Bacon, and Chocolate Sprinkles.
They sell, sell, sell until their donuts run out, and then close up shop until the next morning. If you arrive late, you're likely to only get glazed rings, although they are well worth the visit on their own. You'll want to come back the next day for another try, however, to try all their other amazing varieties.
If you get here early enough to grab all their top options, don't hesitate to get a dozen, and take them beachside to stay fueled up for all your surf and sand adventures. Get a coffee, too, so you can stay well hydrated and to help offset all the rich sweetness in every bite of your donut favorites.
Leon's Donuts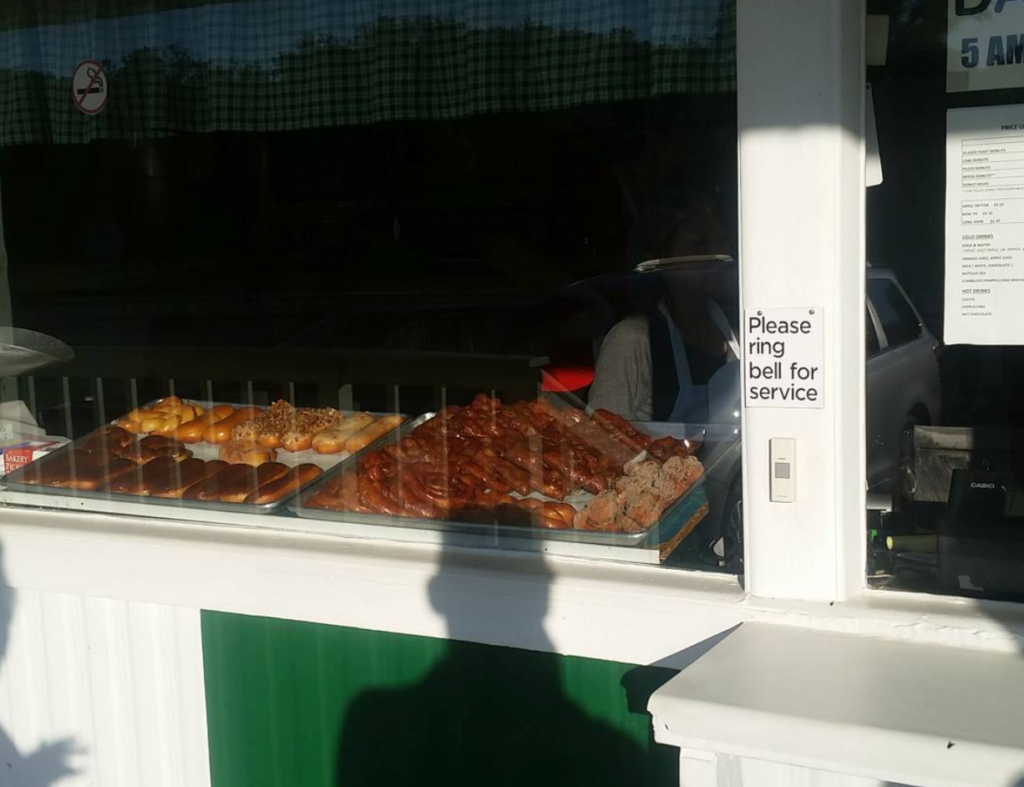 At Leon's Donuts, they take the donut-making experience seriously, while infusing fun in every variety they make each day. The process starts in the middle of the night, so their case is full of donut options by the time they open at 5 AM.
As you roll up to the front counter, you'll want to take a moment to gaze in awe at all the donuts on tap. Their Maple Bacon Bars, Apple Fritters, and Glazed Sprinkle Rings tend to sell out the fastest, so grab them up if you see them.
Beyond that, you'll definitely want to get at least one of each of their twists. They have Glazed, Cinnamon Sugar, and Chocolate Glazed Twists available most days. Each one features light, airy dough that pairs beautifully with the sugary topping, leaving you feeling 100% satisfied with each bite.
Dan-D-Donuts & Deli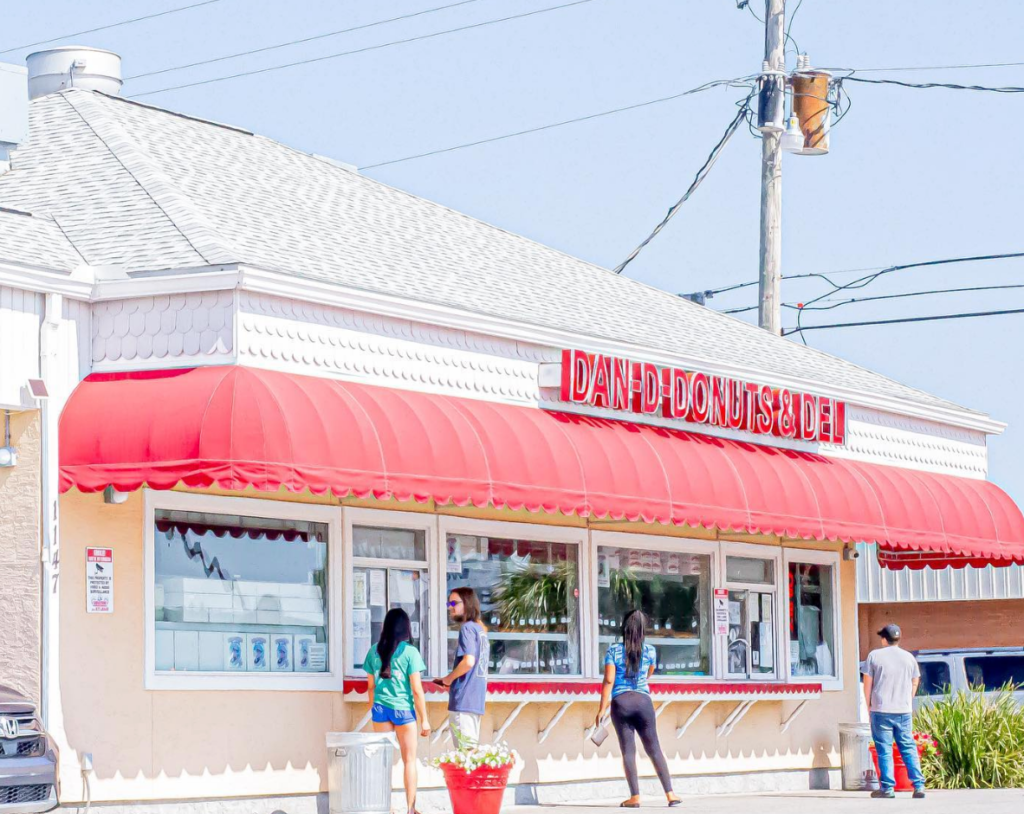 Dan-D-Donuts & Deli makes it easier than ever to get your donuts and hit the road. As you walk up, you'll notice that their front window is absolutely filled to the brim with all the donuts made before opening. After you gaze in wonder at all the options, all you have to do is walk up to their front window to put in your order.
While there, you'll get a choice of all the top donuts around, including huge Bear Claws, Maple Glazed Long Johns, and Donut Holes by the handful. Their signature donuts, the King Dan and Chocolate King Dan are larger than life and just as delicious. So, don't miss the opportunity to take at least one home with you at each visit.
Whether you stop by for a single donut or go for a dozen or more, all these Panama City Beach donut shops will undoubtedly exceed your every expectation. To find the best of the best, however, you're going to have to visit them all, and then decide which ones win out. You can then always zip in for fresh, delicious donuts when you need to satisfy your sweet tooth without delay. Bring your friends and family, too, so they can also experience the very best donuts around without guessing where to go.