Panama City Beach is a decidedly dog-friendly community with several dog parks and even a dedicated dog beach where pups can enjoy off-leash ocean play so long as you can keep them under voice command. You will likewise find plenty of dog-friendly accommodations and, after you enjoy a long day out and about the town, outstanding pet-friendly restaurants and bars to kick back and enjoy a bite at with your pooch.
Just take a look at the following five outstanding PCB restaurants that have patio dining that's always open to four-legged patrons:
1. Coconuts Restaurant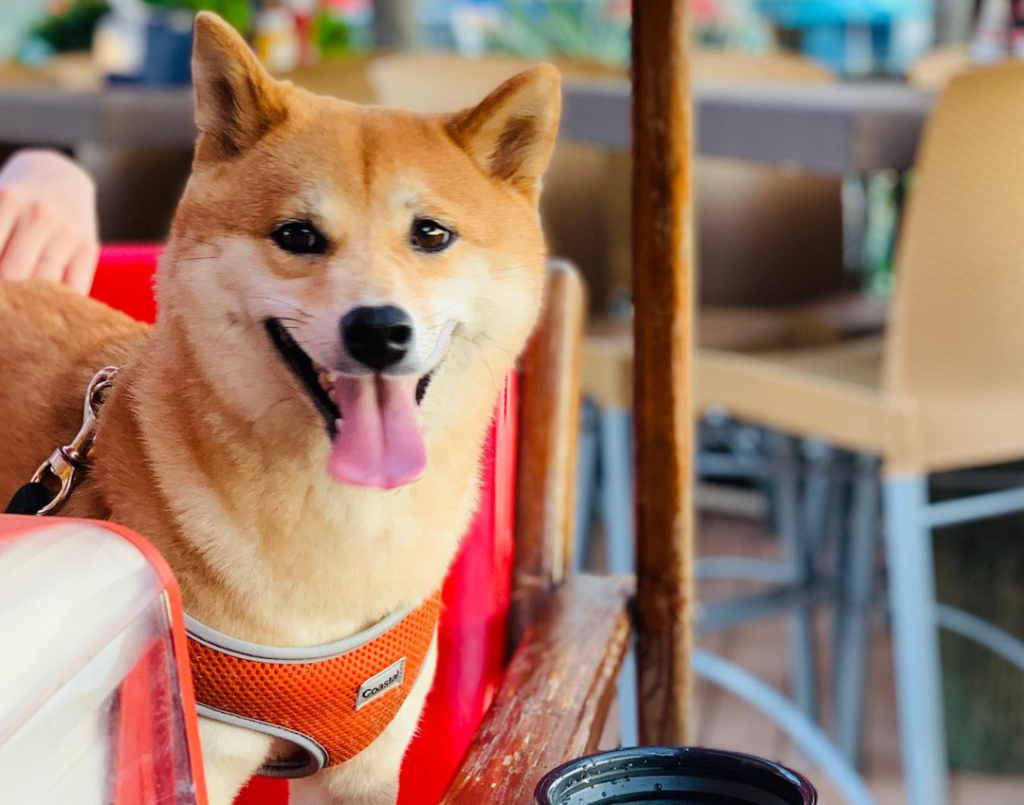 The Coconuts Restaurant is a beautiful two-story restaurant with a massive front patio that's located just across from its affiliated hotel of Sandpiper Beach Beach Resort and Tiki Bar. So, yes, this is a hotel restaurant, but it certainly has its own style that keeps people coming back. Plus, both of these locations, the restaurant, and the resort, are pet-friendly, making for an easy overall stay if you're traveling with your dogs. Just note that because of this affiliation, all orders come with a small resort fee charge and an automatic 18% gratuity.
But let's get to the actual dining experience! The front outdoor patio that's dog-friendly is plenty spacious with comfortable seating that includes private outdoor cushioned benches. Their menu has a little bit of everything, including fresh seafood entrees and big pizzas. They also have a good selection of beers on tap and have a full bar with its own cocktail and frozen daiquiri menu. Their signature dish is the Coconut Crusted Shrimp Dinner Plate which features a big serving of fried coconut-battered Gulf shrimp served with a side of hushpuppies and your choice of two sides.
2. Salty Sue's Restaurant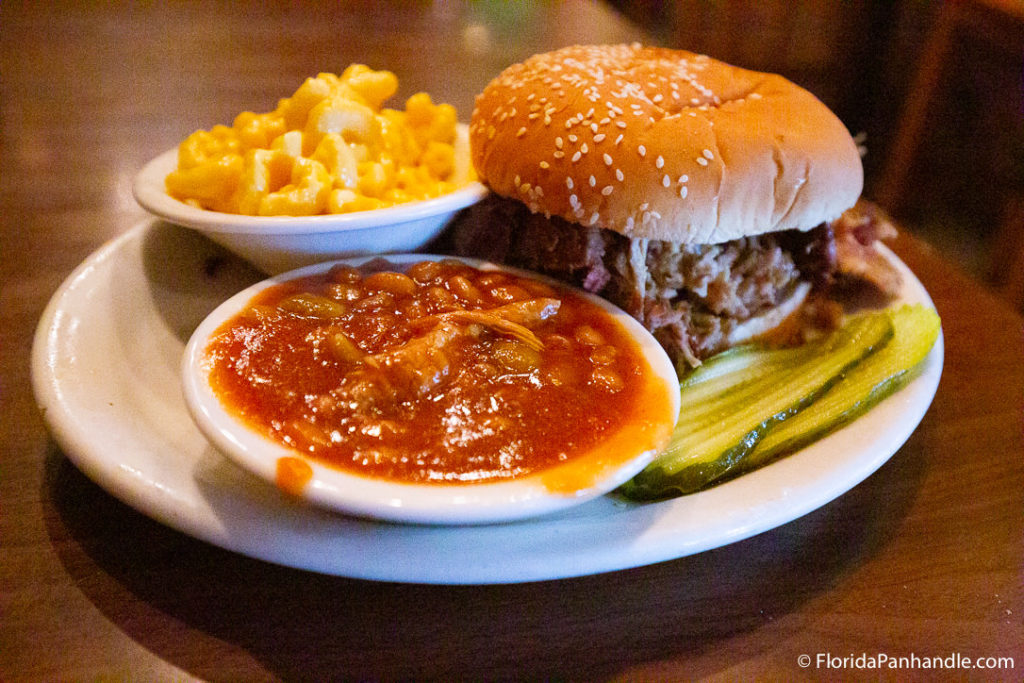 Maybe you want to get away from the beach and the resort crowd for your next meal in the Panama City Beach area. If so, then one great option is Salty Sue's Restaurant. This is a beloved PCB restaurant that is best known for its Southern homecooked style and finger-licking barbecue. Their outdoor patio isn't massive, but you and your pooch are still apt to find a comfortable place to sit and relax. Emphasis on the word "relax" because, as with many Southern-styled restaurants, food can be slow to come out but will be worth that wait.
Take your time with the menu as there are a lot of great options here. Salty Sue's Restaurant serves up big portions at pretty competitive prices that can get even more competitive if you choose one of their lunch or daily specials. A few popular entrees here include the Beef Brisket BBQ Dinner which comes smothered in brisket BBQ sauce and served with two sides and your choice of hushpuppies, home-baked roll, or Texas toast, and the Fresh Gulf Grouper which comes as a massive filet of fish cooked to your liking and served with the same side and bread options.
3. Hook'd Pier Bar and Grill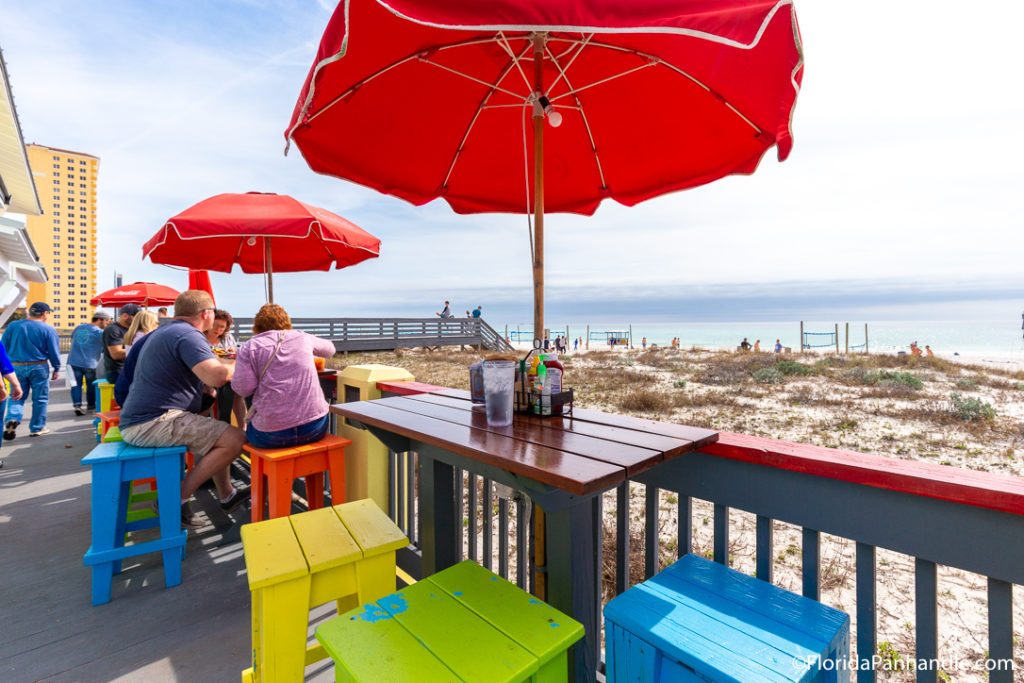 With a massive patio that directly overlooks and even has a boardwalk leading down to the beach, Hook'd Pier Bar and Grill has probably the most scenic dog-friendly dining experience on this list. Plus, it's located right around the corner from that aforementioned dog-friendly beach! This Panama City Beach restaurant is also great for kids and large families thanks to its sizable kid's menu and big table settings.
Hook'd Pier Bar and Grill has a largely seafood-focused menu with a nice selection of tacos, taco bowls, and wraps. For example, they have a Gator Taco Bowl that comes with salted tortilla chips atop which is layered shredded cabbage and seasoned gator tail and served with salsa. If you're looking for a more traditional seafood entree, go with their Signature Crab Cakes. This entree features hand-pattied crab cakes that are topped with their own Key lime sauce and serviced with corn, rice pilaf, and hush puppies.
4. FINNS Island Style Grub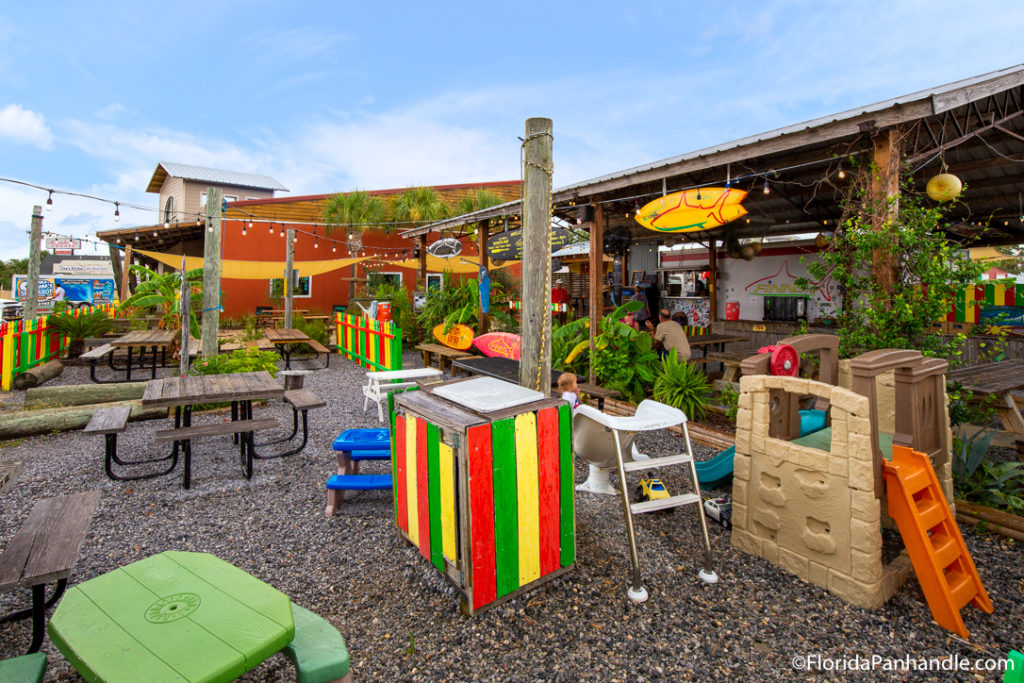 When people talk about island style, they generally are talking about being laid back. That's exactly the vibe you'll get from FINNS Island Style Grub. This is a fully outdoor, counter-order, and counter-serve restaurant that's located across the street from Rick Seltzer Park. They've got plenty of their own outdoor picnic tables to feast at, including ones underneath an extended awning, or you can pick up and head over to the park to enjoy your flavors with a beachfront view. The menu here features a lot of tacos (especially seafood-oriented tacos like their Shrimpy Taco and Ahi Tuna Tacos) and some wraps. FINNS Island Style Grub also has its own espresso machine, making them a great place to go when you're in the mood for an Americano or Latte to pick you up.
5. Shore Dogs Grill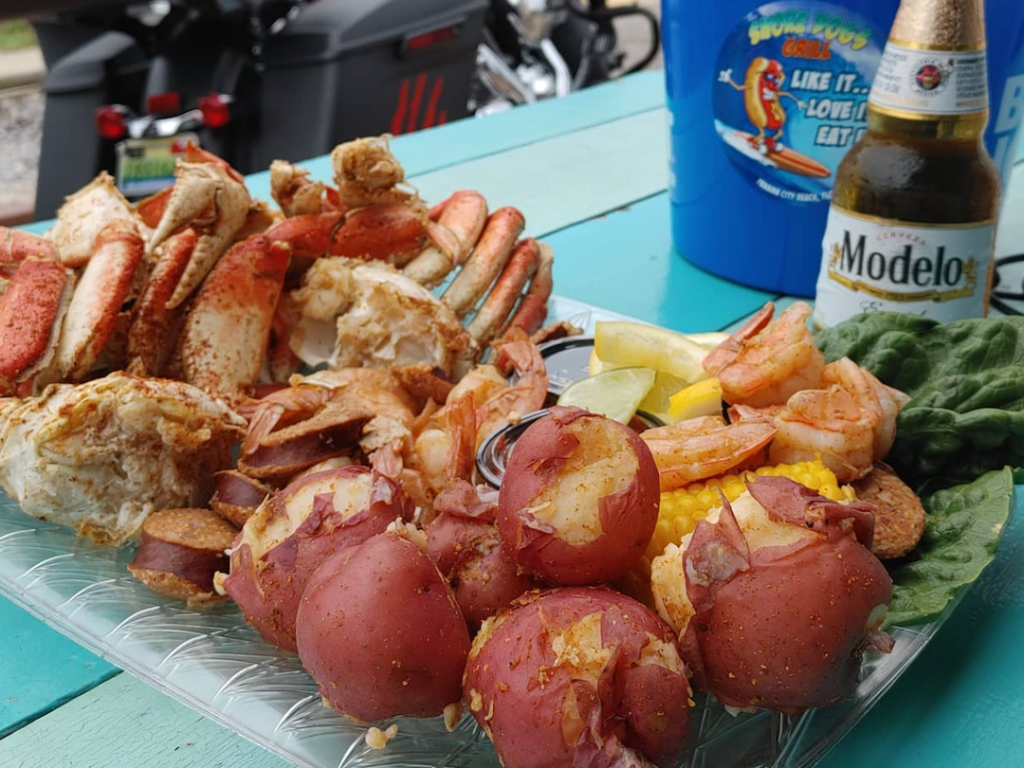 Technically, this restaurant got its name from serving up some thick and juicy hot dogs and brats, but Shore Dogs Grill is also a place open for the four-legged variety of dogs. In fact, some of their menu items are named after beloved pets, like the German Shepherd entree that features a thick beer bratwurst that comes smothered with nacho cheese and topped with seasoned grilled onions.
Shore Dogs Grill is a very popular casual American bar and grill that's located on the main thruway of Thomas Drive, just a few blocks away from Rick Seltzer Park. They have a spacious interior and a nice front patio area that offers dog-friendly seating. During the busy tourist seasons, this restaurant usually features live music and even ropes off part of its parking lot for game events like cornhole tournaments. Overall, this place boasts a fun and lively atmosphere that is nicely complemented by cheap Happy Hour drinks and savory grilled foods.
Learn More About Panama City Beach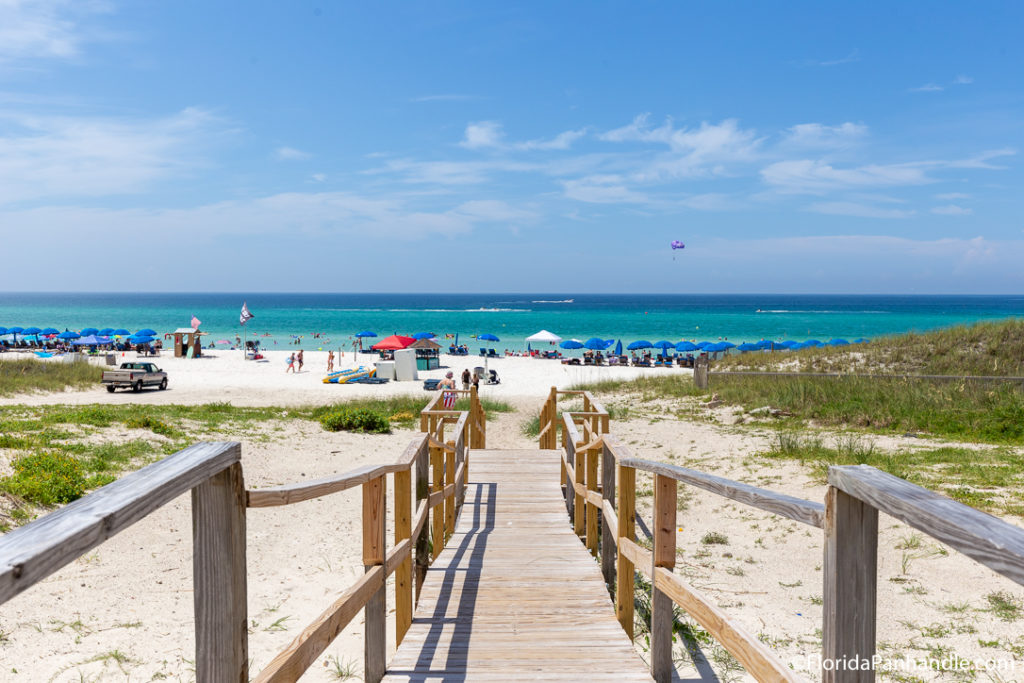 We hope this quick list of pet-friendly PCB restaurants has you eager to visit the area but know that it certainly isn't all that this coastal community has to offer. Learn more about that dog-friendly beach, as well as the best beaches for swimming, sunbathing, kiteboarding, and more by visiting our other pages.