Really, what could be better than an ice cream treat on a blazing-hot summer afternoon or muggy evening in Panama City Beach? The answer, we propose, is nothing. Ice cream and its various frozen-delicacy cousins hit the spot like nothing else after a few hours kicking back at the beach, strolling around town on some retail therapy, or cruising offshore while sportfishing, sailing, or jet skiing.
Fortunately, you're all-around spoiled for choices when it comes to topnotch ice cream in and around Panama City Beach. To help you navigate your way among the waffle cones, milkshakes, and sprinkle toppings at hand here, we've pulled together our picks for the very best the area has to offer in the ice-cream department. Read on and start planning some parlor-hopping with the whole gang!
Chuy's Gourmet Pops & More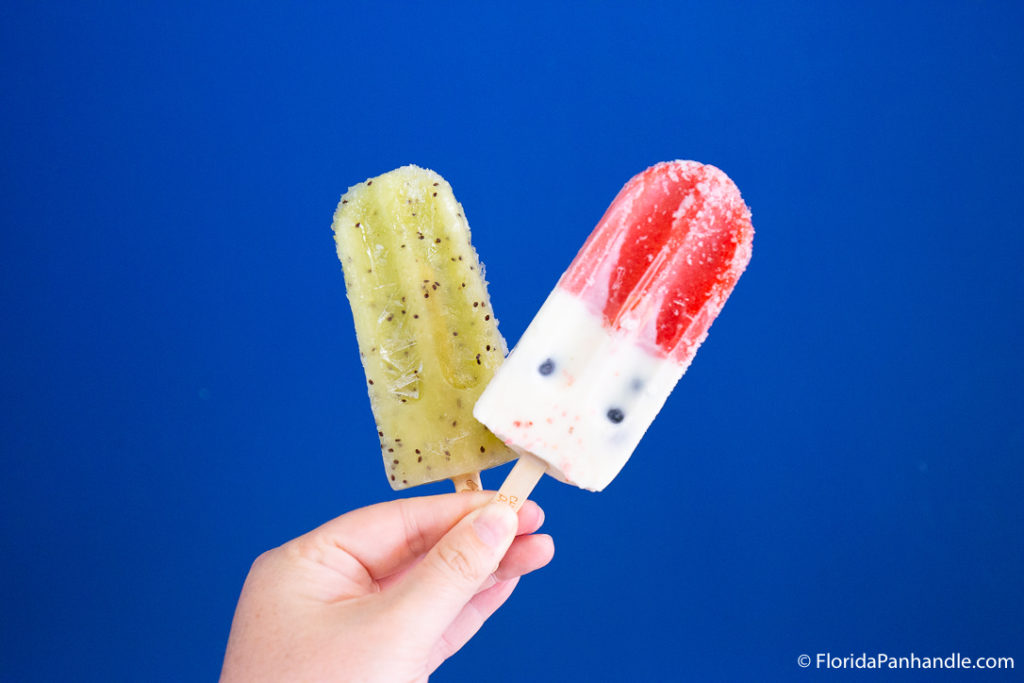 You're faced with all kinds of tricky decisions after walking through the doors of Chuy's Gourmet Pops & More, but the good news is none of them will end up being bad decisions. Maybe you'll decide to select from the expansive menu of ice pops, some 35 flavors that will entice you in here. Some are fruit-based pops, such as mango, pistachio, and pineapple; others are milk-based versions, coconut, Nutella, and peanut butter among them. For the latter, you can (and very likely should) opt to coat your ice pop in a suit of chocolate and toppings.
Ice cream-wise, Chuy's ladles out a dozen flavors into your choice of a cone or a dish—or, alternatively, delivers them to you in milkshake form. You can request chocolate added to your scoops as well as any number of toppings, from stone-cold classic sprinkles to cookie crumbs.
Pink Pelican Ice Cream Bar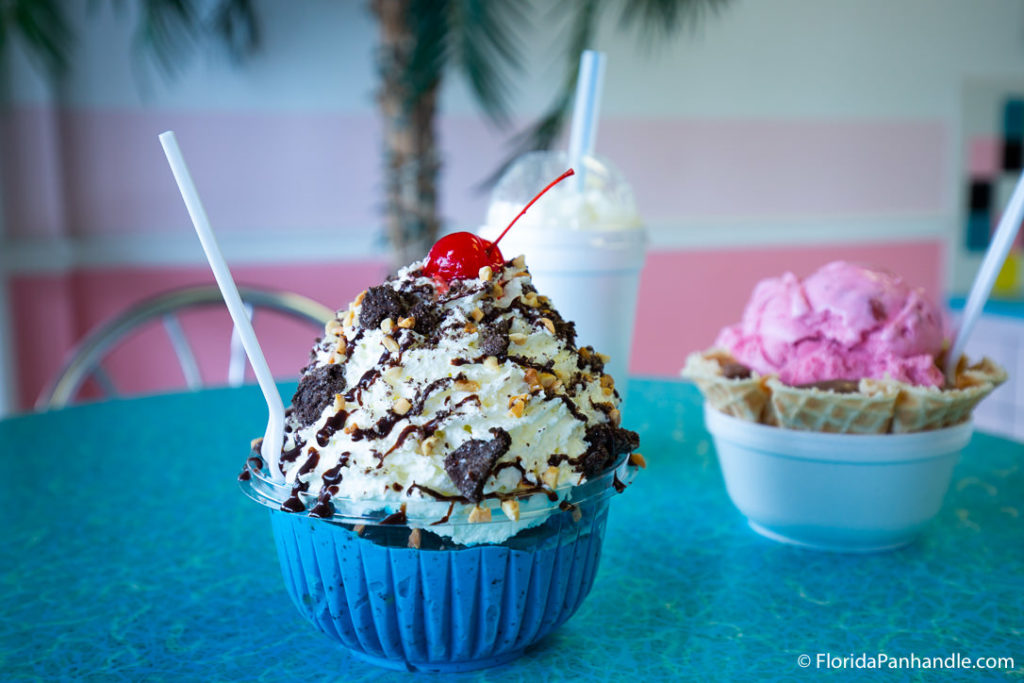 More often than not, you're going to be standing in line awhile at Pink Pelican Ice Cream Bar. But here's the deal: First, that's always a good sign, and second, it gives you extra time to scheme up the perfect order! As at Chuy's, after all, you've got an awful lot of choices to sort out.
You can enjoy excellent ice cream as well as frozen yogurt at Pink Pelican, one of the Panama City Beach area's real local's favorites. There are certain must-try items here, among them the Bomb Creamsicle—a devilish pairing of vanilla ice cream and Fanta soda topped off with plenty of whipped cream—and the well-named Banana Split Royale, a fit-for-royalty spread of banana, ice cream, nuts, chocolate syrup, and whipped cream—oh, and, of course, the literal cherry on top—that's best enjoyed with a hungry friend. But we'd be remiss not especially highlighting the Pink Pelican Special, which goes all-out: We're talking butterscotch ice cream and butterscotch swirl with peanut butter cups, Heath candy, and crushed cookies—sent from heaven direct to any and all sweet-tooths.
Mr. Puff's Hand-rolled Ice Cream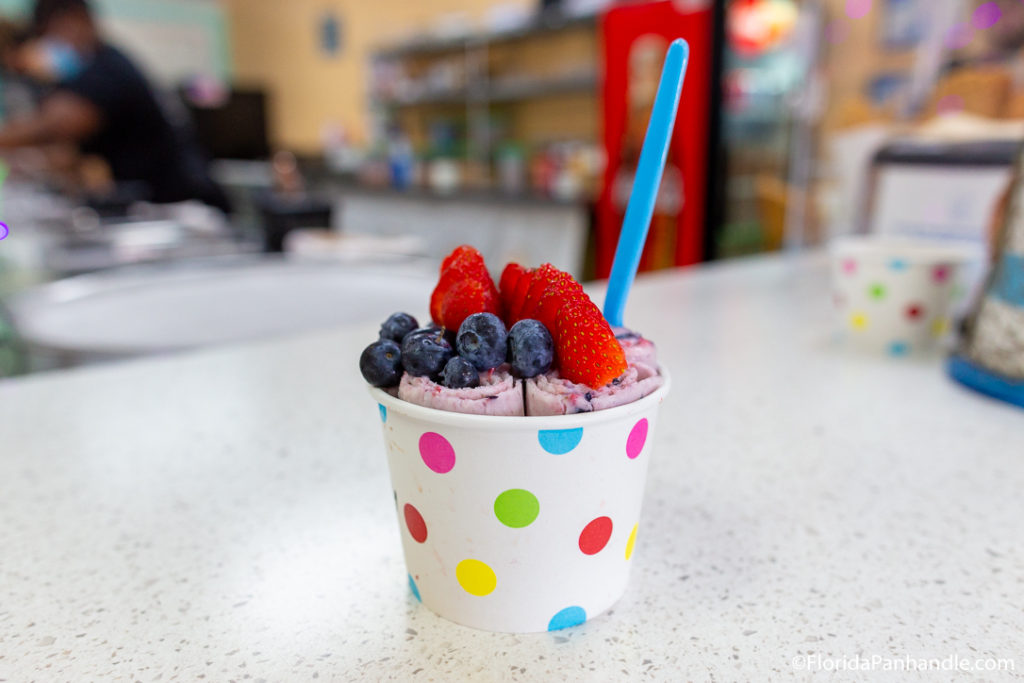 Mr. Puff's is a great place to go for a little outside-the-box frozen-dessert foraying. The ice cream here comes in rolled-up form, accentuated by any number of different toppings. There's a novelty factor to enjoying your ice cream in this getup, but the flavors are also mighty tasty: They include everything from brownie/Oreo and strawberry/blueberry combos to cookie dough and the ultra-sugary Fruity Pebbles option.
Riviera Creamery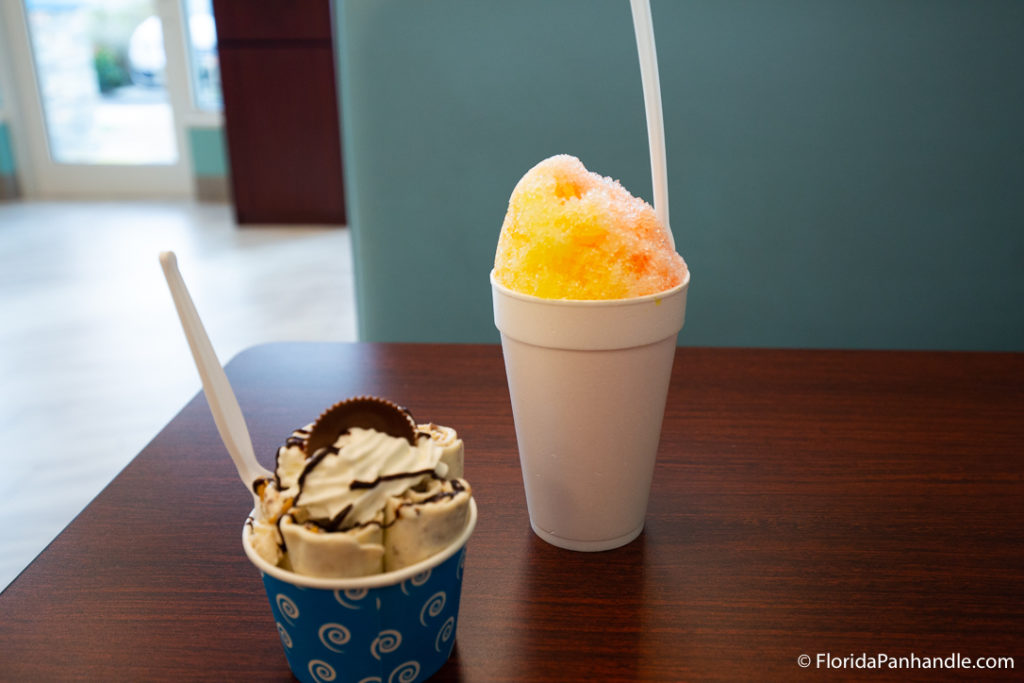 Sweets galore await you within the fragrant embrace of Riviera Creamery, where in addition to toffees, chocolates, and other hand-made confections you'll find a polar paradise of ice cream, sorbets, and sherbets delivering the perfect refreshing cool-off for that Panama City Beach swelter. Flavors run the gamut, including French Vanilla, Pralines & Cream, Raspberry Truffle, Butterscotch Vanilla, Orange Sorbet, and Salted Caramel Pretzel. If you're a coffee-lover, don't miss the Guatemalan Ripple, which combines Guatemalan coffee ice cream with mocha fudge swirl and chocolate truffles.
Pokee & Ice Rolls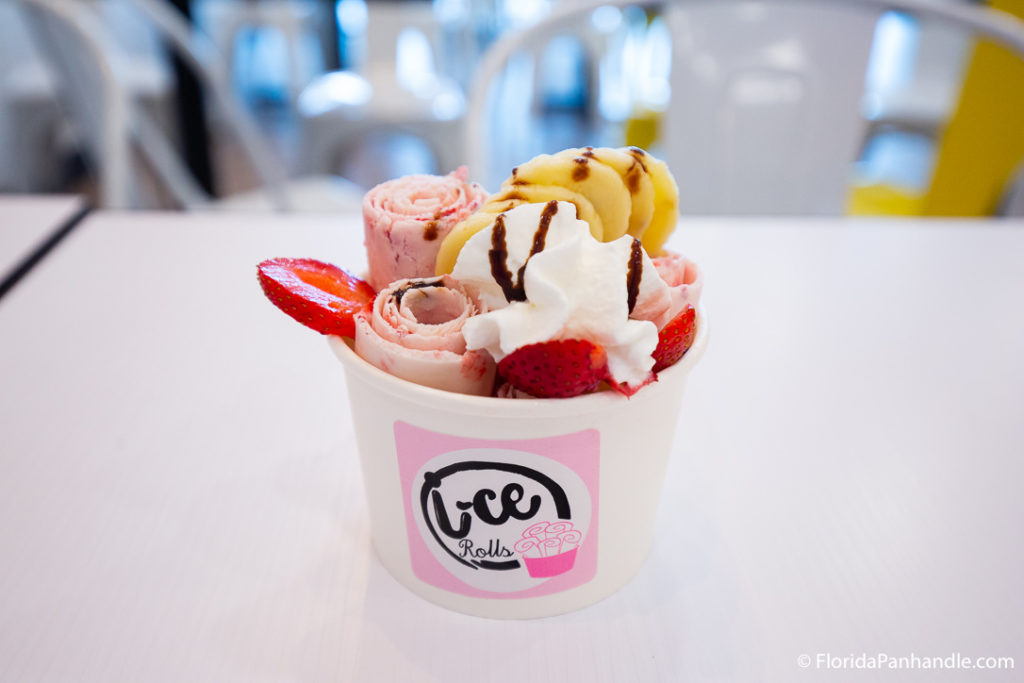 Along with enjoying a wide range of Hawaiian- and Thai-inspired dishes, Pokee & Ice Rolls gives you the opportunity to taste a frozen dessert concocted in Thailand: the irresistible ice roll! It's essentially stir-fried ice cream, and it's wonderful. Choose a base ice-cream flavor as well as a filling, and then select whatever goodies you want on top of your rollup, including fresh fruit, drizzle, or whipped cream. Prepare to be converted!
Ice Cream Ecstasy in Panama City Beach

When it comes down to it, ice cream's as much an essential part of a Panama City Beach getaway as sugar sand between your toes and some quality time spent with your go-to beach read. Whether you're ordering a traditionalist's cone, a soothing shake, or a stir-fried roll, you can't go wrong with any of the above ice-cream joints!