Panama City Beach is known for its buzzing nightlife, abundance of wildlife, and pristine waters. If you're in the mood for a little vacation, we definitely recommend a look at this city for all the fun you can imagine. Want something with beachfront views? We've got just what you need.
We've curated a list of 10 incredible condos with stunning beachfront views to satisfy your needs: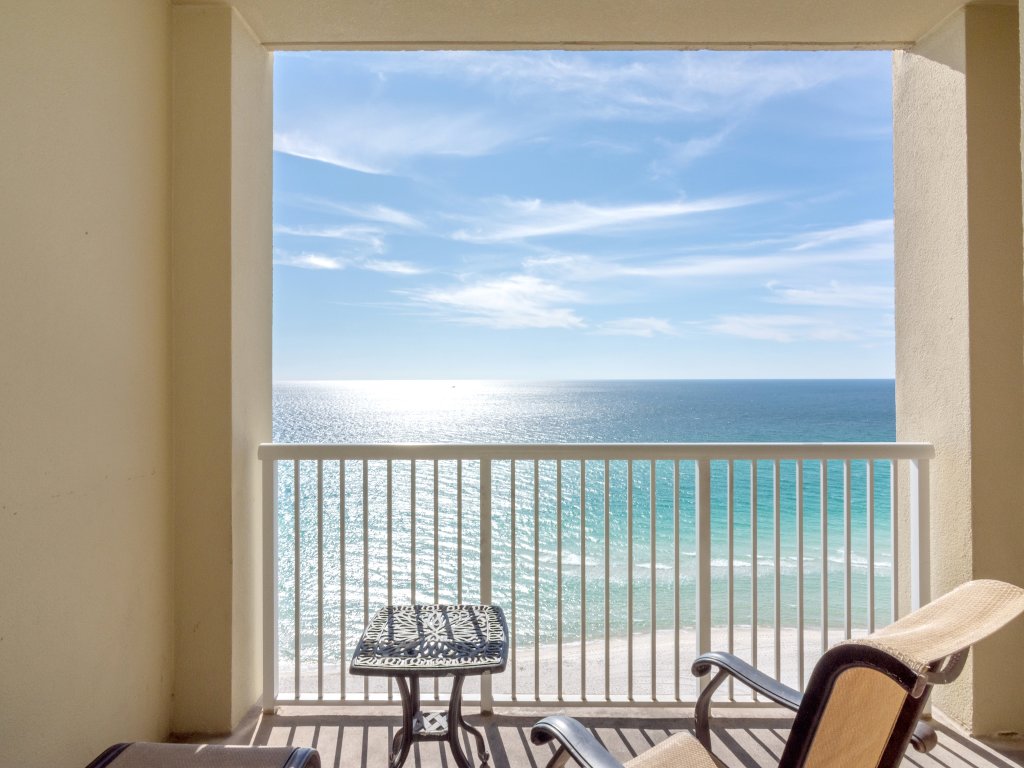 Bring the gulf shore to you at this beachfront condo. Spectacular ocean views will greet you every morning as you step out onto the balcony and witness the beautiful sun reflect upon the water. Enjoy breakfast at the breakfast bar or work on fun games together like jigsaw puzzles inside. Head down to the pool or simply take a dip in the soaking tub inside. A wonderful experience awaits at Grand Panama 1304.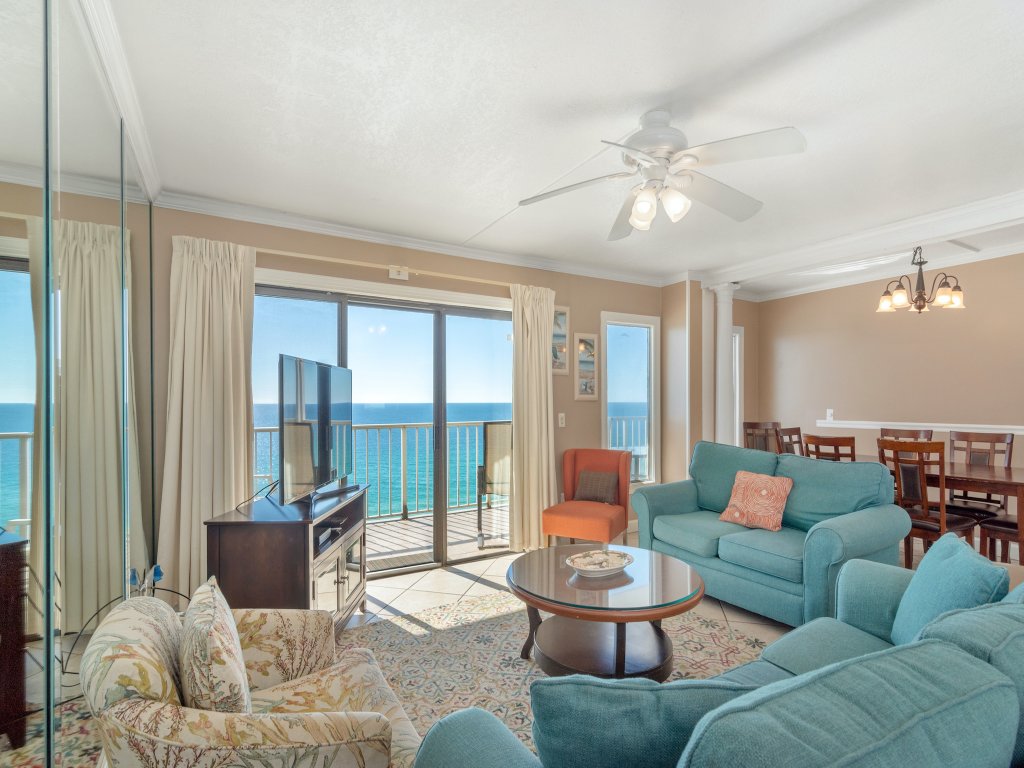 Talk about the perfect ocean view from your living room and bedroom. Summit 1511 offers panoramic views of the ocean and an incredibly cozy atmosphere just inside. Two ocean front swimming pools and a fun tiki bar waits just downstairs as well, so don't be afraid to get even closer to those beachfront views without worrying about getting sand everywhere.
Who wouldn't want to lay out on the balcony and enjoy beach views like this? Not only does this condo have a stellar view of Panama City Beach, but inside you'll find large screen TVs, cozy furniture, and a washer and dryer. Head down to enjoy the hot tub or pool, or maybe get an exercise in at the fitness center!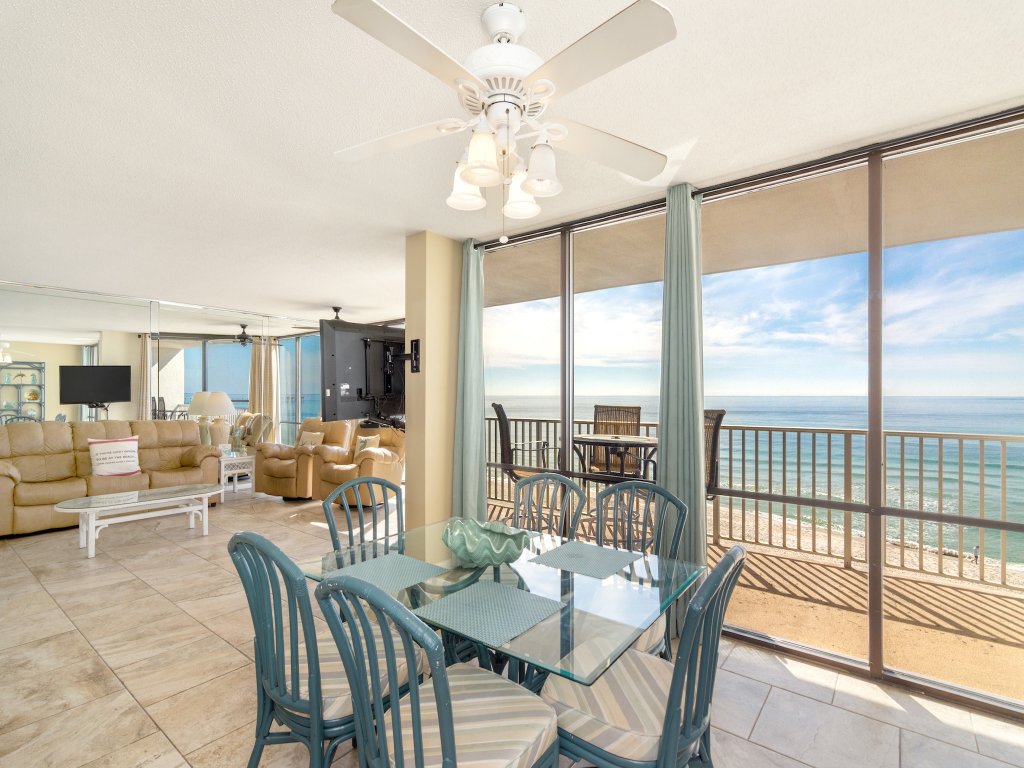 With windows extending over the entire living room and dining area, it will be hard to not stare outside at the ocean. Go out onto the balcony and enjoy your morning coffee on the patio furniture or simply sit on the cozy couch as you watch the waves greet the shore. Interested in a little tennis or golf? Head down to the tennis court or golf course! There are also hot tub amenities as well that will keep you coming back.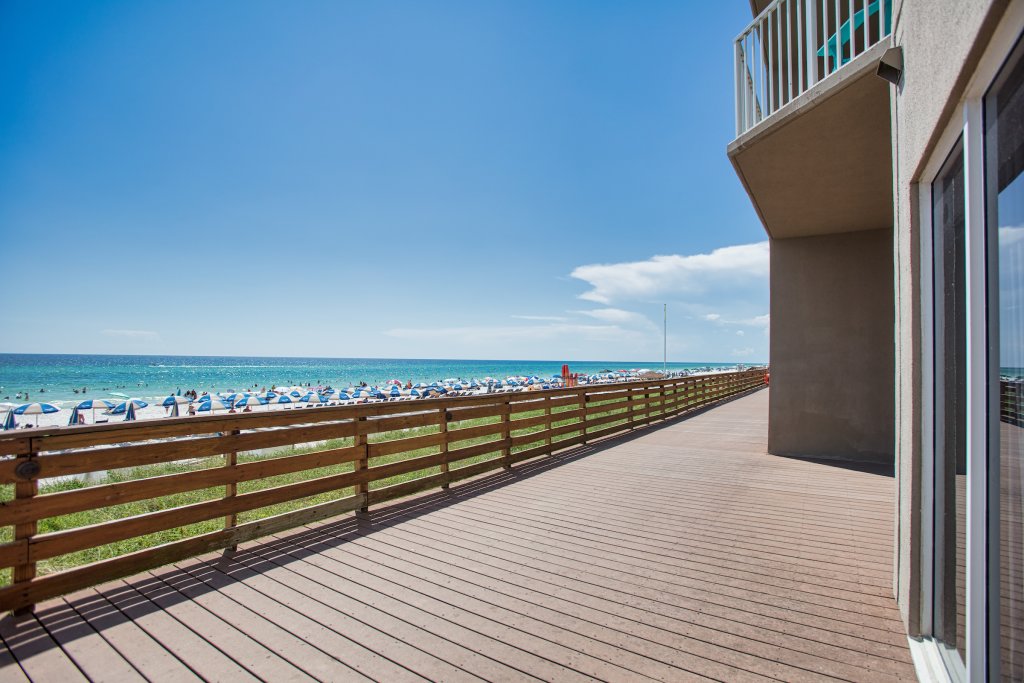 Open the sliding glass doors into your paradise, Tidewater 16 is a stunning condo with perfect views of the beach. Want to hop in a hot tub? No problem! Head to the hot tub or pool by the tiki lounge for some fun in the sun. Want to stay inside? Watch your favorite movie on the HDTV or let the kids pick out their favorite bunk bed.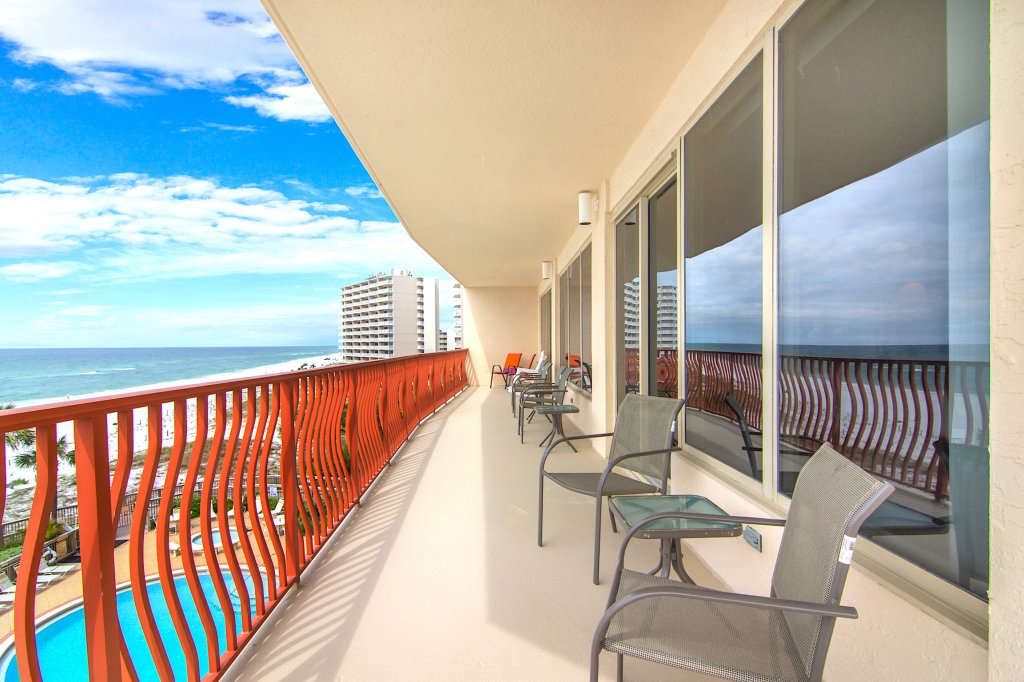 This spacious condo offers you plenty of room with a never ending view. Hidden Dunes 405 is roughly 2,500 square feet and includes amenities like a pool and hot tub downstairs to enjoy. Less crowded than others, Hidden Dunes has limited rooms which means more room for you in the amenities! Enjoy the large tub and shower after a day on the sandy beach and look out into the brilliant blue waters.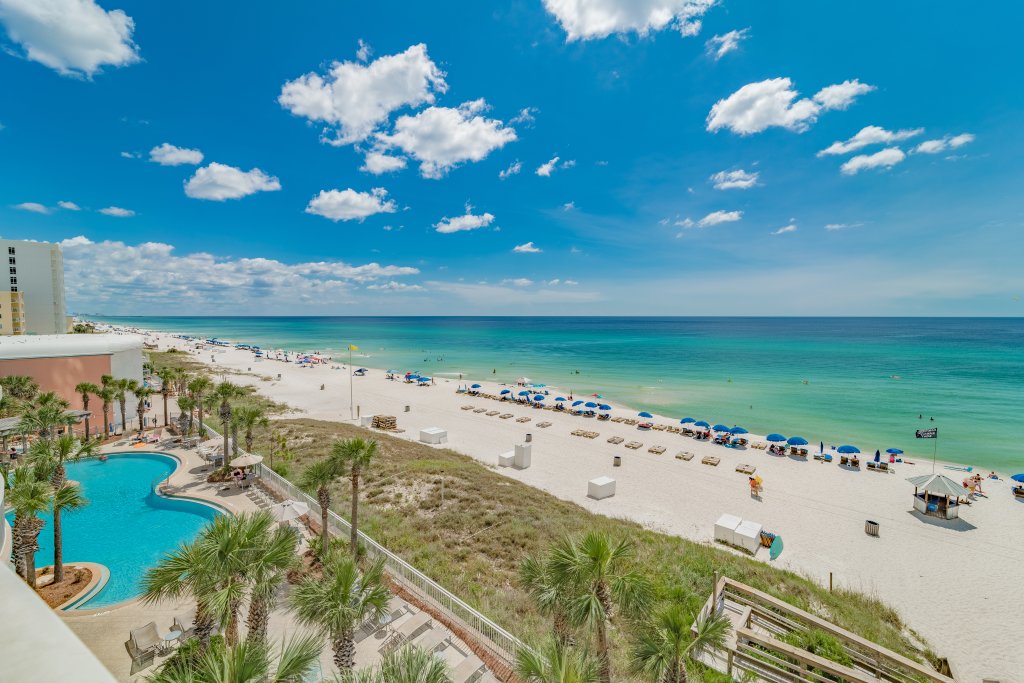 Watch the sun set on the Gulf or try to spot a whale or two in the horizon. Aqua 404 offers beach views certainly like no other. Did someone say an indoor AND outdoor pool? This spot seriously has the best of both worlds — including a hot tub, steam room, and a fitness center. Want to stay in? Catch a show on the HDTVs and then relax in the large walk in shower afterwards.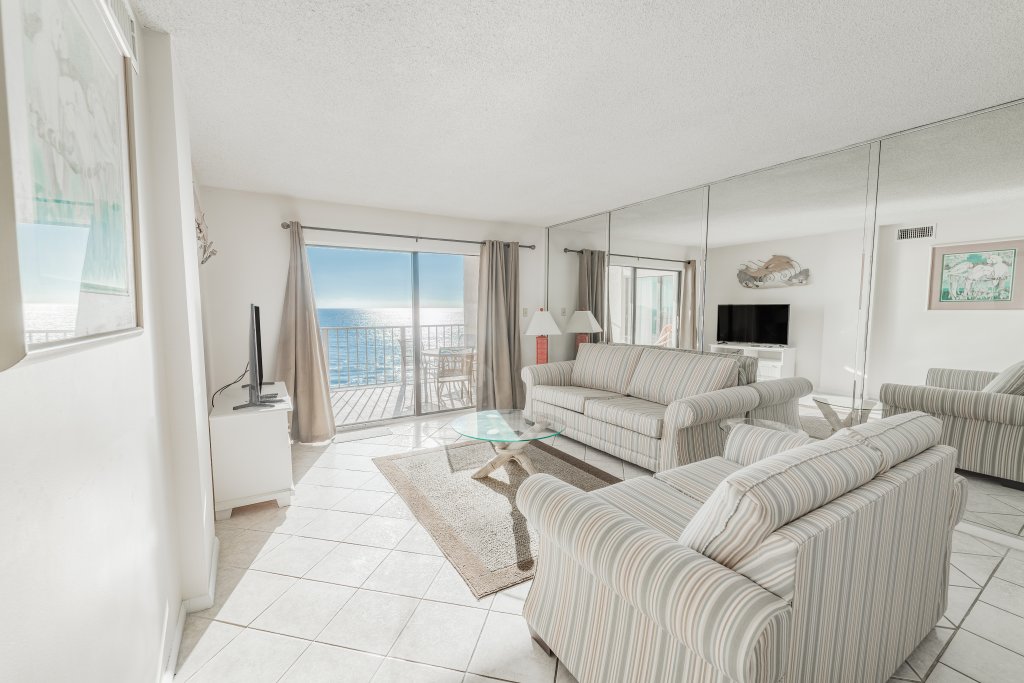 Overlook the white sand beach from your living room or the balcony! Regency Towers 719 offers some spectacular views without even having to go outside. Mirrors all along one wall reflects the sunlight brilliantly that peaks through the sliding glass windows from the balcony, making it for one open-aired and comfortable layout. Head down to the pool or the tiki bar! Want to get warm? Head to the indoor hot tub!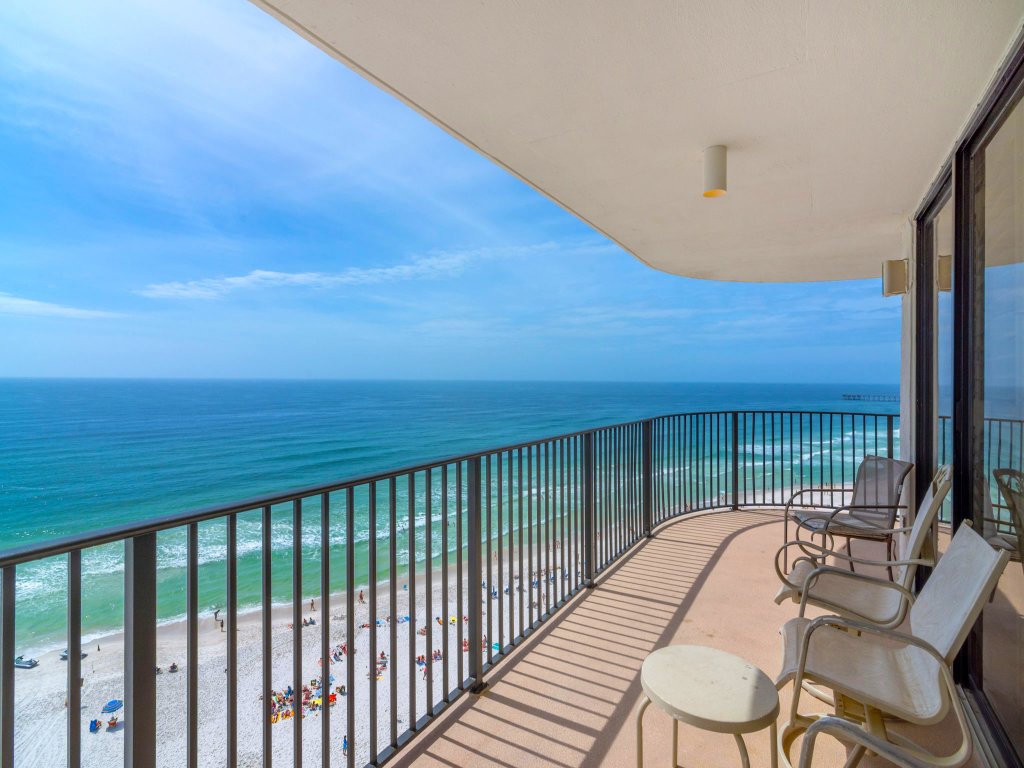 All along the Edgewater Tower, you will find emerald waters and an abundance of friendly beachgoers enjoying their vacation. This condo offers a large wrap-around porch with views from either side and scenic backdrops of the ocean. Want to wash off after a day at the beach? The luxury bathroom will have you feeling pampered as soon as you step into the jetted tub or the large walk in shower!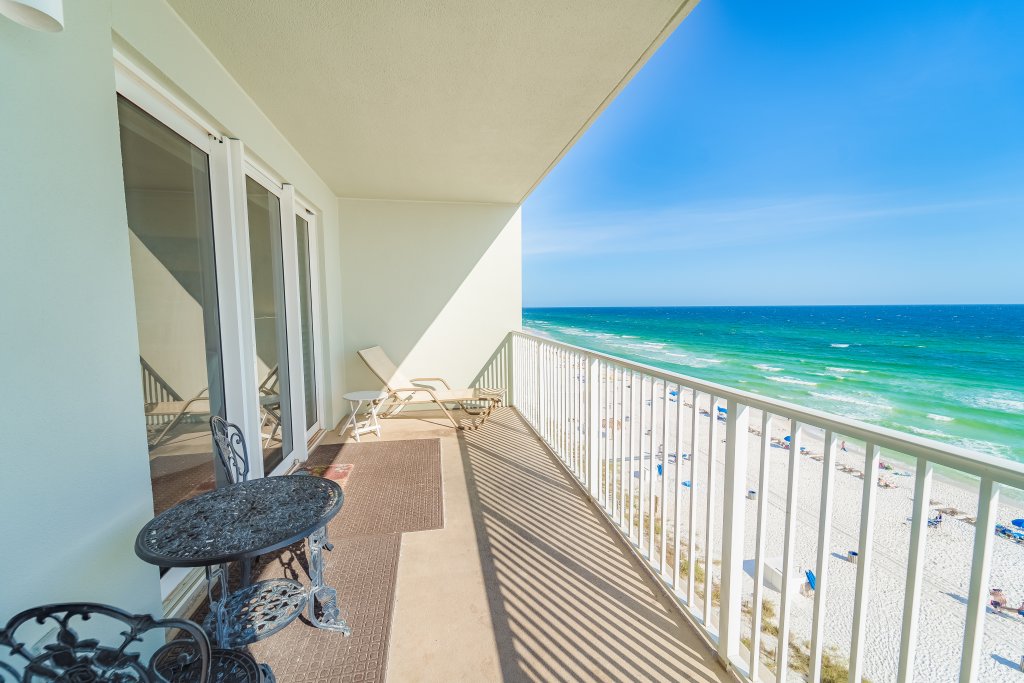 Check out the free WiFi and get some work done on the balcony with sparkling water views at Marisol 604. Location is key at this hot spot, as you are within short distance of Coconut Creek Family Fun Park where you can have some thrilling adventures together. Want to wash off after a fun day at the beach or adventure park? Hop into the soaking tub or shower and rinse off!
Never get tired of beach views with any of these condos in PCB. You'll become completely enamored with the emerald blue waters and sunset views from each balcony along the beach. Book your vacation now with some of the best views in town and leave with a scrapbook full of memories and scenic wonders.
Want to view even more vacation rentals in Panama City Beach? Click here and browse!