Recreational activities abound in Destin, but nothing compares to a day at the beach. This Emerald Coast enclave is chock full of gorgeous beaches, each boasting its own unique personality and charm. Some deliver a vibrant atmosphere while others are quieter and more laid-back. No matter your idea of the perfect beach day, you'll have no trouble finding it at these Destin hot spots:
Henderson Beach State Park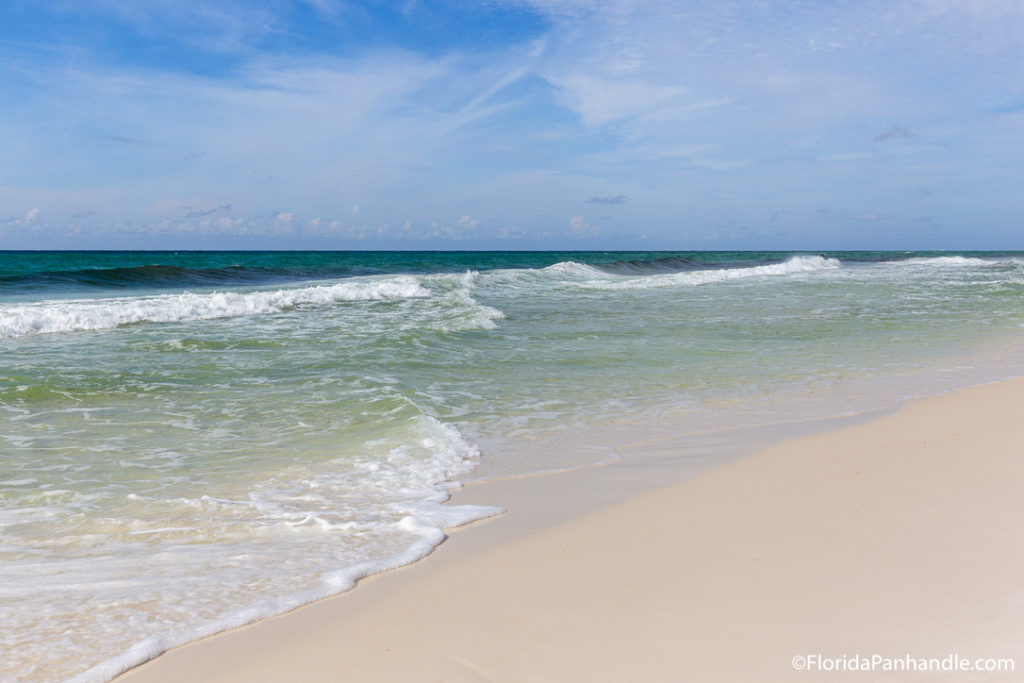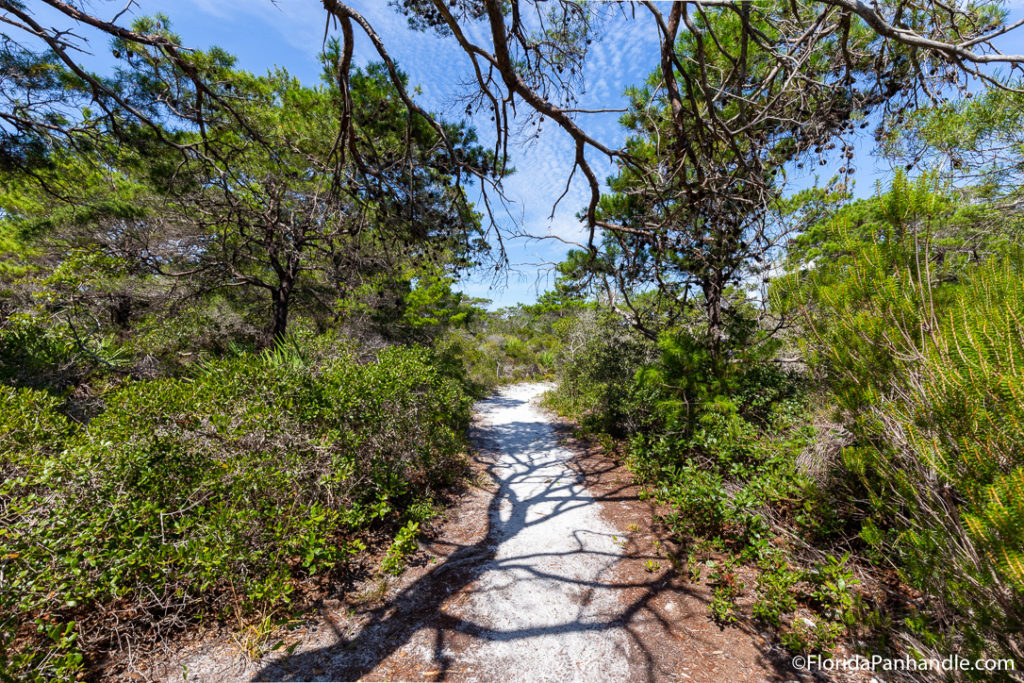 When you picture a 'typical' Florida beach, you probably imagine lifeguards, umbrellas, and sandcastles. In reality, however, the original Florida beach featured an increasingly rare type of habitat known as coastal scrub. The preservation of this valuable habitat is a top priority at Henderson Beach State Park, which was designed, above all else, to protect a true Destin gem.
During your visit to Henderson Beach State Park, you'll observe impressive thirty-foot white sand dunes. Take a closer look, however, and you'll also see a unique habitat teeming with wildlife. Keep an eye out for sea cucumbers, ghost crabs, and possibly even sea turtles or dolphins in the distance. All this is best observed while leisurely strolling along the boardwalk and the beach.
Okaloosa Island Pier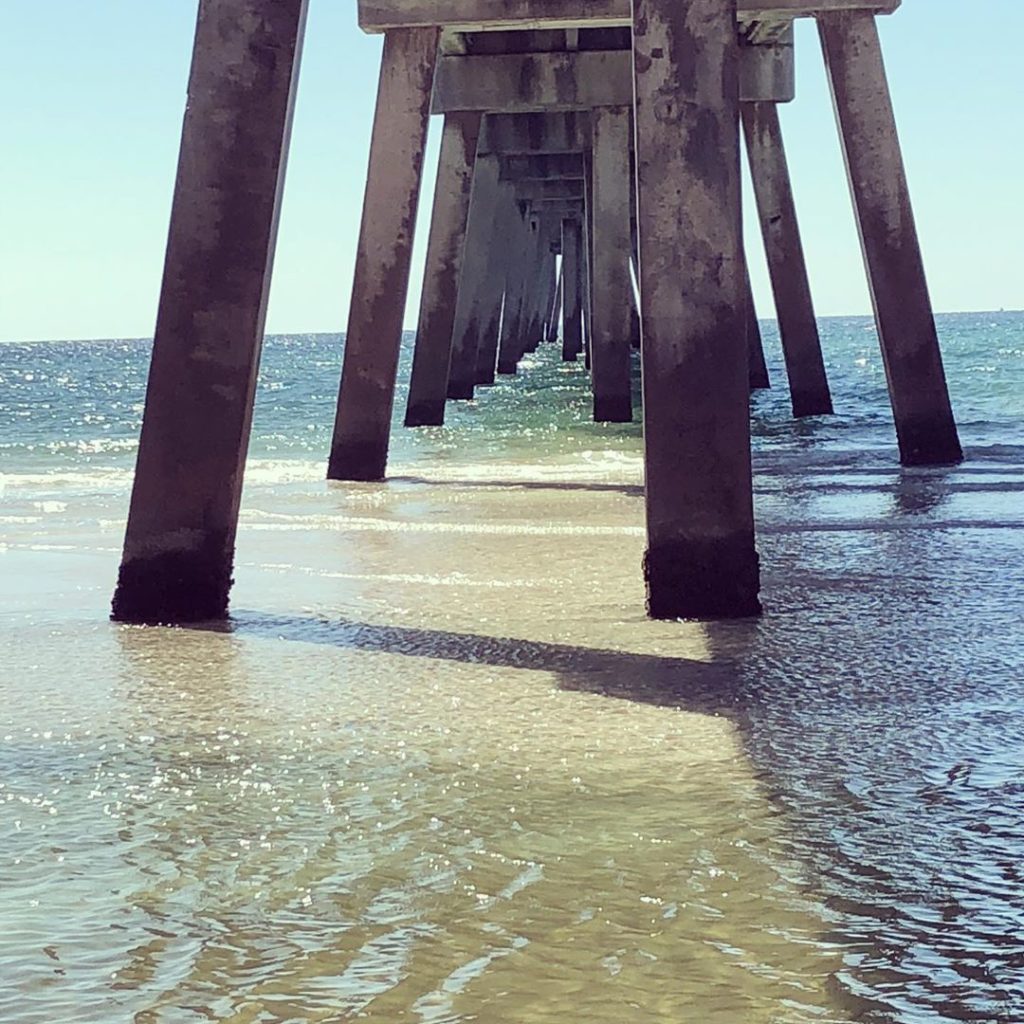 Okaloosa Island Pier may be a beloved fishing spot, but it's also situated right next to a beautiful beach. Once you've walked the pier and observed the abundance of marine life surrounding it, you'll be ready for some sand-based relaxation. This family-oriented beach is a great place for kids, who enjoy building sandcastles and splashing around in the emerald water. While the pier itself can be busy at times, these crowds typically don't extend to the beach, where, despite the presence of young children, you can expect to find peace and quiet.
John Beasley Beach Park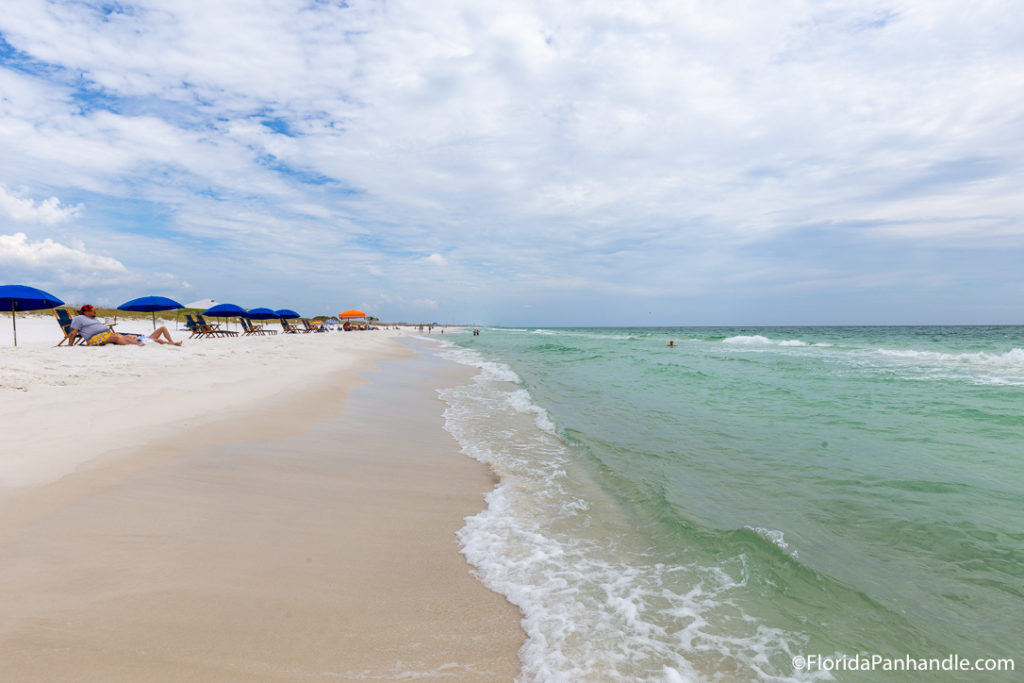 If you demand the full beach experience complete with all of the conveniences you've come to expect in a tourist town, look no further than John Beasley Beach Park. This free beach is packed with amenities to ensure that each visit is a delight. Take advantage of public parking and easy access to multiple restaurants. Spacious restrooms and changing areas are provided, as are outdoor showers. The downside to all this? If you arrive during peak afternoon hours, you can expect to find plenty of other visitors. Earlier in the day, however, the beach is quieter.
Miramar Regional Public Beach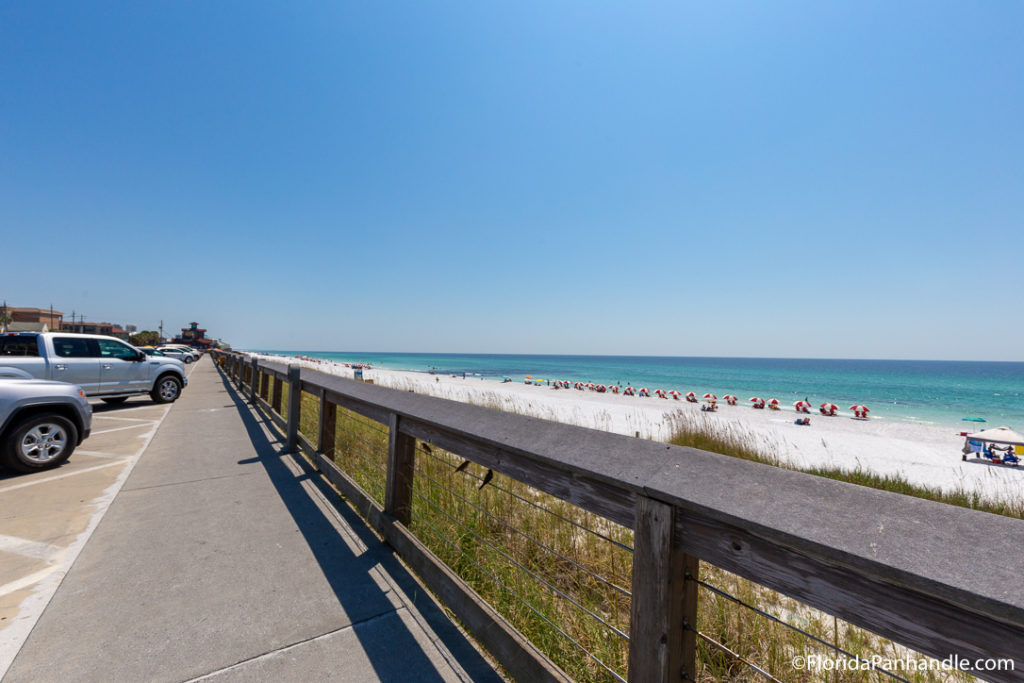 Another free beach worth checking out, this popular destination is ideal for those who love to wiggle their toes in the sand, where they will only find softness — no need to worry about sharp shells or rocks. The beach is ADA-accessible, and, best of all, it provides special wheelchairs designed to navigate this unique environment. Visitors of all ages enjoy soaking in the sun, running through the sand, and hitting the water. After your visit, feel free to stop in at nearby Pompano Joe's, where you can enjoy a delicious meal as you continue to take in the stunning views.
Jetty Beach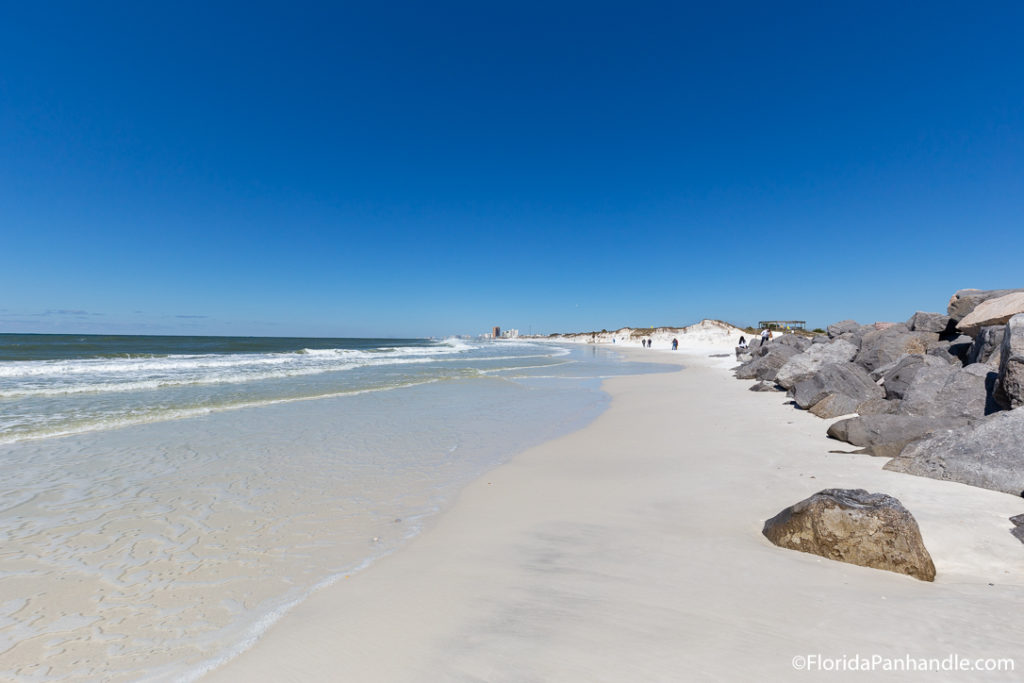 This lovely beach is perfect for snorkeling enthusiasts hoping to discover something new beneath the water's surface. The beach itself is gentle, making it an ideal destination not only for families but also for anyone seeking outdoor fun when other top destinations are impacted by rough tides. Jetty Beach is unique, however, in that it offers the best of both worlds — gentle areas for families and choppier spots for surfers and other adventurous types.
James Lee Park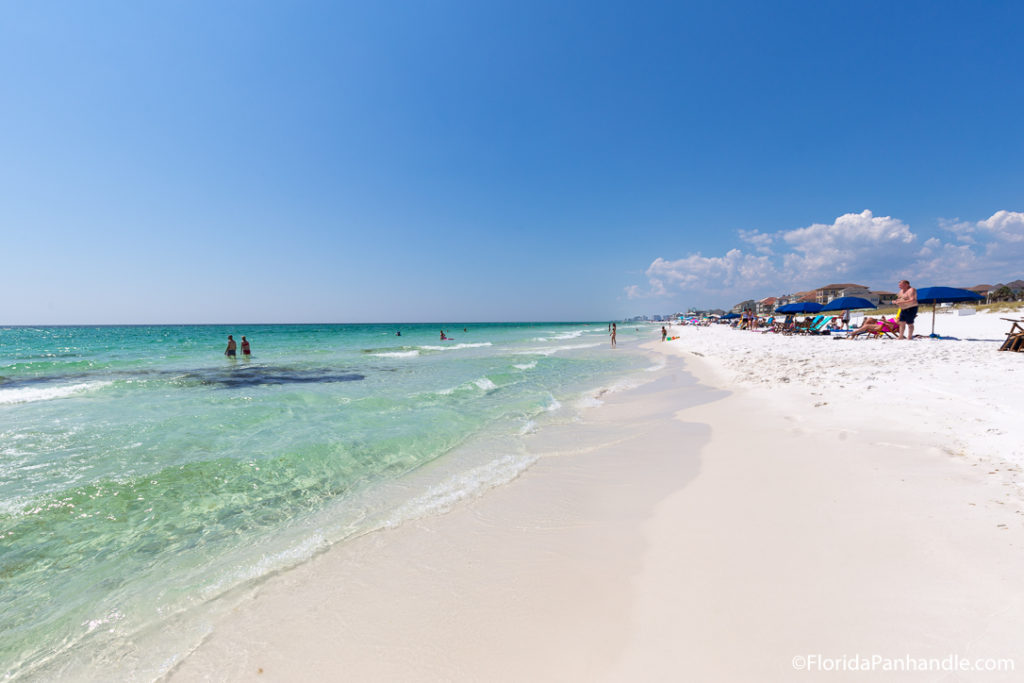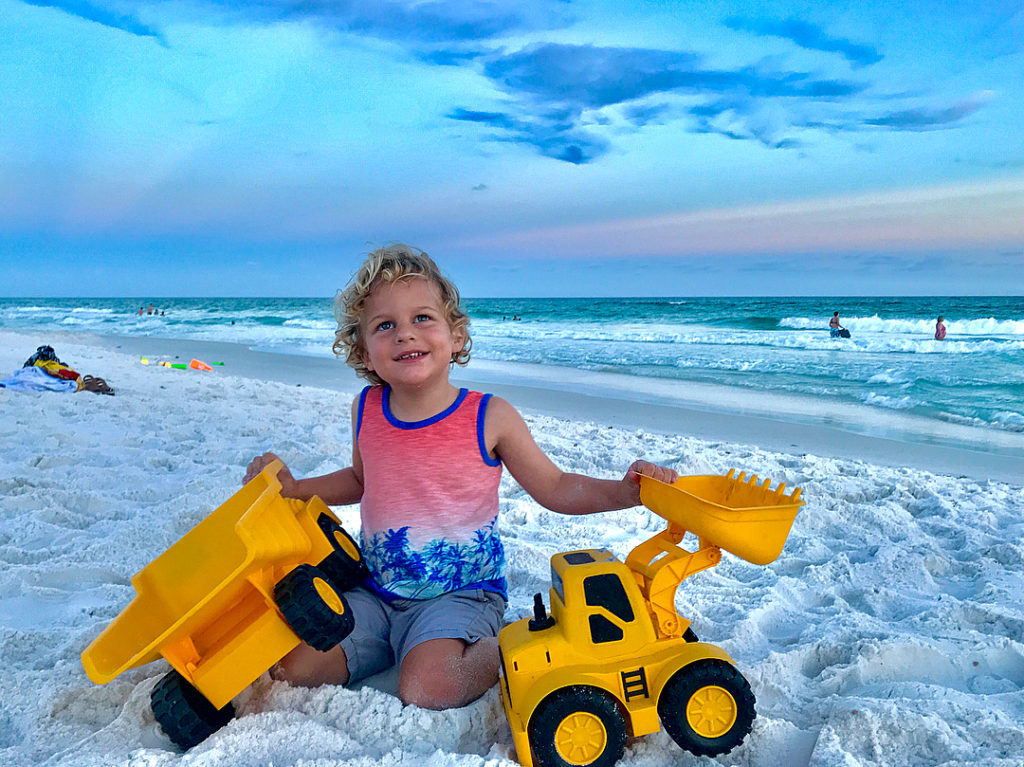 Take advantage of the full range of amenities offered at James Lee Park, where you and your loved ones can enjoy a fun day complete with relaxation, picnics, and more. The park is home to three pavilions, dozens of picnic tables, public restrooms, and showers. You'll also find nine dune walkovers. Despite providing easy access to all these amenities, the park is rarely crowded. While picnics are definitely encouraged, you'll also want to save some room for a meal or appetizer at the nearby Crab Trap, which is located a short walk from the park.
Shores at Crystal Beach Park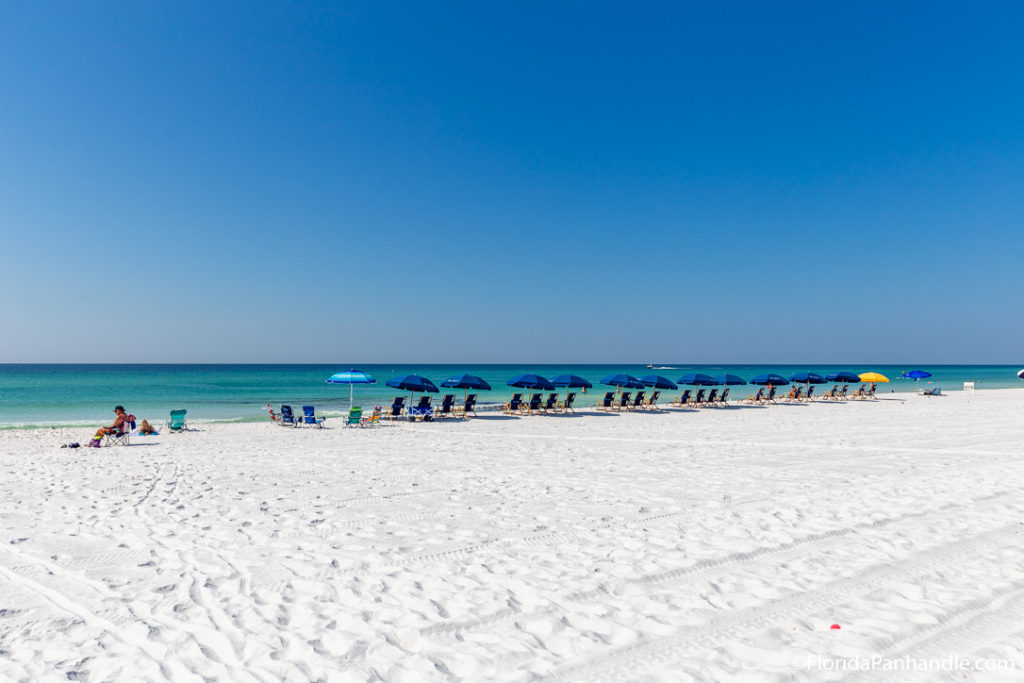 This spacious access point provides more than enough room to stretch out and enjoy the beach. Parking, unfortunately, is not nearly as abundant — you'll need to arrive bright and early to snag one of the few spots available. If you're willing to put up with limited parking and a potential walk, you'll be rewarded with some of Destin's best views, as well as access to surprisingly clean bathrooms. This beach is not as well-known as many of its nearby counterparts, so it's a great destination if you're determined to avoid crowds.
Grayton Beach State Park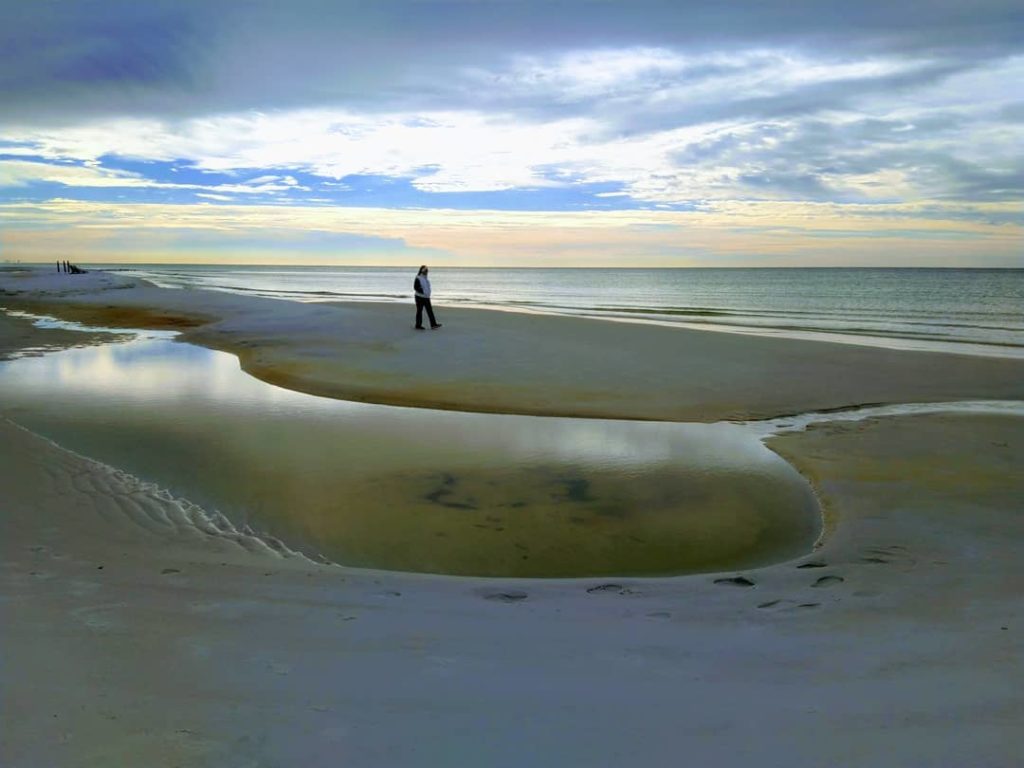 This world-class state park attracts visitors from near and far. The park is famous, in part, for its pristine environment, which appears virtually untouched compared to other similar destinations along the Emerald Coast. The gorgeous dunes feature not only the white sand visitors have come to expect, but also bluestem, sea oats, and other plants that are often missing from similar dunes throughout the state of Florida. Keep an eye out for the many shorebirds that make their nests on the beach's beautiful sand. From the moment you arrive to your reluctant departure hours later, you'll be entranced by the biodiversity on display at this Emerald Coast gem.
Eglin Beach Park
If you count yourself among the few privileged enough to enter Eglin Beach Park, take advantage of this amazing opportunity. If not, find somebody who will let you in as a guest — it's worth the effort. The beach is technically limited to Department of Defense personnel, although this includes both current personnel, retirees, and family members. These restrictions ensure that those eligible to visit the beach enjoy plenty of privacy. The views are gorgeous — and easily accessible, thanks to the beach's convenient parking.
There's no such thing as too much beach time in Destin. Kick back and relax as you enjoy the Emerald Coast's sparkling water and soft white sand. This is as close as it gets to paradise.