Endless explorations await along the Emerald Coast. Cruise across Choctawhatchee Bay. Head out onto the Gulf of Mexico. Or simply spend the day enjoying Crab Island. The choice is yours. And what better way to do all that than by getting Destin pontoon boat rentals or going on yacht experiences? If that sounds like just what you need in your life, use this guide to learn about all the companies ready to make it happen.
Aloha Pontoon Rentals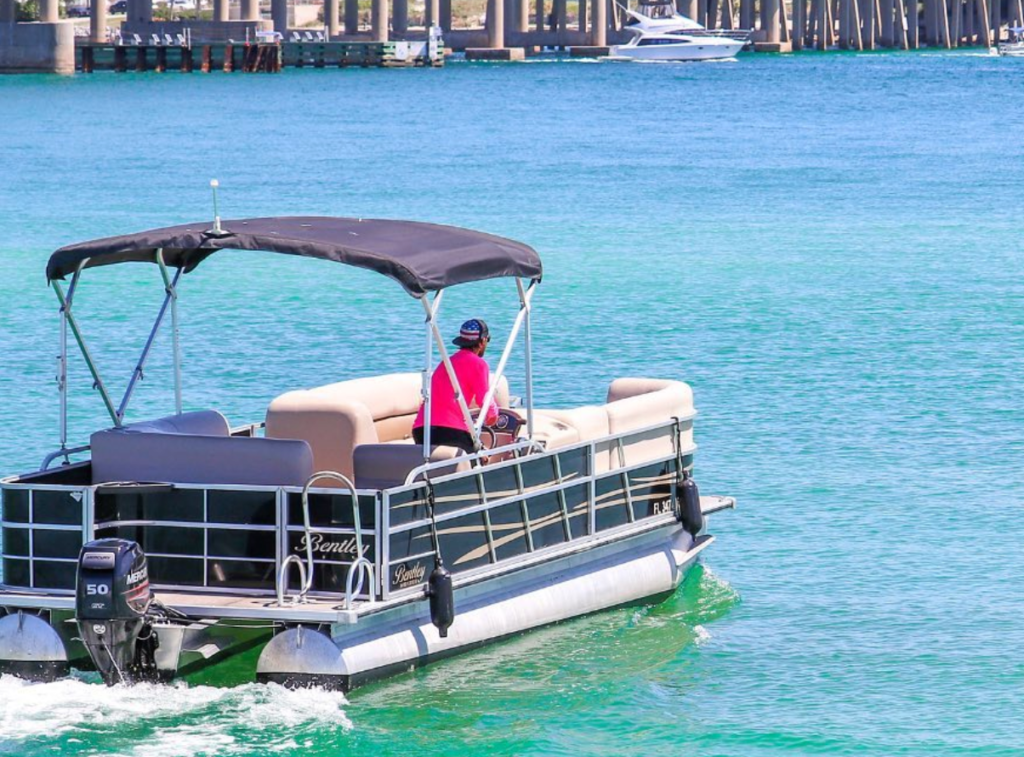 Aloha Pontoon Rentals makes it their mission to make boating affordable and approachable for all. Their 24-foot pontoon boats fit up to 12 people for unforgettable half-day and full-day excursions. You're welcome to take their vessels up to Crab Island or anywhere else within the inner coastal waterways.
If you'd like a little extra help finding all the best sights around, consider signing up for their dolphin tours instead. On those trips, a guide will take you to all the marine life hotspots in Destin. Have a need for speed? Get a jet ski rental to feel the wind in your hair as you blast around the open waterways.
Jenny Lou's Water Sports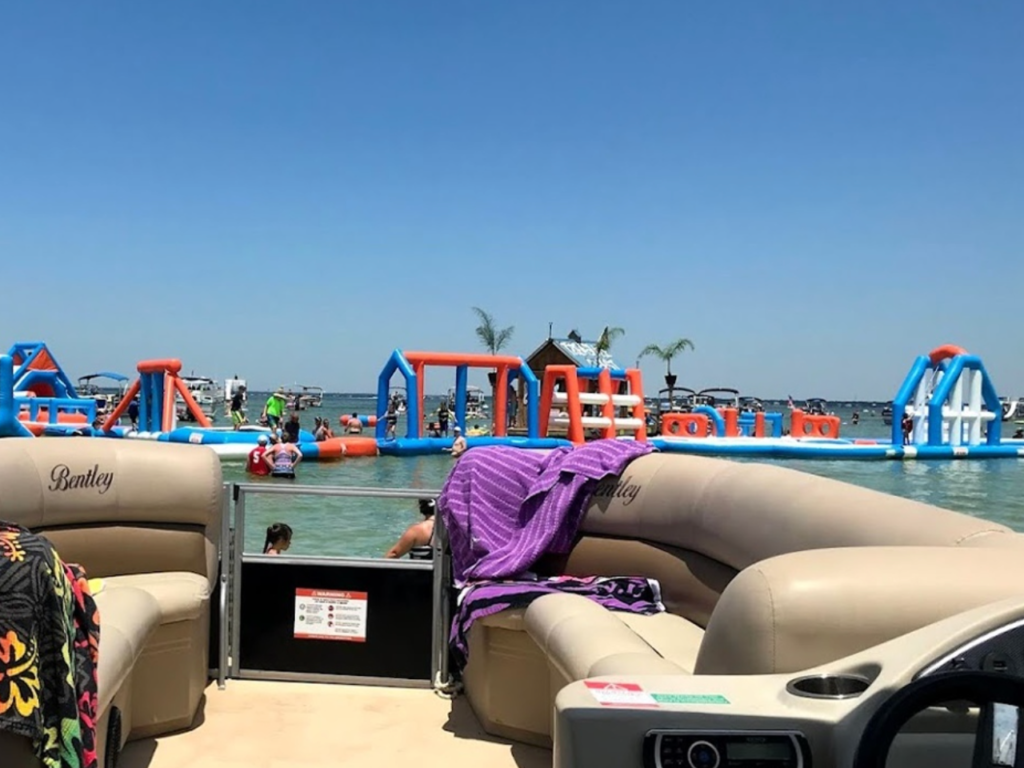 Jenny Lou's Water Sports is the only place to get vivid pink pontoons that let you stand out from the crowd. The 24-foot boats have room for up to 11 people, along with coolers full of refreshments. You can rent a boat for the full day or just go out for a few hours.
When nothing else will do but a private cruise for up to six people, sign up for their Destin Sunset Dolphin Cruise or Fireworks Cruise. On those trips, you're able to relax and enjoy the sights while your private captain takes you around to all the best viewpoints.
Destiny Water Adventures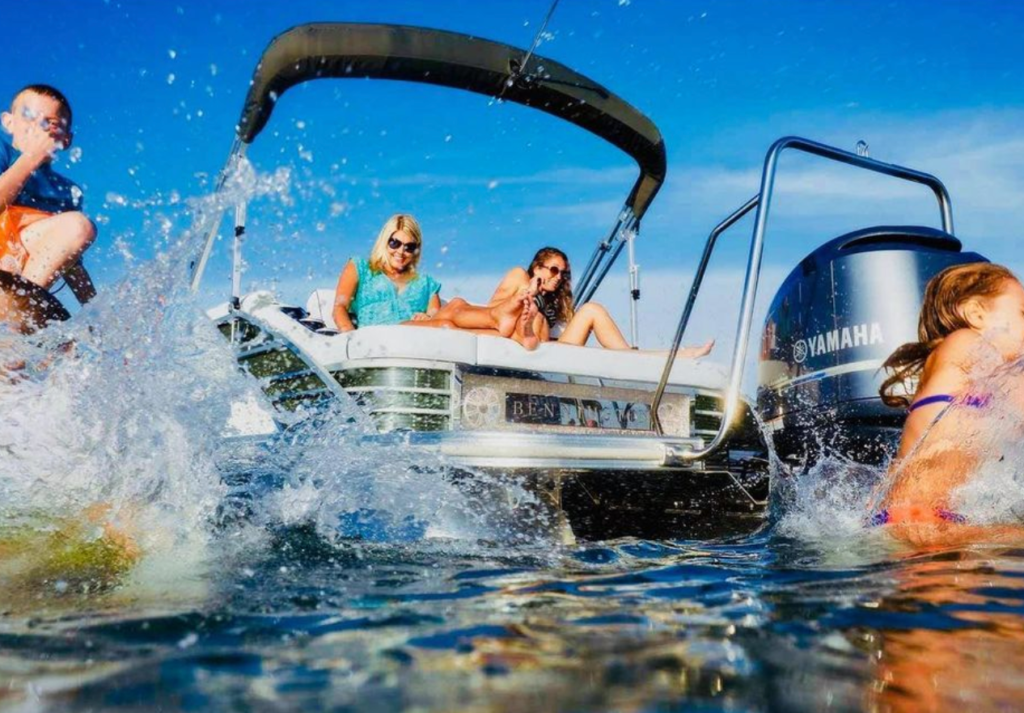 When you just want to boat the day away, look to Destiny Water Adventures for the rentals you need. Their state-of-the-art pontoon boats can carry up to 12 passengers, giving you enough room for your whole crew. If you'd like to enhance your experience, ask about adding drinks, paddleboards, and more to your rental.
Pontoon boats aren't all they offer, either. You can opt for jet skis, kayaks, or standup paddleboards instead or go all out with their Sunset Cruise. If you go that route, you'll spend about two to three hours exploring the waterways as the sunset gradually paints the sky in vivid hues.
Double Fun Pontoon Rentals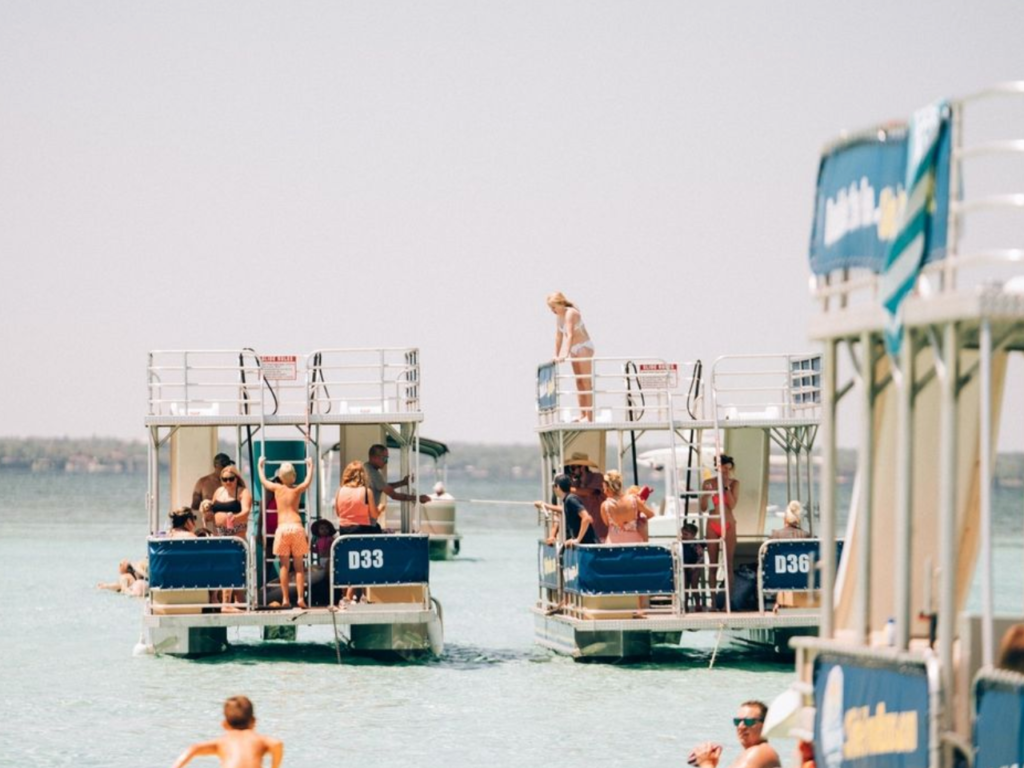 At Double Fun Pontoon Rentals, they don't just offer boating excellence. They take your trip to the next level with their double-decker pontoons. Fitted with dual waterslides, these pontoons let you and up to 13 guests zip down into the water again and again. The stable swim ladder allows you to easily climb back on board for another go.
Once you're tuckered out, you're able to take a breather in the shaded luxury lounge area on the bottom deck. A Bluetooth radio keeps all your tunes blasting out onto the water while you play and relax. Although you can choose the half-day trip, do yourself a favor and sign up for a full day of waterslide fun.
Luther's Pontoon, Waverunners, and Kayaks Rentals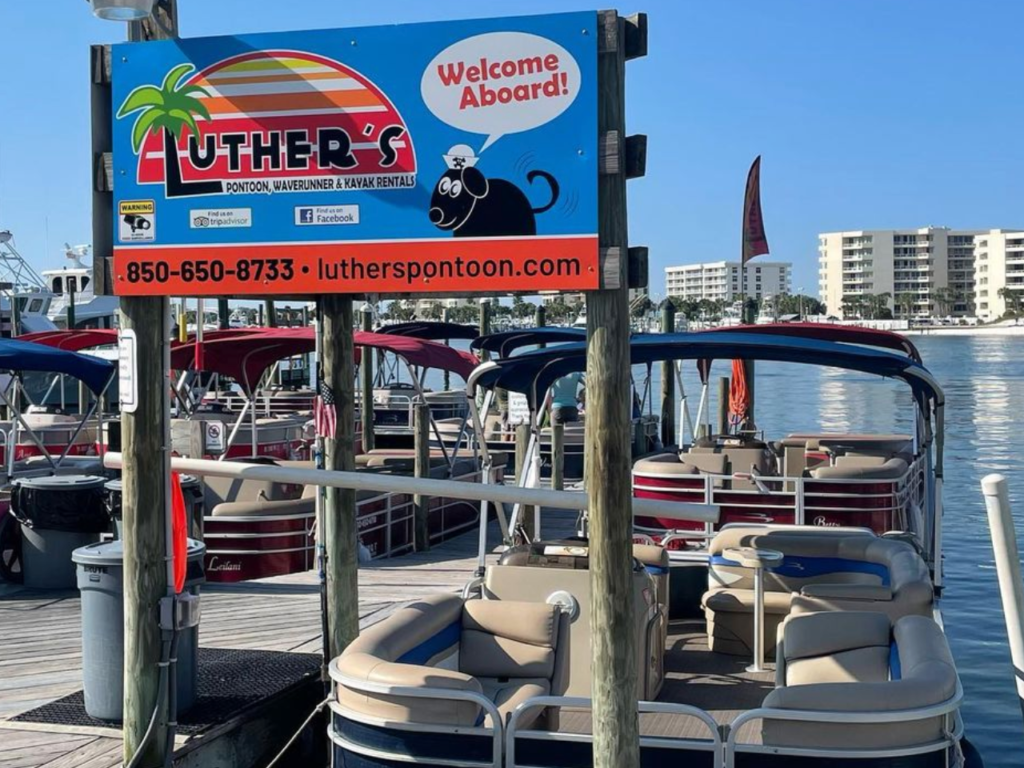 Luther's Pontoon, Waverunners, and Kayaks Rentals let you choose your own Destin adventure at every visit. To start, you just have to choose from their 20-, 24-, and 28-foot pontoons, designed to carry between seven and twelve passengers. Then, decide if you'd like to go out for just four hours or the full eight.
In addition to their many pontoon options, they have wave runners, paddleboards, and kayaks available. You can also add paddleboards and floating mats to your pontoon rentals if you prefer. Prefer to leave the driving to a professional? Consider hiring a captain to pilot your rental.
Holloway Yacht Charters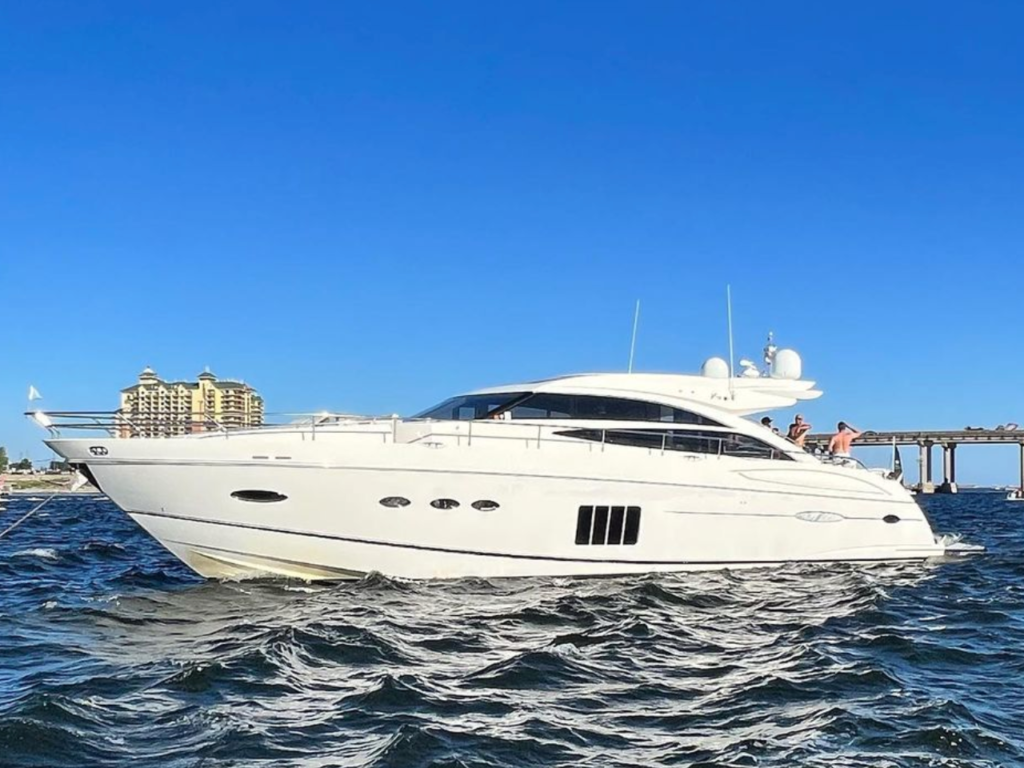 When pure luxury calls your name, Holloway Yacht Charters has just what you need. This high-end boat rental company has three luxurious yachts available for four to eight hours at a time. No matter what boat you choose, you and up to 11 guests can enjoy being endlessly pampered by the crew as a skilled pilot takes you across the Emerald Coast.
For special occasions, go on their Sunset Cruise, a three-hour exploration highlighted by a brilliant sunset show. If you'd like to put your fishing skills to the test, choose Fish & Fun Destin. Available on an hourly, half-day, or full-day basis, this trip allows you to go fishing, snorkeling, dolphin watching, and more.
Sunshine Yacht Cruises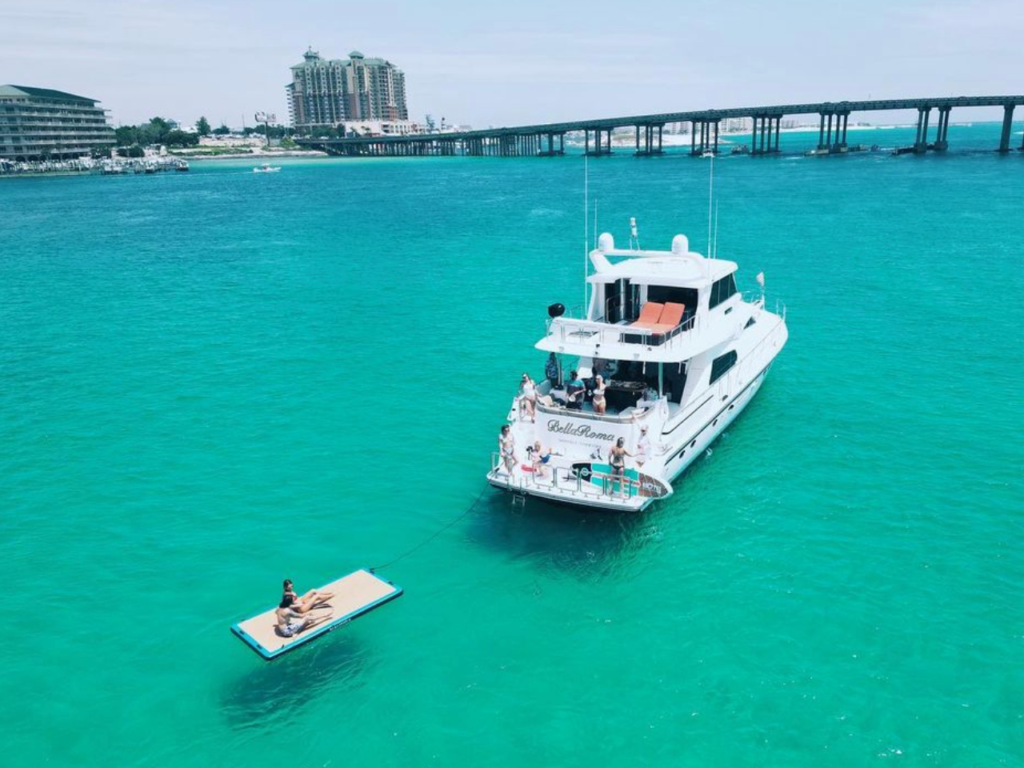 Sunshine Yacht Cruises promise to elevate your Destin explorations with one of three private yacht rental options. Available in four-, six-, and eight-hour increments, their cruises take you across Choctawhatchee Bay and out to Crab Island. You can bring up to 12 guests, plus all the food and drinks you'd like, including adult beverages.
During the cruise, the captain will point out all the top sights along the way. Then, once they anchor down, you're welcome to go swimming, float on their rafts, or simply sunbathe on the deck. The swim platform makes it easy to get in and out of the water at your leisure if you wish to do so.
Tailfins Luxury Pontoon Rentals
At Tailfins Luxury Pontoon Rentals, you can find vessels that let you roll up to Crab Island in style. Their custom pontoon boats have dual captain chairs and ultra-luxe seating for all your guests. A large sunshade overtop will keep you plenty comfortable while you party all day with fellow boating enthusiasts.
You're also welcome to leave the piloting to a trusty captain while you kick back and relax. Available for wedding parties and other special occasions, their captained trips head out on a 48-foot vessel with room for nearly 50 people. They'll even supply the paddle boards and lily pads your group needs to have a great time.
Whether you're looking for memorable adventures or endless relaxation, Destin pontoon boat rentals and yacht experiences are the way to go. All you have to do is pick one of the companies above and then book your trip. Their team will help you get set up and even teach you how to pilot the boat or otherwise enjoy yourself on the water. From there, it's all about making memories to last a lifetime while exploring the dazzling Emerald Coast.