Mexico Beach near Cape San Blas is a gorgeous coastal community that has a lot to offer visitors. Here, you can meander down small-town streets with avenues that lead to soft white sandy beaches. Hurricane Michael caused a lot of damage when it blew through this part of the state in 2018, but the community has since rebuilt and both locals and visitors today can enjoy a better infrastructure with refreshed parks and a beautiful boat canal.
But after you enjoy an afternoon at this coastal town's parks and beaches, why not stay and enjoy a drink at one of the beloved local bars or a full meal at one of the town's quaint restaurants?
The following is a quick look at some of the top bars and restaurants you can find in or near Mexico Beach:
1. Killer Seafood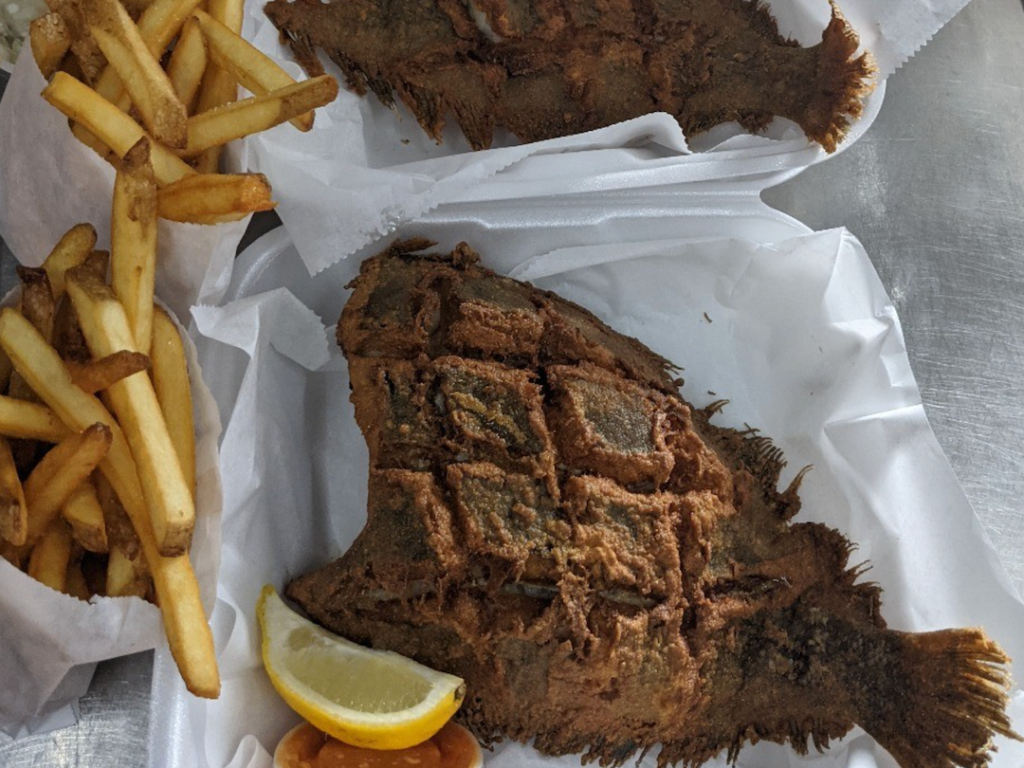 The restaurant Killer Seafood describes itself as "seafood shack eats" and we'd say that pretty much hits the nail on the head. This restaurant is located just a block over from the beach on US Highway 98 where it intersects with 9th St. While there are stilt houses between this spot and the beach, you can feast on at one of their outdoor picnic tables and enjoy glimpses of those white sandy beaches, blue Gulf waters, and the cool coastal breezes of Mexico Beach.
Killer Seafood once had a killer interior dining space with a very local vibe. Unfortunately, its original structure was destroyed by Hurricane Michael. Today, you'll walk up to a more extended food truck-styled trailer and enjoy seating either beneath a larger shaded area or out in the beautiful Florida sun. The menu here includes seafood baskets that feature your choice of fried seafood along with two sides, tacos (the Killer Tuna Tacos are a particularly big hit), and sandwiches like a Fried Flounder Po Boy and your standard Hamburger.
2. Mango Marley's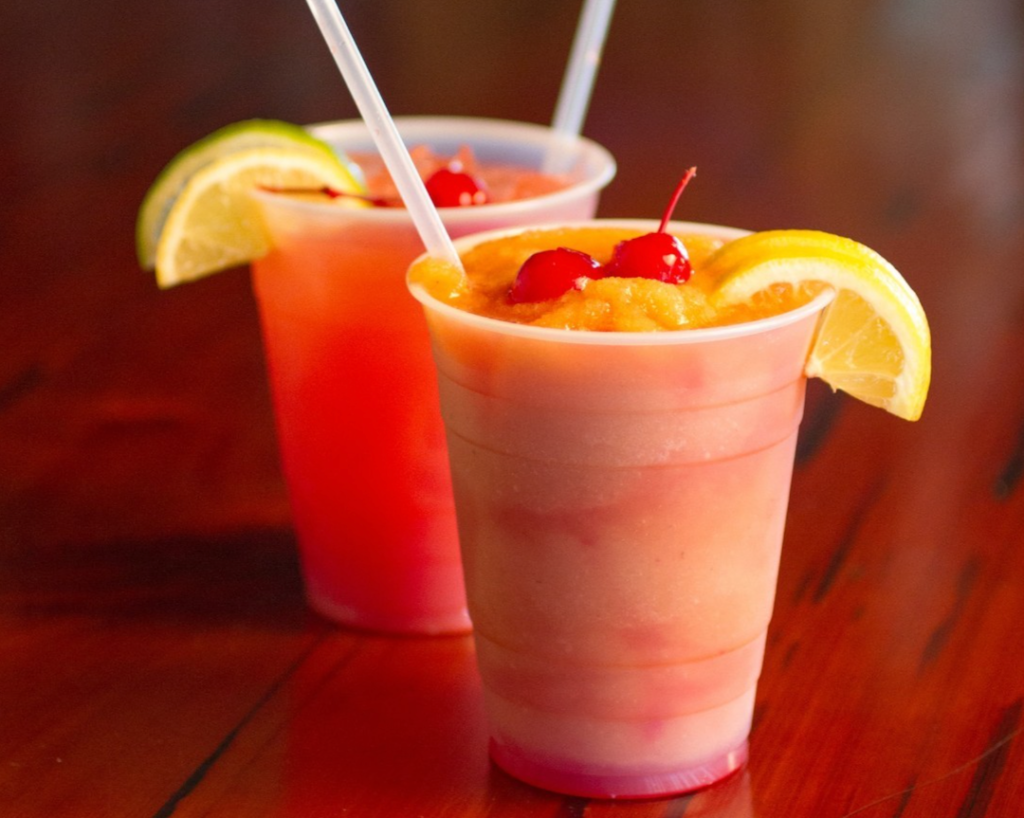 Mango Marley's is a large and lively dine-in restaurant in Mexico Beach, that's located on the main throughway of US Highway 98. That's right between its 31st and 32nd Street intersections. This place is generally a good place for families with kids as they have a small arcade intersection and a sizable children's menu (note, however, that all kids' meals come with a bag of chips with no other substitutions allowed). However, adults are probably going to be the ones who most enjoy this dynamic restaurant thanks to its long list of flavorful adult beverages and dining room filled with TVs always tuned into sports. On weekend evenings and select weekday nights, this popular hang-out spot also features live music from beloved local acts.
3. Crazy Beach Pizza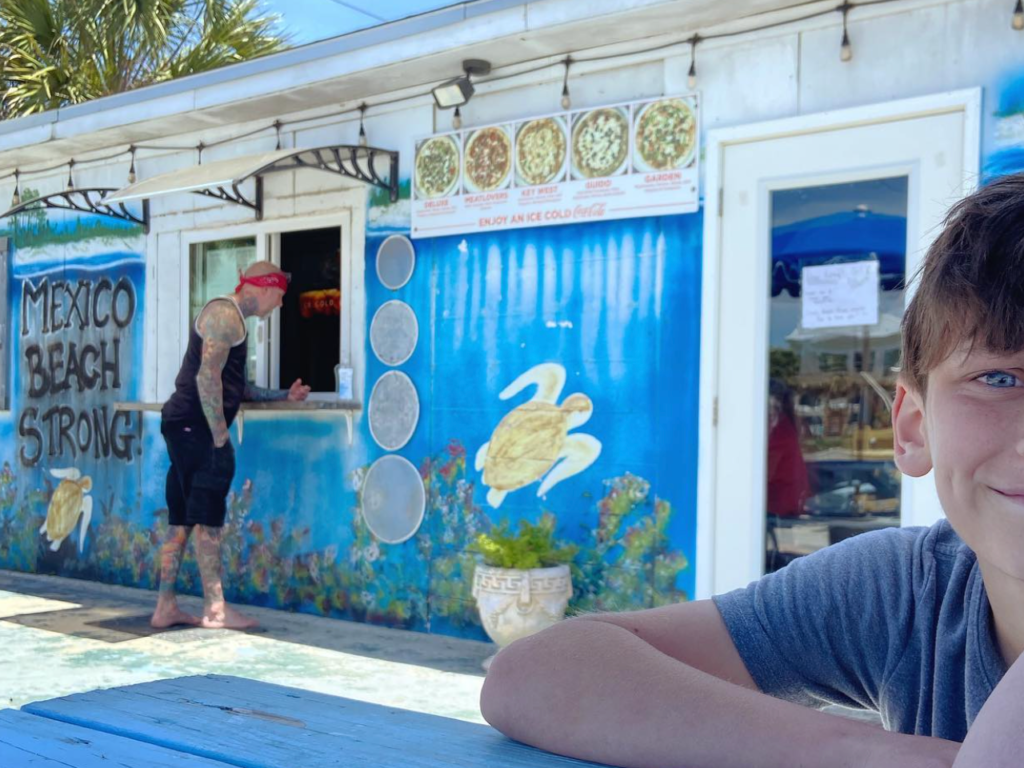 Crazy Beach Pizza is located on the 2900 block of US Highway 98. This popular Mexico Beach dine-in and take-out restaurant is housed within a cozy one-story building that's painted with an underwater scene across its facade. The front of the building features a large plaza tiling with picnic tables for those who'd like to enjoy dining beneath the Florida sun and with coastal breezes.
As its name suggests, Crazy Beach Pizza is most well-known for its pizzas. They have a Value PIzza Menu where diners can build up their preferred pizzas, as well as a Specialty Pizza menu which features their own tested and customer-approved concoctions, like The Key West which features ham, mushrooms, bell peppers, onions, pineapple, and shrimp. Other menu options include hot and cold sub sandwiches, calzone, and fresh salads.
4. Bird Dogs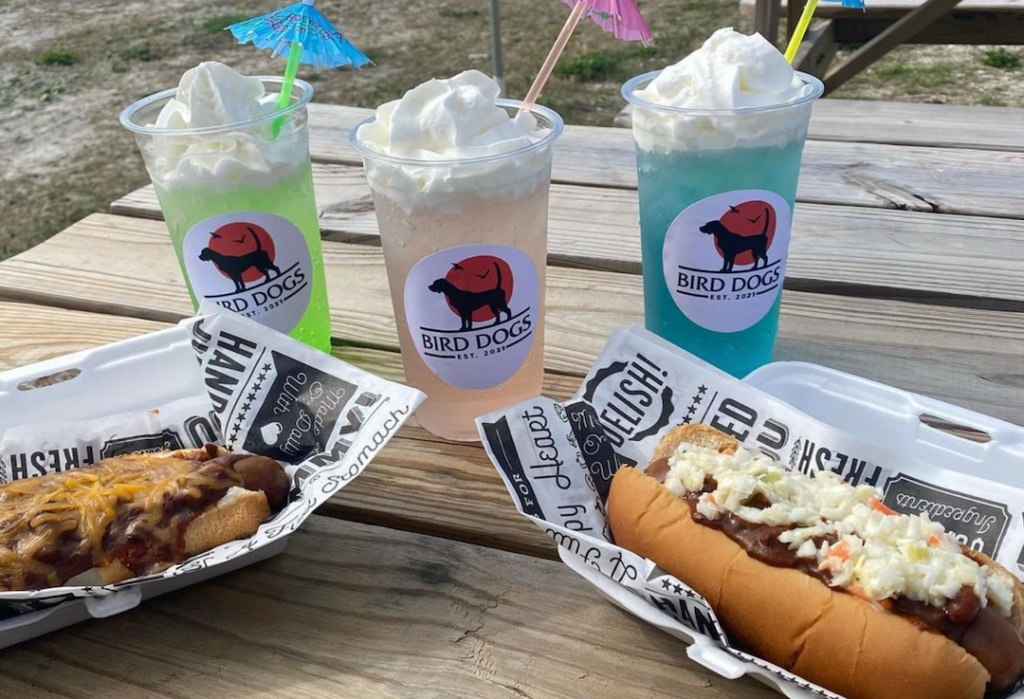 Bird Dogs is another newer restaurant addition to the Mexico Beach area. This dining spot is also currently operating out of a trailer with a neighboring parking lot and has available outdoor seating in the form of picnic tables. The owners are excited to build up a more permanent business home in the near future, but for now, this place is perfect for a quick bite to eat.
This Mexico Beach restaurant specializes in serving up gourmet hot dogs and sausage dogs. For example, if you're looking for something spicy and savory, you might opt for the thick Carolina Style Hot Dog which features homemade coleslaw, chili, onions, and mustard. Bird Dogs also sells barbecue sandwiches, nachos, shaved ice, and gourmet sodas under their food and beverage menu. Separately, they have also begun to sell custom-branded t-shirts for those wanting a more lasting souvenir from Mexico Beach.
5. Caribbean Coffee Cafe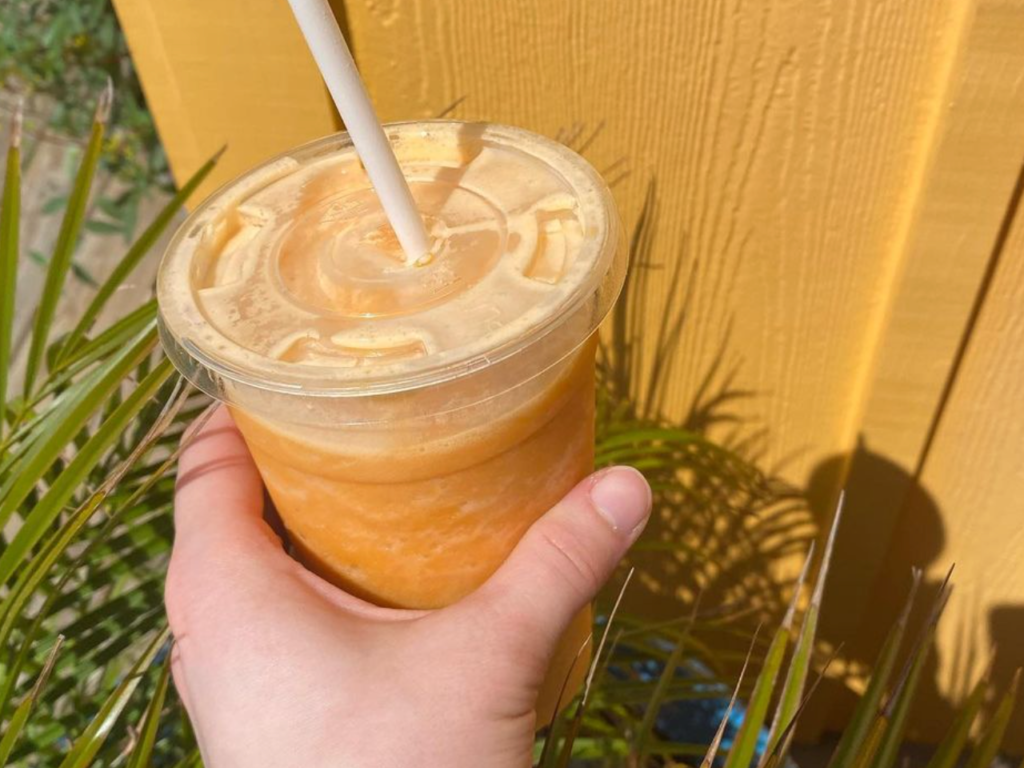 We had to include at least one breakfast spot on this list of the best bars and restaurants in Mexico Beach! Caribbean Coffee Cafe certainly earns that spot. This colorful coffee shop is located on US Highway 98 where it intersects with 29th Street. This is a sizable location with spaces to sit both inside and outside. Caribbean Coffee Cafe is best known for its delicious breakfast fare and freshly brewed coffee. Favorite menu items here include stuffed croissants, a three-cheese grilled cheese sandwich, and homemade cinnamon rolls.
6. Taqueria Las Brasitas
Taqueria Las Brasitas is a very brand-new taco food truck in Mexico Beach, Florida. But don't let its newness dissuade you from a visit, this place is already on its way to being among the most popular of taco joints in the area. You'll find Taqueria Las Brasitas set up on US Highway 98 with available outdoor seating just next door to a bike, kayak, and other recreational rentals outfitter. All of the food at Taqueria Las Brasitas food is served to go and, as of this writing, they are a cash-only operation. They serve primarily tacos served in fried corn tortillas with fresh and flavorful ingredients.
Learn More About Mexico Beach
Mexico Beach certainly offers a lot of fantastic food and beverage options for its visitors and its residents, but that's just the start of what's good in this dynamic neighborhood. Be sure to check out our other pages about this coastal town as well as Cape San Blas and other hot Panhandle locations!