Beaches and sand dunes define the beautiful peninsula that makes up Cape San Blas. But where should you go to access those beaches and enjoy the pretty white sands and clear turquoise waters? The following is a look at four fantastic parks that you'll find in Cape San Blas that are easy to access and offer plenty of great amenities like free parking, full showers, and playgrounds for the young ones. Each park in our list of top four of Cape San Blas has something special that draws people in. Continue reading to learn more and to determine which of these Florida parks is perfect for your family:
Top 4 Parks to Visit in Cape San Blas
1. Salinas Park: Picnic Spots & Pickleball Courts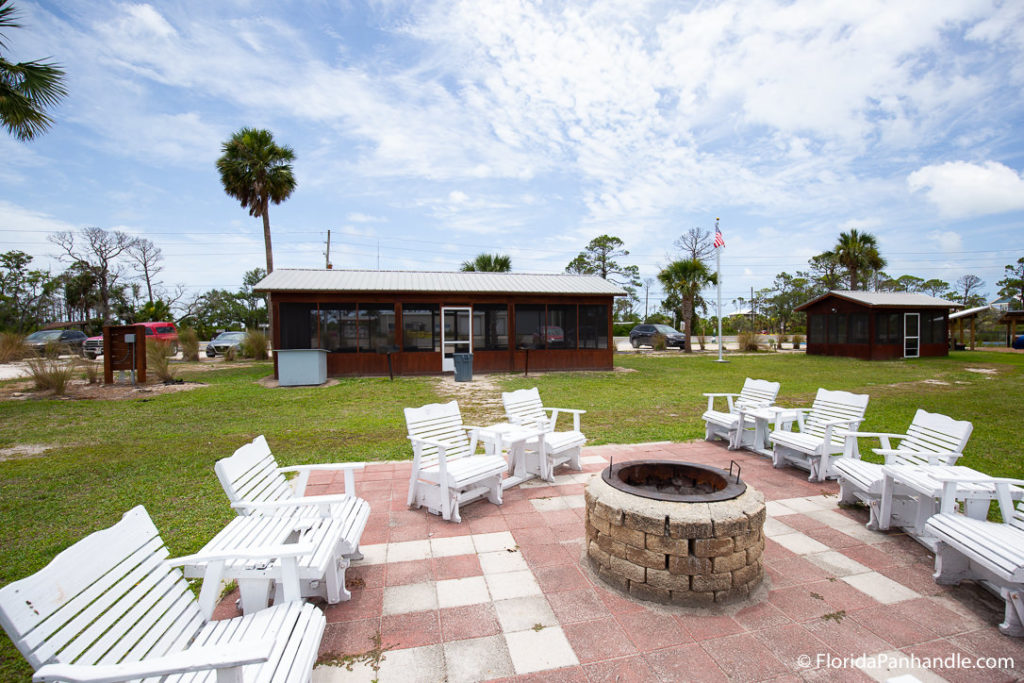 Salinas Park is a beautiful little beach park that spans both sides of Cape San Blas Road, and both feature waterfront views with the northern half backing up to Saint Joseph Bay and the southern half featuring a walk through the dunes that overlook the Gulf of Mexico. While you will find more picturesque beaches elsewhere on the cape, Salinas Park has several great amenities that make it a good stop-off point for families. This is especially true for families with young children or who are otherwise looking for a no-cost activity in the area.
This Cape San Blas park offers several fantastic recreational facilities. There is a sizable playground for young kids, an established volleyball area, a gorgeous pickleball court, kayak launch, and a free-to-use bike pump and bike tool set built-in at the park's trailhead. From this trailhead, you can ride your bike safely all the way down Cape San Blas. However, potentially our favorite part about Salinas Park is that it has beautiful private pavilion picnic areas with mosquito netting. Anyone can come up and enjoy a picnic here while also enjoying easy access to full restrooms, showers, and other amenities like a boardwalk stretching out over the bay.
2. Cape Palms Park: A Birdwatching Sanctuary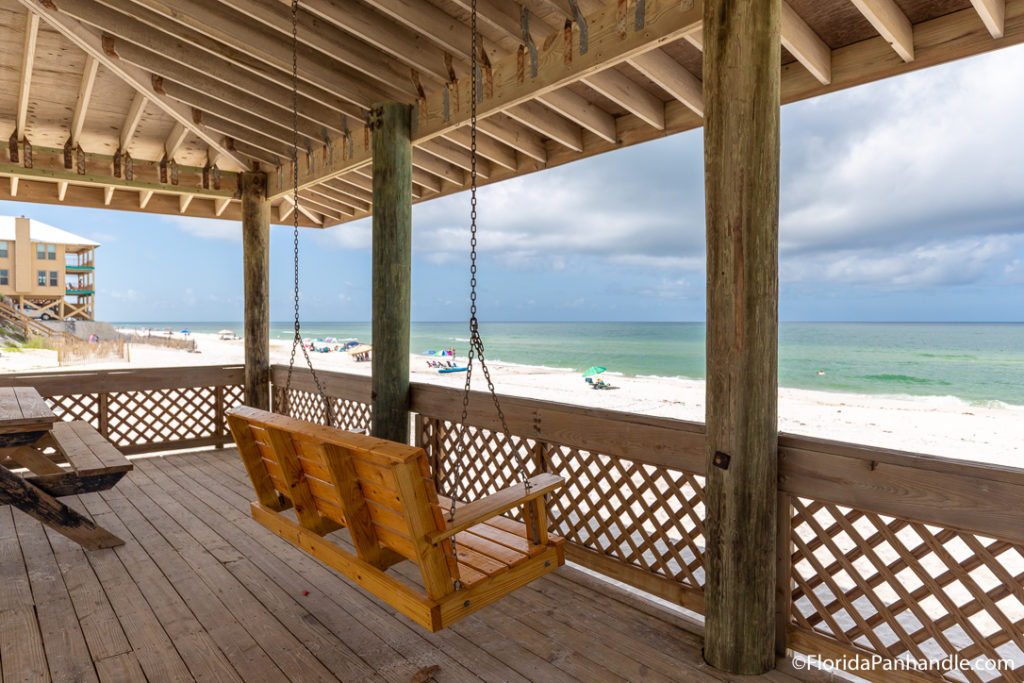 Cape Palms Park is a small neighborhood park that is a great choice if you're looking to escape the crowds. Most people who are visiting Cape San Blas pass by it, choosing instead to go to the much large William J. "Billie Joe" Rish Recreational Area (which we'll talk about below). But for those who like more tranquil spaces, then Cape Palms Park is a perfect little oasis on St. Joseph Peninsula.
This Cape San Blas Park features an elongated parking lot at the end of which you'll find bathroom and shower facilities as well as a gorgeous covered pavilion at the top of the dunes. Housed in this pavilion are picnic tables and benches, one of which is even chained to the top to offer relaxing swinging possibilities. This spot overlooking the beach just below (the pavilion features a ramp that connects down to the soft powdery-white sand) is perfect for birdwatching in the morning. Some species you're apt to see include royal terns, brown pelicans, and plovers.
3. William J "Billy Joe" Rish Recreation Area: Activities Galore Designed for Easy Access for All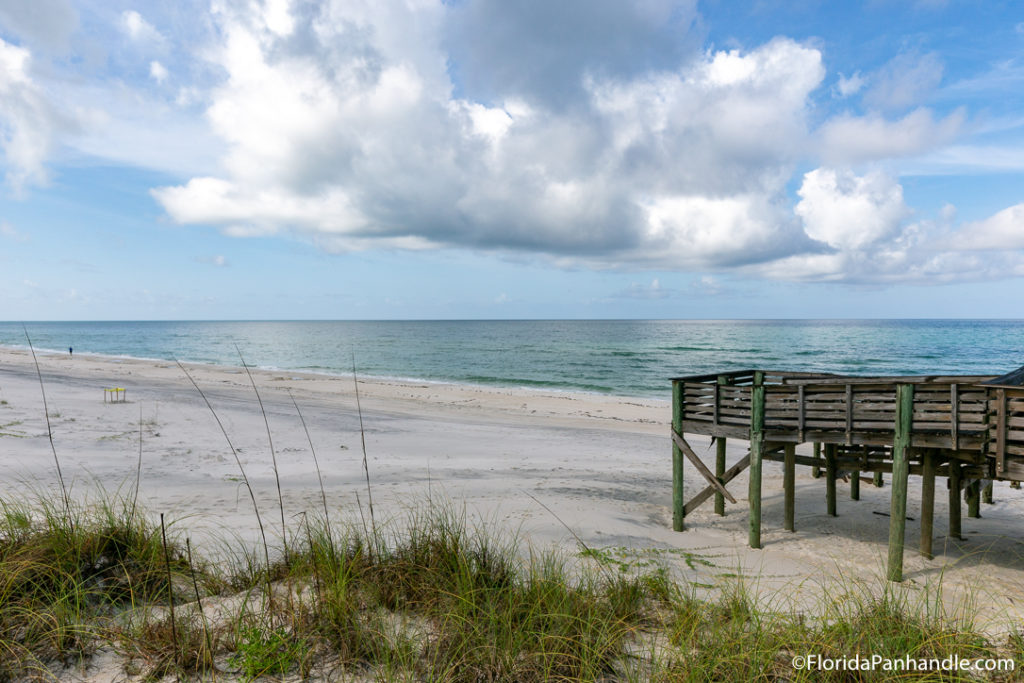 This is the big park that most visitors to Cape San Blas beeline for. William J "Billy Joe" Rish Recreational Area spans over 100 acres, which includes plenty of beautiful white beaches. However, what really makes this beach and park unique is the person it was named after.
Billy Joe Rish was a former Florida state representative who championed disability rights. This park is operated by one of his pet causes, the Agency for Persons With Disabilities, and they have made this recreational area one of the most accessible such spots in the state. Here, you will find over two miles of ramps and boardwalks that make it easy to access the beach and natural areas. Some of these ramps and boardwalks lead to a fantastic pier that stretches out over the water and offers outstanding fishing opportunities. The William J "Billy Joe" Rish Recreation Area also features a four-foot-deep swimming pool with wheelchair access, full restroom and shower facilities, picnic areas, and even cabins you can rent overnight. There's also an attached RV campground that is undergoing renovations.
4. T.H. Stone Memorial St. Joseph Peninsula State Park: A Natural Paradise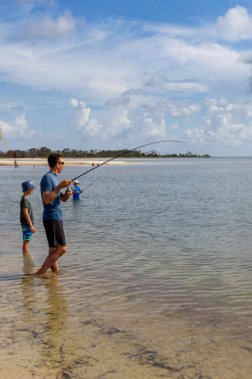 Last but certainly not least, there is T.H. Stone Memorial St. Joseph Peninsula State Park, quite possibly the most popular park on this best of Cape San Blas list. Reaching this park is easy; you go all the way down that main peninsula thruway, and you will run right into its entrance. This park extends an incredible twenty miles and has largely been left untouched, and rather park rangers and leaders have striven to make this a beautiful natural oasis for those who want to see and experience Florida's wild beauty.
T.H. Stone Memorial St. Joseph Peninsula State Park consistently makes the list of top beaches in the United States thanks to its ten miles of white sandy coastline and its end cap that makes for some really incredible sunset viewing. This park is most commonly used for general beach activities like swimming and sunbathing, but it also has some wonderful nature trails, a paved boat ramp for most trailer-able boats to access, eight air-conditioned rentable cabins, fourteen primitive campsites, full restrooms, showers, and picnic facilities. If you're looking for a place to go for a generally great day at the beach, this is the place!
Learn More About Cape San Blas
Cape San Blas is well-known for its beaches, but there are other unique things about this town. There are mom-and-pop restaurants to try and fish markets where you can purchase the freshest scallops, shrimp, and more to grill on your own. Learn about these spots and more by visiting our other pages detailing the very best of Cape San Blas, Port St. Joe, and other nearby 30A communities.