Port St. Joe, Cape San Blas, and St. Joseph Bay constitute one of the great recreational playgrounds of the Florida Panhandle's Forgotten Coast, with rich opportunities for fishing, boating, snorkeling, diving, and more. Wonderful as it is to simply kick back along the beachfront, you can dive a bit deeper (figuratively and literally) by availing yourself of the services of one of the area's topnotch outfitters or charters. Whether it's a sightseeing cruise or an underwater odyssey, these companies offer rentals and trips that can maximize your enjoyment and exploration of this amazing seashore.
Here are four of the top outdoor adventure outfitters in the Port St. Joe/Cape San Blas area: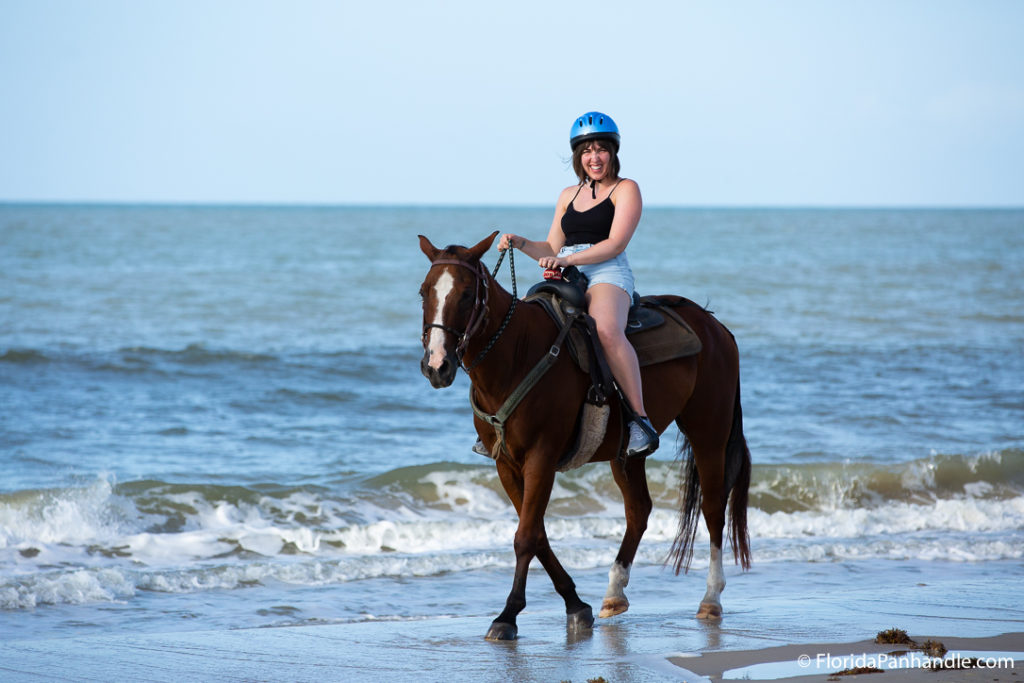 Two-Bit Stable is another fine choice for enjoying that one-of-a-kind experience of "hoofing" it along the wave-washed sands of the Gulf of Mexico nestled in a saddle. Like Sand N Spur, Two-Bit Stable varies the time of its year-round, hourlong beach rides depending on the season, aiming for the most comfortable time of day. The full sunshine and towering coastal clouds are part of the beauty of those one-hour horseback rides, while dazzling colors and tranquility await you on the sunrise and sunset outings.
Aquabear Adventures offers snorkeling adventures and sunset cruises to your liking. Sail to the Saint Joseph Peninsula, witness dolphins jumping out of the water as the sun sets, and have an absolute blast on this water adventure.
Aquabear Adventures leads a variety of guided trips, including snorkeling outings on the seagrass pastures, sightseeing, and sunset cruises.
Bali Hai offers some of the most varied charters in the area, all of them helmed by Captain Tim—a native of the Apalachicola basin—and all carried out on handsome pontoon boats. The trips range from inland adventures on the stunning, cypress-edged Dead Lakes and the unspoiled 4,000-acre Lake Wimico (a classic alligator hangout) to forays on the Apalachicola River and out into the open Gulf. You can head out scalloping or shelling, or enjoy laidback snorkeling and swimming days on the bay.
Bali Hai also leads fishing charters on St. Joe Bay and gorgeous sunset cruises.
The Forgotten Coast isn't just a great place to snorkel over seagrass beds: There are some fantastic dive sites as well, and with Daly's Dock & Dive Center you can hit them up. The company offers SCUBA lessons for both beginner and experienced divers as well as diving charters aboard the sleek and swift Sting and even spearfishing outings. Local dive sites include a variety of shipwrecks, including the impressive SS Vamar—a Florida Underwater Archaeological Preserve—and the sunken Barrier Dunes barge, often frequented by sea turtles and bull sharks.
Daly's Dock & Dive Center also provides snorkeling and scalloping charters, and rents skimboards, surfboards, kayaks, and stand-up paddleboards.
Forgotten Coast Adventures
Whether you're renting a kayak or a skimboard for some self-directed fun, or taking advantage of expert local knowledge and top-quality gear to visit the area' premier underwater attractions, turn to these outdoor adventure outfitters for the best of the Forgotten Coast!