The waves gently crashing against the shore, the sun shining brilliantly on the sand. These are things we hope to see and hear when we visit the beach on our vacation. Cape San Blas is the "forgotten coast" of the Florida cities, but one of the most tranquil and peaceful vacations that you could experience.
While you're in this quiet oasis, enjoy the beachfront and bay views with one of these vacation rentals: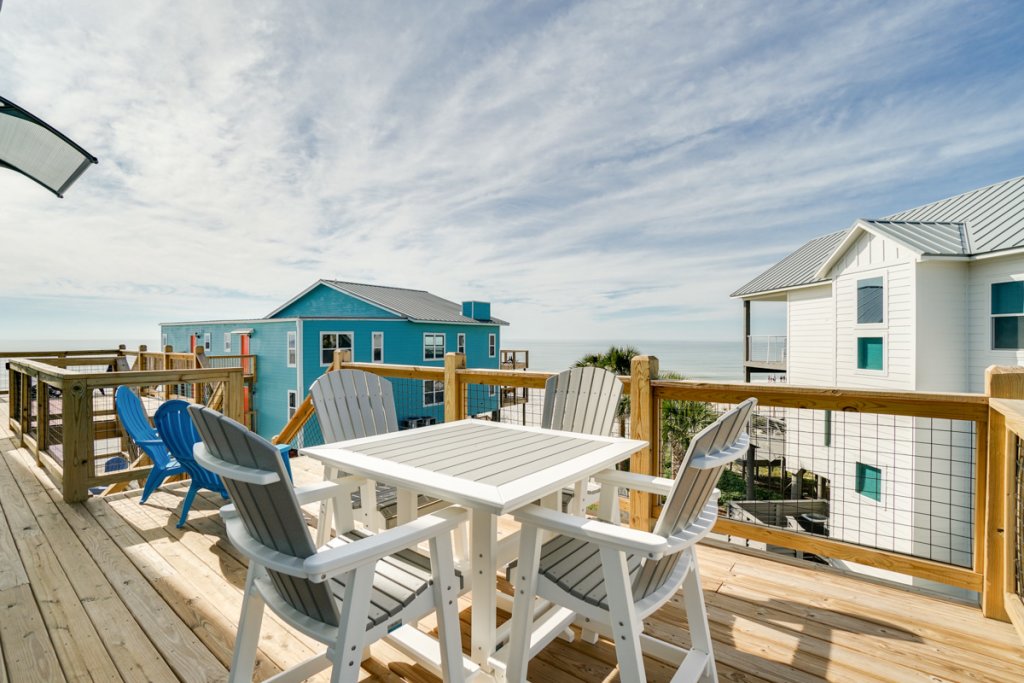 Ellie's Sealargo is located just off the beach of Cape San Blas. High ceilings leave much room for the sunlight to peek in on the most radiant days. The wooden furnished deck is ideal for enjoying your morning coffee while the fireplace is the perfect night to enjoy when you feel a chill coming on. Equipped with flat-screen TVs and Wifi.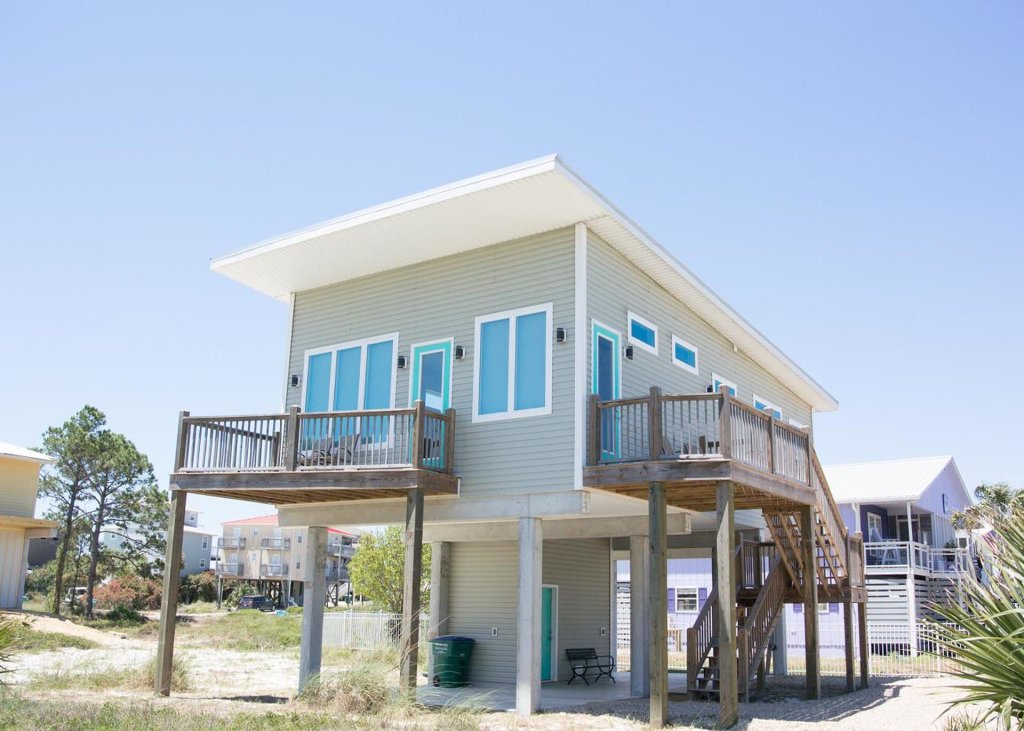 A smaller house ideal for only a few guests, Angel Fish is a house just a minute from the beach. Get a light tan on the deck, or enjoy some time inside watching movies on the flat-screen TV. Reservation includes $250 worth of beach gear so rent some paddle boards and beach chairs!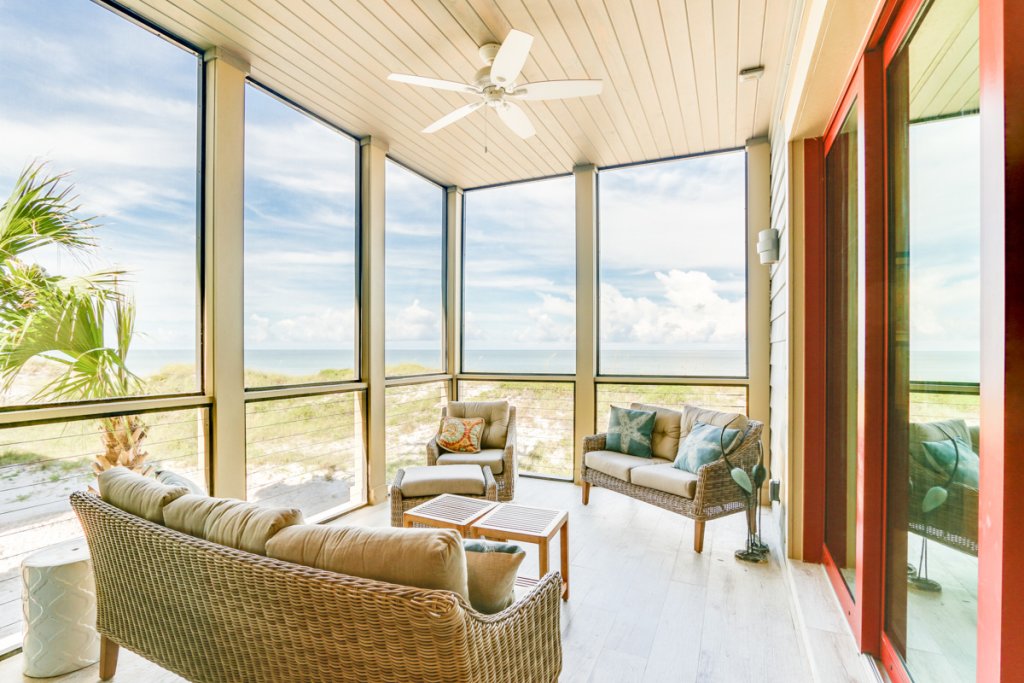 This home might have it all. High ceilings, a gourmet kitchen, flat-screen TVs, and a private elevator are just some of the wonderful accents of this house. Unwind on the top floor cocktail bar or enjoy the nearby community pools, this is one for the group that can't be missed. A carriage house is also adjacent — with twin beds and a tv ideal for gaming.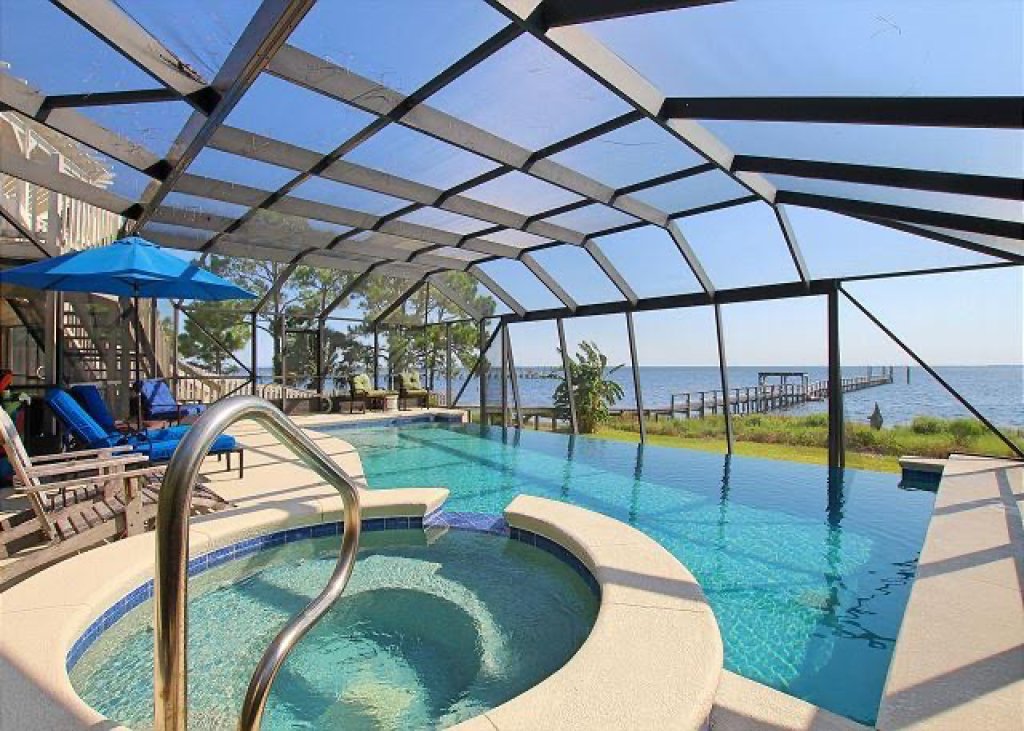 Sitting directly on the bay, this house includes air hockey, a poker table, and large-screen TVs. In the mood for a swim but don't want to swim in the Bay? No problem. This pool is in a covered veranda — complete with a spill-over hot tub. Plenty of fun to be bad, this sure is paradise.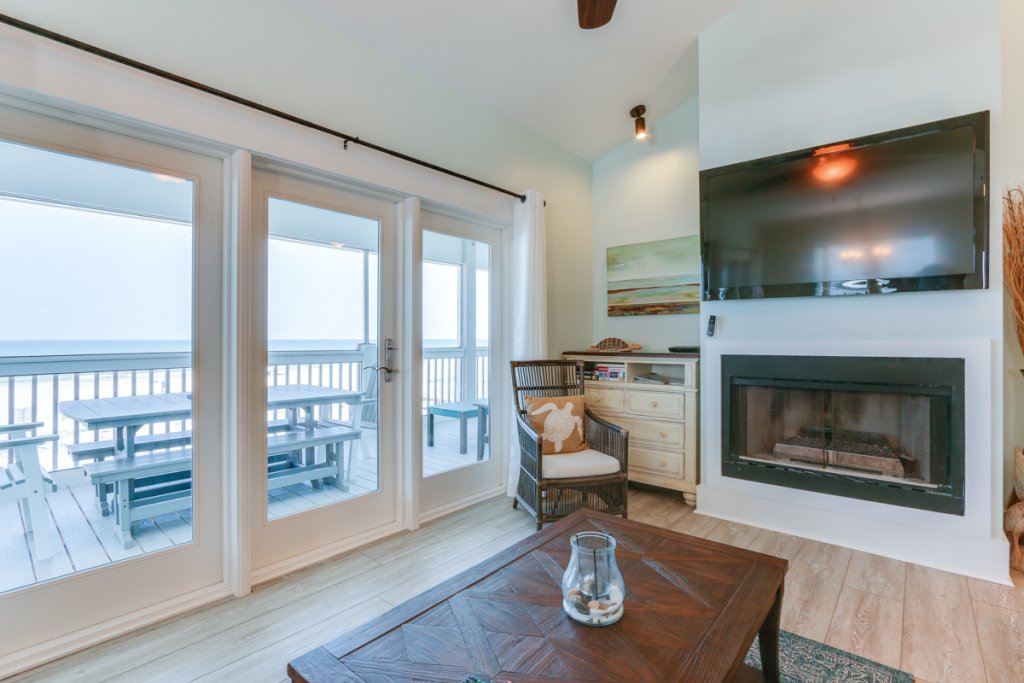 This sundeck and screened-in porch will greet you every morning on your vacation. Enjoy the outdoor grill and private entrance, or enjoy the $250 beach gear rental you get with your reservation!
Another house that offers a $250 beach rental for reservation, Tranquil Bliss is equipped with a walkout to screen porch, a gas grill, a large flat-screen TV, and a blue-ray DVD player as some of the amenities. Lay out on the beach and wash the sand off with the outdoor shower, or enjoy the jetted tub in the master bath.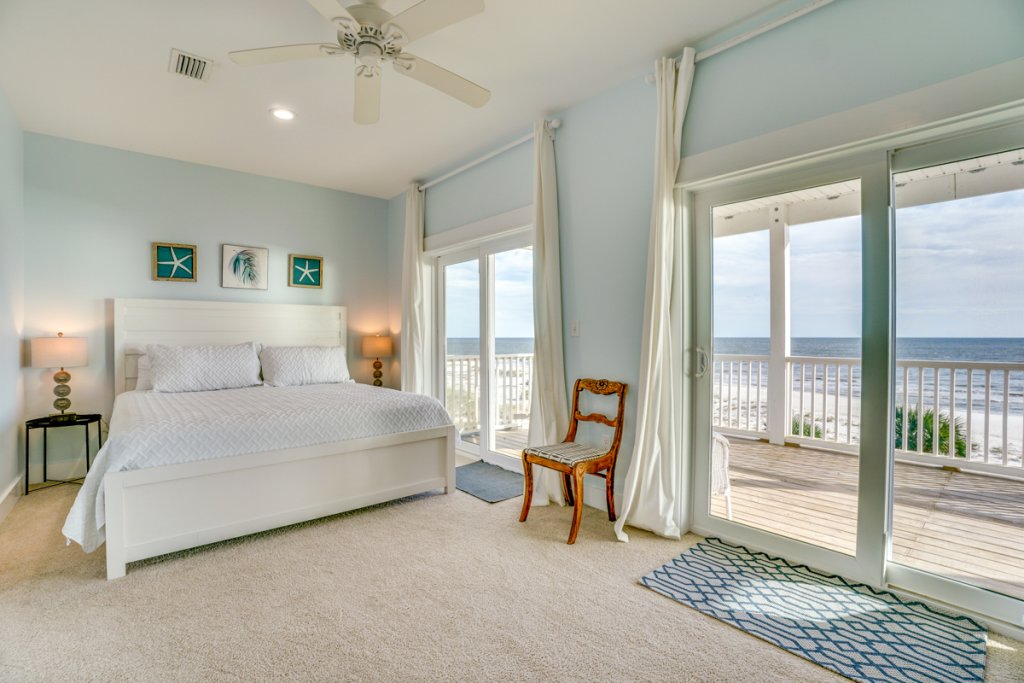 Overlooking the Gulf, step from the bedroom to the beach at the Vista Blue House. Watch movies on the large-screen TV and enjoy their free Wifi. You will find that this location is a peaceful escape from couch to shore.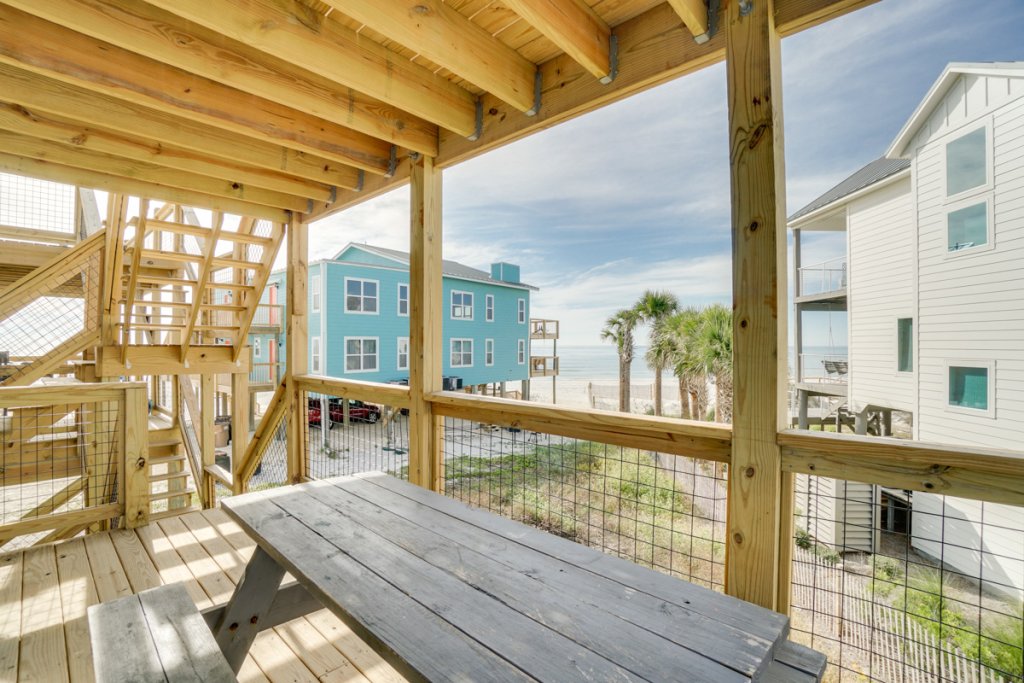 Sit on the wrap-around sofa and cozy up by the fireplace, put on a movie on the large-screen TV, or enjoy the covered veranda and take in the views of the water. This reservation also includes $250 worth of beach gear! Definitely not something to pass up on while you enjoy the sunrises and sunsets from a wooden bench.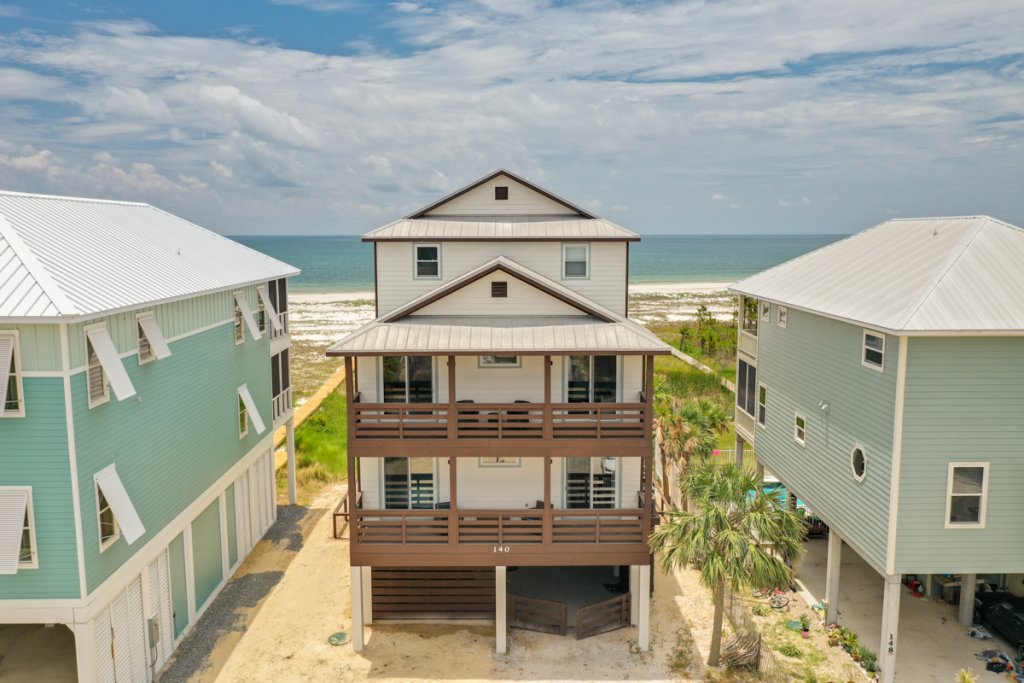 Dunk in the hot tub or rinse off in the outdoor shower, Sea's Life lets you enjoy everything there is to enjoy when it comes to beach living. Equipped with a fish cleaning station as well, go on the boat and take in a day on the water. This rental includes $250 beach rental gear for your reservation and also has covered parking for two vehicles.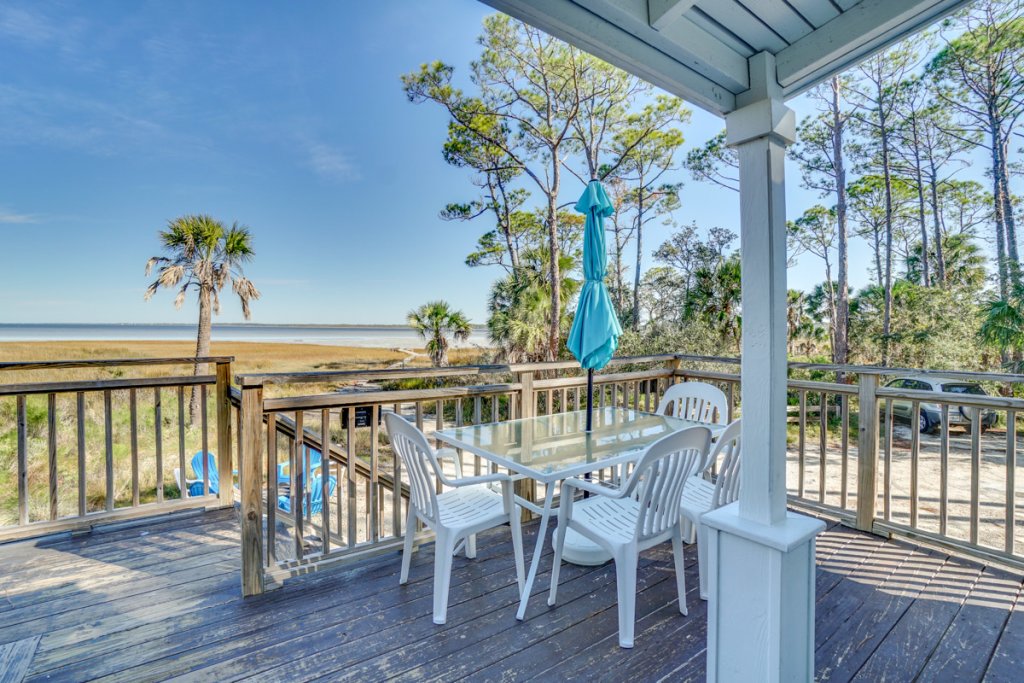 This wrap-around deck welcomes visitors with open arms sitting right along St. Joseph Bay. Salt Therapy has a propane grill for you to indulge in some cooking, as well as an outdoor shower if things get a little messy. A short distance from Cape San Blas restaurants, this house is perfect for a lazy afternoon and a night out on the town.
Now that we've seen some of the mesmerizing waterfront properties in Cape San Blas, is it time to go yet? These condos and homes are the perfect locations to explore the attractions and restaurants that this wonderland has to offer — if you are looking for other lodging choices in Cape San Blas, click below to browse the other properties perfect for your stay. Pack your bags and start your car, it's time to relax and ease into your ideal vacation now.