It's common knowledge for many that Florida is also called the Sunshine State and home to Disney World, Universal Studios and some of the best beaches in the country.
However, there are many other interesting things that make Florida a coveted destination for vacationers and transplants. Check out these fun facts about Florida to learn things you probably didn't know about the brightest state in the country.
Interesting Florida History Facts
There's a lot more to Florida beyond sunshine and alligators. Surprisingly, alligators aren't even the state's official animal! Continue on to learn more interesting facts about Florida.
Florida became the 27th state on March 3, 1845.
The Florida state legislature designated the American alligator as Florida's official state reptile in 1987.
A vote of students throughout the state chose the Florida Panther as the state's official animal in 1982.
Florida officially adopted the state motto, "In God We Trust" in 2006.
The Florida legislature chose orange juice as the official state drink in 1967.
The orange blossom was designated Florida's state flower in 1909.
Source: Florida Department of State

Nature, Produce and Environmental Florida Tidbits
We all love Florida oranges, but did you know Florida is also a top producer for other types of produce like tomatoes and sugar cane? On top of being the main source of produce we use for lots of our favorite dishes and snacks, Florida is also home to many natural wonders like caves, freshwater springs, and great shrimping spots. Learn more fun facts about Florida's surrounding environment.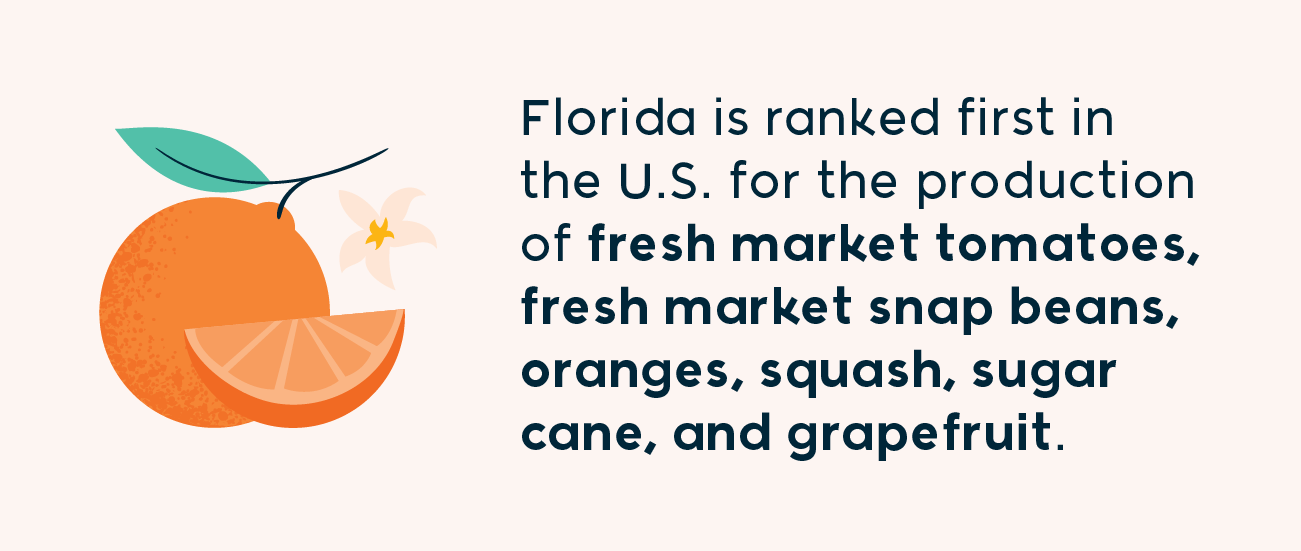 Fun Facts About Florida Tourism, Living and Population
There are more than 21.4 million people living in Florida who call the Sunshine State their home. Many more visit every year to enjoy a range of attractions including famous amusement parks like Disney World to local eats like Pineapple Willy's. Read on to get the facts on Florida tourism and everyday living.

Locations of Interest in Florida
Florida is full of unique locations that everyone will love. You can find places great for snorkeling, hiking and more. Look through our points of interest to see what places you may be interested in visiting on your next Florida trip.
Britton Hill is Florida's natural highest point at 345 feet. (Visit Florida)
Pierson is known as the fern capital of the world
Key West is home to the southernmost point of the continental United States. (Central Intelligence Agency)
Kissimmee Prairie Preserve is Florida's first Dark Sky Park. (Florida State Parks)
Florida is home to the World Golf Hall of Fame and Museum. (World Golf Village)
Fort Lauderdale is called, "The Venice of America" because of the 300 mile of inland waterways. It's also included on their city seal! (Greater Fort Lauderdale Convention & Visitors Bureau)
Erik Jungkalus' owner of Tony's Clam Chowder in Cedar Key won the annual Knorr Great Chowder Cook-Off in 2009, 2020 and 2011. (Tony's Clam Chowder)
John Pennekamp Coral Reef State Park is the first undersea park in the U.S. (John Pennekamp Coral Reef State Park)

Florida Panhandle Facts
Northwest Florida is affectionately nicknamed the "Florida Panhandle." You can find delicious food, fun attractions, and family-friendly neighborhoods all around the area. Look through our list of interesting Florida Panhandle facts below before you check out the Emerald Coast.
Florida is truly rich in history, culture and fun. For your next Florida trip, consider visiting a more laid back beach town like Cape San Blas to get away from the hustle and bustle.